XRP Price Prediction 2021 – XRP Forecast 2021, 2022, 2025 & 2030
With a market cap of over $60 billion, XRP is currently the 6th largest cryptocurrency globally. After a rocky few months, XRP has showcased some strong bullish momentum in recent times – with all-time highs looking likely to be breached once again.
In this article, we present our XRP Price Prediction for the months and years ahead. Through our team's research and analysis, we cover XRP's outlook in great detail and highlight where you can buy XRP today with 0% commissions!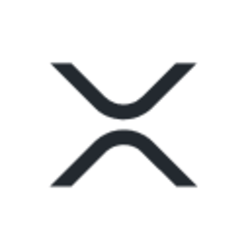 XRP (XRP)
Price
XRP Price Prediction 2021 to 2022
If you're looking to buy XRP right now and require some information on the coin's outlook, then look no further. Found below is a breakdown of our XRP price prediction for the months to come, incorporating technical, fundamental, and news-based analysis to ensure an appropriate XRP forecast.
One Month – Strong bullish momentum for XRP began in July and has continued into August. Our XRP projections expect XRP to reach the $1.60 level within the next month.
Three Months – Expect to see some consolidation between the $1.60 and $1.70 levels, as there does appear to be some strong resistance in this area. However, if the momentum continues, we can expect XRP to head towards the highs of $1.95 within the next three months.
Start of 2022 – Our XRP prediction for the beginning of 2022 sees the coin break past the highs of April 2021 and head to the $2.2 level. After this, we can expect XRP to continue heading upwards throughout 2022 and return to the all-time highs of January 2018.
XRP Price History – the Story of 2021 So Far
Similar to when you buy stocks, the process of investing in cryptocurrency involves conducting in-depth research on the asset you're interested in, looking at the coin's price history to get an idea of where it could go next. This is known as doing your 'due diligence' and is an essential part of investing effectively. With that in mind, we'll start with a brief overview of what XRP is before diving into our XRP stock forecast.
The first thing to note is that XRP is the native cryptocurrency incorporated into the Ripple network. Ripple is a money transfer network created by Ripple Labs, enabling transactions to be completed worldwide. One of the most appealing things about Ripple is that it acts as an intermediary in financial transactions, as the blockchain technology helps validate these transactions – removing the need for banks or brokers.

Furthermore, the Ripple system is much faster than the traditional SWIFT network. For example, Ripple transactions can take four to five seconds to complete, whilst traditional banking networks can take two to three business days. Ripple transactions are also much cheaper, as they only charge a fraction of XRP as a fee – which tends to equate to less than 1p. As noted by Forbes, Ripple was designed to replace the existing SWIFT network – and is doing a pretty good job at doing so!
Moving on to our XRP prediction 2021, the price chart highlights how volatile this crypto has been thus far. If you look back to December 2017, you can clearly see the massive spike in price that occurred over the following month. The XRP price rose a remarkable 1257% in the space of weeks, prompting many analysts and investors to make bold statements that the price could continue heading as high as it wanted. Alas, this wasn't to be, and the price did begin to decline after reaching the $3.3 level.
Since those all-time highs of January 2018, the price of XRP has been on a steady decline to the levels we see today. There have been a few bullish spikes along the way, such as the ones experienced in September 2018 and December 2020, but on the whole, XRP has performed pretty poorly since reaching those heights.

One of the main reasons the XRP price live hasn't performed as well is the ongoing litigation against Ripple from the SEC. CEO Brad Garlinghouse and co-founder Chris Larsen have had legal proceedings brought against them for allegedly selling unregistered securities worth more than $1.38 billion. This litigation has been going on since December 2020 and has hurt the XRP price.
However, July 2021 has showcased some positive momentum, with the XRP price rising by around 145% in under a month. This leads many market commentators to speculate that this bull run could see XRP heading back to prior heights – and maybe even beyond.
As of October 19th 2021, XRP price currently stands at $1.09 as renewed hope appears in XRP holders amid the ongoing SEC vs. XRP lawsuit. The latest on the case indicates that the SEC seek to request a two-month extension.
XRP Price Forecast
Now that you have a solid overview of XRP and how the price arrived at this point, let's take a look at our Ripple price prediction for the future. To ensure the forecast is as accurate as possible, we've broken down the analysis into technical and fundamental factors. Found below is an overview of these elements for our XRP prediction.
Technical Analysis
As you can see from the price action below, the XRP price broke out of the descending channel that it was trapped in since May 2021. Price formed a solid support level at $0.52, rejecting from here in June and July. Since the latter rejection, the price has shown some fantastic bullish momentum, increasing almost every day over the past month.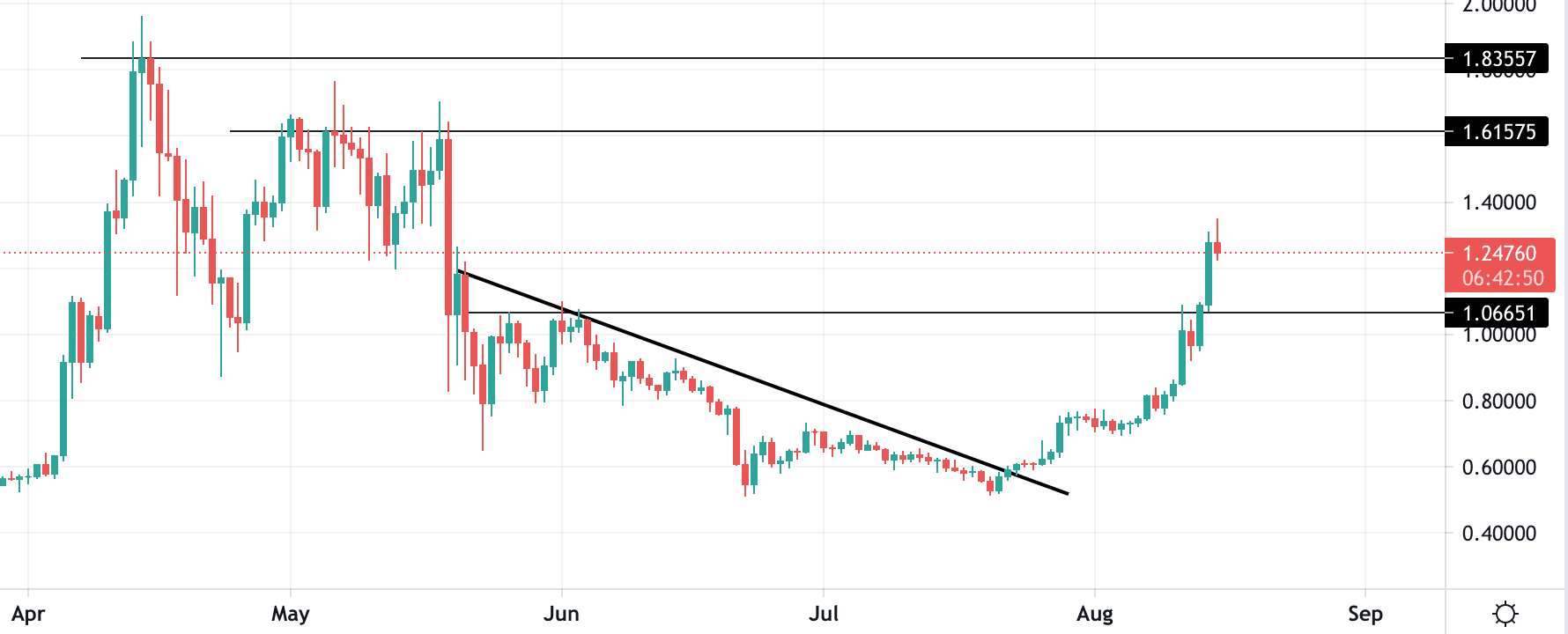 67% of retail investor accounts lose money when trading CFDs with this provider.
Looking ahead, there is a relatively strong resistance level around the $1.60 mark. Price struggled to breach this area during May 2021, eventually rejecting with large volatility and declining rapidly. However, with the bullish impetus being shown right now, there's a good chance this level could be broken.
Following this, the highs of $1.95 would be next from a technical standpoint. This area is also a strong resistance level, as the price fell by around 50% the last time it reached it. Expect to see some consolidation around here, as it may take multiple attempts to break the level cleanly.
Fundamental Analysis
Our XRP forecast has also taken into consideration fundamental factors. Like when you buy Bitcoin, an investment in XRP is also an investment in the underlying technology. The great thing is that the Ripple network that XRP runs on has excellent practical uses, which adds validity to the current hype around the digital coin.
FinanceMagnates.com recently announced that Global Money Express (GME Remittance) has recently partnered with RippleNet, further boosting the XRP price. Partnerships such as this add credibility to the Ripple network, which is great news for the coin's price.
However, it's also worth noting the ongoing sage with the Securities and Exchange Commission (SEC). Until the lawsuit can be ironed out, it's unlikely that XRP will experience the uptrend that it should. If the litigation can be handled beneficially for Ripple, then we could see the XRP price skyrocket over the months and years to come.
XRP Price Prediction 2025 – Long Term Outlook
Looking ahead, our XRP prediction for the long term is promising. Unlike some altcoins such as Dogecoin and Litecoin, XRP has numerous real-world use cases that strengthen its long-term outlook. Due to this, the XRP projections depict that XRP price is not just based on hype and speculation, which often lead to disaster.
XRP has also recently benefitted from the Senate's decision to block proposed legislation that would cause intense regulation of the cryptocurrency market. When the Senate blocked this, it caused a massive rally in the market, with coins such as XRP, Ethereum, and Cardano benefitting greatly. Furthermore, the fact that the Senate has voted against this implies that governments are coming round to the idea of digital currencies – which is excellent news for the future.

In the future, the fact that the Ripple system is much faster than SWIFT is one of the main reasons our XRP price prediction is so bullish. The current payment system is very outdated and slow, with XRP offering the most viable alternative. If the SEC lawsuit can be handled effectively, it may entice more financial institutions to use Ripple's system – leading to significant increases in price expectations of XRP projections.
With that said, our XRP price prediction 2025 anticipates the coin being valued at around $3.5. This would represent a 170% increase from today's price and higher than the all-time highs experienced in January 2018. Again, much of this hinges on the SEC filing, which is looming over Ripple at present – although we are optimistic that it will be settled in a mutually beneficial manner.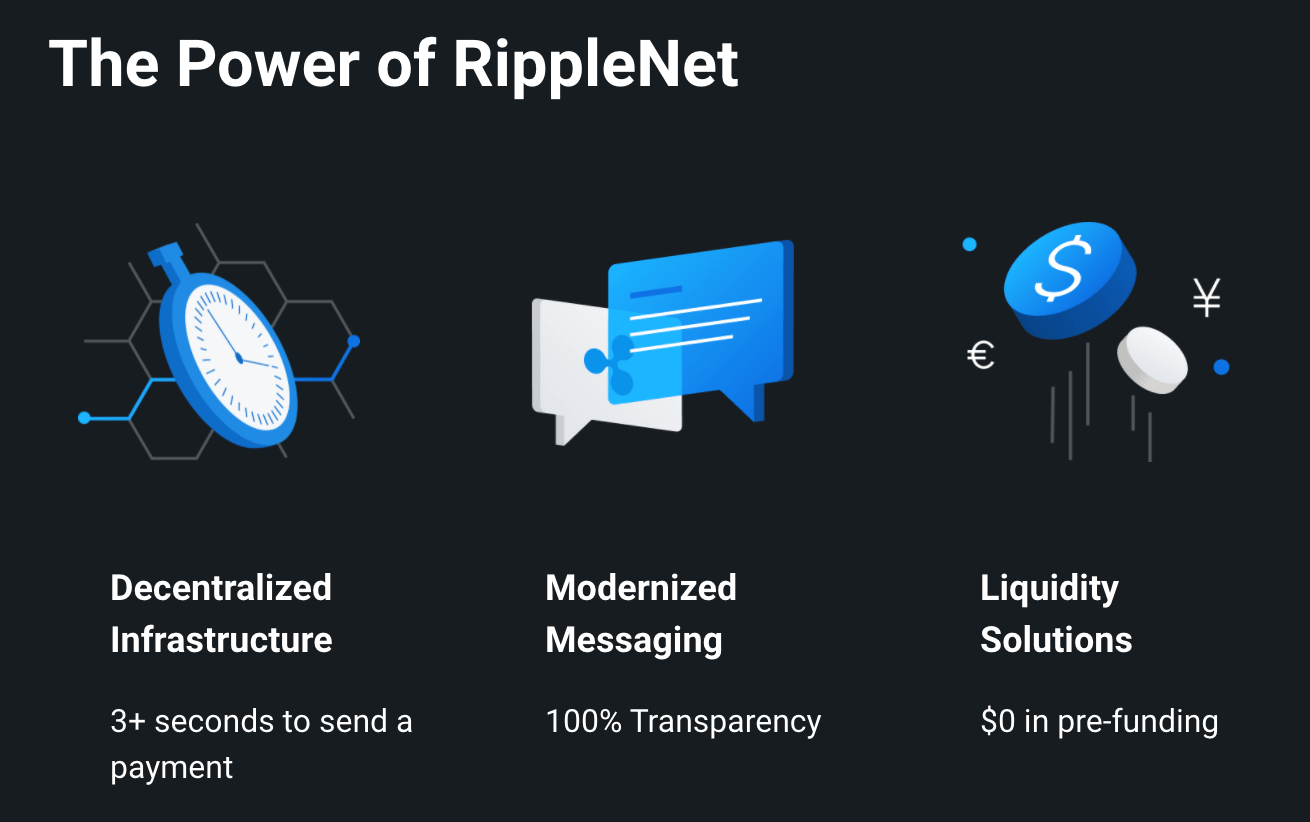 Our XRP price prediction 2030 is also promising, as our analysis puts the digital asset at a value of $7. This would be double the value we predict for 2025, highlighting just how optimistic we are for this currency. So, if you were looking to invest in Bitcoin UK and other cryptos for diversification purposes, then XRP may represent a good investment for generating a positive return.
XRP Price Chart
As you can see from our XRP prediction, the future looks bright for this currency. In the price chart below, you can clearly see the incredible upwards momentum showcased over the past few months. Price has increased over 143% since late July – and is showing no signs of stopping!
Again, one of the critical elements that will contribute to XRP's success is the continued adoption by banks and other financial organisations. As XRP is beginning to create a reputation worldwide, we may see banks throughout Europe and Latin America begin to use Ripple's network. In fact, Santander is already using Ripple's system to facilitate cross-border payments, adding vast levels of credibility to XRP.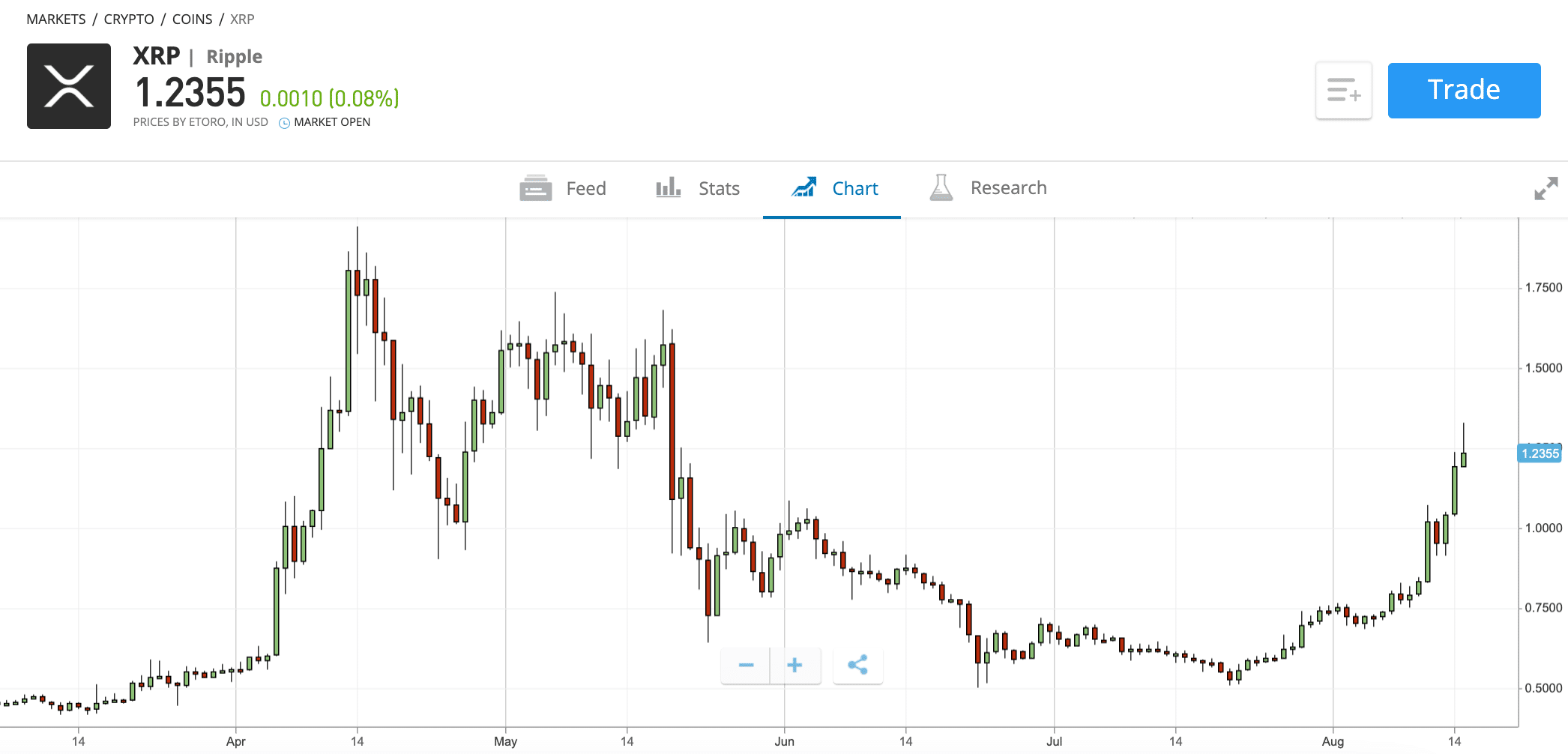 67% of retail investor accounts lose money when trading CFDs with this provider.
Furthermore, Amazon Web Services is also partnered with Ripple, adding to the trust in the company. If Ripple can continue developing their technology and improving their marketing, more entities will likely partner with them, as the system is far better than what is traditionally used. This would mean great things for XRP projections for the future.
Where to Invest in XRP
As this article has highlighted, XRP has excellent potential going forward. The underlying technology is highly beneficial to companies and consumers, which bolsters the optimism behind XRP. Furthermore, XRP is currently just outside the top five cryptos by market capitalisation, which could certainly change in the future.
However, if you are looking to buy XRP at the current price, then you'll need to partner with one of the best trading platforms UK to do so. These platforms help facilitate cryptocurrency investments from the comfort of your own home, ensuring the whole process is easy to do. Although there are many brokers to choose from, we highly recommend using eToro as your broker of choice.
eToro is one of the world's most popular brokers, boasting regulation from the FCA, CySEC, and ASIC. What's more, eToro is covered under the FSCS, meaning that users are insured by up to £85,000 in the unlikely instance that eToro goes bankrupt. Due to this oversight, eToro is one of the safest places to buy cryptocurrency this year.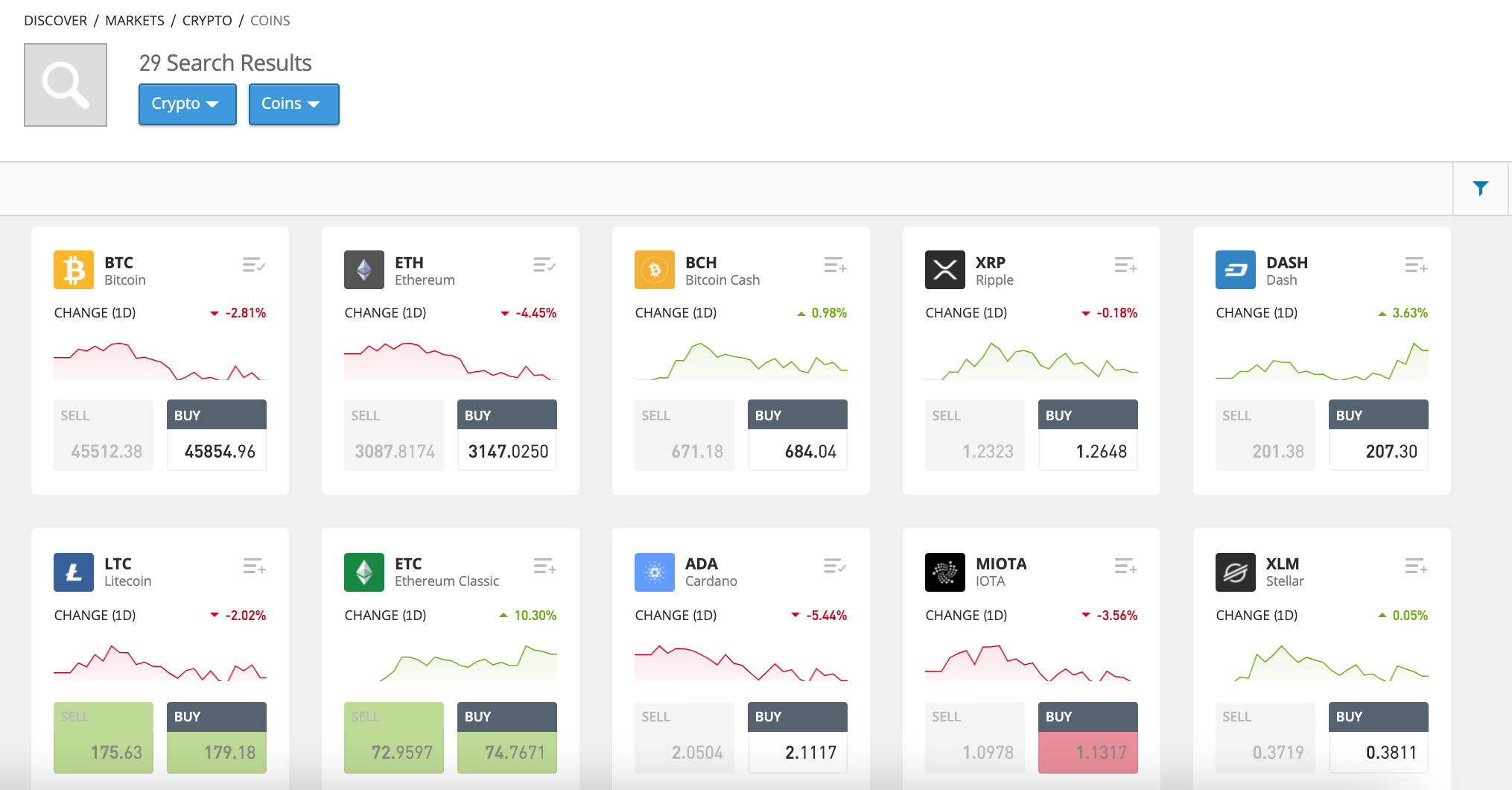 As one of the best stock brokers right now, eToro do not charge any commissions when you place a trade. This is in stark contrast to numerous other brokers who may charge a percentage of your trade size as their fee. For more significant positions, this can become quite a large sum of money – so the fact that eToro doesn't charge this will save you in the long run.
eToro also offers a useful feature called 'CopyPortfolios', which are professionally-managed investment portfolios with no fees attached. By investing in these portfolios, you'll get exposure to a managed fund without having to pay the hefty charges that accompany most funds. What's more, eToro offers a dedicated 'CryptoPortfolio' that offers direct exposure to the crypto market and its movements.
Finally, eToro's minimum deposit is only $50 (£36) and can be made via credit/debit card, bank transfer, or e-wallet. Deposits are free to make, and eToro also don't charge any monthly account fees either. Finally, if you are a new user, you can even use eToro's handy demo account feature, allowing you to gain experience in the markets in a risk-free manner.
XRP Price Prediction – Conclusion
In summary, our XRP price prediction is incredibly optimistic looking ahead. The Ripple network that XRP runs on has fantastic real-world use cases, which paves the way for many financial institutions to use the system instead of the SWIFT network. If Ripple's execs can sort out the threat of the SEC lawsuit, then it'll clear the path for further gains in XRP's price.
However, if you're looking to buy XRP right now, we'd recommend using eToro. eToro is regulated by the FCA, ASIC, and CySEC, providing one of the safest platforms to buy cryptocurrency. What's more, the minimum deposit at eToro is only $50 – and no commissions are charged when you place a trade!

67% of retail investor accounts lose money when trading CFDs with this provider.
FAQs
What is the price of XRP right now?
What drives the price of XRP?
What will XRP be worth by 2022?
What will XRP be worth in 2025?