TD Ameritrade Review – Is TD Ameritrade Safe? Fees and Minimum Deposit Explained
TD Ameritrade is an online broker that stands out with its zero-minimum accounts, multiple trading interfaces, and free research tools. The platform also offers a comprehensive and diverse selection of investment products suitable for beginners and professionals alike.
Our TD Ameritrade review covers everything you need to know about this online broker – including the different products offered, security, payment types, customer support, and fees.
Recommended Broker – eToro
What is TD Ameritrade?
Established in 1975, TD Ameritrade is a major online broker that offers a very smooth introduction to the market for new investors. The platform provides all necessary resources, a wide range of products, and customer support that allows beginners to learn and become better investors over time. The investment company is a pioneer in many ways, including being one of the first brokers to offer discounted commissions.
Today, TD Ameritrade caters to over 11 million clients, with more than $1 trillion worth of assets on its books. The broker is regulated by multiple financial authorities in the US, namely the SEC, FINRA, and CFTC. You can also find separate platforms set up in other countries to provide a more tailored service to its international users.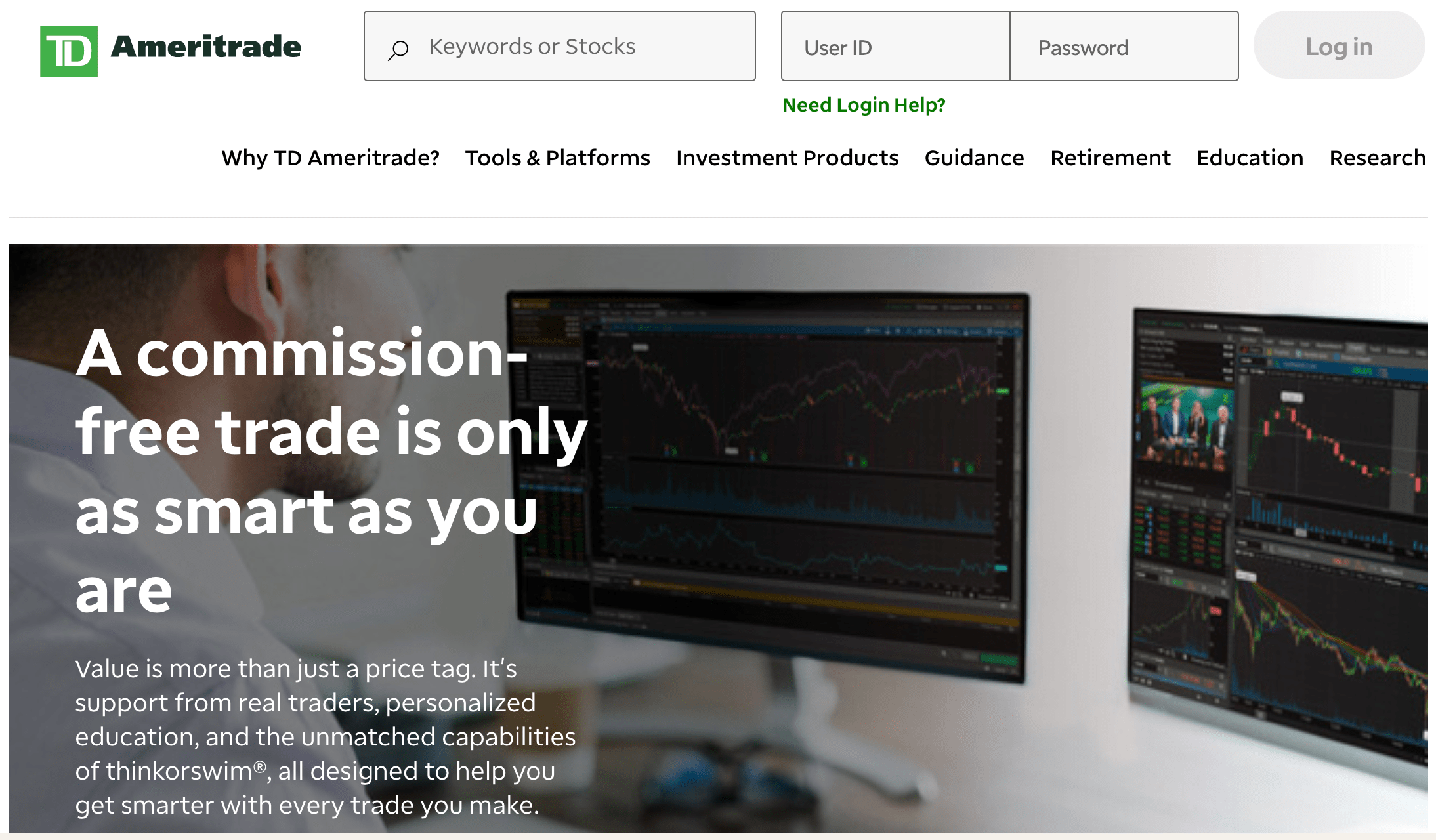 TD Ameritrade is 100% commission-free on US stocks and gives you access to all its products and platforms without having to meet any minimum deposit requirements. The trading experience is also highly customizable, enabling you to adjust the features and tools as per your preferences. Whether you are a passive or active investor, TD Ameritrade attends to your requirements and offers you a wide range of services to choose from.
TD Ameritrade Pros and Cons
Our TD Ameritrade review finds that the broker offers the following benefits and disadvantages to investors and traders. 
Pros
Commission-free trading on US stocks
No account minimum
Free educational content
Regulated by the SEC, CFTC, and FINRA
Operational since 1975
Cons
No fractional shares
High fees on non-US assets
No cryptocurrency trading
Cryptoassets are highly volatile unregulated investment products. No EU investor protection. 67% of retail investor accounts lose money when trading CFDs with this provider.
TD Ameritrade Investment Products
One of the key factors that set this broker apart is the wide variety of investment products offered. In this section of our TD Ameritrade review, we will introduce you to the different markets accessible on this platform.
TD Ameritrade Stocks
Undoubtedly, TD Ameritrade stands out for the sheer number of stocks that you can invest in and trade. You can gain access to not only the shares of domestic companies listed on the NYSE and NASDAQ, but if needed, you can also get your hands on foreign equities via an OTC service. In fact, this broker even allows you to access companies going through their IPO, even before they appear on the secondary market.
Additionally, this broker is also one of the few that gives you access to penny stocks. For those unaware, these are companies with a low market capitalization, with stock prices often less than $5. Depending on the specific firm, you might be able to find these listed on an exchange or might have to go via an OTC platform to complete the purchase.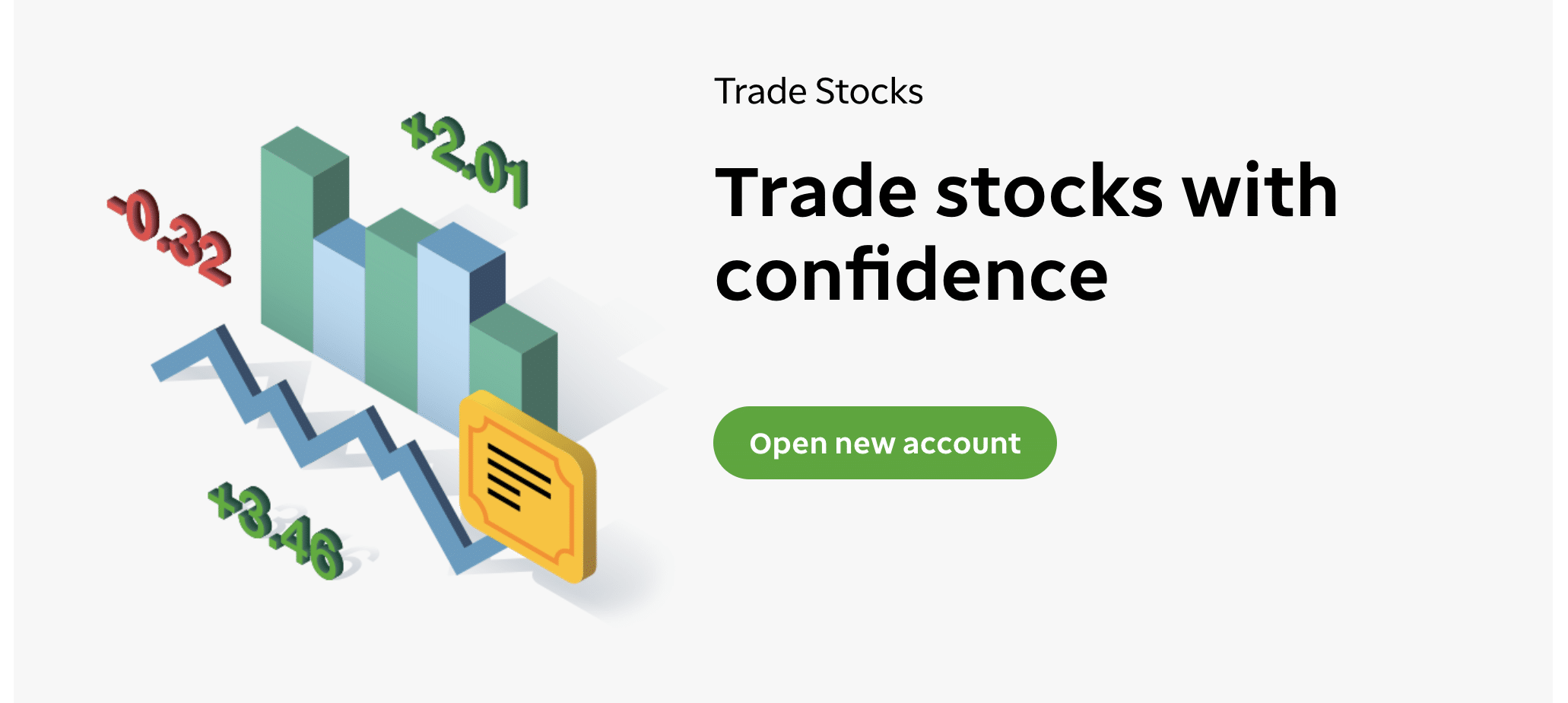 However, it is worth pointing out that TD Ameritrade does not offer any fractional shares. This means that a large number of stocks are going to be out of reach for many investors with a tight budget. If you want to gain access to these securities, then you can do so via eToro – a regulated broker that allows you to buy fractional shares from just $50.
TD Ameritrade Options
Our TD Ameritrade review found that this broker is highly favored by those who want to trade options. TD Ameritrade facilitates this via both the web platform and the dedicated mobile app. For some markets such as stocks, futures, and forex, options trading is also extended to six days a week.
TD Ameritrade ETFs
Exchange-traded funds are another popular market available on TD Ameritrade. This is a financial instrument made up of a basket of different securities – such as stocks, bonds, or other assets. In other words, you will diversify your money even though you are placing a single investment.
TD Ameritrade Mutual Funds
If you are interested in mutual funds, TD Ameritrade has some of the most useful tools that can help you perform objective research. The broker features over 13,000 different options in this category, which cover various asset classes, investment strategies, risk exposure, and more.
The platform partners with Morningstar Research Services to provide you with a premier list of pre-screened selections of mutual funds. In addition to this, you will have several tools at your disposal to compare products, create your own focus list, and identify the best opportunities based on your interests and investment criteria.
TD Ameritrade Futures
It is also possible for qualified investors to gain access to over 70 futures products and trade them 24 hours a day, 6 days a week. However, this feature is provided via the Charles Schwab Futures and Forex LLC even though it is available on the TD Ameritrade trading platform.
Another specialty of TD Ameritrade is micro futures – which come at a fraction of the cost, allowing investors to gain access with a smaller amount of capital. That said, it is crucial to remember that these instruments also carry the same level of risk as traditional future markets.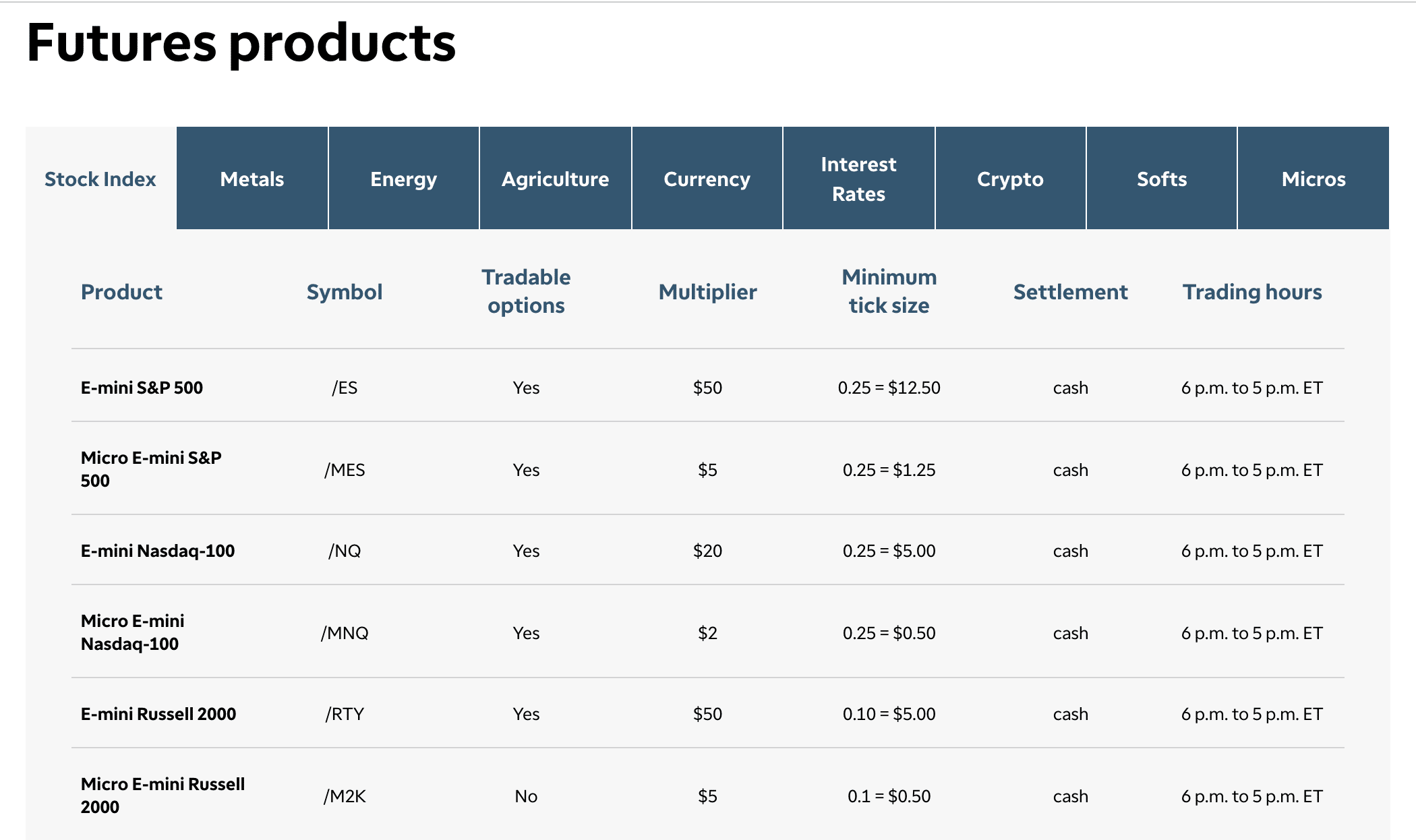 While there is no question that this broker offers a range of products, our TD Ameritrade review found that there is no support for any cryptocurrency trading instruments. In fact, the only way for you to access the market for digital assets is via futures, which is available only for Bitcoin. 
As such, if you want a regulated platform that gives you access to cryptocurrencies along with all the other assets, it will be best to use a broker like eToro. The platform offers dozens of tokens on a spread-only basis and from a minimum investment of just $25.
TD Ameritrade Forex
Forex is another market that is offered through Charles Schwab Futures and Forex LLC. Currently, TD Ameritrade gives you access to 19 fiat currencies and over 70 trading pairs. You can take advantage of many tools and charts offered via thinkorswim to trade these assets.
TD Ameritrade Margin Trading
For those unaware, investing on margin means that you are essentially borrowing money from your broker to purchase securities – such as stocks or ETFs. To do this via TD Ameritrade, you have to put up collateral and pay interest on the loan you take every month. As you might know already, when you trade this way, the potential profits and losses from your positions are magnified.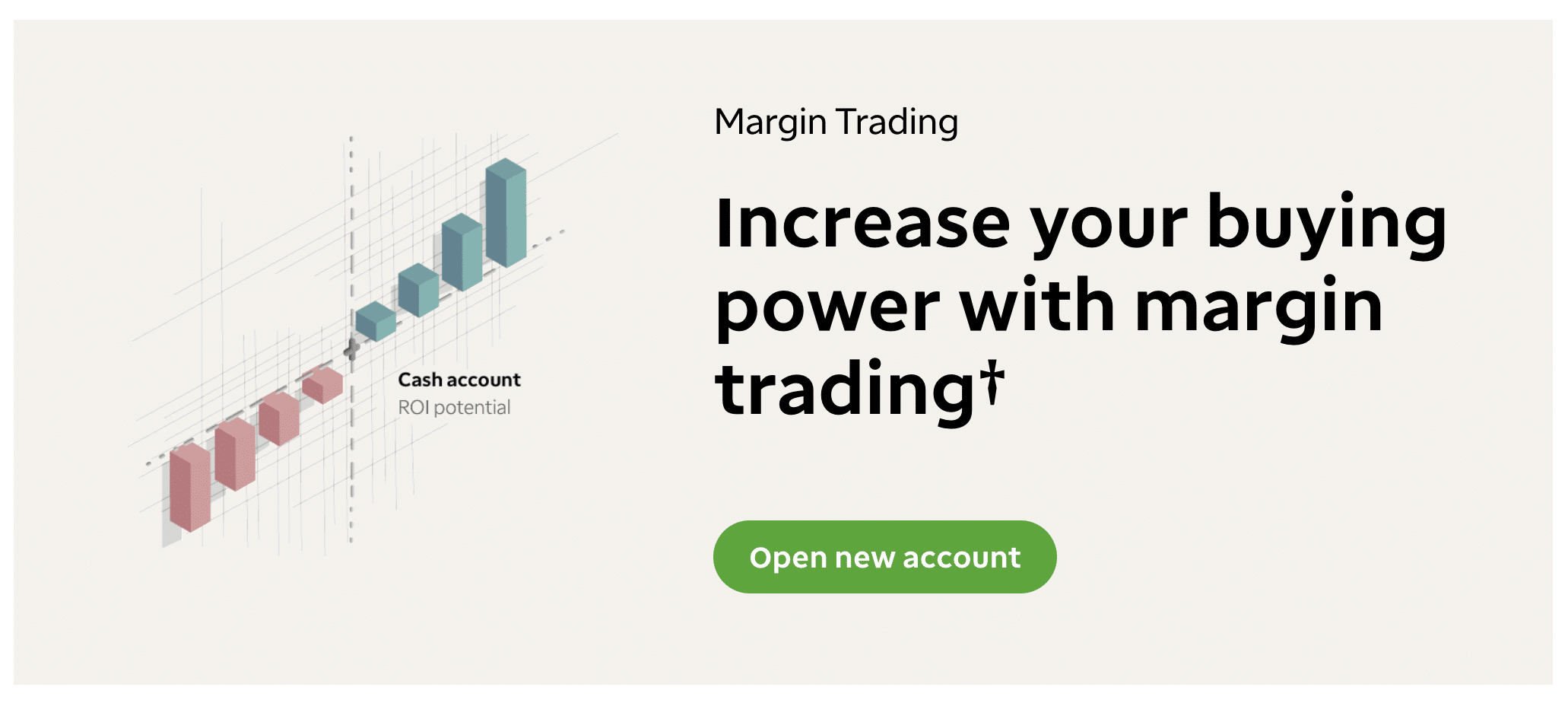 Therefore, if you are to experience a financial loss, you can end up losing more than the initial money or the securities you deposited as collateral. When this exceeds the limit set by the broker, it leads to a margin call. You can deposit additional cash or sell the securities you hold in your TD Ameritrade portfolio to pay off the balance. 
To get started with margin trading on TD Ameritrade, you will need to meet the following conditions:
Have a minimum balance of $2,000 in cash or as securities
Keep at least 30% of your total account value as equity
TD Ameritrade facilitates margin trading for stocks, ETFs, options, futures, and the forex markets. If you are unable to pay off the loan during a margin call, the broker will be forced to sell your securities to cover the costs.
TD Ameritrade Portfolio Margin
Instead of obtaining margin for specific securities, TD Ameritrade also makes it possible for you to gain access to leverage based on your portfolio. In other words, the minimum requirements for you will be calculated based on the overall net exposure of all your positions. This means that if you have a diversified basket of assets, you can get a much lower buy-in.
However, TD Ameritrade requires you to maintain a net liquidating value of at least $100,000 to be eligible. You also need to have three years of experience trading options and a minimum of $125,000 worth of account equity.
TD Ameritrade Interest On Cash
Unlike the majority of brokers out there, TD Ameritrade does not offer you interest on the funds you hold in your account by default. Instead, you will have to specifically opt-in for the Cash Sweep Program. How much you earn will depend on the amount you hold, as well as your account type.
There are two ways for you to proceed with cash products:
Investment Cash: Your money will be invested into money market funds, which yield between 0.01% to 0.03%. There is no minimum balance or monthly fees required to set this up, and the initial investment can be as low as $1. More importantly, it is SIPC insured.
Transactional Cash: In this case, your funds will remain in your account immediately available for other purposes, earning you up to 0.01% in interest. The transactional cash deposited into TD Ameritrade is covered by SIPC, and if you are making an insured deposit, then it will be FDIC insured.
TD Ameritrade Managed Portfolios
When it comes to creating a portfolio, our TD Ameritrade review found that this broker offers a range of investment management options.
Selective Portfolios: You can take your pick from a few different sets of goal-oriented, curated portfolios made of mutual funds and ETFs, each with a varying level of risk and different investment objectives. The minimum amount required is $25,000, and you will need to pay between 0.75%-0.90% for this service.
Personalized Portfolios: These are handpicked, based on your risk tolerance, financial goals, and receive tailored advice. To get started with the personalized portfolio service, you will need to invest $250,000 and will have to pay between 0.60% to 0.90% to the broker.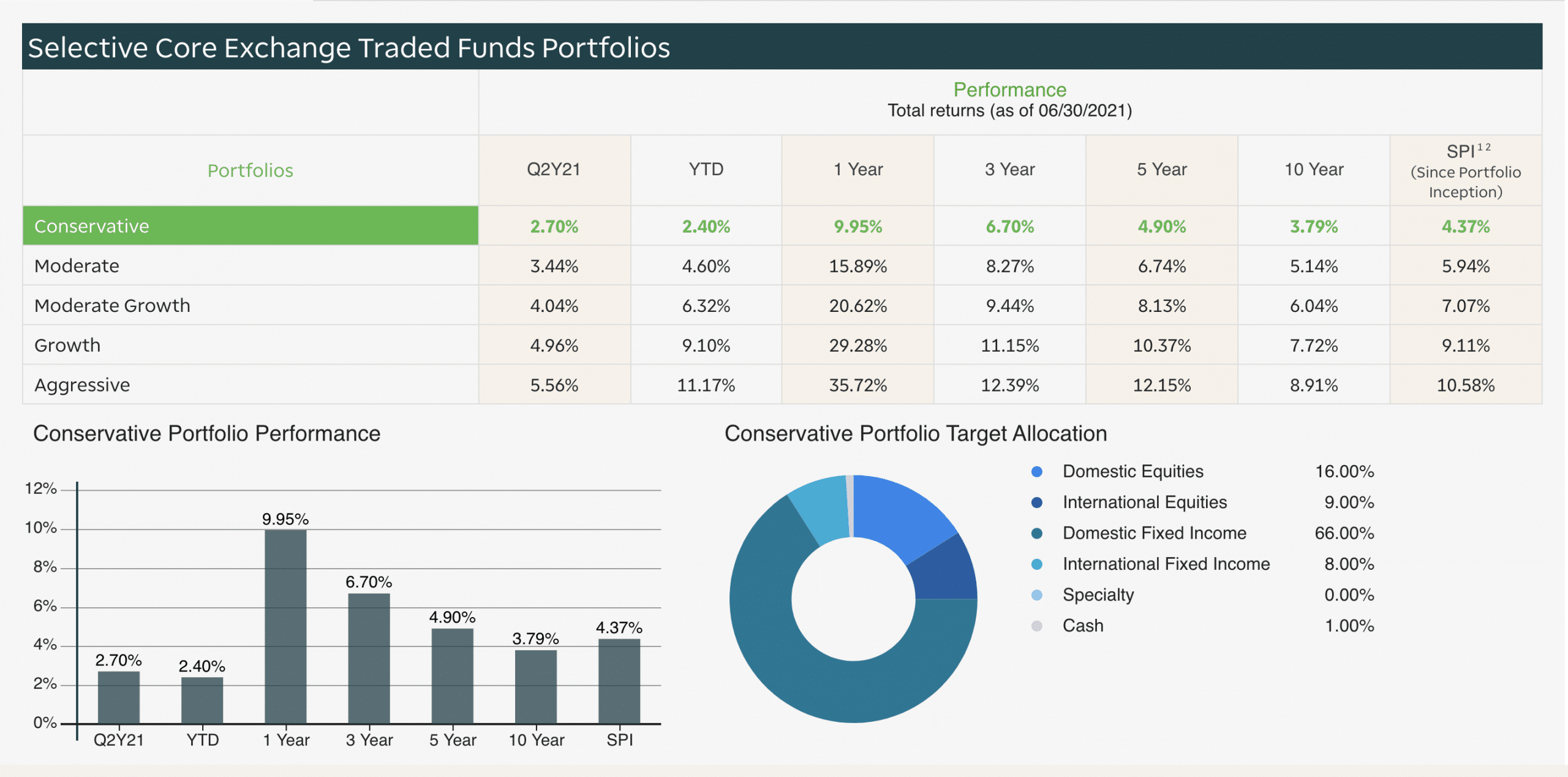 Both these portfolio management options come with access to financial consultancy. But as you can imagine, TD Ameritrade assigns you a senior expert to provide you with individualized guidance if you choose this service.
Fixed Income, Bonds, and Annuities
TD Ameritrade also provides investment solutions for those who want to diversify or manage their money this way. The broker gives you access to over 40,000 offerings from 100 dealers, 3,000+ bond mutual funds, and over 400 bond ETFs for this purpose.
TD Ameritrade Collateral Lending Program
Apart from providing investment solutions, you can also use your securities as collateral to obtain a loan in USD. You can choose between both variable and fixed-rate loans, with interest lower than that of traditional bank accounts. TD Ameritrade offers between 50% and 70% of the value of your portfolio.
As with margin trading, you are to pay off the interest every month, and TD Ameritrade reserves the right to call in your loan or sell your securities if required. Additionally, you will also have to go through a credit check and pass the minimum requirements in order to be eligible for the collateral lending program.
TD Ameritrade Trading Tools and Platforms
The tools and platforms offered by TD Ameritrade are categorized into two – for investing and trading.
Investment Web Platform
The TD Ameritrade investment platform comes equipped with all the necessary features that any investor would need. You can stay on top of all market events that may have an impact on your assets. You can set up watchlists and alerts to be notified about any market changes. There is also a GainsKeeper tool that tracks your capital gains and losses, along with a calculator that can be beneficial during the tax season.
TD Ameritrade Trading Platform – thinkorswim
For advanced traders who want to gain access to more features, TD Ameritrade has designed a dedicated trading platform – thinkorswim. This is available as an integrated web platform, an app, or software that can be installed directly to your computer.
thinkorswim comes with the following features:
All-in-one platform for trading all the products offered by TD Ameritrade
Option to create and customize watchlists for your favorite assets that you want to follow
Advanced charting capabilities
Access to third-party data for fundamental analysis
Real-time market updates
Earnings report and analysis
Screeners to find suitable stocks/mutual funds based on factors such as sector, industry, market cap, historical performance, and more.
Conditional orders such as limit, market, and stop-limit, to set triggers based on price movements of your chosen asset
Paper trading without risking real money
As you can gather, thinkorswim offers a full suite of tools that are geared particularly towards advanced traders. On the web platform, you can even draw trendlines or add indicators, and if you know a bit of coding, you can integrate even more using the thinkScript programming language.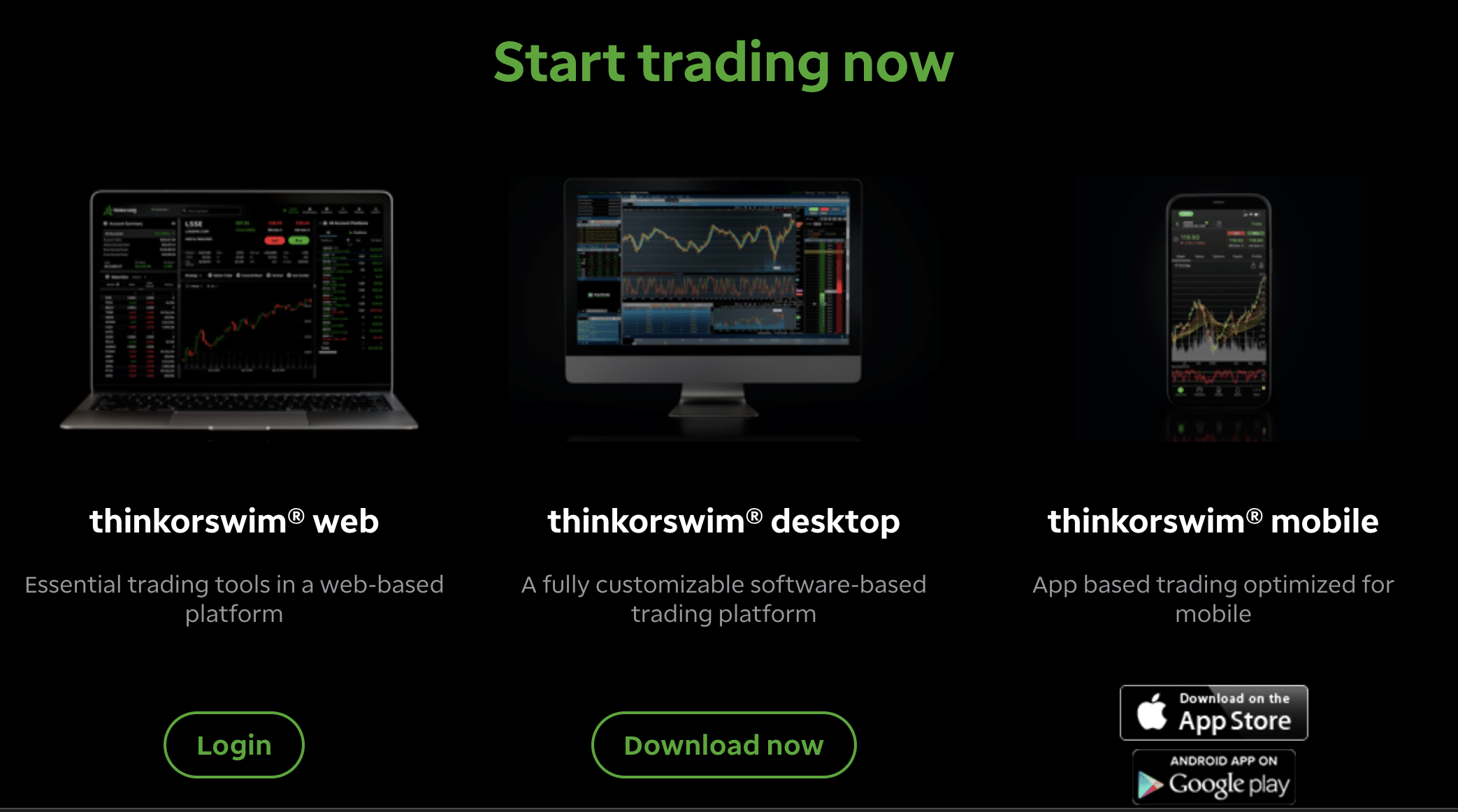 All that being said, our TD Ameritrade review would like to point out there is a steep learning curve involved for beginners to get used to this trading platform. Yes, there are dozens of tutorials and how-to videos that will help you, but it will still require some basic knowledge and time for you to familiarize yourself with the bells and whistles of this tool.
You can take advantage of the paper money tool to learn more about the different features of this platform. However, in the meanwhile, if you are completely new to trading – you are better off using a more intuitive interface –  such as the one offered by eToro. The platform offered by this broker is relatively easy to understand but still offers you sufficient charts and indicators.
TD Ameritrade Supported Countries
TD Ameritrade is fundamentally aimed towards US clients. and does not offer services to all countries. With that said, the platform also caters to a few other jurisdictions – such as Argentina, Bermuda, Brazil, Uruguay, Portuguese Timor, and Zaire.
Additionally, if you are based in Canada, Singapore, Malaysia, Thailand, Taiwan, Hong Kong, or China – you can gain access to separate entities of TD Ameritrade, which caters specifically to these jurisdictions. Don't forget that the features available, regulations, and securities offered will vary widely based on your location.
TD Ameritrade Account Types
Another thing we noted while doing this TD Ameritrade review is that you are required to open an account specific to your needs on this platform. The investment choices available to you vary drastically based on the one you choose. \
Your options are as follows:
Individual Accounts
Joint Accounts
Retirement Accounts
Education/Savings Accounts
Business/Trust Accounts
TD Ameritrade Account Verification
Our TD Ameritrade review found that you will need to go through identity verification as required by the US Federal government to get started on this brokerage platform.
This involves providing your basic personal information, such as your name, address, and contact details, along with submitting an ID document. In addition to this, you also have to answer a series of questions regarding your prior experience with investment and trading.
TD Ameritrade Education and Research Tools
When doing this TD Ameritrade review, one of the main aspects that stood out is how this platform has built a wide spectrum of resources for its users. When it comes to educational needs, you can find immersive courses, over 200 video tutorials, webcasts, and hundreds of articles.
The TD Ameritrade Network is a streaming channel that offers you access to real-time market insights and strategies from industry experts. In addition to all this, you can also take advantage of the paper trading feature, which gives you the opportunity to try and test the interface before deploying your money.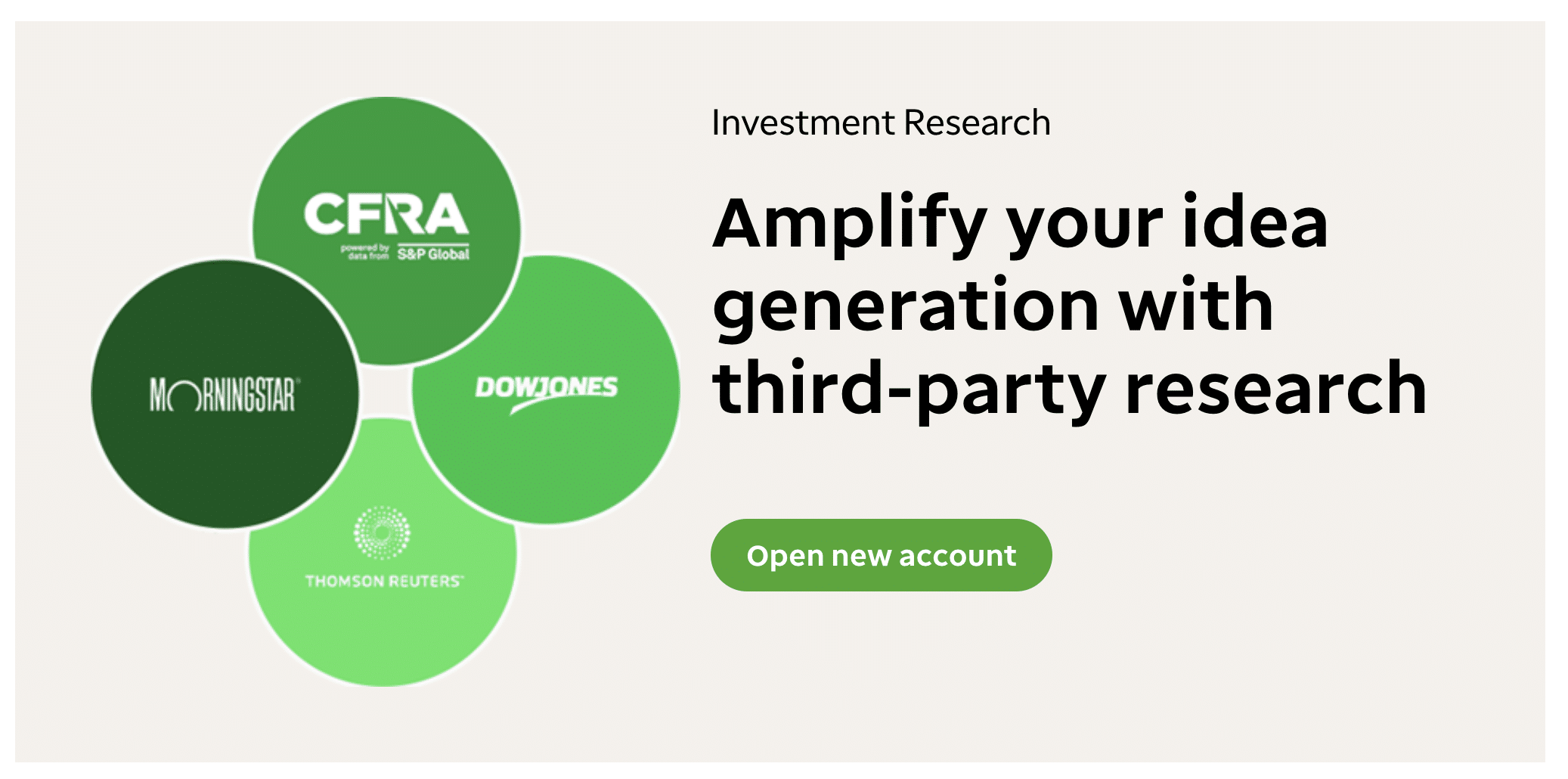 For research resources, TD Ameritrade provides technical analysis tools and screeners for you to find the assets that are best suited for your goals. You also get daily morning reports via Market Java, including recent news, views, and insight from third-party research applications. All in all, if you are on the lookout for a broker that gives you advanced tools, then this platform has plenty to offer.
TD Ameritrade Payment
As a fully regulated broker, TD Ameritrade facilitates funding your account using fiat money. The platform integrates four different methods for this purpose – which you can use depending on the nature of your account and investments.
ACH Transfer: Best for instant processing of your payments. The deposit limits vary from $50 – $250,000, depending on your account.
Wire Transfer: You can also make a wire transfer from your bank or another financial institution if you are processing large payments. There is no limit to how much you can deposit using this method, but it can take 24 hours to complete.
Deposit Check via Mobile: Through the TD Ameritrade mobile app, you can upload a picture of your Check. However, this method can take from one to three business days for the funds to appear in your account. Alternatively, you can also send a mail check to one of its branches.
Account Transfer from Another Firm: If you already have stocks, ETFs, or other assets in your name with another financial platform, TD Ameritrade can help you facilitate an external transfer.
Physical Stock Certificates: Lastly, you can also mail in your Physical Stock Certificates in your name and deposit them in your account.
Remember that if you want to fund your account using a fiat currency other than the USD, it is possible only by making an international wire transfer. TD Ameritrade automatically exchanges this to USD while processing the payment. Although this does not result in any additional fees from the broker, you might be charged by your bank.
TD Ameritrade Minimum Deposit
As we mentioned earlier in our TD Ameritrade review, one of the most attractive features of this broker is that there is no minimum deposit required to get started. However, if you are to gain access to certain markets such as margin trading, or options, there has to be a $2,000 balance in your account.
TD Ameritrade Fees
TD Ameritrade was one of the first online brokers to embrace the zero-commission formula for online trading. However, the platform charges you other fees, depending on which services you use.
TD Ameritrade Trading Fees
When it comes to making investments or placing trades, the commission is calculated as follows:
Stocks and ETFs: Zero commissions for placing a trade online for U.S. exchange-listed stocks and  ETFs.
IVR: A fee of $5.00 if you place a trade using the Interactive Voice Response (IVR) Phone System.
Broker-Assisted: A fee of $25.00 for processing broker-assisted trades.
Options: When training options, an additional $0.65 fee per contract applies.
Fixed Income: When investing in fixed income products such as bonds, you will have to pay fees as determined by the issuer.
Forex Trading: No commission, but you will have to cover the spread which will be revealed at the time of placing the trade.
TD Ameritrade Payment Fees
There are no deposit fees charged to make payments into your TD Ameritrade accounts. However, outgoing transfers will cost you as follows:
Outbound full account transfer: $75
Outgoing wire transfers (domestic and international): $25
Certificate Withdrawal: $500
In addition to this, you will also have to pay additional brokerage fees for regulatory aspects and receive real-time market quotes directly from exchanges.
Is TD Ameritrade Safe?
As an online broker, TD Ameritrade is regulated by the SEC, CFTC, and FINRA in the US. This offers you a high level of investor protection in the investment arena. One of the main advantages is that you can benefit from SIPC coverage of up to $500,000 and FDIC insurance for an amount up to $250,000, depending on the nature of your funds.
In addition to this, TD Ameritrade offers supplemental insurance against company failure, which amounts to $149.5 million. If you have any cash assets, this will receive additional coverage for up to $2 million.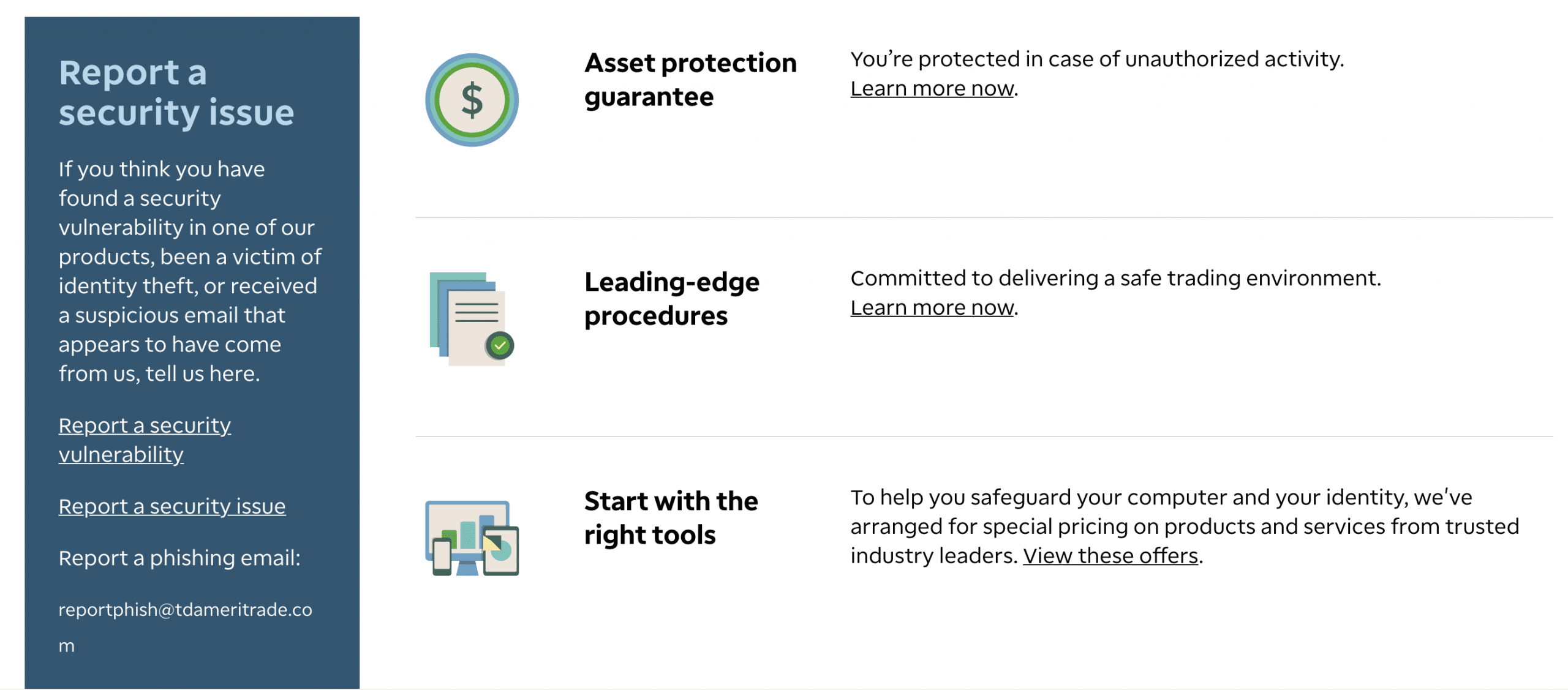 Apart from the security that comes from regulation, our TD Ameritrade review found that the brokerage platform integrates features for additional safety – such as firewalls, 2FA, 128-bit encryption.
Our TD Ameritrade review found out that this broker offers two versions of its mobile application. The first is for basic investments and the other is the thinkorswim trading tool. Both these options are available for iOS and Android devices.
As you can imagine, the thinkorswim app is designed for advanced traders and offers all the features available on the desktop version, including indicators, charts, orders, and more. You can trade supported investment products on the go while using tools to perform market analysis.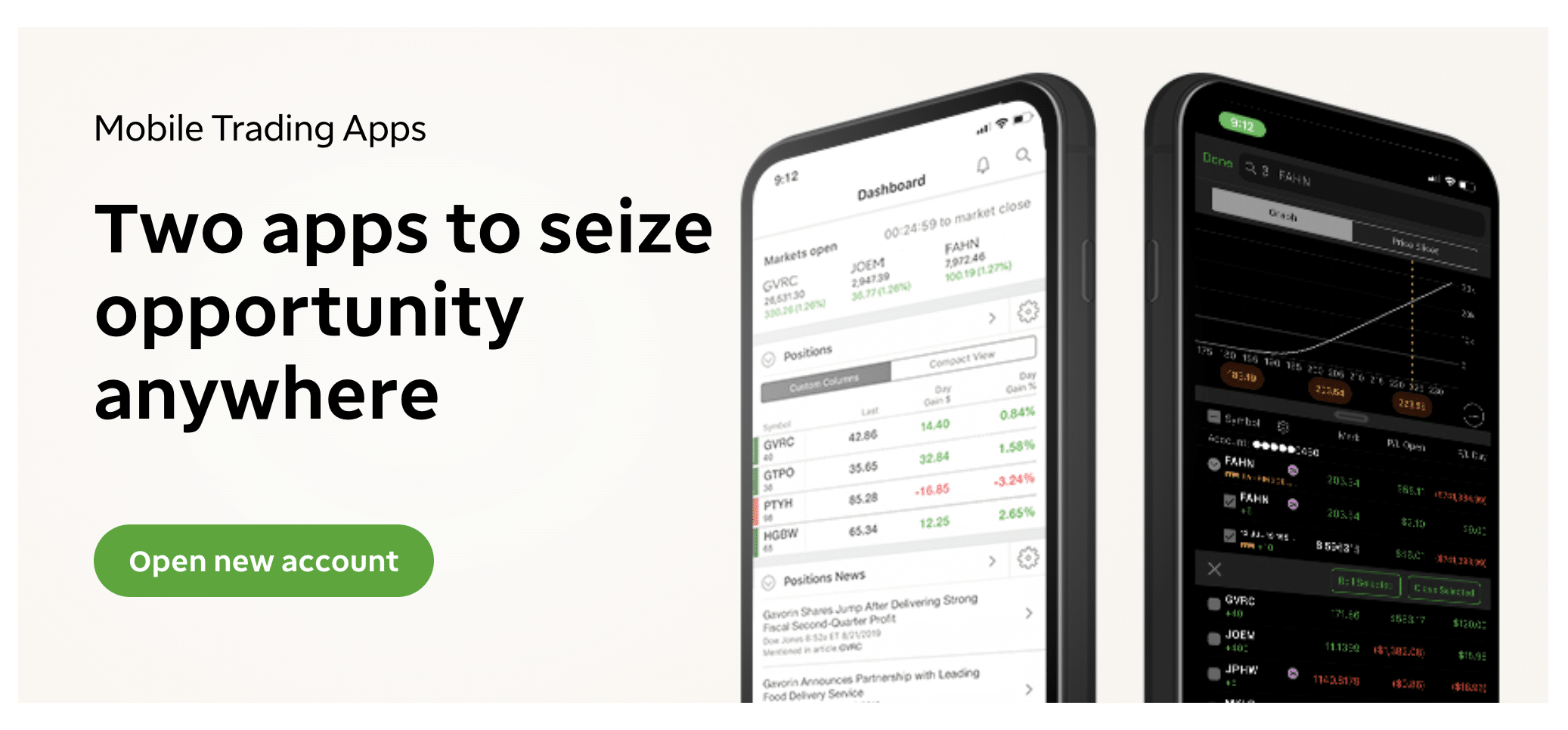 On the other hand, if you want to invest, then the TD Ameritrade mobile app comes with the right functionalities. This includes custom watchlists and educational videos, and you can set up different alert options to stay posted about the market of your holdings. You will also be able to receive customer support directly from both apps.
TD Ameritrade Customer Support 
When it comes to customer support, TD Ameritrade seems to have covered all bases.
You can connect to a customer service agent directly via a phone number that is available 24/7. There are separate numbers listed for different concerns and departments.
TD Ameritrade is one of the few brokers that has physical branches across the US. You can make an appointment or drop in at any of the 175+ offices, based on your location.
You can send a text, email, or direct message to TD Ameritrade on Twitter or Facebook.
For those who prefer old-school contact services, the broker continues to receive faxes.
Lastly, you will be able to find answers to most of your questions directly from the extensive FAQ section on the TD Ameritrade website.
As you can see, the broker has left no stone unturned when it comes to providing you with top-notch customer service around the clock.
eToro vs TD Ameritrade – Comparison
When deciding on an online platform for your investment and trading needs, the decision demands some serious consideration. You need to not only analyze a particular broker but should also compare its features and costs against other market-leading providers.
As such, to complete this TD Ameritrade review, we thought its best to provide a detailed comparison of the broker to
eToro
– a popular trading and investment platform with over 20 million users across the world.
Safety and Regulation
There is no question that TD Ameritrade is a secure platform that is heavily regulated in the US. But this broker still falls short when compared to the safety offered by eToro – which carries licenses issued by not just one but multiple prominent financial authorities across the world.
eToro is regulated in the UK by the FCA, in Australia by ASIC, and in Cyprus by CySEC. Additionally, the platform also holds licenses from the SEC and valid registration with FINRA.
User-Friendliness
Any TD Ameritrade review will point out that the broker provides you with tons of resources for beginners. However, the trading platform itself might not be the best fit for new traders. While there are plenty of features, it can take some time to find out how everything works and when to use what.

On the other hand, eToro offers a perfectly suitable interface that makes it easy for users to trade and invest – even without any prior experience. This does not mean that there are no indicators or charts supported. Instead, the platform is intuitive and provides everything needed without making it overwhelming for beginners.
Supported Markets
Another aspect that is lacking with TD Ameritrade is that access to international markets is very limited. The broker lists a few, but far less when compared to what eToro has on offer. This social trading platform gives you access to stocks across multiple exchanges – such as the NYSE, Toronto Stock Exchange, LSE, Euronext Paris, and more.
eToro is also known for offering its users access to fractional shares, allowing them to invest in stocks that are otherwise too expensive. The minimum here is just $50 per trade. In addition to this, you can also invest in cryptocurrencies or trade commodities – markets that are entirely missing on TD Ameritrade.
Payment and Fees
An area where eToro claims an upper hand is in the number of supported payment methods. Instead of having to rely on bank transfers, this broker also allows you to make deposits via debit/credit cards and e-wallets like PayPal.
eToro is also a spread-only broker that allows you to invest in stocks, ETFs, and commodities without having to pay any hidden fees.
Passive Investment Tools
Like TD Ameritrade, eToro also offers you passive investment options. You can choose to copy the trades of another professional so that your account will reflect the same positions opened and closed by them – in proportion to the investment you make. This CopyTrading feature allows you to benefit from market price movements of assets without having to engage in resarch yourself.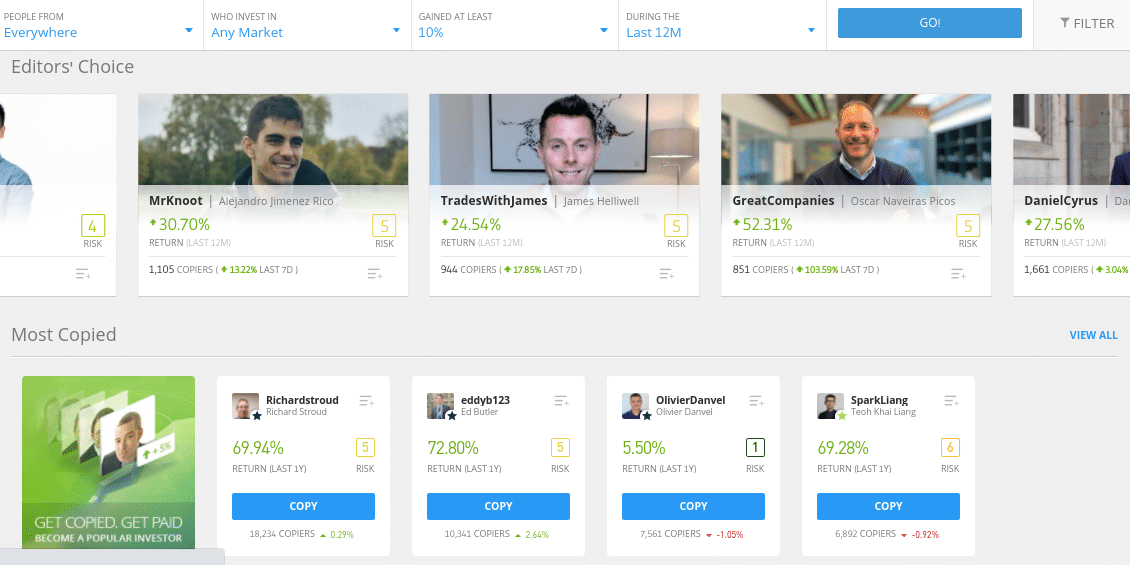 Additionally, similar to managed portfolios on TD Ameritrade, eToro offers CopyPortfolios, where you can invest in a preselected basket of assets. In other words, no matter which of these two brokers you choose, you will be able to benefit from passive investment options. However, you will need to think of all the features, tools, and markets available before making a choice.
TD Ameritrade Review – Conclusion
TD Ameritrade is a popular online broker with a long-standing reputation in the investment industry. Its core analytical features might be of interest to you if you require a diverse set of research tools at your disposal and access a wide selection of products.
However, in spite of having several educational offerings, TD Ameritrade might not be that beginner-friendly, nor does it allow easy access to international or cryptocurrency markets.
If you want a regulated broker that caters to all these aspects, eToro might be the better choice as a one-stop shop for all your investment and trading requirements.
eToro – Best Broker in the Online Investment Arena
FAQ
Is TD Ameritrade regulated?
Is TD Ameritrade available in the US?
What fees does TD Ameritrade charge?
How do you contact TD Ameritrade?
What is the TD Ameritrade minimum deposit?