Best Shares to Buy Now – 10 Best Stocks To Buy Right Now in the UK
The stock market's nature means that there are constantly new and exciting movements every day, creating limitless opportunities to generate positive returns. However, with so many moving parts and a whole host of companies to consider, it can sometimes be overwhelming to decide which are the best investments to make!
Not to worry – we've done all the research and determined the Best Shares to Buy Now in January 2022, with our in-depth analysis covering January 17 to January 21.*
*Price data and returns are correct as of January 17, 2022.
Top 10 Best Shares to Buy Right Now UK

Later in this section, we'll dive into each of the top 10 shares in detail, providing you with all the information you need to know to make a compelling investment. However, before we do that, here's a quick overview of our top 10 picks:
If you'd like to buy any of these shares right now, we'd recommend using eToro, as you'll avoid paying any commissions and can create an account in minutes!
1. Ford (F) – Overall Best Stock to Buy Now (HOLD)

Industry: Auto Manufacturers
Current price: $25.19
Market value: $100.67bn
Dividend yield: 1.59%
YTD return: +15.71%
January 17 to January 21: Ford has performed exceptionally well since October 2020 when Jim Farley took charge, changing its focus to electric vehicles (EVs) and boosting sales impressively. Ford shares are up over 150% since this time last year and show no signs of stopping, as the company has recently breached a $100bn valuation for the first time in two decades. Looking ahead, there seem to be plenty more gains to be made thanks to positive changes in consumer tastes.
Firstly, Ford's focus on EVs has paid off hugely, with the electric versions of Ford's F-150 and Mustang being met with critical acclaim. The demand for these models has helped Ford financially, with the company generating over $35.6bn in sales during Q3 2021. This helped produce a profit of $1.8bn for that quarter – which was nearly $1.3bn higher than the previous quarter!
Considering that 2022 is set to be another strong year for the company, reservations for Ford's F-150 pickup truck show no signs of stopping. Demand is so high that the company is boosting its production capacity for this model in 2022 whilst doing the same for Mustangs and E-Transit vans. Overall, things are going swimmingly for Ford, making for a good investment opportunity within the automotive industry.
68% of retail investor accounts lose money when trading CFDs with this provider.
2. Walt Disney Co (DIS) – Best Stock to Buy at a Discount (BUY)
Industry: Movies/Entertainment
Current price: $151.94
Market value: $276.17bn
Dividend yield: N/A
YTD return: -3.07%
January 17 to January 21: Disney's shares have had a tough few weeks, down by around 18% after missing revenue and earnings estimates. Shares are currently trading at about $147.50, a far cry from the $202.80 we saw back in March. However, although the company has undoubtedly had a setback, there's much to be excited about heading into 2022.
Firstly, Disney's brand recognition is second to none, which has meant that Disney has grown its streaming service subscriber base to 179 million since launching in 2019. Furthermore, Disney's theme parks are still not at pre-pandemic levels, which are a massive driver of revenue for the company. If vaccination rates continue to rise and restrictions continue to ease, we'll likely see parks reopen fully in 2022.
Finally, Disney is beginning to provide box-office hits on its streaming service to rival Netflix, with many of them appealing to children. This is an excellent niche for Disney, as it'll attract parents who wish to provide entertainment for their children, which isn't the first thought for people looking towards other streaming services. Overall, although the share price has taken a hit, this is likely to be short-term – meaning Disney is worth considering as an addition to your portfolio.
68% of retail investor accounts lose money when trading CFDs with this provider.
3. Devon Energy Corporation (DVN) – Best Shares to Buy with Fantastic Dividend Yield (HOLD)
Industry: Energy
Current price: $50.39
Market value: $34.11bn
Dividend yield: 0.90%
YTD return: +10.58%
January 17 to January 21: Devon Energy is a US-based energy company that is engaged in the process of hydrocarbon exploration. This involves drilling into the earth to find petroleum and natural gas deposits, which can be refined and sold. Since 1992, Devon Energy has acquired numerous locations throughout America and the Gulf of Mexico, allowing them to average over 608,000 barrels of oil equivalent per day in Q3.
Like other oil companies, much of Devon Energy's success will be based on the oil price. The outlook for oil's price looks promising as companies worldwide begin ramping up activity and returning to pre-pandemic levels. Furthermore, OPEC has managed to cap the supply of oil efficiently in recent times, which has allowed the price to maintain stability.
Devon Energy also appeals to investors thanks to an innovative 'fixed plus variable' dividend. This means that, alongside paying a fixed dividend, the company also started paying out up to half of its excess free cash flow as an additional 'variable' dividend. Overall, this year looks exceedingly bright for the oil market and Devon Energy, making it an outstanding stock to consider for investment.
68% of retail investor accounts lose money when trading CFDs with this provider.
4. Netflix (NFLX) – Best Entertainment Stock to Buy Now (BUY)
Industry: Entertainment
Current price: $525.69
Market value: $232.86bn
Dividend yield: N/A
YTD return: -12.00%
January 17 to January 21: Netflix, the streaming giant with over 213 million subscribers, shows no signs of stopping this year after hitting a new all-time high of $700.99 on November 17. Much of Netflix's progress is down to exciting and innovative new shows, with Squid Game being the company's latest hit. Looking ahead, the prospects continue to look good for Netflix, which is why it's a staple of many investors' portfolios.
In 2022, Netflix has a vast release schedule ahead of it, spearheaded by the new season of Stranger Things. A large portion of consumers tend to only sign up for a service if there is a show they wish to watch, so the fact that Netflix keeps hitting it out of the park here is a huge plus point.
In the future, Netflix looks likely to stay ahead of rivals such as AppleTV+ and Prime Video, with revenues up over $1bn since the same time last year. Furthermore, Netflix increased net income in the most recent reporting period, with EPS sitting at 7.91. Overall, there doesn't seem to be any reason to bet against Netflix, which is why it's one of our top stocks to buy right now.
68% of retail investor accounts lose money when trading CFDs with this provider.
5. Twilio (TWLO) – Best Share to Buy for Long-Term Growth (BUY)
Industry: Communication Services
Current price: $215.16
Market value: $38.37bn
Dividend yield: N/A
YTD return: -17.97%
January 17 to January 21: Twilio is an exciting US-based company that operates within the cloud-communications sector. The company offers software for app developers to make phone calls and chat to customers via in-app functionality – all in a safe manner. Shares are down significantly since reaching all-time highs in February 2021 – although this provides scope to invest at a much more attractive price.
Revenue reached $740.1m in Q3 2021 – its highest level across the entire year. Net income was still negative, although much of this can be attributed to Twilio acquiring smaller companies, such as data platform Segment. Furthermore, the level of service Twilio provides has helped increase the company's user base to over 250,000 customers at the time of writing.
Although the company isn't profitable, Twilio does have over $5.3bn in the bank, which should see it through 2022 unscathed. The prospects for this company are huge, considering more people spend time on phone apps than ever before. If Twilio can continue developing its services, we'll likely see this stock continue to grow in the months (and years) ahead.
68% of retail investor accounts lose money when trading CFDs with this provider.
6. Kinder Morgan (KMI) – Best Energy Company to Invest In (HOLD)
Industry: Energy
Current price: $17.89
Market value: $43.76bn
Dividend yield: 6.81%
YTD return: +9.42%
January 17 to January 21: Kinder Morgan is an American oil and gas company with around 85,000 miles of pipeline throughout North America. The company focuses on energy infrastructure and can transport gas, ethanol, biodiesel, hydrogen, oil, and more. At present, Kinder Morgan has a market cap of $36.41bn and is trading at $16.16.
One of the best things about Kinder Morgan is its incredible dividend. Investors can expect to receive a yield of 6.68%, which is paid quarterly. The next ex-dividend date will likely be scheduled for some time in January 2022 – so if you'd like to get some additional passive income, then now could be an excellent time to consider an investment.
Aside from dividends, Kinder Morgan is also a great company from a cash flow perspective. According to Yahoo Finance, Kinder Morgan had a free cash flow of $780m as of Q3 2021. The cash-rich nature of the company has allowed them to acquire smaller firms to bolster their infrastructure. Ultimately, this will mean more significant revenues going forward – which can only be good news for the share price!
68% of retail investor accounts lose money when trading CFDs with this provider.
7. British American Tobacco PLC (BATS) – Best UK Stock to Buy Today (BUY)
Industry: Tobacco
Current price: 3,141.50p
Market value: $95.24bn
Dividend yield: 8.35%
YTD return: +12.74%
January 17 to January 21: British American Tobacco is a tobacco company that produces cigarettes and other nicotine-based products. Initially launched in 1902, British American Tobacco has grown exponentially and now operates in around 180 countries. Some of British American Tobacco's strongest brands include Pall Mall, Dunhill, and Lucky Strike – three of the best-known brands in the market.
One of the main reasons to invest in British American Tobacco is its high dividend. At the time of writing, British American Tobacco has a yield of 8.35%, which is great for income investors. Tobacco companies tend to offer high yields to compensate for the fact that their products aren't ethically desirable – so there's always scope for this yield to go even higher!
Although tobacco is becoming less desirable in developed nations, its consumption is growing in developing countries. This will ensure British American Tobacco continues to have strong sales in the future. Finally, the company is also pivoting and focusing on vapour products, with Vuse becoming the world's number one brand. Overall, the company still looks exceptionally strong and is a top pick for us in the market right now.
68% of retail investor accounts lose money when trading CFDs with this provider.
8. Pinterest (PINS) – Great Social Media Stock with Rebound Potential (BUY)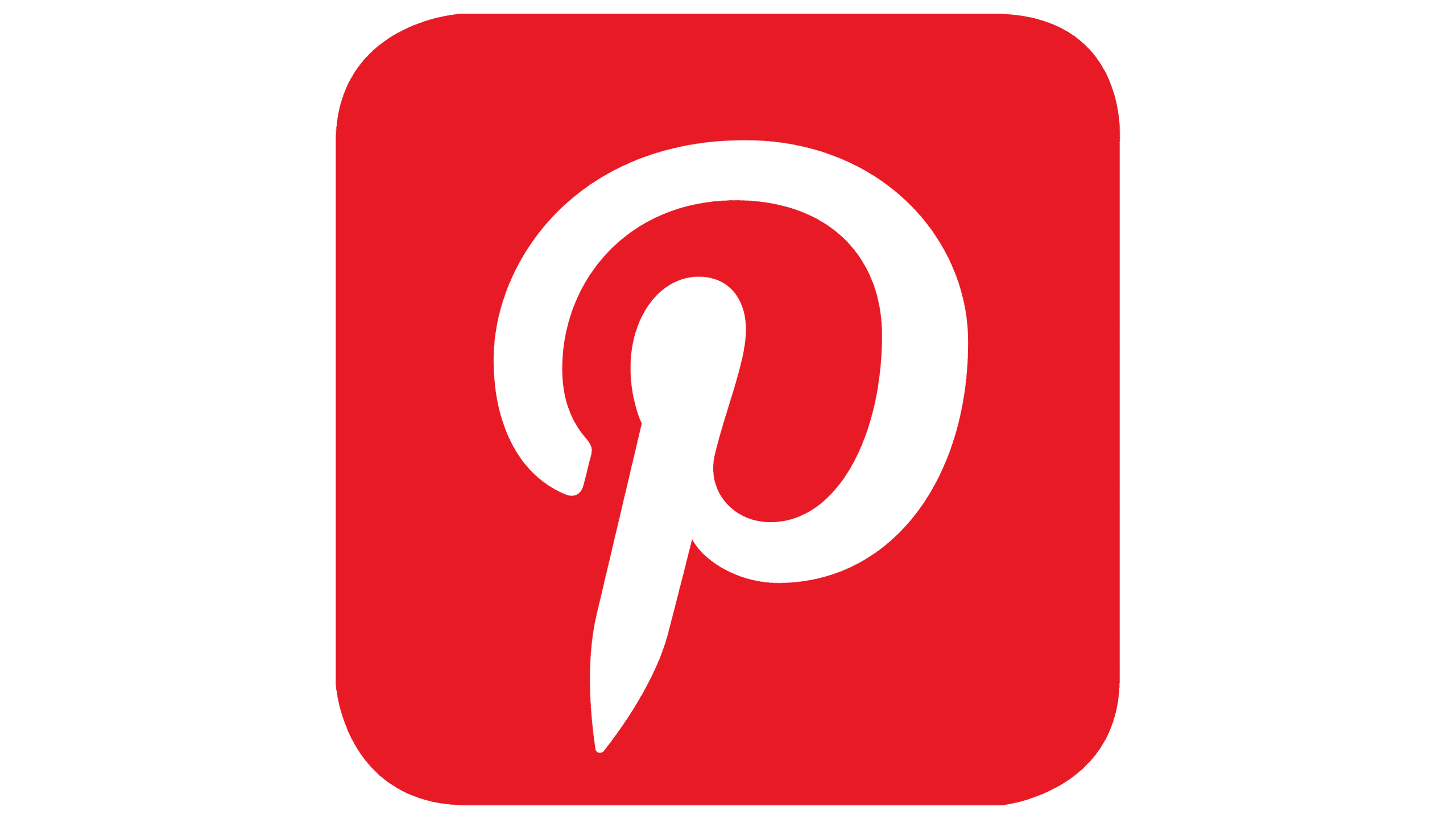 Industry: Internet Content & Information
Current price: $32.83
Market value: $21.41bn
Dividend yield: N/A
YTD return: -9.83%
January 17 to January 21: Pinterest is a unique social media site that uses images and GIFs to share ideas on 'pinboards'. According to Statista, Pinterest had over 444 million monthly active users in Q3 2021 but has suffered in the stock market over the past year. However, there are signs this bearish momentum could reverse, which would provide a great buy opportunity for investors.
Although users have declined for two quarters now, Pinterest is combating this by increasing its average revenue per user by over 37% in the last year. Furthermore, Pinterest is growing its revenues per user rapidly in international markets, although these markets only make up a small portion of its income. This may seem like a negative thing, but it highlights a considerable growth opportunity for the company.
Revenue in Q3 was up 43% since the same quarter last year, whilst net income was over $93m. This couldn't stop the stock sliding though, with Pinterest trading around 63% lower than the highs of April 2021. However, this provides an excellent opportunity to buy Pinterest stock at a low price – which offers scope for huge gains if the company can rebound in 2022.
68% of retail investor accounts lose money when trading CFDs with this provider.
9. Verizon Communications (VZ) – Best Telecoms Company to Invest In (HOLD)
Industry: Communication Services
Current price: $53.28
Market value: $220.59bn
Dividend yield: 4.72%
YTD return: +1.60%
January 17 to January 21: Verizon is a huge American telecommunications company with a market cap of over $220bn. The company owns the second-largest mobile network in the US and is just behind AT&T in terms of revenue. The company's shares had a tough time in 2021, although they have bounced back nicely since December and are now up over 9% in the last month.
The outlook for the telecom industry is exciting, with the rollout of 5G still gathering pace across the country. Q3 2021 was a stellar quarter for the company in terms of net income, as Verizon generated $6.4bn in profit, which equated to an EPS of $1.55. Furthermore, Verizon also added more internet and wireless customers thanks to the work-from-home trend.
Another great thing about Verizon is its strong balance sheet. The company had over $9.9bn in the bank as of Q3 2021, which has allowed it to provide an excellent dividend yield of 4.72% at the time of writing. With the company increasing dividends in each of the last 15 years, Verizon is a great opportunity to benefit from capital gains and a solid passive income stream.
68% of retail investor accounts lose money when trading CFDs with this provider.
10. NVIDIA (NVDA) – Best Innovative Stock to Buy Today (BUY)
Industry: Technology
Current price: $269.42
Market value: $673.55bn
Dividend yield: 0.05%
YTD return: -10.55%
January 17 to January 21: Rounding off our list of the top ten best stocks to buy right now is NVIDIA. Most people will think of NVIDIA as simply a company that produces graphics cards that are used for computer gaming. However, NVIDIA is much more than that.
Gaming revenue increased 85% in Q2 2021 compared to Q2 2020, highlighting that the company is still growing in this area, even though they are so well established. Furthermore, NVIDIA's virtual reality and automotive GPU's are still selling extremely well, with revenues in both of these areas also up substantially.
Finally, NVIDIA is even poised to move into the cryptocurrency market. The company recently released a line of GPUs that are specifically designed for cryptocurrency miners. Q2 2021 sales of these GPU's totalled $266 million, which is impressive given they are just new onto the market. If sales of this product line can continue growing, it'll make NVIDIA an even more attractive investment than it already is.
68% of retail investor accounts lose money when trading CFDs with this provider.
If you're looking to buy any of the shares listed above, we'd recommend using eToro, as you'll be able to set up an account in minutes and invest in shares with 0% commissions! 
Best Stocks to Buy Now – January 17 to January 21
It was a pretty good week last week for US equity indices, as the S&P 500, NASDAQ, and Dow Jones all ended in the green. The upcoming interest rate decision has been weighing heavily on investors, so we may see some flat trading before the announcement towards the end of January.
UK equity indices also had a decent week last week, with the FTSE 100 and FTSE All-Share both up slightly. Positive GDP data did help boost equities, although this was balanced out by the setback due to the rise of the Omicron variant.
S&P 500: +1.16%
NASDAQ Composite: +1.86%
Dow Jones: +0.15%
FTSE 100: +0.77%
FTSE All-Share: +0.17%
Best Stocks To Buy Right Now & Watch – January 17 to January 21
While researching the best shares to buy right now, many companies were extremely promising but just didn't quite make our top 10 list. Here are two of the stocks that narrowly missed out yet are still worth keeping your eye on throughout the coming week:
ASOS (ASC): ASOS has had a rough year since lockdowns eased, as consumers have begun visiting physical retail stores more often, which has hampered the sales growth of this e-commerce giant. However, as ASOS are now focusing more on ESG factors with an aim to be more sustainable, this company is worth keeping an eye on for ethical investors.
easyJet (EZJ): The new travel rules have meant that airline companies look set to rebound following an up and down year. easyJet has recently raised funds from shareholders, which will allow the company to invest appropriately to fund its comeback.
How to Buy the Best Shares Now
If you're looking to buy stocks in one of the companies that we've mentioned in this article, then you'll need to create an account with a reliable trading platform. There are many options to choose from these days, which can make the decision-making process quite tricky!
Luckily we've done the research and found that eToro offers the best way to buy shares today, thanks to the platform's 0% commission structure and low minimum deposit. With that in mind, let's take a look at the four short steps you need to follow to invest with eToro:
Step 1: Open an eToro Account
Head over to the eToro website and click 'Join Now'. You'll then be asked to provide a valid email address and choose a username and a password. Once you have done this, click 'Create Account'.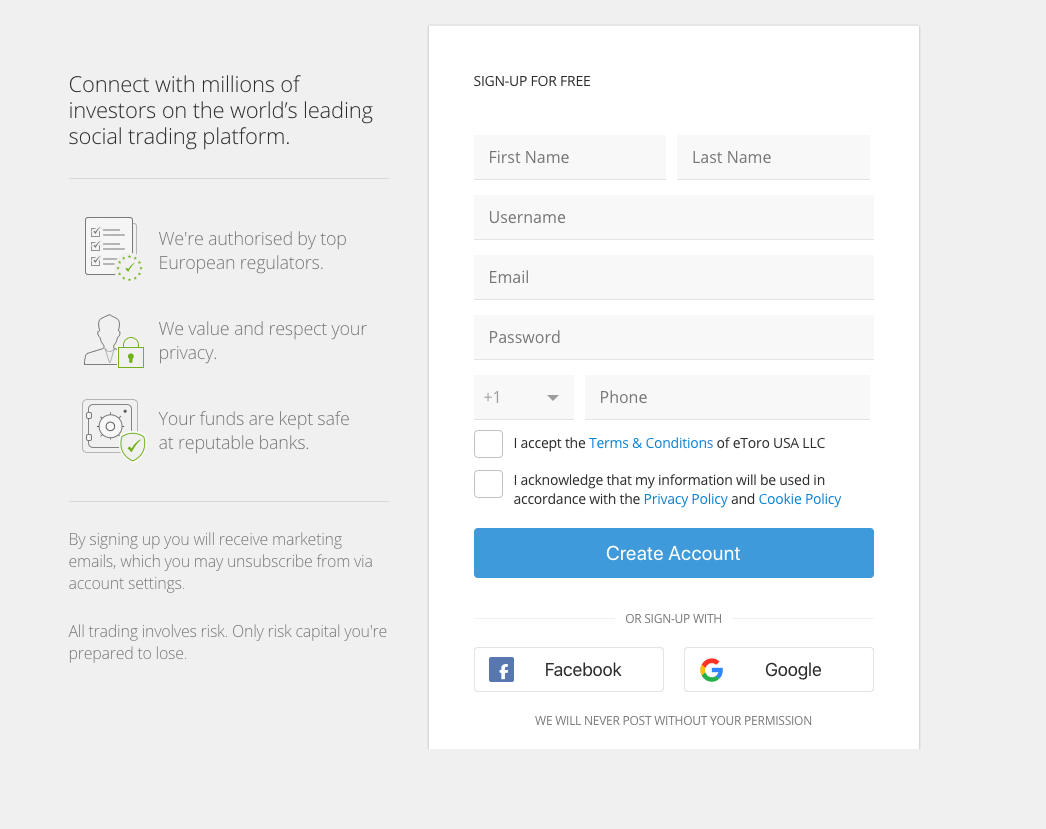 68% of retail investor accounts lose money when trading CFDs with this provider.
Step 2: Verify your Account
As eToro are heavily regulated, new users must verify themselves before being able to trade. To do so, click the 'Complete Profile' button on your account dashboard and provide the required personal information. You'll also have to upload proof of ID (a copy of your passport or driver's license) and proof of address (a copy of a bank statement or utility bill) to verify your account.
Step 3: Fund your Account
The minimum deposit at eToro is only $10 (£7.37), which is one of the lowest in the industry. Deposits are entirely free to make, and eToro accepts the following deposit methods:
Credit Card
Debit Card
Bank Transfer
PayPal
Skrill
Neteller
Klarna
Trustly
Step 4: Buy Shares
Once you've funded your account, you're ready to trade! Click in the search bar and type the name of the company you'd like to invest in – for the purposes of this guide, we'll be looking to invest in Tesla. Click 'Trade', and an order box should appear like the one below.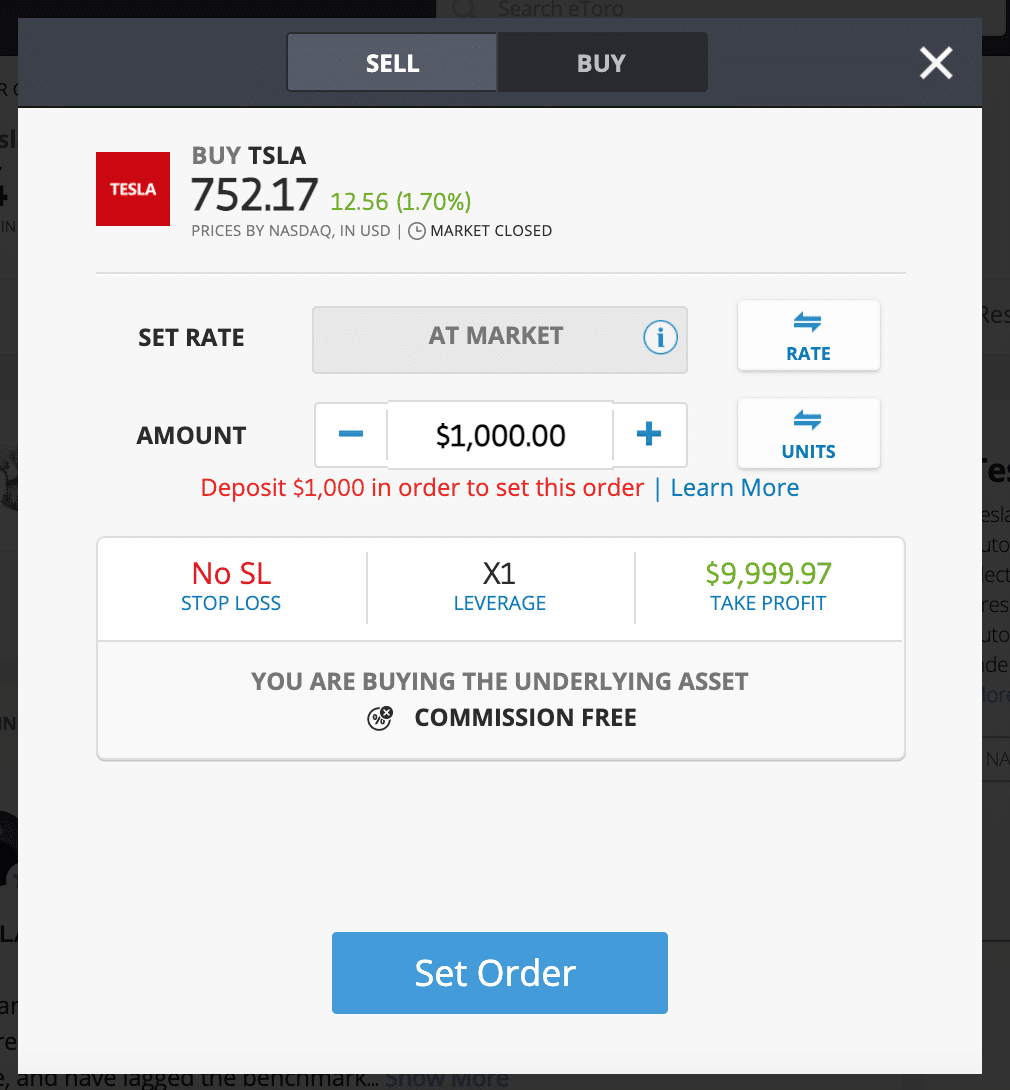 In this box, simply enter the amount of money you'd like to invest (minimum of $10). Following this, decide whether you'd like to implement a stop loss/take profit level or if you'd like to utilise leverage. Once you are happy with everything, click 'Open Trade'.
How Do We Decide Which Shares Are Best?
Deciding which shares represent the best investment opportunities involves in-depth research and a comprehensive understanding of the stock market. To ensure our stock picks are as accurate as possible, we employ four main types of analysis:
Fundamental Analysis
Technical Analysis
Analyst Ratings
Market News
By combining these four analysis types, we can provide stock predictions backed by sound reasoning and with a good chance of generating a return. Let's take a look at each of these analysis types one by one:
Fundamental Analysis
Fundamental analysis aims to try and determine what a stock's 'intrinsic value' is. This refers to the stock's 'true' value and not its current value in the stock market. Fundamental analysis attempts to establish the intrinsic value of a stock via studying the broader economy and looking at the internal factors of how a company is run.
By getting such a comprehensive overview, fundamental analysis can determine whether a stock is overvalued or undervalued. If the intrinsic value is less than the stock's current price, it will represent a good buy as stocks tend to gravitate towards what they are truly worth. Thus, it's always a good idea to look for undervalued stocks as they provide a solid chance at generating returns.
Technical Analysis
Technical analysis involves looking at the price chart and trading volume to get insight into where the stock price may go next. Technical analysis assumes that previous movements in a stock's price can hint at where the stock may go next. Factors such as price patterns and trading indicators can be used to bolster this insight.

Essentially, technical analysis boils down to a study of supply and demand. These supply and demand forces tend to visualise themselves through the price chart, so experienced analysts can usually glean a lot of information from studying price movements. If technical analysis is used in conjunction with fundamental analysis, it can provide a solid idea of where a stock may head.
Analyst Ratings
Although our research team makes their own judgements on a stock, we also try and get a sense of what other market commentators have in mind. Analysts who work for major brokerage firms and other financial companies will study specific stocks and try to determine whether they represent a good investment or not. Analysts tend to go in-depth when researching a company, looking at financial reports and studying its internal structure.
Once an analyst has completed their research, they will provide either a 'Buy', 'Sell', or 'Hold' rating. These ratings help investors make decisions on what they should do in regards to a specific stock. In addition, analysts will often provide estimated price targets over a particular period, adding another level of detail to these predictions.
Market News
Finally, our team also analyses current market news. News plays a massive role in price movements, as it tends to influence the broader sentiment around a particular stock. For example, if some bad news comes out about Apple, the stock price will likely decrease.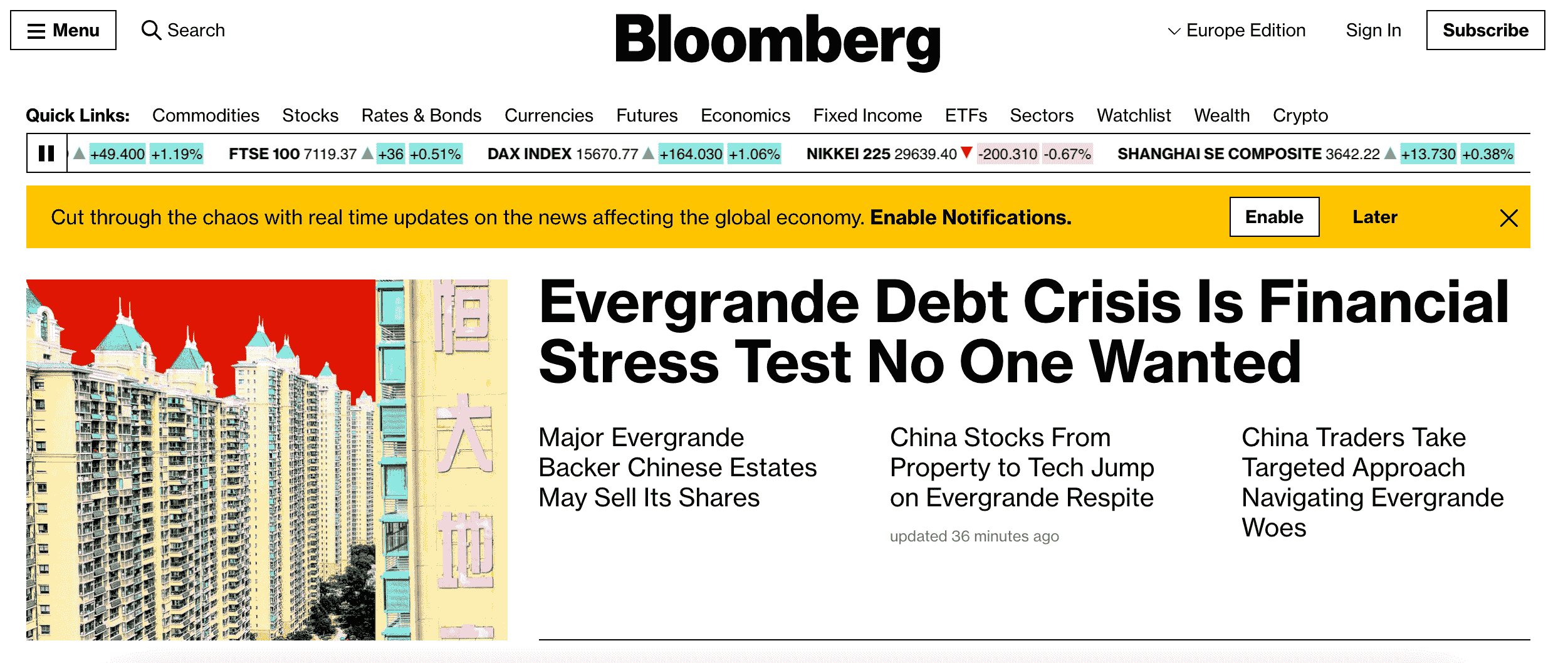 By combining the four types of analysis listed above, we can arrive at logical stock picks and provide a solid chance of generating a positive return. Regardless of your experience level, by reviewing our selections, you'll have a good idea of which stocks could perform well in the market over the course of the week. However, it's essential that you don't just take our word as gospel and also conduct your own research too – whilst never investing more than you can afford to lose!
If you'd like to learn more about the stock-picking process, you can read our 'How to Invest in Stocks' guide for a deeper look.
Best Shares to Buy Today – The Verdict
As this guide has highlighted, there is a diverse selection of stocks on the market right now that are in prime position to be invested in. Our top pick right now, Ford, is experiencing some strong sales growth – and with more innovation on the horizon, the signs look great for this stock. Furthermore, companies such as Kinder Morgan, Netflix, and NVIDIA are continuously improving their products to keep themselves ahead of the curve, which is an important factor when it comes to generating returns.
So, if you'd like to buy stocks today, we'd recommend using eToro. eToro is one of the world's most popular brokers and have over 23 million users around the globe. What's more, you'll be able to buy stocks with 0% commissions, with a  minimum deposit of only $10!
eToro – Buy the Best Shares Now with 0% Commissions


68% of retail investor accounts lose money when trading CFDs with this provider.
FAQs
What are the best shares to buy right now?
Which shares pay the best dividends?
What is the best time to buy shares?
Where can I buy the best shares?
How much can I make when buying the best shares?