MT4 Brokers – Best USA MT4 Forex Brokers in 2021
Please note that we are not authorised to provide any investment advice. The content on this page is for information purposes only.
Whether you're a rookie or a pro trader, the software you use matters. If you're all about the best, you need Meta Trader 4 (MT4) on your side, helping you buy, trade, and analyze the market more precisely than ever before. It's not just about using a solid platform but also collaborating with the best MT4 stock brokers in the business.
Below, we've got the scoop on how to pick your powerful duo with a list of the best MT4 brokers around plus, a deeper look into MT4 and how it can help you amp up your trading game. If you're ready to start trading on a whole new level, follow along, and learn the tricks of the trade.
Best MT4 Brokers – Top 5 MT4 Brokers List
Instead of scouring the web and sifting through thousands of potential brokers, we've done the leg work for you and have here the best MT4 brokers out there. We picked those that popped, offering state-of-the-art features for the new age trader. After our list, we'll get into the juicy details of each further on.
1. AvaTrade – Best of the Best MT4 Broker
2. Libertex – Best of the West (US & DMA Trading)
3. Capital.com –Best MT4 Brokers for Account Types
4. Pepperstone – Best One & Done MT4 Broker
5. IG – Best Fusion with Forex
Best MetaTrader 4 Brokers Reviewed
If you're looking for a list of the best MT4 brokers, you've come to the right place. Meta Trader 4 is gaining traction and maintaining a spot at the top as one of the best online trading platforms on the web. It's free to use and comes with tons of compatible providers to take your trading game to the max.
Before choosing your preferred MT4 stock brokers, it's always a good idea to check that they are legit and secure. When dealing with deposits and withdrawals, you want to know that your money is in good hands and safe from malicious cyber activity.
After checking the safety box for your MT4 broker, you'll also want to see how they stand up with the competition. Always go with brokers that stay up to par with customer care and won't take the cake with trading fees. These things and more are what we looked for when creating our list, and we promise, it's a good one!
1. Libertex – Best of the Best MT4 Broker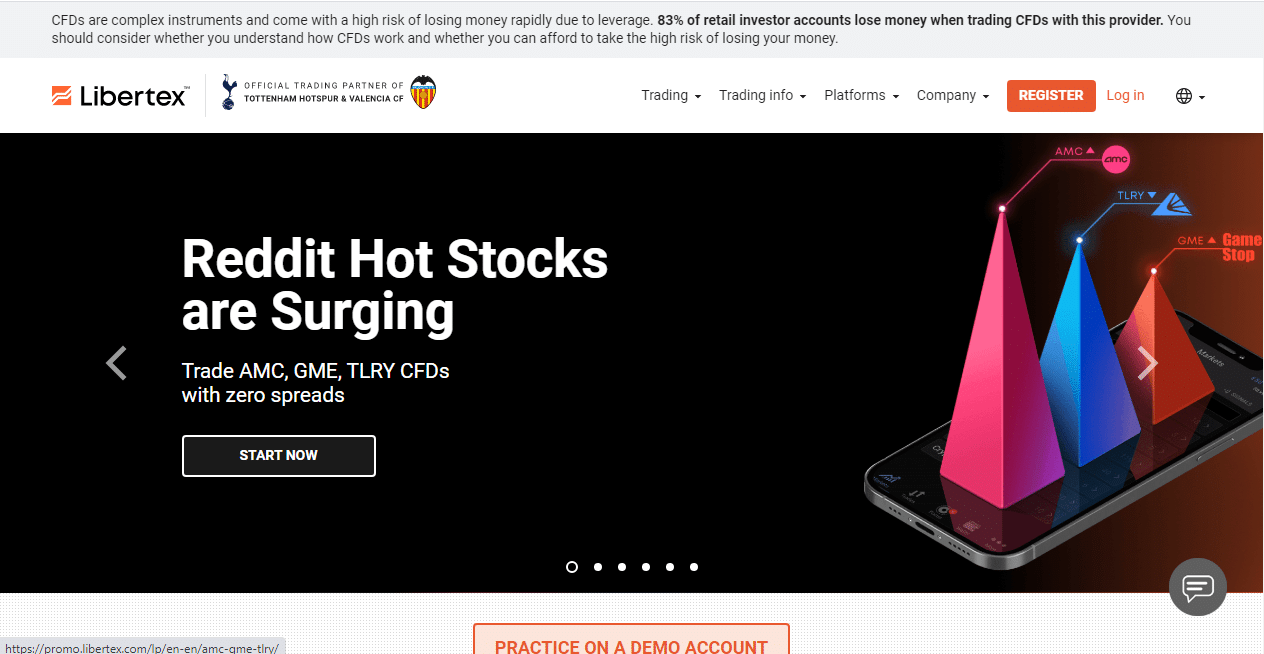 Libertex offers trading with more than 200 instruments. From stocks to cryptocurrencies, to ETFs, you can find it all in one place. For more than a decade, Libertex has offered its 2.2 million global customer base a variety of trading accounts, with higher discounts and lower commissions for the most loyal of traders.
To keep their clients out of the red, these MT4 stock brokers offer negative balance protection as per their authorizing party Cyprus Securities and Exchange.  Their wide range of services for trading has gotten them attention from around the world and even helped them score awards for their long list of services and cutting-edge technologies.
When it comes to fees, Libertex is highly competitive, always staying under their biggest competitors. Throughout each account type, they offer discounts and other perks, attempting to keep their clients earning without paying a high price for it.
The platform is user-friendly and packed with plenty of ways to deposit and withdraw funds. Deposits range from traditional type credit and debit cards to top e-wallets like Skrill and Neteller.  Deemed the trading platform for the year 2020, you can't go wrong with the combination of Libertex and MT4.
| | |
| --- | --- |
| Fee | Charge |
| Stock Trading | Commission based (ex. 0.034% Amazon) |
| Forex Trading | Commission based (ex. 0,008% for USD) |
| Crypto Trading | Commission based (ex. 1.23% Bitcoin) |
| Inactivity | $5 *kicks in 180 days after non-use |
| Withdrawal | None |
Pros
Backed by the Cyprus Securities Exchange Commission (CySEC) offering security and protection for their users.
A wide range of trading options including stocks, crypto, and EFTs.
A long list of deposit options and $0 withdrawal fees
Customer care that actually cares available 12 hours a day via phone or live chat.
Winner of 2020's best platform for online trading.
Cons
Market analysis is minimal
2. Forex.com – Best of the West (US & DMA Trading)
Forex has been a long-standing online trading platform for years. Branching off of Wall Street's legacy Nasdaq, traders of all levels have flocked to the platform for its trusted technology and security system. Just like traditional stocks, users can look on and watch with close reporting and pinpoint options to buy, trade, or stay.
Forex is a member of the National Futures Association (NFA) in the United States and also authorized by authorities in Japan and the UK. Their ability to stretch across borders has won them the name as one of the best, making it a good choice among the best MT4 brokers.
When it comes to options, Forex essentially has them all, with more than 300 markets to choose from and a long list of currency pairs to follow. Using state-of-the-art analyzing technology, users have an accurate view of the market at all times, able to make data-driven decisions before the day's end.
For traders that are on the professional end, Forex offers access to Foreign Exchange liquidity pools, giving users access to some of the world's most profitable markets. Other perks for high rollers include 1% APY on qualifying balances, support from expert strategists that know the market like the back of their hand, and zero bank fees.
| | |
| --- | --- |
| Fee | Charge |
| Stock Trading | Variable |
| Forex Trading | Starts at 0.2 pips |
| Crypto Trading | None |
| Inactivity | $15 *kicks in after 365 days of non-use |
| Withdrawal | None |
Pros
Part of stock market superpower Nasdaq
A long list of authorities and regulators in both the US and Japan
Options to jump into trading of all types, with over 300 markets to choose from
Score a shot to becomes a part of liquidity providers
Cons
Crypto is not yet a part of their accepted trading.
3. AvaTrade – Best MT4 Brokers for Account Types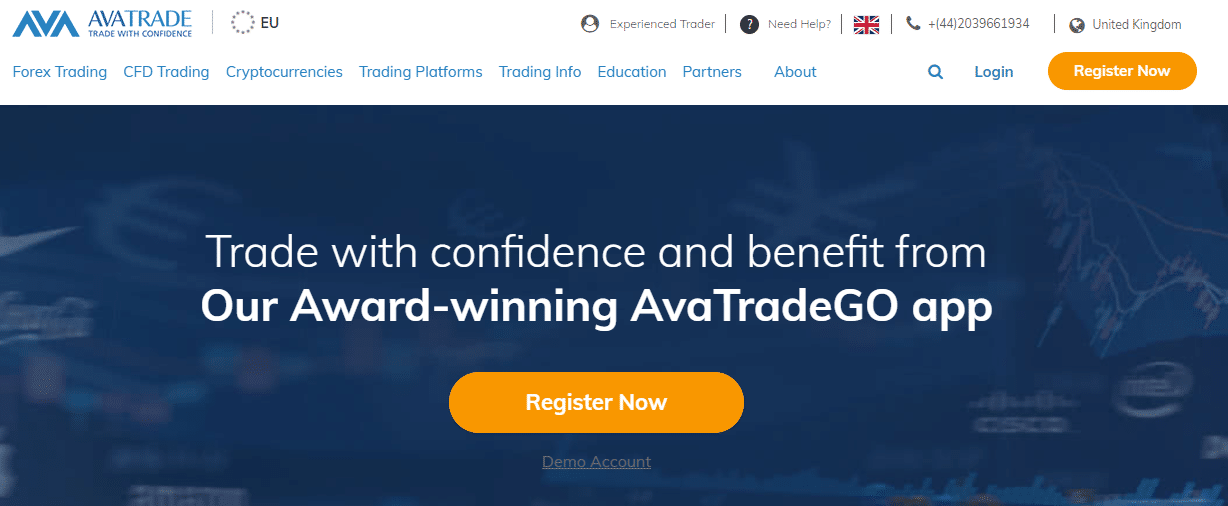 AvaTrade has global regulations, making them one of the safest and trusted across the globe. Due to their borderless business dealing, they offer traders more than 1200 markets to choose from, expanding from Ireland to Australia, to Japan. They have regulations from some of the most trusted commissions and agencies across the globe, making them a broker you can count on.
Their large and diverse customer base is behind their monthly average of 300,000 trades per month, which makes them a larger global competitor. As far as choosing an account for trading, AvaTrade has a long list that all users can choose from, whether it's Spread Betting or Islamic Swap-Free Accounts.
Even if you're a rookie trader, these MT4 trading brokers have taken the time to provide the newest of traders with a database full of useful information. Visit the website to read up on the latest trends in trading and even score a crash course on real-time trading. As you're learning, if you run into any doubts, they have a killer customer service team that's there to offer services in 14 different languages to serve their multi-national trading crew.
| | |
| --- | --- |
| Fee | Charge |
| Stock Trading | Variable |
| Forex Trading | 0.9 pips |
| Crypto Trading | Commission (ex. 0.25% Bitcoin) |
| Inactivity | $50 *kicks in after three months of non-use |
| Withdrawal | None |
Pros
All-day access to crypto trading
Over 1200 markets to choose from
Perfect for any account type with a list of diverse options
Regulations across the globe
Built to cater to a multi-national audience
Cons
Comes with a startup fee of $100.
4. Pepperstone – Best One & Done MT4 Broker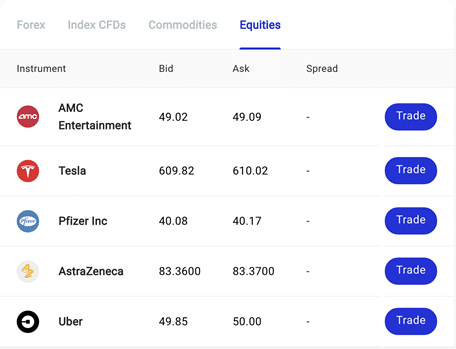 Another global option for trading around the world is Pepperstone. They are one of the most competitive stock brokers MT4, giving users full protection of their funds. They offer their traders more than 180 options to choose from, including Forex, stocks, cryptocurrencies, and more.
Much like other global platforms, with Pepperstone, traders can choose accounts of all types, enjoying options to waive commissions and get straight to trading. They are a favorite of those who are looking for no-fuss accounts with lighting fast executions, coming with records of under 30ms.
Their perks for clients are highly competitive with other traders, with options to jump into the Active Trader Program, which offers rebates and more for high volume and frequent trading. The platform itself has innovative trading technologies perfect for analyzing the market. From copying trades from professional traders to alerts for positive market activity, you can enjoy it all to enhance your trading skills.
Enjoy technology that's powerful yet easy to use and keep up to date with all of Pepperstone's upgrades and enhancements that keeps their technology at the top.
| | |
| --- | --- |
| Fee | Charge |
| Stock Trading | $0.02 per stock (US) |
| Forex Trading | Spread (ex. 1.59 pips) |
| Crypto Trading | Spread (ex. 50 pip Bitcoin) |
| Inactivity | None |
| Withdrawal | None |
Pros
Access to the most up-to-date technology for analyzing and automating trades.
Options to buy in and trade with more than 180 markets across the globe.
Build up your trading skills and enjoy free commissions once you hit Active Trading status
Free of fees for inactivity and withdrawal, keeping it competitive over the rest.
Cons
Services currently not available for traders in the US or Canada.
5. IG (US) – Best Fusion with Forex
IG has been long-standing trading for some time now and has finally made its way across the Atlantic and into the United States. It's trusted and secure, with part of its name tied into DailyFX.com. This trading platform is one that offers access to both major and minor foreign accounts and currencies.
As far as spreads, IG offers a whopping 20% advantage over two of the largest US brokers linked to Forex, making it one of the best to Fuse with the platform. When paired with MetaTrader 4, traders have access to a ton of tools geared toward real-time analytics and signaling to trade smarter and be more aware of what's happening in the stocks.
There's no worry as to getting ahold of someone, with access to customer care around the clock seven days a week. From regulatory functions to accounts with some of the best accounts around the world, you can find it all and more with IG, one of the most competitive M4 stock brokers in the business.
| | |
| --- | --- |
| Fee | Charge |
| Stock Trading | Commission (ex. $0.02 / share) |
| Forex Trading | Spread (ex. 1.4 pips) |
| Crypto Trading | Spread (ex. 36 pips) |
| Inactivity | $12 / month *kicks in after 2 years of non-use |
| Withdrawal | None |
Pros
Highly accurate analytical software that users can access around the clock.
Trade-in markets with different currencies (more than 80 different kinds available)
Enjoy customer care that's there are around the clock all year long.
Competitive rates and fees when put up against two of the largest in the US
Cons
US traders cannot access stocks or ETFs.
MetaTrader 4 Broker Platforms – Benefits & Features
MetaTrader 4 is one of the best online trading platforms on the web. With help from innovative and automated technology, the cutting-edge software helps traders get insight into market trends like never before. Its accuracy and dependability have caught global attention, turning it into one of the most used platforms for modern-day trading.
When combining MetaTrader 4 with MT4 brokers, traders have an iron-clad system that will help them gain a sharp advantage over the market and really see what's going on in real-time. Its success as a platform is part of the reason why they have the means to keep expanding and keep innovating, developing technologies and algorithms that surpass the competition.
When you choose MetaTrader4, you'll score:
Real-Time Analytics
In the market, things change by the millisecond. That's why you need quick tools that offer truthful insight like MT4.
Indicators
Throughout the market, MT4 has indicators to get an automatic signal when profitable changes are detected in the market. In that way, you'll never miss an opportunity.
Timeframes of your Choice
From long-term to short-term and everything in between, you can find timeframes to fit your trading style.
Signaling
One of the newest and hottest trends is signaling, allowing you to see what other traders are doing and jump in on the fun.
Robotics
Trading robots are starting to take over the trading world, offering users a fast-paced, automatic way to trade when the conditions are just right. Leave it to MT4s robotic traders and let them work their trading magic.
Trends and Things
Breaking news has a big effect on the market and with MT4, you'll have access to the most current of events, some of which affect trading and fluctuations.
How to Choose the Best MT4 Brokers
When it comes to programs that put money in your pocket, the last thing you want to do is rush the process. Though we left you with a solid list of the best MT4 brokers, you still may want to do your own homework and we'll tell you just what you'll need to do it.
Below, we'll point out key things to look for and others to avoid when choosing your broker, helping you make the best decision for you and your trading needs.
Regulation and Licenses
Due to MT4's popularity, you can find many brokers that are compatible with the platform. Still, their compatibility does not mean that they are reliable so, you'll first have to do some digging. Checking for a broker's regulations, you'll be able to see their license and who is providing it to them. In addition, you'll learn their legal limitations with trades and get a glimpse at their safety features.
To put things into perspective, some of the best financial brokers around the world feature the following regulations:
Commodity Futures Trading Commissions (CFTC)
National Futures Association (NFA)
UK Financial Conduct Authority (FCA)
Cyprus Securities and Exchange Commission (CySEC)
Financial Services Agency (FSA)
The list above features some of the most trusted regulators around. If you use a broker with one or multiple regulations with the following, you have made a pretty secure choice. With the popularity of the stock market and digital trading software, brokers seem to be popping up all around and not all of them are regulated. Keep your eyes peeled and your money safe by choosing regulated accounts.
Available Asset Classes
Asset classes are defined as groupings of investments that act the same within the market. These classes are grouped into five major categories, including:
Shares
Bonds
Property
Commodities
Cash
When you first start trading, you may find yourself leaning more toward one. As you learn the ropes, you may want to diversify your portfolio and start spreading out your investments. Whatever the case, it's a good idea to look for brokers that offer the assets you're interested in.
Before signing up with a broker, ask about their asset classes and see which ones they are most competitive in. For a lot of brokers, they have their specialty when it comes to products and classes, each one a bit different than the other.
When you link your MetaTrader 4 account to a broker, you can see all of the asset classes available to you, making your decision as to whether or not your chosen broker is the one for you. If you have one in mind, browse MT4 brokers that offer your preferred asset, linking your account, and enjoying the best services for your trading needs.
Trading Fees
When you have your money in the market, the last thing you want to pay is fees. Some brokers have high fees and charge you for every single little thing. These types of accounts don't make trading worthwhile and drag down your profit potential.
Before you choose a broker and sign up, always check trading fees and commission fees. These days, the web is full of competition, helping to regulate the prices and keep them from going sky high. Different brokers compete with each other for clients, often slightly dropping or sometimes eliminating their fees to outdo the other guys.
Though finding a broker that doesn't charge any fees at all is like finding a needle in a haystack, there are some out there. Whatever you do, just make sure that you're aware of all the fees so that you know how to invest and trade your money to keep the most in your pocket.
Trading Tools & Research
These days, there is not much human interaction in trading anymore. Most of the decisions are left to software that does all of the analyzing for you, deciding when to trade or when to hold back and keep searching for better deals.
When searching for the right broker for you and your trading needs, it's always a good idea to check their software and see what they have to offer. Look for things like signaling, automated trading, real-time analysis, and news updates.
A lot of the brokers that made our list of the best MT4 brokers for 2021 have add-ons that get and keep you in the game and help you see exactly what's going on at every moment within the market, making you a savvier trader each and every day.
Make sure to take advantage of training, tutorials, videos, and blogs, learning everything from the inside out before you start trading. You need to make sure that your money is safe, learning your options before making your first investment and trade.
Trading Signals & Copy Trading
When trading, do as the expert traders do, right? The ability to copy the trading trends of some of the most profitable traders is one of the newest technological advantages to hit stock market technology. You can see how other traders are doing and mimic their moves and do as they do to earn as they earn.
When you get a signal or a trigger, you'll see that you have the option to do the same as the person you're following and even set up your platform to trade automatically in some cases. Though it's a newer technology, many traders are taking advantage of signaling, using it as a way to help them trade even when they work a full-time job. These days, you don't have to interact with your computer during trading, you can set it up automatically and watch your money pour in.
Customer Service
Of all the things the best mt4 brokers have in common, quality customer care is probably the most important. When dealing with your money and technology, you want to make sure that you can get ahold of someone fast. Look for brokers that have multiple options for getting in touch with a customer service rep. Plus, look for a host that offers around-the-clock care and offers their services in a number of languages.
These days, there is not an excuse to get connected, especially with the long list of apps and services like talk, text, social media, and email.
How to Get Started with the Best MT4 Broker
Using our list of the best MT4 brokers out there, it's time to get your account started and get to trading. Before you connect your account with a broker, you need to set up an MT4 account, which you can do for free and with little to no hassle at all.
When you're ready to get everything up and set up, head over to MT4's homepage and follow these 5 simple steps to getting your account open and finally jumping into the stock market to trade.
Step 1: Open an Account
Opening up an account with MT4 is simple. Once you choose your preferred broker, simply head over to their home page and open up an account. For the most part, these broker accounts are fast and simple to get started, requiring your basic information, an email, and a confirmation that's connected to your email too.
In many cases, broker accounts will ask you to fill out a questionnaire so that they can match you with the accounts that you'll most likely benefit from.
Step 2: Upload ID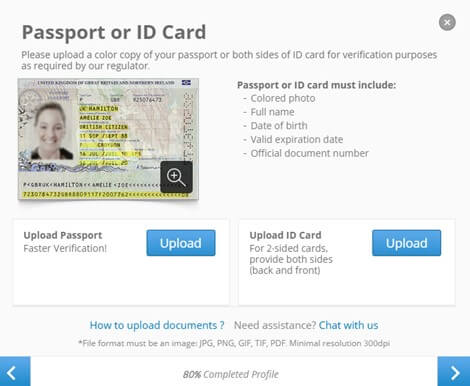 Because you're dealing with personal accounts and finances, most brokers will want you to verify your identity. To do this, you need to have a few things ready to go that will show your name, date of birth, and address. In most cases, requested and accepted forms of identification include:
A valid driver's license
A passport
A bill that shows both your name and your current legal address
After you upload, there's a quick verification process that varies from broker to broker, and then, voila! You're in!
Step 3: Deposit Funds
Once you have an account, you'll need to add some funds before you trade. While there are charges and fees for some payment methods, others like e-wallets are generally free of charge. Once you choose your preferred option, simply click it, add your credentials to link your account, add your funds, and that's it. You'll be trading in no time.
Step 4: Link MetaTrader 4
Because you chose one of the many MT4 trading brokers, you can now simply link your MT4 account. It just takes a few clicks and a few permissions as far as linking and then, you're ready to go. Once you have your MT4 account connected with your broker, you can browse your options and start playing with tools that will help you take your trading game to a whole new level.
We recommend taking time to play with everything before you start trading, seeing how analysis works, setting up your preferred alerts, and even finding traders that you can sync with for signaling.
Step 5: Trade!
While we recommend getting the hang of your stock broker MT4 account first, we understand you may be anxious to get in and start trading. If you decide to dive in headfirst, try and avoid doing anything too drastic as to not come out on the losing in from day one.
The first thing you can do is take a walk around your options, getting a feel for what you can and cannot do. Then, choose your preferred markets and jump right in. You may want to take a day or two to work with the software and get used to how everything works.
With most of the programs today, you can set things up the way you want and get things traded without having to interact with anything. Once you get the hang of things, you're likely to start learning the ropes and seeing just how much profit you can make if you play your card right.
Conclusion
Online trading is fast-paced and exciting. Nowadays, you don't have to be an expert trader to get things rolling. There are a ton of platforms with advanced trading technologies incorporated into their platform that make them fairly easy for users of all levels.
Choosing any one of our preferred MT4 brokers above, you'll have a competitive edge above the rest that's hard to beat. Fusing innovative and automated technologies with the best brokers on the web, you'll be able to become that pro trader you always knew you could in no time.
Before choosing a broker, always remember to do your research first, making sure that they offer the assets you want and have regulations you trust. In that way, you'll find the one that works best for you without having to put your money at risk first.
Now that you have the scoop, it's your time to shine, choosing the broker that catches your attention. We've done a lot of the leg work for you, searching far and wide for the best of the best. Now, all that's left to do is choose, sign up, and link your MT4 account, starting to get into the profitable world of online trading. Good luck!
Trade Now With Our Best USA Broker – AvaTrade