How to Invest in Copper UK – Invest in Copper Today!
Copper has held its own as one of the most useful metals in the world for over 10,000 years. With looming inflation, interest in copper is higher than ever, and the best way to access this market is via a regulated brokerage.
In this guide, we discuss how to invest in copper in the UK and provide a review of the best places to gain access to this market. We also talk about the various ways you can add copper to your portfolio – such as through stocks, ETFs, and CFDs.
#1 Broker to Invest in Copper UK – eToro
How To Invest in Copper UK – Choose a Broker
To invest in copper in the UK, you need to create an account with a reputable broker that can offer you entry into your chosen market. We've listed the best brokers for this purpose below.
eToro – Overall Best Place to Invest in Copper UK
Capital.com – Trade Copper Stocks and ETFs With Leverage at 0% Commission
AvaTrade – Credible Broker to Trade Copper with Leverage
Each of the above brokers will let you trade or invest in copper in the UK in a low-cost and safe manner.
How to Invest in Copper UK – A Quick Guide For 2021
If you're looking for a quickfire guide on how to invest in copper in the UK right now – follow the step-by-step walkthrough below. In doing so, you will be investing via eToro – an FCA-regulated broker that offers 0% commission on copper-related stocks and ETFs
Step 1: Open an Account with eToro – To open an eToro account and access copper you need to press 'Join Now' and complete the form in front of you. Fill in your name, chosen username, and password, email address, and contact number. You will also need to enter your home address, national tax number, nationality, and date of birth
Step 2: Upload Your ID – This FCA-regulated broker is required to validate your ID. This is uncomplicated and entails uploading a photo ID, and proof of address in the form of a recent bank statement or utility bill
Step 3: Deposit Funds – To get things rolling and invest in copper, you will need to finance your eToro account with a minimum of $50 (around £36). You can select e-wallets including PayPal, credit/debit cards, or a wire transfer to fund your account. The latter takes the longest time
Step 4: Search for Copper – The search function at eToro makes finding your chosen market easy. Type 'copper' into the box and you will see the option of CFDs, and also Southern Copper Corp (SCCO). The latter is a copper mining stock and there are others available – so spend some time choosing the best financial instrument for you.
Step 5: Invest in Copper – You can invest in copper from as little as $50 at eToro. To access the order form, you can click 'Trade' next to your chosen asset. Next, enter the amount you are willing to allocate to the copper market in question. Confirm your order by clicking 'Open Trade'. Note that copper is valued in pounds at eToro, rather than tons
Furthermore, eToro charges 0% commission to invest in copper ETFs and stocks. It also absorbs the stamp duty tax on the latter. Once your order has been confirmed, you will see copper featured on the list of markets in your portfolio straight away or when the relevant market is open for trading.
67% of retail investor accounts lose money when trading CFDs with this provider.
Where to Invest in Copper UK  – Full Broker Reviews
When you feel confident in how to invest in stocks and copper, you will need to consider where you might endeavor to facilitate your entry into the market. There is no shortage of brokers offering exposure to copper, but you should choose carefully.
The below-listed brokers vary in terms of how you can invest in copper in the UK, but all are regulated and low cost, with tons of payment types to choose from.
1. eToro – Overall Best Place to Invest in Copper UK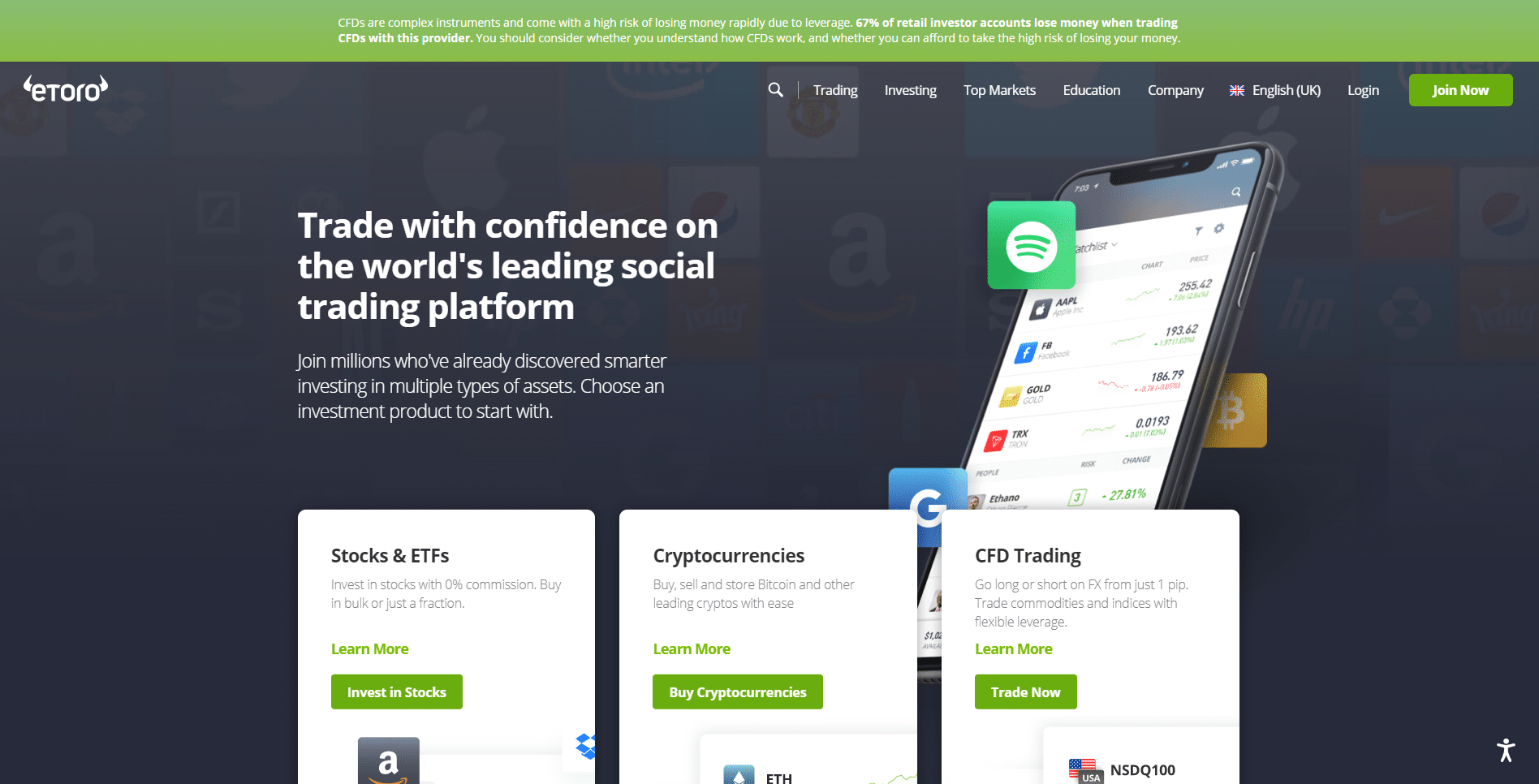 eToro offers a safe and easy-to-use place to invest in copper in the UK, for people of all skill sets. The FCA and other well-known bodies have granted the broker a license, so it operates in accordance with various regulations. The platform is covered by the FSCS and also uses SSL encryption to guard your personal information. There are multiple ways to include copper in your portfolio at this brokerage – such as CFDs, ETFs, and stocks.
Copper stocks and ETFs are commission-free here and we found the spread to be competitive. The platform is suitable for beginners and lists thousands of markets. This spans commodities, ETFs, cryptocurrencies, and forex. You will also have access to over 2,500 local and international stocks, covering 17 marketplaces. This means you can invest in copper stocks in the UK via companies listed on US exchanges, such as the NASDAQ.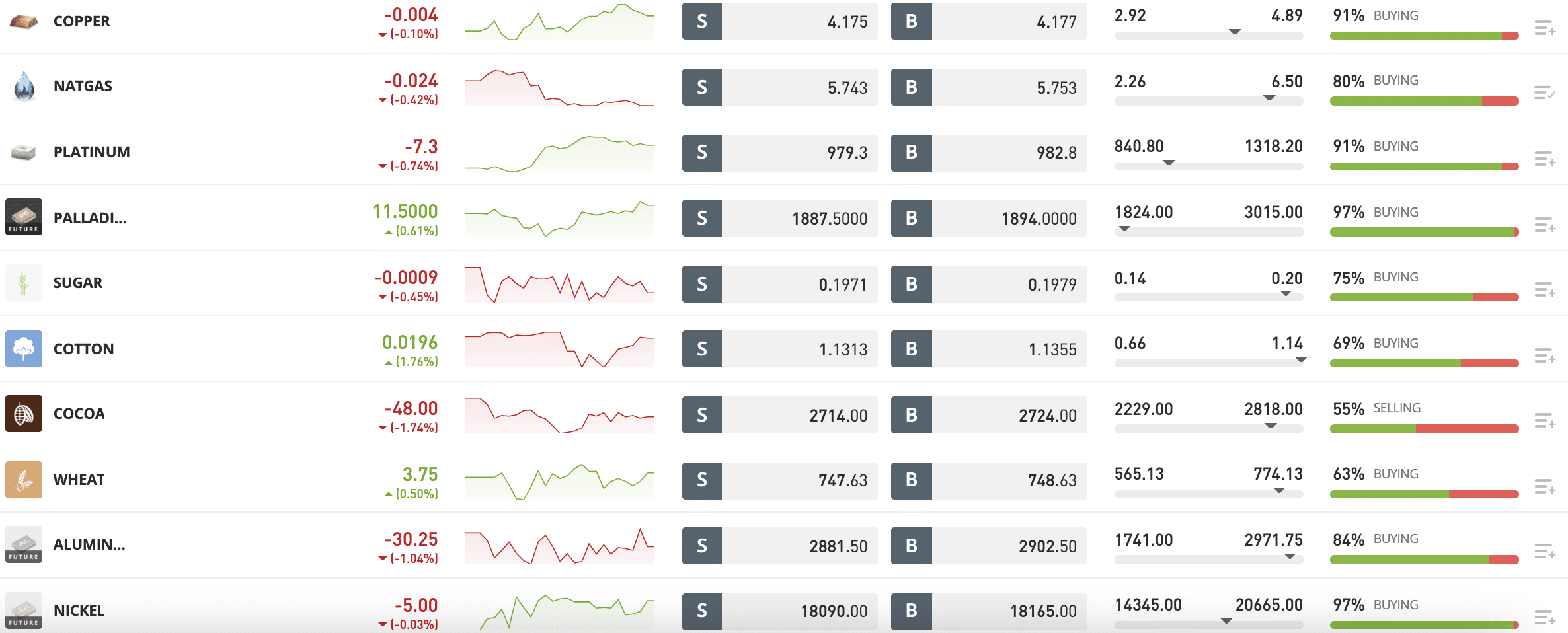 This consists of mining companies such as the Southern Copper Corp (SCCO), BHP Group Ltd (BHP), and Freeport-McMoRan Inc (FCX). eToro also lists copper mining and processing stock Glencore (GLEN), which trades on the LSE. Not only is this broker commission-free, but it forgoes stamp duty fees, which illustrates a saving of 0.5%. The platform supports fractional investments, which means you can stake as little as $50 on your chosen market.
The minimum deposit is also $50 and you can fund your account with a range of e-wallets, credit and debit cards, or a wire transfer. The latter takes up to 7 business days to clear, so will delay your ability to trade or invest in copper. There is a fee of 0.5% on each deposit to swap GBP for USD. It's worth checking out the Copy Trading feature at eToro. This allows you to invest in a successful trader and mirror their positions like-for-like – in proportion to the amount you allocate to them.
Pros
Invest in stocks at 0% commission and ZERO stamp duty
Minimum investment per stock investment is $50
Supports debit/credit cards, e-wallets, and UK bank transfers
Regulated by the FCA and covered by the FSCS
Used by over 20 million people
Perfect for beginners
Social and copy trading tools
Cons
Perhaps too basic for technical traders
No support for MT4 or MT5
 67% of retail investor accounts lose money when trading CFDs with this provider.
2. Capital.com – Trade Copper Stocks and ETFs With Leverage at 0% Commission

Capital.com is also regulated by the FCA and takes safety measures to protect your data and funds. You will trade copper as CFDs (Contracts for Difference). As such, instead of buying and selling actual metal, you will trade CFDs that track the price of copper. This is a derivative that allows you to short copper with a sell order if you think it will fall, or a buy if you predict a price increase.
There are a few ways to add copper to your portfolio at Capital.com, and all are commission-free with only the spread to pay. For instance, you might opt to trade Copper-related stocks, like the Southern Copper Corporation (SCC). This is a company that explores, produces, and develops copper and other metals. Capital.com also lists ETF CFDs that are in some way related to copper.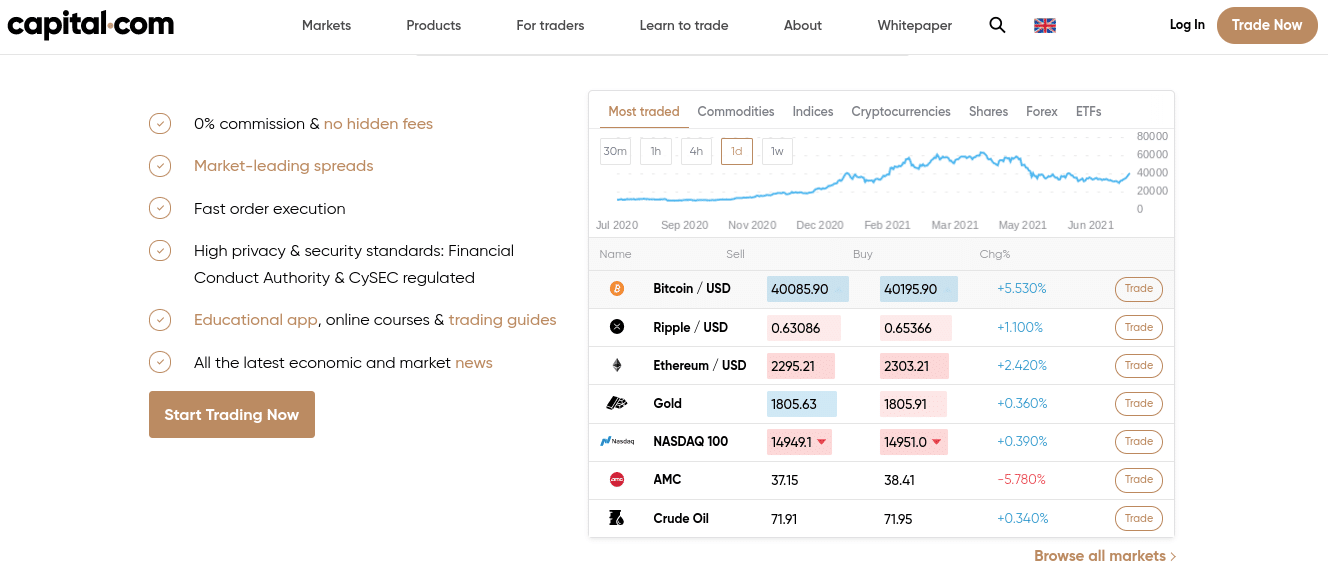 This includes the Trade iShares MSCI Chile Capped ETF, and Trade iShares MSCI Brazil Capped ETF. You can also leverage your copper CFD trades by up to 1:10 at Capital.com. The minimum deposit is £20 if you opt for credit or debit cards, or e-wallets. Bank transfers are supported but require a minimum of £250, and take several days to process. There is a selection of educational material available at this CFD brokerage, alongside a top-rated mobile app.
Pros
Top-rated spread betting and CFD broker
Licensed by the FCA
£20 minimum deposit (debit/credit cards and e-wallets)
0% commission on all markets
Tight spreads and no fee on deposits or withdrawals
Supports thousands of financial markets
Convenient for newbies
Cons
Experienced traders might consider the broker too basic
£250 minimum deposit on bank transfers
Spread bets and CFDs are complex instruments and come with a high risk of losing money rapidly due to leverage. 76.25% of retail investor accounts lose money when trading spread bets and/or CFDs with this provider.
3. AvaTrade – Invest in Copper via Leveraged CFDs

AvaTrade is registered with multiple jurisdictions and keeps all clients' funds in a segregated bank. As such, there are no worries about safety. This platform specializes in CFDs, covering various markets, including copper. As we mentioned, this allows you to trade copper, rather than taking ownership of the metal. This will entail trading copper by speculating on the rise or fall of the underlying commodity.
For anyone looking to trade a basket of copper focussed securities, we searched for copper ETFs. Copper ETFs at AvaTrade are offered in the form of CFDs, including SPDR S&P Metals & Mining. All markets are offered with 0% commission, so you will only be liable for the spread on buy and sell orders. During standard market hours, the spreads on copper CFDs are very competitive at AvaTrade.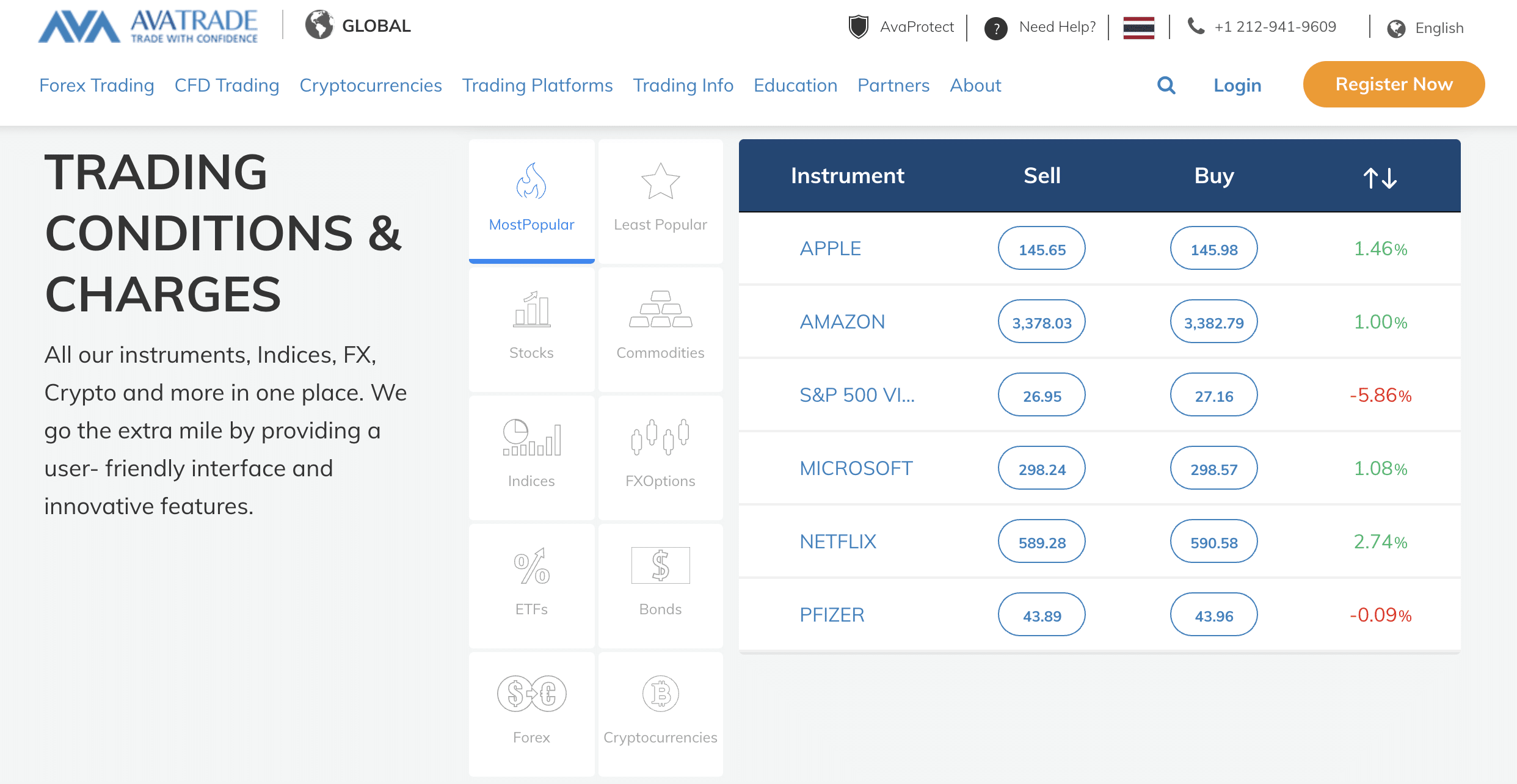 AvaTrade offers up to 1:10 leverage when trading copper, meaning a £100 stake could potentially become £1,000. However, newbies should tread carefully, as if you are right, your gains are multiplied by 10, which is great. On the other hand, if you are incorrect about your speculation, you will find yourself in a position where you have magnified your losses 10-fold. AvaTrade is compatible with MT4 and MT5 for further trading tools and access to more CFDs.
Pros
Regulated in seven jurisdictions
0% commission on all supported markets
Offers spread betting and CFD instruments
Minimum deposit of just $100
Free demo account
Supports MT4 and MT5
Cons
Spread betting department limited to just 200+ financial markets
No support for instant bank transfers
Trading CFDs and FX Options entail risk and could result in the loss of your capital.
How to Invest in Copper UK – Detailed & Explained in Full
If you require a little more detail when it comes to signing up to an online broker to invest in copper in the UK – see below. You will find a step-by-step walkthrough of how to create an account with eToro. This broker adheres to the regulations set out by the FCA, offers multiple copper markets, and also cost-efficient trading.
Step 1: Open a Broker Account
Head over to the main platform at eToro and click 'Join Now'. To create an account, enter a password and username you will use to access your investments later. You will also need to add your email address, contact number, and first and last name.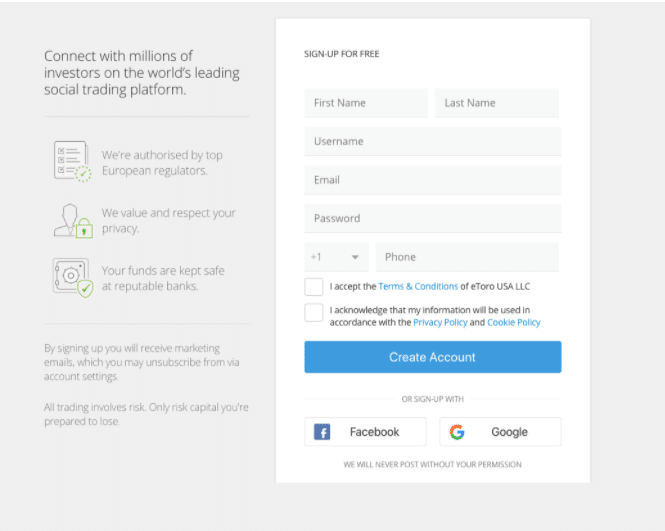 As is standard at reputable brokers, eToro will also ask you for your home address, nationality, tax number, and date of birth. Next, you can move on to the completion of the KYC process.
The KYC procedure involves you providing the broker with documentation. The purpose of this is to validate your name and address. As such, you will need to take a clear photograph of a document, such as a bill or a bank statement, in addition to your passport or driver's license.
Note: You can upload your proof of ID and address later and still invest in copper in the UK. However, to create a fully operational portfolio with withdrawal capabilities and the capacity to deposit more than $2,250 (around £1,635) – finish the KYC process now. This is fast and convenient at eToro.
67% of retail investor accounts lose money when trading CFDs with this provider.
Step 2: Deposit Investment Funds
In order to invest in copper in the UK, you need some funds in your new broker account. There are heaps of payment methods to choose from at eToro and the minimum deposit is just $50, which, as we mentioned earlier, is around £36. There is a 0.5% charge to convert British pounds to US dollars (the currency eToro is operated in). However, as noted, this broker absorbs the 0.5% stamp duty tax on UK-listed stocks and ETFs.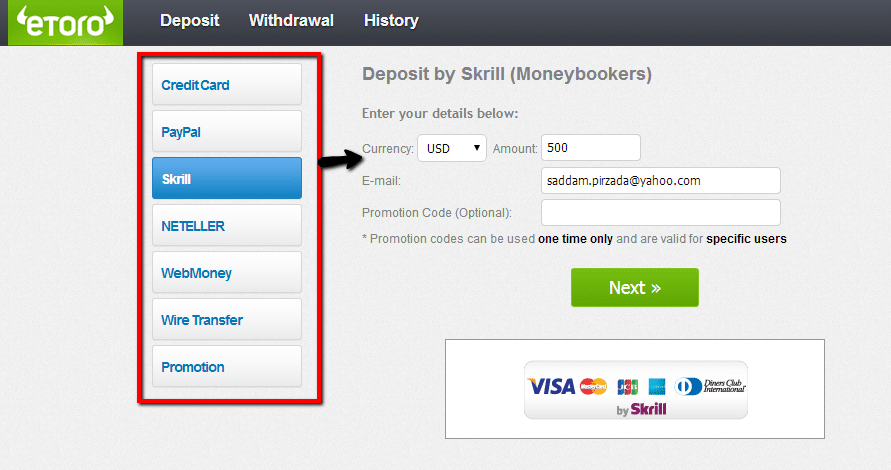 Instant deposit methods include major credit and debit cards, and e-wallets such as Skrill and PayPal. Bank transfers are also an option to fund your account. However, according to the eToro platform, this can delay your ability to invest in copper by 4-7 business days.
Step 3: Choose Copper Investment
Once you have a fully credited account, you can locate your chosen copper market by using the search function.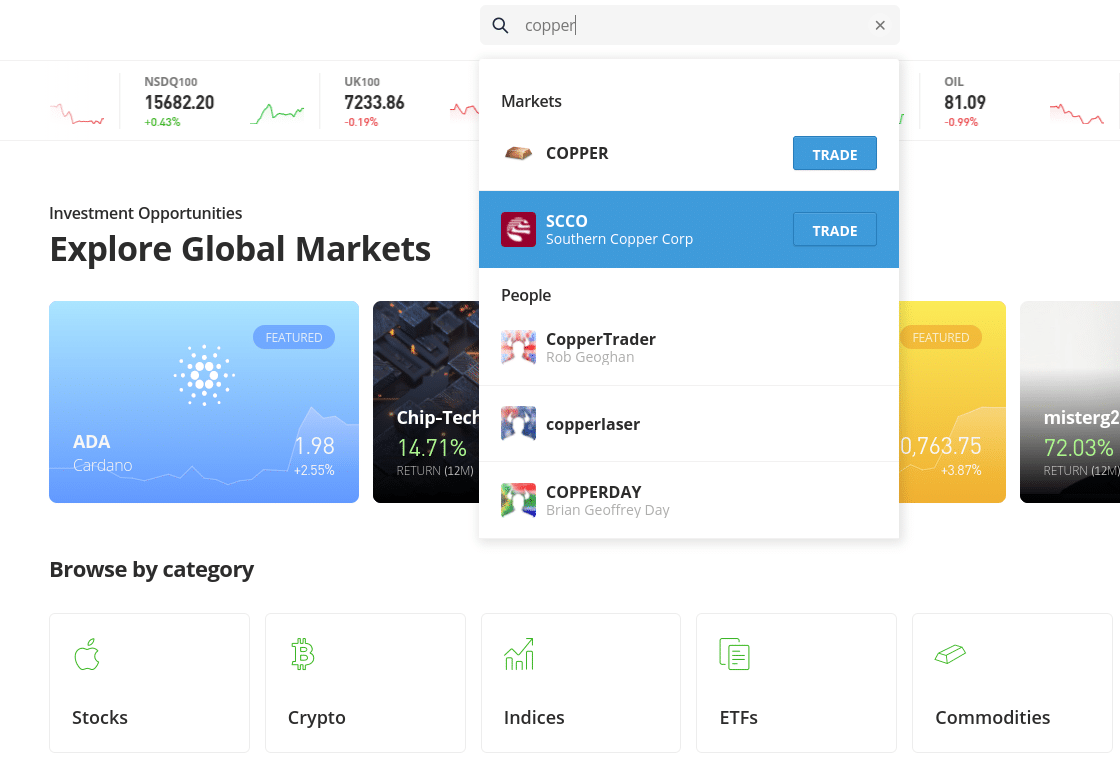 Here, we are looking to invest in copper via SCCO stock (a major copper-producing company). When you see your chosen market, click 'Trade' to request an order form.
Step 4: Invest in Copper UK
As you can see, a simple order box will appear stating your chosen market. Here we see 'BUY SCCO' because we are opting to access copper via a mining stock. The minimum stake to invest in copper is $50. Enter the amount you feel comfortable with and confirm by hitting 'Open Trade'.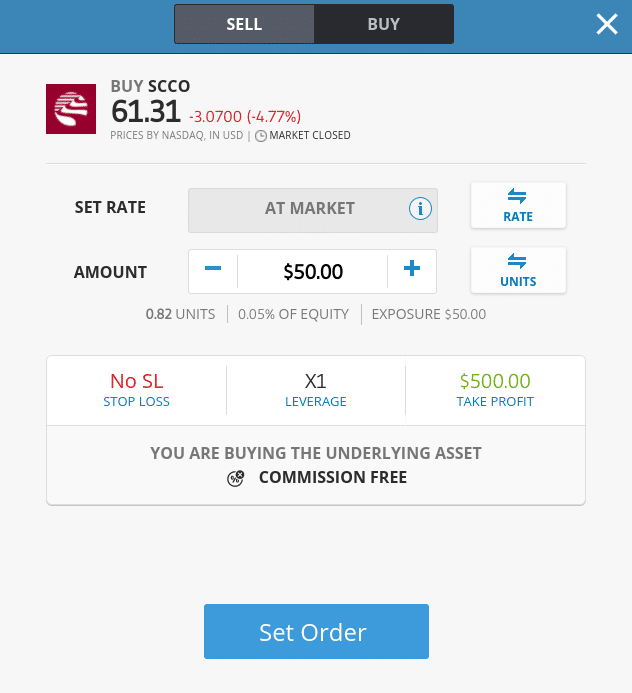 If you choose to invest in copper via stocks, such as mining companies listed on the NASDAQ, you might see 'Set Order'. In this case, the exchange is closed and as a result, eToro will complete your purchase when it opens.
Best Ways to Invest in Copper UK
When you are learning the ins and outs of how to invest in copper in the UK, you will soon become aware that there are multiple ways to access this metal.
To shine some light on what's available, you will see a list of common ways to add copper to your investment portfolio.
Trade Copper CFDs
If you want to invest in copper in the UK, but have no interest in buying bullion bars or coins from specialist dealers – CFDs could be the way to go. We touched on CFDs (Contracts for Difference) in our earlier broker reviews. This is a contract between you and your broker of choice, whereby you agree to settle the difference between the opening price and closing price of the asset.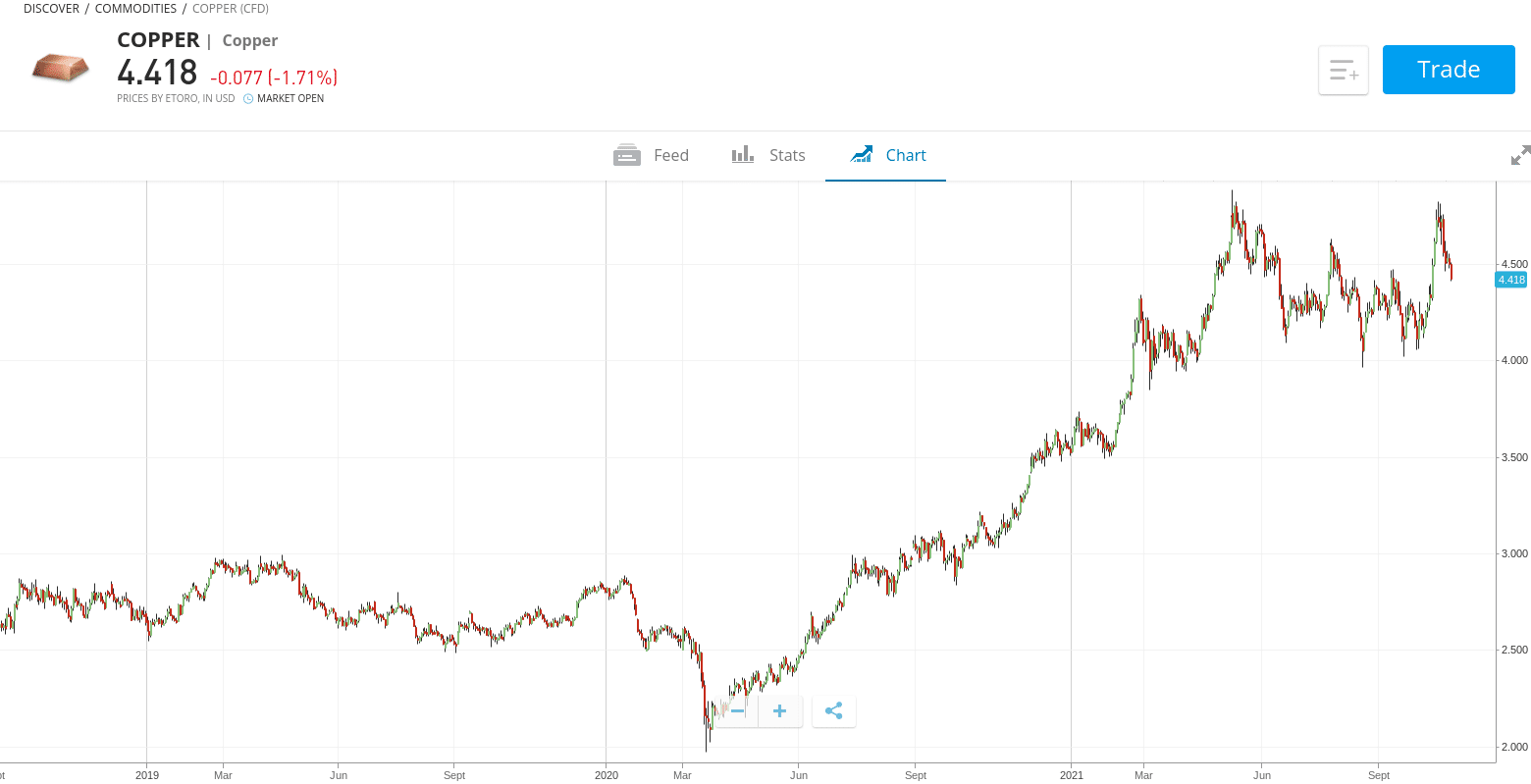 This is much simpler than it sounds, as CFDs track and mirror the underlying market value of the asset, in this case, copper. All you have to do is speculate on whether the price will rise or fall. You can capitalize on this with a simple buy or sell order at your chosen brokerage. Another advantage of trading CFDs over choosing to buy physical copper is that most platforms allow you to leverage your position by up to 1:10.
See an example of how you might trade copper with leverage:
You elect to trade copper via CFDs
Copper is priced at $4.40 per pound
As such, the copper CFD is also priced at $4.40 per pound
Let's say you think the value of copper will rise, so place a $1,000 buy order
Now let's say the price of copper rises by 8%, as does the CFD, so you cash out with a sell order
As per your $1,000 speculation that copper would rise, 8% gains amount to a profit of $80. We touched on the fact CFDs attract leverage. If you were to apply leverage of 1:10 on the above order, your stake would be magnified to $10,000. Your gains would also be increased 10-fold, turning an $80 profit into $800. Leverage will also boost losses, so use this trading tool with caution when investing in copper via CFDs.
67% of retail investor accounts lose money when trading CFDs with this provider.
Invest in Copper ETFs
You might also consider exposing yourself to this metal by opting to invest in Copper ETFs (Exchange Trade Funds). Copper ETFs are traded on the stock exchange, for instance, the NYSE or the NASDAQ. ETFs monitor the price of a basket of underlying commodity stocks that mirror the value of copper, or another specific industry.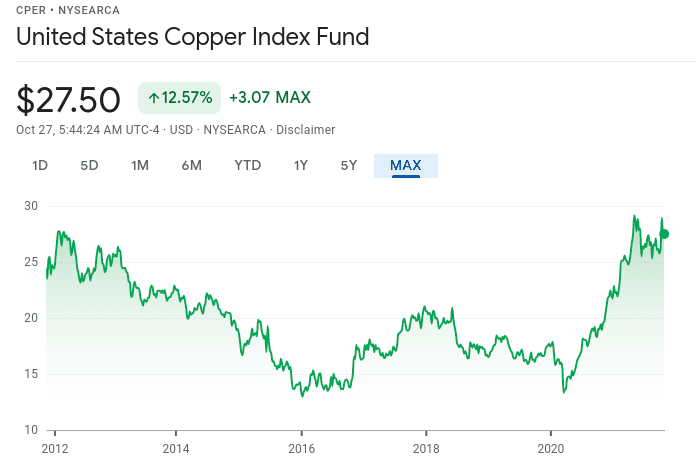 Some of the most well-known copper ETFs include the United States Copper Index Fund (CPER), iPath Bloomberg Copper Subindex Total Return ETN, iPath Pure Beta Copper ETN, and GlobalX Copper Miners ETF.
See a quick example of how ETFs work below:
Let's say you decide to invest in copper via the CPER ETF
The CPER uses the SummerHaven Copper Index Total Return (SCITR) as a benchmark
The SCITR index is essentially a portfolio of copper-based futures
If SCITR sees an increase or decrease in value, the CPER ETF will replicate this
As you can see from our above example, this is a fairly simple way to add a specific commodity to your portfolio without having to take ownership of it. The ETF will usually replicate the performance of copper. In this respect, ETFs are similar to CFDs. Although, copper ETFs allow you to access a range of related stocks via a single investment vehicle. Notably, eToro facilitates the ultra-flexible option of ETF CFDs.
As we mentioned, this means you can gain exposure to copper and capitalize on rising or falling markets. For instance, if you feel like the copper ETF will see a drop in value, you can place a sell order. Alternatively, the opposite is true and you think the price of the copper ETF will rise, you can create a buy order. This is much the same as regular copper CFDs.
67% of retail investor accounts lose money when trading CFDs with this provider.
Best Copper Stocks to Invest in
When you are researching how to invest in Copper in the UK, stocks are another option. If you choose a broker with access to stock markets around the world, you can go right to the source and access copper via a company that mines it.
For instance, the Southern Copper Corp (SCCO) is one of the biggest producers of integrated copper globally. This stock is listed on the NYSE and is available at top-brokerage eToro on a commission-free basis.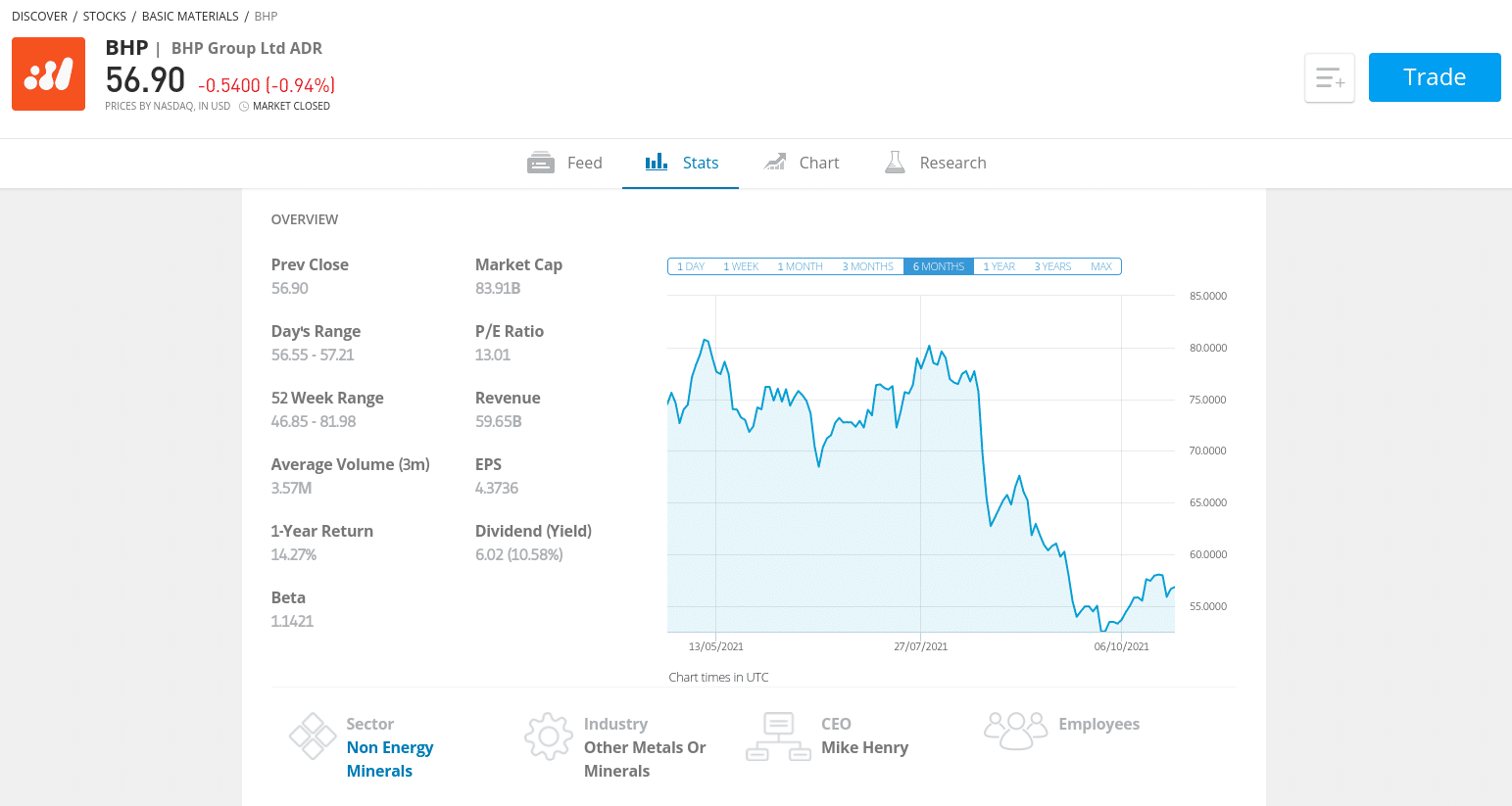 Other options include BHP Group Ltd. This is a global resources company that produces copper and many other commodities. This stock can be found on the NASDAQ and is also listed at eToro.
One of the fasted growing copper stocks is Freeport-McMoRan Inc (FCX), which has mining operations spanning the US and Indonesia. Shares are listed on the NASDAQ. Some market commentators consider FCX stock to be undervalued. As such, it could be a good route to take to invest in copper. With that said, you should carry out thorough research before risking any money on copper stocks.
If you are looking for a stock listed on the LSE (London Stock Exchange), you could invest in copper via metal and mineral producer Glencore PLC (GLEN). Glencore is a multinational trading and mining firm. The company is well-known in the commodity industry and offers an alternative way to invest in copper in the UK.
67% of retail investor accounts lose money when trading CFDs with this provider.
Is Copper a Good Investment?
Regardless of whether you take the route of stocks, CFDs, or ETFs to invest in copper in the UK – carry out a thorough investigation before risking your funds. Copper is used the world over, and the commodity is often viewed by investors as a way to hedge against inflation. With that said, commodities such as copper can be highly volatile due to shifts in supply and demand affecting the price.
To help you decide whether you should invest in copper in the UK, you will find some more information on this commodity in the sections below.
What is Copper and What is it Used for?
When you invest in copper or any commodity, it's a good idea to research what the product is used for. This is because it will be much easier to speculate on the market and better gauge how copper might perform as an investment vehicle.
In a nutshell, copper is used for a wide range of things. For a start – it can be drawn into wires, is flexible, and conducts electricity and heat extremely well.
Some uses for copper include:
Construction and plumbing utilize copper for its malleability and antimicrobial properties
Copper can also be used as long-lasting roofing
Industrial machinery use copper for its heat exchange properties
Copper is used in electronics, for motor parts and wiring
This metal is useful for generating power
Copper alloy is used for jewellery
Even after thousands of years, the global need for copper shows no sign of waning. Copper is still an essential part of human life today and is the most utilized metal in the renewable energy sector, which is huge. As such, when you invest in copper in the UK, you are actually allocating funds to a commodity that is continuously growing in usability.
Copper Price History
When you are looking to invest in copper or any other asset, it's crucial you study some price history. As we touched on, the price of copper is determined by supply and demand, and this metal is valued by the metric ton or in pounds (lbs). Like commodities such as gold and oil, copper is invariably priced in US dollars.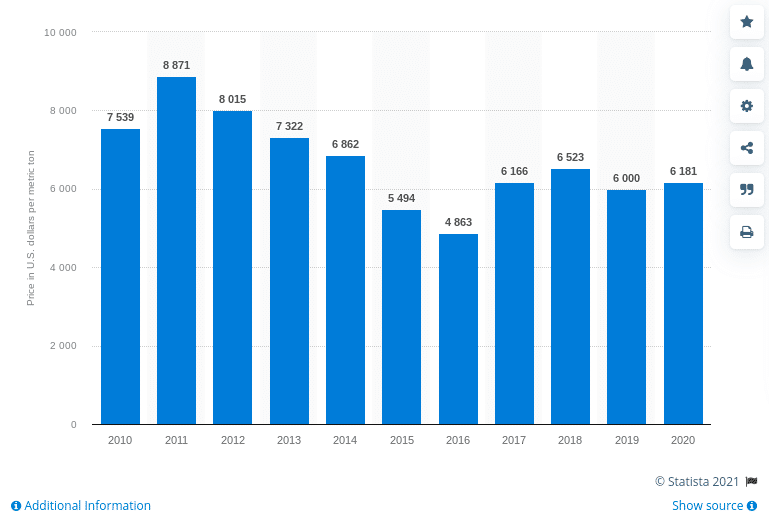 Let's take a look at some history so that you can evaluate whether to invest in copper, based on real-world figures:
As is clear from the above image, in 2010, copper was trading at an average of $7,539 per ton
By 2011, copper was averaging $8,871 per ton
The price of copper had fallen to $4,863 by 2016, which shows a drop of around 45%
In 2020, the average price of copper per ton was $6,181
In the second quarter of 2021, copper reached an all-time highest value of over $10,700 per ton. Comparing this with the average price of copper in 2020 illustrates an increase of around 73% per ton. If you think that this useful commodity will continue to perform well, and rise in value, now could be the time to invest in copper in the UK. Again, always reach your own conclusions by doing your homework before investing.
Should I Invest in Copper?
Because of the aforementioned uses for copper, this metal is often seen as a measure of economic health, hence its nickname 'Dr. Copper'. Below, you will see some more information to help you conclude whether now is the time to invest in copper.
Copper is Widely Used for Renewable Energy
When you educate yourself on how to invest in copper in the UK, you will probably notice it plays a large part in the renewable energy sector. As you likely know, clean energy doesn't emit the greenhouse gases that are known to cause global warming and health problems.
Gases and emissions such as sulfur dioxide and nitrogen oxides are released by commodities like coal
Such gases are now known to be extremely detrimental to the environment and all animals that inhabit it
Copper is an essential part of the renewable energy sector and the technologies used in it
This commodity is a very efficient heat and electric conductor, so can be used to generate global wind, hydro, solar, and thermal energy
The positive effects of renewable energy on our planet need little explanation. Furthermore, coal combustion tech, known as chemical looping (recycling), sees copper removing millions of tons of carbon dioxide from fossil fuel emissions each year. As such, copper plays a massive role in clean energy generation and is likely to do so for many years to come.
Copper is a Hedging Tool
When you invest in copper in the UK, you may do so as part of a risk management strategy known as hedging. This entails offsetting the risk of one position by investing in an opposing or contrary asset. Many people also look to metals such as copper and gold to hedge against inflation. Copper has outperformed major markets as a hedge against inflation on many occasions.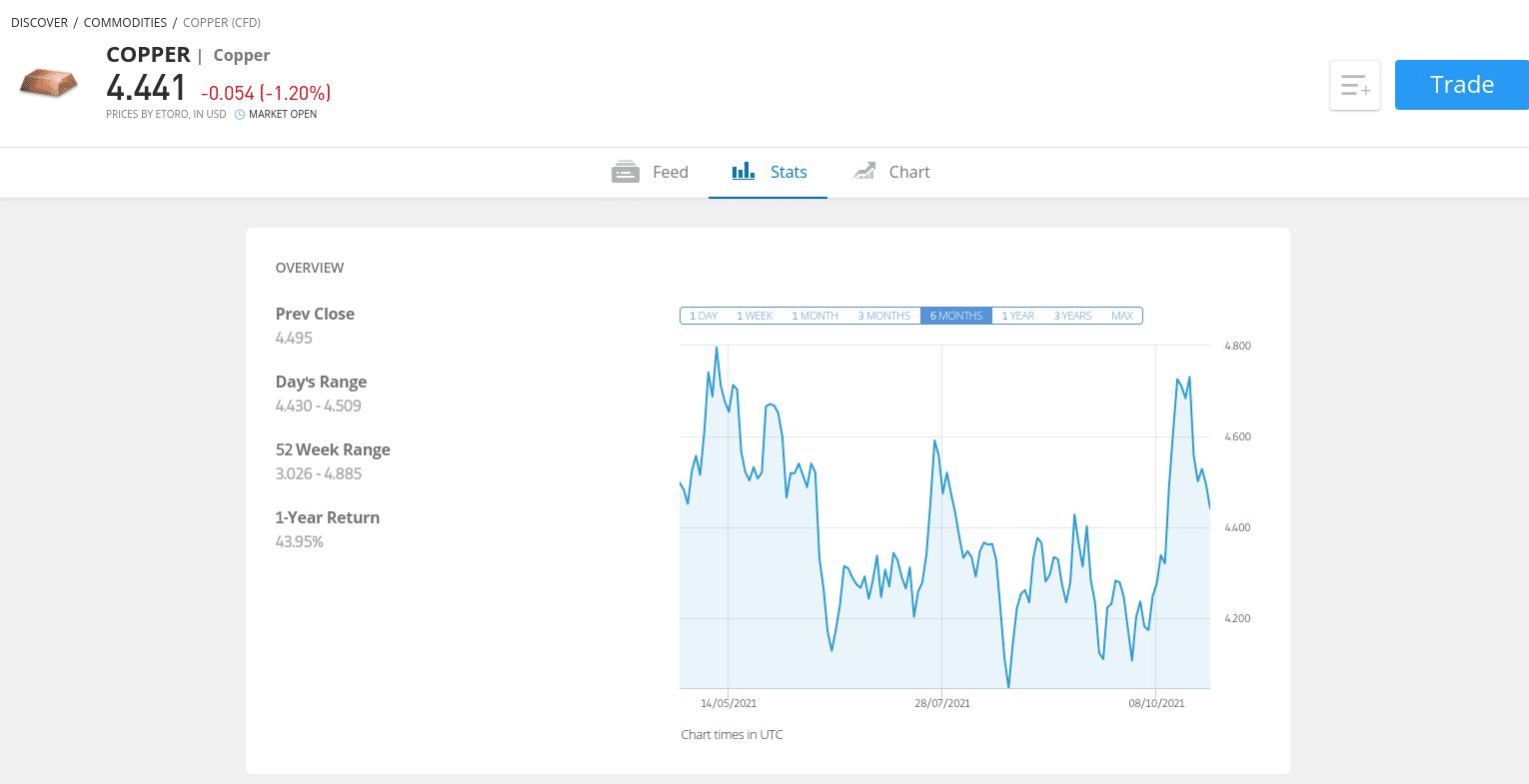 As we touched on, this metal is often used as an indicator of how well an economy is doing. When there is an increase in manufacturing and construction in a rising economy, this drives the demand for copper, which in turn leads to higher prices. Moreover, when inflation hits and prices begin to rise, historically, so do safe-haven metals like copper.
Copper Price Fluctuations
This brings us smoothly onto the price fluctuations you might experience when you invest in copper in the UK. The inflation spike of 2021 has resulted in copper, and some of the other major industrial commodities, experiencing all-time highs in the same year.
Below you can view further information surrounding the more recent price fluctuations of copper:
Copper has experienced a 52-week high of $10,724
The metal saw a 52-week low of $6,691 (per ton) in the same period
Since its all-time high of $10,724 in Q2, copper has fallen by 7% to around $9,985 per metric ton
Why do price fluctuations matter when you invest in copper? Let's say you opted to learn how to invest in copper at its 52-week low and allocated £1,000. Now, let's imagine at the time of its 52 week- high you cashed out your investment. Your gains would be around 60%, so that initial £1,000 would now be worth over £1,600.
Correlation Between Stocks, ETFs, and Copper Spot Prices
Trading or investing in companies that are directly involved in the production of copper, or allocating funds to ETFs with exposure to this metal, is easier than you might think. As we have touched on, the fastest and most convenient way to invest in copper is via a broker.
Find below a brief explanation of the correlation between stocks, ETFs, and copper spot prices:
As demand for copper rises, so will its spot price
As such, copper focussed ETFs could also be driven higher
With that said, the correlation between the trading price of copper mining stock and the underlying metal isn't always black and white
In some cases, if you invest in a copper mining company, profits from production and excavation of it could be triple that of the commodity itself
This is because if copper is rising in value, the company responsible for the mining and production of it can also charge more for its products
For example, the mining company First Quantum Minerals – this company's stock experienced a fall in its share price despite high metal prices
With record levels of production reported in 2021, it's important to remember that when you trade copper – many things could affect your investment. For instance, the aforementioned First Quantum Minerals operates in Zambia and Congo, countries fraught with corruption and political unrest.
Another large copper mining company, Antofagasta, is based in Chile. This is one of the most well-known destinations in copper mining but faces problems with government interventions, political upheaval, and strikes. Most recently, Antofagasta had to deal with quarantine-related mine closures.
Bearing all of this in mind, before you elect to invest in copper in the UK and pick a market, perform a thorough investigation of the conditions you may face.
The Cost of Investing in Copper in the UK?
By now, you will be all too aware of how accessible this metal is, via the right broker. With that said, to grasp the ins and outs of how to invest in copper in the UK, you need to be mindful of the cost of doing so.
Deposits and FX Fees
Some brokers charge deposit fees, and the higher these charges are to fund your account, the less viable it is to invest in copper in a cost-effective way. As such, this is a very important fee to be aware of.
As we said, when you look to invest in copper in the UK, you will be quoted in US dollars.
The same applies if you invest in copper stocks or trade CFDs on any US-listed market. As such, you will usually be liable for a fee to convert GBP to USD. This can vary.
For instance, eToro charges 0.5% when you make a deposit, which is to swap British pounds for US dollars.
To offer some perspective, this works out as £0.50 from every £100 you deposit.
Furthermore, the eToro platform operates in US dollars across the board. As such, when you invest in copper after this point, there will be no FX fees to pay, until you make another deposit.
Copper Stock Commission
Another fee to keep an eye out for when researching how to invest in copper in the UK is the commission. To give you an idea of the variation seen amongst brokers, Halifax charges £9.50 per order.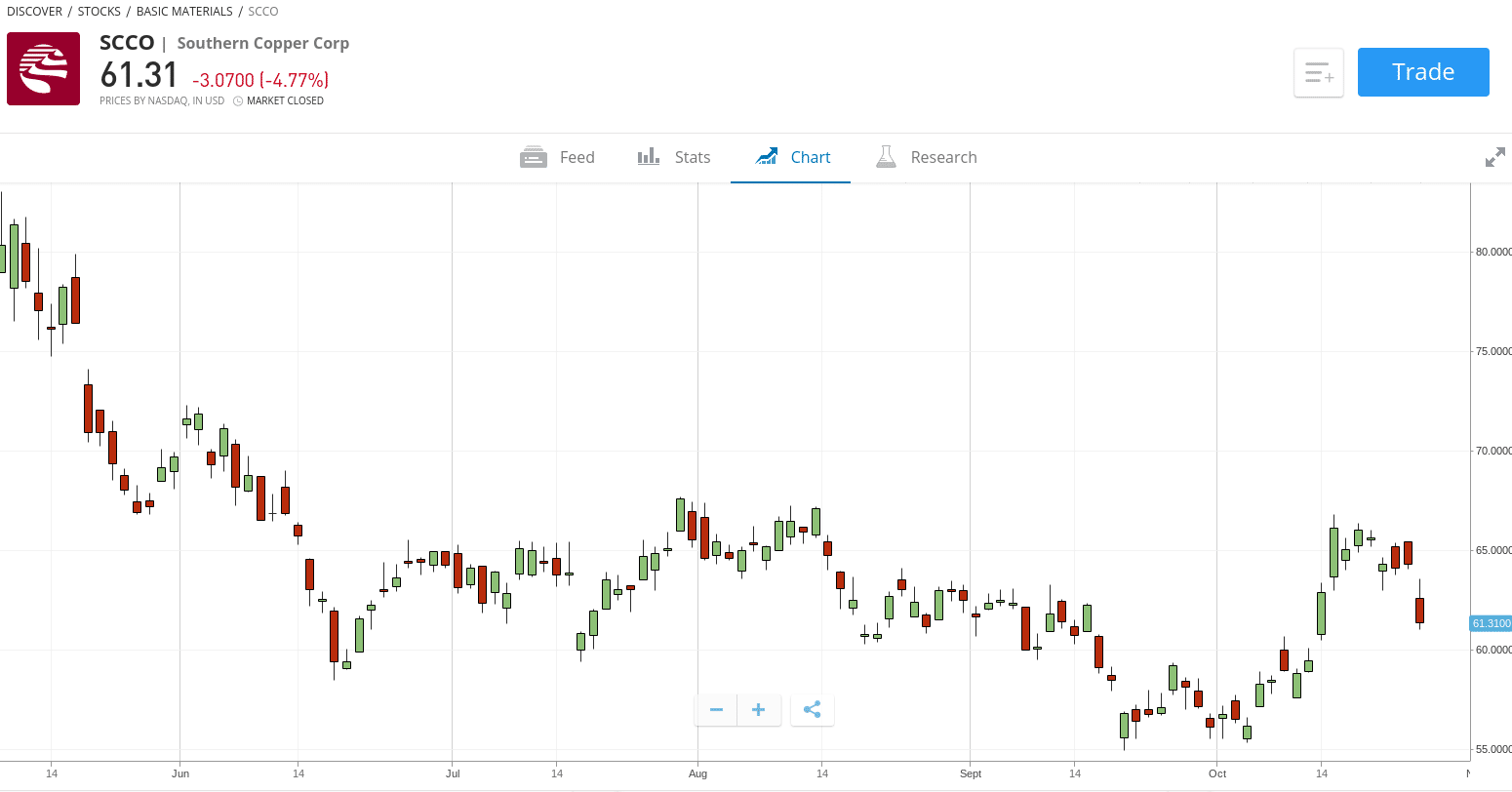 Popular UK broker Hargreaves Lansdown is even more expensive, charging £11.95 for both entry and exit from a deal on copper stocks. eToro, on the other hand, charges 0% commission on copper stocks and ETF and you won't pay any stamp duty either.
Copper ETF Expense Ratio
If you chose to invest in copper via an ETF, you should be aware there is usually a cost involved. This is called an expense ratio and is comparable to a management fee. This will usually be measured as a percentage of the amount you are investing. If you are quoted anything over 1% per annum, this is overpriced.
How to Invest in Copper UK – Conclusion
That brings us to the end of this detailed look at how to invest in copper in the UK. The long and short of it is there are various ways to add this metal to your portfolio. This includes stocks, ETFs, and CFDs.The aforementioned financial instruments save you from taking ownership of physical copper bars or coins.
The best broker to access a variety of copper-related markets is eToro. The FCA-regulated broker can facilitate your exposure to copper via stocks and ETFs, and you will pay 0% commission. The minimum investment and deposit amount start from just $50 (around £36) and it takes less than five minutes to get set up with an account.
eToro – Best Broker to Invest in Copper UK
FAQ
How do you invest in Copper in the UK?
Where to invest in Copper UK?
How much do you need to invest in Copper UK?