How To Invest in Futures – Investing in Futures for Beginners 2021
Ever heard someone mention the word "futures", and you did not understand what that meant? Perhaps you understand what the "futures" is all about, and you'd like to invest, but you don't know how to go about it, then this piece is for you.
Futures are derivatives of financial contracts that make it an obligation for the transacting parties to trade an asset at a future date and price that has been predetermined. We have made this comprehensive guide on how to get started on investing in Futures.
#1 Broker for Investments – eToro
How to Invest in Futures – Step by Step Guide 2021
It's relatively simple to begin trading futures.  You can begin with the following steps:
Step 1: Establish an account with a broker that offers the markets in which you wish to trade – We'd recommend either TradeStation, Interactive Brokers (IBKR), or TD Ameritrade. You have to make adequate research to know which is best for you.
Step 2: Input your personal details – A futures broker will most likely inquire about your investing history, income, and net worth. These questions are intended to ascertain the level of risk that the broker will accept in terms of margin and positions.
Step 3: Choose a contract to trade – Do not try to attempt to be a "jack of all trades" In your early days, we'd advise you to focus on a market. Then practice, it becomes better.
Step 4: Place and monitor your trade – You can place an order and check prices using a laptop, a desktop computer, or even a mobile phone application. Configure limit alerts and regular updates to keep a closer eye on your available positions. Do not ever turn your back on an open situation.
Where to Invest in Futures – Choose a broker
There are many online brokerage platforms out there as more people are interested in trading commodities to gain extra returns. However, as a beginner, you need to know that these brokers are suitable for different strategies, needs, and experience levels. This is why we have helped you to create a comprehensive list of the top three brokers for beginners.
1. Interactive Brokers – Best pricing for professionals

Interactive Brokers (IBKR) was founded in 1977 and is publicly traded (NASDAQ: IBKR) and licensed in six tier-1 jurisdictions, and this makes it a low-risk broker option for Forex and CFD trading.
If you are a beginner, the Interactive Brokers Trader Workstation (TWS) may appear too complex for you. The platform includes a variety of advanced trading features that seasoned traders and professionals would appreciate. In other words, the IBKR Mobile app is feature-rich but lacks a streamlined experience for ordinary traders.
The Interactive Broker platform permits you as a customer to trade a broad range of global financial markets from equities and options to futures and spot Forex. Traders have access to 125 market centers located in 31 countries.
Privacy and Security
IBKR has an overall trust score of 99 out of on as is regarded as a low-risk investment. Interactive Brokers is a publicly traded company that does not operate a bank and is regulated by six tier-1 (high trust) regulators.
Commissions and Fees
IBKR provides transparent fixed commissions on futures contracts traded in US markets and absorbs all exchange, regulatory, and clearing fees. You are not charged for positions held overnight.
For its futures traders, Interactive Brokers offers both fixed and tiered pricing.
Fixed-Rate Pricing
IBKR charges a fixed rate low commission fee in the US markets. It also charges exchange, regulatory, and clearing fees.
In Non-US Markets, it provides a flat rate per contract or as a percentage of trade value. This covers all commissions, regulations, exchange, and clearing fees. It also includes fees associated with overnight positions.
Transparent Tiered Pricing
This option offers a low broker commission price that lowers as volume increases.  There are charges for regulatory, exchange, and overnight position fees. If you trade in high volumes or frequently increase liquidity, this structure will benefit you. This applies in both domestic and international markets.
IBKR offers a competitive commission structure and does this through its two pricing tiers: IBKR Pro and IBKR Lite. While the former is for professionals, the latter is for casual investors.
IBKR Lite: There are no market data costs with IBKR Lite, and all US stock and ETF trades are free, while options trades are priced similarly to IBKR Pro. The primary disadvantage of IBKR Lite is that it provides lower-quality order executions. As with other $0 brokers, Interactive Brokers earns money from its order flow through IBKR Lite. IBKR Pro is geared at professionals, whilst IBKR Lite is geared for casual investors.
IBKR Pro stock trades: Interactive Brokers offers an excellent value for small order quantities, i.e., several hundred shares. However, once you trade several thousand shares or more, Interactive Brokers becomes prohibitively expensive, even with their tiered pricing structure, which begins at $.0035 per share ($1 minimum). IBKR Pro is therefore not the best choice for trading penny stocks, as you will be charged a commission on a per-share basis.
IBKR Pro options trades: Any premium over $.10 equates to $.65 per contract, with a minimum of $1.00 and no maximum. The rate is $.50 per contract for premiums between $.05 and $.10. Finally, the charge is $.25 per contract for all premiums less than $.05 per contract.
| | |
| --- | --- |
| Feature | Interactive Broker |
| Minimum deposit | $0.00 |
| Stock trades | $0.00 |
| ET trade fee | $0.00 |
| Options (Base Fee) | $0.00 |
| Options (Per Contract) | $0.65 |
| Futures (Per Contract) | $0.85 |
| Mutual Fund Trade Fee | $14.95 |
| Broker Assisted Trade Fee | $30.00 |
Pros
Large investment selection.
More than 7000 no-transaction-fee mutual funds.
Strong research and tools.
Con
Website is not suitable for beginners
67% of retail investor accounts lose money when trading CFDs with this provider.
2. TD Ameritrade- Best Desktop Futures Trading Platform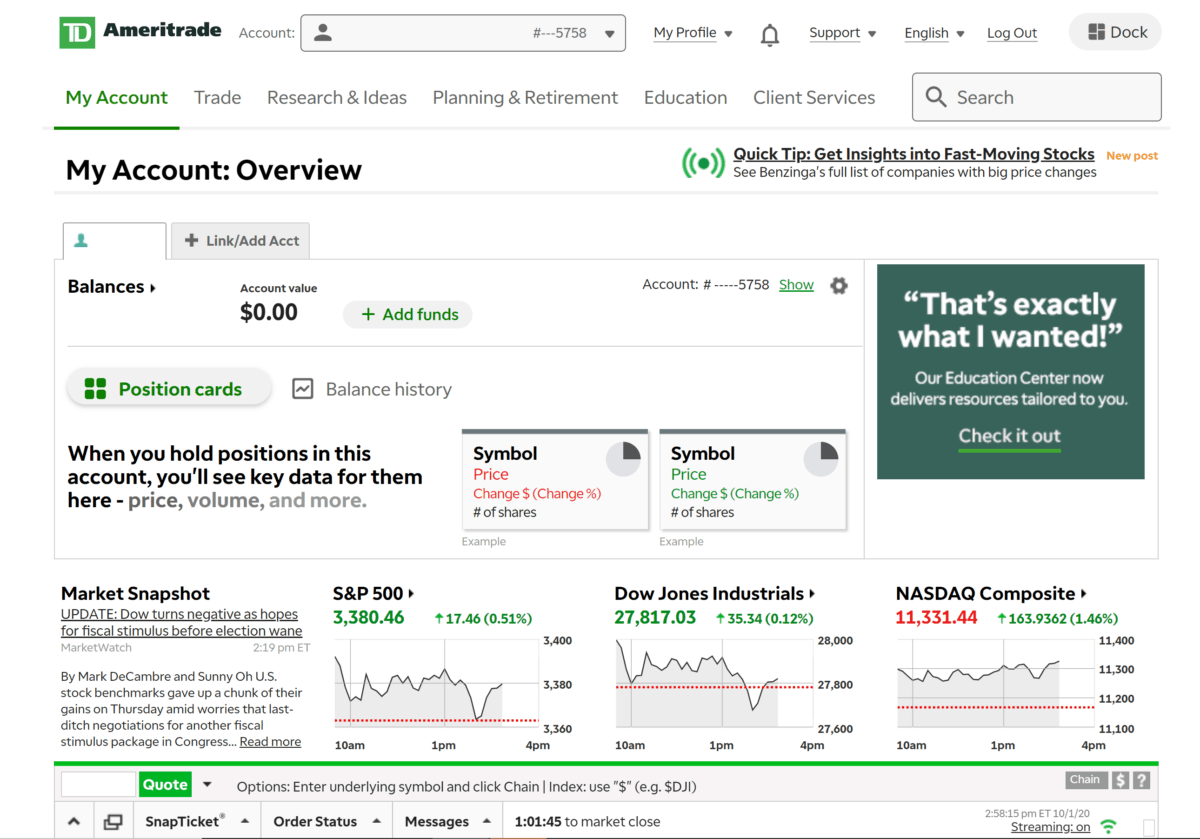 TD Ameritrade is a leading online stockbroker due to its attractive features, which include highly accessible customer assistance, thorough stock trading research, competitive fee rates, and no minimum account size.
This stockbroker is an excellent choice for investors looking for a one-stop shop that can handle practically every investment need that may arise.
At no additional cost, you'll get access to advanced platforms, technical analysis, comprehensive instruction, futures trading assistance, and paperMoney® to practice your approach. Whether you're new to futures or a veteran in the game, the platform will provide the tools and resources necessary to trade futures with confidence.
Privacy and Security
TD Ameritrade does not share any of your personal information with third parties. Your social security number and financial information, as well as your income and work information, are all secure.
The platform makes extensive use of firewalls to prevent unauthorized parties from accessing your data. Additionally, there is an anomaly monitoring and intrusion detection infrastructure in place that notifies it of strange activity in your account.
The firewalls separate the company's public web servers from the servers that store your account and personal data, preventing them from being accessed directly over the Internet.
Its secure website encrypts all data passed between the website and your machine using 128-bit encryption.
You can employ two-factor authentication, as well as fingerprint and facial recognition scanners on all of its platforms.
If you lose funds or securities from your account as a result of unlawful activity, TD Ameritrade will compensate you for the funds or securities lost.
In the last four years, TD Ameritrade has not revealed any big data breaches. However, due to the record number of activities in 2020, it suffered login challenges across numerous TD Ameritrade systems, impairing the ability of some clients to log in.
Fees and Features
The pricing structure and fees of TD Ameritrade are extremely straightforward and open. For instance, the broker maintains a price page that details the charges connected with margin trading, brokerage fees, and so forth.
Futures and options on futures contracts are charged at a rate of $2.25 per contract, plus exchange and regulatory costs.
You should note that exchange fees vary according to exchange and product. The National Futures Association (NFA) charges regulatory fees, which are presently $0.02 per contract.
TD Ameritrade, like the rest of its major competitors, is commission-free for online purchases of exchange-traded funds (ETFs) and stocks. The brokerage does charge commissions and fees; however, they are often equivalent to those charged by other firms.
TD Ameritrade offers over 13,000 mutual funds, including almost 4,000 that are commission-free and transaction-fee-free. This fund selection is competitive with that of other online brokers. The platform is quite expensive as it charges a $49.99 fee for selling the majority of no-fee, no-load funds within six months after purchase. There are no fees associated with inactivity or paper confirmation statements.
| | |
| --- | --- |
| Feature | Commission |
| Minimum deposit | $0.00 |
| Stock trades | $0.00 |
| ETF trade fee | $0.00 |
| Options (Base Fee) | $0.00 |
| Options (Per Contract) | $0.65 |
| Futures (Per Contract) | $2.25 |
| Mutual Fund trade fee | $49.99 |
| Brokerage Assisted trade fee | $30.00 |
Pros
Commission-free stock, options, and ETF trades
No account minimum
Free research
Good customer support
High-quality trading platforms
Large investment selection
Cons
Mutual funds commission higher than average.
High margin rates & options commissions
No fractional shares
67% of retail investor accounts lose money when trading CFDs with this provider.
3.TradeStation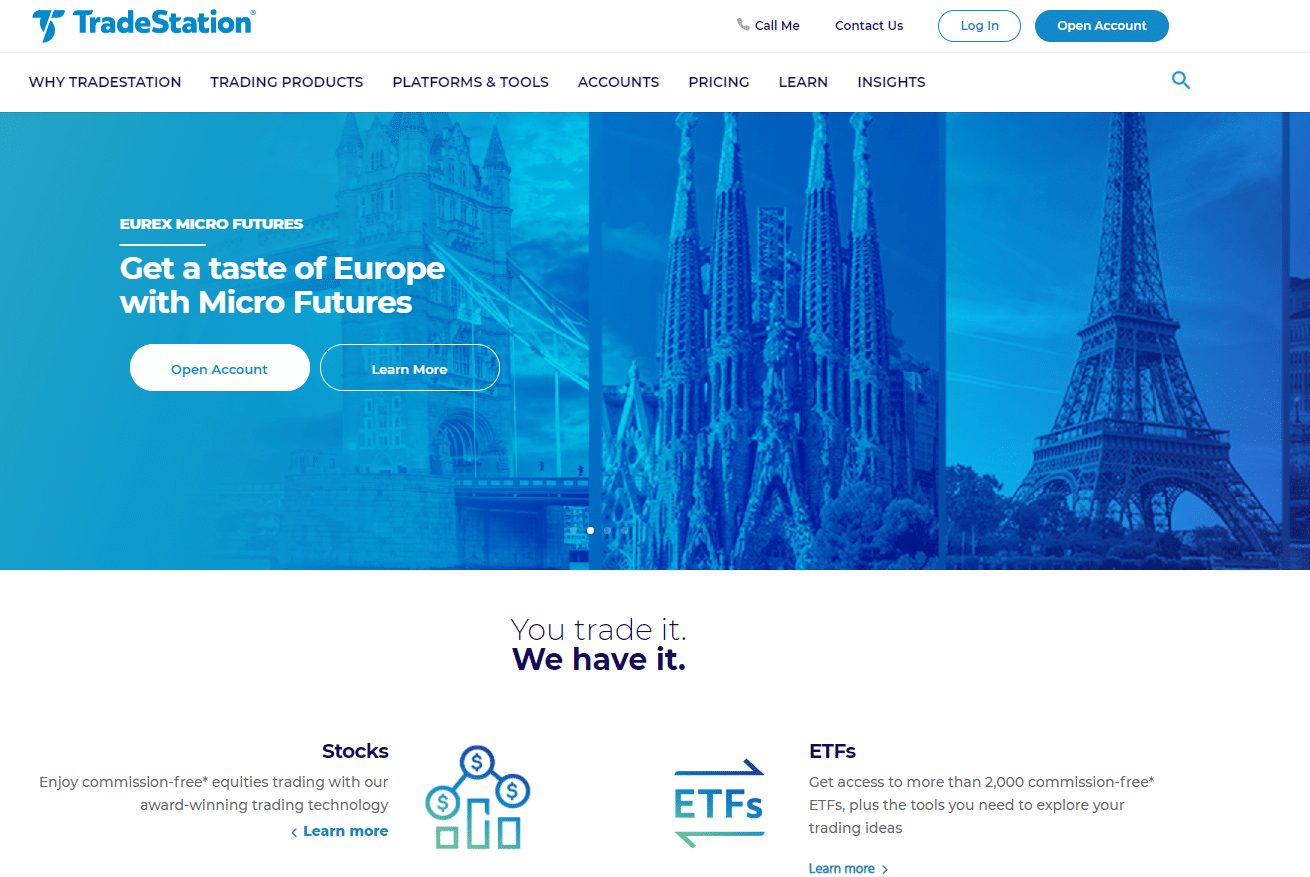 TradeStation is an excellent choice for committed investors looking for an authentic professional trading experience.  Regular investors also have access to the firm's high-octane instruments, particularly after the company reduced trading charges to zero and slashed the minimum investment requirement for its TS GO offering to zero.
Trading futures has several advantages for anyone wishing to diversify their portfolio and profit from the international economy's constant change. Traders can gain access to practically round-the-clock trading possibilities, boost their leverage, and participate in highly liquid futures markets.
Privacy and Security
TradeStation protects your important accounts and private information by leveraging its technologies and operational best practices. These are some of the unique ways in which the platform secures the account of its customers:
Monitoring of Accounts and Trades: TradeStation is proactive in detecting suspicious activities on the profile of its customers. It can do this because it employs modern tools and highly-trained specialists to consistently monitor its systems.
Strict Policies on Privacy: TradeStation is committed to safeguarding the privacy and security of the information it gathers. Without your consent, it will not share non-public information about you with third parties.
Encrypted information: The secure websites and applications of the platform protect your account with 256-bit data encryption when you access and manage them online.
Advanced Firewalls: TradeStation employs modern software and hardware firewalls to protect its systems and personal information against unwanted access.
Fees and features
TradeStation is a comprehensive trading platform that enables investors to trade virtually any popular financial instrument, as well as some uncommon ones
You can access a diverse range of varied investments, including indexes, government bonds, metals, renewable energy, and currencies.
Through leverage, you can control a significant amount of market value with a modest investment. Apart from the regular futures trading, you can also invest in stocks, bonds, cryptocurrency, and exchange-traded funds (ETFs). The only significant asset class that TradeStation does not offer is foreign exchange
If you are willing to learn, TradeStation offers a slew of robust utilities. Both its desktop and web platforms enable extensive customization, allowing you to see data in ways that are beneficial to your own trading techniques. Traders can create complex order types and execute trades using custom-built algorithms. FuturesPlus enables you to do in-depth research on options and futures contracts, while the Portfolio Maestro utility enables you to examine the impact of various strategies on your portfolio both now and in the future. Again, these tools and others are valuable assets for technical, active traders seeking novel ways to analyze data before making bets.
TradeStation charges separately for two packages: TradeStation Go and TradeStation Select. TradeStation Go is priced according to the number of online users. This program costs no fees for trading stocks and ETFs. While this indicates that all other trades are free, options and futures contracts cost between $0.50 and $1.50. There is no minimum balance requirement for this plan.
Additionally, TradeStation Go users must pay a series of additional fees while trading on TradeStation's desktop program. For example, each equity transaction incurs an additional price of $10, whereas futures incur an additional fee of $1.40 per contract. This is a big difference, as the majority of TradeStation's more sophisticated capabilities are only available on the desktop version. TradeStation Select is completely free to use the desktop trading platform.
Stocks and ETFs are free to trade. Contracts for options are priced between $0.60 and $1.50, while futures are priced at $1.50. (This is in comparison to TradeStation Go, which charges $0.85 per contract for futures.) A minimum balance of $2,000 is required to participate in this plan.
TradeStation does not provide any fee-free mutual funds. It charges a $15 commission on any funds it manages. Margin trading is a possibility. While interest rates for very high balance customers can technically be as low as 3.5 percent, most investors should anticipate rates closer to 9 percent.
EQUITIES, EQUITY OPTIONS

AND FUTURES PRICING

TS Select
TS GO
Stock & ETFs
$0 Commission
$0 Commission
Stock Options
$0 Commission + $0.60 per contract
$0 Commission + $0.60 per contract
Futures
$0 Commission + $1.50 per contract, per side
$0 Commission + $0.85 per contract, per side
Micro Futures
$0 Commission + $0.50 per contract, per side
$0 Commission + $0.60 per contract
Futures Options
$0 Commission + $1.50 per contract per side
$0 Commission + $1.50 per contract per side
AVAILABLE PLATFORMS
Web Trading
Free
Free
Mobile Apps
Free
Free
TradeStation Desktop
Free
Trading Surcharges apply
REAL-TIME MARKET DATA
Real-time data for Futures, Futures Options, Stocks, ETFs, Stock Options, Cryptocurrencies and Indices.
Free
Free
Pros
High-quality trading platforms.
Advanced tools
Comprehensive research
Stock, Options, and ETF trades are commission-free
Trading platforms of the highest quality.
Cons
TS Select is required for free trading on the advanced platform.
Plans and pricing structures might be confusing.
67% of retail investor accounts lose money when trading CFDs with this provider.
What are the Various Methods of Investing in Futures?
There are numerous futures contracts available in both the financial and commodity markets. Stock, index, currency, and interest futures are just a few examples of financial futures. Additionally, futures are available for a variety of commodities, including oil, gold, cotton, oilseed, and so on.
Stock Futures
Trading stock futures has several advantages. The most significant one is leverage. Prior to investing in stock futures, you must make an initial margin deposit with your broker. If the initial margin is 10%, for example, you can trade $500 worth of futures by paying the broker only $50. The more deals you conduct, the better your profit. However, the risks are also greater. Stock futures can be traded on stock exchanges such as the BSE and NSE. They are, nevertheless, available for a limited number of stocks.
Index Futures
Index futures can be used to speculate on the future performance of indices.  Assume you purchase BSE Sensex futures at $4000 with a month-end expiration date. If the Sensex reaches $4500, you will earn $500. If it drops to $3000, your losses will be $500. Portfolio managers use index futures to hedge their equity investments if share prices collapse.
Currency Futures
Currency futures are one of the various types of financial futures. These futures contracts enable you to purchase or sell a currency at a predetermined rate relative to another currency (Euro versus USD, for example) at a future date. These are employed by risk managers and speculators. For instance, an importer in the United Kingdom may acquire USD futures to hedge against currency appreciation against the pound sterling.
 Commodity Futures
Commodity futures enable hedgers to protect themselves against future price changes in a variety of commodities, including agricultural products, silver, gold, and petroleum. Additionally, they are used by speculators to wager on price changes. Currency markets are extremely volatile and are often dominated by major institutional participants, such as private businesses and governments. Due to the low initial margins in commodities, traders in commodity futures can take large bets. While the profit potential is tremendous, the hazards are typically significant.
Are futures attractive investments?
There are numerous factors to consider when determining whether futures are a suitable investment for you. We've included a list of some of the advantages and disadvantages below to assist you in making your decision. 
What are the Pros of Futures Trading?
Regulated Exchange
Before you begin trading, it is critical to trust your broker. The futures market is highly regulated and is operated by a single exchange. This function eliminates the risk of dealing with brokers who are not primarily concerned with your success.
Diversity
In the futures market, you can invest in commodities, currencies, and indices. They all have a different time of expiration. This diversity provides traders with several options to engage in whatever they like.
Leverage
Due to the leverage in the futures market and the volatility, you can earn a respectable profit even if the market moves only a few points. Additionally, the high liquidity assures that you can leave a position whenever you wish.
Low Entry Barrier
The futures market has a rather low entry hurdle. This is enabled by the contract sizes' flexibility. There are three types of futures contracts: standard futures contracts, MicroE-Mini, and E-Mini contracts. This enables you to participate with any amount of money you like to invest with any amount you can.
Low Fees
When you execute a trade, you must pay a commission; in the futures market, the commission is quite low, averaging between $0.25 and $1 per contract. This is advantageous in the futures market, where the typical trader executes numerous trades daily. It is critical to execute these daily deals since the futures market frequently opens and closes at various prices. You can close and reopen your positions daily to avoid overnight volatility.
What are the risks associated with the futures market? 
Contract conclusion
The primary impediment to entering the futures market is a lack of comprehension of what you are purchasing. A futures contract's various components include its value, quantity, quality, and the contract's expiration date. Prior to opening a position, it is necessary to understand the difference in how your contract will expire.
Time Deterioration
Traders frequently struggle to comprehend the effect of time decay on their contracts. As time passes, your contract's value will depreciate as the value of yesterday's oil becomes increasingly irrelevant as the contract's expiration date approaches. A contract that is left unpaid will keep on losing value as the expiration date approaches.
Leverage
Another risk factor in the futures market is the leverage offered by individual brokers. Leverage is typically around 10x, which means that $100 has the purchasing power of $1000.
Dedication of Time
Because the futures market is open 24 hours a day, the value will fluctuate constantly. Thus, day trading futures contracts require a significant amount of time commitment to market monitoring, which some traders may not want or be able to provide. And if you are unable to devote the necessary time, you will inevitably lose money.
Conclusion
Investing in Futures means getting involved in the "pro leagues" of marketing trading. There are many things to consider before you hop in. We hope that our "Investing in Futures" review has helped. Trading Futures could be really rewarding especially if you can research comprehensively and operate on helpful platforms.
Best Platform for Investing – eToro
FAQs
What is a futures contract?
What are the different types of futures contracts?
How much does it cost to trade futures?
What are the trading hours for futures?