10 Best Dividend Stocks To Buy Now – How To Buy Dividend Stocks in November 2021
Dividends offer shareholders a chance to get in on company profits. When companies have excess profits, some of them decide to share, dispersing to their shareholders. For traders, it's a way to increase their initial investment over time, banking off of a company's successes.
Dividend stocks are among one of the most popular, especially for traders looking to make more long-term investments. If you're looking into getting in on the best dividend stocks, below, we have a list of the top-rated brokers that trade them. We'll also go deeper into the best dividend stocks and how you can start trading them today.
What are Dividend Stocks?
Stocks offer a way to buy into companies and become a shareholder, growing with them as they expand and grow. When companies that offer stocks make profits, they can decide to disperse them to shareholders, which is also referred to as paying dividends. The process works simply, starting with you, the trader, buying shares. Then, what happens next is:
Companies announce whether or not they will pay dividends and share how much they will pay per share (let's say 15%)
Companies will set a distribution date
Your payout is calculated (if you have 500 shares, you can expect $75 in dividends)
Dividends are paid and will show up in your account
Because dividends have to do with a company's success, they usually only come from companies that are doing big things. You will see some of the most successful companies with a surge of profit, which they choose to pay back to their customers.
Past successes are not always an indicator that a company will pay out dividends, as that can change when things start to go south. It could be the company or something going on with the economy that causes companies to halt their typical dispersal, so it's always good to keep a close watch on stocks and change up your portfolio from time to time.
Trading vs Investing Dividend Stocks
Traders can get their hands on dividend stocks in a few ways, including trading and investing. Depending on which you choose, you could have different outcomes, as there are key differences between the two. Below, we'll highlight the differences in each to help you decide which is best for you.
Investing
Investing in dividend stocks is the most common way to get started with dividend stocks. Investing is simply purchasing shares, choosing a number that fits you, your budget, and your investing goals. Once you purchase a share, you own a percentage of the company, and the higher number of shares the more sway you have in decision making.
As an investing member of a company, you can partake in shareholder meetings and vote on key things trying to pass within the company. On top of that, when dividends are dispersed, you are on the list and will receive an amount for each share that your own. Because many companies that pay dividends are large and making plenty of profits, investing in dividends is usually fit for long-term investments where traders are trying to grow their investments over time.
Trading
When it comes to dividend stocks, trading is not the same as investing. Dividend stocks are great for long-term investments but, as far as trading is concerned, you have to use much more caution. The best way to get into it is to use stock CFDs that will give you insight into the future of the stock you're interested in.
When trading, there is a lot to consider, including the current direction of the stock in question and many of the moves in the near and far future that the company is planning to make. A lot of speculation is going on and, as most investors know, that's never the most effective way to make investments.
That's why it's good to track stocks, using a CFD. A way that you could approach a trade when dealing with dividend stocks is shown in the example below.
Let's say we have a dividend stock that has a current price of 200p, the CFD will also be 200p. When the price of the stock you choose goes up, so too will the CFD, giving a good indicator of where the stock is going. You have two options, if you guessed that it will increase, you should buy, if you think it will decrease, you should sell.
If you're new to trading, you might not know too much about leverage, which you'll want to be careful with. For advanced traders, using leverage in this kind of situation could mean big profits.  Leverage is a way to use more than what is currently in your account to increase your stakes. Some brokers offer higher leverage amounts than others, so you just have to keep your eyes peeled.
If you do decide to take advantage of it and you think you have a trade that will give you a nice return, you'll need to look at your broker's leverage first. Let's say it's 1:5. That means that they will increase the amount in your account by 5. So if you have $500, then leverage will grow your investment to $2,500, allowing you to make a larger trade and maybe score a larger amount of money.
10 Best Dividend Stocks To Buy In 2021
Because the market is in constant flux, we advise you to do your own research. Though these are current stats and suggestions, the market changes and sometimes other investments might be more sound or just work better for your investment.
For a look at the best dividend stocks with growth potential, follow along as we introduce you and dive into the world of dividends.
1. GlaxoSmithKline (GBX) – 4.5% Yield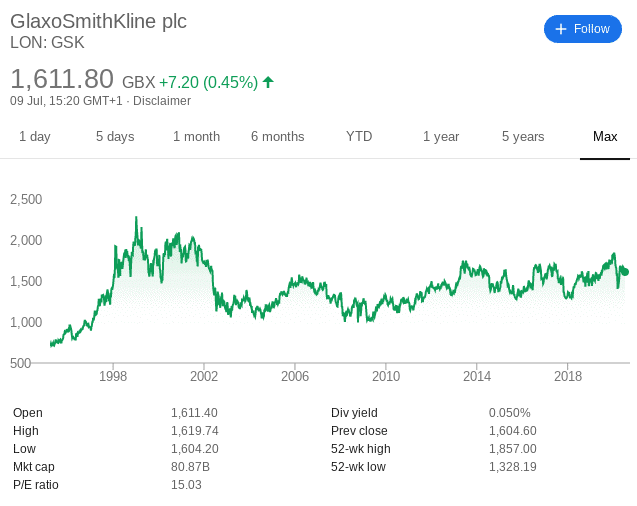 These guys are a pharmaceutical company that's spread out all across the globe. They have a solid reputation for paying out dividends and usually do like clockwork, making them one to watch. In the years past, they had an even higher yield, though 4.5% is not low by any means. They are one to watch and we suspect that they might hit their peak once again soon.
2. Legal & General (LGEN) – 8% Yield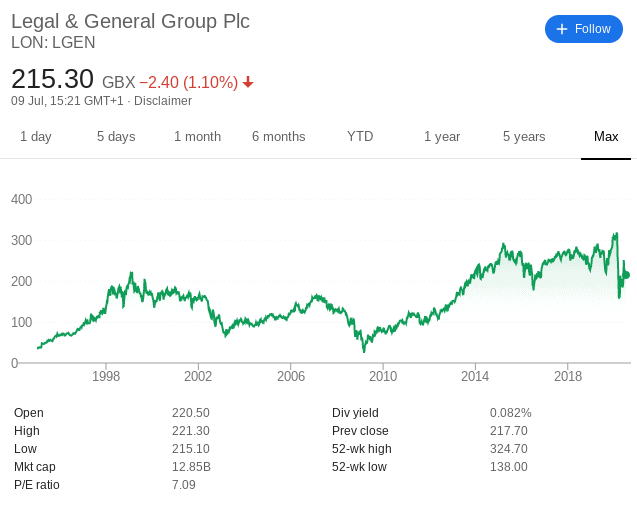 This company is highly successful and involved in many financial services itself. They have a high average capital and continue to do big things as they gain influence in the market. Because they are an attractive choice for dividends, they have the attention of many traders but, don't let their high yield convince you without research first. It could drop with the effects of the pandemic though we'll just have to wait and see.
3. British American Tobacco (BAT) – 6.9% Yield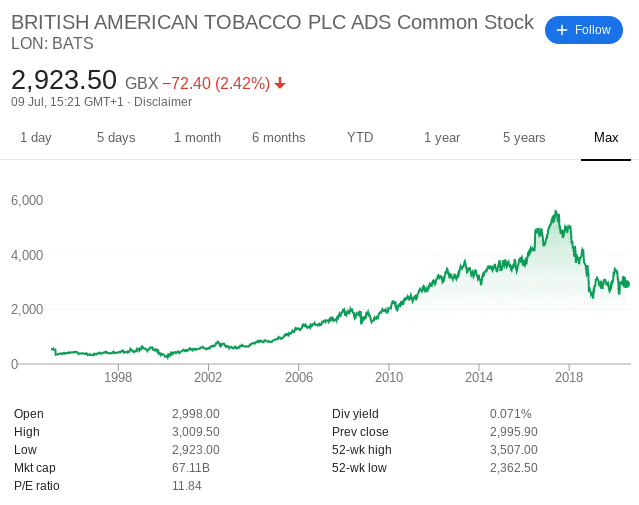 These guys have been paying out strong dividends for some time now. Not only have they been extremely successful over the last 5 years but they are expected to continue that way and expected to continue paying out dividends. They have a yield of 6.9%, something that is on the high side of things. Now they are even more attractive, as the price per share has dropped as well.
4. AstraZeneca (ANZ) – 2.5% Yield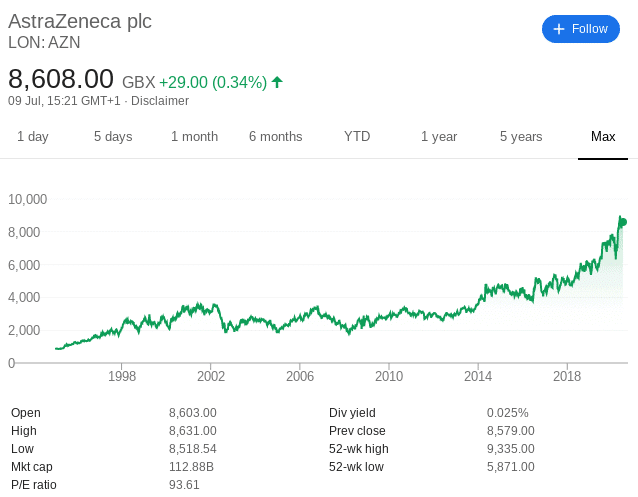 AstraZeneca too is a pharmaceutical company that's seen an increase in its profits and successes over the last few years. As they are one of the major contenders in the Covid-19 vaccine, the world has looked toward them and their success as a company, jumping into their stocks when they can. They are valuable and currently have a lower yield, which could very well change soon.
5. GVC Holdings (GVC) – 2.2% Yield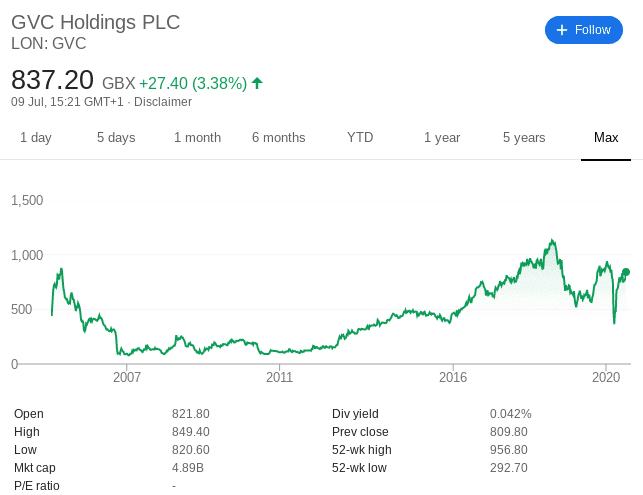 GVC specializes in gambling and betting shops. Their stock has been up and down but has seen some interesting spikes over the years that have interested investors. They have dividends set at 18p per share, something that is pretty good considering the buy-in cost. Though they have seen many increases over time, they are said to see a sharp increase and its dividends too.
6. BP (BP) – 10.6% Yield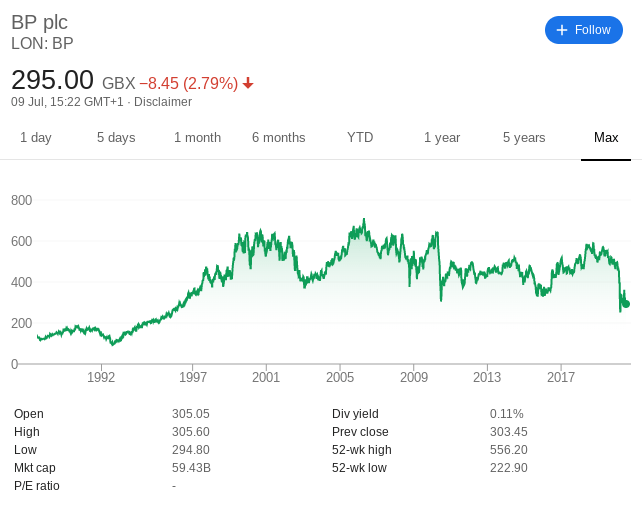 BP has one of the highest yields so far and was actually given a bad rep for it. Many critics were sure that that wasn't going to last long, but the pandemic changed that. The demands for fuel increased and have continued to do so as the world opens back up, something that surprised many and made others quite a bit of cash. As of current reports, the dividends are set to increase again, making it a pretty good company to put your money on.
7. Tesco (TSCO) – 4% Yield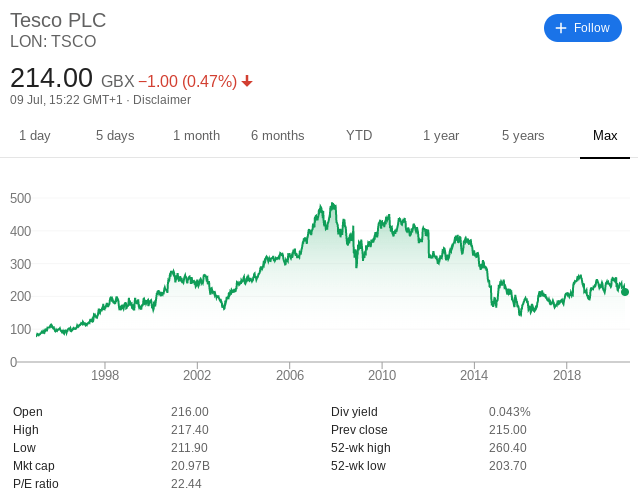 Tesco has a chain of supermarkets that are highly successful in the UK. Though the stock isn't doing anything spectacularly right now, it is starting to come up again and is expected to flourish in the near future. They've paid out dividends of up to 8%, something that would make it worthwhile.
8. Unilever (ULVR) – 3.5% Yield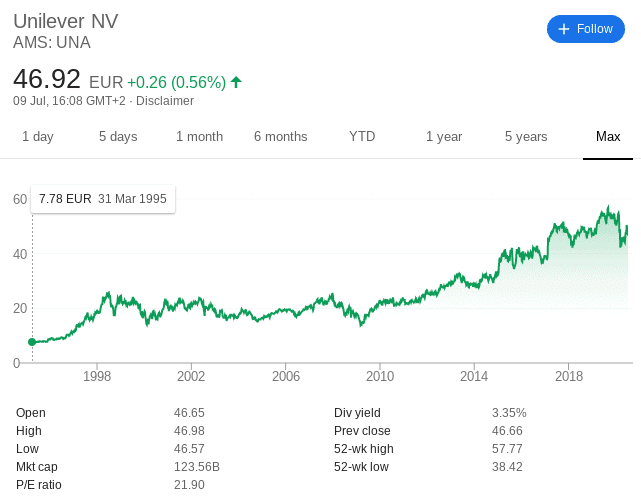 Unilever seems to have its hands spread out everywhere in the market, including personal care, beauty, and even ice cream. This is a company with a good rep that a lot of traders turn to for long-term investments, as they have been stable for years. They are also known to pay out dividends, making them doubly attractive for traders looking to make a few bucks on their investments.
9. DIAGEO (DGE) – 2.7% Yield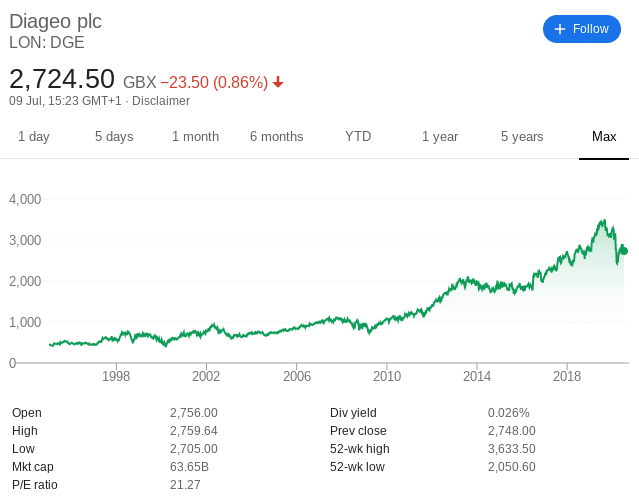 These guys are involved in the business of alcohol, with stakes in brands like Guinness and Captain Morgan. Though the yield is on the lower end, the stock has been increasing in value, which could lead to higher payouts over time.
10. Vodafone (VOD) – 6.3% Yield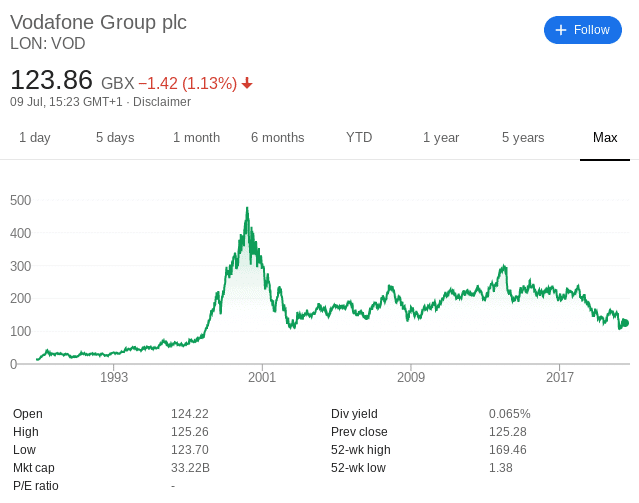 Vodaphone is one of the top dogs in communications, spanning across the entire globe. The net worth of the company is huge and they usually pay out dividends that are pretty good. Currently, they are paying put 6.3%, which could increase. As the demand for connectivity rises, so too do stocks like Vodaphone, making them one to keep an eye on.
Best Dividend Stocks NYSE
When looking for the best dividend stocks to buy and hold, you can't pass up a look at the New York Stock Exchange (NYSE). There are a ton of hot ones that you should add to your portfolio, diversifying it and increasing your chances to score payouts for dividends. Those with the highest yield and the best return are listed below.
1. AGNC Investment Corp – 9.1% Yield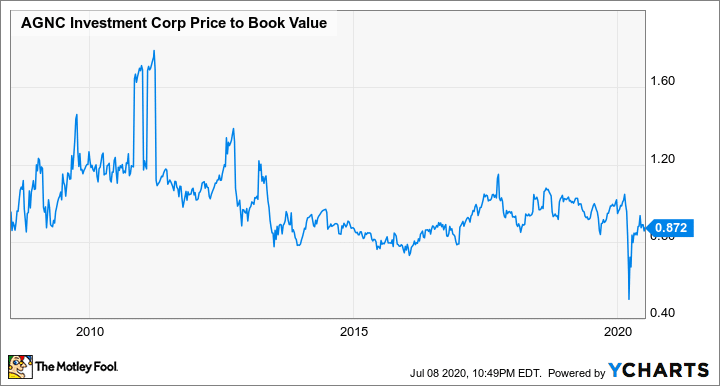 AGNC isn't just a stock that started pumping out big numbers recently. They've been paying out an average of 10% for the last 12 years, and don't seem to be going anywhere anytime soon. If you're looking for a safe bet in the NYSE, this one could be it.
2. Dynex Capital, Inc.  – 9% Yield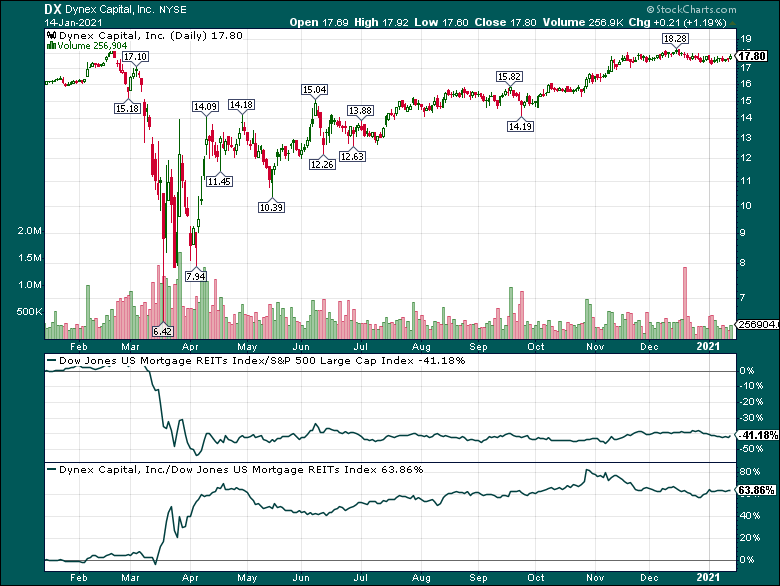 The lowest payout over the last few years has been right below 8%, making this high-yield dividend stock one to look out for. Not only have they been steadily climbing and show signs of a stable investment but they also expect to pay out high dividends just like other years too.
3. Oxford Square Capital Corp. – 8.9% Yield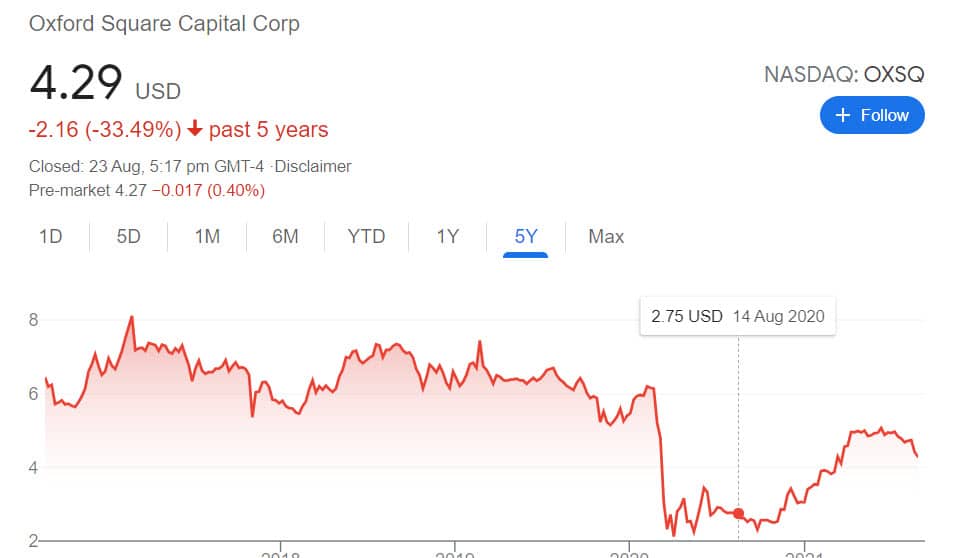 Not only is Oxford Square Corp high-yield but this dividend stock pays out every month. Though they payout when they have an abundance of funds, they still experience hard times just like any other company. Though it's a good stock to bet on, don't expect monthly payments if something is happening to drive their numbers down.
4. American Finance Trust, Inc. – 8.9% Yield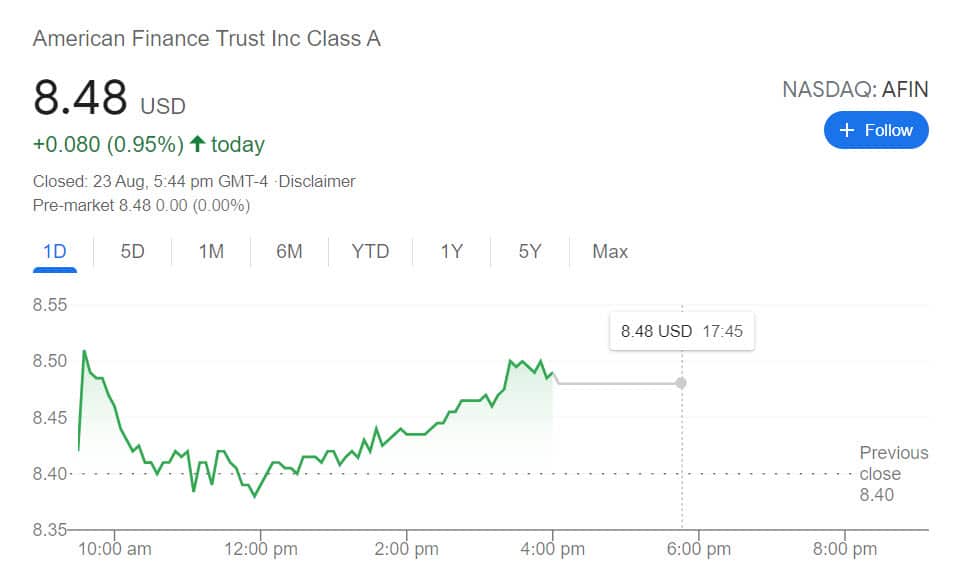 Over the last year, the price gains that these guys have experienced are insane. They not only performed well but also shot right back to pre-pandemic highs in a matter of days. As far as payouts, when they are performing well, they are known to pay their shareholders up to 9%. A stable stock with good returns is what those who invest can expect from American Financial Trust.
5. Prospect Capital Corporation – 8.9% Yield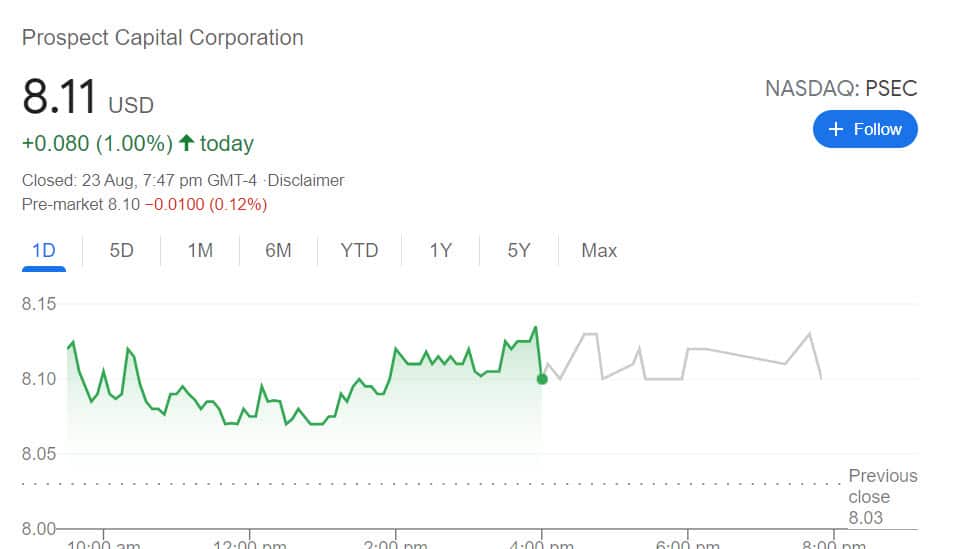 Prospect Capital Corporation is a bit risky so it might not be the best choice for those looking to invest long-term. However, the payout is worth it if you know the right time to jump in, as they are known to pay out up to 10%. Still, it's all about getting the time right and collecting dividends that make it worth your while.
How to Pick High Dividend Stocks
The popularity of dividend stocks makes them an attractive option for traders of all levels. Nowadays, it's accessible thanks to all of the online platforms that allow traders to get in and start investing in minutes. There are websites and apps, all of which help traders get the best out of their trades every single time.
At the center of learning the best stocks to choose is going with a broker that suits your financial goals. Before choosing yours, here are some things to consider.
Consider your Needs
Choosing an investment platform requires some soul searching. Don't worry, there is not much spiritual about this one but it is more financial. First of all, think about your goals when it comes to finances and what you expect to achieve in opening an account. Also, consider your budget and the type of trading you'd like to do.
A lot of platforms out there will allow you to practice a bit and get a feel for investing before actually investing any of your money. While rookies might want a platform that has lots of educational tools, those that have been in the trading game may want something a little more sophisticated and easier to get into. A few key questions to ask include:
Are you an active or passive investor?
What kinds of trades do you hope to make?
Is this fund for retirement?
Do you want or need help with educational and analytical tools?
What is your investing goal and how can you achieve it?
Instead of trying to make your answers fit a broker, be as honest as you can and take some time before you start scrolling through brokers. Really digging in and finding the things that you hope to achieve when it comes to investing is a great way to find the best options for you and pick a broker that will bring you closer to your goals.
Pick a Few
With your ideas clear, you'll be able to get in there and start scratching a few off of your list, finding those that will help you reach your goals and those that will not. Not that any of the brokers you scratch off will be bad but, maybe they don't offer you exactly what you're looking for, which is something that you should not go so light on. To kick a few off, consider a few things like:
Regulations
A lot of new traders don't think about regulations and wind up choosing a broker that isn't regulated. That isn't a good idea as it has to do with their legality and safety. A few things to consider include:
Securities Investor Protection Corporation (SIPC)
SIPC is a trusted organization that will only allow credible brokers to become a part. Keep a lookout for whether or not the broker is listed as part of the SIPC or head over to the SIPC website to browse and check out choices.
Financial Industry Regulatory Authority (FINRA)
FINRA is another authority that is trusted throughout the financial world. When businesses and brokers have their seal, customers know that they are using a safe website and that won't have any kind of issues when it comes to adding payment information or making trades.
Federal Deposit Insurance Corporation (FDIC)
FDIC is one of the most important corporations when it comes to finances. Some several banks and brokers are covered by the FDIC, deeming them safe for use by the customer when it comes to their financial matters. Keep in mind that retirement accounts are more than likely not covered, as they cannot be guaranteed.
Insurance
When it comes to finances, there are many brokers out there that will ensure a customer's investment just in case the company is to go bankrupt or suddenly shut down. For example, with SIPC membership, financial institutions can provide insurance on amounts from $250,000 up to $500,000. It's important to take a look at what will happen just in case the unthinkable happens.
Fraud Protection
These days, the number of cybercrimes is increasing, and many cyber criminals reach for financial information. That's why it's important to find brokers that have some sort of fraud protection, making sure that customers are rotated just in case there is a hack or someone attempts to use their information.
Reviews
Reviews can be a make or break for online companies. If there are companies with a large number of negative reviews, no customers will likely use them and will likely not trust them when it comes to investing in their company. Likely, if there are issues with a broker, the customer will put it out there, as there are more complaints than praises on the internet.
Types of Accounts
After checking that brokers are safe and will keep your information out of the wrong hands, you should start looking into more specific things. One of those is the type of accounts that are offered, as that will either cater to your goals or not. A few common types of accounts that you should keep your eyes open for include:
Additional Accounts
Maybe you want your investments to go to something big like your retirement or your child's education. If that's the case, you want to check for brokers that offer these kinds of accounts and set your account based on those that give you a chance to meet your goals.
Take A Look at Fees
Fees are another one of those make-or-break situations that make some brokers better than others. For instance, there are some brokers out there with large fees, some of which don't make it worth it when it comes to investing your cash. When it comes to choosing a broker that's right for you and your financial goals, you should check out the fees, and here's a few key things that you should look for.
Minimum Deposit
Some day trading brokers offer really low minimum deposits, as they have some accounts that investors can jump into for little to nothing. Still, there are some out there that have high minimum deposits, which could get in the way of the budget that you had in mind.
Maintenance Fees
Some accounts out there will charge for just having an account open. While that might not seem to fair, it is, and many brokers out there do it. Some of them are monthly and some yearly, which could make it worth it or not. Check out the fees and do some calculating, making sure you have enough to reach your financial goals after all is said and done.
Platforms
If you can score a deal where you score a platform for free, jump on it. Many platforms today will add additional costs to your account fees, something that drives up the cost of even having an account. Though it does cost, a good platform is a helpful tool to have and something that you should consider spending your money on if you can.
Upgrades
A lot of new investors get into investing when they find a good deal and don't really consider what happens when they start to move up on the ladder. Check if there are upgrades and, if so, do they cost? You want a platform that's not going to penalize you for getting better, allowing you to move up and get better as you learn.
Commissions
One last thing to keep your eyes peeled for is commissions. Commissions are how brokers make their money but, it takes away from your total. Sometimes, commission fees are calculated based on the amount that's in the trader's account, making it dependent on how much you're looking to put in and start investing.
Best Dividend Stock Brokers in the USA
The list of dividend brokers is long but they are not all created equal. Finding the perfect stock for you that pays out dividends can be a long process but it's totally worth it when you find one. Below, we have the top three dividend stockbrokers that not only offer dividend stock trading but a long list of other perks as well. So, without further ado, let's get to it.
1. eToro – Best Dividend Stock Broker for Beginners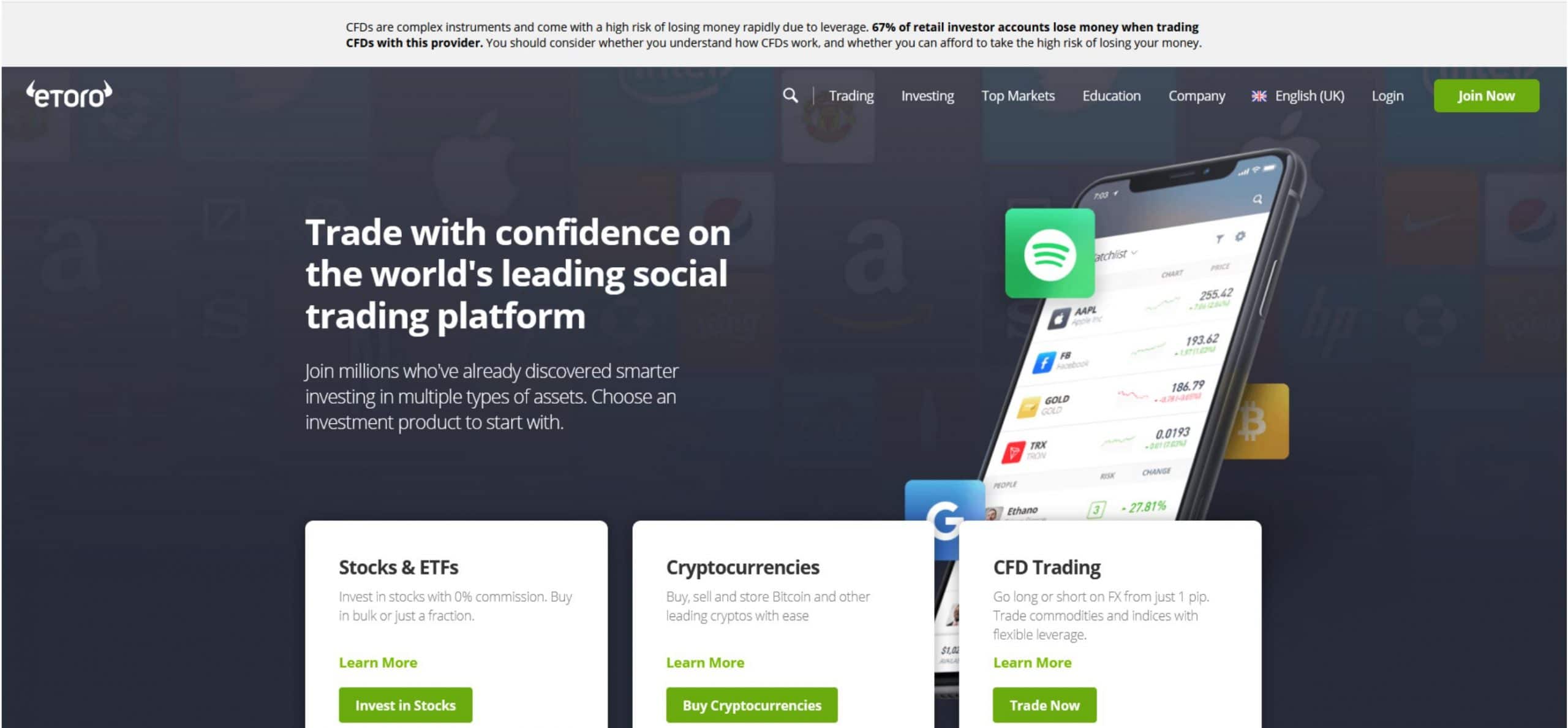 It should come as no surprise that eToro is in our top spot. Not only is it easy to sign up but it's also simple to use. For all of the beginners out there, eToro is a top choice. They offer a load of educational resources along with a competitive spread and low fees.
One of the key perks that come with creating an account with eToro is that traders are never charged commissions, making it an even sweeter deal. Lack of commissions and fees doesn't mean that you'll have to sacrifice diversity, as there are more than 800 stocks to choose from extending throughout the US, UK, and Hong Kong.
You can start with eToro for as little as $200 and start trading stocks that offer dividends in no time.
| | |
| --- | --- |
| Fees | $5 cashout fee and 0.5% conversion fees |
| Minimum Deposit | As low as $200 |
| Deposit Methods | Credit or debit card, e-wallet, bank account |
| Speed of withdrawal | Typically, 3 business days |
| Spread ranges | 0.75% to 5% |
| Leverage Options | Up to 5% |
Pros and Cons of eToro
| | |
| --- | --- |
| Pros | Cons |
|  Option to partake in copy trading |  Not much to offer for advanced traders |
|  Trade among more than 800 markets offered | |
|  Regulated by the FCA | |
|  Lots of payment options including e-wallets | |
|  Comes with a downloadable app | |
2. AvaTrade – Best Spread for Dividend Stocks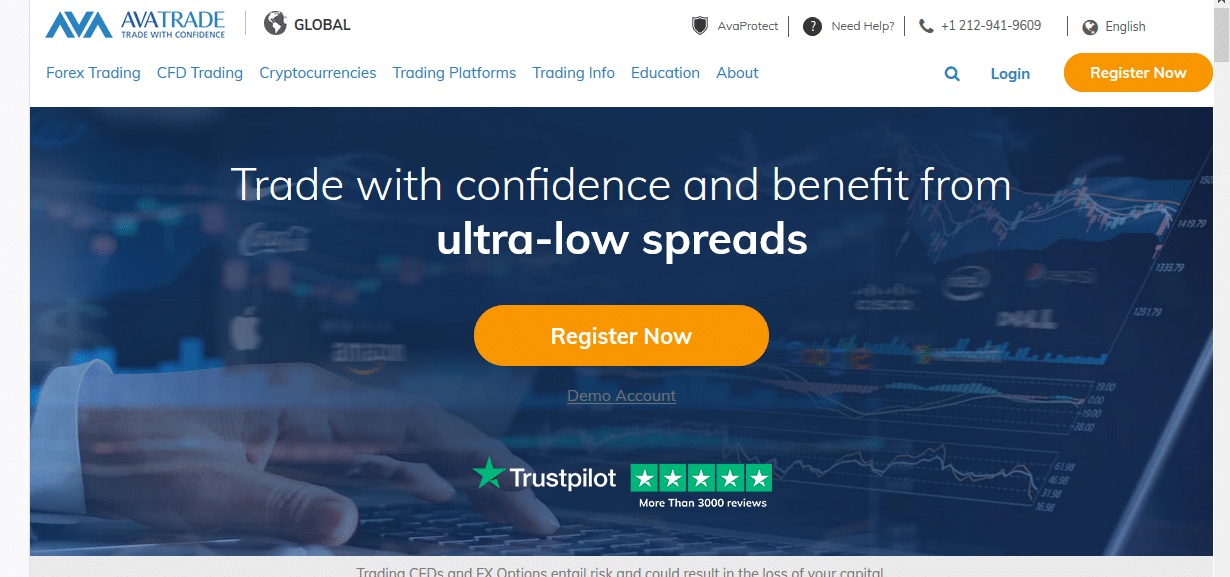 AvaTrade is another one of the best dividend brokers on the web, in the business since 2006. Over the years, they've made a solid reputation for themselves mostly due to their competitive spreads. They also have a fairly low minimum deposit and few fees that traders have to pay.
Ava Trade is suitable for both rookie and seasoned traders, as they have educational tools to suit both. Their platform is also compatible with both MT4 and MT5 software, which will allow traders to take their strategies up a few notches. Options to automate trades and even trigger alerts for price jobs are just a few possible features.
Starting an account is simple and takes minutes, allowing you to jump in and start trading in no time. A user-friendly site and mobile app are both there to make life easier and trades a piece of cake.
| | |
| --- | --- |
| Fees | $50/quarter for inactivity |
| Minimum Deposit | As low as $100 |
| Deposit Methods | Credit or debit card, bank transfer |
| Speed of withdrawal | As little as 3 business days |
| Spread ranges | 0.91 on average |
| Leverage Options | 1:400 |
Pros and Cons of AvaTrade
| | |
| --- | --- |
| Pros | Cons |
|  One of the best spreads on the web |  Inactivity fees if you don't use after a quarter |
|  Options to integrate MT4 and MT5 technologies | |
|  Option to automate trades | |
|  No commissions on trades | |
|  Choose from stocks, indices, and bonds | |
3. Capital.com – Best Low-Cost Dividend Broker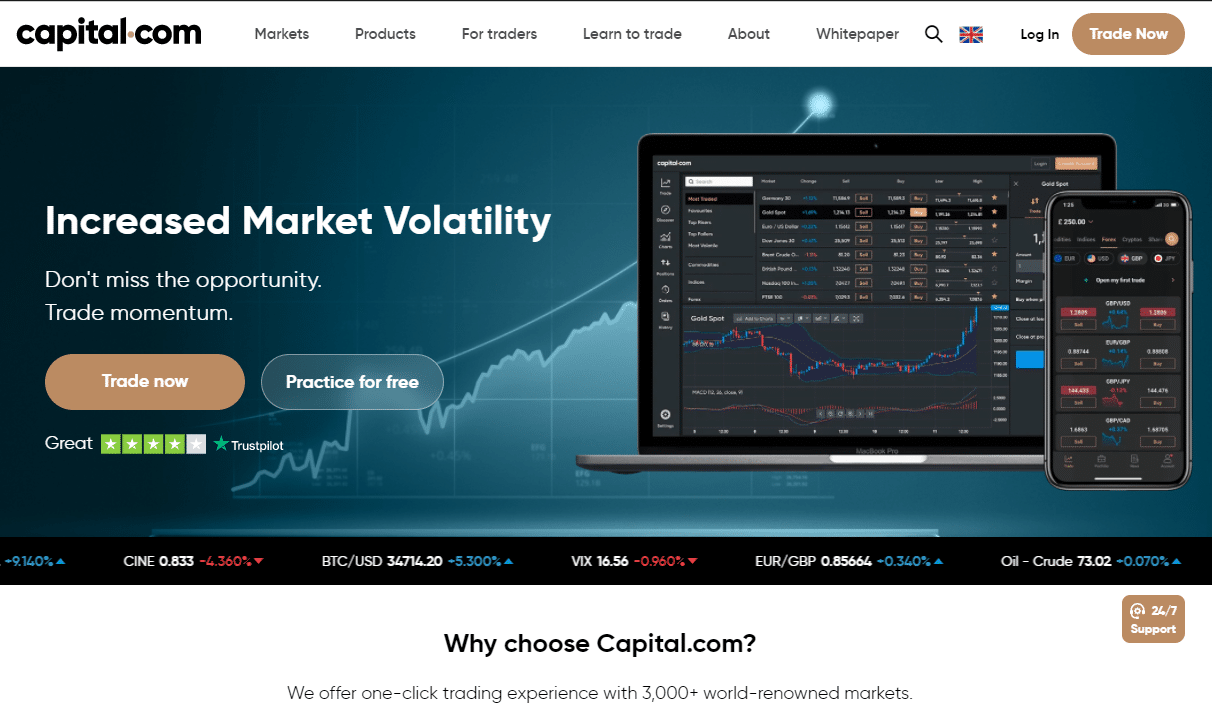 The reason why so many traders love capital.com is that they have some of the lowest fees around. They don't charge commission fees, withdrawal fees, or even inactivity fees, which is great for traders looking to keep more of their investments.
Sign-up is simple and traders can start buying into divided stocks for just $20. Using Capital.com's analysis tools, traders can set up automatic alerts and get notified when the stocks their watching start to make interesting moves.
Capital.com is a good dividend broker for both new and experienced traders, coming with a library full of resources. They not only look at things going on in the US but also take a look at things happening across the globe that could affect the financial markets. There is a little something for every trader at Capital.com, making it a popular choice among traders of all levels.
| | |
| --- | --- |
| Fees | No inactivity or withdrawal fees |
| Minimum Deposit | As low as $20 |
| Deposit Methods | e-wallet, debit and credit card, bank account |
| Speed of withdrawal | 3-5 business days |
| Spread ranges | 4 pips |
| Leverage Options | 5:1 for CFDs and 30:1 for Forex |
Pros and Cons of Capital.com
| | |
| --- | --- |
| Pros | Cons |
|  Fees are always low |  A bit more limited when it comes to stocks |
|  The minimum deposit starts at just $20 | |
|  A library full of resources that affect the market | |
|  Top-rated customer care | |
|  Easy-to-use mobile app for simple trading | |
How to Buy Dividend Stocks (eToro Guide)
Now that you have the scoop on the best dividend stocks and where to trade them, it could be a good time to start buying. To get started, you'll have to take a few steps first, which we'll share with you below. In as little as three steps, you can be on your way to buying into dividend stocks and growing your investments as you go.
Step 1: Open an Account and Upload ID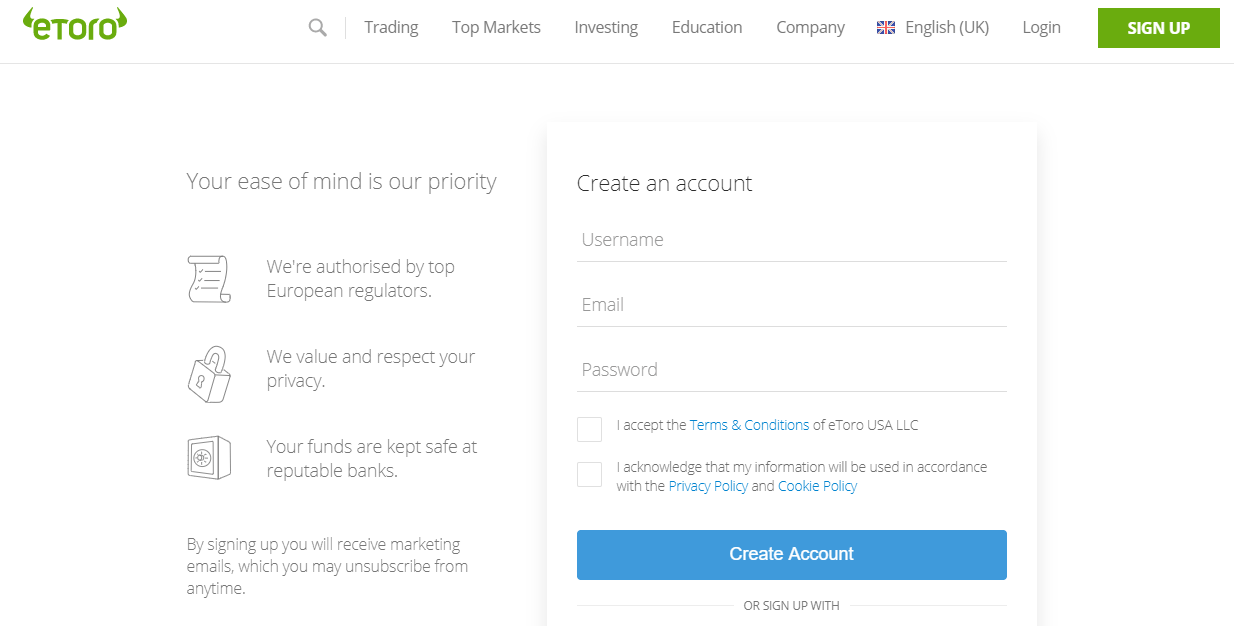 First of all, you have to open your account. For that, simply visit the homepage of the broker of your choice and create a username and password. You'll have to enter your email too, which you will then verify to get things officially up and running.
Before you can trade, you have to verify your identity, something that you can do in a few ways. Using either a driver's license or your passport, you will need to upload a photo so that the online broker can verify your identity. Keep in mind this could take a little time, so if you're ready to trade now, get to it.
Step 2: Deposit Funds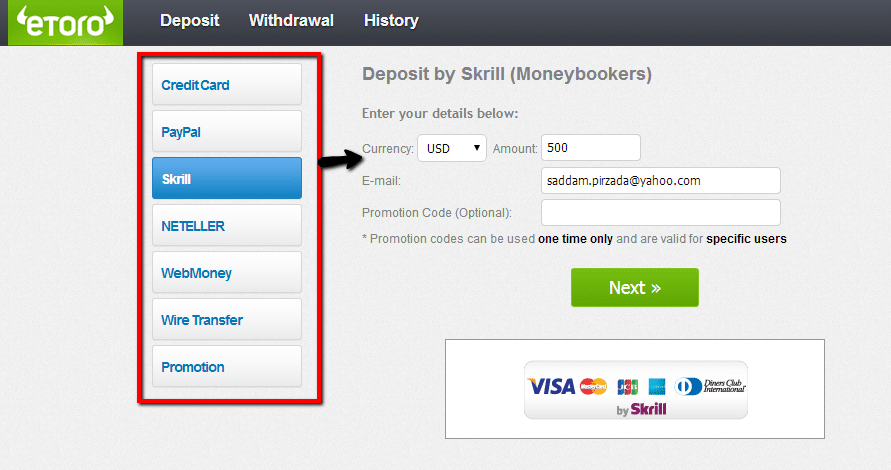 The next thing you'll have to do is deposit your funds. Your broker will have a list of accepted brokers, of which you can choose one a add your funds. Be sure to check out the required minimum amount so that you're not surprised when you're ready to buy. Then all you have to do is deposit whatever you want and start buying.
Step 3: Buy Dividend Stocks
Finally, you can buy dividend stocks! Don't just buy any and make sure that you do your research before you choose one. Always check for the best options for you and your budget and do as much research and analysis as you can before choosing a dividend stock. Once you find those you want to buy into, simply click a few buttons, and then voila! You're officially in!
Dividend Stocks: The Takeaway
Dividend stocks are popular for a few reasons. First of all, they offer those looking to earn a passive income a shot at growing their money faster. Additionally, most companies that pay out dividends tend to be more stable. It's is because of these two reasons that the popularity of dividend stocks is on the rise, making it something that many investors are interested in.
Before taking off and investing in just any stock, find a broker that offers them and sign up. Then, consider the dividend stocks that are best for you and your budget to choose the best one for you and your financial goals. In 2021, it's time to invest smarter, not harder, and with dividend stocks, you can grow your money faster and safer than ever before.
eToro – Buy the Best Dividend Stocks with No Commission
FAQs
What are dividend stocks?
What are the best dividend stocks?
Do penny stocks pay dividends?
Why are dividend histories so important?
How is dividend yield calculated?