Best Day Trading Brokers – Best Day Trading Brokers in 2021
Day trading is rising in popularity, with more automated options hitting the market daily. When it comes to choosing a broker that will work best for you, there is a lot to consider so that you can get the best return on each and every trade. Below, we have 5 of the best day trading brokers in 2021 along with a head-to-head comparison so that you can choose the best for your financial goals.
#1 Best Day Trading Broker: eToro
Top 5 Day Trading Brokers in 2021 – A Quick Overview
During our roundup of the best day trading brokers, we took spreads, leverages, and withdrawals all into consideration. After all, was said and done, we narrowed it down to 5 of the best day trading brokers that 2021 has to offer.
eToro – Best Day Trading for Beginners
AvaTrade – Day Trading Broker with the Best Spreads
Capital.com – Best Low-Cost Day Trading Broker
Fineco Bank – Day Trading Broker with 100 Free Trades
Libertex – Best MT4 Compatible Day Trading Broker
Best Day Trading Brokers Reviewed
Day trading is trending but, before diving in headfirst, you have to choose the right broker. Different brokers provide different incentives to cater to traders that have different budgets. Whether you want more hands-on trading or want to sit back and let technology take the wheel, choosing the right broker is key.
Whether you're a new trader or have been in the game for a while, our top 5-day trading brokers of 2021 are a good match. There is something for every kind of trader below, so let's dive right in and introduce you to the hottest on the web.
1. eToro – Best Day Trading for Beginners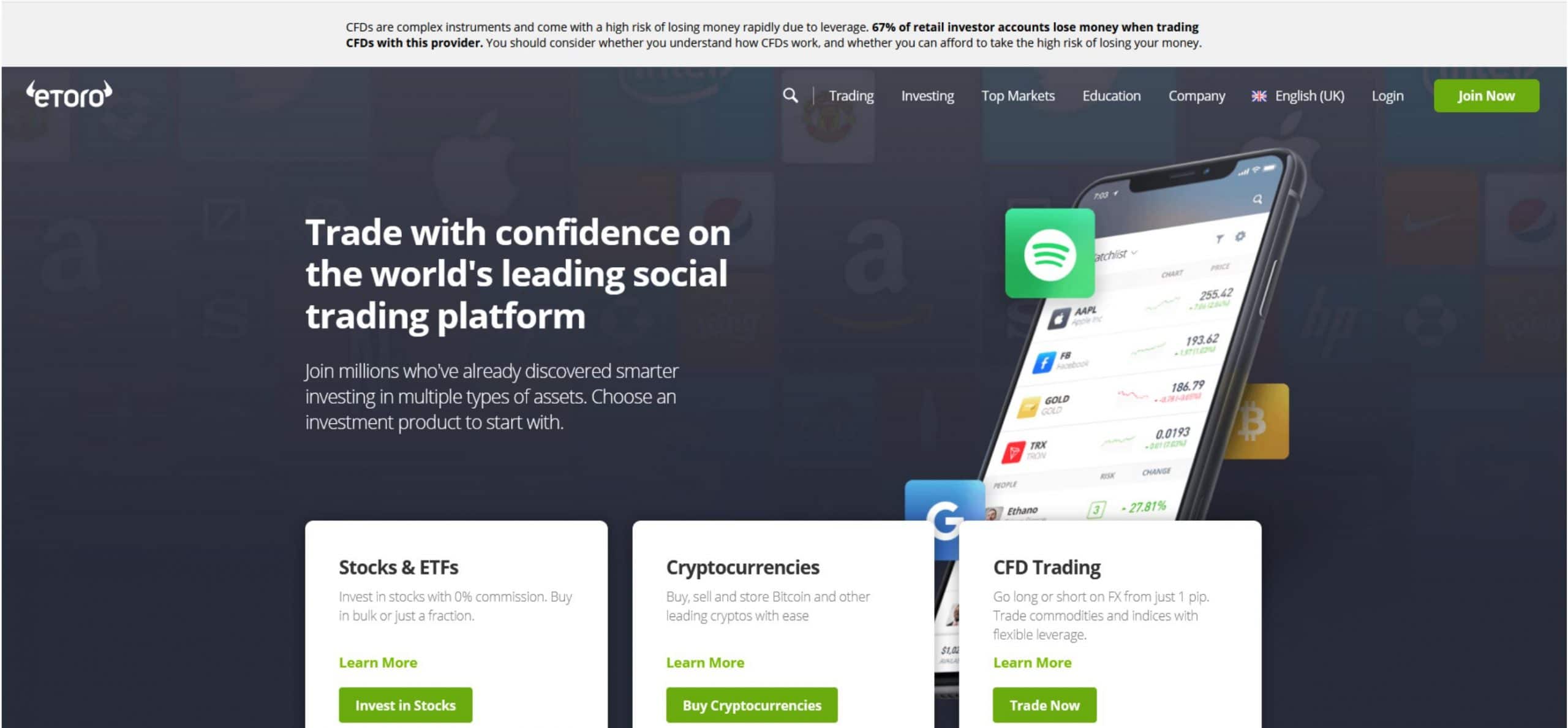 eToro is one of the best day trading brokers for beginners, coming with a long list of resources and relatively low fees. When users log on, they can enjoy a graphic view of the market, making an insightful decision on how and when to trade. One of the reasons why eToro is suitable for beginners is thanks to the site's option to copy trade, where traders can mimic trades of other popular traders.
Included in the list of possible trading options are indices, cryptocurrencies, bonds, and commodities. Markets are not limited to the United States but trickle into London, Japan, and Germany among others. Starting an account takes minutes and getting logged in and set up on the app is quick and easy to do. You won't find a long list of fees or high fees, which is always attractive for day trading.
With a deposit as low as $200, traders can jump in and start trading, enjoying a good spread and even leverage if they think they got a hold of a good stock. Cashout comes with a cutoff fee of $5, making it a small price to pay when it comes to day trading.
| | |
| --- | --- |
| Fees | $5 cashout fee and 0.5% conversion fees |
| Minimum Deposit | As low as $200 |
| Deposit Methods | Credit or debit card, e-wallet, bank account |
| Speed of withdrawal | Typically, 3 business days |
| Spread ranges | 0.75% to 5% |
| Leverage Options | Up to 5% |
Pros and Cons of eToro
| | |
| --- | --- |
| Pros | Cons |
|  One of the best online brokers for day trading. |  A little too much detail for advanced traders |
|  User-friendly website and app | |
|  Skip out on paying commissions | |
|  Lots of payment options including e-wallets and bank accounts | |
|  Copy-trading | |
2. AvaTrade – Day Trading Broker with the Best Spreads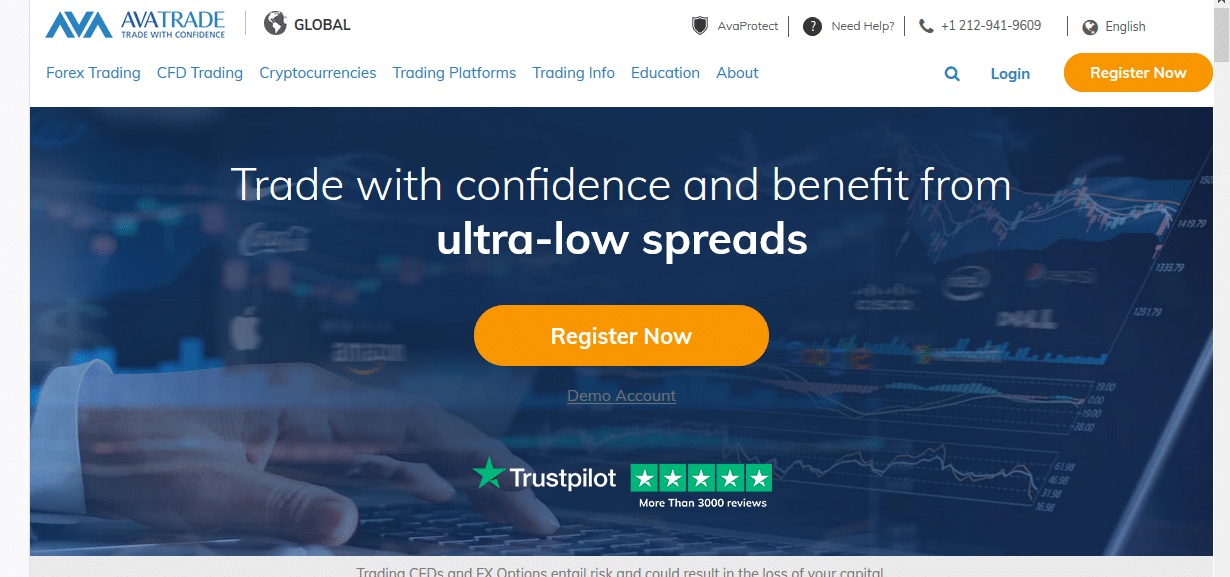 AvaTrade is one of the best day trading brokers, around since 2006. When putting AvaTrade head-to-head with other top brokers out there, you'll find that the platform has one of the most competitive spreads, as it can be traded at less than 1 PIP. AvaTrade offers a lot more than just stocks, offering bonds, indices, commodities, and even cryptocurrencies.
From the time traders create their account and log in, they have a wide range of options, including some that help them get educated and learn the platform like the back of their hand. From training, videos, and other resources, it's a good place to begin if this is your first time trading.
For those that want day trading options that will offer them a way to level up their trading, AvaTrade comes equipped to support both MT4 and MT5, which offers more in-depth graphics when it comes to the analysis of stocks and more. On top of that, combining these technologies with AvaTrade allows traders to deploy automated robots, able to make trades without any interaction.
Apart from all the perks with compatible technologies, there is also a low $100 minimum deposit to get started and deposit options that include both debit and credit cards and bank transfers. Low fees and a trustworthy name are what make AvaTrade a competitive option for those looking to change up the way that they trade and try something new and fresh.
| | |
| --- | --- |
| Fees | $50/quarter for inactivity |
| Minimum Deposit | As low as $100 |
| Deposit Methods | Credit or debit card, bank transfer |
| Speed of withdrawal | As little as 3 business days |
| Spread ranges | 0.91 on average |
| Leverage Options | 1:400 |
Pros and Cons of AvaTrade
| | |
| --- | --- |
| Pros | Cons |
|  Lots of trading options including stocks, bonds, and indices |  If you don't use it, you're charged for it. |
|  Connect with MT4 and MT5 technologies | |
|  Skip out on paying commissions | |
|  Enjoy great spreads | |
|  Zero commissions on all trades always | |
3. Capital.com – Best Low-Cost Day Trading Broker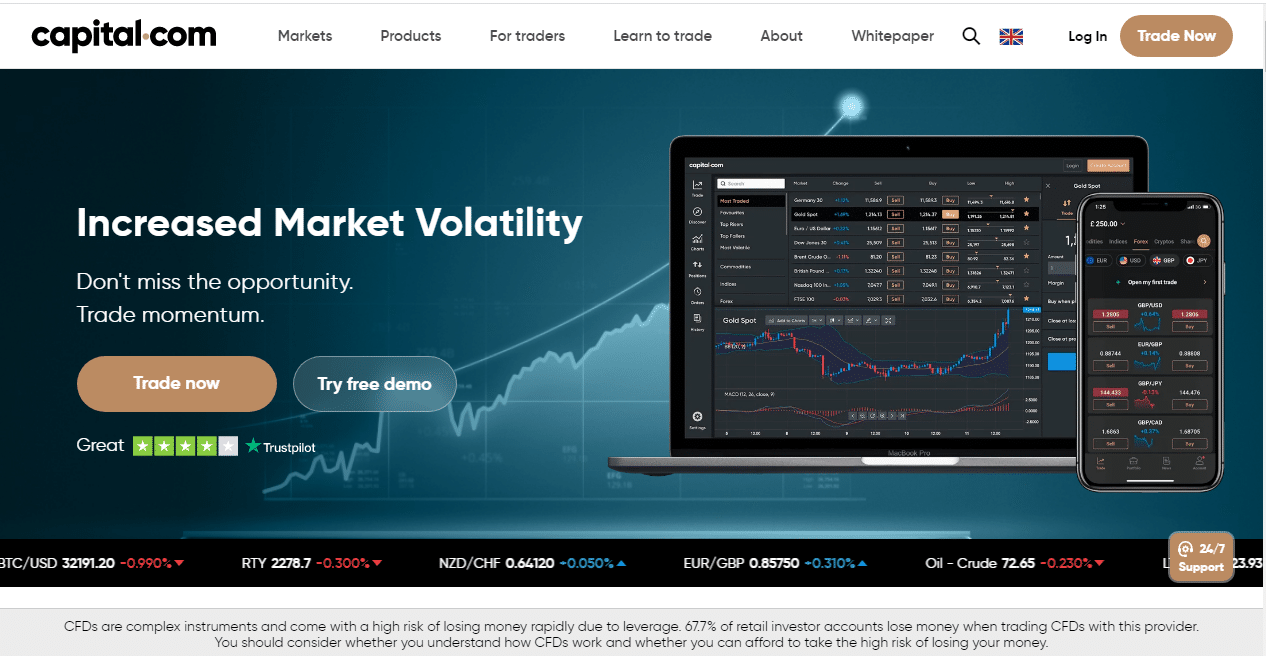 Capital.com is authorized by a few top-tier institutions, clearing it as a safe platform for day traders to use. They have low fees and the process to get started is simple. They have minimum deposits that are as low as $20, which gives traders of all levels an incentive to start an account and get involved. From commodities to stocks to indices, this site has a little bit of everything, making it a good choice for all kinds of traders.
The Capital.com app allows traders to set up automatic alerts, which will go directly to their cell phone if there is a price drop. This will allow them to log in and make trade-in seconds, jumping in at the right moment instead of missing out.
As far as learning the ropes, traders from rookie to expert have tools that they can use to start trading better. The research tools include a third-party website that provides more in-depth research and analysis so that day traders can make better trades as they go. In addition, there is an integrated news feed that looks at all of the top stories of the day around the world to help traders spot trends and make the most informed decision about where to put their money.
| | |
| --- | --- |
| Fees | No inactivity or withdrawal fees |
| Minimum Deposit | As low as $20 |
| Deposit Methods | e-wallet, debit and credit card, bank account |
| Speed of withdrawal | 3-5 business days |
| Spread ranges | 4 pips |
| Leverage Options | 5:1 for CFDs and 30:1 for Forex |
Pros and Cons of AvaTrade
| | |
| --- | --- |
| Pros | Cons |
|  The fees are low. |  A little more limited portfolio options than competitors. |
|  The minimum deposit is as low as $20. | |
|  It's simple to open up an account and get started. | |
|  Customer support has great ratings. | |
4. Fineco Bank – Day Trading Broker with 100 Free Trades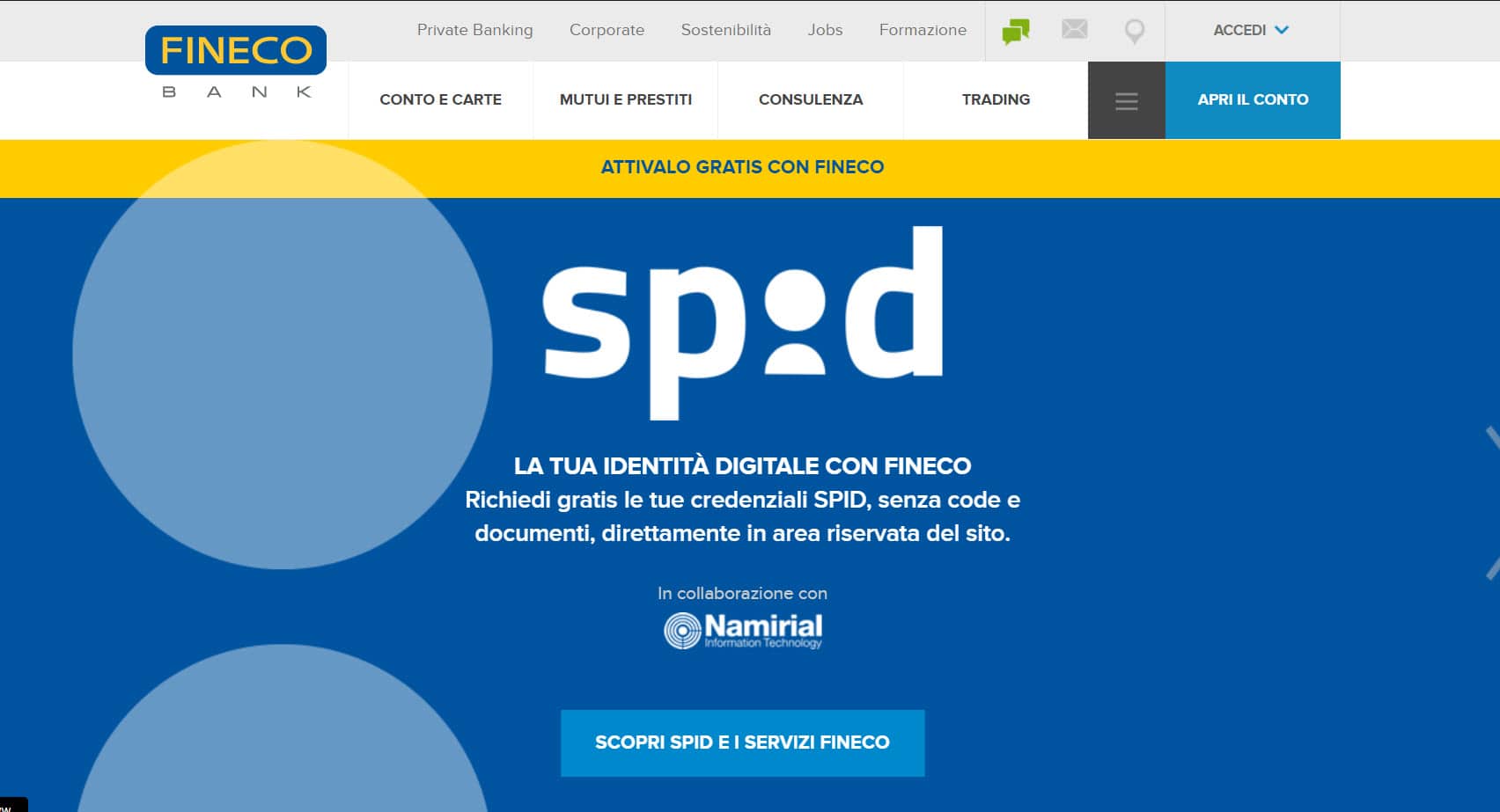 Not only is Fineco Bank one of the best day trading brokerage account options out there but it also has the lowest minimum deposit, $0. That's right! There is no amount that is too small, allowing traders to jump in and invest whatever they would like. At under $3 per trade, it's a good option for those wanting to learn the process of trading without breaking the bank.
When compared to other best-day trading brokers on the market, the overall cost and fees are much lower. You won't ever get a charge for inactivity or for making a deposit or taking out funds. That is something that you won't find with too many brokers, making it a good option if you're just starting out. Plus, when you start, you get 100 free trades, getting to know the platform and how to use it before you have to start shelling out money for trades.
Though there are virtually no fees, you'll still be able to feel comfortable knowing that Fineco Bank is regulated by one of the best authorization services out there, the Financial Conduct Authority (FCA). That means that it is not only legit but that traders can rest assured that all of their payments and personal information are safe.
| | |
| --- | --- |
| Fees | No fees for trades and just a 0.25% annual fee |
| Minimum Deposit | No minimum deposit |
| Deposit Methods | Bank transfer |
| Speed of withdrawal | Up to 5 business days |
| Spread ranges | 100:1 |
| Leverage Options | Up to 30 times (30% margin) |
Pros and Cons of Fineco Bank
| | |
| --- | --- |
| Pros | Cons |
|  Start off with 100 free trades. |  The annual fee is 0.25%, which is considered an account management fee. |
|  There are no fees for inactivity or for withdrawing money. | |
|  A long list of educational and trading tools | |
|  A downloadable app that has everything you need to trade. | |
|  Regulated by a reputable authority. | |
5. Libertex – Best MT4 Compatible Day Trading Broker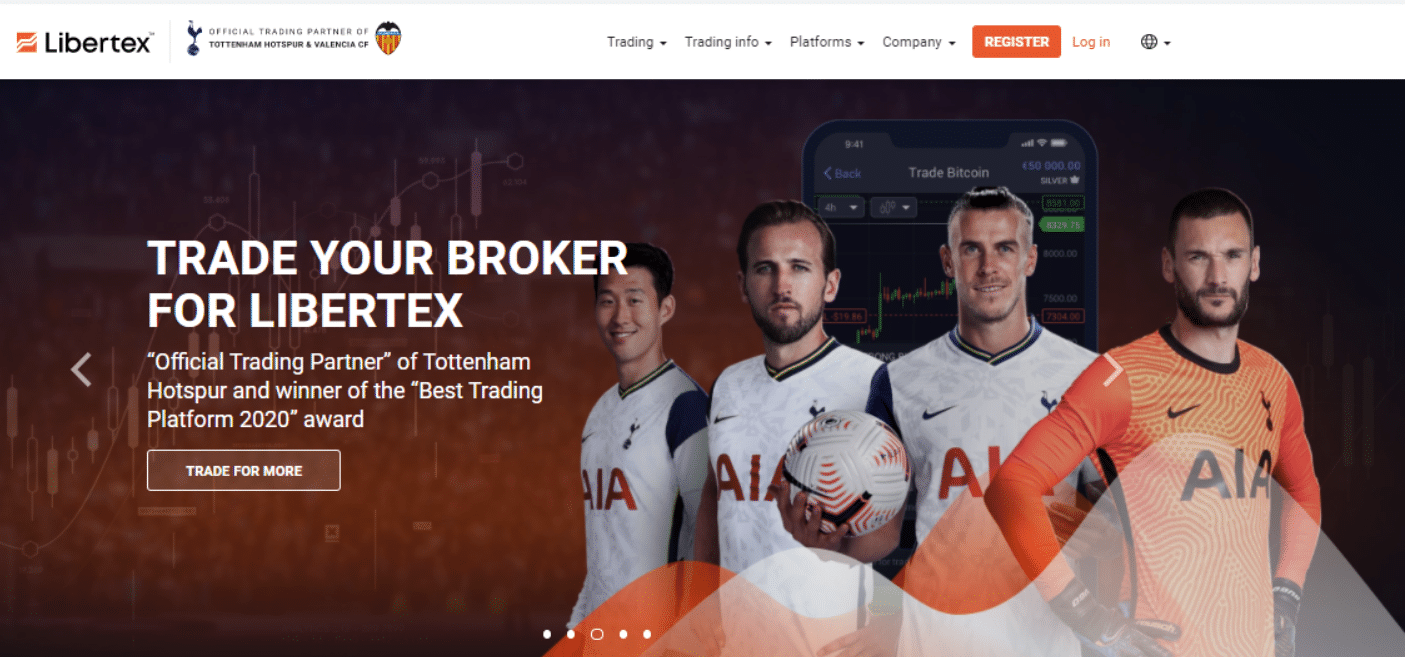 Considered one of the best brokers for day trading, Libertex has been in the game since 1997, living through some of the most critical times. During their time in the business, they've made critical changes that have helped them transform into an all-inclusive trading platform that can be used by many, as they offer trading in more than 250 markets which include 50 different Forex pairs.
When signing up for an account, new traders will just need a few minutes and then make their first deposit, which starts as low as $20. Once that's ready to go, the trading can begin, which comes without any commission fees and with low trade fees.
The features that Libertex offers are endless and allow users to get a different view of the market. Combining it with MT4 or MT5, which can automate trades and even give traders a deeper look into the market with analytical tools. Leverage can range from 1:30 up to 1:600 and anyone from rookie to professional can jump in.
| | |
| --- | --- |
| Fees | Commission fees include up to 0.2% for stocks and up to 2.5% on crypto |
| Minimum Deposit | As low as $20 |
| Deposit Methods | Credit cards, e-wallets, and bank transfers |
| Speed of withdrawal | Up to 5 business days |
| Spread ranges | 1:500 on Forex |
| Leverage Options | Up to 1:600 |
Pros and Cons of Libertex
| | |
| --- | --- |
| Pros | Cons |
|  Enjoy a wide range of deposit options |  A lower number of financial tools. |
|  Backed by CYSEC, one of the most trusted authorities |  Commission fees on all trades |
|  Leverage can go all the way up to 1:600 | |
|  Libertex has been around since 1997 | |
|  Minimum deposits start as low as $20 | |
Day Trading Brokers – All You Need to Know
Now that you know the best day trading brokers, choosing one won't be so hard. Still, there are a few things that you should keep in mind when searching for the perfect one. A few key things that you should know about your day trading broker are:
The Speed of Trades
Trading is not something that is automatic with most day trading brokers. As a matter of fact, some of them can take minutes to process, which could mean that you miss out on deals due to the hold-up. Some traders will provide direct market access (DMA), something that will allow the trader to do most of the trader and have little to no influence from the platform they are using.
Though there are not too many out there that offer DMA, if you find them, jump into them but, be aware that you're not on training wheels anymore. You might not have as much insight with this kind of broker and you might wind up missing out on the opportunity if you're not ready.
The Broker's Cut
Most of the time, day trading platforms want to take their cut. That means that, whatever you gain off of trading, they want a piece of it. Depending on the type of broker you're dealing with, they may offer per-share or per-trade commissions.
Per Share
If you're investing small amounts, per-share is probably the way to go. You can find options out there for brokers that will offer $0.005 per share that is traded, which they normally cap off with a total amount. On a per-share basis, you will be able to keep more of the money you earned in your pocket and not have to put too much of it back into the pockets of the broker.
Per Trade
Brokers that work on a per-trade basis usually work by tacking a fee onto every single trade that you make. Most of the time, these fees are relatively small and come with amounts up to $5 per trade. Though it doesn't seem like much, per-trade options are much more expensive in the long run and could be something that makes the biggest difference in the amount you earn after a day of trading.
Broker Tools
You might find that there are brokers with different types of tools, some of them better than others. Most of the time, these are two different types of tools known as stock scanners and stock screeners. We'll explain the differences between them below.
Stock Scanners
Stock scanners are checking the market and delivering real-time results. One of the biggest benefits of a scanner is that they are perfect for day trading, as it will alert you about all of the right stocks if you're only able to trade on very short notice.
Stock Screeners
Screeners are not as precise and are better used as an analysis tool and not one that is good for trading at the moment. The thing is, you'll more than likely get data from the previous day, something that doesn't do much good for the day you're trading. Still, if you know what to look for, stock screeners can be very useful too.
Stock scanners are the best of the two, as they are much faster and provide a pinpoint stock that you should look at. If one deserves attention, it will come to you, signaling that this stock is one to look into as it might give you the return you were hoping for.
Charting: A Day Trader's Best Friend
One tool that can help trades immensely is a platform that helps with charting. As the market fluctuates, there are all kinds of changes that are documented, showing the influx of changes at each moment. When making quick decisions, these charts can come in handy, providing an accurate look at many details that are needed to make the best and most profitable moves.
There are many brokers out there that come with extra features and that are compatible with some of the most robust charting software on the market. Even if it's a smaller cost, in the beginning, it's still worth it to know what's happening in the market at all times.
Key Factors to Choose the Best Day Trading Broker for You
The popularity of day trading makes it an attractive option for traders of all levels. Nowadays, it's accessible thanks to all of the online platforms that allow traders to get in and start investing in minutes. There are websites and apps, all of which help traders get the best out of their trades every single time.
At the center of learning the day, trading ropes is choosing a broker. Choosing a day trading broker is essential, and we're here to tell you how. We already gave you the best day trading brokers 2021 has to offer and now see what you can look for to find the best one for you.
1. Consider your Needs
Choosing an investment platform requires some soul searching. Don't worry, there is not much spiritual about this one but it is more financial. First of all, think about your goals when it comes to finances and what you expect to achieve in opening an account. Also, consider your budget and the type of trading you'd like to do.
A lot of platforms out there will allow you to practice a bit and get a feel for investing before actually investing any of your money. While rookies might want a platform that has lots of educational tools, those that have been in the trading game may want something a little more sophisticated and easier to get into. A few key questions to ask include:
Are you an active or passive investor?
What kinds of trades do you hope to make?
Is this fund for retirement?
Do you want or need help with educational and analytical tools?
What is your investing goal and how can you achieve it?
Instead of trying to make your answers fit a broker, be as honest as you can and take some time before you start scrolling through brokers. Really digging in and finding the things that you hope to achieve when it comes to investing is a great way to find the best options for you and pick a broker that will bring you closer to your goals.
2. Pick a Few
With your ideas clear, you'll be able to get in there and start scratching a few off of your list, finding those that will help you reach your goals and those that will not. Not that any of the brokers you scratch off will be bad but, maybe they don't offer you exactly what you're looking for, which is something that you should not go so light on. To kick a few off, consider a few things like:
Regulations
A lot of new traders don't think about regulations and wind up choosing a broker that isn't regulated. That isn't a good idea as it has to do with their legality and safety. A few things to consider include:
Securities Investor Protection Corporation (SIPC)
SIPC is a trusted organization that will only allow credible brokers to become a part. Keep a lookout for whether or not the broker is listed as part of the SIPC or head over to the SIPC website to browse and check out choices.
Financial Industry Regulatory Authority (FINRA)
FINRA is another authority that is trusted throughout the financial world. When businesses and brokers have their seal, customers know that they are using a safe website and that won't have any kind of issues when it comes to adding payment information or making trades.
Federal Deposit Insurance Corporation (FDIC)
FDIC is one of the most important corporations when it comes to finances. Some several banks and brokers are covered by the FDIC, deeming them safe for use by the customer when it comes to their financial matters. Keep in mind that retirement accounts are more than likely not covered, as they cannot be guaranteed.
Insurance
When it comes to finances, there are many brokers out there that will ensure a customer's investment just in case the company is to go bankrupt or suddenly shut down. For example, with SIPC membership, financial institutions can provide insurance on amounts from $250,000 up to $500,000. It's important to take a look at what will happen just in case the unthinkable happens.
Fraud Protection
These days, the number of cybercrimes is increasing, and many cybercriminals reach for financial information. That's why it's important to find brokers that have some sort of fraud protection, making sure that customers are rotated just in case there is a hack or someone attempts to use their information.
Reviews
Reviews can be a make or break for online companies. If there are companies with a large number of negative reviews, no customers will likely use them and will likely not trust them when it comes to investing in their company. Likely, if there are issues with a broker, the customer will put it out there, as there are more complaints than praises on the internet.
Security
Speaking of cybercrimes, it's also important to check the broker's website. Having week credentials or not taking care to add additional forms of protection is seen as negligent and something that no customer wants to deal with when they're investing their hard-earned money. A few things to look for include:
Two-Factor Authentication
One of the safest options that traders have when it comes to using websites for trades is two-factor authentication. If the broker you're using has a two-factor authentication, you'll likely need to enter a password to get a code sent to your cell phone. In that way, you can only gain access to your account if you have your phone, protecting your password in case accounts are somehow hacked.
Additional Security
In addition to two-factor authentication, brokers can also choose to add encryptions or cookies, which will prevent information from being stolen in the event of a hack as well. What will happen is that all information is encrypted, where hackers cannot use it. If that's the case then hackers are less likely to target the system, going for those that they can get their hands on.
Third-Parties
If you've ever had to tick a box when you sign up for something, it's probably because the website offers to sell your information to a third party. The hope is that these third parties can reach out and gain more customers, piggybacking off of credible and websites with more customers than what they currently have.
Types of Accounts
After checking that brokers are safe and will keep your information out of the wrong hands, you should start looking into more specific things. One of those is the type of accounts that are offered, as that will either cater to your goals or not. A few common types of accounts that you should keep your eyes open for include:
Additional Accounts
Maybe you want your investments to go to something big like your retirement or your child's education. If that's the case, you want to check for brokers that offer these kinds of accounts and set your account based on those that give you a chance to meet your goals.
Take A Look at Fees
Fees are another one of those make-or-break situations that make some brokers better than others. For instance, there are some brokers out there with large fees, some of which don't make it worth it when it comes to investing your cash. When it comes to choosing a broker that's right for you and your financial goals, you should check out the fees, and here's a few key things that you should look for.
Minimum Deposit
Some day trading brokers offer really low minimum deposits, as they have some accounts that investors can jump into for little to nothing. Still, there are some out there that have high minimum deposits, which could get in the way of the budget that you had in mind.
Maintenance Fees
Some accounts out there will charge for just having an account open. While that might not seem to fair, it is, and many brokers out there do it. Some of them are monthly and some yearly, which could make it worth it or not. Check out the fees and do some calculating, making sure you have enough to reach your financial goals after all is said and done.
Platforms
If you can score a deal where you score a platform for free, jump on it. Many platforms today will add additional costs to your account fees, something that drives up the cost of even having an account. Though it does cost, a good platform is a helpful tool to have and something that you should consider spending your money on if you can.
Upgrades
A lot of new investors get into investing when they find a good deal and don't really consider what happens when they start to move up on the ladder. Check if there are upgrades and, if so, do they cost? You want a platform that's not going to penalize you for getting better, allowing you to move up and get better as you learn.
Commissions
One last thing to keep your eyes peeled for is commissions. Commissions are how brokers make their money but, it takes away from your total. Sometimes, commission fees are calculated based on the amount that's in the trader's account, making it dependent on how much you're looking to put in and start investing.
Step by Step Guide on Starting with a Broker – An eToro Guide
Now that you know all there is to know about opening up an account and getting started in the world of day trading, it's time to open an account. In just 5 simple steps, you can have everything set up and ready to go.
Step 1: Open Account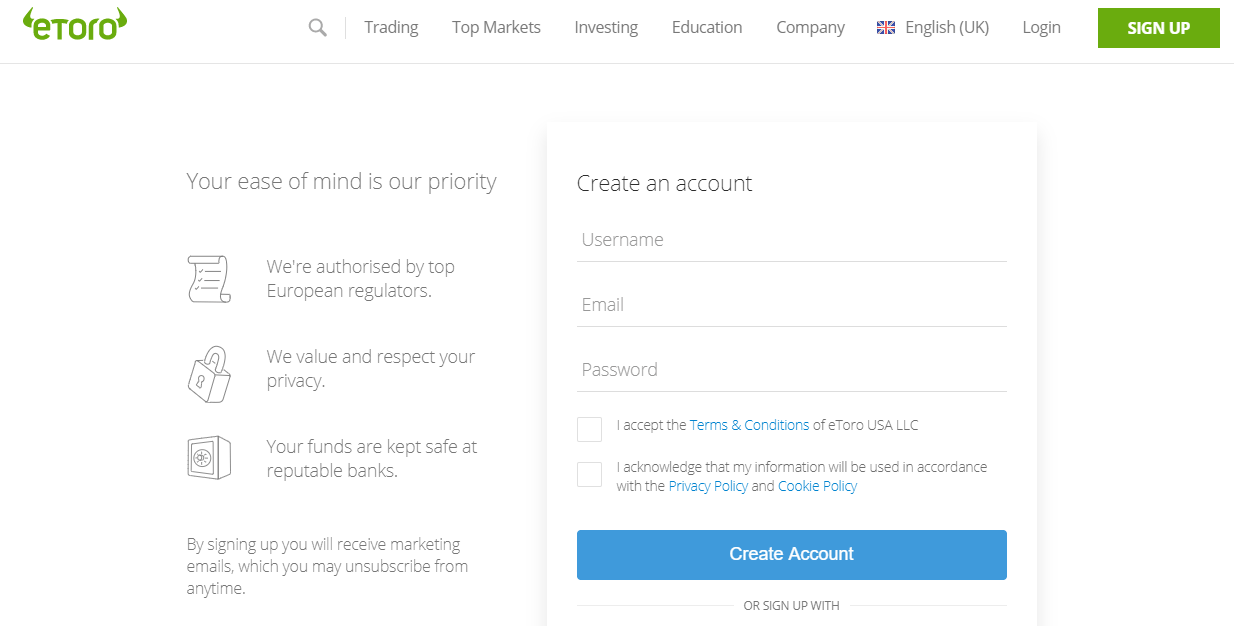 After taking a look at the best online brokers for day trading, it's time to visit the website and open an account. This is usually done with your name and email, where you will then have to follow a few more steps.
Step 2: Verify your ID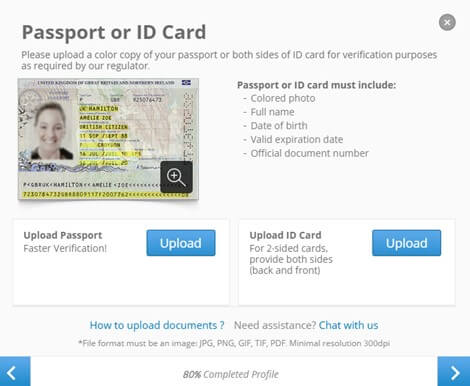 Best Day Trader Brokers – Our Expert ConclusionBecause you're dealing with sensitive information, you'll have to verify your ID. You have to send a valid form of either a driver's license or passport so that the website can verify and grant you access.
Step 3: Deposit Funds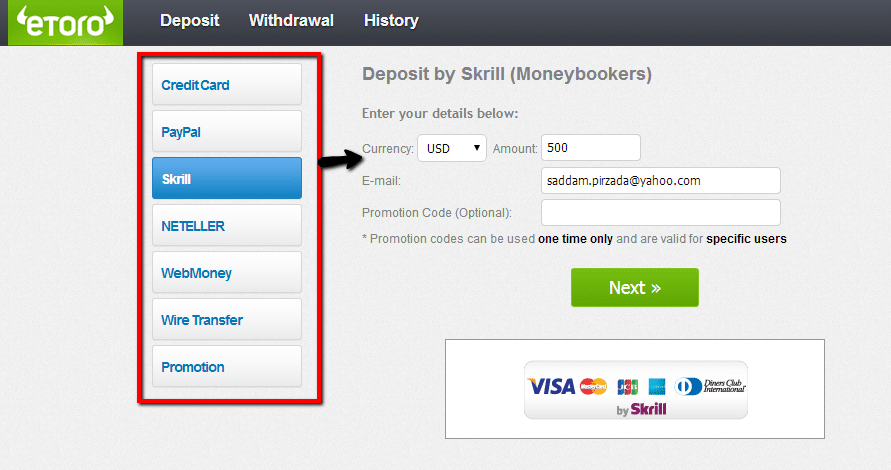 With your account verified and set up, it's time to make your first deposit. Be sure to check out eligible deposit options and the minimum amount required to start trading. Add that to your account and get ready to dive in.
Step 4: Search for different markets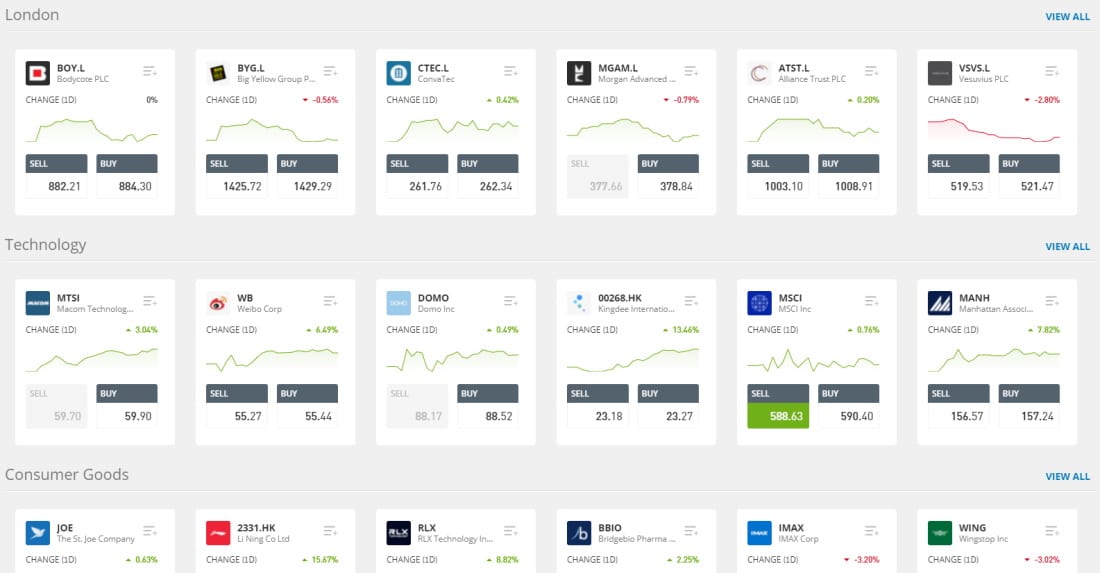 If you're new to trading, you'll likely get overwhelmed by all of the options. That's why it's a good idea to have a platform with educational tools that will help you along the way. Take a look at markets and do some research too, finding what you need to make trades.
Step 5: Trade for Real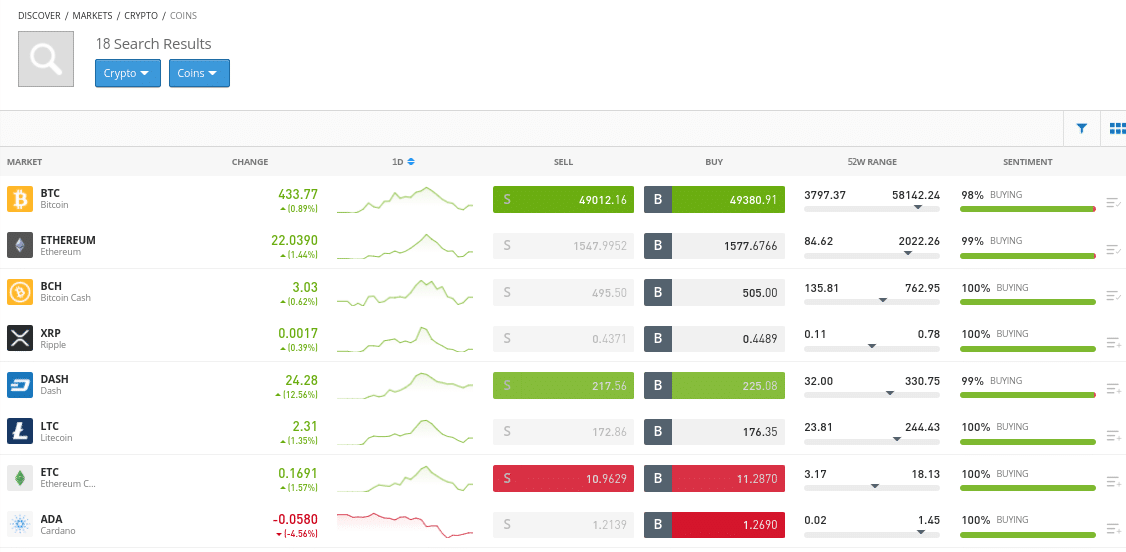 Once you find the markets that fit your financial goals, it's time to trade. Once you get your first one out of the way, you'll feel relieved and want to come back for more, especially when you start to see your funds grow.
Best Day Trader Brokers – Our Expert Conclusion
Whether you're looking for the best day trading brokers for beginners or something a little more advanced, you can find it here. From the best brokers to the things to look for and how to get started, you've got all you need here to jump in and get trading today.
Be sure that you choose a broker that's good for you and then take a look at your financial goals so that you can get closer to them day by day. Day trading is trending for a reason, and it's something that you can get in on now that you have all the info. Start today, and watch your money grow tomorrow.
Top Day Trader Brokers Platform: eToro
FAQs
What are the best brokers for day trading?
Am I classified as a day trader?