Roku Stock Down 10% in December – Time to Buy ROKU Stock?
Please note that we are not authorised to provide any investment advice. The content on this page is for information purposes only.
Roku stock has declined dramatically in the past few months as market sentiment has turned negative for tech stocks and high-growth companies amid concerns about an earlier-than-expected interest rate hike, a seemingly fading pandemic tailwind, and inflationary pressures.
For Roku, the decline started back in August this year only days after the company reported its financial results covering the second quarter of 2021. So far in December, the stock is down 10% and the week is starting with a negative tone as Roku stock is declining 1.5% at $202.5 per share in pre-market stock trading action this morning.
Many analysts have lowered their 12-month estimates for Roku including JP Morgan, which trimmed its price target from $500 to $435 last month, and Wells Fargo, which also lowered its forecast for ROKU stock to $305 per share, down from a previous $350 target.
With Roku stock now trading 58% below its 52-week high as per last Friday's closing price, can this be a good moment to consider buying Roku stock? In this article, I'll be analyzing the price action and fundamentals of this streaming stock as we keep heading toward the end of 2021.
Roku Stock – Technical Analysis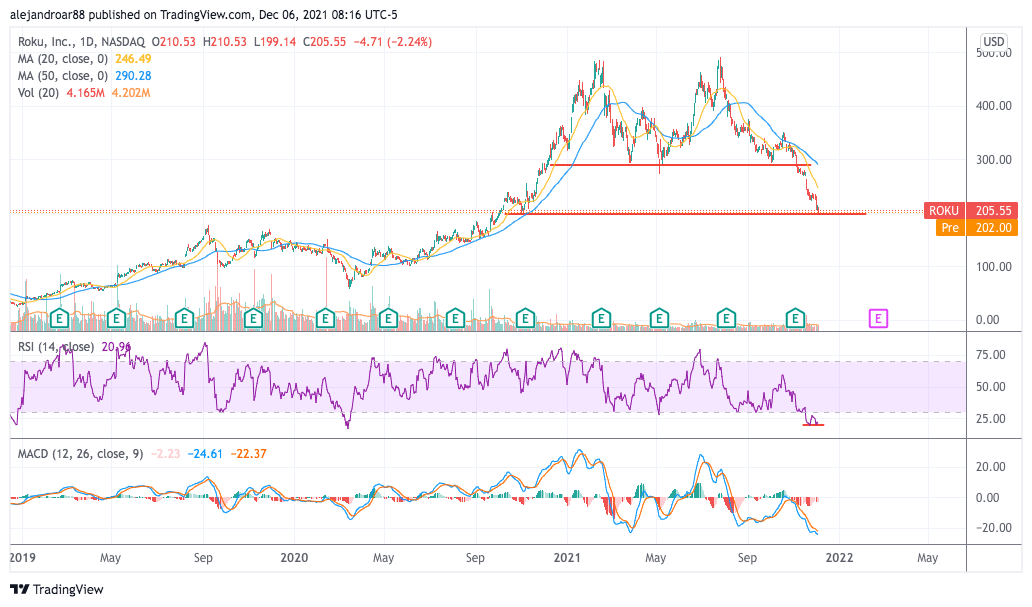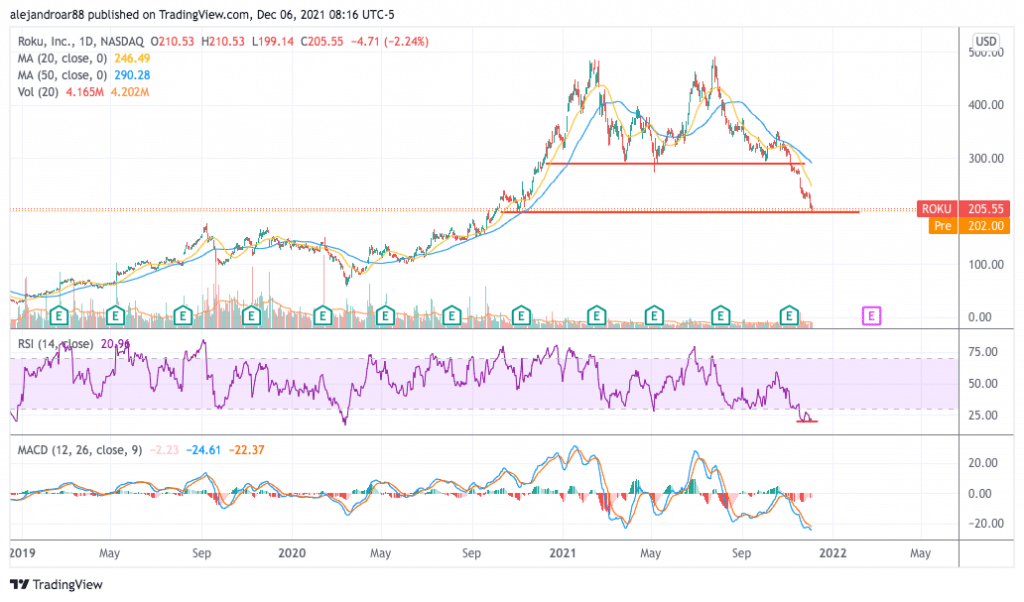 In my latest article about Roku, I shared that a break below the $290 level would increase the downside risk for ROKU stock dramatically as the stock could head to the low 200s next.
Back then, that scenario sounded quite difficult to swallow as it supposed a 30% decline in the stock price. Somehow surprisingly, it is exactly what happened since the stock closed at $205.55 per share last Friday.
Now, the stock is tagging a crucial support area at that same level and the Relative Strength Index (RSI) has posted a mild bullish divergence that could result in a short-term technical rebound.
Whether this is the actual bottom for Roku stock or not is hard to tell. This divergence is too weak and the MACD is not displaying the same scenario at all. Therefore, any rebound at this point should be treated as a potential bull trap until proven otherwise.
For a full-blown trend reversal to occur, the price must overcome its short-term moving averages first and that seems like a distant possibility at the moment.
On the other hand, if a break below this $205 threshold occurs, the downside risk for Roku stock would be quite high again as the next support areas to watch would be located at around $170 and $150 per share resulting in a potential 20%+ decline.
68% of all retail investor accounts lose money when trading CFDs with this provider.
Roku Stock – Fundamental Analysis
From a fundamental perspective, the latest decline in Roku stock is being influenced to some extent by the macro picture. For starters, higher inflation in the United States is leading market participants to think that the Federal Reserve will be forced to increase interest rates earlier than expected and that results in lower valuation multiples assigned to stocks across the board.
High-growth stocks like ROKU traded at elevated multiples during the pandemic as the prevailing conditions were highly accommodative. Now that these conditions are expected to change, multiples are shrinking and ROKU is suffering as a result.
Back in February this year, Roku's forward P/S ratio increased to as much as 27x according to data from Koyfin. Right now, this multiple is standing at 8x. From what it seems, the market is not willing to pay as much as it did 9 months ago as macro conditions are changing.
Now, the question is, is Roku an attractive stock to buy at these lower multiples?
Roku's sales had been growing rapidly even before the pandemic started, moving from $320 million in 2015 to $1.13 billion in 2019. In fact, growth rates were already accelerating before the virus crisis.
Therefore, there are no reasons to believe that Roku will struggle with higher comps necessarily – which is an important concern for pandemic winners. The numbers show that the business has been beating tougher and tougher comps all the way through the health emergency. That said, its profitability remains volatile and negative.
By the end of the third quarter of 2021, Roku had 56.4 million active accounts and generated average revenues per user of over $40 per month.
At its current market cap of $27.6 billion, every user the platform has is being valued at $489 while they are generating around $480 per month in revenue.
From a fundamental perspective, Roku is still miles away from being a good value play. However, as a growth stock, the valuation has reached more decent levels compared to six months ago.
With this in mind, further declines in Roku's share price could open up opportunities to acquire a rapidly growing business at an attractive price – say if we get to the $150 level. At that price, the case for Roku stock as a long-term investment would be stronger.
For now, the technical readings are still demanding a significant degree of cautiousness as the latest decline does not seem to have encountered a floor just yet.
Buy ROKU Stock at eToro with 0% Commission Now!