5 Best Long-Term Stocks to Buy in November 2021
Please note that we are not authorised to provide any investment advice. The content on this page is for information purposes only.
Several investors prefer long-term investing over short-trading. Berkshire Hathaway chairman Warren Buffett is among the biggest proponents of long-term value investing and holds some stocks for decades.
Meanwhile, the trick to identifying stocks for the long haul is to pick companies that have a secular growth path ahead. Usually, cyclical companies are not good buys for the long-term as their fortunes are interwind with commodity prices, which are volatile. However, there are some growth stories for the next decade which look impressive. Here are the five best long-term stocks that you can buy in November 2021.
Tesla (NYSE: TSLA)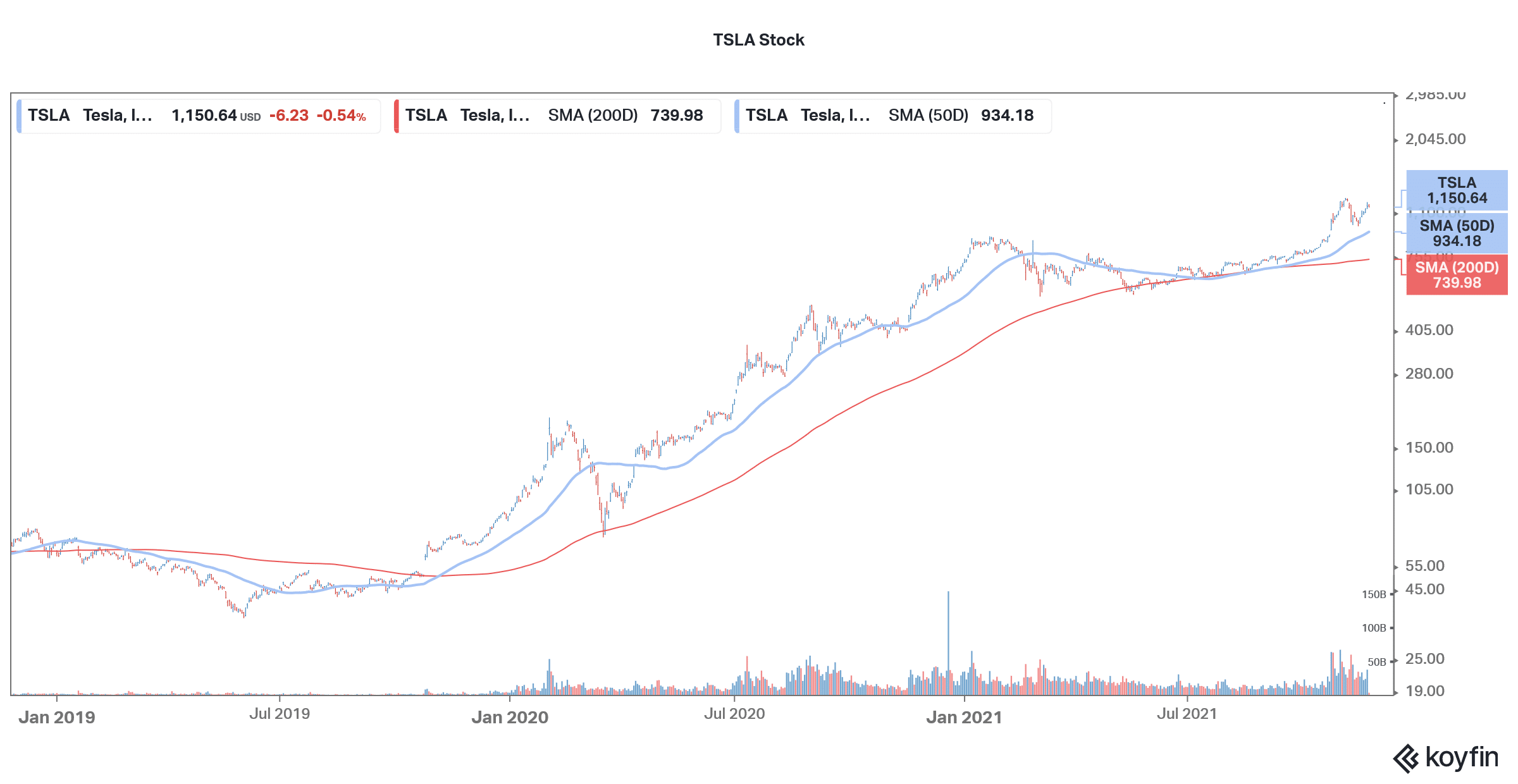 Autonomous driving, green energy, and EVs (electric cars) are among the most prominent investing themes for the next decade. Tesla is well positioned in all these three businesses. Currently, the company's core automotive business gets all the attention as it is the biggest contributor to the revenues. However, over the long-term Tesla's CEO, Elon Musk expects the energy segment's revenues to also rise and has forecast that the segment would get as big as the automotive segment.
Tesla is a good long-term stock in the EV industry
Autonomous driving, which Tesla calls FSD (full-self driving) is another long-term driver for the company. While currently, Tesla charges $10,000 for the FSD subscription eventually Musk expects the price to rise ten-fold. Tesla expects its shipments to rise at a CAGR of 50% in the years to come which looks encouraging. While a section of the market is bearish on the stock amid concerns over the valuation, it is among the best long-term stocks to buy in November. Tesla is among the biggest beneficiaries of the green energy transition and a loyal army of committed stockholders only adds to its investment proposition.
68% of all retail investor accounts lose money when trading CFDs with this provider.
Amazon (NYSE: AMZN)
Ecommerce and cloud are the other two investing themes that have worked well over the last five years and look set to do well over the next decade as well. Amazon is one stock through which you can play both themes. The stock has been under pressure this year amid valid concerns over slowing growth and rising costs. However, these short-term issues don't mask the company's long-term outlook.

AMZN is a good long-term stock to play e-commerce and cloud
Amazon has a strong market-leading position in both e-commerce and cloud. While competition has been rising in both these industries, the market is also expanding. Retail's shift from brick-and-mortar to online shopping is only going to accelerate over the next decade. Amazon has a strong network effect and the bundling of Prime, only makes the offering more attractive.
Amazon has been investing in the supply chain and also increasing penetration in the international markets. These initiatives would pay off in the long term. After the recent underperformance, Amazon stock offers good value, especially if you are a long-term investor.
68% of all retail investor accounts lose money when trading CFDs with this provider.
Microsoft (NYSE: MSFT)
Microsoft was written off by analysts amid the sagging sales of PCs. However, the company has totally transformed under the leadership of its current CEO Satya Nadella. It is now a key player in high-growth industries like cloud and AI. Also, the digital transformation has ensured that sales of PCs have moved back to the fast lane even as in the short-term the industry has been constrained by the chip shortage situation.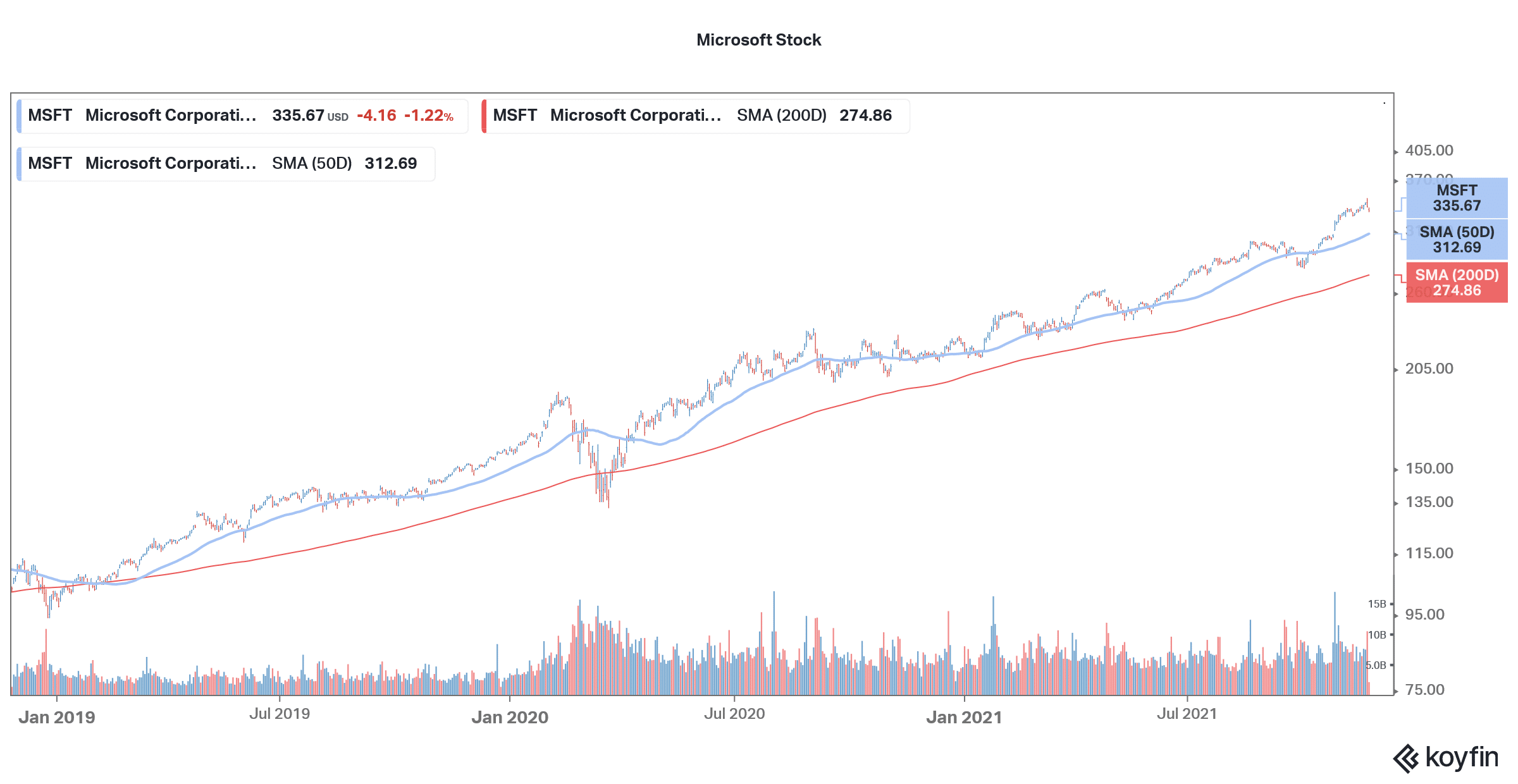 MSFT is a good stock to play digital transformation in the long-term
MSFT is a good stock to play digital transformation in the long term. Markets have also taken cognizance of its positive fundamentals and its valuation multiples have expanded. Recently, its market cap surpassed that of Apple.
Analysts have also been taking a constructive view of Microsoft stock. Yesterday, Wells Fargo initiated coverage on the stock with an overweight rating. It said, "Even after having become one of the largest companies on the planet … we still see a bright future ahead for Microsoft, driven by continued growth prospects in huge categories of IT spend … ability to further monetize strong positioning in multiple end markets … and a financial profile that continues to exhibit durable growth and margin expansion."
68% of all retail investor accounts lose money when trading CFDs with this provider.
Apple (NYSE: AAPL)
While thinking of long-term stocks, it is hard to miss Apple. The company is the largest holding for Berkshire Hathaway for a reason. Apple is among the biggest beneficiaries of the 5G transformation which is fuelling a smartphone supercycle. Also, its valuations, as well as earnings, are getting support from the rising Services revenues.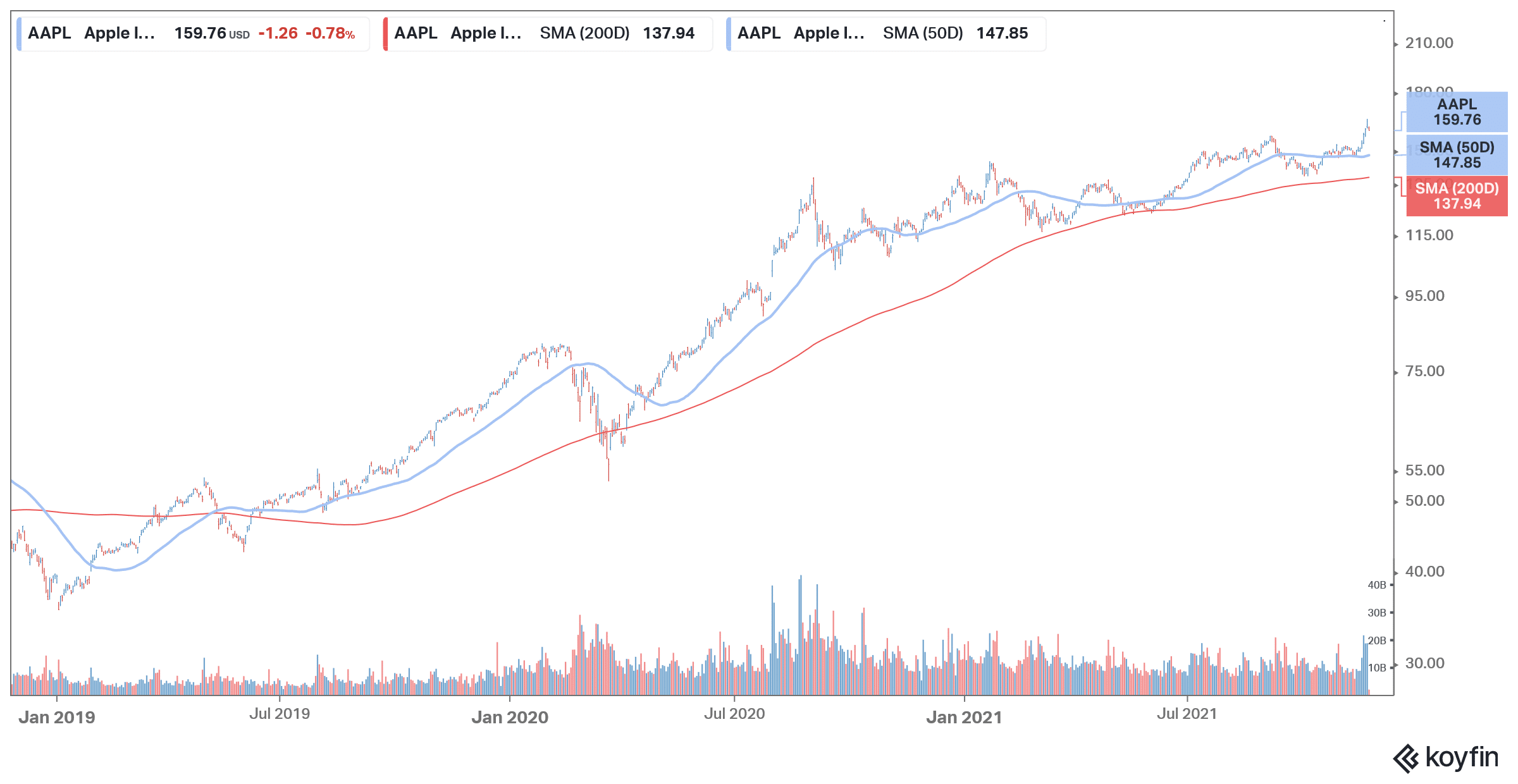 In the long-term, Apple is a play on electric cars
Apple's rumored entry into electric cars would be another long-term driver. Even Tesla bulls like Gene Munster and Adam Jonas believe that Apple's entry into the EV industry would be a risk for Tesla. Notably, the total addressable market for mobility is much higher than that of Apple's current target market. If the company comes come up with an iPhone-like proposition in the EV industry, it could rise even higher in the long term. Overall, if you are building a portfolio for the long-term, Apple is one stock that surely deserves a place.
68% of all retail investor accounts lose money when trading CFDs with this provider.
S&P 500 ETF Trust (NYSE: SPY)
Over the long term, not many active funds manage to beat the market on a consistent basis. Even Warren Buffett underperformed the S&P 500 by a wide margin in both 2019 and 2020. Buffett has advised that investors who are not too well versed with investing are better off in an S&P 500 fund.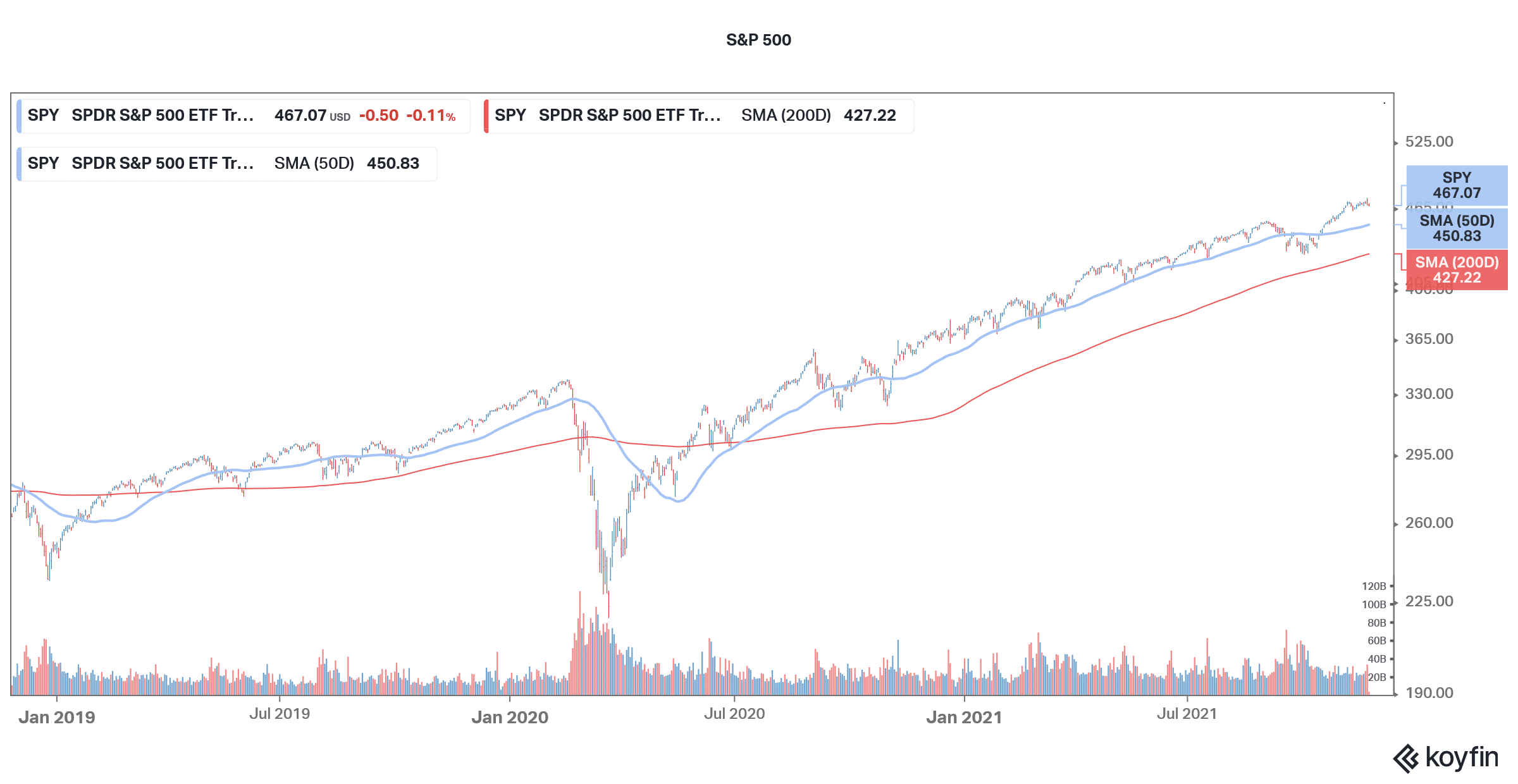 Buffett has termed the index as a "cross section of America." Think of it this way. While many investors might never otherwise buy Tesla due to its perceived overvaluation, they still hold the stock through an S&P 500 ETF. An ETF is a cost-effective strategy, unlike active funds. Over the long term, the cost differential between an ETF and an active fund would only become more visible.
ETFs can be a good investing strategy and SPY is among those ETFs that you can hold for the long term. An ETF based on S&P 500 should ideally be a core part of most investors' portfolios.
Buy SPY ETF at eToro from just $50 Now!