Roku Stock Down 8% Today – Time to Buy ROKU Stock?
Please note that we are not authorised to provide any investment advice. The content on this page is for information purposes only.
The price of Roku stock is down nearly 8% in pre-market stock trading action this morning following the release of the firm's earnings report covering the third quarter of its 2021 fiscal year as guidance from the management team failed to dazzle Wall Street.
For the three months ended on 30 September, Roku reported total revenues of $679.95 million resulting in a 51% year-on-year jump while in line with analysts' estimates of $680.8 million for the quarter as per data from Capital IQ.
Top-line growth was primarily fueled by a pronounced jump in platform revenues, which increased 82% compared to the same period a year ago at $582.5 million, while the advance was offset by a 26% year-on-year decline in player revenues.
It is important to note that Roku has been reporting a slowdown in the sale of its different devices ever since 2021 started and that could be one of the factors that are currently weighing on its share price.
The company's total number of active accounts experienced a 23% uptick compared to a year ago at 56.4 million but sequential growth was only 2.3%, which indicates a slowdown compared to the firm's post-pandemic performance. Sequential growth in streamed hours was also relatively weak compared to post-pandemic trends.
Meanwhile, the company experienced a 400 basis points improvement in its gross margins – possibly as a result of the larger contribution of the platform segment – while Roku's adjusted EBITDA for the period grew 19.1% at $130.1 million.
Net earnings for the company landed at $68.94 million or $0.48 per share on a fully diluted basis compared to estimates of $0.07 as per Capital IQ for the quarter.
Finally, Roku's management guided for total revenues ranging between $885 and $900 million for the next quarter. This range missed analysts' forecasts for the period by as much as $55 million.
Can today's drop result in the continuation of Roku's latest downtrend? In this article, I'll attempt to answer that question by assessing the price action and fundamentals of ROKU stock.
68% of all retail investor accounts lose money when trading CFDs with this provider.
Roku Stock – Technical Analysis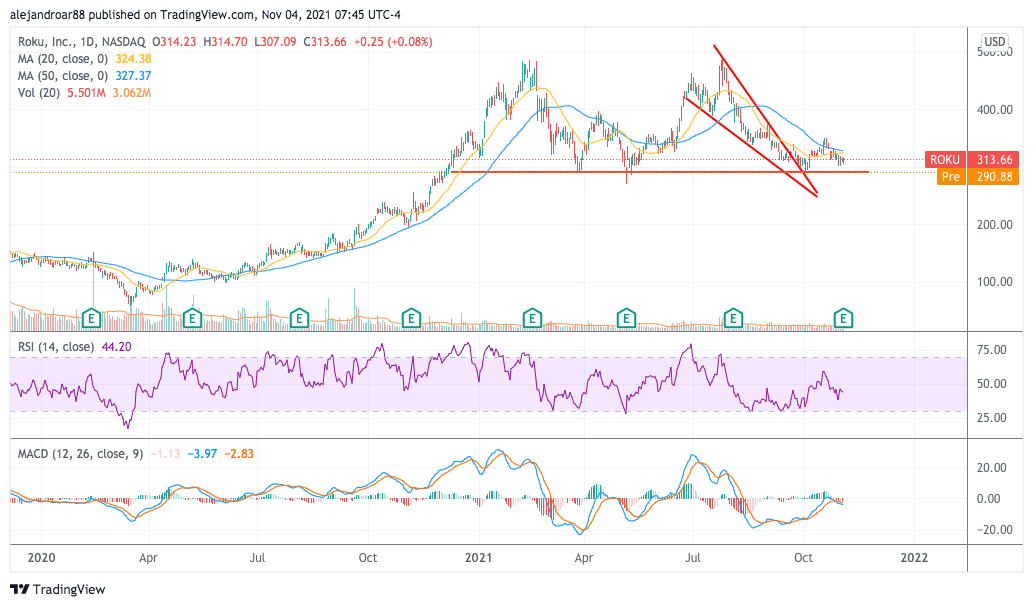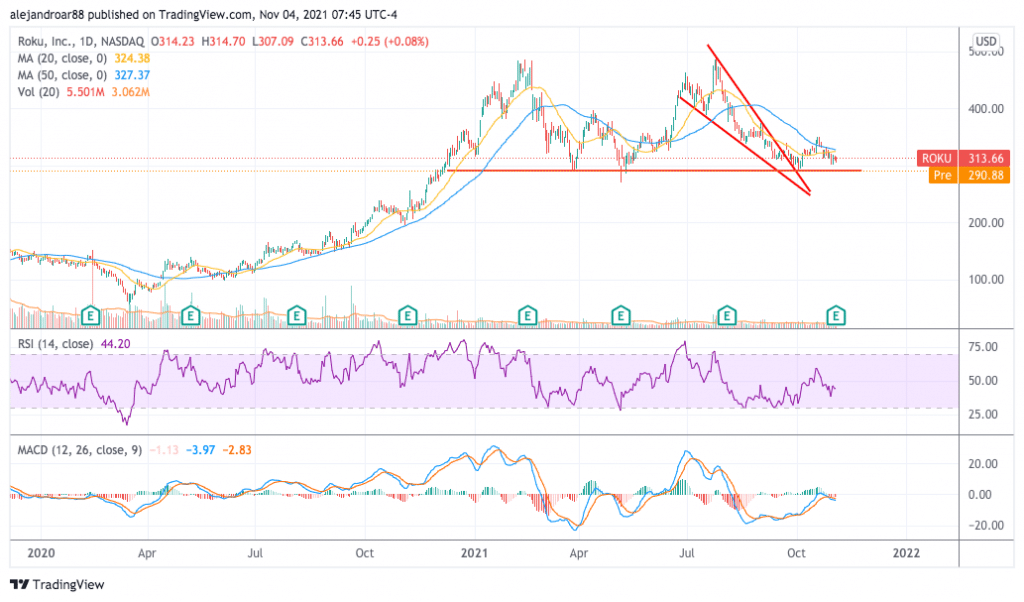 Back in September when I last wrote about Roku I highlighted the existence of a falling wedge pattern – a typically bullish formation that pointed to the possibility of a trend reversal if a break above occurred.
This break took place on 23 September and above-average trading volumes back then confirmed the pattern. However, the uptrend that followed was quite weak as bulls failed to maintain the price above its short-term moving averages.
A decline below these support lines is once again pointing to a bearish outlook for Roku stock and today's post-earnings price action is confirming that view as the price is now diving to its lowest levels since May this year.
The $290 horizontal support might be the line in the sand today and bulls will probably attempt to keep the price above this threshold to avoid a more pronounced correction. However, achieving this seems quite challenging considering the fundamental backdrop.
Moving forward, a decline below the $290 level may open the door for a strong correction for the price of Roku as no other relevant horizontal support is seen until the $200 level, which results in a total downside risk of around 31% in the mid-term.
Roku Stock – Fundamental Analysis
A fading pandemic tailwind is the most important driver behind the current downtrend that the price of Roku stock has experienced. Both its user base and streamed hours seem to be facing stalled momentum as they are struggling with the tough comps from the pandemic while the current supply-chain crisis seems to be taking a toll on the company's hardware sales.
The management cited that these supply-chain woes may continue in 2022 and they could have an impact on the company's revenues during the holiday season. These were not encouraging comments for investors and they may have prompted a portion of today's drop in the stock price.
Despite these headwinds, the firm is lined up to produce around $500 million in positive adjusted EBITDA this year, which leads to an estimated EV/EBITDA ratio of approximately 80.
This ratio is way higher than the average of 25x displayed by entertainment-related software companies and increases the odds that Roku may experience an even more pronounced decline in its stock price in the future.
Buy ROKU Stock at eToro with 0% Commission Now!