Buy Tech Stocks – Best Tech Stocks To Buy in 2021
Looking to get into tech stocks? Tech is so far-reaching nowadays that huge revenues are being created. There is much growth potential in many tech stocks, especially among the riskier tech sectors like biotech and dronetech – but there is stability too, with eight of the world's top 10 largest companies being tech companies. Whether you are into growth, value or even momentum, tech stocks offer opportunity.
Below we review some easy ways to buy tech stocks suited to different risk appetites. We also cast our eye over 3 regulated and reputable brokers which offer commission-free trading, and deliver our verdict.
Buy Tech Stocks at eToro – #1 Broker
How to Buy Tech Stocks – Quick Four-Step Strategy
With the eToro trading platform, you need to take just four simple steps to purchase tech stocks:
Step 1: Open an account with eToro: go

to the

eToro

website. Click 'Join Now' to get started. Give your name, email and password.

Step 2: Upload ID: Just upload Proof of Identity and Proof of Address. Top tip: use your passport for quickest verification. And make sure its validity has not run out!
Step 3: Deposit funds in your account: 15 currencies are accepted, and a good variety of payment methods is available depending on your country of residence.
Step 4: Buy Tech Stocks:

With eToro, you can browse tech stocks, tech ETFs and eToro's very own tech CopyPortfolios. Buying stocks is commission-free. Using CFDs (Contracts-For-Difference) you can go short on stocks as well as leverage your trades.
Why Buy Tech Stocks?
Tech stocks is a broad label, including many different sectors. Beginners to investing might be well advised to focus on some big name tech stocks that have stood the test of time and grown successfully. Consider, then, 'the FAAMG stocks'. These are the tech giants:
Facebook (FB) – social media.
Apple (APPL) – phones and computer operating system.
Amazon (AMZN) – online retail.
Microsoft (MSFT) – cloud and computer operating system.
Google (GOOG & GOOGL) – internet search.
The FAAMG stocks are leaders in their respective tech fields with giant market capitalisations, huge numbers of paying customers and continual diversification of their tech involvement. No wonder then that Goldman Sachs chief US equity strategist David Kostin pointed out this year that, 'the FAAMG stocks have appreciated by $5 trillion during the last 5 years, accounting for 29% of the S&P 500 market cap increase during that time.'
Also ranking alongside the FAAMG stocks as stocks which lay claim to leadership of their tech sector are content provider Netflix (NFLX) and electric vehicle pioneer Tesla (TSLA).
Where to Buy Tech Stocks?
You can buy tech stocks via an online broker. Unless you happen to have your own fund manager, there is no other way of doing it!
The big practical issue you face is finding a broker which accepts your business, depending on your country of residence. Some brokers are limited in the geographical scope they can serve: premium UK broker Hargreaves Lansdown, for example, only serves UK clients. Many of the big US brokers only cater for US, Canadian and Asia Pacific clients.
The other issue you face is regulation. Make sure you use a regulated broker. If you don't, there is more risk of a broker going bust, and more risk of losing all your funds if it does.
All three brokers we review below – eToro, AvaTrade and Capital.com – offer international coverage and regulation, as well as access to the FAAMG top tech stocks, other tech stocks and tech ETFs (Exchange Traded Funds).
1. eToro – Overall Best Way to Buy Tech Stocks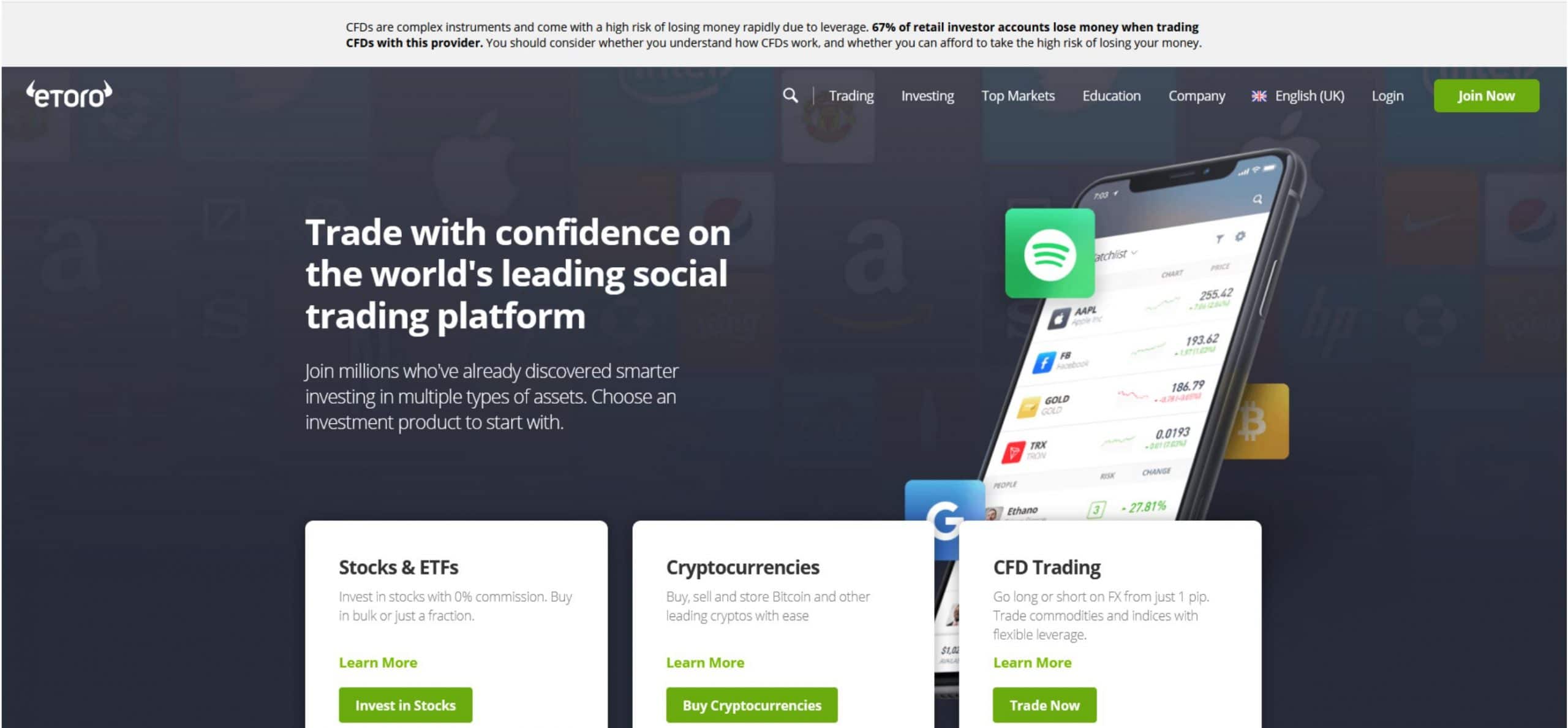 eToro boasts over 20 million customers in 120+ countries. Regulated by ASIC (Australia), CySEC (Cyprus) and the FCA (UK), eToro offers a safe space particularly suited to new investors. The eToro user interface is easy to get the hang of. It looks like this: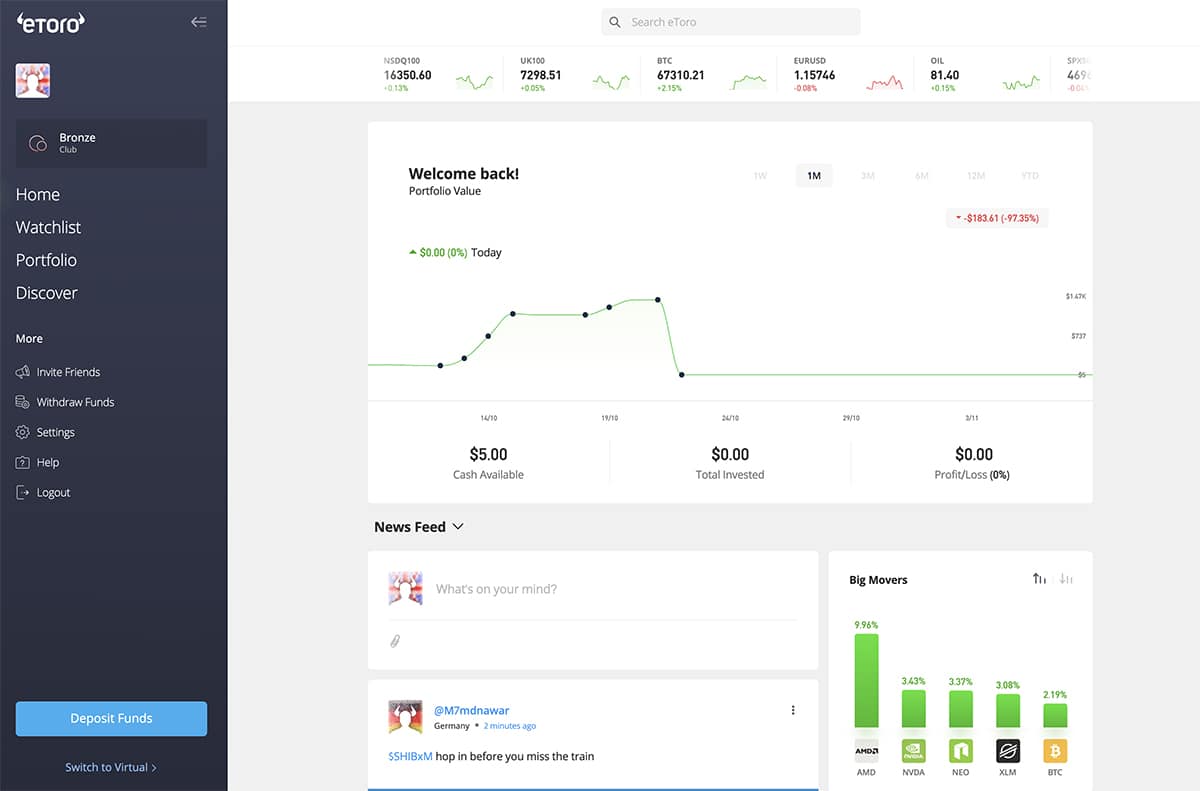 eToro allows you to deposit your funds in up to 15 different national currencies. You can use a variety of deposit methods (depending on your country of residence).
With eToro, you can buy tech stocks in three ways:
Buy tech stocks direct
Buy tech ETFs
Buy into eToro CopyPortfolios
1. Buy tech stocks direct
If you know the name of the tech company you are interested in, you can search for it in the top eToro toolbar:

Pressing the Trade button will take you to your purchase options: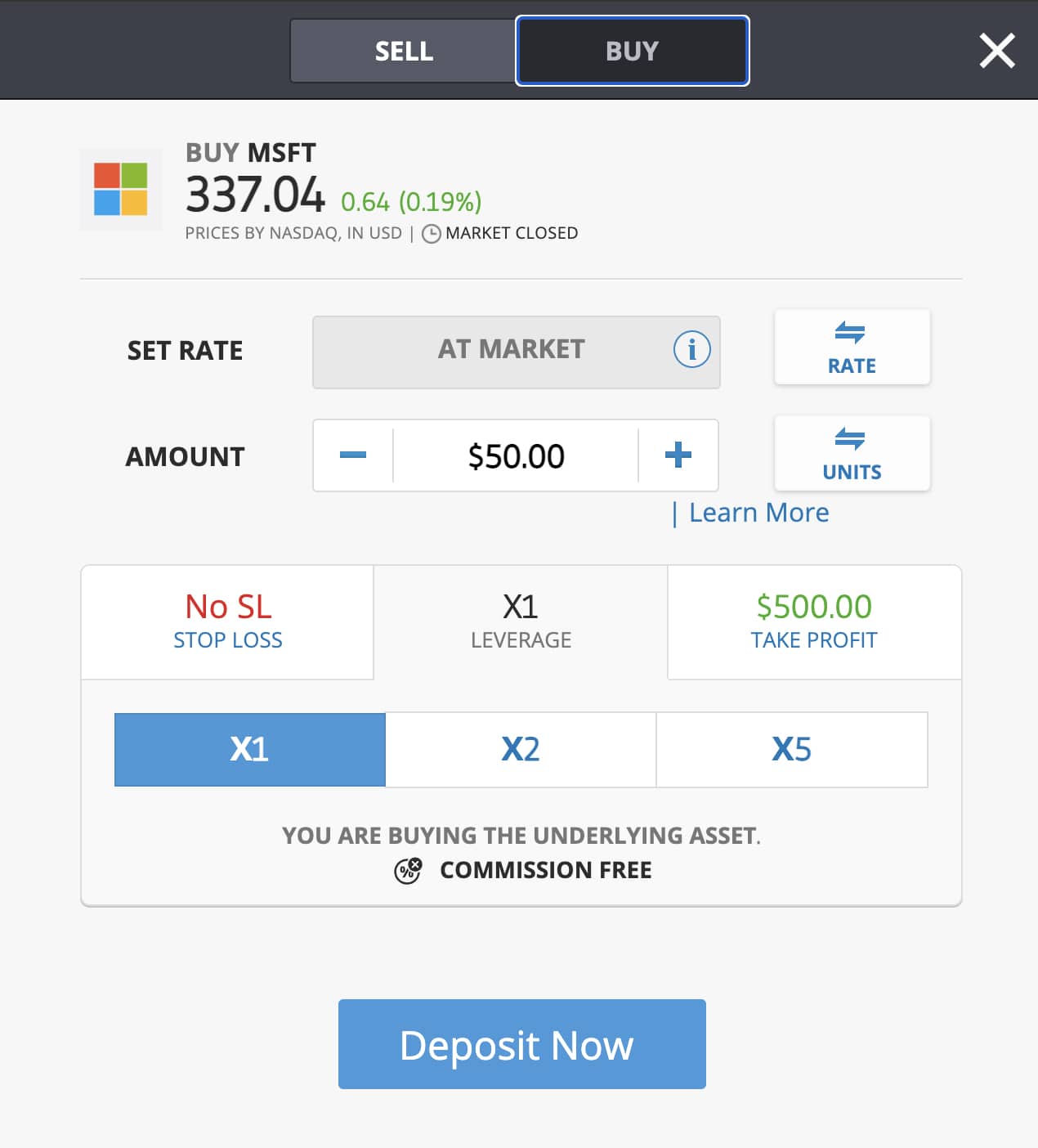 2. Buy tech ETFs
eToro offers 250+ ETFs. ETFs are Exchange Traded Funds. These offer a low-cost, low-risk way to invest in tech stocks. That is because ETFs invest in many stocks at once, often by tracking an existing index. As an investor, you can then buy a share in the ETF.
You can search for tech ETFs in the same way that you can search for stocks in the top eToro toolbar. Or you can review eToro's ETFs by pressing the discover button on the left toolbar: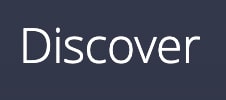 You can then choose 'ETFs' from the central toolbar that comes up:

You will then see a list you can browse through. In alphabetical order, here are the first 8 ETFs that come up: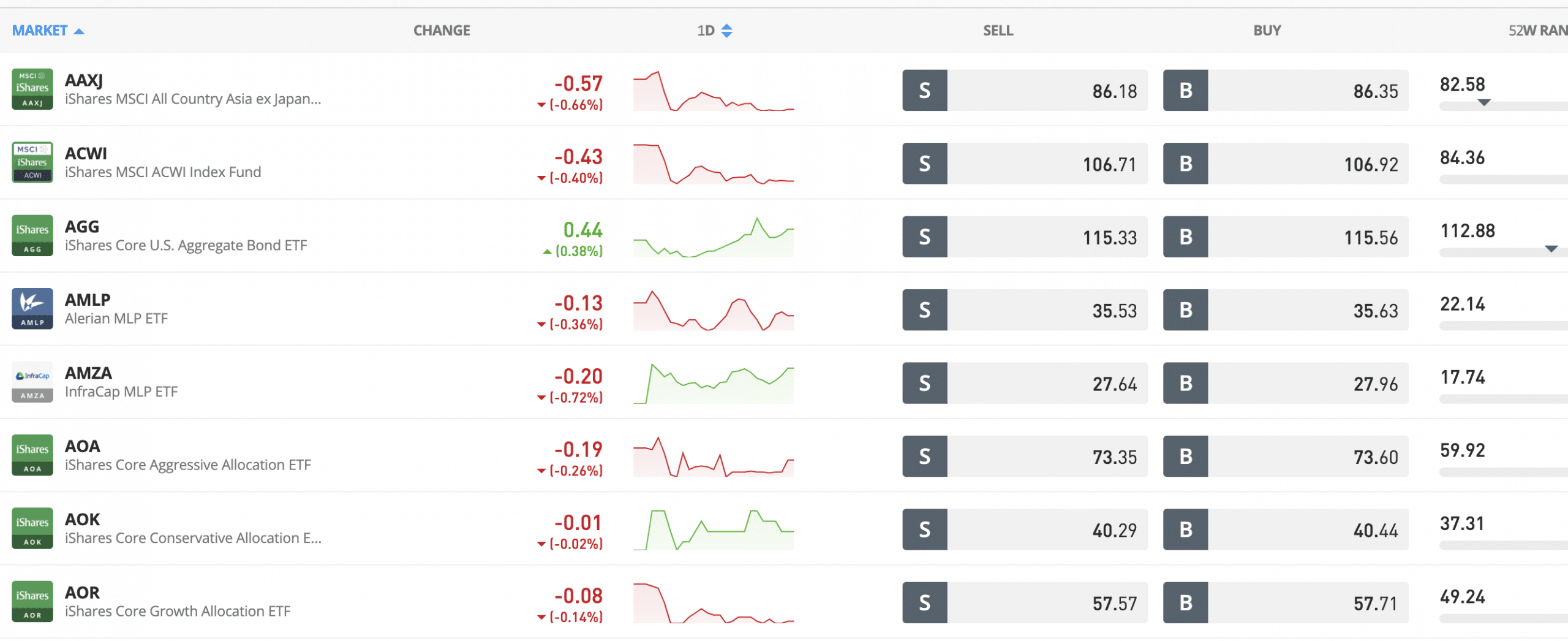 A good example of a tech ETF you can access via eToro is the Amplify Transformational Data Sharing ETF (BLOK). Over the last year this ETF has risen in value by almost 100%. BLOK invests in companies related to blockchain tech.

BLOK's top three holdings are in Microstrategy (MSTR), which provides enterprise software, Hut 8 Mining Corp (HUT) which provides bitcoin mining and blockchain tech, and Marathon Digital Holdings (MARA), a crypto mining company.
eToro provides many other tech ETFs and you can buy into them commission-free.
3. Buy into eToro CopyPortfolios
eToro comes into its own with its selection of eToro CopyPortfolios. CopyPortfolios are managed portfolios which you can copy. You simply allocate some funds (minimum $1000-$5000, depending on which CopyPortfolio), and transactions are made on your behalf. The copying service is free, but you do pay for all transaction spread fees. Note that, with a CopyPortfolio, you buy into it with one go, and sell out of it in one go. You cannot sell off just a portion of your holding, for example.
To buy into a CopyPortfolio, you need to factor in spread fees as well as be sure that you can leave your money alone for a while. On the bright side, many eToro tech CopyPortfolios boast truly excellent performance over the last 12 months.
There are 61 eToro CopyPortfolios to choose from in all. At least 15 centre on tech. Here are five examples:
Four Horsemen: Four Biggest Tech Companies
52% return in last 12 months. Risk rating: 5.
Google (GOOG): 31%
Microsoft (MSFT): 28%
Apple (AAPL): 21%
Amazon (AMZN): 20%
Driverless: EVs and Autonomous Cars
79% return in last 12 months. Risk rating: 5.
Top three stocks: Nvidia (NVDA) 13%, Marvell Technology Group (MRVL) 7%, Ambarella Inc (AMBA) 4%.
FuturePayments: Digital Money
72% return in last 12 months. Risk rating: 5.
72% stocks, 27% crypto.
OutsmartNSDQ: Nasdaq Smart Beta by Sentiment
67% return in last 12 months. Risk rating: 7.
A portfolio that uses AI stock selection to outperform the tech-based Nasdaq 100 index.
DroneTech: Drone Technology
52% return in last 12 months. Risk rating: 5.
Top three stocks: Nvidia (NVDA) 6%, Ambarella Inc (AMBA) 5%, Google (GOOG) 4%.
Pros
20 million investors.
120+ countries served.
Commission-free trading.
Great selection of tech stocks and ETFs.
Really easy to use – designed for beginners, but with powerful options available.
Regulated by FCA, CySEC and ASIC.
CopyPortfolios and free copying of other traders with CopyTrader.
CFD options available for going short on most stocks.
Cons
Withdrawal fee of $5.
All trading denominated in USD.
67% of retail investor accounts lose money when trading CFDs with this provider.
2. AvaTrade — Best Platform Support for Buying Tech Stocks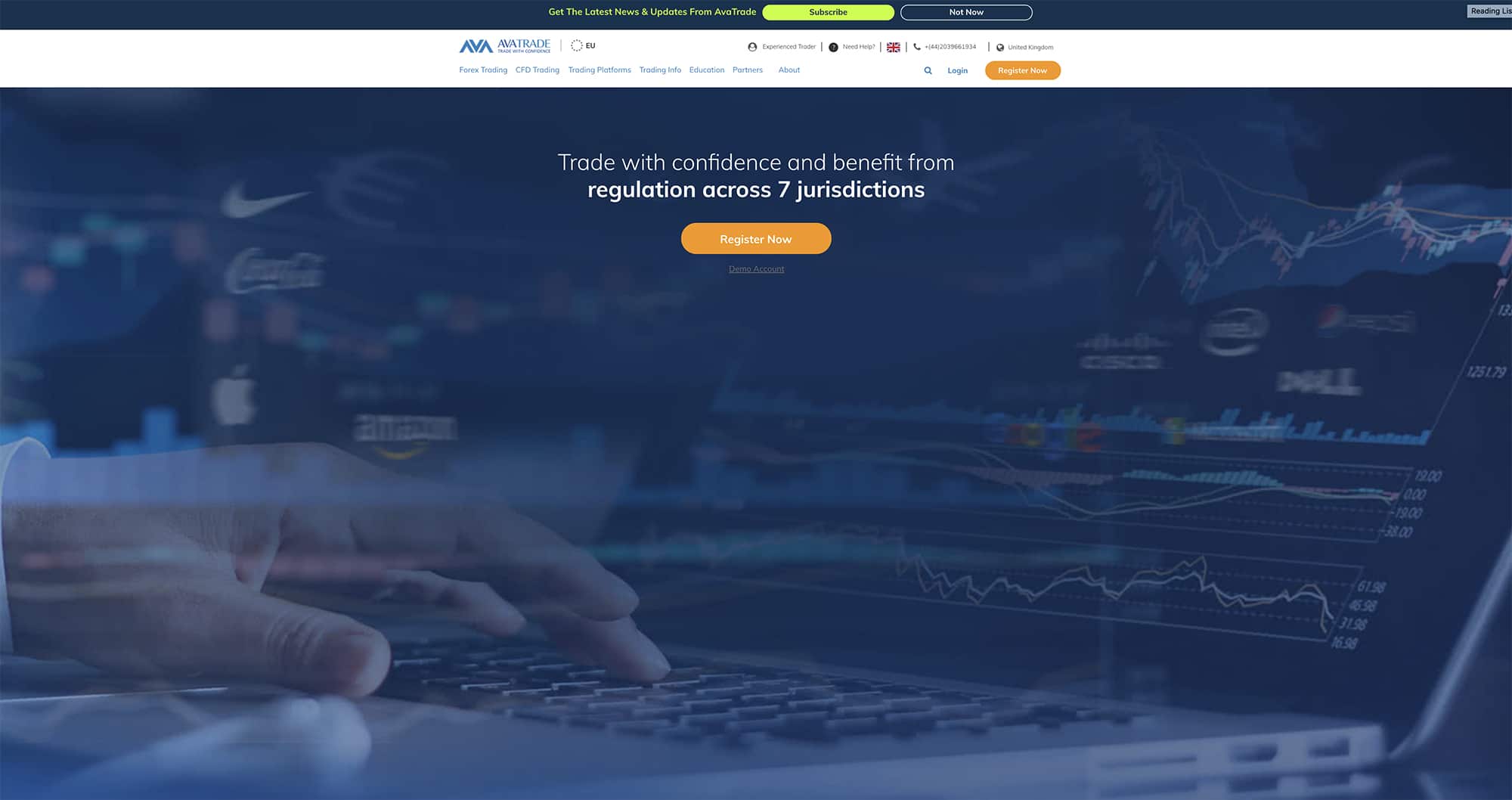 AvaTrade is a highly-regulated CFD broker with a great reputation for multi-platform support. AvaTrade provides access to trading platforms MT4/MT5 and copy trading platforms DupliTrade and ZuluTrade. AvaTrade also hosts its own AvaOptions platform (for trading financial options) and AvaSocial, its own mobile social trading app.
Regulated in no less than global 7 jurisdictions, AvaTrade has been in business since 2006 and has built up 200,000 clients.
You can trade tech stocks as well as ETFs with AvaTrade. All trades are done as CFDs (Contracts-For-Difference). One advantage of this is that you can go short on stocks. Another advantage is that, with leveraged trading, you can benefit from very small movements in tech stock prices. A potential disadvantage here is that leverage rates are preset (for stocks, usually at 5:1) which can be disconcerting for the newbie investor. Using AvaTrade gives you powerful options, but you must use a margin account.
Global regulation.
Good choice of tech stocks and ETFs.
Leveraged and short trading.
Fantastic platform support.
Cons
Margin account and preset leverages.
Overnight fees for CFDs.
71% of retail investor accounts lose money when trading CFDs with this provider.
3. Capital.com — Reputable CFD Broker to Buy Tech Stocks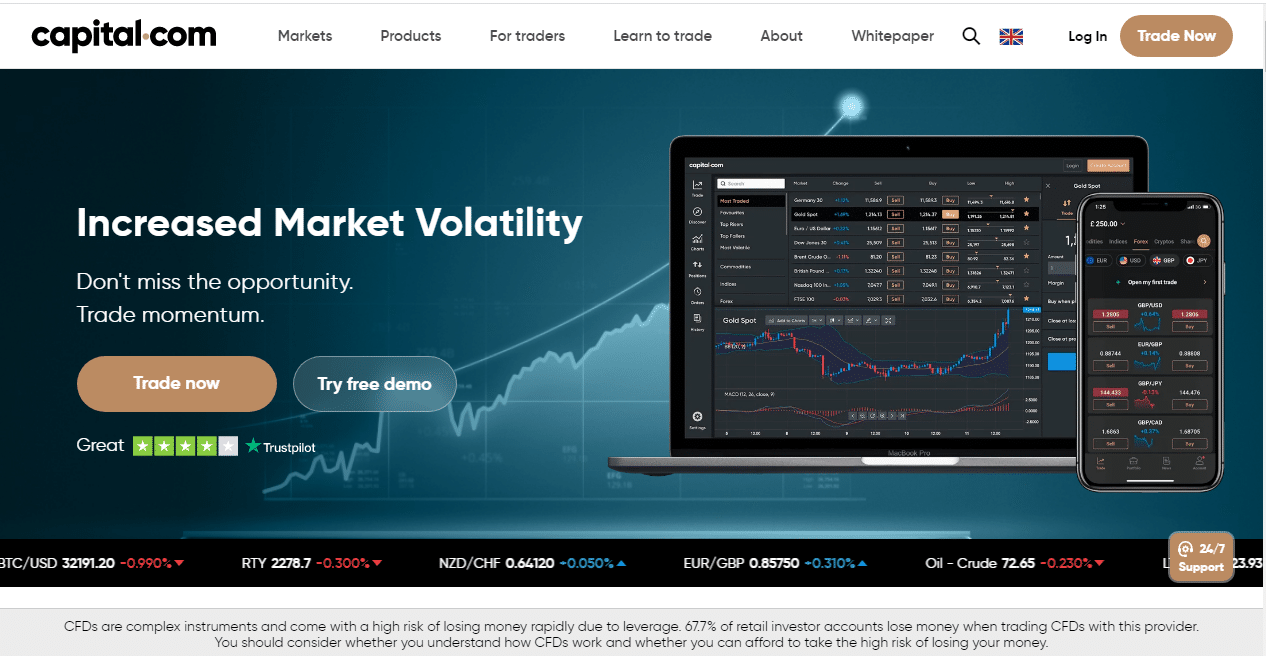 Like AvaTrade, Capital.com is an established CFD broker with good international regulation and a robust reputation.
With Capital.com, you can trade tech stocks as CFDs and choose from 100 ETFs. Capital.com features a good selection of tech ETFs. For aggressive investment, you could opt for the ARK Innovation ETF (ARKK) which actively manages stocks 'of disruptive innovation'. For a slightly less risky approach, you could choose the ALPS Medical Breakthroughs ETF (SBIO) which is passively managed and tracks the Poliwogg Medical Breakthroughs Index centred on US firms with one or more drugs in Phase II/III US FDA clinical trials.
Pros
Invest via CFDs in tech stocks and tech ETFs.
You can go short and leverage trades.
Regulated in Cyprus, UK, Belarus and Australia.
Learn how to trade on Capital.com's standalone platform Investmate.
Simple interface with good charting tools.
Cons
Margin account only.
CFD trades only.
77% of retail investor accounts lose money when trading CFDs with this provider.
Buy Tech Stocks – eToro Guide
You only need to take four steps to buy tech stocks with eToro.
Step 1: Sign Up
Head to the eToro website and fill out the form with your name, email, a username and a password – all standard KYC (Know Your Customer) protocols you will find with any reputable broker. eToro's process is nice and quick. Or sign up even quicker via Facebook or Google.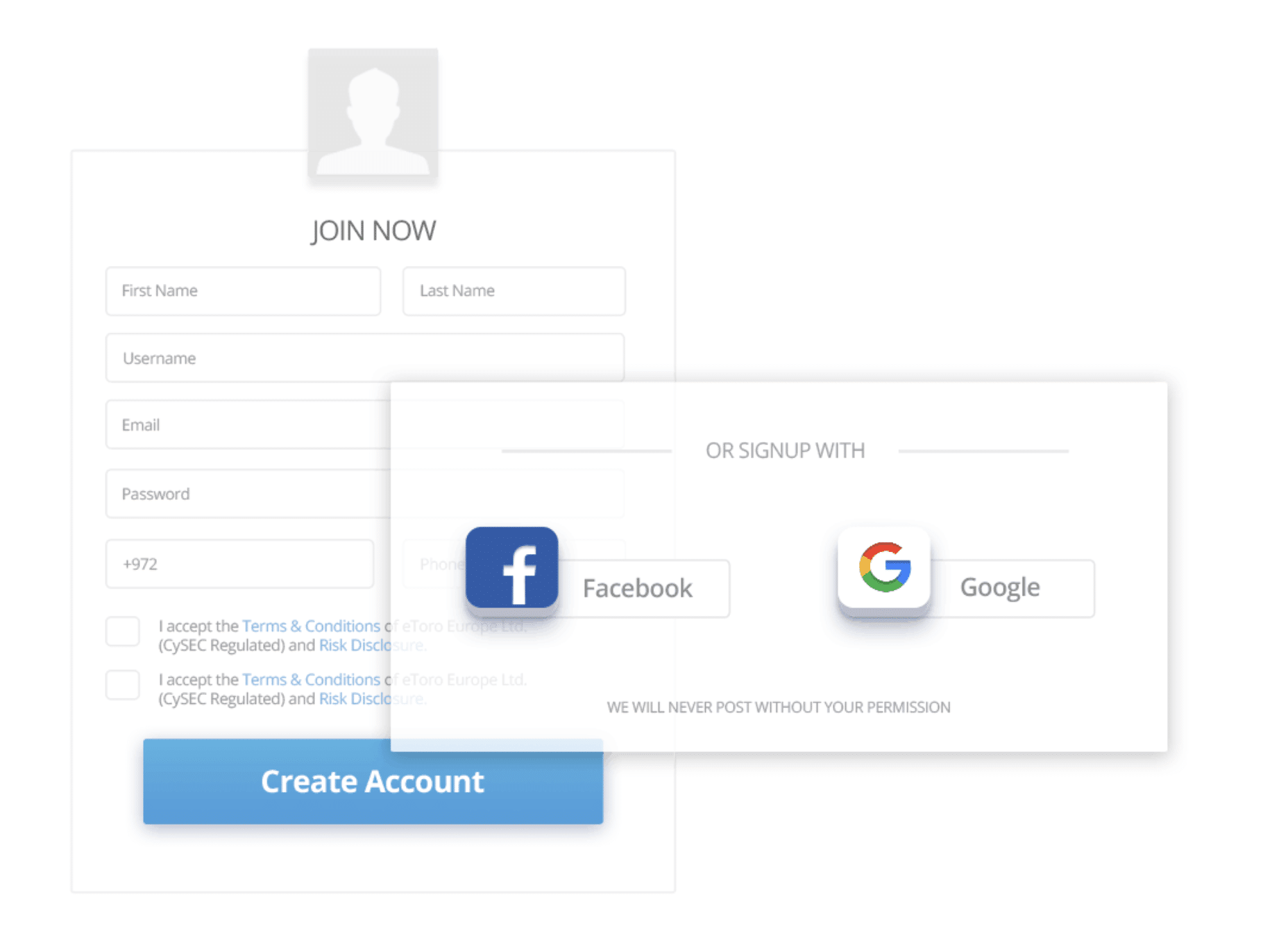 Press the blue 'Create Account' button to continue.
Step 2: Verify Your Account & Upload Your ID
Verification of your account is simple. You will need two digital scans: one to prove who you are, and one to prove where you live.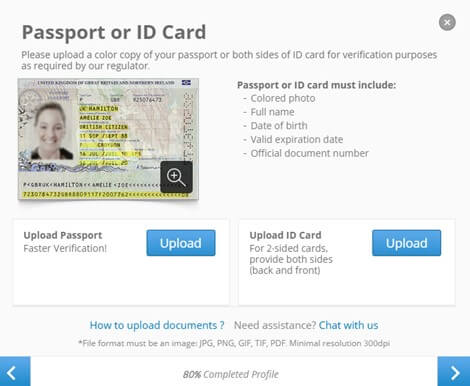 For proof of identity, eToro needs ID that shows your full name, date of birth, a photo of you, a valid expiry date and evidence of an issuing authority. Use your (valid) passport for quickest verification. A driver's license or ID card will also be accepted.
For proof of address, eToro needs an official communication that features your name, address, date of issue and the issuing authority. There are lots of options: utility bill, driving license, national ID, bank/credit card statement, municipality bill/letter, social insurance statement.
Once your IDs have been verified, you may deposit funds.
Step 3: Deposit Funds
With eToro, you can deposit in up to 15 different fiat currencies: USD, GBP, EUR, DKK, NOK, PLN, VND, PHP, SEK, CZK, AUD, RMB, MYR, THB, and IDR. A currency conversion fee applies to all deposits that are not in USD. (Whatever your native currency, eToro runs your account in USD.)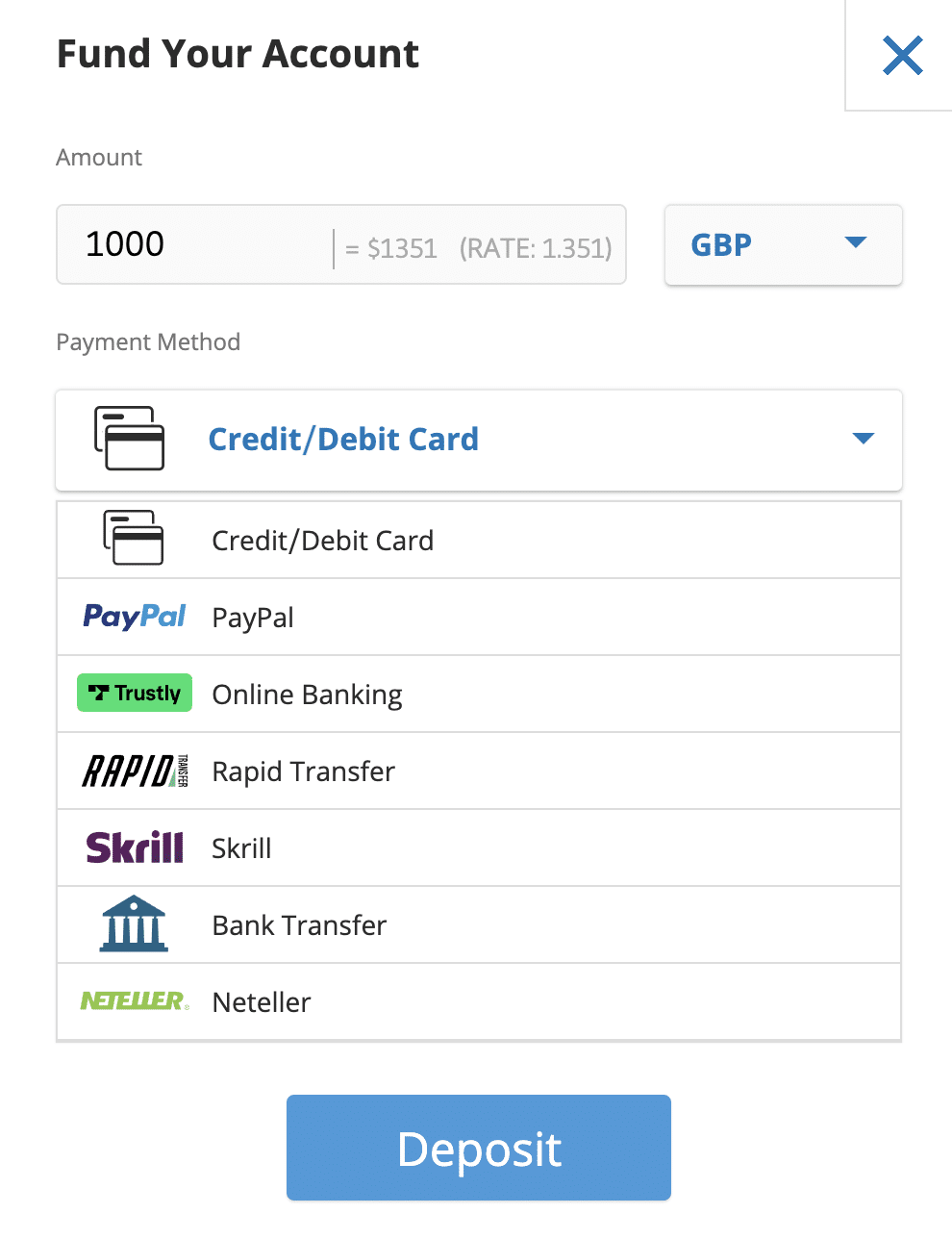 eToro payment methods include bank transfer, credit/debit card, PayPal, Trustly, Rapid Transfer, Skrill and Neteller.
Deposit is usually acknowledged very fast, and then you are good to go!
Step 4: Search for Tech Stocks & Buy
You can search for tech stocks and ETFs in the eToro toolbar: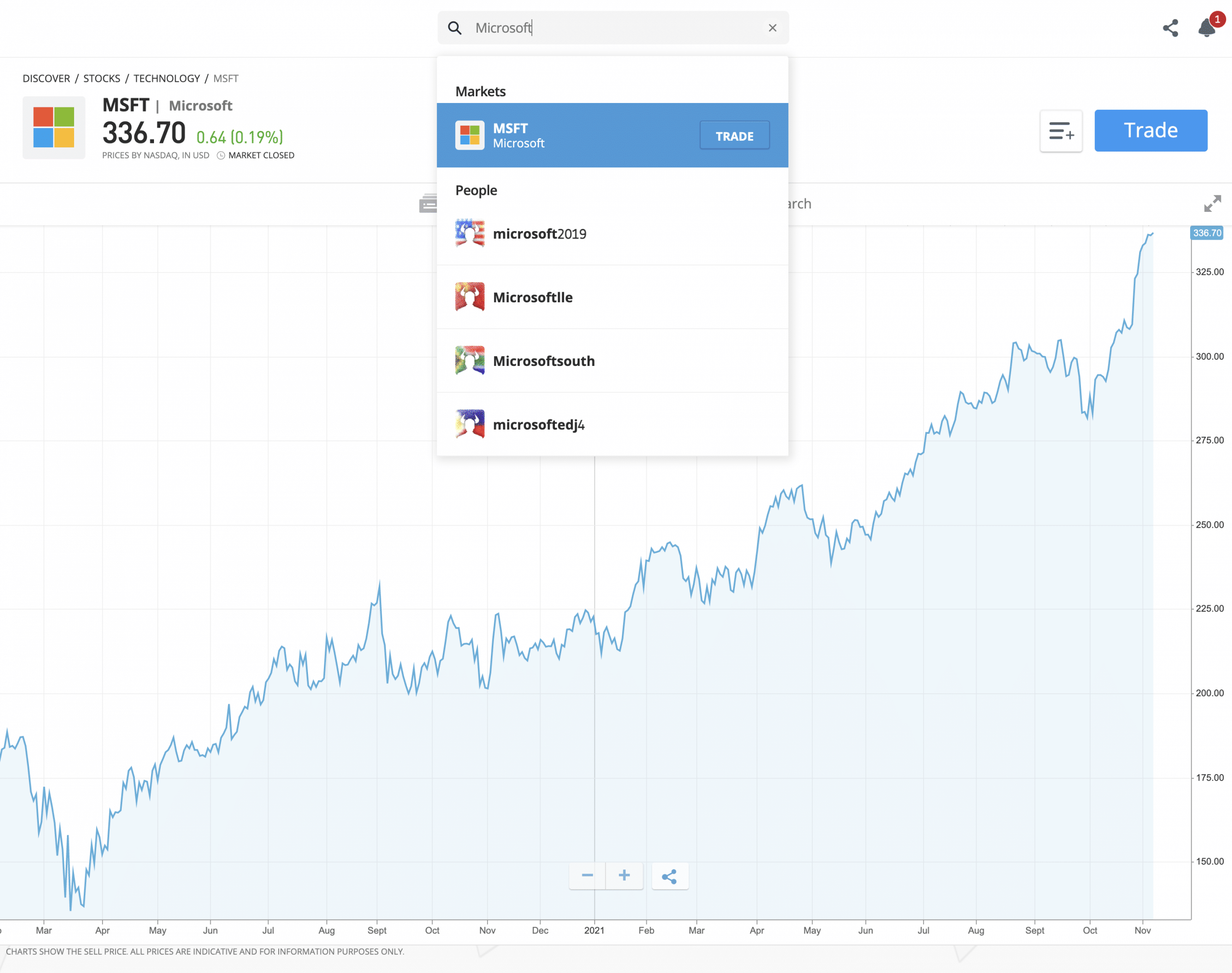 Pressing on the desired stock will take you to its home page. Here you can review stats, a chat feed and all charting options. When you are ready to access your purchasing options, press the blue 'Trade' button. Then you will see a box similar to this: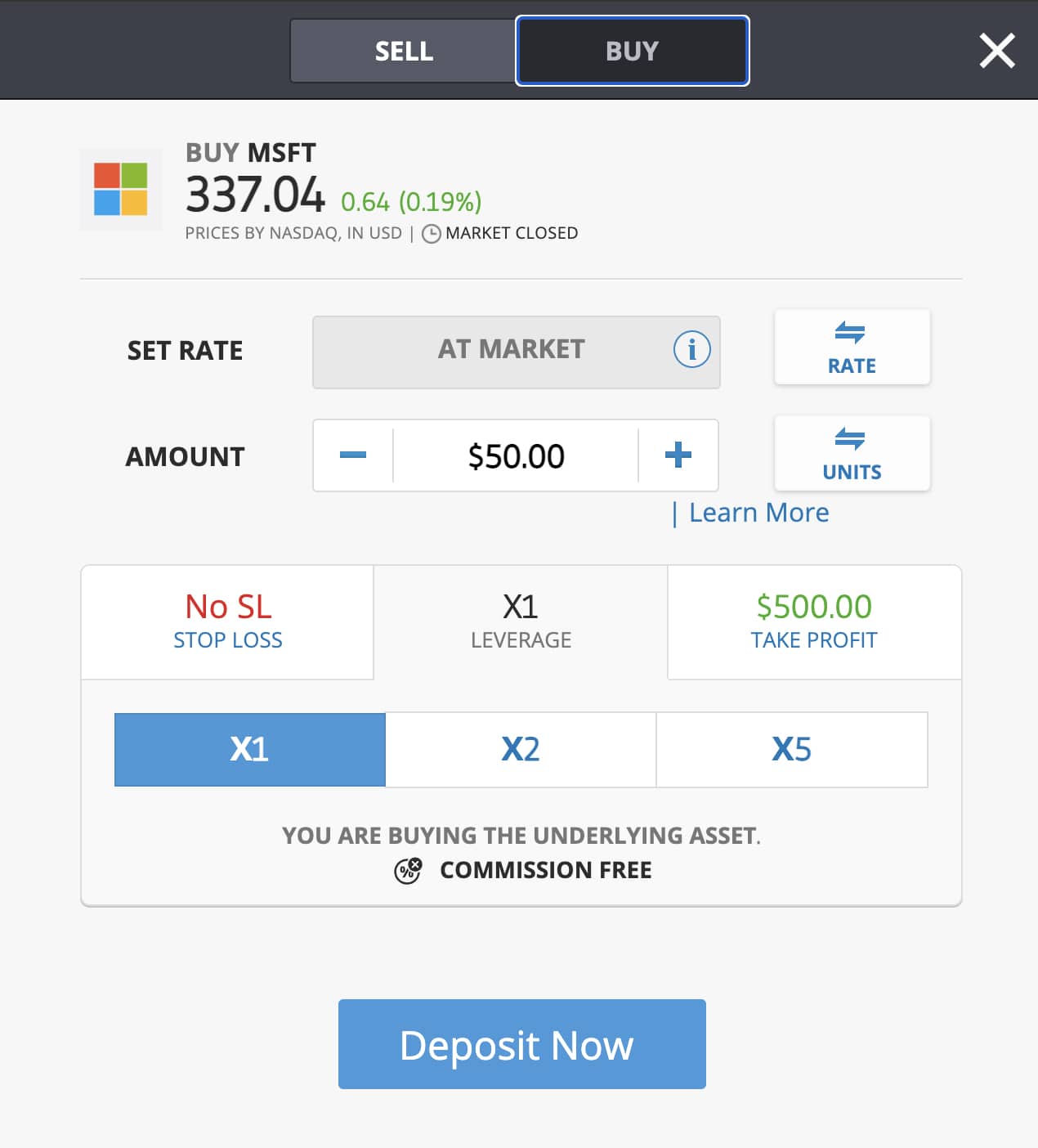 You can leverage your trade by up to 5x. You can also go short on some stock by using a CFD (Contract-For-Difference). Overnight fees may apply for using a CFD, in which case they will be shown clearly at the bottom of the dialogue box. Note that you can also set automatic points for stopping a loss and taking profit.
Should I Buy Tech Stocks?
You might consider purchasing tech stocks as part of a diversified strategy. It is important to balance your portfolio with different types of assets in different sectors. Note that tech is considered to be one of the riskier sectors, so it is important to underpin your holdings with some more conservative stocks too. Don't put all your eggs in one basket! Explore tech ETFs for a lower-risk approach to tech investing.
Looking for a hot stock tip? Check out our list of the best stocks to buy now in the US. We've got all the info you need to make an informed decision. So what are you waiting for? Get started today!
Risks Of Buying Tech Stocks
There are risks with buying all types of stocks, otherwise there would not be rewards. With tech stocks, two key risks exist:
RISK 1: An individual stock will suddenly crash in value.
This can happen for many reasons, including supply shortages, a scandalous blow to reputation, and internal crisis. You can mitigate this risk by investing in well-established companies, like FAAMG (Facebook, Apple, Amazon, Microsoft and Google). The huge market capitalisation of these tech companies is based on having many paying customers. Whatever crisis hits, it is unlikely these customers are going to disappear overnight.
As an example of the value in investing in big tech stocks, Tesla (TSLA), the electronic vehicle giant worth $1.23 Trillion, just this week lost 5% of its share value because the majority shareholder Elon Musk said that he would sell 10% of his shares. This drop in share price is the market pricing in the possibility of that sell-off. The primacy of Tesla's position in the market remains unchallenged, so it is likely that the share price will rise again.
RISK 2: A tech development championed by an individual stock suddenly becomes redundant.
This happens all the time in the biotech sector. The success or failure of medical trials, for example, can make or break a company. The best way to mitigate this risk is to invest in ETFs (Exchange Traded Funds) which focus on a particular tech sector by buying into many companies at the same time. This spreads the risk (although dilutes the potential for spectacular hikes in share value).
Tech Stocks Price Prediction & Analysis
Looking at the FAAMG stocks – Facebook (FB), Apple (APPL), Amazon (AMZN), Microsoft (MSFT) and Google (GOOG) – analysts are fairly unanimous that all face bright futures.
Facebook's price currently stands at $335, down from its all-time-high of $384 in September. The average price target of 36 Wall Street analysts is $405. So there's plenty of upside predicted.
Apple shares are trading at $150. The consensus 12-month target of 29 analysts compiled by Marketbeat is $165, with 22 giving a 'buy' recommendation. Apple's price has risen by 402% over the past 5 years.
Amazon did well during the pandemic, but is presented by competitor risk from Walmart and Target. 2021 Q3 revenues were $110 billion. The stock is currently trading at $3576. Of 53 analysts reported in the Wall Street Journal, a consensus 12-month target price of $4,153 emerged. 43 analysts said 'buy'. None said 'sell'.
Microsoft has doubled in value since March 2020 when the Covid crisis hit the markets. Share price now stands at $335. Analysts have an average price prediction of $363 for the next year.
Google's stock price has risen steadily from a pandemic crisis level of just over $1000 in March 2020 to almost $3000 in November 2021. The average of analyst price predictions for the next year is $3350.
Why Are Tech Stocks Popular?
Tech stocks are popular because they have shown such spectacular growth over the last decade. Here is Microsoft's share price rocketing since 2009: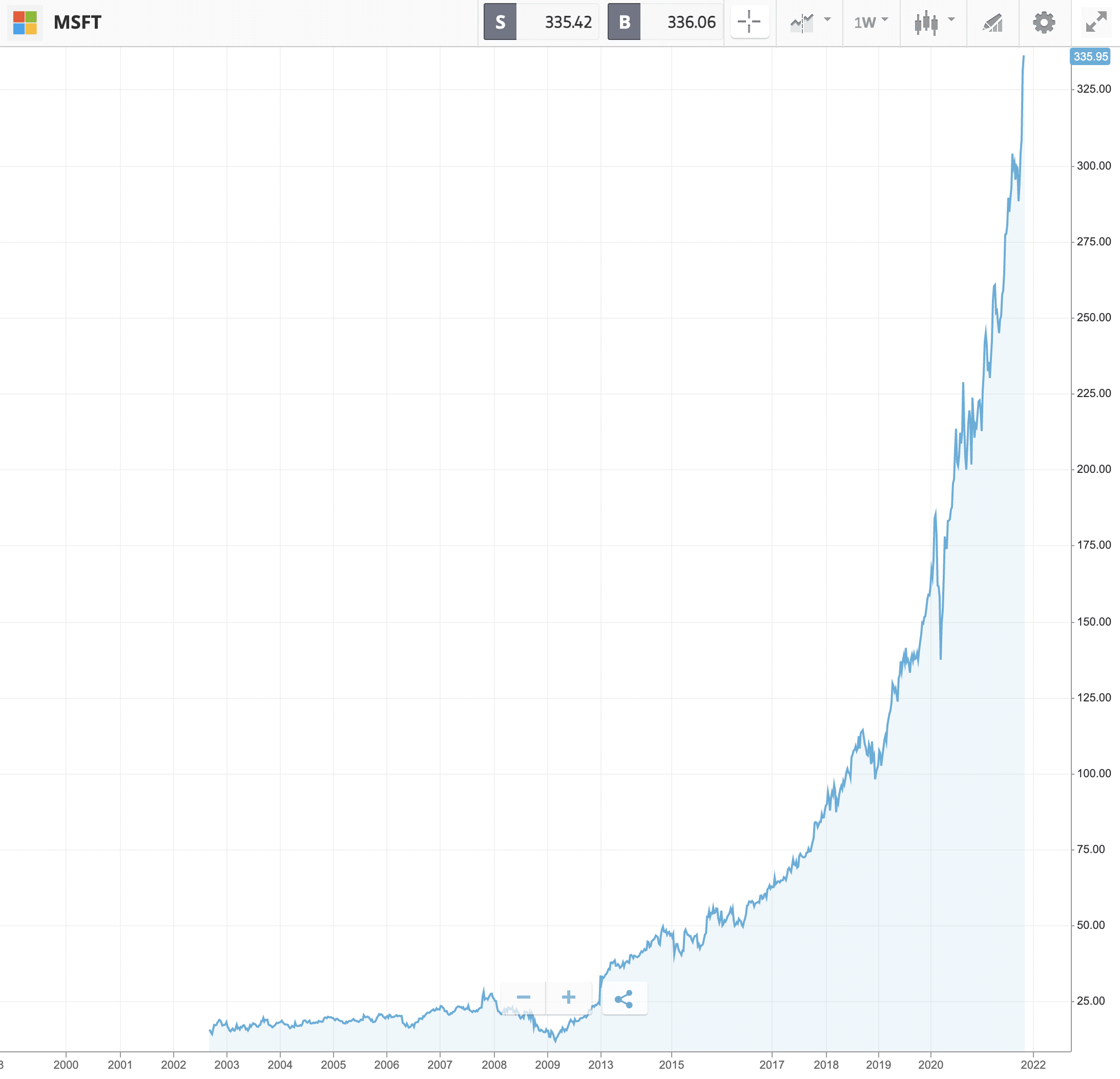 Is it Always Safe To Invest in Tech Stocks?
It is not always safe to invest in tech stocks, but it is certainly considered safer to invest in big tech companies (with giant customer bases) than little tech companies with less established business.
Largest Companies by Market Capitalisation, November 2021
| | |
| --- | --- |
| Microsoft (MSFT) | $2.52 Trillion |
| Apple (APPL) | $2.48 Trillion |
| Saudi Aramco (2222.SR) | $2.00 Trillion |
| Alphabet (GOOG) | $1.98 Trillion |
| Amazon (AMZN) | $1.78 Trillion |
| Tesla (TSLA) | $1.23 Trillion |
| Facebook/Meta (FB) | $948.94 Billion |
| NVIDIA (NVDA) | $741.41 Billion |
| Berkshire Hathaway (BRK-A) | $652.13 Billion |
| TSMC (TSM) | $610.91 Billion |
Selling Tech Stocks: A Quick Overview
With eToro, you can usually sell your stock in seconds. If you want to be ultra-cautious, you can preset a stop loss, which is the stock price at which eToro will automatically sell your stock. Or you can initiate the sell order manually. You can do this by going into your portfolio, and pressing the red cross at the end of the row that applies to the particular stock. This brings up the option to sell. The process is very easy. Unless a stock features exceptionally-low liquidity, the order is carried out immediately.
Conclusion
The Covid period has unlocked all sorts of opportunities for tech stocks. Now the world's markets are emerging from the 2020 crisis, tech stocks in general look none the worse for wear.
Consider the FAAMG tech stocks as a starting point for your investment in tech stocks. Facebook, Apple, Amazon, Microsoft and Google have all emerged from pandemic uncertainty unscathed and still increasing in value.
For expert investors, both Capital.com and AvaTrade offer powerful CFD trading options. But for new and intermediate investors, eToro offers so many advantages as a broker it is difficult to ignore.
With eToro, trading is commission-free and very straight-forward. The massive online eToro community is a useful place to do research, and eToro's CopyTrader function allows the beginner to learn directly from more experienced investors. eToro's choice of tech stocks from all over the world is impressive, and there are plenty of tech ETFs to browse for those with a lower risk appetite. We wholeheartedly recommend eToro as the Number One global broker for tech stocks.
Looking to invest your money but not sure where to start? Check out our beginner's guide on the best ETFs to invest in right now. We'll show you how to get started with this low-risk investment option and help you grow your portfolio.
eToro.com – the #1 Broker Platform to Buy Tech Stocks
FAQs
Where to Buy Tech Stocks ?
Is Investing in Tech Stocks a Good Investment?
Is it Safe to Invest in Tech Stocks?