Nvidia Unveils H200 Chip as AI Euphoria Continues
Please note that we are not authorised to provide any investment advice. The content on this page is for information purposes only.
Nvidia (NYSE: NVDA) stock which is already the best-performing S&P 500 stock in 2023 closed in the green yesterday even as the broader markets were in the red after the company unveiled its most powerful H200 chip. The stock is now getting near its all-time highs that it hit earlier this year.
The stock has risen for nine consecutive trading sessions which is its longest winning streak since late 2016 when it saw an upwards price action for 10 straight sessions. Looking at the pre-market price action today, Nvidia looks set to match the 2016 winning streak and further build on its humongous 2023 rally.
In its release, Nvidia said, "The NVIDIA H200 is the first GPU to offer HBM3e — faster, larger memory to fuel the acceleration of generative AI and large language models, while advancing scientific computing for HPC workloads. With HBM3e, the NVIDIA H200 delivers 141GB of memory at 4.8 terabytes per second, nearly double the capacity and 2.4x more bandwidth compared with its predecessor, the NVIDIA A100."
Nvidia unveiled its H200 chip
The demand for Nvidia's high-end chips has soared in 2023 amid the artificial intelligence (AI) pivot. The company's chips are a key building block for generative AI models and the euphoria has helped drive Nvidia's earnings as well as stock price higher
While Nvidia shares have suffered pullbacks amid the broader market correction and apprehensions over the US banning exports of several high-end chips to China– including some produced by Nvidia – the stock is now again approaching its all-time highs.
2023 has been a pivotal year for Nvidia as it became a trillion-dollar enterprise in the year joining the ranks of Apple, Amazon, Alphabet, and Microsoft.
Nvidia launches new AI chip
Meanwhile, in his prepared remarks announcing the launch of the H200 chip Ian Buck, vice president of hyperscale and HPC at NVIDIA said, "To create intelligence with generative AI and HPC applications, vast amounts of data must be efficiently processed at high speed using large, fast GPU memory."
Buck added, "With NVIDIA H200, the industry's leading end-to-end AI supercomputing platform just got faster to solve some of the world's most important challenges."
Wall Street analysts also turn bullish on NVDA stock
Wall Street seems impressed with Nvidia's H200 chip and Bank of America maintained its buy rating and $650 target price on the shares following yesterday's announcement.  Bank of America analyst Vivek Arya said in a note, "Importantly, H200 is compatible with its predecessor H100 installations, enabling faster time to market. We view the latter point as critical, as hyperscalers do not need to invest to reconfigure their existing hardware platform, incentivizing customers to remain key partners of NVDA."
He added that the upgrade "simplicity only adds to the competitive portfolio NVDA holds, which coincides with 1) a leading AI networking platform supporting both Infiniband/Ethernet connections, and 2) a leading software stack, which has already shown abilities to upgrade performance of GPUs already deployed."
Last week, Wolfe also reiterated the stock as overweight and said, "Adding NVDA to the Wolfe Alpha List which reflects our confidence in earnings momentum over next several quarters, and long term opportunities from their dominance in AI. We expect street estimates to move meaningfully higher over next few quarters."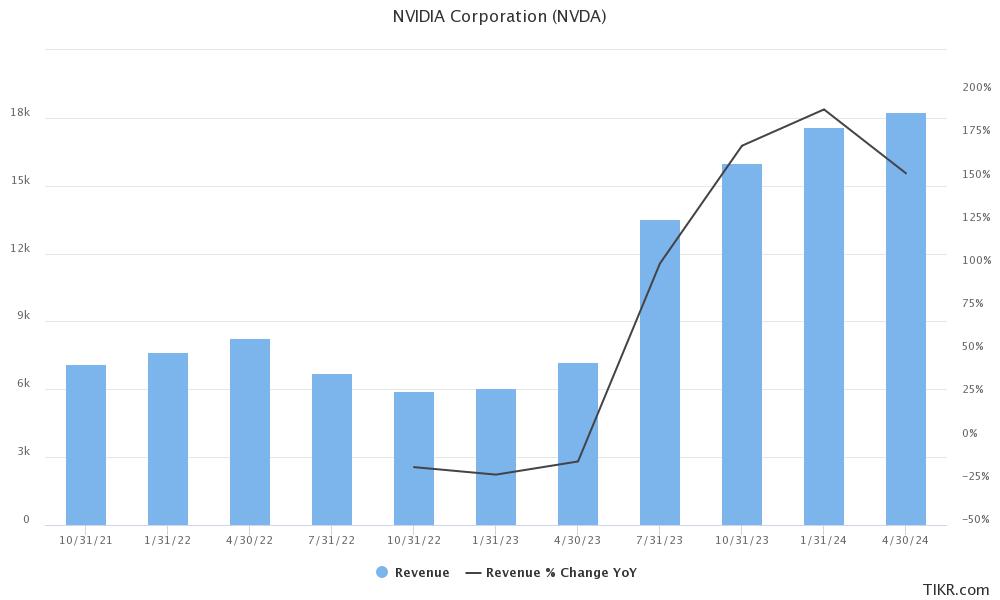 Nvidia to release its earnings next week
Nvidia is set to release its fiscal Q3 2023 earnings next week. Analysts expect the company to report revenues of $15.9 billion in the quarter – a YoY rise of almost 170%. Analysts expect the company's revenues to rise 191% and 154% respectively in the next two quarters as well.
While the massive YoY spike is arguably coming from a lower base as Nvidia's revenues fell YoY in the corresponding quarters in the previous fiscal year due to sagging sales at its Gaming segment, it is nonetheless no mean achievement and highlights why markets see the stock as a preeminent AI play.
Jensen Huang on AI
During Nvidia's fiscal second-quarter earnings call, the company's CEO Jensen Huang said, "A new computing era has begun. Companies worldwide are transitioning from general-purpose to accelerated computing and generative AI."
He added, "NVIDIA GPUs connected by our Mellanox networking and switch technologies and running our CUDA AI software stack make up the computing infrastructure of generative AI."
Is AI a bubble or for real?
While many market participants believe that the optimism toward AI is real, some others see a bubble. According to investment advisor Smead Capital "In our conversations with investors, we are pointing out the 'totality' of this financial euphoria episode. Due to incredibly low interest rates for a long time, we think the history books will look back at this time period as a combination of the 1636 Tulip Mania in Amsterdam and the South Sea Bubble of 1720."
It added, "Where are we today on those ingredients? To say we are at or nearly at the opposite extreme would be an understatement."
The firm emphasized, "We believe this euphoria episode will end badly, but some part of capital tied up in the episode will work its way into whatever investors gravitate toward in the future."
Even Warren Buffett and his deputy Charlie Munger have also expressed concern over AI and the former compared it to an "atom bomb" earlier this year. Notably, Nvidia released its fiscal Q1 earnings a few weeks after the meeting where it not only shattered earnings estimates but also provided guidance well ahead of analyst estimates.
Goldman Sachs does not believe AI is a bubble
Deepwater's Gene Munster is among those who believe that we are not in an AI bubble – a view also echoed by Goldman Sachs. Peter Oppenheimer, chief global equity strategist at Goldman Sachs Research said in a note that AI stocks are in a bubble despite the rally.
He said, "We believe we are still in the relatively early stages of a new technology cycle that is likely to lead to further outperformance." He however admitted, "Since many of these early winners are very large companies, the concentration of returns in the equity market this year has been extraordinarily high."
Notably, the gap between the returns of the Nasdaq Composite and Russell 2000 has widened to the highest in two and a half centuries. While names like Nvidia and Meta Platforms have surged in 2023, over half of the S&P 500 constituents are underperforming the markets.
As for Nvidia, the shares are trading slightly higher in US pre-market price action today and bulls would fancy their chances of it hitting its all-time high today amid the continued optimism towards AI.