Here's How the Wall Street Reacted to Netflix Fourth Quarter Earnings
Please note that we are not authorised to provide any investment advice. The content on this page is for information purposes only.
The earnings season for FAANG stocks kickstarted last week when Netflix (NYSE: NFLX) released its earnings for the fourth quarter of 2022. Here's how Wall Street reacted to the streaming giant's earnings.
To begin with, let's briefly look at the company's performance in the quarter. Netflix added 7.7 million subscribers in the quarter. The metric was ahead of the 4.5 million that the company guided for during their Q3 2022 earnings call. The company added subscribers across all geographies including the lucrative UCAN (US, Canada, Australia, and New Zealand) market.
Netflix missed Q4 2022 revenue estimates
Its revenues came in at $7.85 billion which were up 1.9% YoY and largely in line with estimates. However, its EPS of 12 cents fell way short of the 45 cents that analysts were expecting. The earnings also fell short of what Netflix had forecast.
Commenting on the profit miss, NFLX said, it was "due to a $462M non-cash unrealized loss from the F/X remeasurement on our Euro denominated debt as a result of the depreciation of the US dollar vs. the Euro during Q4'22."
Like fellow tech companies, Netflix also battled a stronger US dollar last year.
Reed Hastings to quit as co-CEO
Netflix's co-founder Reed Hastings would quit as the co-CEO of the company and hand over the baton to Greg Peters. Hastings would meanwhile transition to the role of executive chairman. Peters was the company's COO and would now join Ted Sarandos as the co-CEO.
The team has been working together for 15 years and analysts expect the transition to be seamless.
Morgan Stanley analyst Benjamin Swinburne said in a client note, "The executive team has worked together for 15 years and Netflix's strategy continues as is, we believe." He added, "The company's focus, in our view, has always been an underappreciated differentiator and we expect that focus to remain under new leadership."
JPMorgan expects Hastings to be closely involved in key decisions
JPMorgan's Doug Anmuth said that despite the transition, he expects Hastings to be closely involved in key product and strategy decisions.
Needham's Laura Martin believes that the transition is positive for the company. The brokerage is otherwise bearish on NFLX said and it does not believe that the ad-supported tier would be the kind of game-changer for the company as many analysts seem to believe.
Evercore ISI's Mark Mahaney meanwhile cautioned that the leadership change introduces "some execution risk for a company that is in the middle of a major product pivot."
Netflix is betting on the ad-supported tier
Netflix has made two key strategic decisions over the last year. Firstly, it launched the ad-supported tier which is priced at $6.99 in the US. Secondly, it is now cracking down on password sharing and instead allowing users to do paid sharing.
The company expects the ad-supported tier to drive its subscriber numbers in the long term. It said that the initial results are encouraging and the engagement on the tier is similar to the higher tiers.
Netflix added, "We aren't seeing as expected much switching from high arm subscription plans like premium into our ads plan. So, the unit economy remains very good as we modeled. So, these are all really good initial sort of progress points."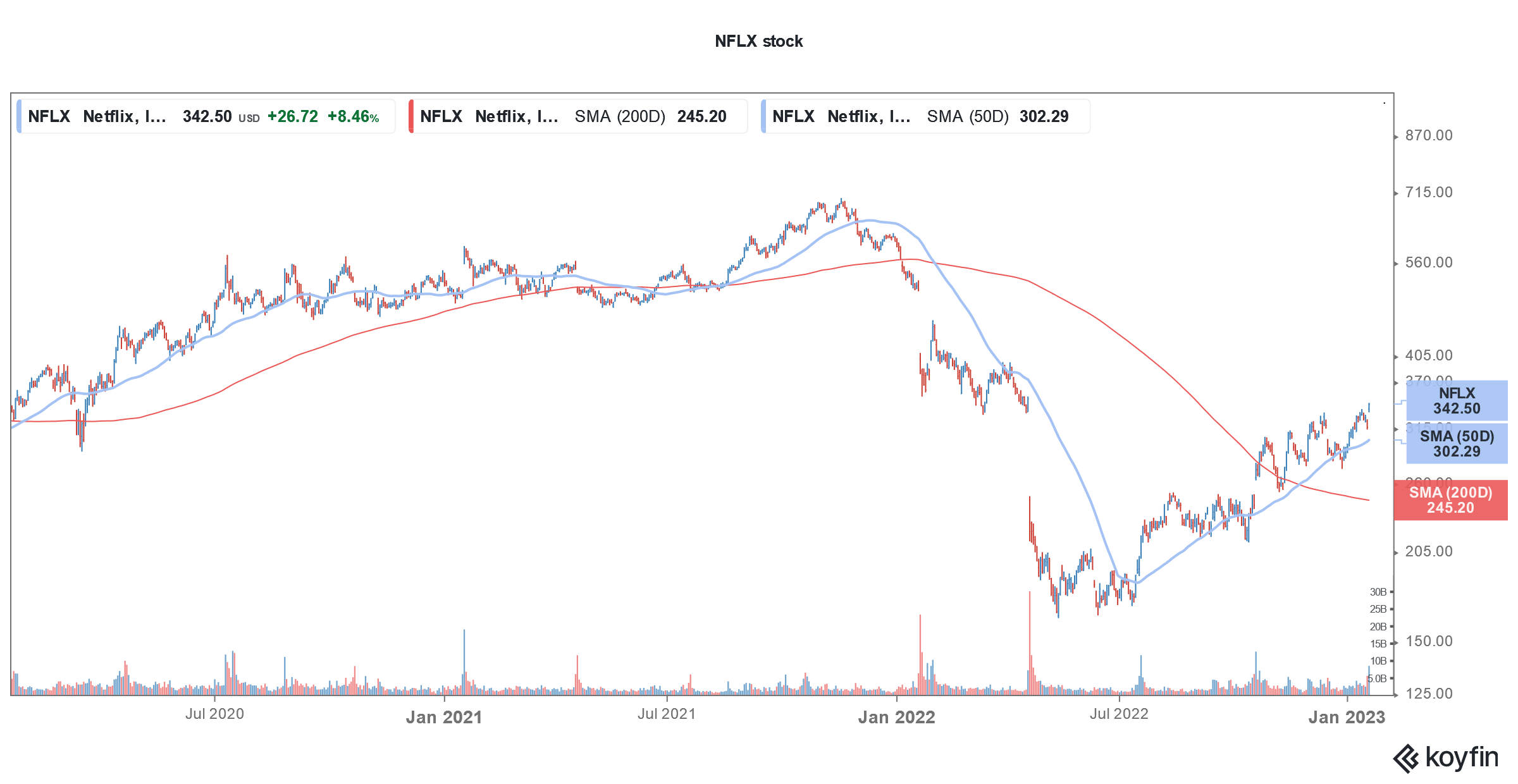 The company would also roll out the paid sharing option to other geographies after initially testing it in select countries. It however cautioned, "We'll see a bit of a cancel reaction to that. We think of this as similar to what we see when we raise prices. So, we get some increased churn associated with that for a period of time."
Analysts on Netflix Q4 earnings
During the earnings call, Netflix said that in the long term, its objective is to grow revenues in double digits along with expanding the operating margins and increasing cash flows. Needham is meanwhile not too optimistic that the company can deliver on these goals.
Martin said that NFLX would need to raise prices by 6-8% annually in order to deliver double-digit revenue growth. She pointed out that the growth in subscriber adds has been decelerating.
Notably, Netflix lost subscribers in the first half of 2022 largely on account of its exit from Russia. Its subscriber growth has come down significantly and even for the first quarter of 2023 it forecast modest growth in subscribers,
Incidentally, the company has now stopped providing guidance for quarterly subscriber numbers and instead said that revenues would be its key topline metric.
Needham finds NFLX stock overvalued
Laura also finds NFLX's valuation as high and said, "In our view, a 33x P/E is too high a multiple for a business where growth depends predominantly on price increases." She added, "We prefer business models where both users and pricing are growing."
Wells Fargo's Steven Cahall meanwhile believes that Netflix can deliver double-digit revenue growth in the long term but sees tepid revenue growth in the first half of 2023.
After NFLX's earnings, JPMorgan maintained its overweight rating on the stock and believes that the paid sharing and ad-supported tier would drive growth for the streaming giant.
Meanwhile, markets gave a thumbs up to Netflix's Q4 earnings and the stock jumped over 8% on Friday. It is now up 16% for the year and continues to recoup its 2022 losses. Markets would now eye the earnings of other FAANG companies which are scheduled for the next week.
This week, we'll get earnings from Tesla and Microsoft. The latter recently announced mass layoffs amid the slowing economy and joined the long list of tech companies that have laid off workers.