Can Disney Win Streaming War with Its Ad-Supported Tier?
Please note that we are not authorised to provide any investment advice. The content on this page is for information purposes only.
The streaming war has been heating up and in its most recent fiscal quarter, Disney (NYSE: DIS) reported 222 million global subscribers which was slightly ahead of Netflix. Earlier this year, Amazon also said that its streaming subscriber base has surpassed 200 million.
Multiple other legacy media companies have also launched streaming services. While many of these are getting good traction, others have met limited success. CNN, for instance, had to shut down its CNN+ streaming service within months of launch.
Streaming industry
The streaming business has become quite competitive even as the overall industry is growing, especially in emerging markets. Meanwhile, the larger players are now staring at near saturation in key developed markets. Netflix admitted saturation and competitive pressures earlier this year after last many quarters of denials.
Even Disney lowered its fiscal year 2024 streaming subscriber forecast to 215-245 million which was 15 million lower than the 230-260 million that it had predicted in 2020. The lower forecast is partially because of the loss of a cricket streaming event in India, which is among the fastest-growing market for Disney.
It also reflects the growing competition in the streaming industry. Disney looks set to increase its lead over Netflix, which forecasted only 1 million net subscribers add for the third quarter.
Disney has grown its streaming business
DIS launched Disney+ only in the back half of 2019. The growth has been impressive and it had 152.1 million Disney+ subscribers at the end of its fiscal third quarter of 2022. The company added 14.4 million Disney+ subscribers in the July quarter which was better than expected.
The company also announced an ad-free tier which would be priced at $7.99 per month in the US. Also, the pricing for its ad-free tier would go up from $7.99 to $10.99. Higher prices would help Disney improve its margins. Notably, while the streaming business is posting losses, the company expects it to become profitable in the fiscal year 2024.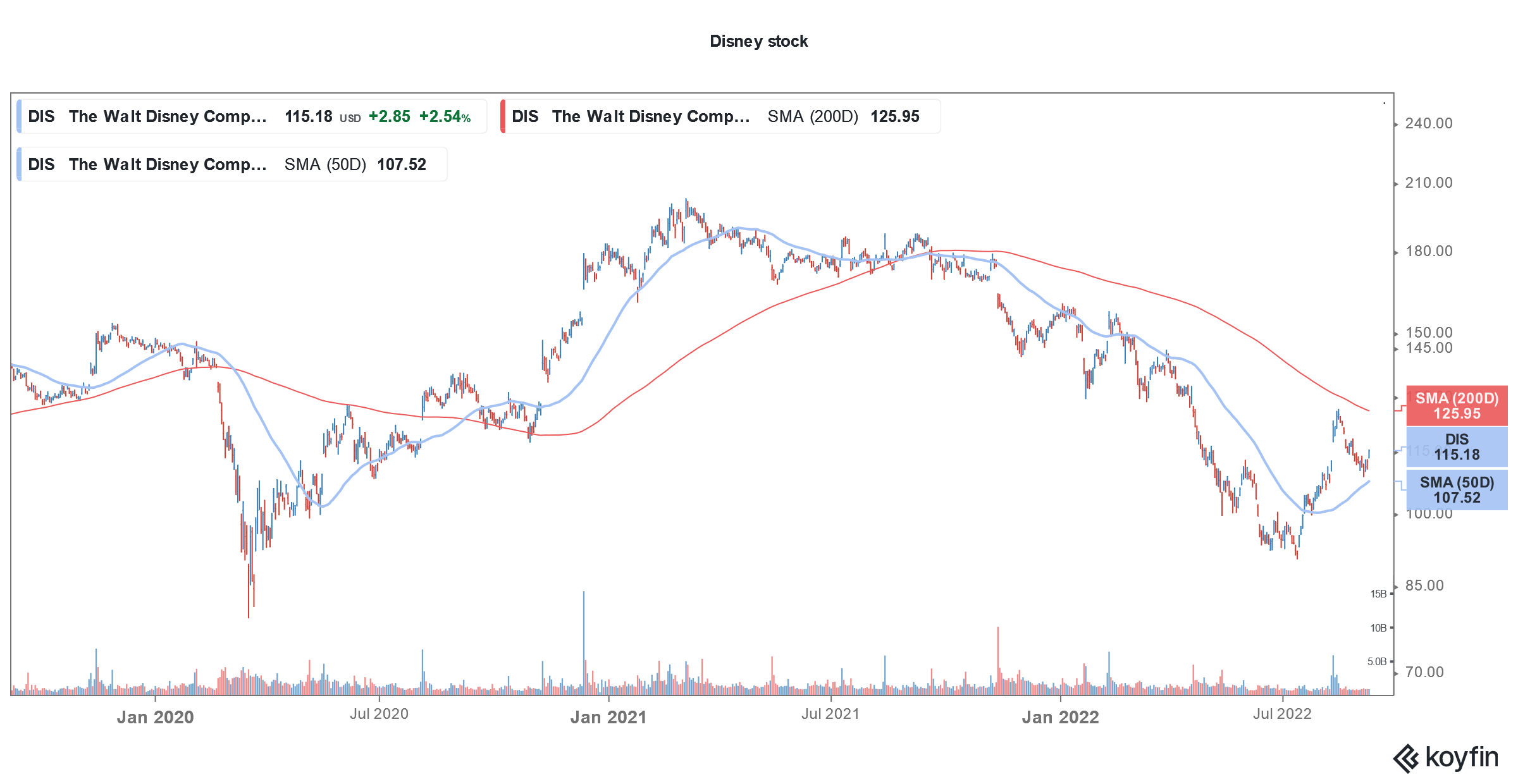 Streaming companies look at ad-supported tiers
For years, Netflix has argued against ads on its platform. However, even it had to reconsider its opposition to ads and announced an ad-supported tier. The service would reportedly be priced between $7-$9 which would make it quite competitive against Disney's ad-supported tier.
Meanwhile, some brokerages like Needham don't believe that Netflix can win the streaming war even with the ad-supported tier. Netflix has particularly been struggling in emerging markets like India despite lowering prices.
Analysts on Disney stock
After Disney's fiscal third-quarter earnings, several analysts issued bullish notes on the stock. Morgan Stanley reiterated the stock as overweight. It expects the company's Parks segment to drive its earnings and cash flows and termed the content assets as "undervalued."
Notably, while the attendance at Disney's Parks is still below the pre-pandemic levels, it posted record revenues and operating profits in the fiscal third quarter of 2022. Disney has increased prices for many services at the Parks which has helped it improve margins. It expects the margins to improve further once international travel picks up. International travelers tend to spend more money at Disney Parks as compared to the domestic audience.
Citi also raised Disney's target price from $145 to $160 after the earnings release. It said, "Disney reported F2Q22 revenue and segment EBIT ahead of consensus. In addition, Disney+ subscribers came in above consensus. Along with the print, Disney announced several price increases across its domestic DTC services and pointed to a December 8th launch date for its US ad-supported Disney+ tier."
Disney is Looking at a membership service
The Wall Street Journal reported that Disney is contemplating a membership service which the company executives internally refer to the service as Disney Prime.
Kristina Schake, senior executive vice president and chief communications officer at Disney confirmed that the company is exploring a membership service. She added, "Technology is giving us new ways to customize and personalize the consumer experience so that we are delivering entertainment, experiences and products that are most relevant to each of our guests."
Amazon Prime
Disney might offer discounts at Parks and merchandise as part of the membership. The company is also reportedly considering third-party partnerships to make the membership attractive.
Amazon also partnered with GrubHub to offer one-year free membership for Prime users. Prime is a key part of Amazon's ecosystem. Apart from bringing in billions of dollars in subscription revenues, it helps in increasing customer stickiness on the e-commerce platform.
By offering a membership service on the lines of Amazon Prime, Disney can also make the streaming service more valuable for subscribers. Even Netflix added gaming to its streaming platform to revive its sagging growth.
Meanwhile, the streaming war is now getting heated up. It won't be a cakewalk for Disney as it competes not only with established streaming companies like Netflix and Amazon, but also legacy media companies who are now expanding in streaming.