Netflix Stock Price Forecast July 2021 – Time to Buy NFLX?
Please note that we are not authorised to provide any investment advice. The content on this page is for information purposes only.
Netflix stock (NFLX) stock gained 1.3% yesterday and was trading higher in premarket trading today on reports that the company is planning a foray into video games.
Netflix stock is up only about 5% in 2021 and is the worst-performing FAANG stock of the year. It is currently down 7.7% from its 52-week highs even as the tech-heavy Nasdaq Index is near record highs. What's the forecast for NFLX stock and will it go back up?
Netflix stock technical analysis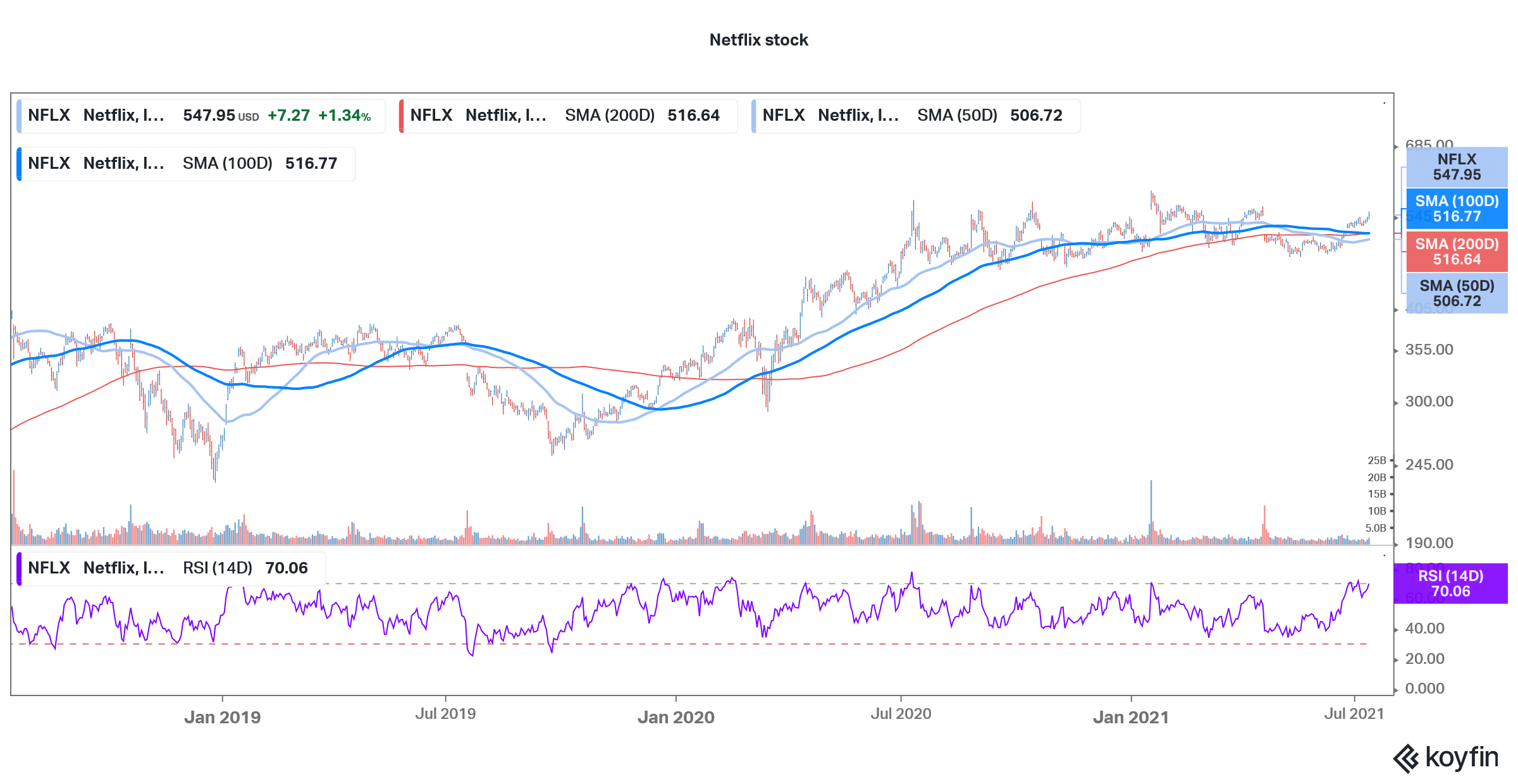 Netflix is looking bullish on the charts. It has crossed above the 10-day, 30-day, 50-day, 100-day, and 200-day SMAs (simple moving average). The stock was facing a strong resistance near the 200-day SMA but has now convincingly crossed above the level. The 12,26 MACD (moving average convergence divergence) also gives a buy indicator. However, NFLX stock has entered the overbought territory with a 14-day RSI (relative strength index) of 70.06. RSI values above 70 signal overbought levels while values below 30 signal oversold positions.
67% of all retail investor accounts lose money when trading CFDs with this provider.
NFLX stock latest news
Netflix has hired Mike Verdu who has previously worked with companies like Electronic Arts and Facebook. Verdu will join as the vice president of game development and report to Chief Operating Officer Greg Peters. The company reportedly wants to offer video games on its platform. NFLX might not charge extra for the service to begin with.
The move makes sense for Netflix given the increasing competition in its core streaming industry. Companies like Disney are making big strides in the streaming industry and the collections of its recent title "Black Widow" on the streaming platform look encouraging. Disney stock had risen while stocks of cinema chains like AMC Entertainment tumbled after it reported the collections.
Looking at Netflix, the news of it getting aggressive on the video game industry triggered a sell-off in GameStop. The stock has been a Reddit favorite and is up sharply in 2021 even as most analysts are bearish on the gaming retailor.
NFLX gets into video games
Netflix charges a higher fee than streaming peers like Disney and Amazon Prime and would need to raise its game to fend off the competition. It had 207.68 million global paying subscribers at the end of March. The company is set to release its second-quarter earnings next week and would provide more updates on its video gaming foray.
Bloomberg Intelligence analyst Geetha Ranganathan sees Netflix getting into video games as a wise move. "This is a natural extension of its Netflix's content strategy, allowing it to mine intellectual property from popular shows like 'Stranger Things.' Though it may not generate much additional revenue, it will help deepen engagement and increase the service's appeal and pricing power. Don't expect this to be a turning point, but it shows that the company will explore new formats to increase time spent on the platform," she said in her note.
Netflix stock forecast
Meanwhile, Wall Street analysts are bullish on Netflix stock and its median target price of $618.50 implies an upside of 12.8 % over current prices. Its lowest target price is $342 which is a discount of over 37% while the highest target price of $1,154 is a premium of 110.5% over current prices.
Of the 44 analysts polled by CNN Business, 34 rate NFLX stock as a buy while six rates it as a hold. Four analysts have a sell or equivalent rating on the stock.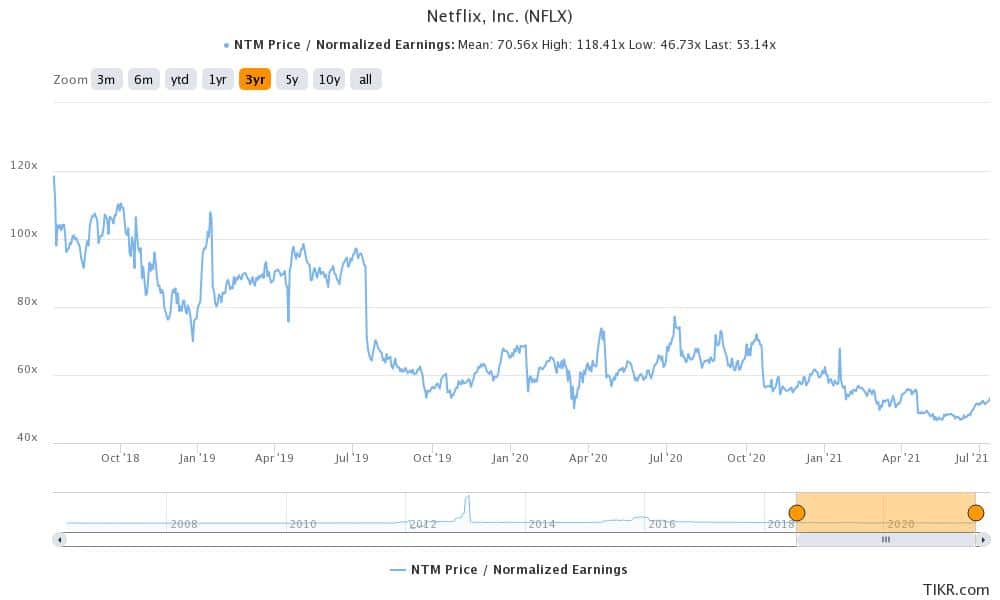 NFLX stock analyst ratings
Last month, Edward Jones initiated coverage on NFLX stock with a hold rating while Credit Suisse upgraded the stock from neutral to outperform and assigned a target price of $586.  Wells Fargo also reiterated its overweight rating and $700 target price on the stock.
"We see NFLX transitioning from Growth to GARP as the stock sheds its net add past and reemerges as an earnings growth company. We think bottom-line performance is becoming steady enough that the company could even provide longer-term EPS growth guidance," said Wells Fargo in its release.
Notably, the subscriber growth numbers for Netflix have come down from the highs that we saw in the first half of 2020. However, the company now expects to become cash flow neutral in 2021 and then post sustainable positive free cash flows thereafter.
Jefferies is bullish on Netflix stock
Jeffries also reiterated its buy rating and assigned a target price of $620 last month. "Aside from what the company is currently doing (choose your own adventure shows + licensing for casual mobile games), we take a brief look at the three strategies we believe any media company should think about. While we'd like to see Netflix use their cash flows in building a video game streaming division, we believe the company will remain focused on its core competency," said the brokerage in its release.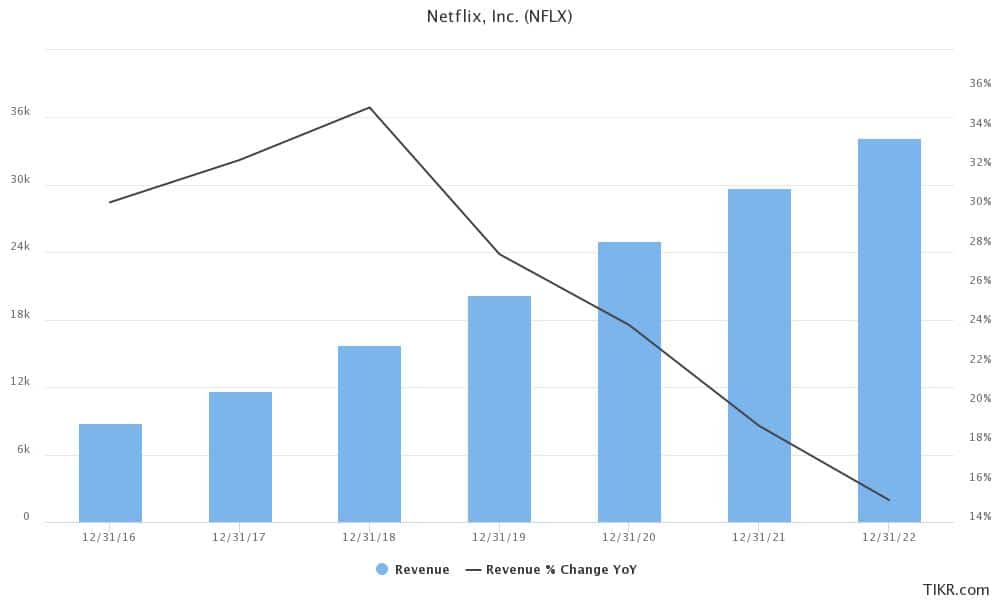 NFLX stock looks attractive
NFLX stock trades at an NTM (next-12 months) PE multiple of 53.1x which is way below the historical average. The fall in multiples is understandable as the growth rates are also coming down and Netflix becomes a mature company. The company's topline growth was 27.6% in 2019 which fell to 24% last year. Analysts expect the revenue growth to further fall to 18.9% in 2021 and 15.1% in 2022.
However, the company's earnings growth should surpass the revenue growth as the previous investments now start paying off. New verticals like video gaming will help increase the platform's stickiness and could be a revenue opportunity in the future.
While there is a threat from other streaming companies, Netflix stock now looks like a good buy. It has underperformed FAANG peers in 2021 but should bounce back in the second half of 2021.
67% of all retail investor accounts lose money when trading CFDs with this provider.