AMC Stock Price Forecast June 2021 – Time to Buy AMC Shares?
Please note that we are not authorised to provide any investment advice. The content on this page is for information purposes only.
US-based cinema chain AMC Entertainment (NYSC:AMC) is one of the largest chains operating in the country, headquartered in Leadwood, Kansas. It conducts operations in both US as well as international markets. The company's main source of exhibition revenues is from box office admissions, beverage sales, and theatre food. It is listed on the NYSE and is a constituent of the Russell 2000 Index.
AMC Entertainment – Fundamentals and Technical Analysis
According to AMC Entertainment's financial statement, the company has a market capitalization of $24.788 Billion with a dividend per share of 0.0300. The company's total revenue for last year was $41.086B. By 11th June, AMC's stock had skyrocketed to almost 36 times their worth.  According to annual income figures, AMC lost -369.37% this year as it earned a total of $1.24B. This is a drastic decline from $5.47 Billion the previous year.


When it comes to technical analysis, Some of the most used oscillators such as MACD level(10.41)m Relative Strength Index( 65.31), Stochastic(57.98), and Momentum(22.88), all point towards a neutral action. Moving Averages such as EMA(10)(44.28) and SMA(10)(47.16) point towards a strong buying sentiment.  AMC stock closed on USD 49.40 for the day with an uptrend of +15.39%.
Want to buy shares of some of the biggest companies in the world? Try eToro- one of the best CFD providers.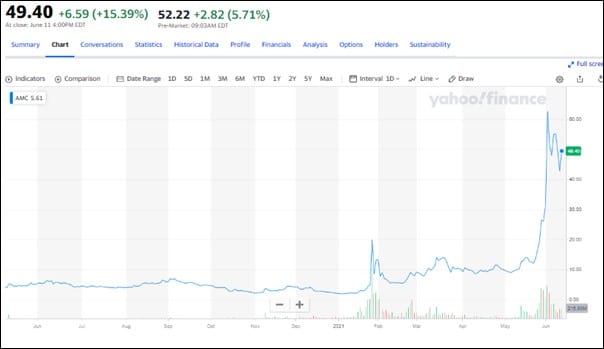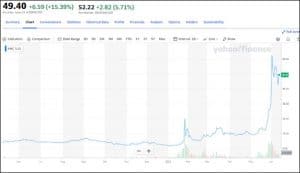 Investors continue to support AMC shares even if they increase in value amidst ongoing talks of share sales. AMC wants approval from its shareholders to issue 25 million shares in the year 2022.  Existing shareholders do not prefer share sales or share issues as they are generally dilutive in nature.  Two share sales ignited the stock to swing high last week,  which is unusual since financial markets normally sell off after the announcement of dilutive policies. Existing shareholders do not prefer share sales or share issues
Recent developments
AMC Entertainment Holdings, Inc. has recently unveiled an all-new communication initiative called AMC investor Connect in a bid to engage directly with its retail shareholder base. Shareholders will receive exclusive promotions including discounted items, free offerings and invites to special screenings.
Why investors should look to buy AMC Stock UK

AMC Shares have become quite a popular social media site, Reddit. Prices went up mainly due to some members promoting the stock. This move happened when the rest of the investor community was betting against the shares by selling short. As a result, the short squeeze also contributed to the rise in value.
While it's difficult to just sit idle and watch shares of a company grow exponentially, the best thing for investors to do in this case is to avoid the shares due to AMC's uncertain prospects.
Looking to invest in AMC? Sign up with eToro!
75% of all retail investor accounts lose money when trading CFDs with this provider.