GameStop Share Price Forecast July 2021 – Time to Buy GME?
Please note that we are not authorised to provide any investment advice. The content on this page is for information purposes only.
GameStop Corporation (NYSE: GME) is in the news lately after it announced the continuation of its North American expansion through its lease of a 530,000 square foot facility in Reno, Nevada. As the company's statistics have become more believable recently, many investors are wondering whether this is the right time to pick up GME shares.
GameStop Corporation – Technical Analysis
According to the financial statement released by GameStop Corporation, its market cap is $14.331 billion with total assets worth $2.563 billion. Revenue for 2020 was at $5.09 billion with a profit margin of -4.23%. GME shares closed on July 6th at $199.56 with a downtrend of -1.61%.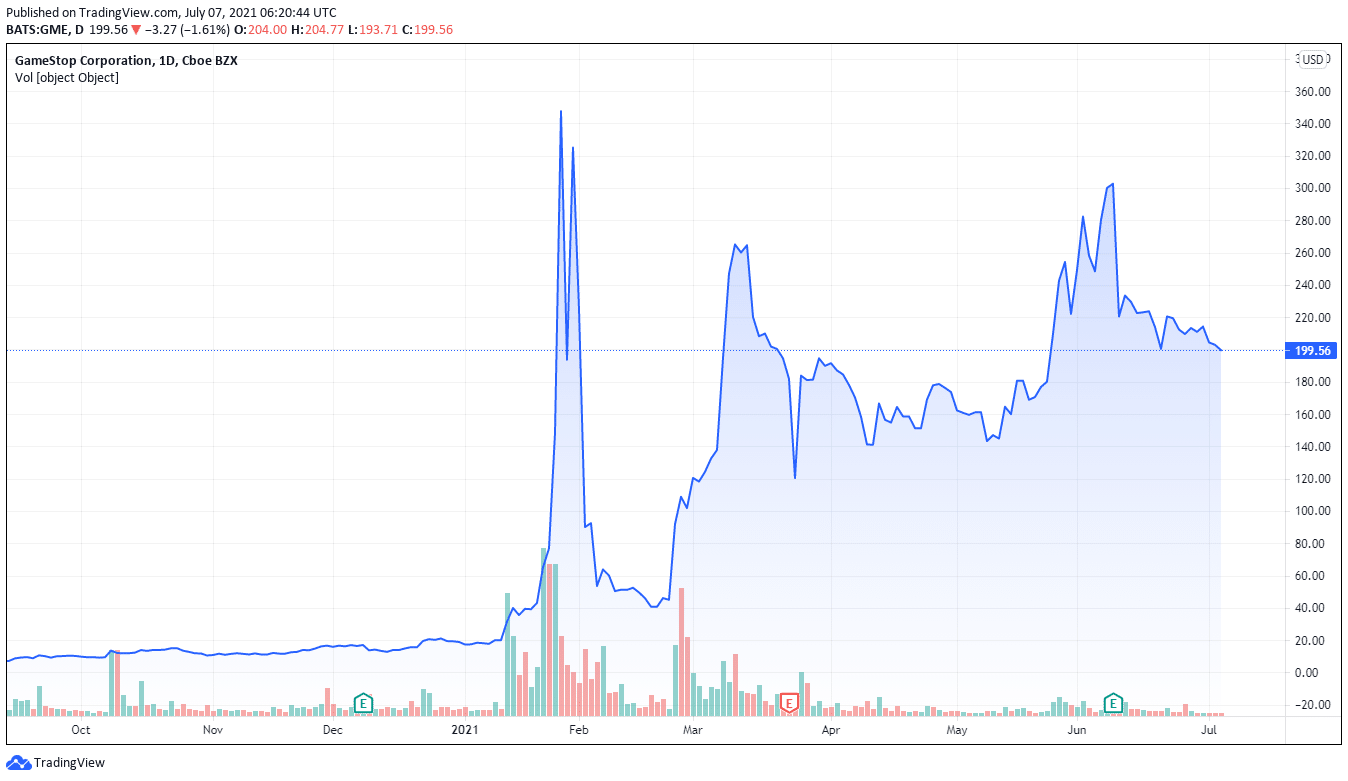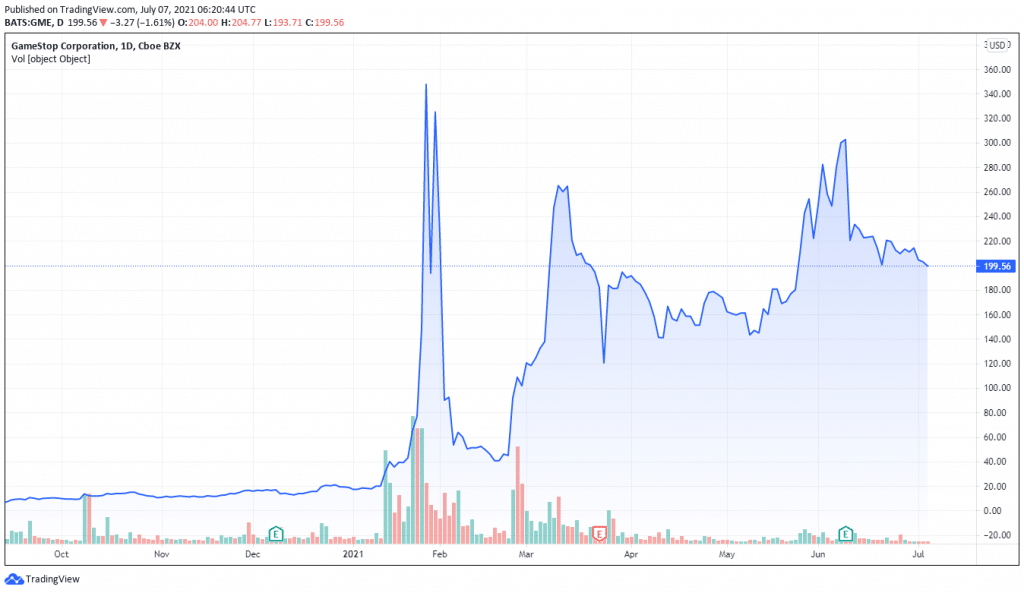 Moving over to the technical side, oscillators for GameStop Corporation such as Relative Strength Index (14)(44.02), Commodity Channel Index (20)(−94.85), Bull Bear Power(−26.28) and Ultimate Oscillator (7, 14, 28)(46.96) are pointing towards neutral. The company's shares are trading below the 8-day and 21-day exponential moving averages. The 8-day EMA is trending below the 21-day EMA, both of which are bearish indicators for traders in the short term. The shares are also trading below the 200-day simple moving average which is also an indication of bearish sentiment in the market.
67% of all retail investor accounts lose money when trading CFDs with this provider.
Recent Developments
GME shares were down 3.5% on Tuesday morning, after which they attempted to hold the median line of a bullish falling channel that it has been a part of since June 11th. The shares were also held at a $195 support area, coinciding with Friday's low of the day. GME has also experienced fairly low volume recently, making its daily movements less volatile. Since June 11th, Its RSI has also levelled out and remained around the 50% mark.
Should You Buy GME Shares?
GME shares can easily regain their earlier levels if bullish volume were to enter them.  The shares are within 13% of all commonly followed moving averages and it's not uncommon for it to move over 20% intraday.  It also has a gap between $288 and $296 which has a 90% chance of filling up. It's more than likely that the shares will trade back at the level in the future in order to fill the gap.
GME has grabbed the headlines throughout spring as the shares jumped to nearly $500 from $17, back down to $40 and then subsequently moved up to over $300. GameStop has thus become one of the most infamous stocks in the Wall Street investor community and will be forever linked to short selling and the meme stock craze. Given the current circumstances, investors can add GME to their portfolio for the time being.
Buy Shares at eToro, the World's #1 trading platform!