Disney Stock Price Moves 2.8% – Time to Buy Disney Stock?
Please note that we are not authorised to provide any investment advice. The content on this page is for information purposes only.
The price of Disney (DIS) stock dropped 2.8% this week amid the overall market choppiness that followed Wednesday's meeting of the Federal Reserve Open Market Committee (FOMC) while the appearance of the so-called Delta variant of the COVID-19 virus in multiple corners of the world instilled some fear about potential repercussions to virus-sensitive sectors including travel and leisure.
This downtick in Disney shares has coincided with the rejection of a long-dated trend line for DIS – a situation that reinforces a bearish outlook for the shares.
Could this Delta variant result in delays in the reopening? Is this possibility already priced in?
The following article takes a closer look at the current technical setup of DIS while analyzing the firm's fundamentals to see if this could be an opportunity to buy shares of the entertainment giant or if there might be an opening for short selling the stock to make a quick buck.
67% of all retail investor accounts lose money when trading CFDs with this provider.
Disney stock – fundamental analysis
Disney had been displaying consistent revenue growth up until 2019, with sales surging at a compounded annual growth rate (CAGR) of 9% from 2011 until then. Moreover, sales jumped at their highest annual rate in 2019, with the firm's top-line advancing as much as 17% before the pandemic stroked.
Meanwhile, Disney sales came down 6% at $50.55 billion last year amid the closure of the firm's theme parks and travel and leisure operations, while production timelines suffered postponements due to virus-related risks.
For this year, analysts are expecting to see sales landing at $67.76 billion, which results in a 34% jump compared to last year and a 20% advance compared to 2019, possibly as analysts are expecting a higher contribution of Disney+ to the firm's overall top-line results.
Some of the latest negative momentum seen by the stock can also be attributed to Disney failing to meet analysts' revenue forecasts for the period, as sales landed at $15.6 billion or 2% lower than the consensus estimate of $15.9 billion.
Profit margins may suffer this year amid the higher contribution of lower-margin revenue streams to the firm's top-line while Disney's net margin could land at around 13% to 16%, resulting in approximately $8.80 and $10.8 billion in net profits for the company.
According to the latest report from DIS, long-term debt currently stands at $53 billion while the firm had a $11.5 billion in cash by the end of the second quarter of the firm's 2021 fiscal year, resulting in a net debt of $41.5 billion or 3.5 times the company's 2019 EBITDA.
Based on a market capitalization of $323 billion, the company is being valued at approximately 32 times its forecasted earnings for 2021, which results in a price-to-earnings-to-growth ratio of around 1.5.
This valuation is not necessarily lofty if one considers that Disney has multiple fronts through which it can deliver growth for shareholders in the following years including its Marvel franchise and subscription revenues from Disney+.
So far this year, the stock is down 4.8% despite the ongoing sector rotation seen in the market toward virus-battered stocks. Meanwhile, DIS reported a 25.3% jump last year as the stock price recovered dramatically in November following the release of positive news on the COVID vaccine front.
Disney stock – technical analysis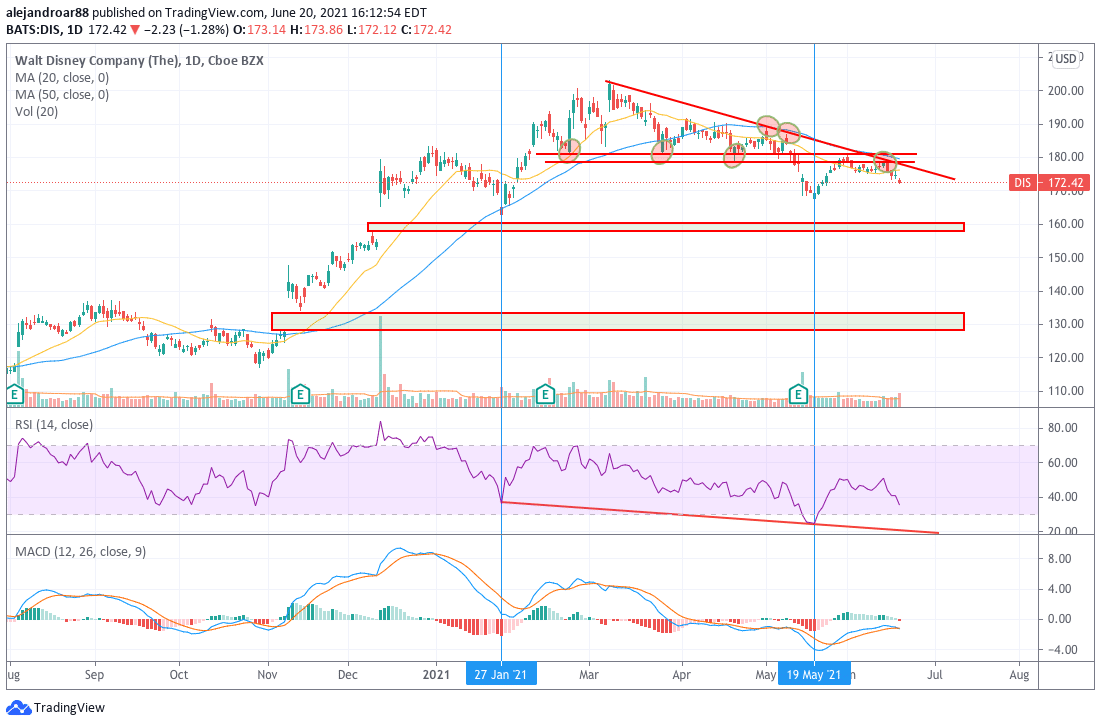 The recent slide in Disney shares might be signaling an even sharper upcoming downturn as a result of the rejection of an area of confluence between a long-dated trend line and a key support level at $178.5 per share, which means that the stock could continue to drop in the following weeks – possibly eyeing the $167 level as the first landing zone if the price continues to head down.
This view is reinforced by an interesting bearish divergence in the Relative Strength Index (RSI), as the oscillator posted a lower low despite the price posting a higher low. A similar situation is seen in the MACD while the momentum indicator has just sent a sell signal. Interestingly, trading volumes on Friday were almost 2 times the average.
The outlook for Disney shares in the near-term is bearish amid weakness in the price action that could result in the continuation of the stock's latest downtrend. That said, this could be an opportunity to buy a high-quality stock at a relatively decent valuation.
67% of all retail investor accounts lose money when trading CFDs with this provider.