Disney Stock Down 6% in March – Time to Buy DIS Stock?
Please note that we are not authorised to provide any investment advice. The content on this page is for information purposes only.
The price of Disney stock has declined nearly 6% so far this month following news that the company will introduce an ad-supported subscription alternative for its popular streaming service Disney+.
Last Friday, Disney announced that in late 2022 users within the United States will be able to subscribe for this type of account while the company plans to expand the offering internationally in 2023.
Disney stated that advertisers have constantly approached the company to participate in the platform to take advantage of its large audience. The management decided that this is the right move as part of its effort to achieve an ambitious goal of building a user base of up to 260 million viewers worldwide by the end of the 2024 fiscal year.
More details about this subscription and the official launch date will be announced later, the statement said.
Right now, Disney (DIS) charges $7.99 a month or $79.99 per year for subscribing to the premium version of Disney+, which does not display any kind of ads.
Hulu – a TV and movie streaming service partially owned by Disney – is already offering an ad-supported alternative at a price that is nearly 50% cheaper than the premium tier.
Market participants reacted negatively to the news as shares declined 3.3% during last Friday's stock trading session.
What could be expected from this travel stock following this interesting announcement? In this article, I will be assessing the price action and fundamentals of Disney stock to outline plausible scenarios for the future.
67% of all retail investor accounts lose money when trading CFDs with this provider.
Disney Stock – Technical Analysis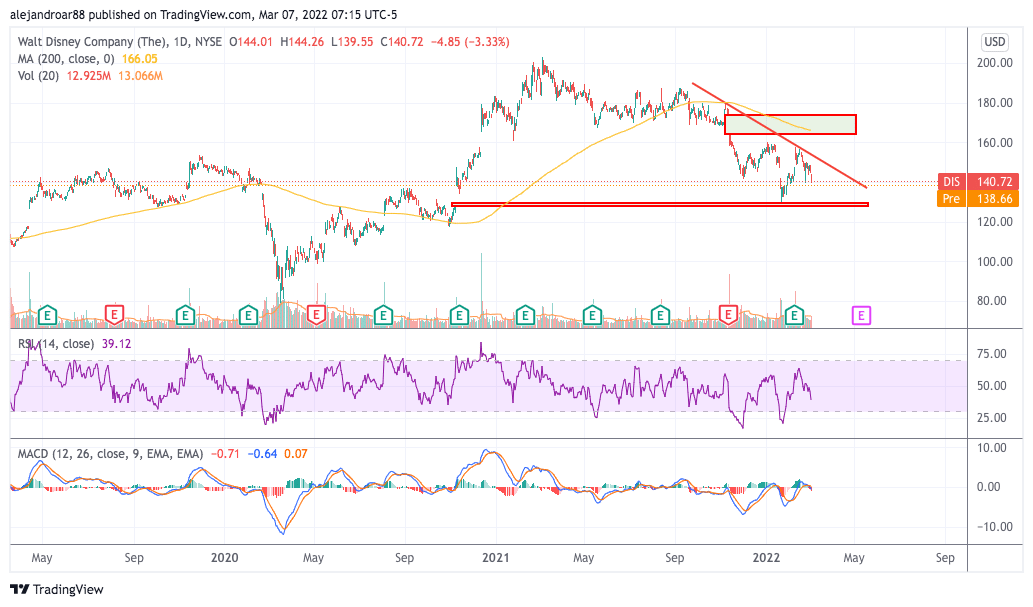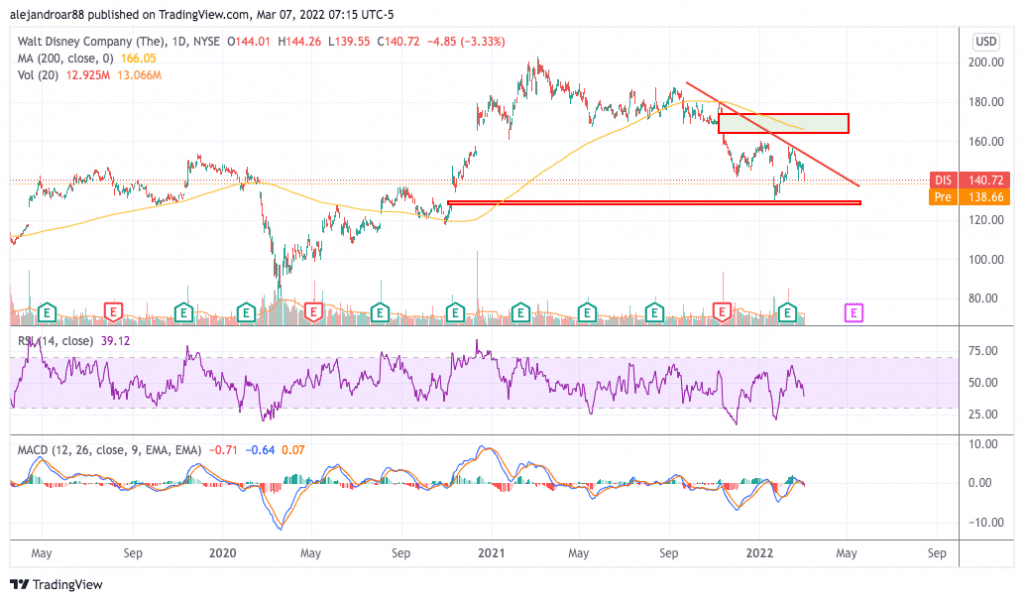 Disney stock accumulates a 9.2% loss so far in 2022 after it experienced a couple of sharp declines following the release of the company's latest earnings reports. Meanwhile, DIS is dropping 2% this morning in pre-market action at $138.2 per share.
Back in November when the company reported its financial results covering the fourth quarter of its 2021 fiscal year, shares of Disney plummeted more than 7% after missing analysts' estimates for both revenues and estimates by a long shot.
Meanwhile, the war between Russia and Ukraine has weighed on the valuation of Disney as well as market participants might fear that an escalation in the armed conflict could lead to disruptions in the firm's operations in Europe.
As the chart indicates, the price of Disney has posted a series of lower highs in the past few months while it recently rejected a move above the $160 level for the second time. This favors a bearish short-term outlook as this kind of move is typically referred to as a double top.
That said, momentum indicators at the moment are not necessarily bearish as the Relative Strength Index (RSI) made a higher high and the same goes for the MACD. This could be interpreted as a mild bearish divergence as the oscillators went up despite the price not climbing to a higher level.
However, unless the $160 threshold is broken in the next few weeks, the outlook for Disney stock continues to be bearish in the short term, especially if other countries get involved in the conflict between Russia and its neighbor.
Disney Stock – Fundamental Analysis
For market participants, the fact that Disney is relying on ad-supported subscriptions to reach its user base milestone might have been a bit disappointing.
For once, it could indicate that Disney+'s valuation proposition might be weaker than expected compared to Netflix (NFLX) as the latter has been able to grow its user base near Disney's target without introducing this kind of account.
Projections for Disney's sales and bottom-line profitability might be affected by this announcement and the extent to which the market adjusts its estimates for the company will reflect how much of the success of Disney+ was being priced into the stock.
The consensus 12-month price target for Disney currently stands at $191.4 per share with the highest estimate sitting at $229 and the lowest at $132 per share. If those targets are revised lower, chances are that DIS could experience further declines in the following weeks.
Meanwhile, the company is currently trading at 31.6 times its forecasted earnings for the 2022 fiscal year and 3 times its estimated sales for this same period.
Disney's earnings have been growing slowly in the past few years and this makes its current valuation multiples seem a bit stretched. Moreover, Disney's long-term debt is a bit elevated considering that total borrowings stand at $38.13 billion on total assets of $94.35 billion including $12.6 billion in cash and short-term investments and $24.6 billion in intangibles and goodwill.
At its current valuation, there seems to be room for further negative volatility down the road for Disney stock if macro conditions deteriorate worldwide in the form of higher interest rates or even if a large-scale armed conflict unfolds in Europe.
Buy DIS Stock at eToro with 0% Commission Now!