Wall Street Expects Amazon's Good Run to Continue After Q2 Beat
Please note that we are not authorised to provide any investment advice. The content on this page is for information purposes only.
Amazon stock rose over 10% on Friday as markets gave a thumbs up to its second-quarter earnings. Apple stock also rose on that day as it also posted better-than-expected earnings.
Among the FAANG stocks, only Meta Platforms saw a downwards price action following the second quarter earnings. Netflix stock rose on mixed earnings while Alphabet stock rose despite missing both topline and bottomline estimates.
Meanwhile, it was Amazon's earnings that stood out. It beat both topline and bottomline estimates, provided better than expected guidance, and the management commentary was the most bullish compared with FAANG peers as well as other tech companies.
To begin with, Amazon also faces the same headwinds as other Big Tech companies. Its growth is coming down, rising inflation is taking a toll on margins, and a stronger dollar is negatively impacting revenues. All these issues were visible in the company's Q2 earnings.
A stronger dollar was a headwind for Amazon
In the second quarter, the stronger US dollar was a 320-basis point hit on Amazon's revenues. The company's revenues increased 7.2% YoY and reached $121.2 billion. While it was the slowest growth rate for the company in decades it should be seen in perspective. Firstly, retail spending in the US has tapered down as was highlighted by Walmart recently. Secondly, the sales growth is coming from a high base.
Revenue guidance looked bullish
Amazon guided for revenues between $125-$130 billion in the third quarter while analysts were predicting them to be $126.4 billion.  During the earnings call it said, "Our growth rates going forward will no longer require this historical explanation. Q2 last year was also when vaccines have become more available, particularly in the United States, and we began to see more normal shopping patterns."
It added, "Prime Day also occurred in Q2 last year and contributed about 400 basis points to our Q2 2021 year-over-year revenue growth rate. This year's Prime Day sales event occurred on July 12 and 13 and is incorporated into our third-quarter guidance."
While Amazon posted a per-share loss of 20 cents in the quarter, it was due to the write-down of its Rivian investment. Ford also took a charge on its Rivian investment in the quarter amid the slump in Rivian stock. However, since Rivian stock has recovered, the two companies might book a gain in the current quarter.
Higher costs
During the Q1 2022 earnings call, Amazon talked about incremental costs of around $6 billion spread between higher inflation, overcapacity, and overstaffing. While inflation is something which is mostly beyond the company's control, it is working on addressing the other two. During the second quarter, these costs totalled $4 billion as compared to the corresponding period last year.
It said, "We made strides to improve fulfillment network productivity in Q2. Staffing levels were more in line with rising Q2 demand, and we saw better optimization of our fulfillment network. On the transportation side, we continue to improve delivery, route density, and improve package deliveries per hour. We are encouraged by the progress during the quarter and see opportunity to further improve in the second half of the year."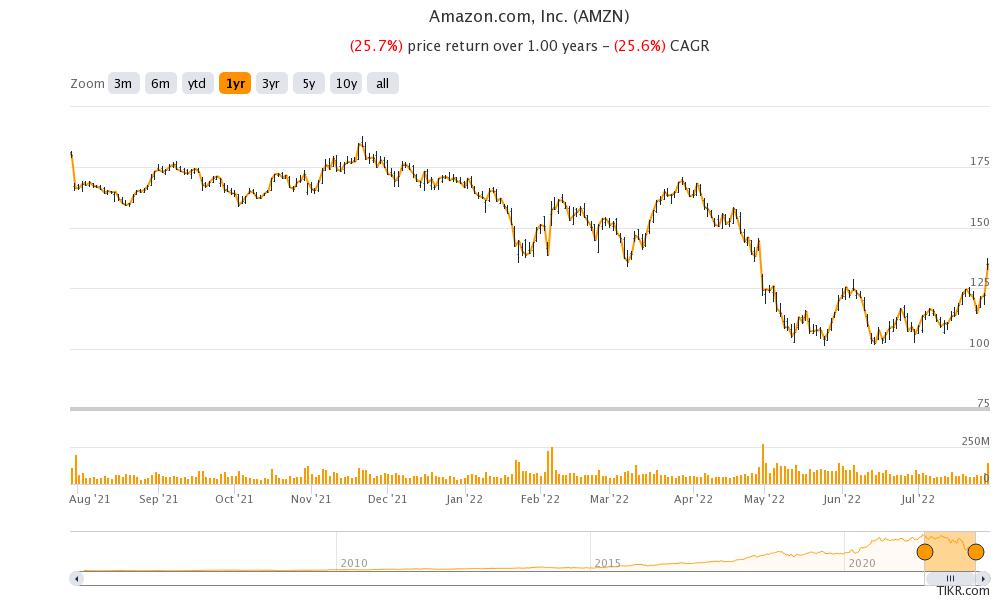 Wall Street analysts are bullish on Amazon after the earnings
Over the last three quarters, Wall Street analysts had lowered Amazon's target price after the earnings release. However, after the Q2 2022 earnings call, several analysts raised their target prices.  Bank of America maintained its buy rating on Amazon stock and increased the target price by $2 to $170. In its note, it said, "We see Amazon as one of the few acceleration stories in the Internet in 2022, with 9pts of ex-FX revenue growth acceleration suggested in 3Q guidance on easing comps and Prime subscriber purchasing strength."
Amazon Prime
Piper Sandler analyst Thomas Champion said, "We are buyers of Amazon here." He is bullish on the acceleration in the company's sales growth and the cost containment measures. Notably, as Amazon goes slow on hiring and capacity expansion, the overcapacity issues would gradually subside. Goldman Sachs also raised Amazon's target price from $170 to $175 pointing to the attractive risk-reward.
Amid rising inflation, Amazon has also raised Prime Subscription prices in North America as well as Europe. However, it continues to make the offering better through the addition of new titles and has recently offered a one-year free GrubHub subscription to US users. During the earnings call it said, "Prime members have meaningfully increased their spend since the start of the pandemic. Over that period, we've seen stronger usage of Prime benefits by Prime members and a greater reliance on Amazon for their shopping and entertainment."
Cloud is growing
Prime is a key driver of Amazon's success. Apart from adding to the subscription revenues, it also helps increase customer stickiness on the platform as Prime users shop more on the e-commerce platform considering the free deliveries. Amazon cloud is another key growth driver and a cash cow for the company. The cash-rich cloud operations help Amazon spend on growth in other businesses.