Microsoft Also Announces Mass Layoffs as Tech Giants Battle Slowdown
Please note that we are not authorised to provide any investment advice. The content on this page is for information purposes only.
Yesterday, Microsoft (NYSE: MSFT) announced mass layoffs and said that it would eliminate around 10,000 positions. It joins fellow tech companies which have announced mass layoffs over the last few months.
In a letter to employees, Microsoft CEO Satya Nadella said, "we will align our cost structure with our revenue and where we see customer demand." The company would lay off around 10,000 employees over the next quarter which would be around 5% of the global workforce.
Nadella who during the early days of the pandemic touted the increased pace of digitization said, the industry "is unforgiving to anyone who doesn't adapt to platform shifts."
Microsoft announces mass layoffs
Due to the restructuring, the company would take a charge of around $1.2 billion. Nadella meanwhile emphasized that while Microsoft would cut some roles it would continue hiring in other strategic areas.
He added, "we will continue to invest in strategic areas for our future, meaning we are allocating both our capital and talent to areas of secular growth and long-term competitiveness for the company, while divesting in other areas."
Nadella said, "Every one of us and every team across the company must raise the bar and perform better than the competition to deliver meaningful innovation that customers, communities, and countries can truly benefit from." He emphasized, "If we deliver on this, we will emerge stronger and thrive long into the future; it's as simple as that."
Tech companies overhired over the last two years
US tech companies overhired during the pandemic. Microsoft for instance added 40,000 people to its workforce in its fiscal year ending June 2022. Similarly, companies like Alphabet, Amazon, and Meta Platforms expanded their workforce.
The hiring had two aspects. Firstly, tech companies were witnessing strong growth and needed more people in their workforce. Secondly, amid the severe labor shortage and the "great resignation", many tech companies apparently hired extra employees.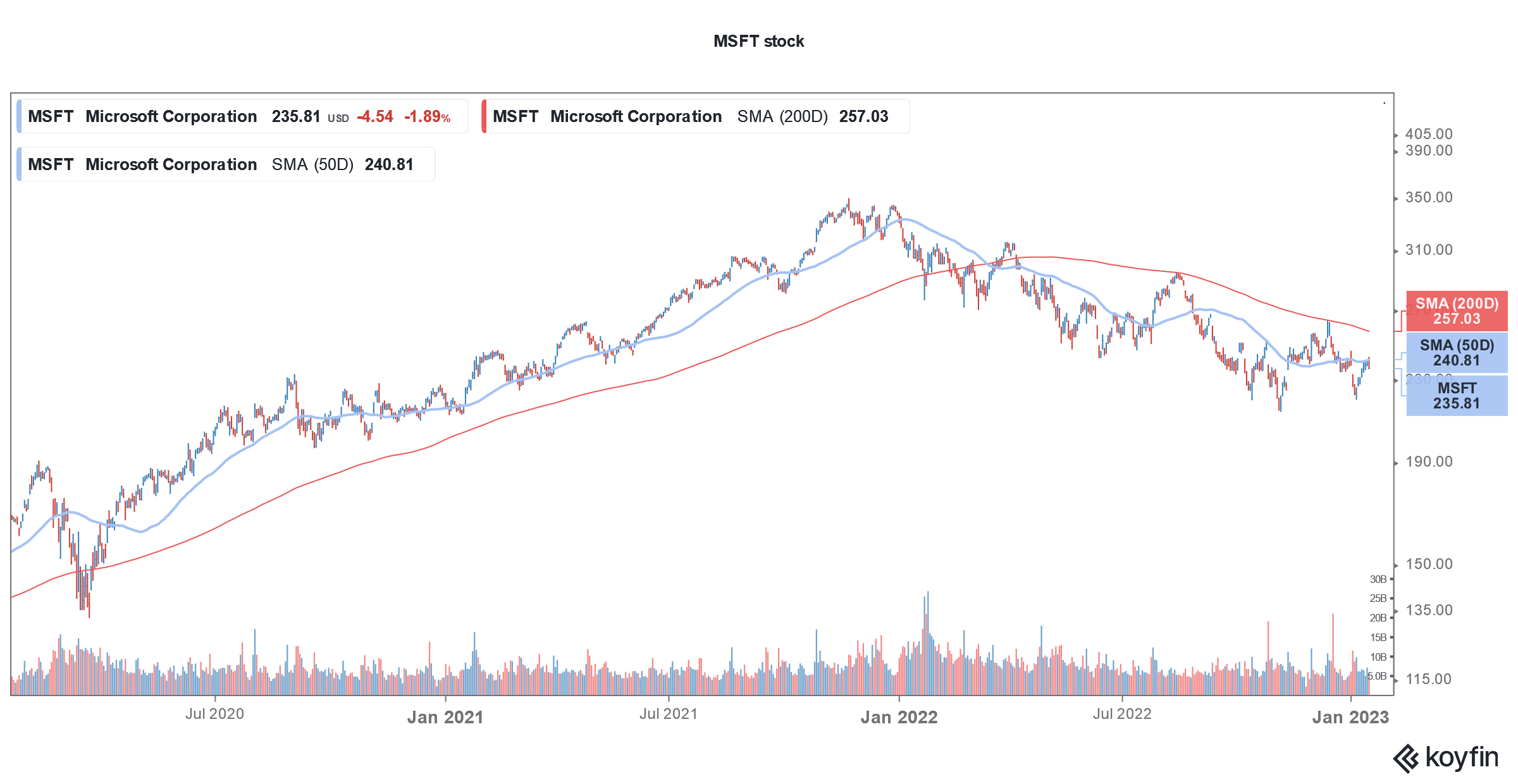 Tech layoffs have mounted
There has meanwhile been a flurry of layoffs in the tech industry with Microsoft's being the latest. Earlier this week only, Alphabet announced layoffs at some of its businesses. Alphabet has reportedly laid off employees at Intrinsic, its robotics unit. The company has also laid off around 240 employees at Verily, its life science subsidiary.
Notably, Alphabet led a $1 billion investment round in Verily last year. However, market conditions deteriorated in the last quarter of the year. Alphabet, which was the best-performing FAANG stock of 2021, fell 39% in 2022.
Amazon also announced layoffs
Earlier this month, Amazon also increased its layoffs to 18,000. Amazon's CEO Andy Jassy said that while the layoffs would be across multiple teams, PXT (People, Experience, and Technology) organization and Amazon stores would be the worst affected.
In his blog post, Jassy said, "Amazon has weathered uncertain and difficult economies in the past, and we will continue to do so. These changes will help us pursue our long-term opportunities with a stronger cost structure."
Salesforce, HP, and Seagate are the other major tech companies that have announced layoffs before Microsoft.
Last year, Meta Platforms also laid off 11,000 employees, which was 13% of its workforce. The company's CEO Mark Zuckerburg apologized for the mess and said that the company overhired in anticipation of high growth.
He added, "Unfortunately, this did not play out the way I expected. Not only has online commerce returned to prior trends, but the macroeconomic downturn, increased competition, and ads signal loss have caused our revenue to be much lower than I'd expected."
Microsoft Stock Fell Yesterday
Meanwhile, Microsoft stock fell yesterday despite announcing the layoffs. Some of the other companies like Meta Platforms and Amazon rose after announcing mass layoffs as markets saw it as a cost-cut exercise that would boost their earnings.
Speaking with Yahoo Finance, Wedbush analyst Dan Ives said, "It was a rip-the-Band-Aid-off moment from Nadella and Microsoft, and we're seeing it across tech." He added, "These companies were spending like 1980's rock stars at a pace that was unsustainable."
Ives has also been critical of Tesla's CEO Elon Musk whose Twitter antics have added to the sell-off in the stock. Tesla also last year laid off employees as Musk warned of a global recession. Tesla stock fell 65% last year and had its worst yearly performance. Musk too created the dubious record of losing $200 billion in net worth.
Ives terms Microsoft layoffs as "prudent."
Commenting on Microsoft's layoffs, Ives said, "I view it as a proactive, smart move that we're going to see across tech. Ultimately, I think as we go into earnings, this is going to be a positive that really preserves margins."
He also said that Microsoft would look at more M&As. The company announced the acquisition of Activision Blizzard but the deal is currently facing hurdles in several jurisdictions including the US.
Referring to Microsoft's partnership with ChatGPT, Ives said, "We've seen in terms of OpenAI and some other technology partners…Nadella is going to be aggressive and spend, and I think hire in areas where strategically that's where Microsoft is going to be for the coming years."
Apple is the only major tech company that has not announced mass layoffs
Meanwhile, Apple now remains the only major tech company that hasn't announced mass layoffs. Apple too is facing headwinds though and reports suggest that iPhone demand growth has been tepid.
Apple CEO Tim Cook requested the company for a 40% pay cut in 2023 which was granted. The move comes after a dismal 2022 where the iPhone maker lost around 28%.
Under Cook's leadership, Apple became the first company ever to hit a market cap of $1 trillion, $2 trillion, and $3 trillion. However, after the crash last year, it lost its position as a $3 trillion dollar company. AAPL's market cap fell below $2 trillion on the first trading day of 2023 but has since recovered.
Microsoft and Alphabet also fell out of the $2 trillion club amid the continued tech sell-off. We'll get more updates on Microsoft's growth outlook when the company releases its fiscal second quarter 2023 earnings on January 24.