Netflix Stock Down 28% Today – Time to Buy NFLX Stock?
Please note that we are not authorised to provide any investment advice. The content on this page is for information purposes only.
The price of Netflix stock is dropping nearly 28% in pre-market stock trading action this morning after the company published its financial results covering the first quarter of the 2022 fiscal year as net paid additions swung to negative territory while the firm hinted at upcoming changes in its business model.
During the three months ended on 31 March, the company generated total revenues of $7.87 billion resulting in a 9.8% jump compared to the same period a year ago primarily amid the positive performance of the subscriptions in the UCAN and LATAM regions. The consensus estimate from analysts stood at $7.94 billion for the period.
However, global streaming net paid additions during the period swung to negative territory for the first time in many years as the company lost 200,000 subscribers during the quarter. This subscriber's loss came as a shock to market participants, especially as the firm had anticipated that it would add around 2.5 million new users to its platform by the end of this period.
One of the reasons behind this negative development was the company's decision to stop offering its services in Russia in response to the country's hostile activities against Ukraine. The firm estimates that net paid additions declined by nearly 700,000 as a result of this measure.
Meanwhile, Netflix's operating margin for the period ended at 25.1% resulting in a 230 basis points drop compared to a year ago while fully diluted earnings per share landed at $3.53 resulting in a 5.9% year-on-year decline. The consensus estimate for the firm's earnings per share stood at $2.91 for Q1 2022.
"Our relatively high household penetration – when including the large number of households sharing accounts – combined with competition, is creating revenue growth headwinds", the company stated in regards to its current situation.
Netflix (NFLX) estimates that around 100 million additional households are enjoying its service via password-sharing compared to 222 million households that currently pay a subscription. Moving forward, the company aims to monetize these households by introducing an ad-supported plan that could be cheaper than the ad-free alternative.
According to the company's Chief Executive Officer, Reed Hastings, monetizing password-sharing was not a top priority in the past but the team is now "working super hard on it" as it has become one of the easiest ways to maintain top-line growth in the future.
In the next quarter, the company expects to grow its top-line results by 9.7% with revenues being expected to land at $8.05 billion while adjusted earnings per share on a fully diluted basis are expected to come in at $3. The firm is also expecting to lose another 2 million subscribers in the next quarter.
The fact that Netflix is starting to be concerned about future revenue growth could mean that its capacity to organically grow its user base has reached a temporary peak. This along with the firm's disappointing Q2 2022 guidance are possibly the reasons why Netflix stock is dropping today.
What could be expected from this video streaming stock following the release of its quarterly results? In this article, I'll be assessing the price action and fundamentals of Netflix stock to outline plausible scenarios for the future.
67% of all retail investor accounts lose money when trading CFDs with this provider.
Netflix Stock – Technical Analysis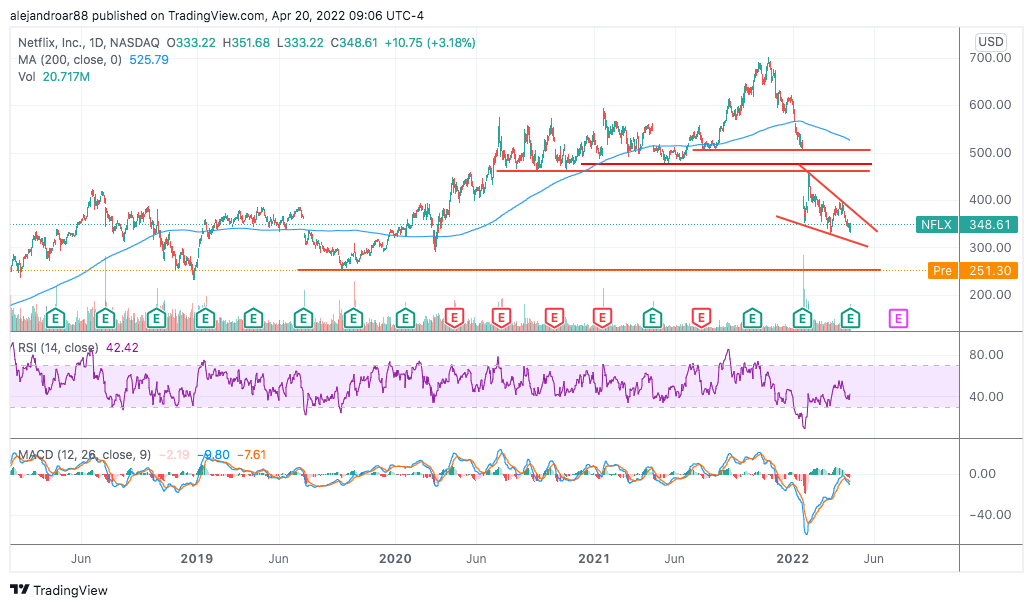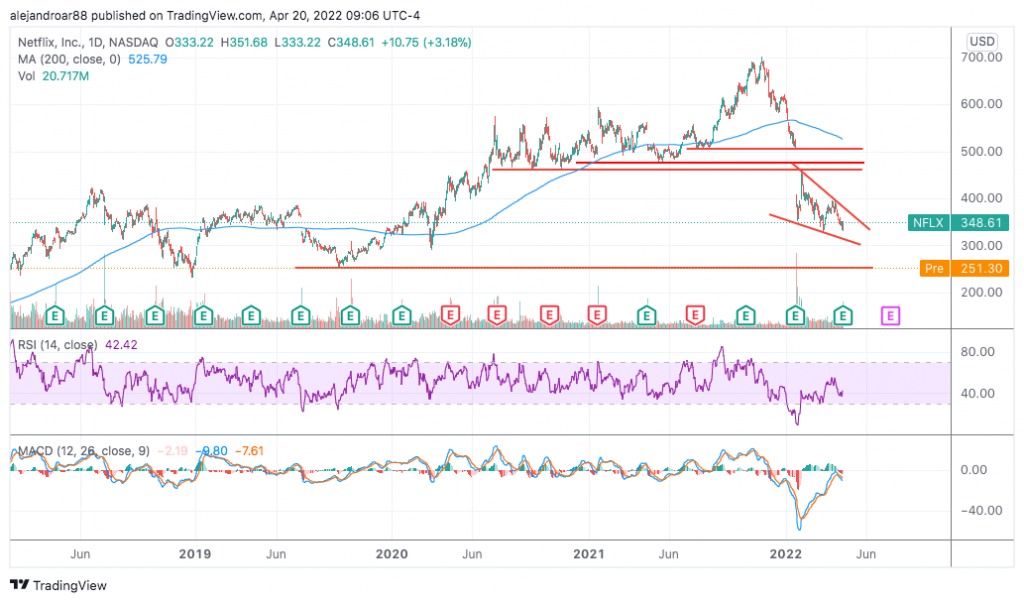 Netflix stock has gone down 42.1% so far this year and today's decline could make this drop even more dramatic as market participants appear to be seriously concerned about the firm's ability to keep growing in the current environment.
Multiple headwinds are weighing on Netflix's performance including a tighter monetary policy in the US – a situation that directly affects equity valuations – along with company-specific factors such as negative user growth, tough comps from the pandemic, and strong competition from services such as HBO Max and Disney+ from Disney (DIS).
As a result, Netflix is now trading 33.7% below its 200-day simple moving average and as much as 50.3% below its 52-week high without including this morning's pre-market downtick.
Momentum is standing on the negative end as the Relative Strength Index (RSI) is sitting at 42 (bearish) while the MACD remains in negative territory and well below the signal line.
If today's decline materializes during the live session, the price action would invalidate the bullish falling wedge shown in the chart and NFLX would decline to its lowest level since September 2019.
All things considered, the short-term outlook is bearish and a break below the $252 per share level could result in the continuation of the downtrend.
Netflix Stock – Fundamental Analysis
Netflix expects to grow its revenues by around 10% in the next quarter and the market may align its expectations to those of the company for the entire year as well.
If revenues land at around $32.7 billion and the firm's net margin ranges between 15% and 17% – in line with its historical performance – the company would generate earnings per share of up to $12.3 in 2022.
Based on the company's pre-market price of $250.9 per share today, that would result in a forward P/E ratio of 20.4x. This could be the lowest forward multiple at which Netflix has traded in years and reflects the market's expectations that the company is entering a more mature stage in terms of its future growth.
It is also important to note that launching an ad-supported version is not necessarily a positive thing as even though this can lead to the monetization of those 100 million households, it can also mean that some of the 222 million paying households could migrate to the new scheme to pay a lower subscription fee.
At this point, the company's prospects from a fundamental standpoint are difficult to assess and that kind of uncertainty is not positive. With this in mind, downside risks remain high, especially if Netflix's plan to monetize password-sharing fails to yield the expected results.
Buy NFLX Stock at eToro with 0% Commission Now!