Disney CEO Bob Iger Faces a Tough Road Ahead amid Multiple Headwinds
Please note that we are not authorised to provide any investment advice. The content on this page is for information purposes only.
Earlier this month, Disney replaced its CEO Bob Chapek and appointed Bob Iger as the new CEO. While the stock rose initially after the announcement it subsequently fell as markets are still apprehensive about the media and entertainment giant's short-term outlook.
Notably, Iger was Disney's CEO until February 2020 and was succeeded by Chapek. Iger then transitioned to the role of chairman. He however quit the position late last year. Speaking with CNBC on why he left Disney, Iger had then said, "Over time, I started listening less and maybe with a little less tolerance of other people's opinions, maybe because of getting a little bit more overconfident in my own, which is sometimes what happens when you get built up."
Bog Iger becomes Disney CEO again
Notably, Iger was instrumental in transforming DIS. He made several acquisitions including Marvel Entertainment, Pixar, as well as Lucasfilm which brought the Star Wars franchise to Disney. Disney started the Shanghai theme park under Iger's watch only. Importantly, he launched Disney+, the company's streaming business in late 2019.
DIS board is quite upbeat over Iger taking over as the CEO. Announcing the decision, the company said that Iger "has agreed to serve as Disney's CEO for two years, with a mandate from the Board to set the strategic direction for renewed growth and to work closely with the Board in developing a successor to lead the Company at the completion of his term."
Iger faces a tough road ahead
Meanwhile, Iger faces a tough road ahead as is exemplified by the crash in Disney stock. The company's animation movies, which analysts saw as an almost certain winner, have disappointed lately. "Strange World" has disappointed with its box office collections and becomes the second animation movie from Disney with tepid collections. Prior to this, another Disney animation movie "Lightyear" tanked at the box office.
Other DIS businesses are facing troubles too. There are reports that unplanned ride stoppages and wait times have increased at Disney Parks. The company however denied the reports and said that the metrics are in line with the long-term trends.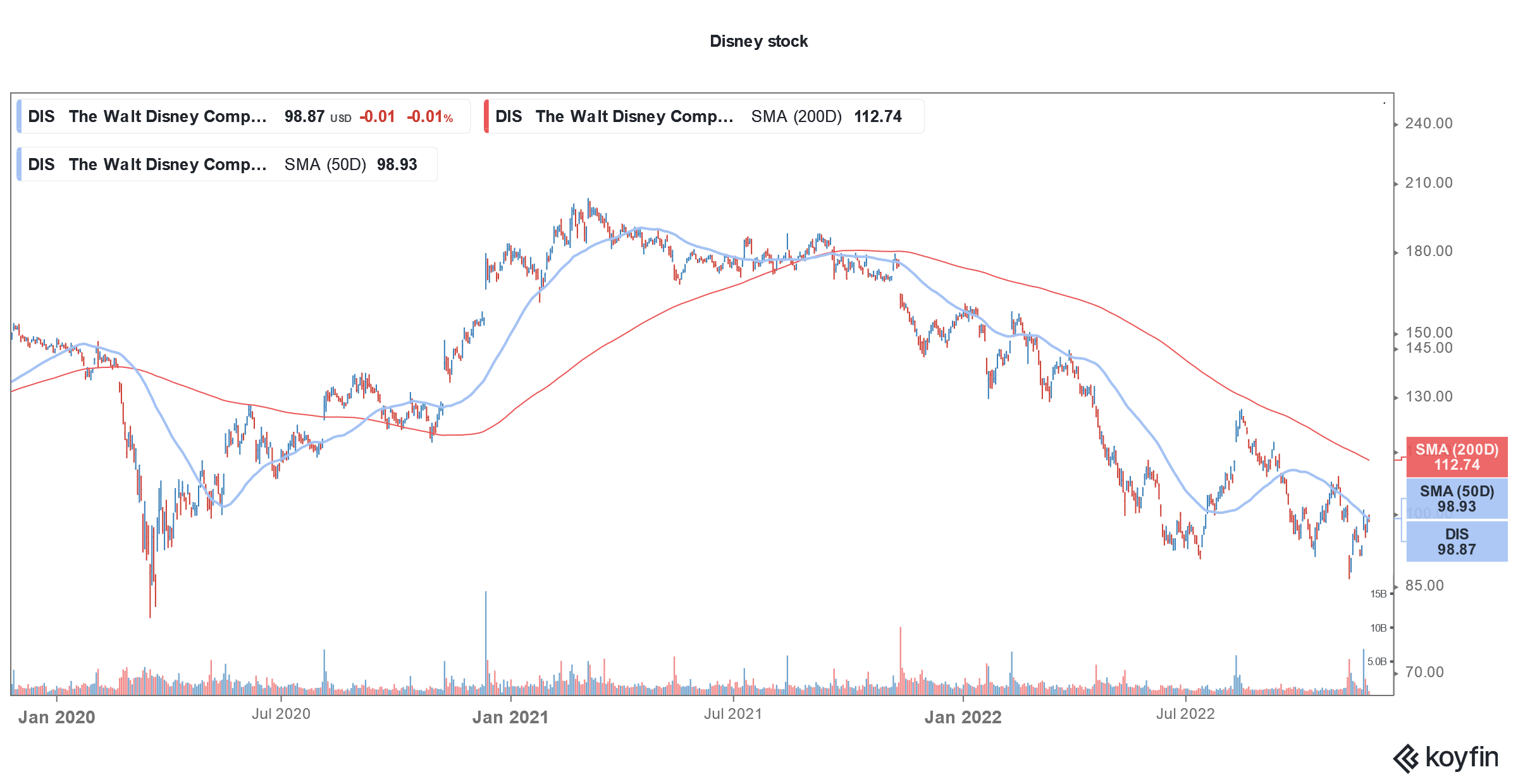 Disney streaming business is still unprofitable
In hindsight, Iger started Disney+ at the perfect time. A few months into the launch, there were global lockdowns due to the COVID-19 pandemic. Streaming companies including Netflix saw a surge in new subscribers. Disney+ soon surpassed 100 million subscribers globally which was a feat in itself despite the tailwinds.
In the fiscal fourth quarter of 2022, it added a total of 14.6 million streaming subscribers. It ended September with total streaming subscribers of 235 million, which is higher than Netflix. Disney+ now has 164.2 million streaming subscribers.
Streaming war
Earlier this year, Disney lowered its fiscal year 2024 streaming subscriber forecast to 215-245 million which was 15 million lower than the 230-260 million that it had predicted in 2020. The lower forecast is partially because of the loss of a cricket streaming event in India, which is among the fastest-growing market for the company. It also reflects the growing competition in the streaming industry.
The company also announced an ad-free tier which would be priced at $7.99 per month in the US. Also, the pricing for its ad-free tier would go up from $7.99 to $10.99. Higher prices would help Disney improve its margins. Notably, while the streaming business is posting losses, the company expects it to become profitable in the fiscal year 2024.
Meanwhile, given the macro situation, markets are now laser-focused on profits and cash flows. Disney's streaming losses have risen. Chapek said during the fiscal fourth-quarter earnings call that streaming losses have peaked and the company is on track for turning a profit in the fiscal year 2024. However, markets would await more action on cutting streaming losses as Iger tries to restore investor confidence.
Wall Street is mixed on Disney stock
Meanwhile, Wall Street is mixed on DIS stock after Iger took over the reins from Chapek. MoffettNathanson upgraded DIS stock from market perform to outperform and raised his target price to $120.
Analyst Michael Nathanson lauded Disney's board for the "courage" to replace the CEO. He added, "We have never hidden our affection for Mr. Iger and the job that he did in building Disney into the global powerhouse that it has become. We have not recommended the shares since May 2020 for multiple reasons, including concern that the former CEO Bob Chapek had become wedded to a streaming strategy that did not make sense given today's reality."
Needham and Wells Fargo also believe that Iger's return is positive for Disney stock. However, JPMorgan has a contrarian view and believes that Iger would not make many changes to the company's strategy.
JPMorgan saw the spike in Disney stock as an overreaction
The brokerage, which otherwise has an overweight rating on Disney said, "We like Disney shares long-term, and advised to buy the recent selloff on the numbers flush, but are reluctant to recommend chasing shares here (currently up ~8%)."
JPMorgan analyst Philip Cusick wrote in a client note "While we would love to hear an update from CEO Iger, the company does not have any public appearances scheduled in the fourth quarter, and any commentary from Iger before earnings seems optimistic."
All said, Disney faces multiple headwinds, both on the macro as well as company-specific level. The macro-environment might get tough if the US economy slows down further. Markets would also watch the churn in Disney's subscriber base as it shifts to higher pricing from the next month. Overall, the road ahead looks tough for Iger as he takes over as DIS CEO for the second time.