Buy Cryptocurrency – How To Buy Cryptocurrency For Beginners in 2021
Bitcoin was nothing but a fancy phenomenon when it was first unveiled in 2009. Futurists and technicians tried to woo the public with interesting projections but it was not drawing much attention from the investment world.
Hundreds of more cryptocurrencies have emerged and gone, while some like Bitcoin and Etherium have continued to stand the taste of time. Have you been wondering what is the best way to buy cryptocurrency? This article will enlighten you about cryptos and how to buy them. It is entirely possible that cryptocurrencies will continue to head skywards and only those who will have jumped in early will make a good kill. So get comfortable and learn to buy cryptocurrency from this article. Welcome to the wonderful world of cryptocurrency.
How To Buy Cryptocurrency – Choose a Reputable Broker
eToro.com – Best Platform to Buy Cryptocurrency
How To Buy Cryptocurrency
Is cryptocurrency investing smart? This is a question that sparks heated discussions from different schools of thought. One side believes that investing in crypto is a smart idea while another section of investors think that cryptos are a mere speculation and not a real form of investment, because someone has to buy cryptocurrency at a higher price for you to profit. This is sometimes referred to as "the greater fool" theory in the investment field. A good investment, according to this group of people, generates cash flow from real products and services that have stable and gradually increasing value over time.
Traditional investors argue that cryptos need stability, lower volatility, and a guarantee of safety. This group thinks it is not safe to buy cryptocurrency due to its strong price fluctuations. A currency needs to be well predictable so that sellers can price their goods fairly. On the other hand, crypto promoters continue seeing it as a quick way of making a lot of money. Some of them buy crypto as a form of long-term investments just like real estate or treasure bonds. The difference is that while bonds have a guarantee, and a lower return on investment, cryptos might easily grow your money by over 500% within a short period, or you could lose it all.
Bitcoin
3 Providers that match your filters
What we like
Trade real cryptos and crypto CFDs

Licensed broker with deposit insurance

Integrated wallet
Features
Payment methods
CFDs are complex instruments and carry a high risk of losing money quickly through leverage. 75% of retail investor accounts lose money when trading CFDs from this provider.
What we like
Amount of withdrawal fee: $0

Large amount of cryptocurrencies for CFD trading

Minimum deposit: $20
Features
Payment methods
CFDs are complex instruments that have a high risk of losing money quickly due to leverage. 72.6% of retail investor accounts lose money trading CFDs with this provider.
What we like
Careful selection of cryptocurrencies

Regulated by CBI and MiFID in Europe

No commissions and low spreads
Features
Payment methods
CFDs are complex instruments and carry a high risk of possible rapid loss of capital due to their leverage. 71% of retail investor accounts lose capital when trading CFDs with this provider. You should consider whether you understand how CFDs work and whether you can afford to take high risk in losing your capital.
Why are cryptocurrencies so popular?
There are many reasons why cryptocurrencies appeal to their supporters. Below are some of the strongest reasons.
The future- Cryptocurrencies are seen as the future. Promoters of cryptos such as Bitcoin and Etherium believe that they will one day replace the money. Such people are racing to buy enough cryptos before they gain more value.
No middlemen- The fact that cryptos have eliminated the need for middlemen in transactions is another popular reason behind their growth. It is believed that central banks make it expensive to transact and over time reduce the value of money through inflation.
Secure transactions- The blockchain technology, which is behind cryptocurrencies creates a decentralized recording system that makes transactions more secure than the conventional forms of payment.
Easy movement of money- Some speculators have made crypto popular because they view it as a better way of transacting, especially when it comes to the movement of huge amounts of money.
How To Buy Cryptocurrency – Quick 3 Step Guide
Now that this is getting exciting you probably can't wait to start buying cryptos, right? Well, that's what you're going to learn next. Here are six steps to follow for you to buy cryptocurrencies for the first time.
Step 1: Select the right Broker
This is the most important step in your journey to buy cryptocurrencies for the first time. You need to pick a crypto platform that is in line with your investment goals. Ther are brokers that only offer you wallets, while others allow you to hold crypto in your wallet and be able to trade it whenever you want to. If you're looking for a fast solution, we recommend eToro. You will find a list of five top crypto platforms for your comparison after this section.
Step 2: The registration and Login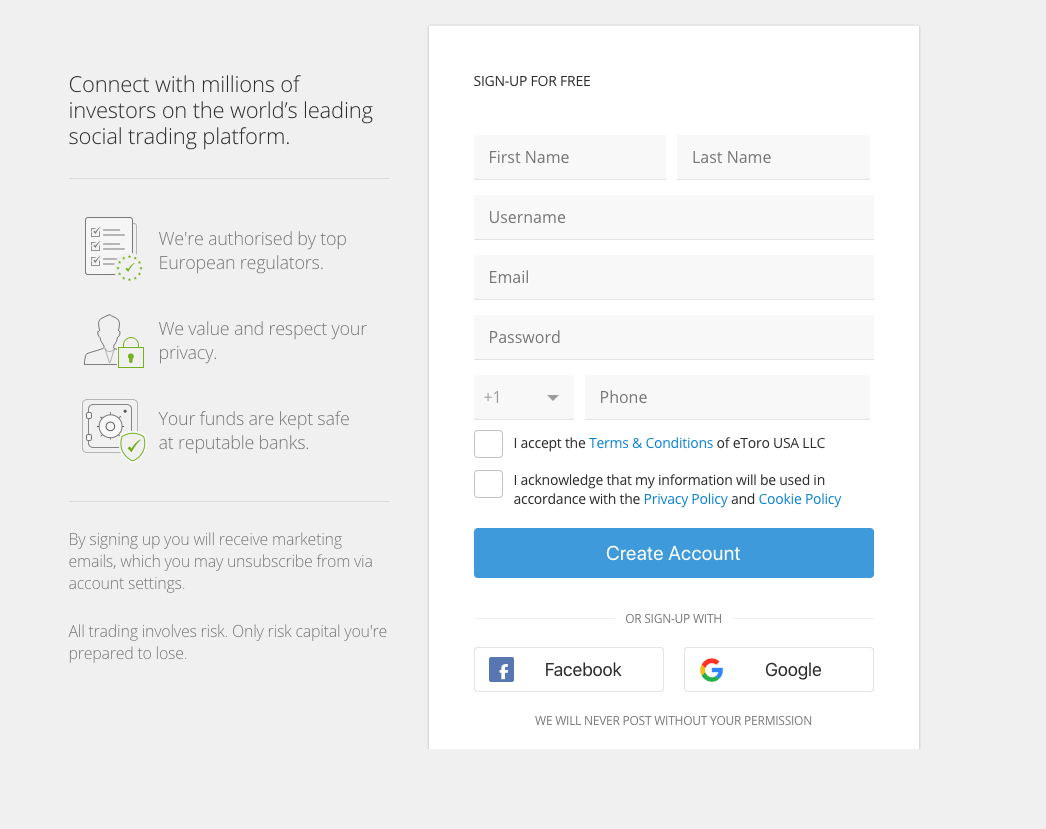 The registration process does not differ among different providers. Here you will be required to provide your details to be attached to your trading account or crypto wallet. If you want to buy cryptocurrency with eToro, you'll first head to their website, and click on "Join Now."
You will be requested to provide your personal details, mainly:
Your Name
Email Address,
Password
Accept the Terms and Conditions
Click on "Create Account"
eToro also supports registration and login via your Facebook and Google+ accounts. This is an easy and faster option. You should take advantage of that for a more seamless customer experience. To do that, click on "Sign up with Facebook" or "Sign up with Google." A pop-up will appear and direct you through the procedure. You will be required to allow eToro to access your personal information from your social media account for this process to be successful.
Step 3: Verification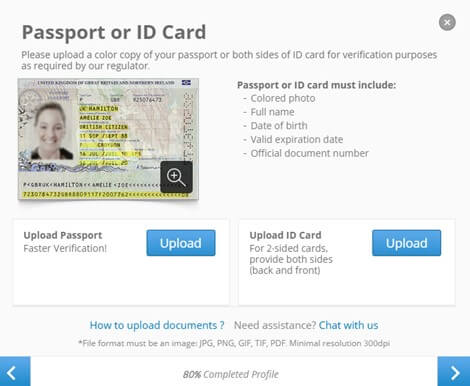 Once your account has been set up, you need to verify that the information you provided is correct and legally right. eToro does not require you to go through this stage if you intend to buy cryptocurrency worth less than $2000. For larger amounts, you will have to complete your verification before you can start investing in cryptos.
Verification is a simple procedure. Upload a utility bill with your residential address to verify your address. This address should match the one you provided during registration. For identity verification, take a clear picture of your government issues ID card, driver's license, or passport and upload it to the broker's verification portal.
Step 4: Deposit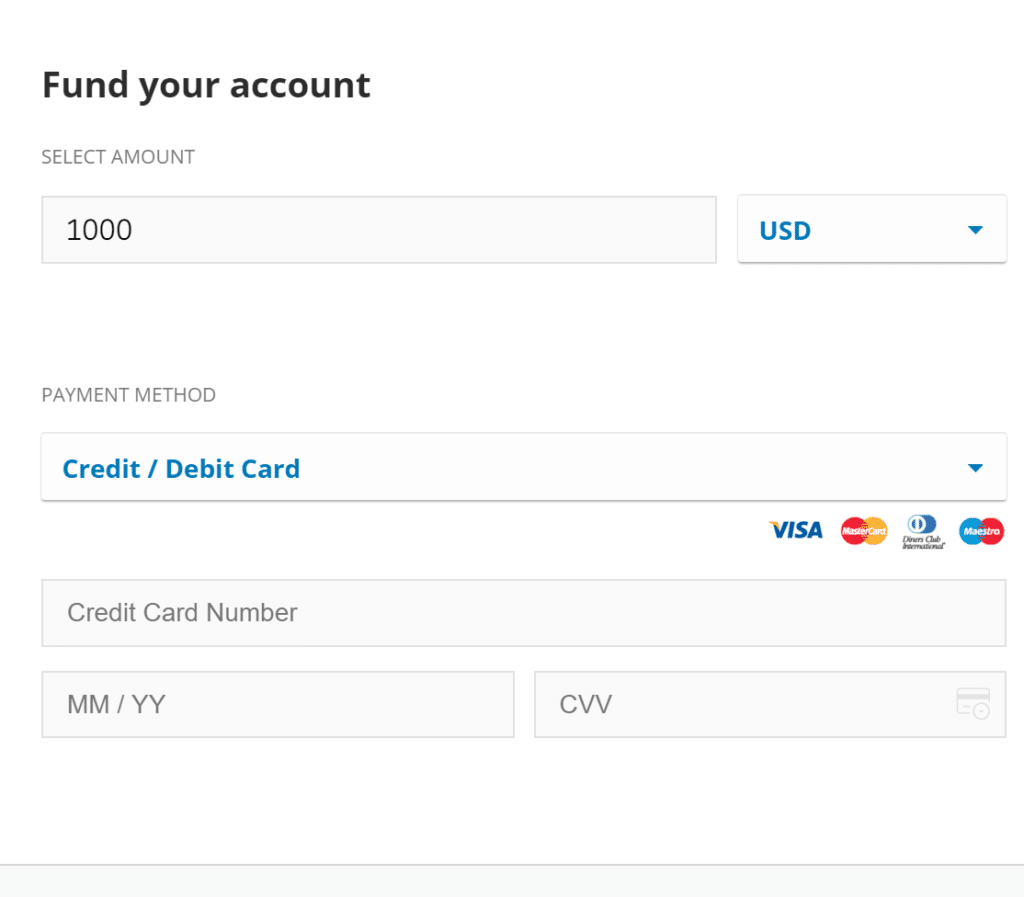 Now you are ready to deposit your funds to the crypto platform. Most crypto exchanges allow you to deposit via bank transfer, debit/credit cards, eWallets, and digital currencies.
Step 5: Buy Crypto
When logged into you eToro platform, go to "Trade Markets," pick the crypto that you want to buy, in our case BTC, key in the amount of money that you want to invest, then click on "Open Trade." Your position will received and queued to be filled when there will be liquidity.
Step 6: Secure your Crypto
Once you buy cryptocurrency, you want to make sure that it is secure, just the way you protect your money. Your browser can be exposed to a lot of crawling viruses and hacker's tools that may leak out your login credentials and cause you to lose your cryptos. The best way to prevent this is by using a Virtual Private Network (VPN). A VPN secures your online connection and no one can intercept your online transactions since your data is encrypted. Encryption adds an extra layer of protection to your data so that your online transactions are entirely anonymous and safe from hackers who may be targeting your device.
Best Places to Buy Cryptocurrencies
We are just about to buy cryptocurrencies, and we know that the most important step is to select the right broker. So here we listed for you five top crypto platforms that you should definitely consider before you buy cryptocurrency in the US.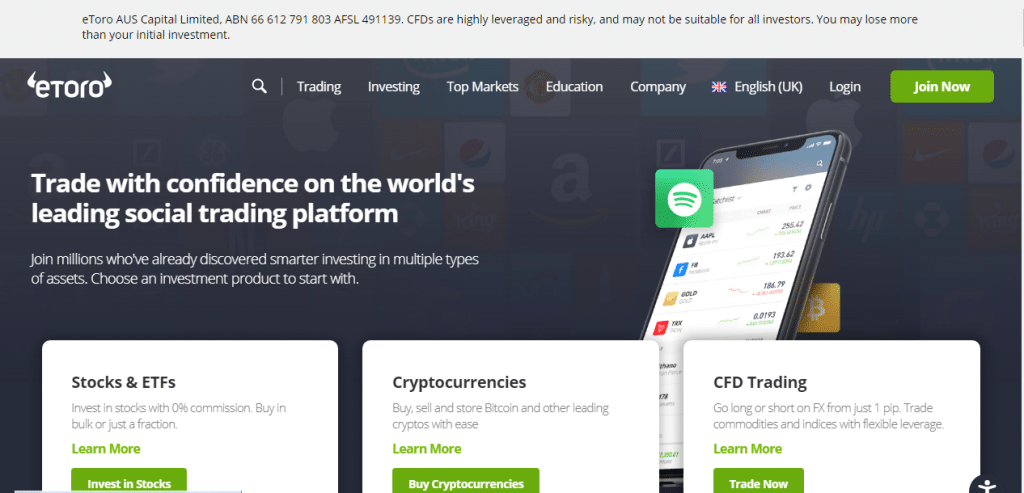 eToro is one of the best platforms to buy cryptocurrency in the US. Founded in the year 2007, the broker has expanded its wings all around the globe. eToro currently serves over 10 million users across 140 nations worldwide and the U.S cannot miss on that list. eToro's has had a very fast growth over the years thanks to its social trading platform. This is one of the most innovative tools of the century allowing you to copy trades from already successful portfolios, instead of making expensive mistakes from your trading. Beginners like eToro because this feature enables them to learn from professional traders.
As a beginner, you also want to watch your transaction cost. If you agree, then there's no better place to start buying crypto than eToro. This platform takes zero commission from you and there are no other hidden charges. How about this? Trying out the platform before investing your real money- with eToro you can buy cryptocurrency in a virtual portfolio and learn the ropes of the game before investing your real money. That's why we recommend eToro as the number one choice to buy cryptocurrency in the U.S.
Crypto buyers on eToro are allowed to start investing with as little as $50. The company only makes its fees through spreads which are also considerably lower than the normal market spreads. Unlike most brokers, eToro will charge you only one spread per round turn, which means, for both buying and selling cryptos. How low is this? Using Bitcoin as an example, this spread adds up to about 0.75% which is very low compared to the average of 1.9% to 2.9% that is charged by competitors.
| | |
| --- | --- |
| Pros | Cons |
| eToro offers access to over cryptocurrencies. | eToro is only available to residences in 41 U.S states. |
| You only need $50 to start investing. | eToro customers in the U.S can only trade crypto, out of all the options that the broker offers. |
| Social trading allows you to start making money by taking advantage of pros, as you keep learning. | |
| Social trading is good for busy people. | |
67% of all retail investor accounts lose money when trading CFDs with this provider.
2. Binance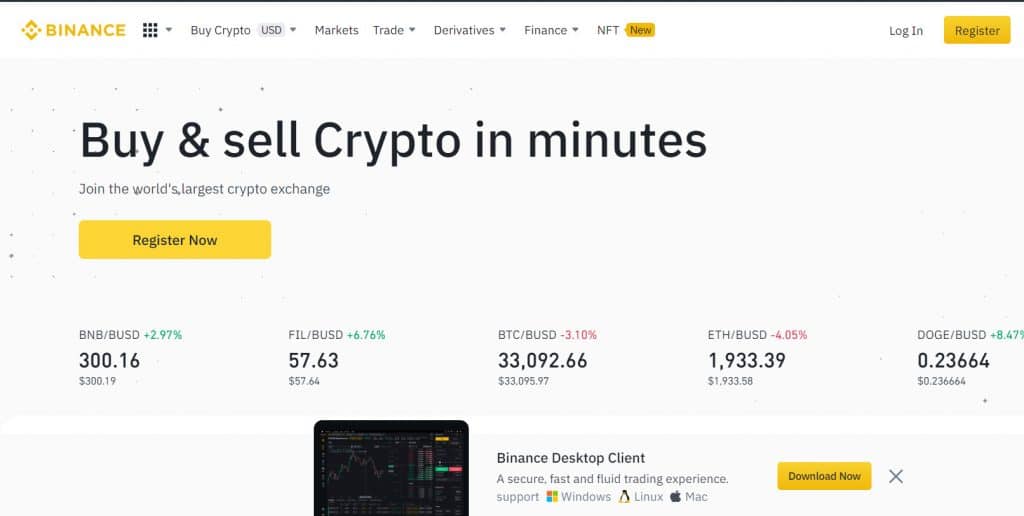 Binance is a well-known crypto exchange among many traders and cryptocurrency enthusiasts. It was initially set up in China, but later on, moved its operations to Malta in the EU. Malta is a more crypto-friendly country than China, mainly due to regulation and the legal environment. Binance has the highest number of cryptos among the choices we have reviewed and is most preferred by experienced traders. With Binance, you can also purchase altcoins. The downside of the platform is that they do not accept any other form of payment apart from cryptocurrency. You, therefore, need to already own a crypto wallet on the exchange for you to trade.
The Binance platform can be complex for a beginner. So they created a basic and advanced trading view to be able to satisfy the needs of both beginners and pros. You simply need to select the right option that suits you. In terms of cost, Binance offers normal trading costs like other platforms, which is in the range of 1.9% to 2.9% in the case of Bitcoin. Registration is fast in Binance; it's as easy as hit a button, key in your details and you're done. In terms of verification, you will face different levels, with a fixed daily limit for a transaction. For example, level one has a daily limit of 10 BTC. You will be asked for additional documents if you want to transact more than your daily limit. Verification on Binance is sometimes very slow.
| | |
| --- | --- |
| Pros | Cons |
| Great for pros who need a wide range of cryptos. | Limited methods of deposit- you can only deposit and withdraw funds using cryptos. |
| High limits before verification- Binance allows you to withdraw up to 10BTCs with level one verification. This is rare among other providers. | They can be slow in their verification hence delay your transactions. |
| Different trading views for beginners and professional traders. | Does not favor beginners because you need to already have a crypto wallet before you start using Binance to buy cryptocurrency in the US. |
Or go to Binance.com >
3. Coinbase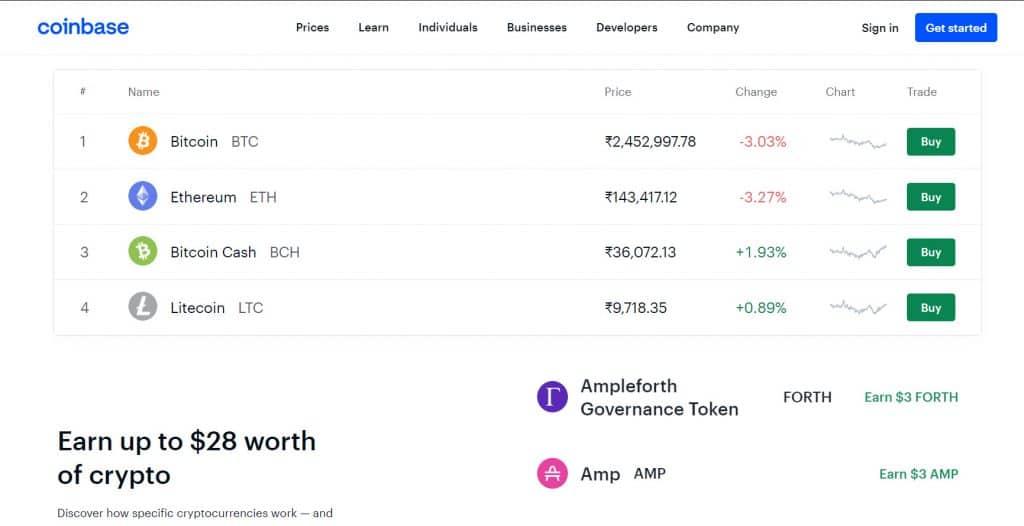 Coinbase is one of the easiest platforms to use to buy cryptocurrency. They have an easy signup procedure and deposits into your wallet can be made with a credit card. Transaction fees at Coinbase are however higher than most crypto exchanges. A standard trade at Coinbase will cost you as high as 1.49%, while credit card transactions cost a fee of 3.99% which is considerably high. Coinbase is licensed in the U.S and has its headquarters in San Francisco. It operates in about 32 countries across the world. Unlike eToro and Binance this provider only offers a handful of cryptos, including Bitcoin, Etherium, Bitcoin Cash, Classic, Litecoin, BAT, ZRX, and Zcash.
Coinbase is popular for having a user-friendly interface that favors both beginners and pros. Coinbase does not allow you to make any transaction until you verify your mail address and your phone number. The initial limit after this verification is $1500, but users can raise their limit by passing a second verification stage that requires them to submit personal identification documents.
| | |
| --- | --- |
| Pros | Cons |
| Easy to use for both beginners and professional traders. | High transaction fees. |
| User-friendly and attractive interface. | Supports very few cryptos. |
| Supports more than one method of payment including credit/debit cards. | |
| Easy signup procedures. | |
4. Robinhood

Robinhood is a free-trading application that offers stock trading services to investors. It also lets users invest in options, exchange-traded funds, and cryptos at zero commission and fees. Robinhood grew fast in popularity for being the only broker that offered free trading during its early days. This enabled it to stand out and rise above many big names in the trading industry. This makes it a solid choice for investors who want to buy a cryptocurrency and still limit the cost of the transaction.
That said, Robinhood is one of the most stable platforms that allow investors to buy cryptocurrency. They offer both web-based and mobile app trading solutions. If you are an investor looking to try out a couple of different coins. Robinhood may disappoint you and they don't offer many options when it comes to cryptos.
| | |
| --- | --- |
| Pros | Cons |
| Zero minimum account deposit and balance. | Limited customer support. |
| Easy to use interface. | A limited number of cryptos to buy. |
| Offers both crypto and currency trading. | |
| Cost-effective trading due to zero commission and fees. | |
5. Tradestation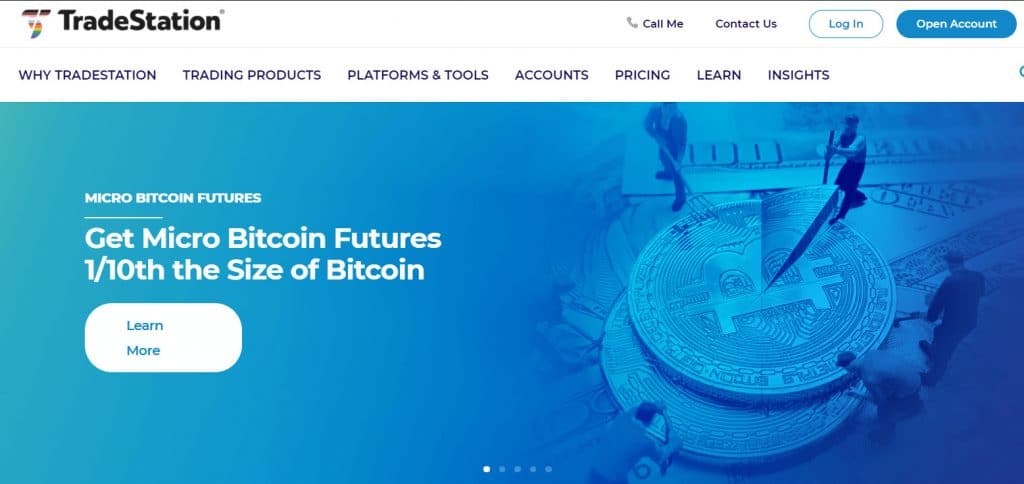 Tradestation is a state of the art choice for professional investors seeking to trade with a top-notch broker that offers sophisticated trading experience. Until a few years ago, TradeStation was only offering services to professional fund managers and institutions. Regular investors are now open to buy cryptocurrency in the U.S with TradeStation's high-octane trading tools. The company offers trading services at zero costs, and has no minimum investment amount.
You may find this broker less attractive due to its exclusive plans that are only available to an investor who deposits $2,000 and above. These plans give you access to the full range of trading tools available as well as the premium Tradestation 10 desktop.
The bottom line: Tradestation is the platinum standard for the sophisticated trader, but it is now open to serve beginners and offers $0 commission and minimum deposit to appeal to casual investors.
| | |
| --- | --- |
| Pros | Cons |
| Advanced trading platform. | The advanced platform requires a high minimum deposit. |
| 0% commission on trading. | Plans and Pricing can be confusing. |
| Gold standard trading tools available. | Favors the pro trader more than a beginner. |
| Active traders community. | |
Or go to Trade Station >
Best Cryptocurrency To Buy – Bitcoin
What is Cryptocurrency?
We have to make sure that we all understand what we're are talking about before diving deep into the sea of cryptos. Cryptocurrency is a form of digital currency. You can also call it "crypto." Just like fiat currency, it can be used to make purchases of goods and services. Recently, El Salvador, the smallest country in Central America, passed a law to adopt Bitcoin as legal tender. Different businesses across the globe are also following suit by accepting some major cryptos as payment methods.
Cryptos use cloud-based ledgers with powerful cryptography to secure transactions. This is called blockchain technology. It's basically a chain consisting of pieces of digital transaction information whose distribution is not controlled by any institution. These are but technical and we really don't need to get into that now that you understand the concept of a digital currency. Cryptos eliminate middlemen such as banks because they allow buyers and sellers to interact and transact with each other directly.
There are thousands of cryptocurrencies; the most popular one is Bitcoin. It has a lot of volatility due to the high number of investors trading it, and recently, in April 2021, it hit a high of $65,000 in price, and quickly lost almost half of its value in May.
Buy Cryptocurrency at eToro, the World's leading Broker
Payment Methods you can use to Buy Cryptocurrency
Buy Cryptocurrency with Credit Card or Debit Card
The easiest way to make any payment, including depositing funds into your crypto wallet is by using the traditional credit or debit card. It is an instant method and uncomplicated method to buy cryptocurrency; you only need to enter your card number, expiry date, and security code and your funds will be transferred to your wallet immediately.
Most brokers that allow you to buy cryptocurrency with a debit or credit card do not permit you to withdraw funds back to the same cards. You will hence have to explore other methods that available.
| | |
| --- | --- |
| Pros | Cons |
| Deposits are instant. | It can be expensive as some exchanges charge as high as 3.5% for a deposit. |
| Easy and convenient. | Low limits- usually less than $10,000 at any one time. |
| Deposits can be made on the move. | |
Buy Cryptocurrency with Paypal
Paypal is the most popular and secure online wallet in the financial services industry. Deposits and withdrawals to PayPal are normally instant and cost-effective. Some brokers even offer 0% fee when using PayPal. Transferring funds between your bank account and PayPal is easy and fast, making it one of the most convenient methods that you can use to buy cryptocurrency in the United States.
| | |
| --- | --- |
| Pros | Cons |
| Deposits are instant. | Accepted by select exchanges. |
| Enhanced security features to protect your funds from fraudsters. | PayPal may levy charges during withdrawal. |
| Fast and easy withdrawals. | |
Buy Cryptocurrency with Skrill
Skrill is another popular and secure e-wallet like PayPal. It is a UK company with cross-border licenses to offer online financial services globally. Deposit and withdrawals via this gateway are instant and free in some instances. Transaction fees charged by skrill can however be considerably expensive. You can use Skrill to buy cryptocurrency in the U.S if your platform allows it.
| | |
| --- | --- |
| Pros | Cons |
| Instant deposits. | Skrill charges expensive transaction fees. |
| You can withdraw from skrill to your personal bank account easily. | Skrill is not accepted by many exchanges. |
| You don't need to enter personal information when depositing, hence keeps your information safe. | |
Buy Cryptocurrency by Bank Wire Transfer
A bank wire transfer is an electronic message that allows communication between banks in regard to transactions between client accounts. You will need to log into your bank account and initiate a transfer into the exchange platform whenever you want to use a bank wire transfer to buy cryptocurrency. One of the advantages of this method is that it gives you high transaction limits, and is also very secure. On the flip-side, this is a slow transaction that may take 3 to5 days before your funds reflect in your wallet.
| | |
| --- | --- |
| Pros | Cons |
| Gives you the largest deposit limits. | Slow method- may take 3 to 5 days for your funds to be credited. |
| Most secure method of transaction. | |
| Cost-effective. | |
Buy Cryptocurrency with Neteller
Neteller is an online money provider that facilitates e-money transfers among different merchants like stock trading firms, cryptocurrency exchanges, and even social network firms. To buy cryptocurrency with Neteller, first, deposit funds into your Neteller wallet and use the balance to purchase cryptos.
| | |
| --- | --- |
| Pros | Cons |
| Instant deposits. | Not accepted by many providers. |
| Easy withdrawals to Neteller and to the bank. | Might have high withdrawal charges to your bank account. |
Buy Cryptocurrency Revolut
Revolut is an e-money application that provides digital banking services to users. Clients hold bank account numbers in different countries which allows them to transact with ease. Revolut users can apply for a card that works similarly to a credit card or debit card. The Revolut card is not accepted by most crypto providers but you can buy cryptocurrency with Revolut by transferring money directly from a Revolut account, just like a normal bank wire transfer, into your crypto wallet. Coinbase is one of the exchanges that allow Revolut deposits through SEPA.
| | |
| --- | --- |
| Pros | Cons |
| Revolut is a cost-friendly method to buy cryptocurrencies. | Revolut card is not accepted as a funding method, you must initiate a wire transfer. |
| High transaction limits. | Might have high withdrawal charges to your bank account. |
Important Tips to get you along
Tip1: Selecting a Cryptocurrency
With thousands of cryptos available, none is the best to buy. However, we can have the best buy in line with your goals. For example, Bitcoin is so far the best cryptocurrency to buy for investors looking for a reserve asset. BTC has a widespread acceptance and adoption and is in limited supply. There are more chances that it will continue to be the most expensive and valued crypto in the future. Regardless of your purpose for buying cryptos, always go for the ones that are in the top 50 market capitalization of cryptos. Small-cap cryptos tend to under-deliver and disappoint investors. Small market cap cryptos are risky and you would want to avoid them as compared to top 50 market cap cryptos like Bitcoin. You also want to invest in cryptos that are solid and have a sustainable backing project. You can always find this information by reading the cryptocurrency's white paper. A whitepaper reveals to you details on how the coin works as well as its intended use and future.
Tip 2: Cryptocurrency Trading vs Stock Trading
It's possible to be confused about the difference between crypto trading and stock trading especially after reading this article. Let us help you put things into perspective. Cryptos are extremely volatile; they can rise and fall within a short time and cover as much as 50% price gain or loss within a matter of days. Crypto trading is generally seen as riskier than stock trading for this reason. On the other hand, the risk level of these two markets also depends on how you trade them. Trading penny stocks could hold as much or even more risk than trading cryptos.
You should be fully aware of the risk that trading cryptocurrencies carry before you invest in them. If you are a firm supporter of cryptos, it is much better to buy a cryptocurrency and hold it as a long-term asset other than trying to trade lows and highs.
Tip 3: Trading on an exchange means you need to understand order types
You are going to have to learn about order types such as limit orders and market orders if you are trading on an exchange. In some brokers such as eToro, you will need to learn how stops work so that you can effectively buy cryptocurrency without exposing yourself to unnecessary risk. It is also important to understand the concept of slippage. Lastly, be careful about placing huge orders since the crypto market can run out of liquidity.
Tip 4: Securing your Account
We cannot overemphasize the need for securing your account. You need to understand that if your crypto account gets hacked and you lose everything, there is no way for you to recover what is lost. This is why you always have to make sure that your account is well protected. A rule of the thumb is to have a strong password and add 2FA (two-factor authentication). Change your passwords from time to time and never save them to your device. You can save your passwords on a different device that you never use to access your crypto wallets. If possible, find an offline secure method of saving your account's credentials.
Tip 5: Cryptocurrency trading is taxable
Before you buy cryptocurrency in the US, make sure you understand the tax implications of this kind of investment in your state. Cryptocurrency trading is a taxable event and you wouldn't want to be on the wrong side of the law while trying to invest your money. You could fall into some nasty traps if you ignore this advice.
Tip 6: Bitcoin Trading Robots
If you want to buy cryptocurrency but are still thinking that it's such a complex thing, you may consider sourcing for a crypto-robot. Most robots trade bitcoin. Robots are algo-based software programs that have been developed to follow certain strategies in buying and selling cryptos automatically; your intervention is not needed. These programs decide 100% when to take buy orders and sell orders as well as when to exit the market. Brokers like eToro operate under regulation but robots do not, hence comes a risk of loss of capital. Seek proper advice and do enough research before investing in a robot.
Buy now
CFDs are complex instruments and carry a high risk of losing money quickly through leverage. 75% of retail investor accounts lose money when trading CFDs from this provider.
Buy now
CFDs are complex instruments that have a high risk of losing money quickly due to leverage. 72.6% of retail investor accounts lose money trading CFDs with this provider.
Buy now
CFDs are complex instruments and carry a high risk of possible rapid loss of capital due to their leverage. 71% of retail investor accounts lose capital when trading CFDs with this provider. You should consider whether you understand how CFDs work and whether you can afford to take high risk in losing your capital.
| | | | |
| --- | --- | --- | --- |
| N/A | Yes | CBI and MiFID in Europe | |
| | | | |
| --- | --- | --- | --- |
| N/A | Yes | 1:2 for cryptocurrencies | |
| | | | |
| --- | --- | --- | --- |
| $64684.32 | $64742.53 | $64904.23 | |
Buy Crypto today from eToro, the World's leading Cryptocurrency Trading Platform!
FAQs
How many cryptocurrencies are there? What are they worth?
How do I buy cryptocurrency?
Are cryptocurrencies legal?
How do I protect myself when buying Cryptocurrency?