How To Invest In Gold UK – Investing in Gold For Beginners 2021
For thousands of years, gold has fascinated the population of the world. Since as early as 4600 B.C. gold has been used to create ornate jewellery and has been seen as a status symbol throughout history, with famous rulers and emperors often adorning themselves with vast amounts of the precious metal. However, in the past few hundred years, gold has moved from being purely a status symbol to being an extremely versatile investment that has lasted the test of time.  
In the modern world, you're not limited to investing in gold coins or jewellery, you can also purchase a variety of gold stocks, like CFDs (contract for difference) and ETFs (Exchange traded funds). Gold is often touted as a safe, profitable, investment that protects people's wealth from inflation, but is that still true in 2021? We've created this guide to answer this question and explain how to invest in gold UK.  
#1 Broker to Buy Gold – eToro
How to Invest in Gold UK – Step by Step Guide 2021
Investing in gold doesn't have to be a complicated process, if you're ready to get started investing in gold UK then just follow this quick step by step. We have chosen eToro as our favourite platform to start investing in gold, thanks to low fees, great security, and an easy-to-use interface. 
Open an eToro account:

The first step to investing in gold is to navigate over to the eToro website, from there just click "join now" and input your details

Verify your Identity: 

You'll need to provide a photo ID (passport, driving license) and proof of address (bank statement, utility bill) to verify your identity

Fund your Account:

Once you've verified your documents, you'll need to fund your account. To do this you have 3 main options: credit/debit card, bank transfer, or e-wallet.

Invest in Gold:

Now you've funded your account, you're free to start investing. Simply type "gold" into the search bar, enter the amount you want to invest, and hit "buy"
Where to Invest In Gold UK – Choose a Broker
There are quite a few large brokers that operate in the UK, so it's important to filter through all the available information and make an informed choice on which broker is right for you. Unfortunately, due to the volume of information available, it can be quite a large task, luckily for you, however, we've looked through the nitty-gritty details and created this list of the best brokers in the UK.
1. eToro – Overall Best UK Gold Broker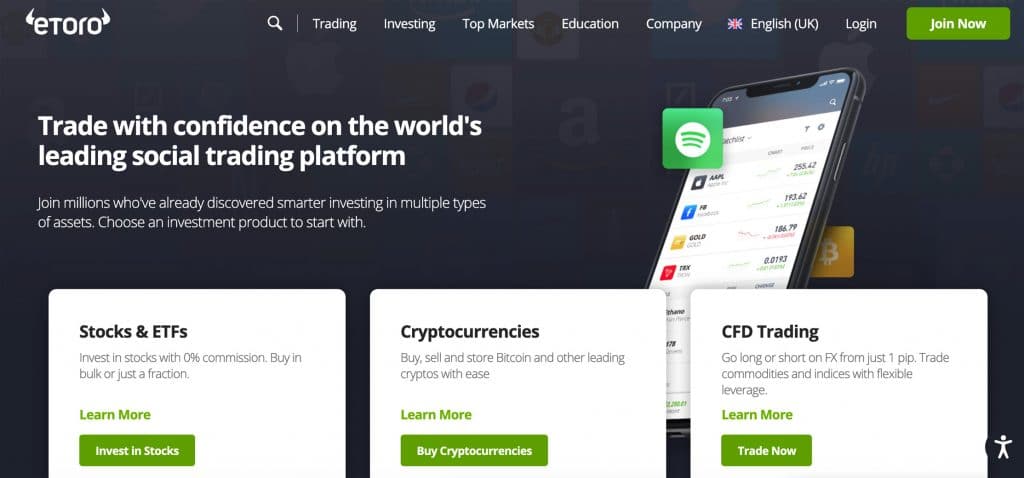 eToro needs no introduction, they're one of the largest brokers in the world and have been operating since 2007. A steller 14-year track record tells you all you need to know about eToro, it's a trusted platform and has an excellent range of financial instruments and features. They're regulated in the UK by the FCA so you can rest assured knowing your money isn't going anywhere. 
Security & Privacy
When it comes to choosing what to invest in, with eToro, you're spoilt for choice, you can invest in ETFs, CFDs, Indices, and cryptocurrencies. For anyone that comes from a trading background, this can be a big factor, as it allows you to manage all your investments in one convenient place, and even if you're new to trading it lets you create a diverse portfolio to minimise any losses. In terms of security, eToro is an industry leader. They have advanced security measures designed to keep customers and their funds 100% safe. Any information you provide eToro is securely SSL encrypted, so even if eToro was exploited by a hacker all your details remain safe. They are also regulated by the FCA and CySEC, meaning users benefit from insurance on fiat balances in the event of funds being lost.
Fee Structure
eToro has a very attractive fee structure, providing customers with a commission-free investment platform. You don't have to pay a maker/taker fee as you would with many other exchanges, instead eToro makes the majority of their money from spreads (the difference between buy and sell price). Other than spread fees, the only other direct fee is a small £5 withdrawal fee, and a monthly £10 fee if your account has been inactive for more than a year. In the UK eToro has a tiny £50 minimum investment, making it a great platform for beginners to buy gold UK.
Having a variety of payment methods is important for any large, international broker and eToro provides its customers with several options on this front. The most convenient for a lot of people would be a credit/debit card (although these can attract high fees), eToro also allows people to deposit using bank transfers and e-wallets (PalPal, Skrill).
eToro Fees
| | |
| --- | --- |
| Fee Type | Fee Amount |
| Gold ETF Spread | 45 Pips |
| Commision Fee | 0% |
| Deposit Fee | £0 |
| Withdrawal Fee | £5 |
| Inactivity Fee | £10 (Monthly) |
Pros
Great security

Low fees

Inactivity fees are not as bad as other platforms

Commission-free

SSL encryption

Regulated
Cons
67% of retail investor accounts lose money when trading CFDs with this provider.
2. AvaTrade – Invest in Gold Commission Free
Another leading brokerage in the UK, is AvaTrade they launched in 2006 and since then have become a huge name in the investment space. AvaTrade takes care of its customers and as such has a great track record and a 4.7 / 5 on Trustpilot. You're in safe hands with AvaTrade, they're a fully regulated platform meaning they have to comply with strict data protection rules and are subject to inquiries from the FCA, so you don't have to worry about them engaging in any off-handed activities.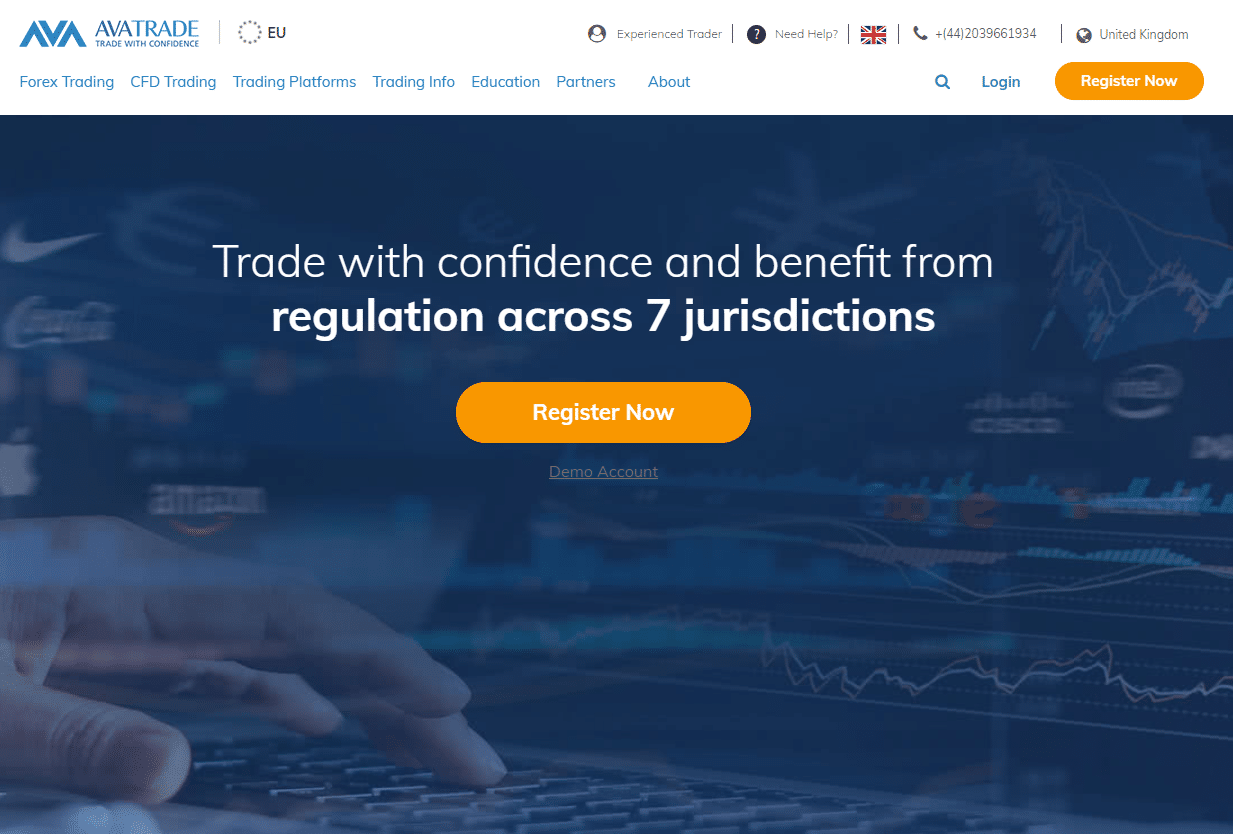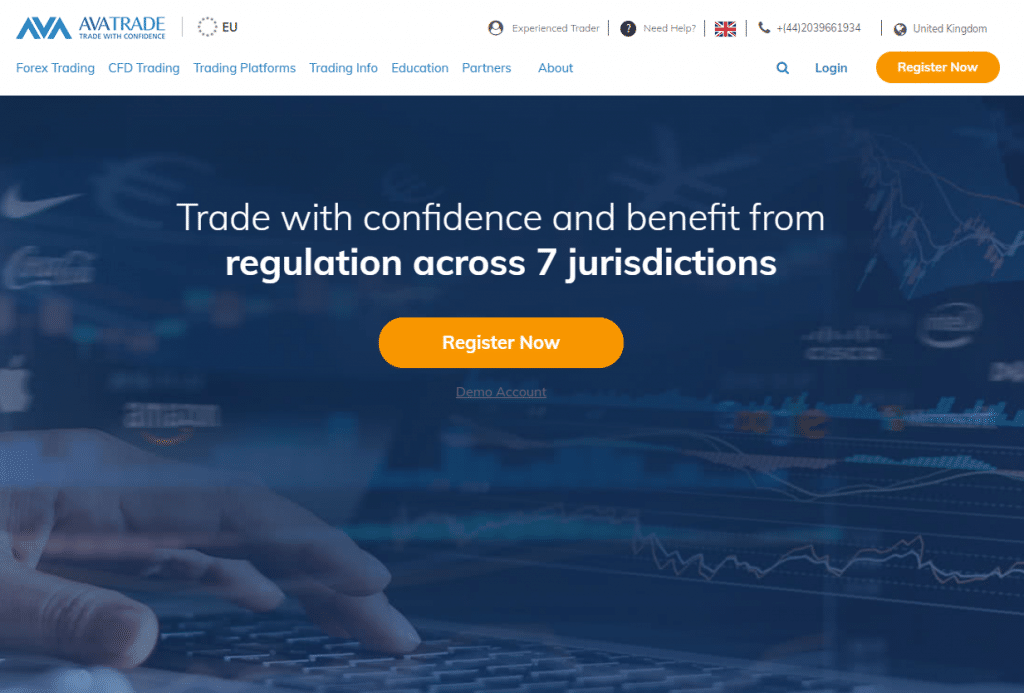 Security & Privacy
Much like eToro, AvaTrade keeps customer funds safe by utilizing a number of state-of-the-art security features. These security features come in the form of 256-bit SSL encryption for any personal data, strict monitoring from regulatory bodies (FCA, CySEC, ASIC), Mcafee Secure to keep your identity documents and card information safe, and lastly a store of segregated funds to make sure even in the event of insolvency customers will not lose any money. On top of these excellent security features, AvaTrade can also keep customers safe from trades going South with a service they're dubbed "AvaProtect", which will reimburse you for any losses incurred during the period you have AvaProtect enabled.
Fee Structure
When investing with AvaTrade, you don't have to worry about any direct trading fees, although there is a marginal spread fee, which varies from pair-to-pair (typically 1-3%).  AvaTrade does, however, sneak in what they call an "overnight financing fee" which means if you have a position open during market close you'll be charged. There are also the standard non-trading fees, which are a bit harsher than some other platforms, if inactive for 3 months you'll be charged £50, and if you're inactive for 12 months £100. 
AvaTrade Fees
Fee Type
Fee Amount

 

Gold

0.34 Pips

Commision Fee

0%

Deposit Fee

£0

Withdrawal Fee

£0

Inactivity Fee

£50 after 3 months & £100 after 12 months
Pros
Reputable

Regulated

Extremely low spreads

Range of financial  instruments
Cons
High inactivity fees

Not accepting US-based clients
Your Capital is at Risk.
3. Capital.com – Best CFD Broker to Buy Gold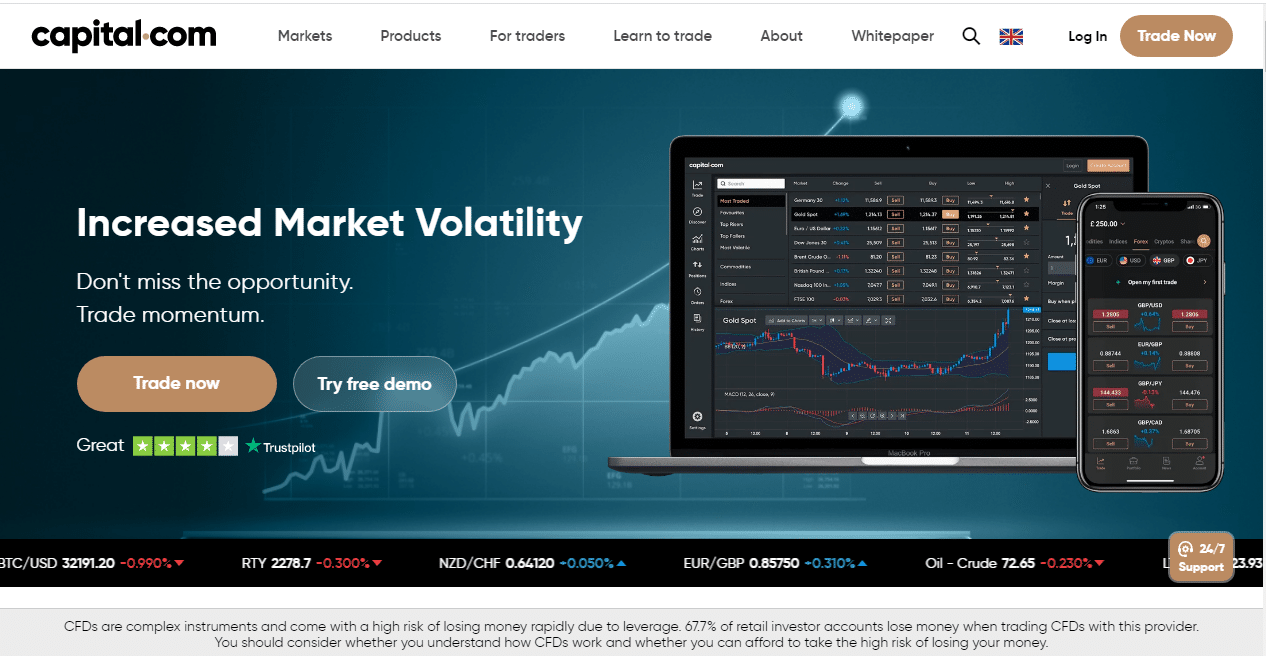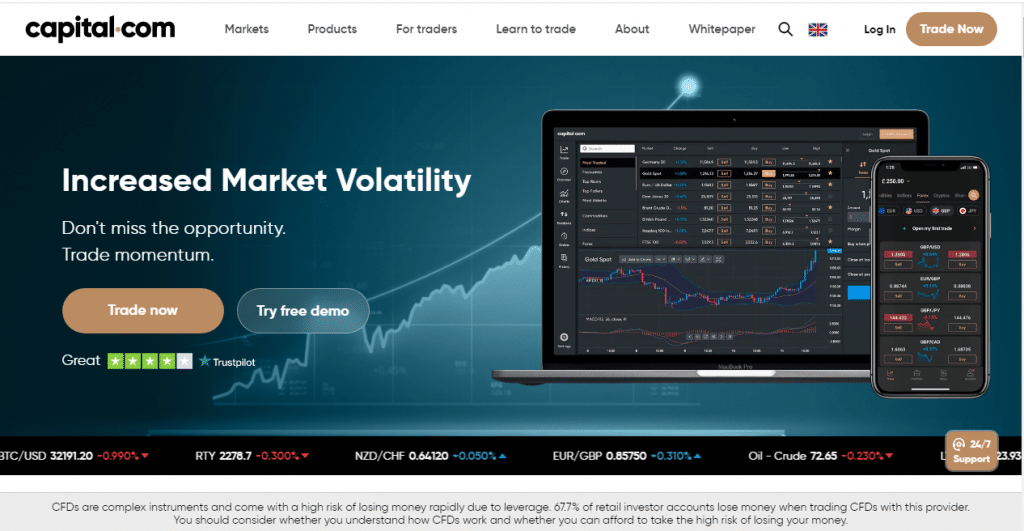 If you want to buy gold UK, then you should seriously consider Capitial.com. Launched in 2016, they've made a name for themselves by providing an excellent user experience and a diverse range of instruments. Capital.com focuses on delivering the best CFD experience possible, they do this by providing users a news feed that uses advanced AI to analyse in-app behaviour and recommend relevant articles and videos to help you in your investment journey, this can be especially useful in a speculative market. They also offer a £1,000 practice account and a tonne of educational resources to assist both beginners and more experienced traders.
Security & Privacy
As with any reputable brokerage operating within the UK, Capital.com is regulated by the FCA, as well as CySEC, this provides customers with peace of mind knowing that their money is in good hands. All data you give Capital.com is protected by Transport Layer Security encryption, so you don't have to worry about your information falling into the wrong hands. In the event of insolvency, any UK-based customers are protected by the FSCS (financial services compensation scheme) on balances up to £85,000 and those based in Europe can enjoy protection up to €20,000.
Fee Structure
Capital.com offers some of the lowest fees out of any brokerages in the UK, with 0% commission, no deposit/withdrawal fees, and no inactivity fees. This makes Capital.com an extremely appealing platform for those looking to frequently invest in gold UK. For anyone wanting to dabble in markets outside of commodities, Capital.com has you covered, with over 75 technical indicators you can perfect your trading strategy in Forex, Indices, ETFs, and shares.
Capital.com Fees
| | |
| --- | --- |
| Fee Type | Amount |
| Gold Spread | 0.3 Pips |
| Commission | 0% |
| Withdrawal Fee | £0 |
| Deposit Fee | £0 |
| Inactivity Fee | £0 |
Pros
Low fees

No inactivity fee

Practice account

Educational recourse

75+ technical indicators
Cons
Not able to set price alerts
 76.72% of retail investor accounts lose money when trading spread bets and/or CFDs with this provider.
Invest in Gold UK – Broker Price Comparison
Now you've got an understanding of where the best UK gold brokers excel, we've summarised how they compare to each other in terms of cost. All 3 brokers we've discussed offer very competitive fees (otherwise they wouldn't be on this list) but here's how they stack up against each other.
| | | | | |
| --- | --- | --- | --- | --- |
| Broker | Commission | Deposit Fee | Withdrawal Fee | Inactivity Fee |
| eToro | 0% | £0 | £0 | £10 monthly (after 12 months inactivity) |
| AvaTrade | 0% | £0 | £0 | £50 after 3 months, £100 after 12 months |
| Capital.com | 0% | £0 | £0 | £0 |
What are Gold Stocks? 
I'm sure you already know what gold is, it's a precious metal often used in jewellery or technology due to its conductive properties. However, understanding what gold is when buying from a brokerage is a slightly more difficult task, rather than a physical item, you're normally buying into a financial instrument that goes up or down based on the price of the underlying asset. There are 2 main ways you invest in gold through a brokerage, ETFs, and CFDs, while both are broad topics, we'll be discussing them in relation to gold.
ETFs (Exchange Traded Funds)
An ETF (Exchange traded fund) is a security that follows the price of an index, commodity, or another asset, gold, of course, being a commodity. Rather than buying a physical gold bar from a dealer, you instead purchase an ETF from an exchange or broker, in much the same way you would purchase a stock. Typically, an ETF tracking gold would be equal to 1/10th of a troy ounce of gold (currently worth £131). Although it may seem strange to purchase a virtual version of a physical item there are actually several benefits.
No Storage Costs:

If you were to purchase a physical bar of gold, you would have to think about storage. Although it certainly wouldn't be hard to hide 1 small bar of gold somewhere in your house, what about 10 or even 100 bars? You'd quickly run out of places to put them and would have to deal with the risk of storing thousands of pounds worth of gold in your own home. You would inevitably have to pay for a safety deposit box or something similar, this is where buying a gold ETF could be beneficial.
Smaller Investment Required:

Generally, when buying bullion or gold coins, they typically come in 0.5-1 troy ounce segments. This can be quite a high barrier to entry for some and this is where ETFs come in. They allow you to buy a smaller amount of gold, letting you invest more regularly.
Easier to Trade:

There was a time that our currency was directly linked to gold reserves but it's long since passed. Now instead of going through the hassle of handing over a pile of gold coins to buy a car, we would use cash or a bank transfer. The same premise is true for investing in gold, it's far easier to buy and sell digitally rather than selling a gold bar in person.
CFDs (Contract For Difference)
A CFD (contract for difference) is closely related to an ETF but with a few key differences. Instead of owning an ETF backed by physical gold held in a vault or bank, you're speculating on a change in the price of the asset. Because of this, you can make money regardless of the price of gold increasing or decreasing, as long as you successfully predict which direction it is going.
Best Ways to Invest in Gold UK
If you want to buy gold in the UK, you're not limited in choice when it comes to all the different ways you can invest. We've highlighted several pros and cons to each type of investment method below. 
Invest in Physical Gold
The first and most obvious way to invest in gold would be to buy physical bars. You could purchase bullion bars, commemorative coins, and currency like a krugerrand. Using this method, you can get to see your investment in person, something quite rare these days, but that's not the only benefit. If you're purchasing coins that are considered legal tender, you can avoid paying any capital gains tax.
Invest in Gold CFDs/ETFs
Alternatively, if you don't feel comfortable with the risk of having large amounts of gold in your house, or perhaps simply you don't want to pay the storage costs for physical gold, then investing in a CFD or ETF may be for you. If you want to buy gold easily UK, this is probably your best bet, it's as simple as registering for eToro, depositing funds, and purchasing a gold ETF. While an ETF works similarly to a physical investment, it's crucial to remember with a CFD you do not own any gold and are simply speculating on the price changing.  
Invest in Gold Miner Stocks
To throw a spanner in the works, we'll also discuss making an investment into a company that mines gold. Generally, these stocks will closely follow the gold market, which makes sense considering gold is their trade, however, if you do some research and find an extremely well run gold mining company, this doesn't always have to be the case. If the company is still making good profits while the price of gold has dropped, it can manage to weather the dip, therefore being a more stable investment. That being said, for a company that mines gold to continue increasing profits during a price dip they would have to be exceptionally well run, and such a company isn't always easy to find, although they are definitely out there.
Is Gold a good investment? 
People have been investing in gold, in some way or another, for hundreds if not thousands of years, for something to be a worthwhile investment this long, clearly there's something to it. As of today (17/09/21) one troy ounce of gold is currently worth £1,273 which is up from around £1000 a decade ago, an increase of roughly 23%.
Long Term Potential
Gold has always been seen as a long-term investment or a store of value, and this is still true today, you're not going to get rich overnight from investing in gold. That being said, gold is up 23% in the last decade, which is certainly nothing to shake a stick at. There is only a finite amount of gold that can be mined on earth, and with the demand for gold increasing in the technology sector due to its conductive properties, this demand is likely to increase drastically over the next 50-100 years. As gold is a scarce resource, eventually we're likely to hit a tipping point where there is simply not enough supply to meet demand, provided we don't find another large source of gold (meteors, etc).
Protects From Inflation
As we previously mentioned, gold has seen a 23% price increase in the past decade. In the UK, the government tries to maintain a yearly inflation rate as close to 2% as it possibly can, which means if you have £10,000 in the bank, one year later it'll only be worth £9,800. If we divide the 23% price increase of gold by 10 (a decade) then you can see gold rise in price by about 2.3% a year, making it a great way to store value and protect against inflation over the long term.
Investing in Gold – What are the Risks
As a rule, no investment is without risk and gold is not exempt from this. While it's generally considered a relatively safe investment, market volatility and the potential for alternatives could cause issues.
Volatility
No market is without volatility, and although gold is fairly stable it has seen sharp declines in its price previously. Generally, these drastic drops are often caused by fluctuations affecting the whole market (recessions, housing crises, etc). One area outside of this, that could cause a huge drop in value for gold, is if the technology sector finds a replacement. As the price of gold climbs, it makes sense for people to look toward alternatives and if they find one, the demand for gold will face a sharp decline.
Gold is Considered Speculative
Although gold is considered a store of value, it's highly speculative and its worth is heavily tied to currencies and interest rates. While this isn't necessarily an issue on its own if using something like a CFD (which is speculative by nature) you're essentially speculating on the price of a speculative asset which certainly increases risk. 
How to Invest in Gold UK with eToro
Below, you can find a short walkthrough that explains how to buy gold easily UK through our pick for the best UK gold broker, eToro.
Step 1: Open an account with eToro
If you want to invest in gold UK, then the first step is registering with eToro. Simply navigate over to the eToro website, click the "Join Now" button and fill in your information. This process only takes a couple of minutes and is as simple as picking a username and password.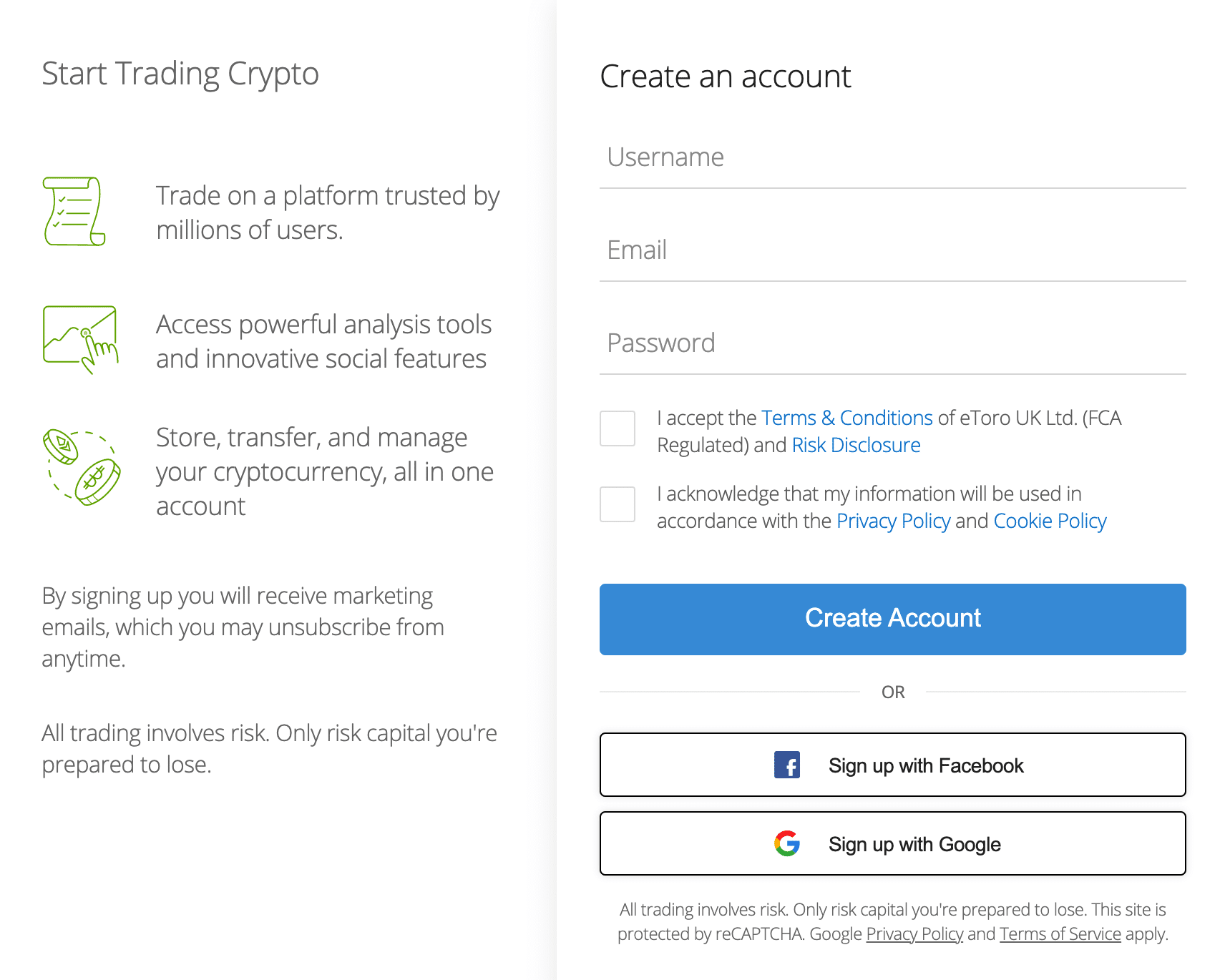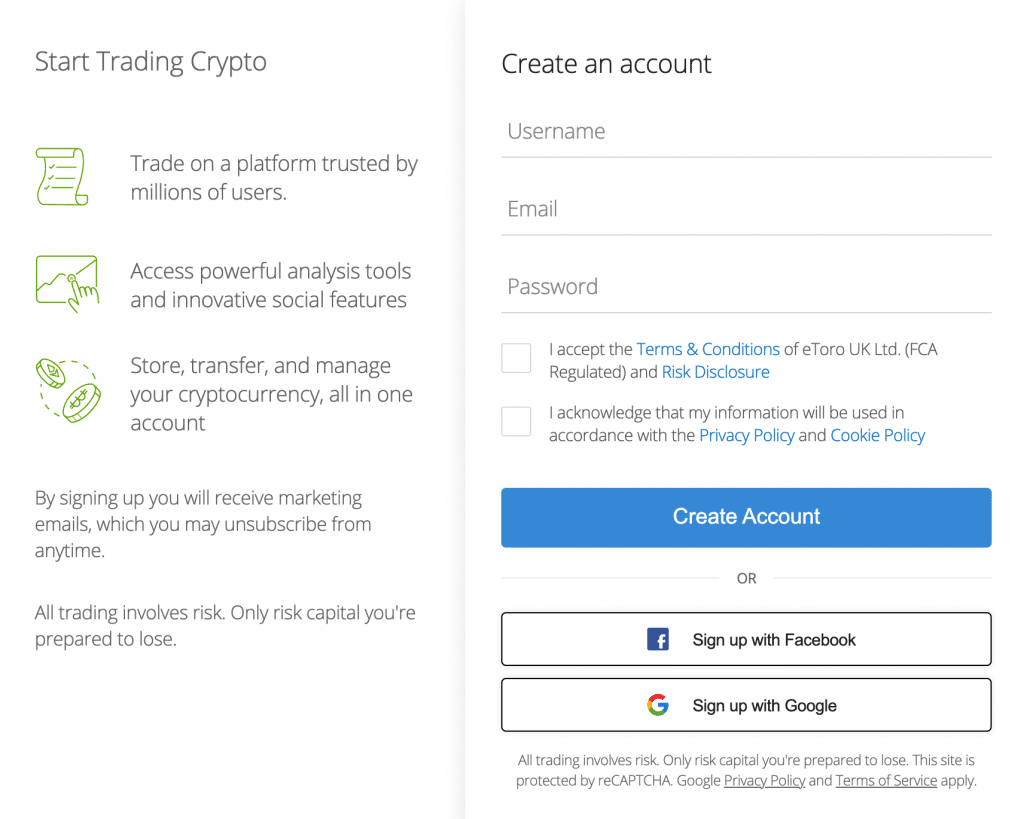 67% of retail investor accounts lose money when trading CFDs with this provider.
Step 2: Verify your account
After you've signed up, you'll have to verify your account. This is because eToro is a regulated platform and is common practice with any reputable brokerage. You'll have to provide a photo ID (passport, driving license) as well as proof of address (bank statement, utility bill). After this, you'll have to complete a brief KYC (know your customer) questionnaire to prove you understand the risks associated with trading.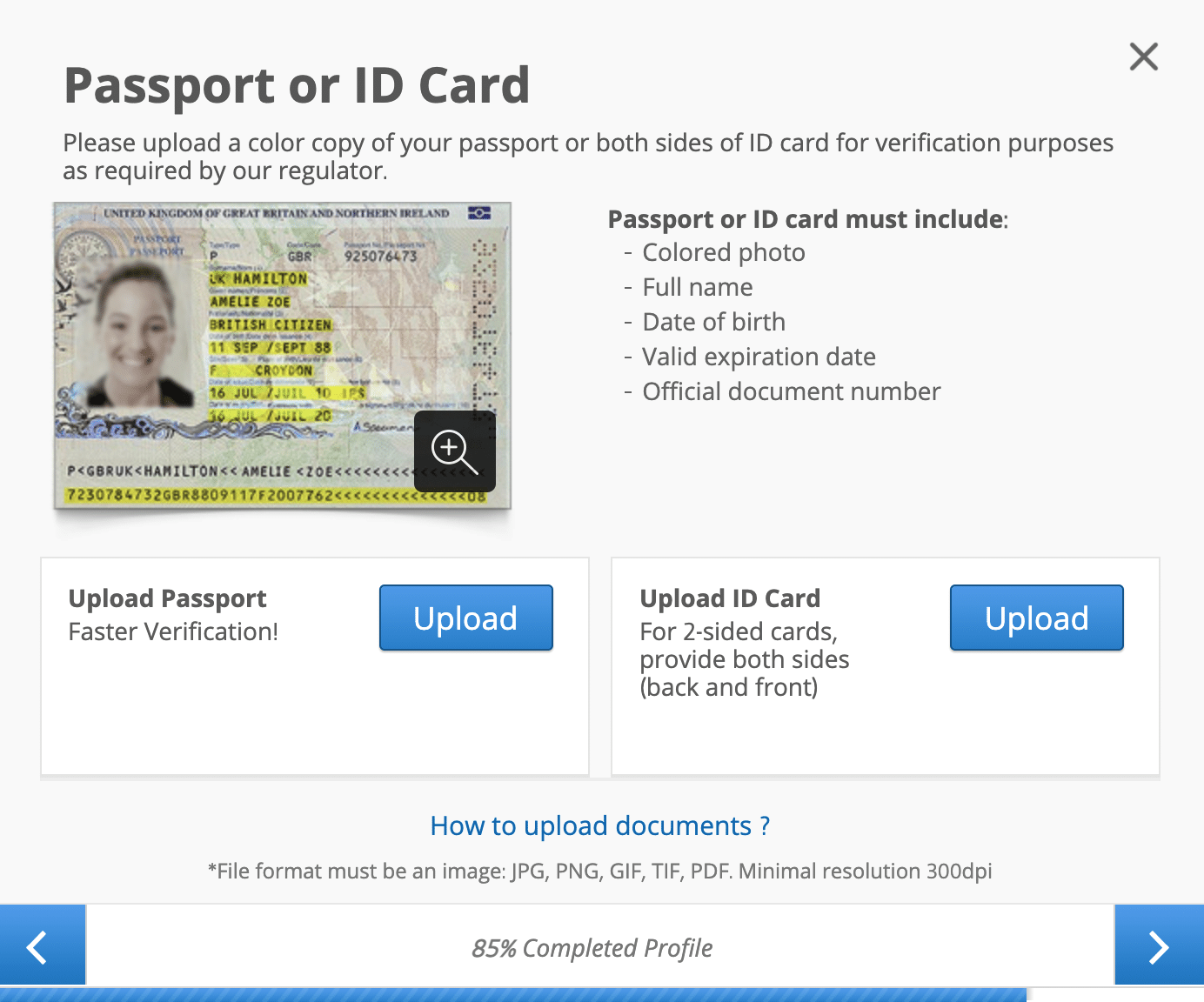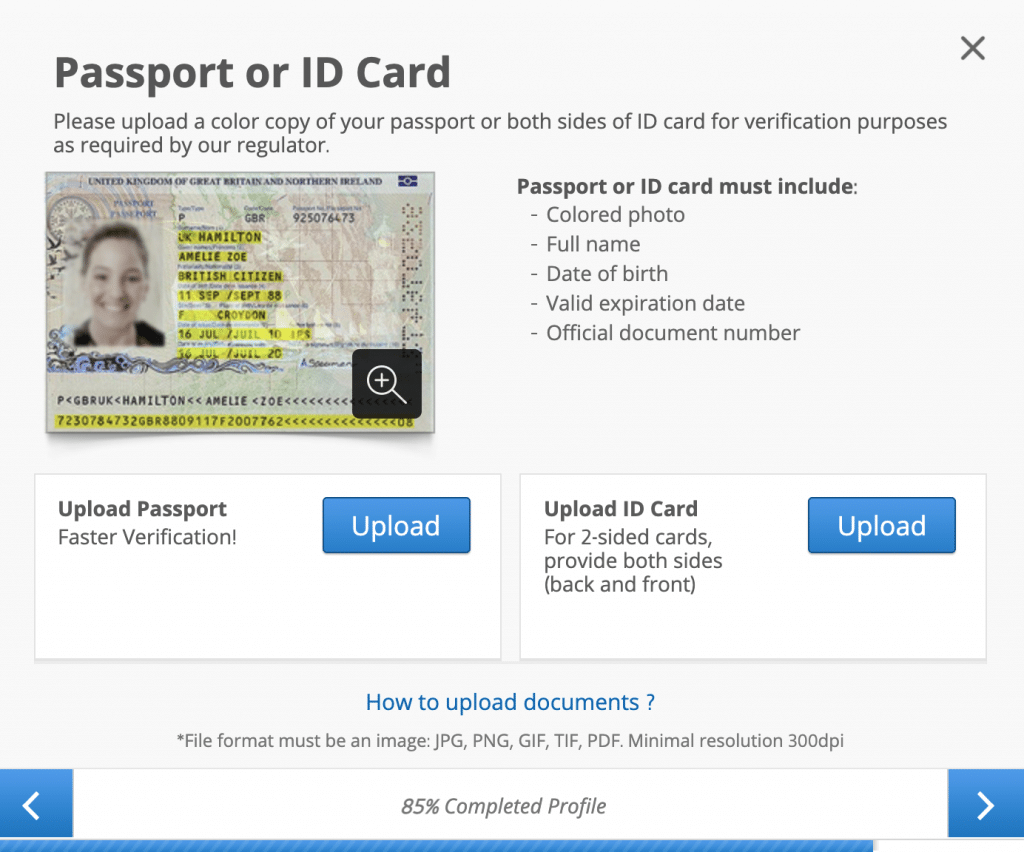 Step 3: Fund your account
Once you've verified your account, you'll need to deposit some funds. Luckily, eToro has a range of deposit methods, you can use a credit/debit card, wire/bank transfer, or an e-wallet (PayPal, Skrill, etc). 
Step 4: Buy some gold!
The final step is to buy some gold. To do this, simply type "gold" into the search bar, click "trade" and enter the amount of gold you want to buy. eToro supports fractional investments so you have a lot of choice in the amount you want to invest.
Conclusion
To round off, gold is a massively popular investment and has been for hundreds of years, this is partly thanks to its use as a store of value, protecting against inflation. It's important to remember that gold is typically a long-term investment, although, if you trade leveraged ETFs or CFDs you can see huge gains in a short period. We recommend using eToro to invest in gold UK, as they offer a great blend of security, indicators, and an easy-to-use platform. Combine this with a proven track record of over 15 years, and you can be sure that your investment will still be safe over a long period.
FAQs
Should I buy Gold bullion?
Where can I Invest in Gold UK?