How To Invest In Gold – Investing in Gold For Beginners 2021
For as long as people have adorned themselves with jewellery, gold has been prized by humans and viewed as a status symbol. In 2021, not much has changed, gold is still seen as one of the most desired elements on earth and with its use in electronics, this demand is likely to continue increasing. Over the past 15-years, the price of gold has increased by more than 200%. As a result, investors have been wanting to get their hands on the finite resource before prices rise even further. The price of a troy ounce of gold is currently $1773 and hovering near 2013 highs. With the price pushing into the $1900s prior to the coronavirus pandemic, it could be an excellent time to invest before the market recovers and gold continues its push toward $2000. 
If you're wondering how you can get a piece of the pie and make an investment into gold, you're in luck! We'll cover exactly how to invest in gold, some of the pros and cons associated with your new investment, and the best brokers to make it with.
#1 Broker to Buy Gold – eToro
How to Invest in Gold – Step by Step Guide 2021
Before you can make your first investment, you need to register with a regulated brokerage. We recommend eToro because they offer users an excellent blend of security, trading features, and simplicity. 
Step 1: Open an eToro account:

The first step on your investing journey is signing up with the top gold brokerage, eToro. All you have to do is type "eToro.com" into your browser, press "Join Now", and fill in the necessary information. 

Step 2: Verify your Identity:

Due to strict rules surrounding money laundering, every regulated platform will require customers to complete a basic KYC (know your customer) process. All you'll need is a photo ID (passport, driving license) and proof of address (bank statement, utility bill). 

Step 3: Fund your Account:

Once your account has been verified, all that's left is to fund it. To do this click on the button marked "Deposit Funds", enter however much you'd like to invest, and press "Deposit". 

Step 4: Invest in Gold:

Now that your eToro account is funded, you're ready to invest! Just type "gold" into the eToro search bar, select the relevant option, press "Trade", enter the amount you want to invest, and press "Open Trade". 
Choose a Broker
One of the most overlooked aspects of investing is choosing a high-quality broker that's going to provide you with all the necessary tools to succeed. There's an uncountable number of brokers out there, but only a few are really up-to-scratch. To help make your selection process easier, we've written full-length reviews on the best brokers to make your investment with.
eToro – Overall Best  Gold Broker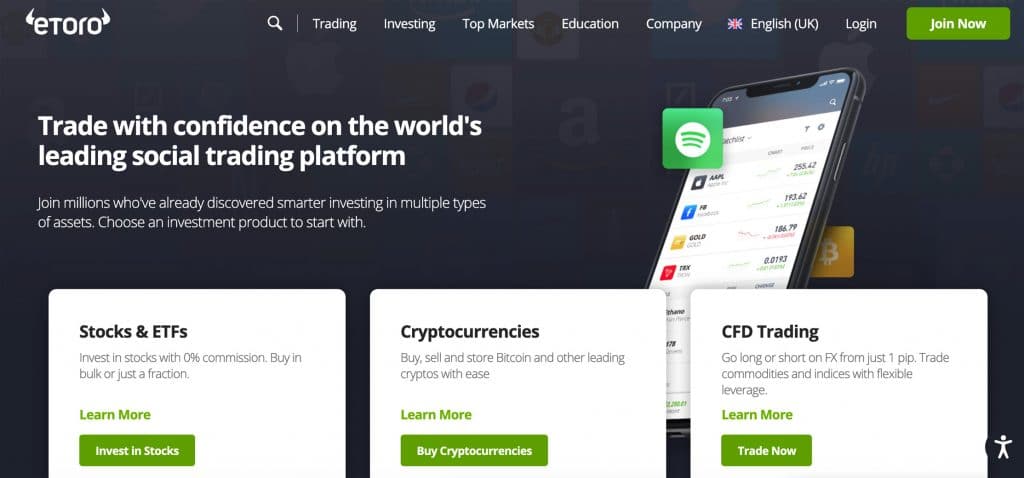 One of the most popular brokers in the world, eToro has been serving customers since 2007. Since this time they've grown to be one of the foremost gold brokers and currently serve over 20 million users. eToro is tailored to everyone's needs and jam-packed full of useful features that will keep even the most experienced traders happy. 
Security & Privacy
If you're an investor, you've got to be worried about your money. If you're not and don't do your due diligence and the chances of losing your investment rise massively. To this effect, it makes sense that investors want to ensure their chosen broker is safe. eToro is regulated by CySEC and the FCA meaning they're regularly audited to ensure strict customer protection standards are upheld. If you're worried about providing any sensitive information to eToro, don't be. They protect all personal information using SSL encryption to ensure no data can be intercepted. In addition to this, eToro staff are trained to spot any unusual activity, further securing your funds.
Features
It's impossible to grow to the size eToro has without providing users with a top-quality investment experience. eToro has achieved this by implementing features that are useful to both beginner and experienced investors. One such feature is CopyPortfolio's a way users can invest in a variety of companies at once (in a similar way to an ETF), this is excellent for minimizing the amount of risk you're exposed to. Are you looking for a platform to manage multiple investments? eToro supports every major market, allowing users to take everything from Forex to crypto. Additionally, eToro users benefit from an extremely attractive fee structure, for the most part, eToro is completely commission-free, only charging a small spread on higher risk investment types.
eToro Fees
| | |
| --- | --- |
| Fee Type | Fee Amount |
| Gold ETF Spread | 45 Pips |
| Commision Fee | 0% |
| Deposit Fee | $0 |
| Withdrawal Fee | $5 |
| Inactivity Fee | $10 (Monthly) |
Pros
Regulated

Commission-free

Supports most markets

CopyPortfolios

Over 20 million users
Cons
Technical traders could benefit from MetaTrader integration
67% of retail investor accounts lose money when trading CFDs with this provider.
TD Ameritrade – Invest in Gold Commission Free
TD Ameritrade is an investment giant and has begun to rise quickly in popularity as investors search for reliable brokers. Although they've undergone a number of name changes, they've been operating since the 1980s and since then have grown to be one of the best-known brokers in the US.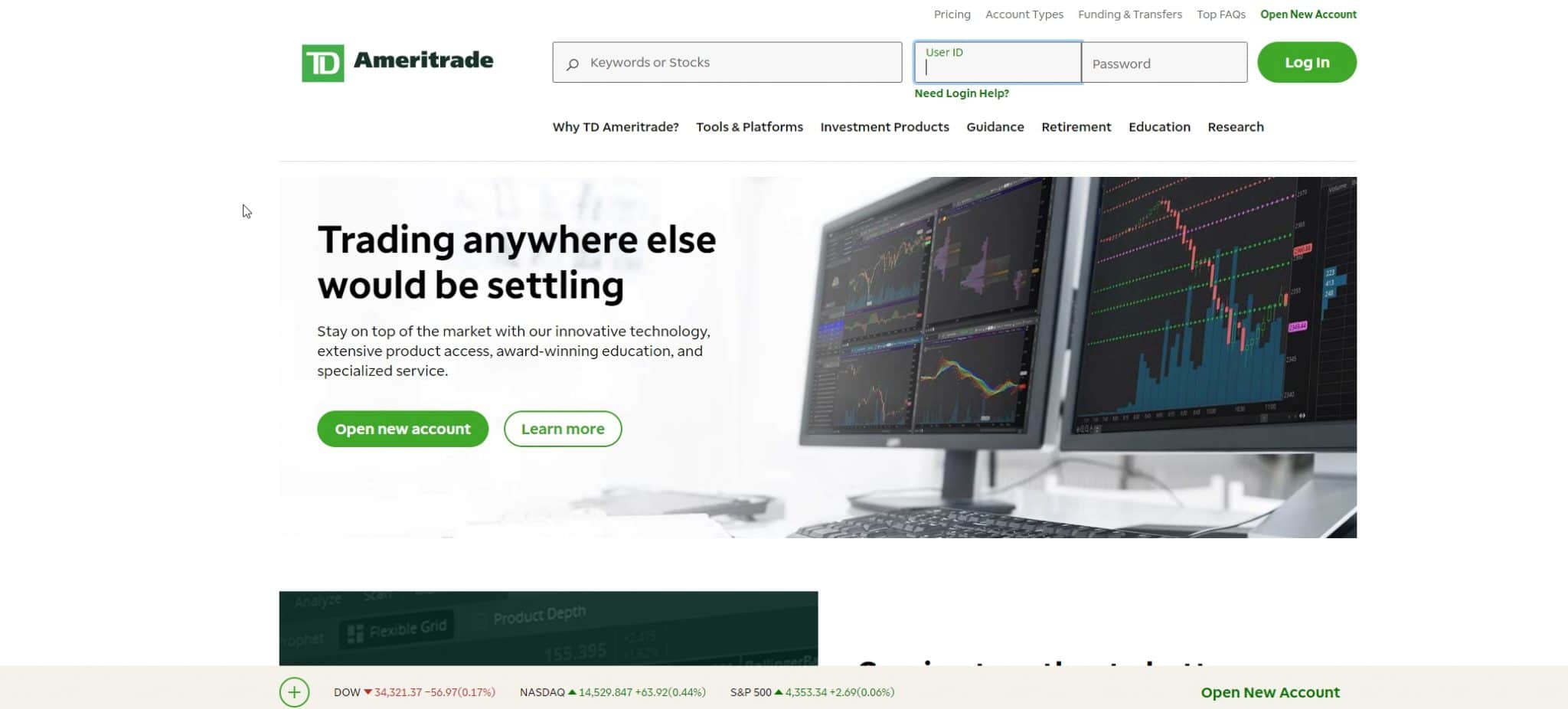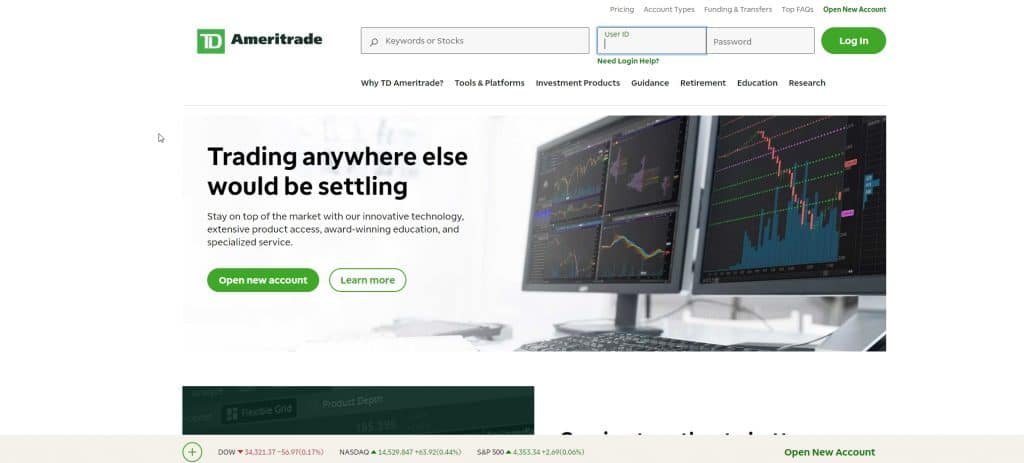 Security & Privacy
Nobody wants to think that their money is at risk when using a certain investment platform, which is why the team at TD Ameritrade "takes security very seriously". They use several industry-leading techniques to ensure that customers are safe. 128-bit SSL encryption is utilized to ensure your data remains safe from criminals trying to intercept it on its way to the TD Ameritrade centra server. Another great feature TD Ameritrade users can benefit from is their "user verification phrase" system. Designed to reassure customers that they're talking to a genuine representative for the company, each user is assigned a phrase when creating their account that they can ask for to make sure they're speaking to a genuine employee.
Features
Regardless of the way you end up choosing to invest, TD Ameritrade has you covered. They allow users to trade in a huge range of markets, covering everything from stocks to Forex, and even IPOs. They also offer some useful features for those looking for a way to grow their portfolio without much effort. Dividend reinvestment is one such feature, as the name would imply, it's a way you can automatically reinvest dividend payments, allowing you to grow your account without any effort. Additionally, users can benefit from the range of educational material offered by TD Ameritrade, covering the basics of investing, all the way to how to manage your personal finances.
TD Ameritrade Fees
Fee Type
Fee Amount

 

Gold

0.32 Pips

Commision Fee

0% (on US stocks)

Deposit Fee

$0

Withdrawal Fee

$0

Inactivity Fee

$0
Pros
Low fees

Lots of investment products

Huge range of markets
Cons
Could be too complex for beginners

Fees add up when trading leveraged positions
67% of retail investor accounts lose money when trading CFDs with this provider.
Robinhood – Invest in Gold Easily


If you're a US-based investor it's almost a guarantee that you would've heard the name Robinhood mentioned at some point. They're one of the most popular US brokers and have attained this title thanks to their incredibly simple-to-use platform, range of markets, and focus on creating a user-friendly experience.
Security & Privacy
Robinhood has done an excellent job of ensuring its customers can focus on investing rather than having to worry about security. They're regulated by the SEC and as such receive regulatory guidance before new regulations are implemented, this makes sure that Robinhood has minimal downtime. If you're US-based then you're in luck, you're insured on balances up to $500,000 meaning you won't be left out of pocket if Robinhood gets compromised. For an additional layer of protection, all transactions on Robinhood require authentication from more than one source. This prevents a bad actor from falsely verifying a transaction.
Features
Although often touted as an extremely beginner-friendly platform, Robinhood certainly isn't lacking when it comes to features. Outside of the simple interface, users can benefit from Robinhood's cash management service that allows you to earn cashback on everyday transactions, a small rebate on purchases is always a welcome bonus. Outside of this, Robinhood allows users to trade in stocks, options, and crypto, meaning investors aren't limited to one market, perfect for anyone wanting a diverse set of investments. On top of this, Robinhood aims to make trading on the go simple, they offer their users an extremely powerful mobile app, allowing you to take advantage of dips in the market from anywhere in the world.
Robinhood Fees
| | |
| --- | --- |
| Fee Type | Amount |
| Trading Fee | 0% |
| Credit/Debit Card Fee | 3.99% |
| Spread Fee | Variable |
Pros
Simple to use

Range of markets

Regulated
Cons
Doesn't support as many markets as others on this list

Overly simplified for some users
67% of retail investor accounts lose money when trading CFDs with this provider.
Invest in Gold  – Broker Price Comparison
To help you decide on which broker is best for you, we've included this easy-to-reference table that compares the fees of each.
| | | | | |
| --- | --- | --- | --- | --- |
| Broker | Commission | Deposit Fee | Withdrawal Fee | Inactivity Fee |
| eToro | 0% | $0 | $0 | $10 monthly (after 12 months inactivity) |
| TD Ameritrade | 0% (on US stocks) | $0 | $0 | $0 |
| Robinhood | $0 on trades of <50 shares. Up to $5.95 on trades over 50 shares  | $0 | $0 | $0 |
What are Gold Stocks? 
Before pulling the trigger on an investment, it's important to consider what the best best way of investing in gold is for you. Although you wouldn't think it, purchasing, storing, and trading physical gold can be quite challenging. If you want to store it, you'll need to pay for a safety deposit box or risk having it at your home and if you want to sell it, you'll have to take a trip to a gold merchant and barter with them to ensure you get the best price possible (it should be noted this is almost guaranteed to be below the spot price). 
Investing in gold stocks alleviates these issues, you can buy and sell instantly, easily manage your investment, and don't have to pay any storage costs. However, that doesn't mean an investment in gold stocks is without its own challenges, you'll need to decide which investment type is best for you. To help make this a bit easier, we've broken two of the main ways you can invest in gold stocks. 
ETFs (Exchange Traded Funds)
One way you can invest in gold without the hassle of dealing with bullion is by investing in a gold ETF. Otherwise referred to as an exchange-traded fund, an ETF is essentially a bundle of related assets that have been grouped together by a fund manager, to allow easy investment. This creates a lower-risk investment with higher stability, perfect for long-term investors. Because an ETF comprises a range of companies, investors are shielded from a portion of gold's fluctuations in price. While this sounds like it has no downside, you should be aware that when investing in an ETF, you're not purchasing any of the underlying assets, instead, you're simply investing in a fraction of the ETF containing them.
CFDs (Contract For Difference)
Another way you can invest in gold stocks is with a contract for difference, often abbreviated to CFD. This method of investing differs from investing directly in gold or an ETF, instead of purchasing an asset or group of assets, you're speculating on a change in price. If that doesn't make much sense to you, just imagine you're making an educated guess on whether the price of gold is likely to rise or fall, earning the difference between your entry and exit price as profit. Oftentimes, because you need to take advantage of small changes in price you'll have to trade using leverage, which is a way of magnifying both your profits and losses. Due to this, investing in CFDs is only recommended for those with trading experience, because you have the potential to lose even more than you initially invested.  
Best Ways to Invest in Gold 
As we briefly touched on, there's plenty of ways to invest in gold, but the best method will be dependent on your individual investment strategy. Whenever you're thinking about making an investment, it's advisable to create a list of requirements and things you'd like to avoid, then you can compare your needs against what each investment type offers.
Invest in Gold Bullion
The most traditional way you can invest in gold is by buying physical gold bullion. It's likely that you've already invested in physical gold without realizing it, most commonly, this would be in the form of gold jewellery. For individuals that would prefer to make a tangible investment, buying physical gold is hard to beat. It's one of the most traded commodities in the world and as such, you shouldn't have too much of an issue when trying to sell or trade your assets. The downsides to investing in physical gold mostly come from storage issues. Although you'd have little problem hiding a single ounce or bar of gold around the house, most people don't have the space to store large amounts, especially safely. It's always crucial to keep in mind that having thousands of dollars worth of gold stashed around your house could make you a target for criminals. If hiding gold around the house isn't your sort of thing, you could always get a safety deposit box but it's worth bearing in the costs associated with one could seriously eat into your profits.  
Invest in Gold Stocks/CFDs/ETFs
Not a fan of dealing with physical investments? Or perhaps you'd simply prefer to invest in something that can be bought and sold instantly? If you answered "yes" to either of these statements, the chances are high that you could benefit from investing in some form of gold stock. Because there are a few different ways you can invest in gold stocks, we've broken this section down into segments, explaining the pros and cons of each investment type. 
Stocks: When investing in gold stock, the price you see represents 1 troy ounce of gold. Therefore, when you make an investment and it is shown as a decimal you own that fraction of a troy ounce of gold. Investing in gold stock is ideal for an investor looking for direct exposure to gold without taking on the burdens linked to physical gold. 
CFDs: Interested in day trading or making a short-term investment? If so, then a gold CFD might be perfect for you. When investing in a CFD, you're not buying any assets, instead, speculating on a price change. Because of this, you're less likely to run into any liquidity issues and don't have to worry about selling your assets, all you'd have to do is close the position. ETFs tend to be on the riskier side of things, simply because you'll most probably have to use leverage (unless you have large amounts of capital).
ETFs: If you like the idea of investing in gold stocks but don't want to have such a high direct exposure to gold, you'll probably like investing in an ETF. Typically, an ETF is seen as a long-term investment, suited to those looking for stable growth and minimal risk. An ETF has both of these attributes in spades because it is composed of multiple assets, preventing a gold crash causing as much damage to your portfolio.
Invest in Gold Miner Stocks
An alternate way of investing in gold is purchasing gold miner stocks. Instead of directly investing in gold, you buy shares of the companies pulling it out of the ground, this comes with several benefits when compared to direct gold exposure. It makes sense that the value of a company mining something is linked closely to the price of the actual commodity, while this is true for the most part, with some careful planning and research you can pick out a company that is still likely to have strong performance if the price of gold drops. This means that in the event of the price of gold dropping, your portfolio won't sustain as much damage and in the event of it rising, you'll still be making money because the revenue of the miner will increase dramatically. Although it can be very difficult to pick a mining company that will still have strong performance if gold dips, it is possible and very rewarding. 
Is Gold a good investment? 
Gold has been regarded as a solid investment for centuries due to its nature as a finite resource with an incredible amount of demand. Of course, more gold is mined every year, which in theory should lower the value. However, this is offset by people losing or holding gold for the long-term, effectively taking it out of circulation. This scarcity is part of what has driven the price of gold for years.
Finite Resource
As we briefly touched on, gold is a finite resource. Only so much can be pulled out of the ground and eventually, we'll reach a point where there's no more minable gold left on the planet. In recent times, gold has been increasingly used in technology due to its conductive properties. As we as a population continue to grow in technological dependence, it's only a matter of time before gold becomes even less attainable, more scarce, and increases hugely in price. 
Store of Value
It's well known to investors that inflation is a silent killer. You may work for years to create a sizable nest egg, but if it's stored in the bank it's destined to decrease in value by around 2% each year. This is where investments considered a store of value come into play, they give you a way to store your wealth, while steadily increasing at a similar rate to inflation. As you may have guessed, this prevents you from losing out due to inflation. 
Investing in Gold – What are the Risks
Although gold has been seen as an investment for centuries, it still comes with its own risks. Despite gold being commonly regarded as one of the safest investments, this is increasingly less true. Although it's easy to get caught up in the popularity of an investment, it's crucial you also look at its performance in recent years.
Poor Performance
While gold is regarded as a fairly safe investment, it's certainly far from the most profitable one you could make. If you look at the price of gold over the past 10 years it's barely any higher than it was in 2010, in fact, if you invested in gold between late 2011 and 2013, you'd still be out of pocket today. While many believe this to be a temporary blip, if you made an equivalent-sized investment into Bitcoin during the same period, you'd be a millionaire today. 
Alternatives
When you look at the value of gold over the past 50 years, it reads like an incredible investment. Rising from almost nothing in the 50s to being worth close to $2000 per troy ounce in 2021. However, what you need to keep in mind is that gold only began to see these highs fairly recently. In the early 2000s, gold was trading for around $250 but with the technology boom, came an increased demand for gold's conductive properties. This led to a price closer to $1200 by the end of the decade. As an investor, what you need to think about is can this demand be sustained? We use an ever-increasing amount of technology in our everyday lives, with many devices needing to be as cheap as possible. Because of this many electrical manufactures are looking toward cheaper alternatives. As soon as one is found the demand for gold is set to plummet and with it the price.
How to Invest in Gold with eToro
At Economy Watch we've tried out countless investment platforms, but after careful consideration, we can safely say none compare to eToro in terms of security, ease-of-use, and features. Because of this, it makes sense to use them in our comprehensive guide on how to invest in gold. 
Step 1: Open an account with eToro
The first thing you'll need to do before you can make any investment is register with a trusted broker. As we just touched on, eToro is one of the best and as such, we'll be using them in this guide. Just type "eToro.com" into your browser's search bar, press the "Join Now" button, and fill in the required information.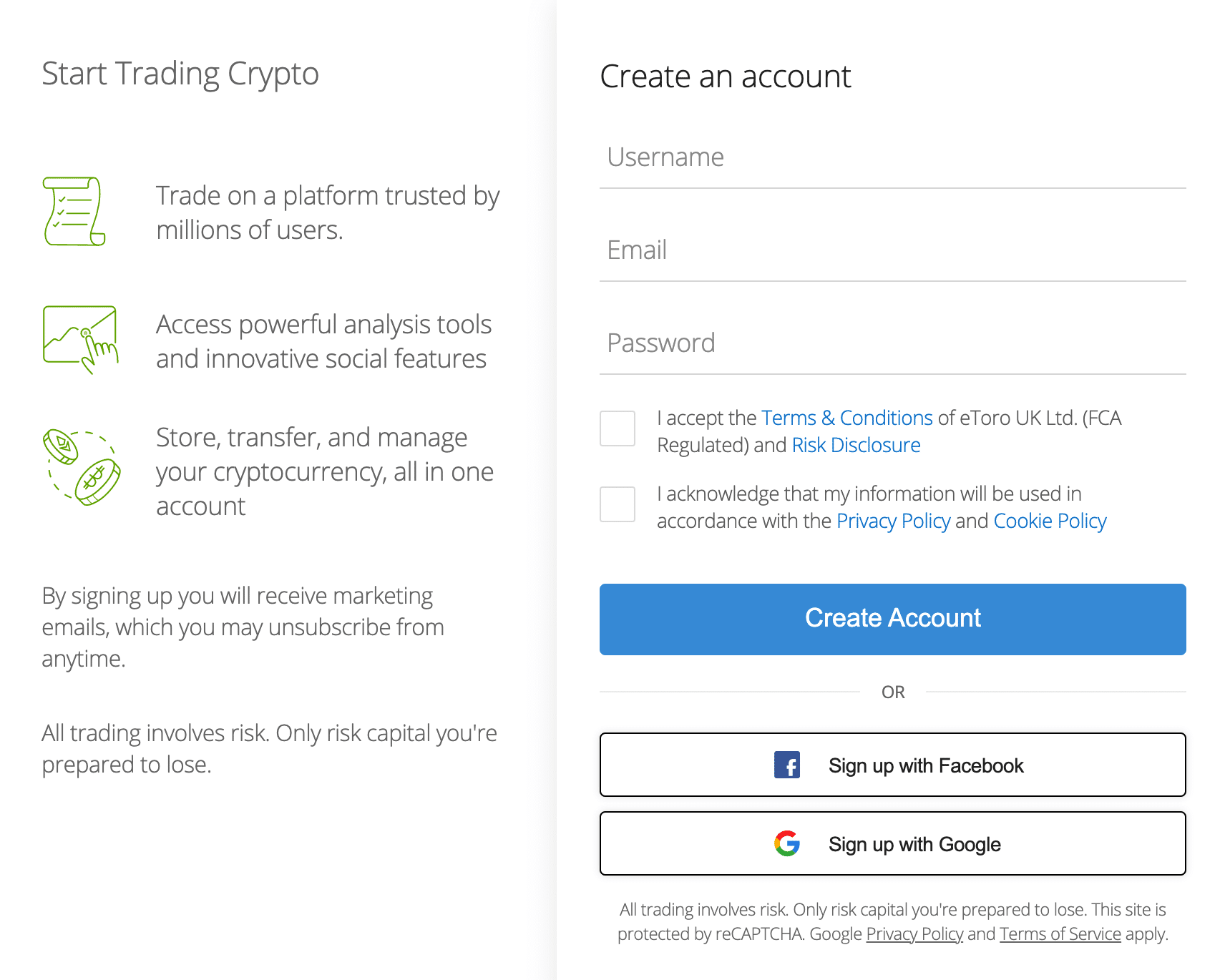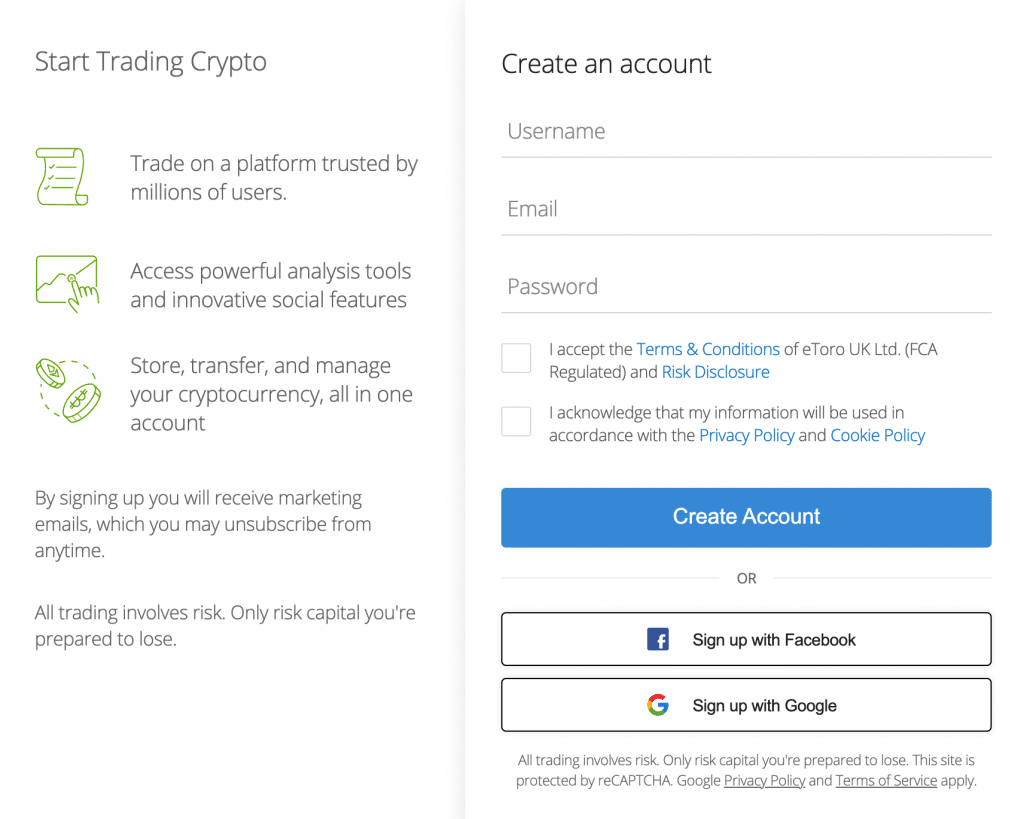 67% of retail investor accounts lose money when trading CFDs with this provider.
Step 2: Verify your account
After you've signed up for eToro, you'll have to verify your identity. This is because eToro is a regulated platform and as such has to comply with strict rules surrounding money laundering. Luckily for you, the verification process is simple, all you have to do is provide a photo ID (passport, driving license) and proof of address (bank statement, utility bill).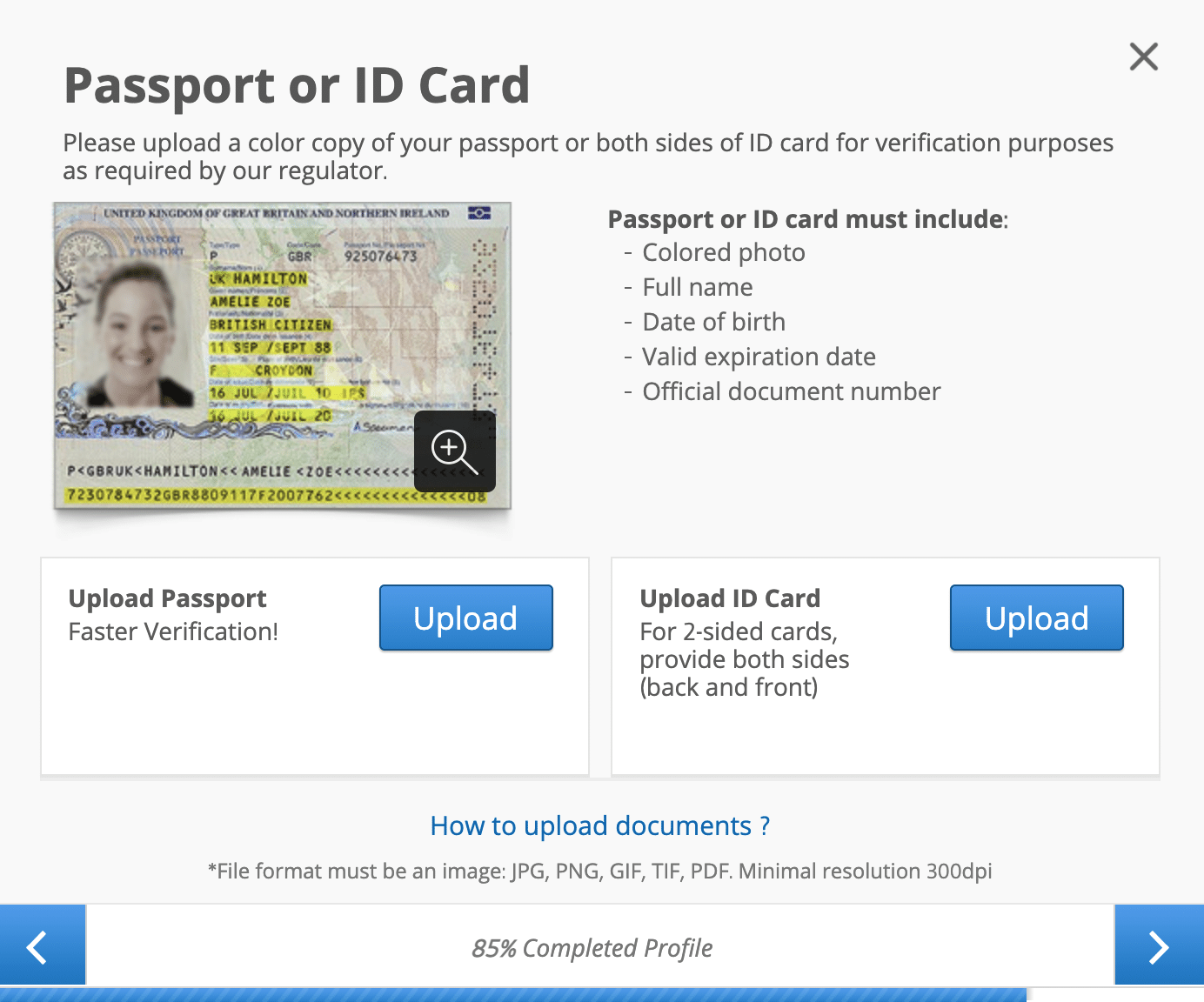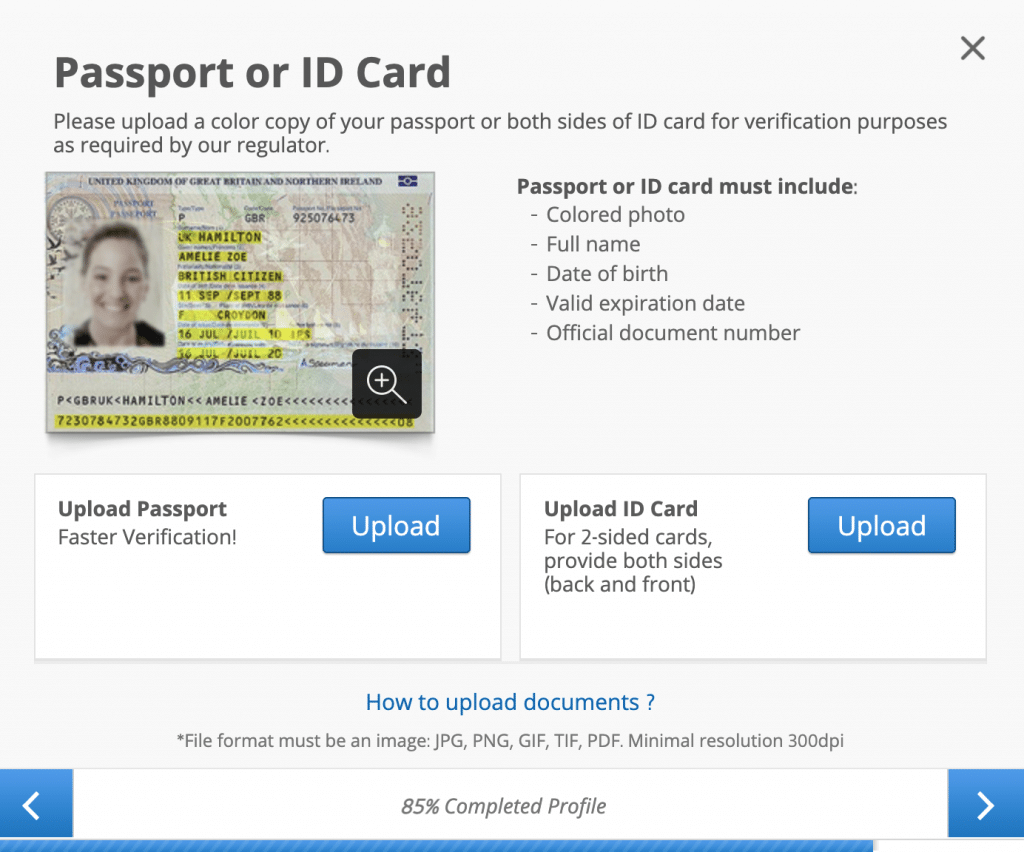 Step 3: Fund your account
Once your eToro account has been verified, you'll have to fund it. This couldn't be easier, all you've got to do is click on the button marked "Deposit Funds", enter the amount you'd like to invest, and press "Deposit". eToro supports credit/debit cards, bank transfers, and e-wallets (PayPal, Skrill). After you've deposited some funds you're ready to move on to the final step.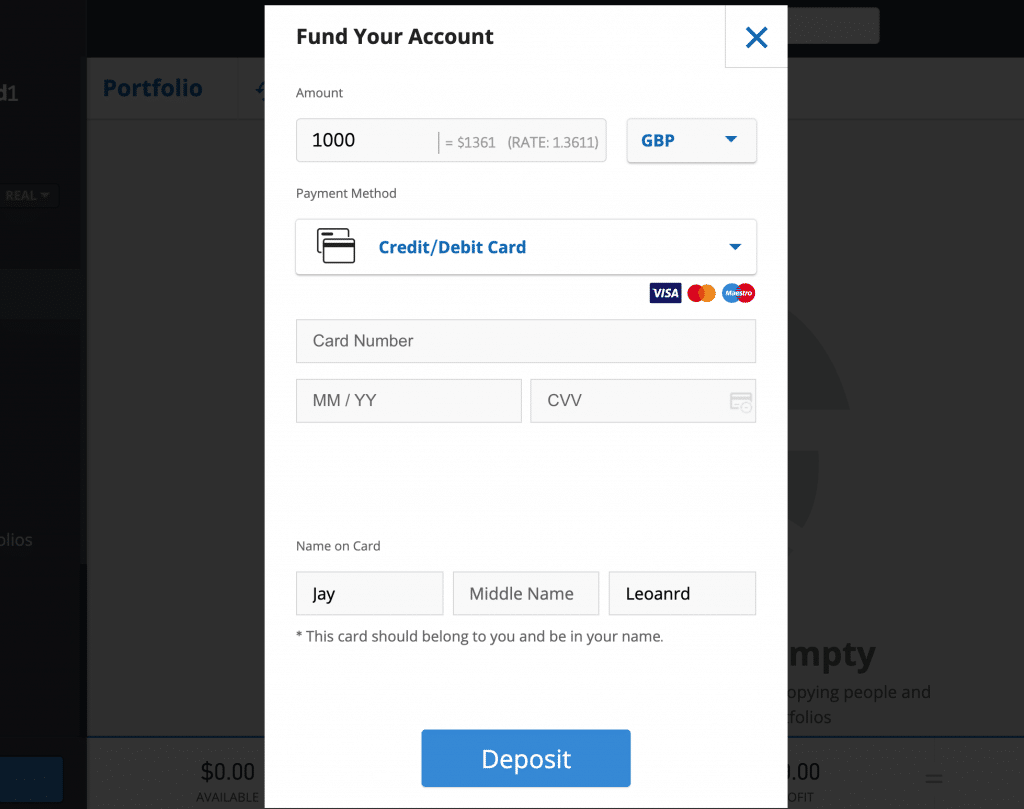 Step 4: Buy some gold!
Now that you've verified your eToro account and funded it, you're ready to invest in gold! Just type "Gold" into the eToro search bar, select the relevant option, press "Trade", type in your chosen investment amount, and hit the "Open Trade" button. You'll be able to make sure your investment has gone through by looking at the portfolio section of your account.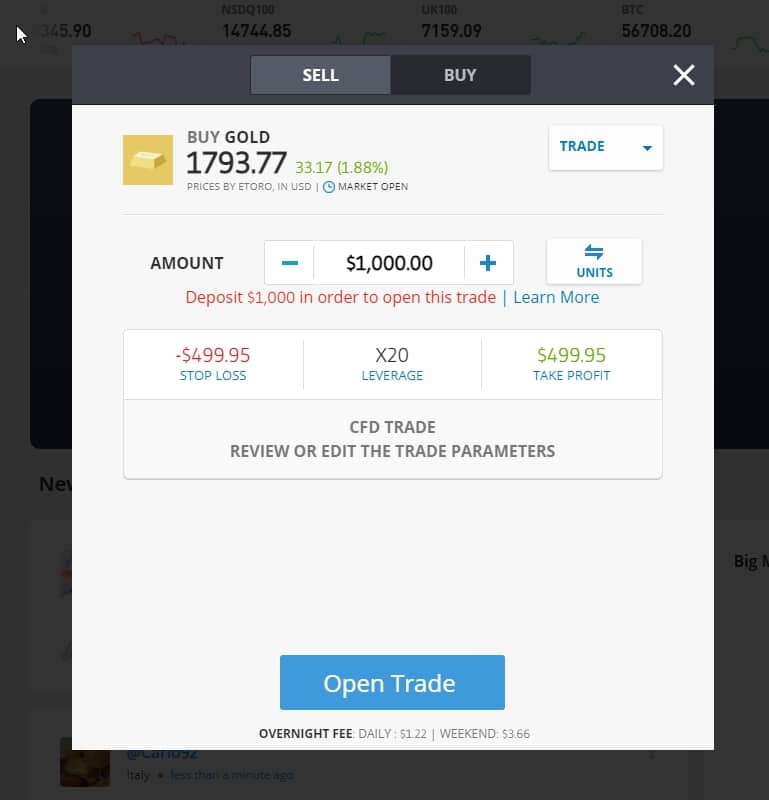 Conclusion
There we have it, you've reached the end of our guide on how to invest in gold. You're officially ready to make your first investment! With the price of gold still hovering below its 2012 highs, it's a great time to invest in gold before the market recovers fully. Before investing in gold you should consider how long you plan on holding your investment because gold is typically seen as a long-term investment. Although, if you want to make a short-term investment, this is still possible by using leverage. If you're still undecided on which broker is right for you, we've analyzed all the major players, and can safely save none compared to eToro.
Best Platform to Invest in Gold – eToro
FAQs
What is a Gold Miner Stock?
Should I buy Gold bullion?
What's the Best Gold Broker?