How To Invest In ETFs UK – Best ETF Brokers
For years investors have desired a way to make money without taking on a great deal of risk, in 1993 their wishes came true. ETFs were created as a way for investors to put their money into a wide range of companies at once, this allowed them to reap the benefits of having an incredibly diverse portfolio, without the hassle of opening up hundreds of individual positions. Because ETFs are low-risk and fairly stable, this marked a big step forward in making investing accessible for those outside of the financial sector. After reading this guide, you'll have an understanding of what an ETF is, the different kinds of ETF, and exactly how you can invest in one.
#1 ETF Broker – eToro
How to Invest in an ETF – Step by Step Guide 2021
If you need a hand getting started with investing in ETFs, we've got you covered! This simple guide explains exactly how you can start investing in ETFs. It only takes a few seconds to read and a couple of minutes to sign up to eToro, so why delay?
Step 1: Open an eToro account:

Before you can start investing, you'll need to register with a broker. Doing so is easy, just type "eToro.com" into your browser, press "Join Now", and fill in the required details.

Step 2: Verify your Identity:

Because eToro is a regulated platform, you'll need to verify your identity. This process only takes a minute, all you need to provide is a photo ID (passport, driving licence) and proof of address (bank statement, utility bill).

Step 3: Fund your account:

Once your account has been verified you'll need to fund it. To do this simply click on "Deposit Funds" enter however much you want to invest, and press "Deposit". You can use either a credit/debit card, bank transfer, or e-wallet (PayPal, Skrill, etc)

Step 4: Invest in ETFs:

Now that you've funded your eToro account, you're ready to invest. Just type "Vanguard S&P 500" into the search bar, press "Trade" enter the amount you'd like to invest, and press "Buy".
Where to Invest in an ETF – Top 3 ETF Brokers
Prior to choosing the best ETF to invest in, you'll need to register with a broker. You'll be spoiled for choice, however, not all brokerages are created equal. It's important to consider the features, fees, and investment opportunities they offer. To help make this as easy as possible, we've written in-depth reviews for our top 3 choices for the best ETF investment platform. 
1. eToro – Best All-Around UK ETF Investment Platform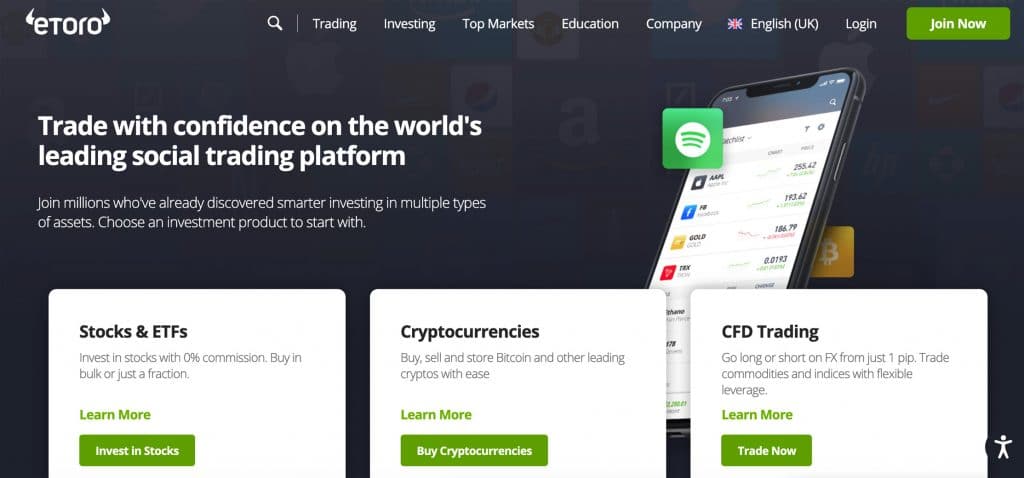 If you've spent much time researching brokers, it's hard to miss eToro. They've been around since 2007 and in that time have gained a stellar reputation and over 17 million customers. You can't attain numbers like that without providing an absolutely fantastic ETF investment platform, that's flush with features. 
Security & Privacy
The main concern of any investor is security, if your money isn't safe, it doesn't matter how your investment is performing. eToro is regulated by the FCA and CySEC, meaning they're subject to regular audits to ensure compliance with strict rules surrounding the protection of customers and their data. In addition to this, any sensitive information you provide eToro is SSL encrypted before being sent to their servers, this means even if someone were trying to intercept your data, they wouldn't be able to use it. To provide users with an extra line of defence, eToro also supports 2FA. 
Fees & Features
With 17 million customers, you kind of have to tailor your platform to fit everyone's needs. eToro has managed to achieve just that by packing its platform full of features and packaging them inside a user-friendly interface. Technical traders have access to a reasonable amount of indicators and a heap of charting tools. Beginners can benefit from eToro's proprietary CopyTrading, which allows you to automatically mirror the trades of more experienced users, generating a source of passive income. One feature that I'm sure both beginners and experts can agree is excellent is the fee structure, eToro offers commission free-trading, meaning you'll receive every penny you invest. 
eToro Fees
| | |
| --- | --- |
| Fee Type | Fee Amount |
| Commission Fee | 0% |
| Deposit Fee | £0 |
| Withdrawal Fee | £5 |
| Inactivity Fee | £10 (Monthly) |
Pros
Regulated

Commission-free

CopyTrading

Good range of charting tools

17+ million users

Solid track record
Cons
TradingView integration would be nice to have
67% of retail investor accounts lose money when trading CFDs with this provider.
2. Hargreaves Lansdown –  Premium way to Invest in UK ETFs 
Founded back in 1981, Hargreaves Lansdown puts premium investing features, usually reserved for those with millions, in the hands of the regular investor. After spending a few minutes on their website it's clear to see they focus on delivering a high-end trading experience that is surprisingly accessible.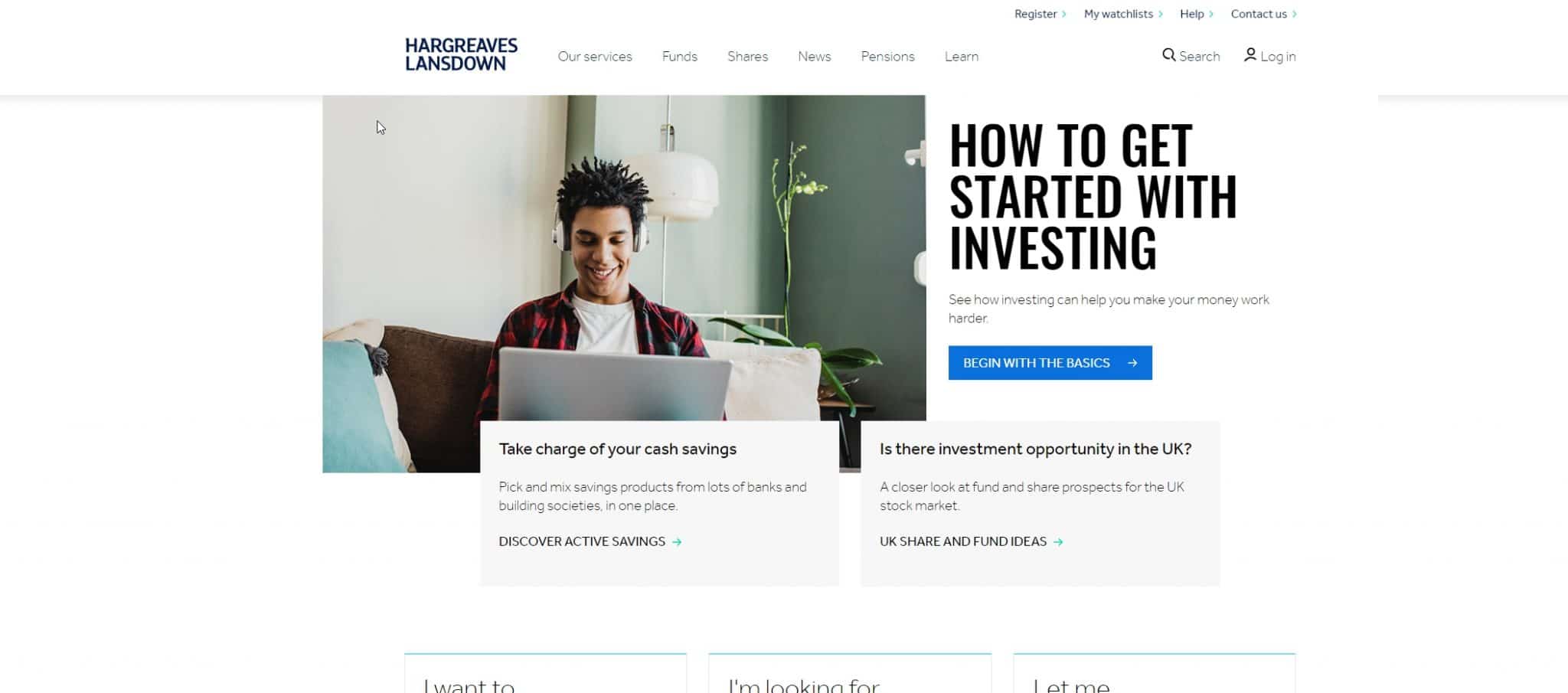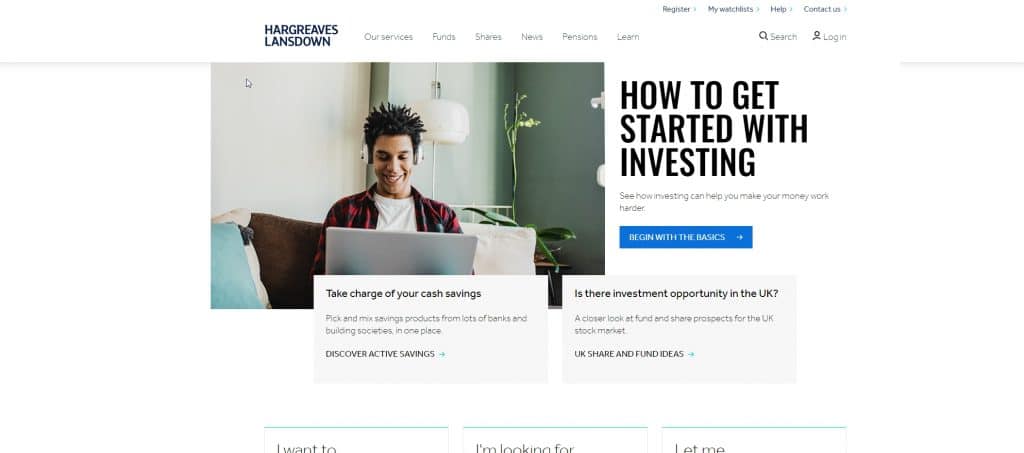 Security & Privacy
In my opinion, an investment platform can't be considered "premium" without having top-notch security. Seemingly Hargreaves Lansdown shares this same sentiment because they offer users an extremely secure platform with plenty of useful tips on keeping your account secure. They're regulated by the FCA, which is always a positive sign, it shows they comply with strict financial regulations and look after customer data. If you're worried about the safety of your funds in the event of HL getting breached, don't be, they're covered by the FSCS on balances up to £85,000 meaning you won't be left out of pocket should they be compromised. Additionally, HL has created what they refer to as a security centre, which provides you with a huge amount of information on keeping your account secure and spotting potential threats.
Fees & Features
As we mentioned HL focuses on delivering premium investment features that are usually reserved for the mega-wealthy. In contrast to any other platform we've seen, HL offers every one of their users the ability to book in for a phone or face-to-face consultation with one of their financial advisors. It's great to see a broker looking after the little guy as well as their large clients. They also have a plethora of research into various financial markets that could keep even the most experienced investor busy for quite a while. Unfortunately, premium features come at a premium price point, the HL trading fees are steep and it's clear they're aimed at those investing large sums.
Hargreaves Lansdown Fees
| | |
| --- | --- |
| Fee Type | Amount |
| Commission | £11.95 |
| Withdrawal Fee | £0 |
| Deposit Fee | £0 |
| Inactivity Fee | £0 |
Pros
Consultancy service

Huge amount of research

FSCS insurance

Range of markets

Loads of investment opportunities
Cons
High fees

Steep costs for certain services

Not the most beginner-friendly
67% of retail investor accounts lose money when trading CFDs with this provider.
3. AvaTrade – Invest in Global ETFs From the UK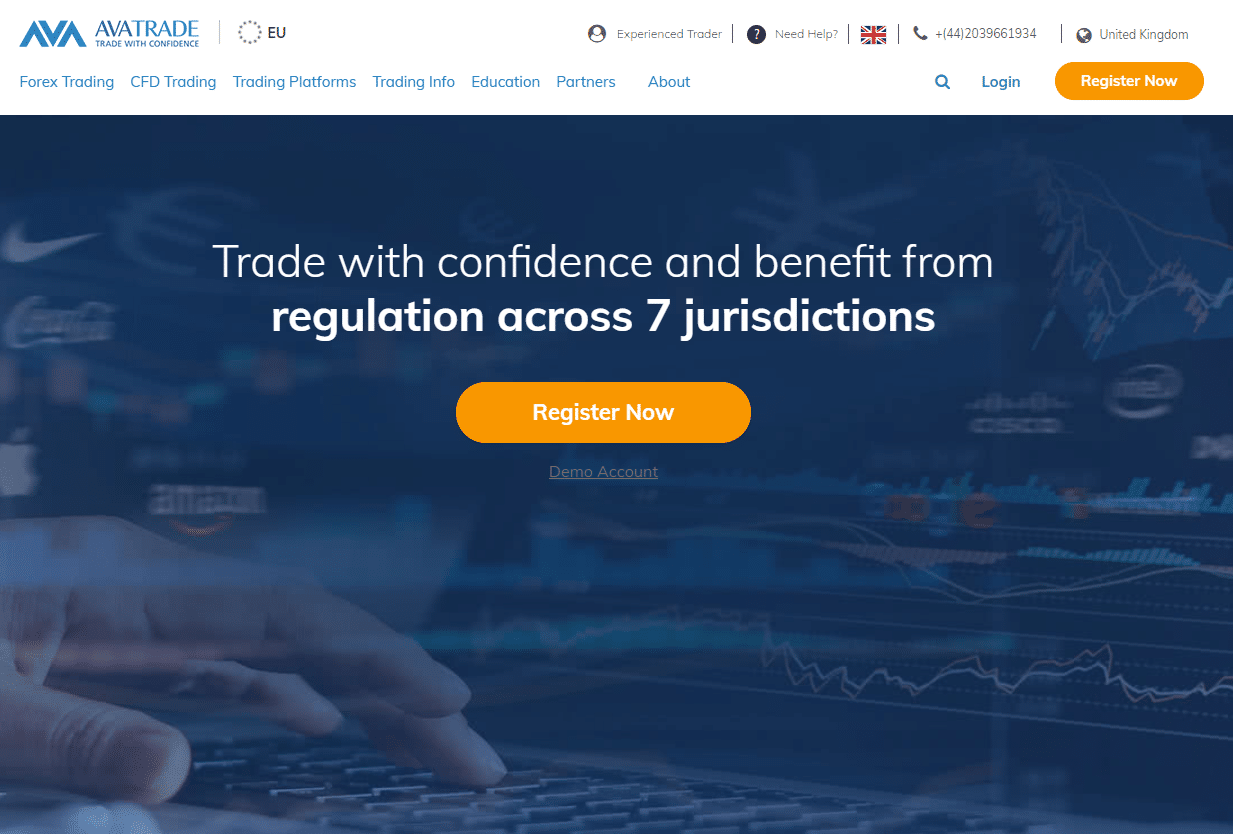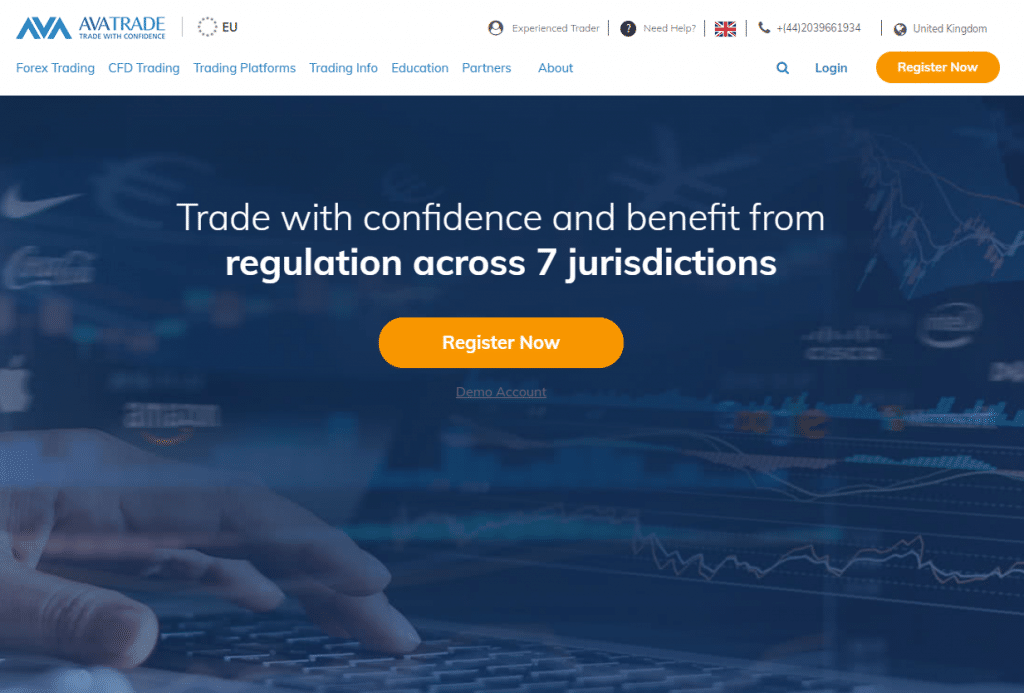 If you're looking for a well-rounded ETF broker, then you might be interested in AvaTrade. Operating since 2006, they've garnered a loyal set of customers thanks to their easy-to-use platform, guides on analysis, and solid security. Currently, AvaTrade is trying to expand and is rapidly increasing in prevalence (you've most probably seen an AvaTrade ad somewhere). 
Security & Privacy
An investment platform can't manage customers' money without a solid set of security features, after all, they'd simply become the target of digital attacks. To prevent this from happening AvaTrade implements 256-bit SSL encryption to obscure sensitive data (think passwords, email addresses, etc), this prevents any would-be hackers from intercepting your information while it makes its way to the AvaTrade servers. For identity documents and card information, AvaTrade takes it a step further, by implementing McAfee Secure. If you still need reassurance, AvaTrade is a regulated platform, meaning they can't simply up and run off with your money. 
Fees & Features
As we mentioned, AvaTrade delivers a well-rounded investment experience and clearly wants its customers to have an easy time investing. Less experienced investors can benefit from the in-depth guides, which cover everything from the basics to advanced trading strategies. Anyone with a bit more knowledge in the financial sector might find their AvaProtect (risk management platform) and AvaGo (trading social media) platforms interesting and could utilise them to take their trading to the next level. Fees at AvaTrade are fair, they offer commission-free trading and low spreads, however, you should be careful to watch out for the extremely high inactivity fees. 
AvaTrade Fees
Fee Type
Fee Amount

 

Commision Fee

0%

Deposit Fee

£0

Withdrawal Fee

£0

Inactivity Fee

£50 after 3 months & £100 after 12 months
Pros
Regulated

Trading guides

Simple-to-use interface

Range of platforms
Cons
Your Capital is at Risk.
Invest in ETFs – Broker Price Comparison
After reading through our full-length reviews of the top ETF brokers in the UK, you might be wondering how they stack up against each other in terms of fees. To make it easy for you to compare each platform, we created this easy-to-reference table.
| | | | | |
| --- | --- | --- | --- | --- |
| Broker | Commission | Deposit Fee | Withdrawal Fee | Inactivity Fee |
| eToro | 0% | £0 | £0 | £10 monthly (after 12 months inactivity) |
| Hargreaves Lansdown | £11.95 | £0 | £0 | £0 |
| AvaTrade | 0% | £0 | £0 | £50 after 3 months, £100 after 12 months |
What Is an Exchange-Traded Fund? 
Before we delve deeper into the different kinds of ETFs, it's important we first speak about what exactly one is. Most investors will want to have a diversified portfolio, it has several benefits, with the primary being far lesser risk. Unfortunately, to create a diverse portfolio yourself, you'll need to conduct hours of research, analysing the performance of multiple companies. To make it easier for investors to enjoy stable, low-risk returns, ETFs were created. When you invest in an ETF you're essentially buying into a whole heap of companies simultaneously (although technically you're buying into the fund that mirrors the performance of these companies). 
Equity Funds
The majority of ETFs track the equity of a certain sector or index, sometimes exactly mirroring an index, other times containing a few assets not found in the index If there's too much variation in the ETF, it could be subject to tracking errors, any tracking error above 2% is a sign a fund is actively managed. There are a huge amount of different ETFs, covering most large markets, this means investors have plenty of choices when it comes to selecting a market they'd like to invest in. 
Commodity Funds
Commodity funds are exactly what they sound like, a type of ETF that tracks the price of commodities. If you're interested in investing in gold, oil, or any other commodity then a commodity fund is likely perfect for you. You can invest in a range of assets at once, meaning you have all the advantages that come with a diverse portfolio, without having to do all the leg work. If you're building a portfolio comprising several sectors (e.g. real estate, commodities, tech), then investing in an ETF from each sector allows you to own an extremely diverse range of assets, without having to open thousands of individual positions. 
Best UK ETFs to Invest In 
Now that we've discussed the top ETF brokers and some different types of exchange-traded funds, it makes sense we move on to our list of the 3 best ETFs in the UK. We've included ETFs that track companies from a variety of markets in order to maintain a low-risk factor.
Vanguard S&P 500
One of the most well-known ETFs in the world, the Vanguard S&P 500 invests in 500 of the largest companies within the US. Vanguard's S&P 500 (VOO) tracks the performance of the S&P 500 index by owning all enquiries contained within the S&P 500. Typically, funds tracking large-cap stocks are seen as less risky than those tracking low-cap stocks, this is because large-cap stocks tend to provide more stable returns and have a long track record of profitability. An S&P 500 ETF is perfect for anyone looking to make a long-term investment, by tracking the top 500 companies in the US, the chance of the fund being liquidated or is minimal. Although not impossible, multiple companies in the S&P going into insolvency is extremely unlikely, making it a relatively stress-free ETF to park funds in for later life. Our pick for the top ETF broker in the UK, eToro, allows you to invest in the Vanguard S&P 500 with a small spread fee of just 0.18%
MSCI Emerging Markets
If you're looking to branch out into developing markets, then the MSCI Emerging Markets ETF could be the best ETF for you. The MSCI Emerging Markets ETF (EEM) tracks the MSCI Emerging Markets Index that measures the performance of over 1200 equities in 26 countries. The EEM tracks companies in a huge variety of sectors, although currently, it is dominated by the financial sector (21.53%), information technology (16.85%), and consumer discretionary (15.03%). As we mentioned, the EEM tracks the markets of 26 different countries, but it should be noted the top 3 are China (39.85%), Taiwan (12.23%), and South Korea (11.69%), all of which are touted as having the potential to become a global superpower in the near future. You can find the EEM on AvaTrade, under the ETFs section, available with a 0.18% spread. 
ISHARES PLC CORE FTSE 100
Not a fan of the idea of investing in companies far from home? Well then, investing in an ISHARES PLC CORE FTSE 100 ETF might be exactly what you're looking for. The ISHARES PLC CORE FTSE 100 (ISF.L) tracks the performance of the UK's top 100 companies, this results in a fairly stable investment that has minimal risk. The ISF.L covers a variety of markets, shielding investors from one drop. The top 3 companies by index weight contained in the ISF.L are HSBC Holdings (7.3%), Royal Dutch Shell A (5.43%), and BP (5.3%). You can invest in an ISF.L ETF with Hargreaves Lansdown for a small spread fee of 0.028%. 
Is Investing in an ETF a Good Investment? 
If you're still trying to decide if investing in an ETF is right for you, this section might help. To help you make your mind up, we've broken down some of the main advantages of investing in an ETF. Generally, there aren't many downsides to investing in an ETF, but you should always make sure the underlying market is likely to remain stable for the foreseeable future. 
Stable Growth
Inflation is the silent wealth killer that the vast majority of people simply accept, although rates vary, any money you have parked in a bank account will typically lose 2% of its value each year even if you don't spend anything. While this may not sound like much, if you had £20,000 sitting in your bank account after 10 years it would only be worth £16,340, a decrease of almost 20%. If you think losing £4000 is bad, imagine how you'd feel after working to accumulate £100,000 only to have £20,000 eaten away by inflation. This is the trap many fall into. By investing in a large-cap ETF like the Vanguard S&P 500,  you can not only alleviate this issue but typically still turn a profit of a few percent each year. There are certainly investments you can make that will yield a higher return, but these come with greater risk. If your goal is simply to build wealth, then storing your money in an ETF makes a huge amount of sense. 
Low Risk
If you plan on using the majority of your spare capital to invest in ETFs, it makes sense that you would want to find the lowest risk investment possible, after all, who wants to lose money to an unfavourable market? This is where stable, low-risk investments like ETFs come into their own, they provide investors with something of a haven, a place where you can keep large amounts of cash without much worry. 
Investing in an ETF- What are the Risks
Although investing in an ETF is considered relatively safe, it doesn't mean you'll be immune to unpredictable events that could affect the whole market. Additionally, because an ETF is managed by a broker and doesn't represent actual shares, should that broker run into issues, the investors (you) could end up being the ones to lose out. 
Market Crash
Sometimes an event totally outside of anyone's control can take place, unfortunately, outside of selling your investment before it happens, there isn't much that can be done. Take for example in 2020, the stock market crashed wiping billions off the value of companies and resulting in catastrophe for investors. There wasn't anything that could've been done to stop this crash and the market is still in recovery today, meaning through no fault of their own, investors lost a huge amount of money.
Liquidity 
Liquidity has an important place in the world of trading, without an asset having sufficient liquidity, a trader might not be able to sell for the price or within the time frame they want. This can result in investors not being able to get out of an investment in time, leaving them out of pocket or not able to take advantage of a certain opportunity. Obviously, this is far from ideal for any investor, which is why you should always ensure the ETF you want to invest in has a sufficient amount of liquidity.
How to Invest in ETFs with eToro
Have you made a decision on the best ETF for your needs? Then this section will help you start investing in just a few minutes. Before investing you'll have to register with a broker, in this example we'll be using eToro and the Vanguard S&P 500 (eToro offers a wide range of ETFs, the S&P 500 is just one of the most popular).
Step 1: Open an account with eToro
If you're ready to invest in an ETF the first thing you'll need to do is register with a reputable broker. We recommend eToro because their platform is easy to use and powerful. To get started, just type "eToro.com" into your browser, press "Join Now" and fill in the necessary information.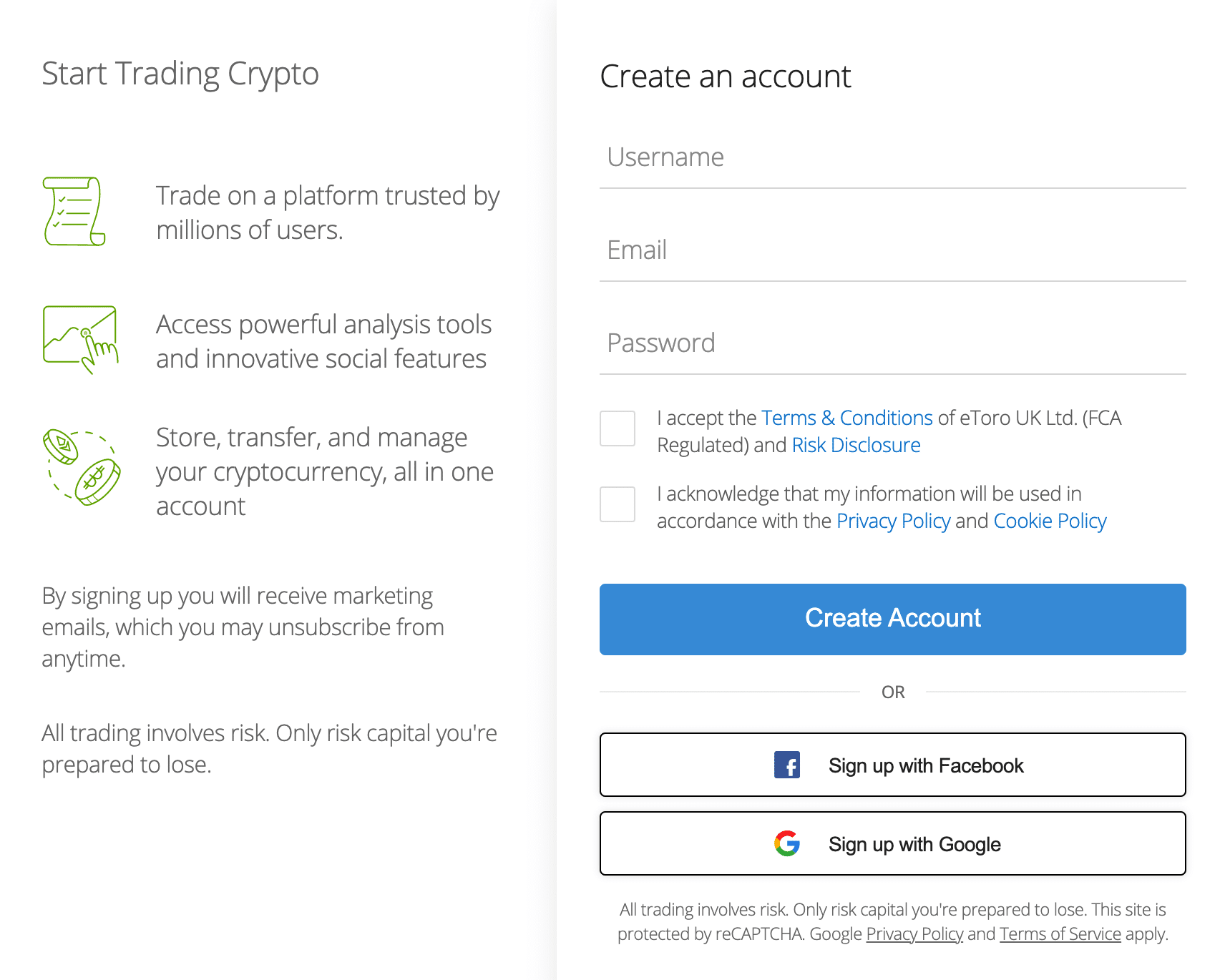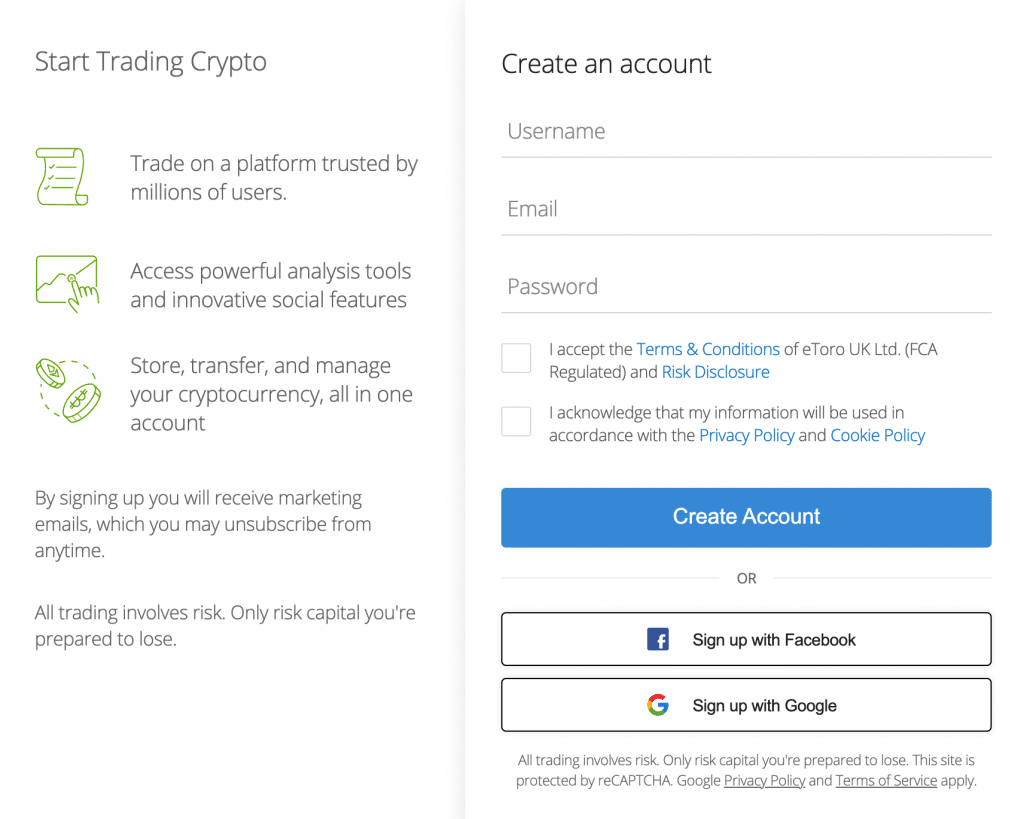 67% of retail investor accounts lose money when trading CFDs with this provider.
Step 2: Verify your account
Once you've created an eToro account, you'll need to verify it. This is because eToro is a regulated platform and has to comply with strict rules surrounding money laundering, don't worry it's standard practice by all trusted brokers. All you'll need is a photo ID (passport, driving licence) and proof of address (utility bill, bank statement).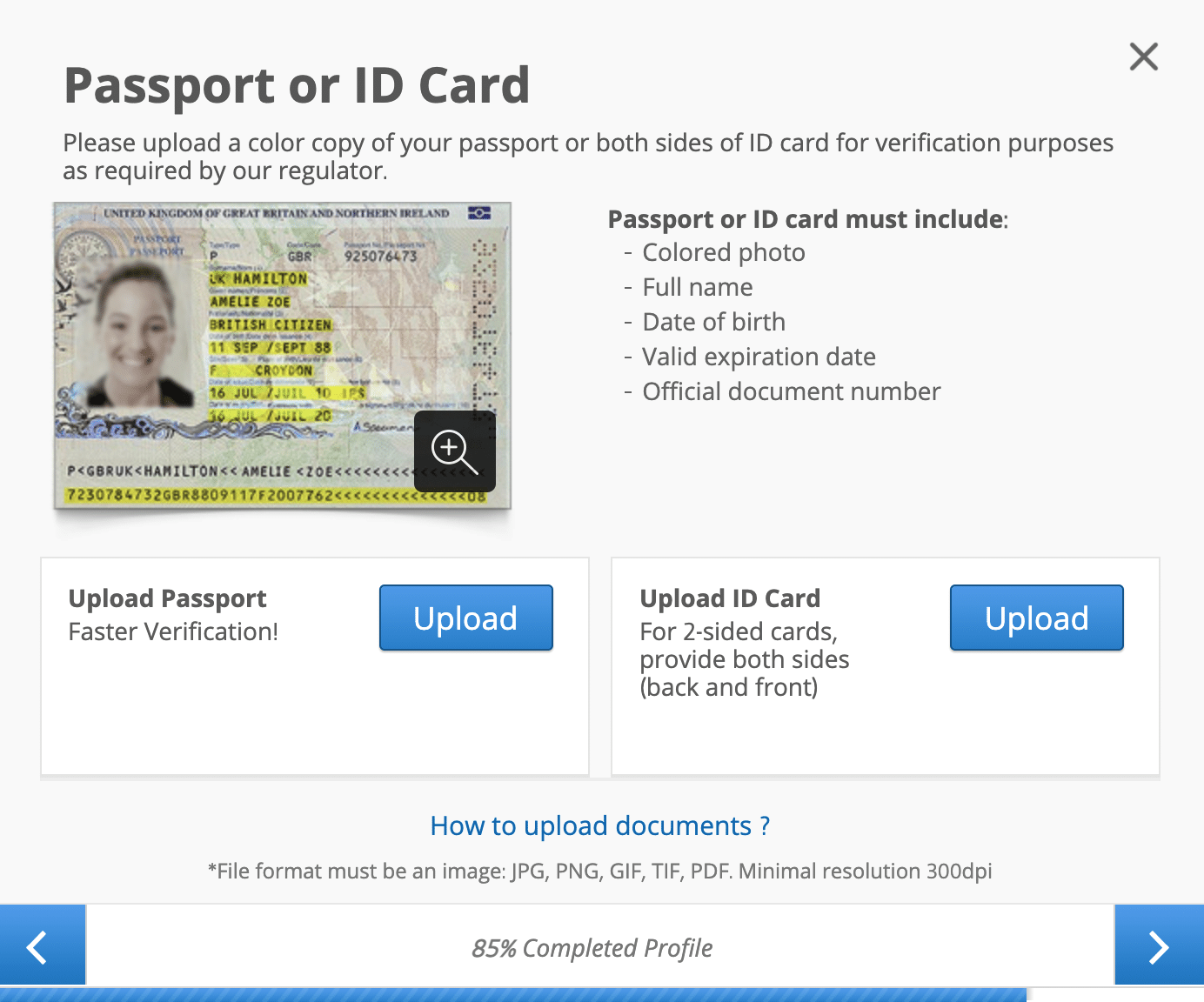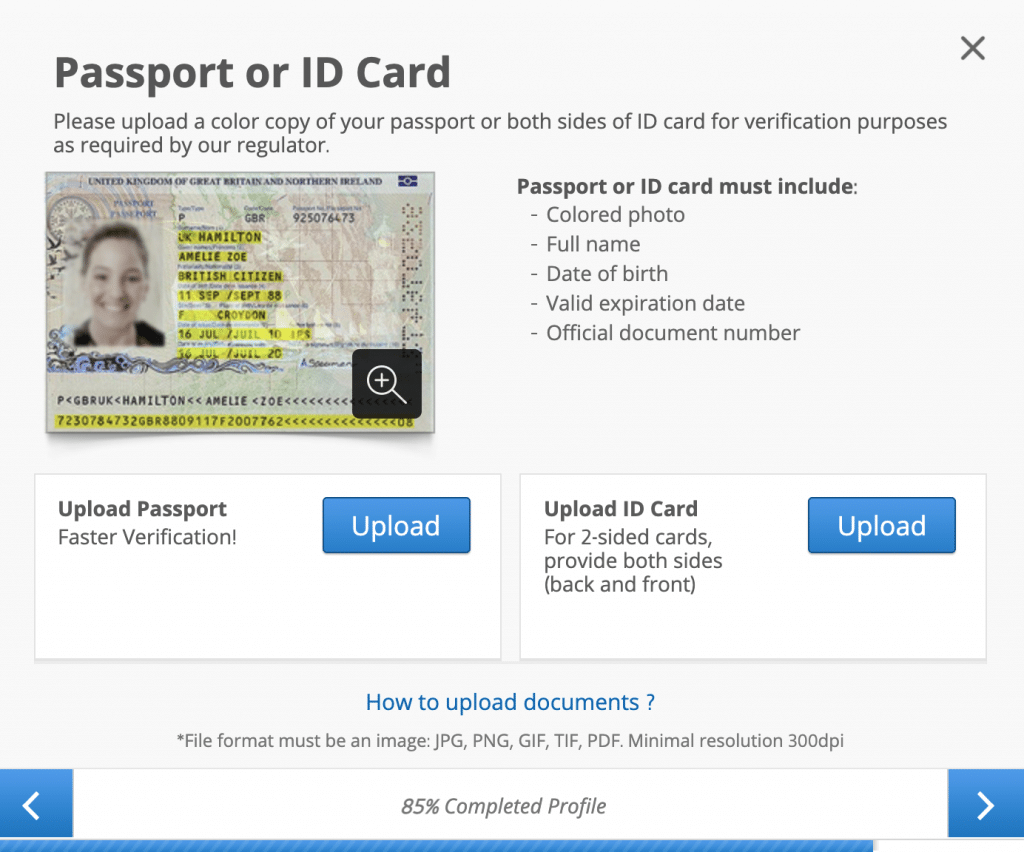 Step 3: Fund your account
After you've verified your eToro account, you'll need to fund it. Doing so is simple, just click on "Deposit Funds" enter the amount you'd like to add onto eToro, and press "Deposit". When using eToro as your ETF broker, you can deposit using either credit/debit card, bank transfer, or e-wallet (PayPal, Skrill, etc).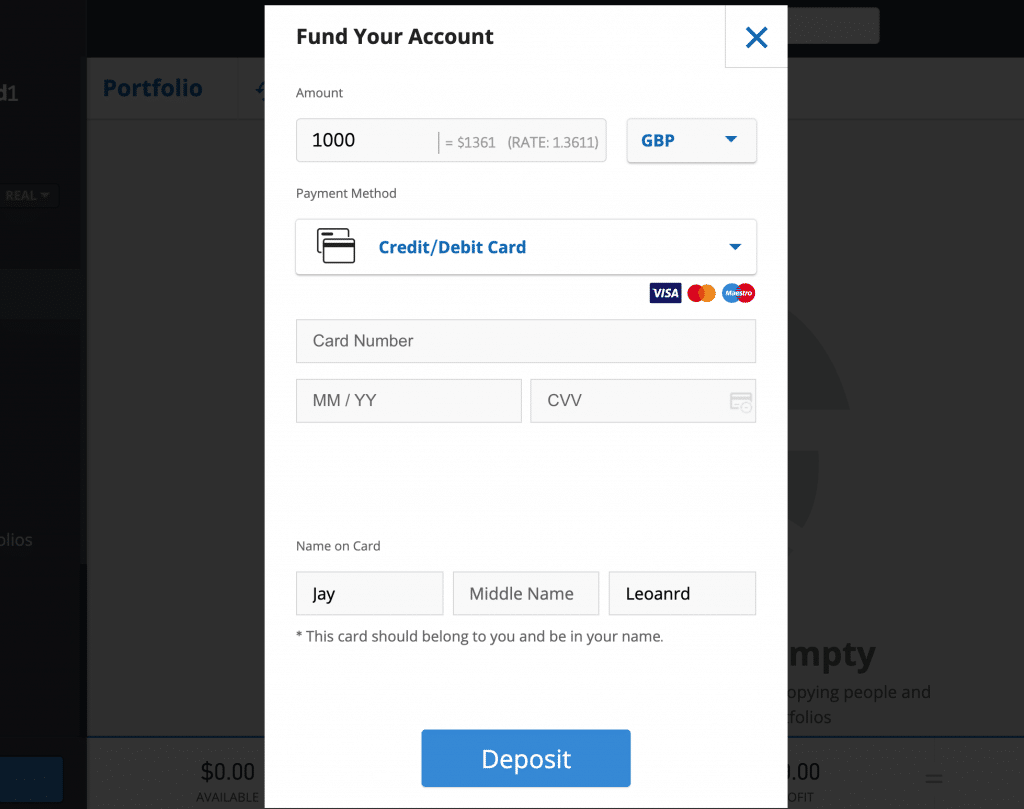 Step 4: Invest in an ETF!
That's it! You're ready to invest in an ETF with eToro, pretty simple right? All that's left is to type "Vanguard S&P 500" (or VOO) into the eToro search bar, click "Trade", enter how much you want to invest, and press "Buy". Your position will be created and you can view it from the "Portfolio" section.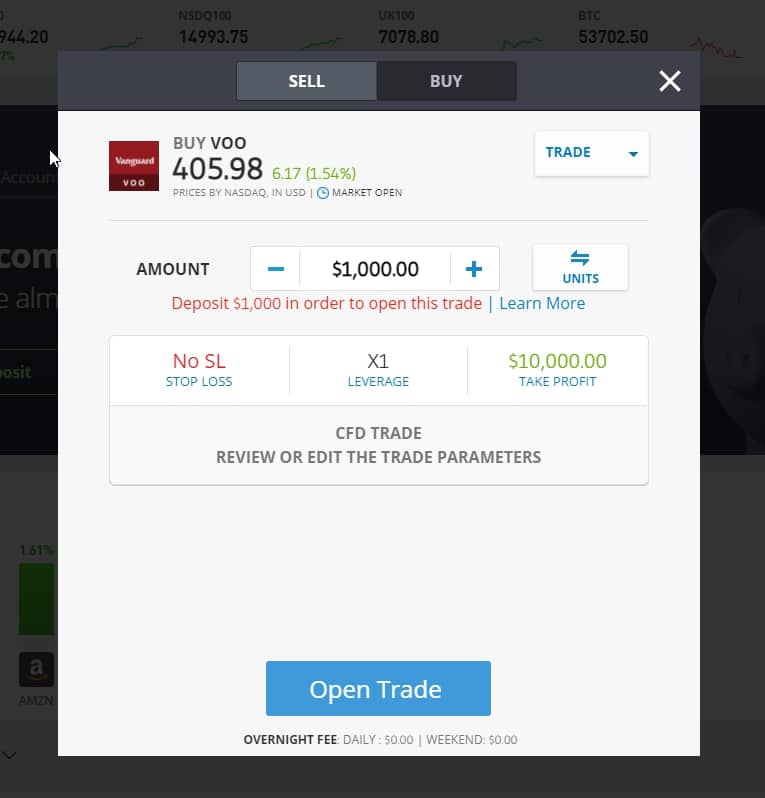 Conclusion
There we have it, you've reached the end of our guide on the UK's best ETFs. Now you're ready to start investing, it's time to choose which ETF you like the sound of, we've covered 3 of the most popular, but there are hundreds more you browse through on eToro. At Economy Watch, we know what investors are looking for in their broker, which is why, after careful consideration, we recommend eToro as the best ETF broker. Their platform is super-easy to get to grips with, giving you more time to spend researching your investments. On top of this, they support all the main financial markets, meaning you can start creating a diverse portfolio on just one platform. We hope you found this guide useful, and have a successful start to your trading journey! 
FAQs
Where can I Invest in ETFs?
What is the Future of the S&P 500?
Are ETFs Safe in the Long-Term?
Is Investing in an ETF Right For Me?