How to Invest in S&P 500 – Investing in S&P 500 For Beginners 2021
Deciding which stocks to invest in is an important process faced by all investors. For quite a long time, Warren Buffet, one of the most successful investors, has been strongly advising people to invest in Standard & Poor's 500 Index (commonly known as S&P 500). He suggests, "for most people, the best thing to do is to own the S&P 500 index fund."
A powerful indicator for the economic situation and the US Stock market itself, the S&P 500 is a stocks-based index representing the largest 500 US companies. If you are keen on investing in this index, this how-to guide can get you started. Here we discuss the pros and cons of various CFD brokerage platforms alongside a rich resource of considerations involved in buying S&P 500 securities.
#1 Broker to Invest in S&P 500 – eToro
How to Invest in S&P 500 – Step by Step Guide 2021
For anyone struggling to figure out how to invest in S&P 500, we've created this handy guide to help you get started in under 5 minutes.
Step 1: Open an eToro account:

First thing first, you'll need to sign up with a broker. We recommend eToro. Just type "eToro.com" into your browser, press the "Join Now" button, and fill in the details.

Step 2: Verify your Identity:

Then, you will need to verify your identity. This is a compliance requirement that regulated brokers have. All you will need is a photo ID (passport, driving licence) and proof of address (utility bill, bank statement).

Step 3: Fund your account:

After your account is verified, the last step before making investments is making a deposit. Just click on "Deposit Funds" enter the amount you want to invest and press "Deposit".

Step 4: Invest in S&P 500:

That's all! After these simple steps, you will be ready to invest in S&P 500.

Just type "S&P 500" into the search bar, press "Trade", enter the amount you'd like to invest, and press "Buy".
Where to Invest in S&P 500 – Choose a Broker
With a plethora of options available it's crucial to narrow it down to just one broker that suits all your needs. Luckily for you, we've researched various options, so you don't have to! Below you'll find our full-length reviews of the best platforms you can use to invest in the S&P 500.
1. eToro – Best Overall Way to Invest in S&P 500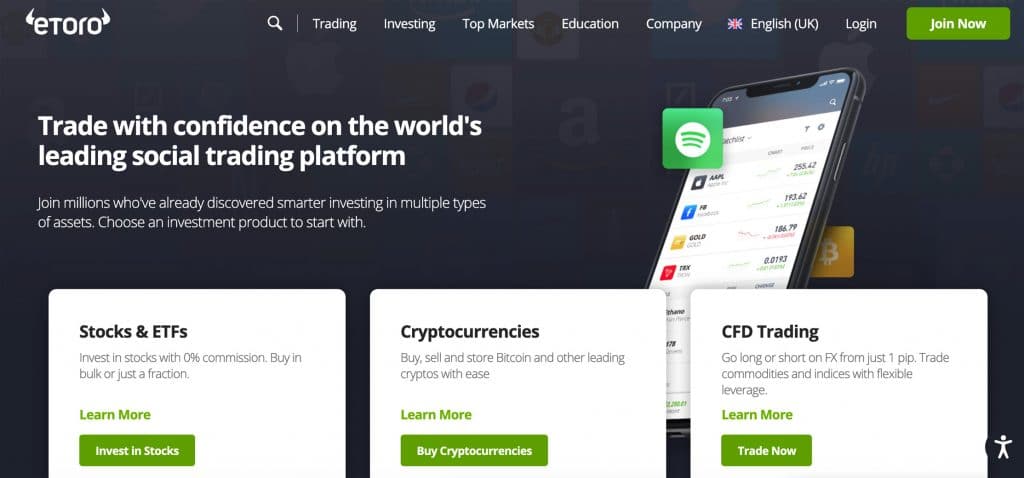 eToro is a renowned online platform established in 2006 for investing in stocks, indices, forex markets, and even cryptocurrencies. According to Market Insider, the brokerage company serves more than 20 million users today from across the globe. Often considered the best online broker to get involved with S&P 500, eToro's strength lies in its accessibility and ease of use with a quick sign-up process and easy-to-navigate interface. It enables investors to engage in a collaborative community involved in 'social trading' where users can share information just like any other social media platform. It allows investors to observe the strategies of the most successful traders, thus promoting 'copy trading' or 'mirror trading'.
Security & Privacy
When it comes to reliability and safety, it helps that eToro is regulated by top Tier-1 financial regulators, including Financial Conduct Authority (FCA), US Financial Crimes Enforcement Network (FinCen), Australian Securities and Investments Commission (ASIC), and Cyprus Securities and Exchange Commission (CySEC).
The company achieved a total trust score of 92 out of a total possible score of 99. A Security Sockets Layer (SSL) certificate ensures maximum privacy of data with no third-party involvement. A Two Factor Authentication feature provides increased security for your account. With highly secure banks to safeguard funds and zero-commission for US stocks no wonder why so many investors continue to choose eToro as their trading platform.
Fees & Features
Investors can create an account on eToro free of any costs and management or commission fees. For non-US clients, the withdrawal fees are $5. Previously the platform charged a withdrawal amount in the US, which has recently been eliminated. Other fees include an inactivity fee of $10 valid after a year of not being active which is reasonable and a conversion fee.
eToro Fees
| | |
| --- | --- |
| Fee Type | Fee Amount |
| Commission Fee | 0% |
| Deposit Fee | £0 |
| Withdrawal Fee | £5 |
| Inactivity Fee | £10 (Monthly) |
Pros
Zero commission stocks trading

Fully regulated by respected authorities

Free and quick signup on the platform

Accessibility and ease of use

Pioneer of the concept of 'social trading'
Cons
Minimum deposit of $200

Lack of clarity in copy trading statistics
67% of retail investor accounts lose money when trading CFDs with this provider.
2. FXCM – Best Advanced Platform to Invest in S&P 500 CFDs

Founded in 1999 and owned by Jefferies Financial Group, FXCM is a secure broker specializing in Forex and CFD investments. The company secured some of the most prestigious awards at the recent 2021 Global Forex Awards, including Best Forex Trading Platform in Europe. Clients can choose from a vast portfolio of over 100 financial instruments made of currencies, indices, cryptocurrencies, and commodities. FXCM allows clients a convenient and easy account setup process. The platform covers over 150 countries and takes a keen interest in educating its users. Its advanced research tools ensure better financial and investment decisions.

Security & Privacy
FXCM is regulated by the UK's Financial Conduct Authority, Australian Securities & Investment Commission (ASIC), Cyprus Securities and Exchange Commission (CySEC), and Investment Industry Regulatory Organization of Canada (IIROC). The company faced heavy fines back in 2014 on the charge of fraud and mishandling of funds. Since then, FXCM has incorporated additional measures to ensure security and transparency at all levels. The company's latest privacy policy indicated safe verification practices and no third-party involvement to maintain data protection. With a trust score of 93 out of 99, FXCM is considered a minimum risk platform today in 2021.
Fees & Features
FXCM fee structure indicates the low inclusion of certain fees. There are no amount charges for account setup, deposit, or management. However, a minimum deposit of $300 is required in the EU and $50 in countries, not in the EU. The company charges a minimal commission fee of $0.10 per lot on CFDs and a trading fee as low as 0.2 pips. No withdrawal fees are involved with FXCM, although the company does charge an inactivity fee of $50 annually due after a year of inactivity.
FXCM Fees
| | |
| --- | --- |
| Fee Type | Amount |
| Commission | Minimum $0.10 per lot |
| Withdrawal Fee | $0 |
| Deposit Fee | $0 |
| Inactivity Fee | $50 per year |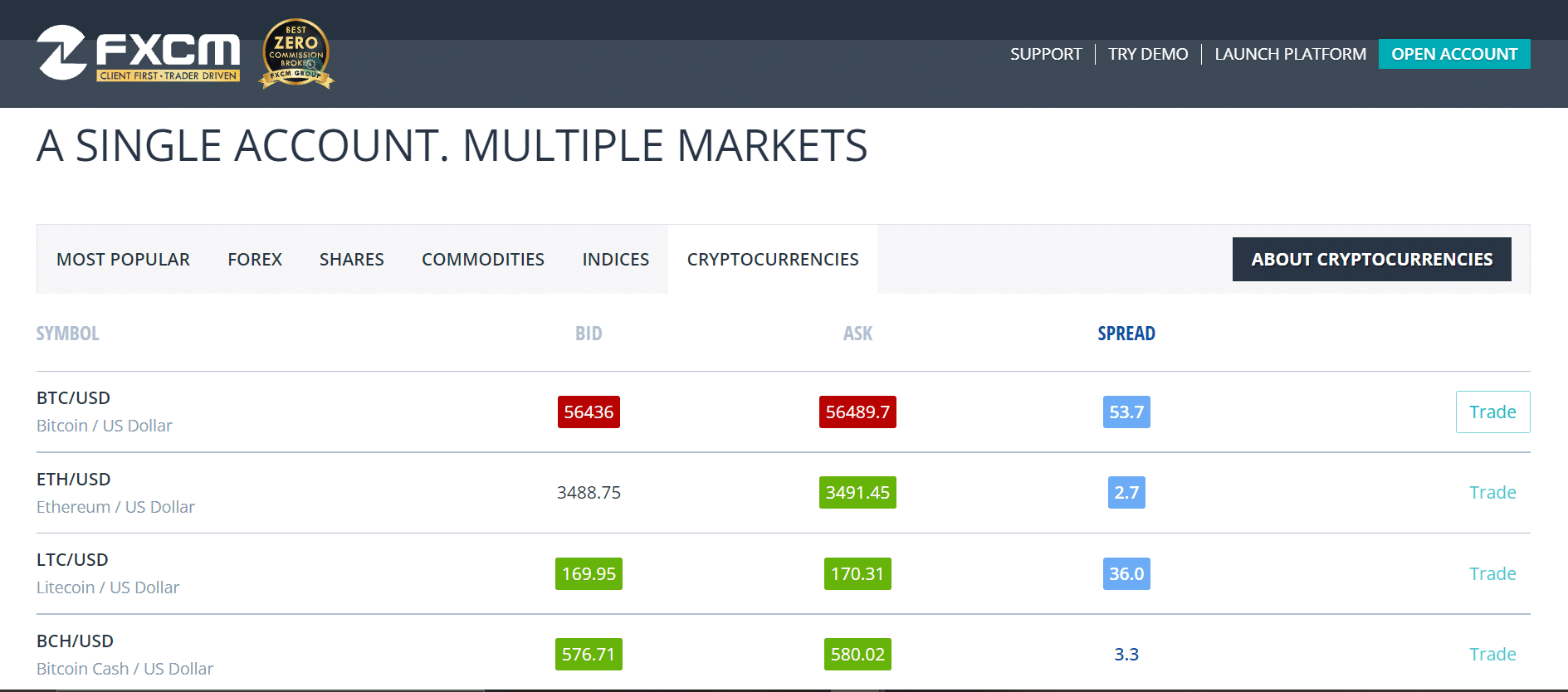 Pros
Easy setup

Minimal commission fees

No deposit fee

Fully regulated by numerous authorities and regulators

Educational and awareness resources

Advanced research tool
Cons
Does not accept US clients anymore

Does not support Two Factor Authentication

The product portfolio is limited
67% of retail investor accounts lose money when trading CFDs with this provider.
3. XTB – Accessible Way to Invest in S&P 500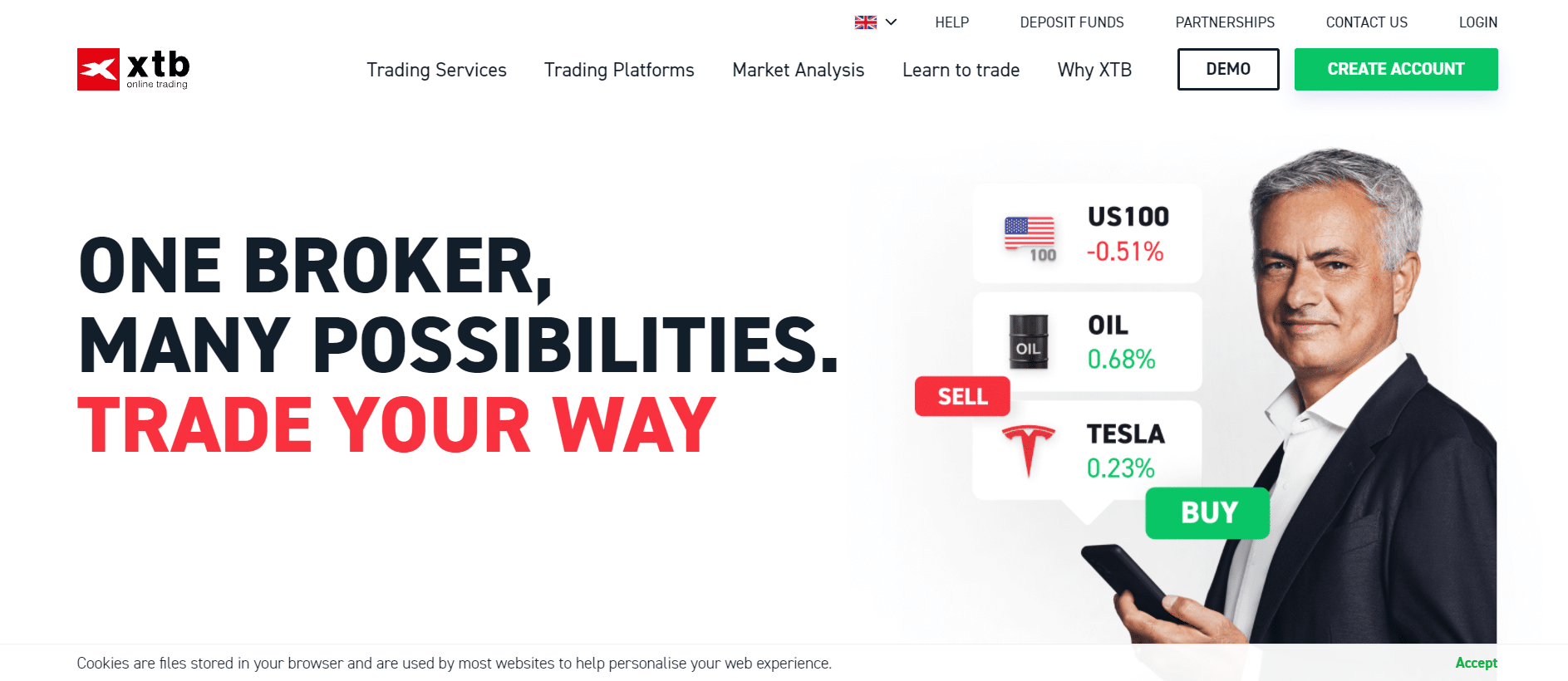 XTB, short for X-Trade Brokers, is a leading broker that deals in CFD and Forex. Founded in 2002, the company has its headquarters in London and Warsaw. With low costs involved, traders consider XTB a favoured option for investing, and they also offer 2000 instruments. XTB provides clients with two distinct trading platforms. These are the standard MT4 platform and the famed xStation, which was awarded "Best Trading Platform" in 2016. xStation allows users to customize the interface according to their style, preferences and trading habits. With exemplary customer service and outstanding usability, XTB has established itself as one of the most trusted global platforms for trading.
Security & Privacy
XTB utilizes advanced technological measures to ensure protection and privacy. The company achieved a total trust score of 95 out of 99 with its powerful features and long track record. It is regulated by some of the well-respected regulatory bodies, including the UK Financial Conduct Authority (FCA) and the Polish Financial Supervision Authority (KNF). The client's data is stored on highly secure servers with encrypted payments details to provide optimum security. Although Two Factor Authentication is not supported, a biometric verification system for mobile applications can be enabled on the platform.
Fees & Features
XTB ensures fast deposits and withdrawals, with a majority of them being free of any fees. There are no requirements for a minimal deposit amount or any account setup costs. No commission fee is charged for standard accounts and $3.50 per lot is charged for pro trading accounts. Forex trading involves quite low fees depending on the account type, however on the downside, the company charges a considerable amount for CFD trading. A $10 per month fee is also included for inactivity after a year.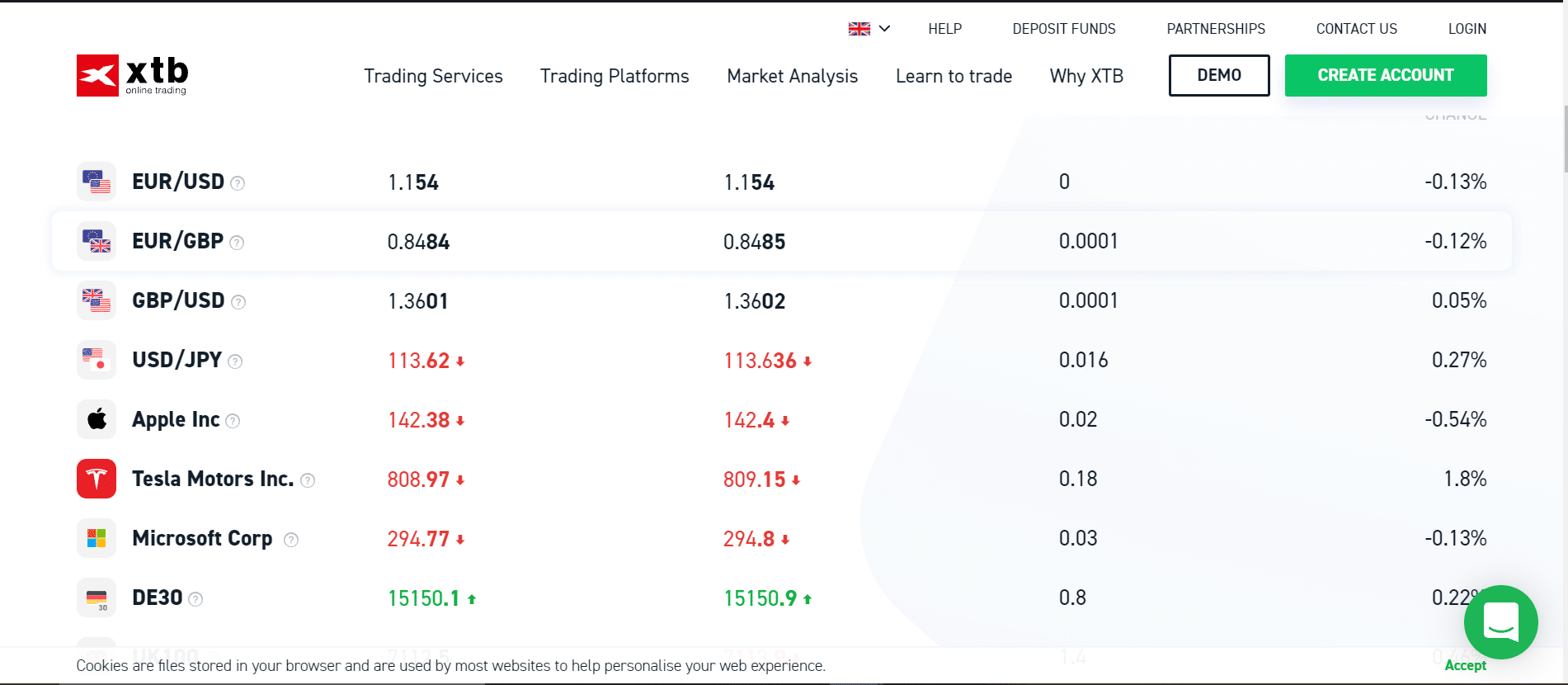 XTB Fees
| | |
| --- | --- |
| Fee Type | Fee Amount |
| Commission Fee | 0% for standard accounts |
| Deposit Fee | $0 |
| Withdrawal Fee | $0 |
| Inactivity Fee | $10 (Monthly) |
Pros
Low FX spreads

No minimum deposit amount

Fully regulated by UK FCA

High-quality customer service and educational material

Excellent usability of the platforms offered
Cons
It does not cater to US clients

High trading fees for CFDs

It does not offer social trading
67% of retail investor accounts lose money when trading CFDs with this provider.
Invest in S&P 500 – Broker Price Comparison
If you're still not sure which broker suits your needs the best, we created a comparison table that sums up the fees and commissions for each platform which can help you clear your mind further.
| | | | | |
| --- | --- | --- | --- | --- |
| Broker | Commission | Deposit Fee | Withdrawal Fee | Inactivity Fee |
| eToro | 0% | £0 | £5 | £10 monthly (after 12 months inactivity) |
| FXCM | $0.10 per lot | £0 | £0 | $50 per year |
| XTB | 0% | £0 | £0 | $10 (Monthly) |
What are the Different Ways to Invest in S&P 500?
If you're looking to invest in S&P 500 then it's important to consider the options that are available for you. When you're new to investing, trying to understand the differences between each type of investment can be extremely confusing. You're often faced with difficult-to-understand financial jargon and even if you decide how you want to invest, you'll need to make sure the broker you've chosen supports that method.
To invest in S&P 500, you don't have to buy each stock individually in the S&P 500 index. Instead, you may purchase an exchange-traded fund with all of the stocks in the index and invest in them all at once  through ETFs. Here is a rundown of some other available methods to invest in the S&P 500.

Stocks
A stock basket is a portfolio of themed equities from firms in specific areas or industries. Baskets were initially created to remove non-systematic risks from diverse investments. Weighted equity stock baskets can also represent the indices, the most popular of which is the Standard & Poor's 500. To ideally represent the whole index you would need to purchase 500 equally weighted stocks which can be an operationally messy process.
Stock baskets are useful to diversify a portfolio but you could create a smaller basket and still be able to achieve a high-correlation with the S&P 500. Basket trades are an excellent approach for investors to spread their money across various sectors. You may also put together a basket transaction to meet your investing objectives. You could mix multiple stocks from the same industry in S&P 500 or have multiple baskets with very high yields. You may also explore a basket trade consisting solely of growth stocks or even commodity stocks. When you combine one or more assets, this usually reduces the volatility as well. Since this might be an advanced trading strategy for many traders, we will explore more convenient alternative methods.
CFDs (Contract For Difference)
CFD is a short-term contract between a stockholder and a bank. The parties exchange the difference between a specific asset's closing price. Trading CFDs implies that you can make a profit or a loss depending on your selected asset's direction.
Unlike stocks, bonds, and some other financial products, CFD traders do not hold any tangible assets. Instead, they trade price differences of an asset's price through an eligible brokerage platform. Simply put, investors use CFDs to bet on whether the price of an underlying asset or stock will rise or decline. Conveniently this method can be applied to S&P 500 securities as well resulting in a very straightforward operation that covers the whole index. Traders anticipating an upward price movement in the main stock index will purchase the S&P 500 CFD, while those expecting a price decrease can sell it.
ETFs (Exchange-Traded Fund)
ETF is a kind of a fund that tracks financial assets such as commodity, index or sector and it can be purchased or sold on an exchange the same way a company stock can. An ETF can be arranged to track anything from the price of an individual commodity to a large and diverse group of securities such as stocks that represent the S&P 500.
Since it would be expensive and time consuming for an investor to acquire all of the companies in an ETF portfolio individually, ETFs provide excellent efficiency and operational ease. Investors only need to complete one transaction to purchase S&P 500 and one transaction to sell it, which results in lower brokerage fees as well. The broker generally charges a commission on every deal. Selected brokers even offer no-commission dealing on certain ETFs, cutting trading costs substantially.
Best Ways to Invest in S&P 500 UK
You can invest in the S&P 500 in a variety of ways. You can't invest directly in the S&P 500 index since it's more of a benchmark than actual security. Still, you may purchase equities in the businesses that make up the index or invest in an index fund, such as a mutual or exchange-traded fund that tracks the index's overall performance.
Invest in S&P 500 Stocks
Do you believe in the long-term potential of the S&P 500? If so, investing in S&P 500 stocks could be perfect for you. Typically seen as the simplest type of investment, stocks are an excellent option if you want to bet on the performances of S&P 500 companies.
You'll need to create a trading account with a broker or platform to invest in an S&P 500 fund. It's worth noting that certain index funds are only available through specific brokerages or platforms. You'll then need to make a deposit into your account. You may be charged a deposit fee by some brokers, or you may be required to pay a currency fee to convert your pounds into U.S. dollars.
Invest in an S&P 500 CFD
CFD trading entails taking a profit or loss on the difference of the price of an item from the beginning to the end of the transaction. If traders anticipate the asset's price will grow in the future, they establish a Buy (or Long) position. If traders expect the asset's price will fall in the future, they set a Sell (or Short) position.
S&P 500 CFD transactions may be opened in seconds, possibly reducing the impact of slippage. Slippage occurs more likely in mutual funds and exchange-traded funds (ETFs) since their settlement times are longer, and prices might fluctuate between when you make an order and when it is executed.
Invest in an S&P 500 ETF
As explained earlier, by trading ETFs, you can buy many stocks and bonds in one go rather than just buying one. Buying an S&P 500 ETF offers low-cost exposure to a wide range of stocks listed on the S&P 500.
The use of S&P 500 exchange-traded funds (ETFs) takes some of the guesswork out of stock investing. They enable investors to mirror the market's long-term performance, which has been fairly good in the past. ETFs are more liquid than mutual funds (easier to purchase and sell) and also entail a lot fewer costs related to asset management, making them more accessible for everyone. Online brokers usually make it simple to purchase or sell ETFs.
Is S&P 500 a Good Investment?
When it comes to investing, you have a plethora of alternatives to select from, and the sorts you acquire will be determined by your strategy and investing approach. S&P 500 ETFs are a great option. This type of investment follows the S&P 500 index, which contains equities from top corporations.
Investing in the S&P 500 index both versatility and diversification. The key is to understand that, like any asset, the index will have periods of no gains or even losses. The S&P 500 index historically provided good long-term returns provided investors held their investments through the challenging years.
Long-term Investing
The S&P 500 Index was founded in 1926 as a "composite index" comprising only 90 stocks. According to historical statistics, since its start from 1926 through 2018, the average yearly return has been around 10%–11%. Since 1957, when 500 companies were added to the index, the average yearly gain has been around 8%.
Inflation is a big issue for an investor seeking to replicate that 10% average return on a regularly. The historical average yearly return for S&P 500, adjusted for inflation, is still approximately 7%. There's also the issue of whether that inflation-adjusted average is correct, given that the adjustment is made using inflation statistics from the Consumer Price Index (CPI), which some experts believe grossly understates the real inflation rate.
Monetary Policy
Monetary policy can be either restrictive (contractionary), accommodating (expansionary), or neutral (somewhere in between). When the economy grows too quickly and inflation rises rapidly, the central banks may take action to cool the economy by raising short-term interest rates, which is referred to as restrictive or tight monetary policy. When the economy is slowing, the central bank will implement an accommodating policy, which involves reducing short-term interest rates to boost growth and bring the economy back on track.
As a result, monetary policy has both direct and indirect effects on investments. In recent years monetary policies have been highly supportive of stock market performance. Investors who had faith in the monetary policies and their positive effects on S&P 500 have seen their investments grow in several years.
Investing in S&P 500 – What are the Risks
It's critical to comprehend the risks associated with a certain investment. Investing all of the funds in an index like the S&P 500, which is dominated by massive U.S. firms, can be a high-risk and unpredictable investment.
As with any other investment, the primary risk associated with Investing in S&P500 is that the shares may drop unpredictably. Investors have utilized a variety of techniques with considerably good results, but when a crisis knocks on the door these techniques are strictly tested. Let's discuss some of these risks.
Overvaluation and Bubbles
A bubble can be defined in economics and finance terms as "a state of flourishing economic activity that frequently culminates in a rapid collapse." According to the widely used Stock Market Capitalization to GDP Ratio, the stock market in the United States is currently around 100 % overvalued. To put things in perspective, equities were approximately 49 % overpriced during the peak of the Tech Bubble.
But here's the thing: equities may stay overpriced for a long time. As a result, a near-term collapse is neither imminent nor likely. When demand exceeds supply, stock prices often rise. To put it in another way, equities simply tend to increase when purchasing pressure exceeds selling pressure and this applies to S&P 500 stocks as well.
Price Hikes and Inflation
Inflation is constantly monitored by investors, the Federal Reserve, and companies. Inflation reduces the purchasing power of every unit of currency by raising consumer prices. Inflationary forces have a subtle effect: input costs rise, customers may purchase fewer products, earnings and profitability decline, and the economy stalls for a while until the economic balance is restored. When high inflation triggers a spike in the interest rates funds flow out from stocks to high interest fixed income products and this can pose a serious risk for S&P 500 related investments.
How to Invest in S&P 500 with eToro
Getting started on a new investment platform is usually easier than it looks! We already mentioned the fee structures which is a very important aspect to be aware of. Here is a walkthrough of some of the other necessary steps required before getting started with investments on our recommended S&P 500 investment platform, eToro.
Step 1: Open an account with eToro
You can start investing in S&P 500 by registering with a well-established and trusted broker. For this, we recommend eToro since they implement good security measures for funds, innovative features such as copy trading, and an easy-to-understand fee structure. Just type "eToro.com" into your browser, press "Join Now" and fill in the details.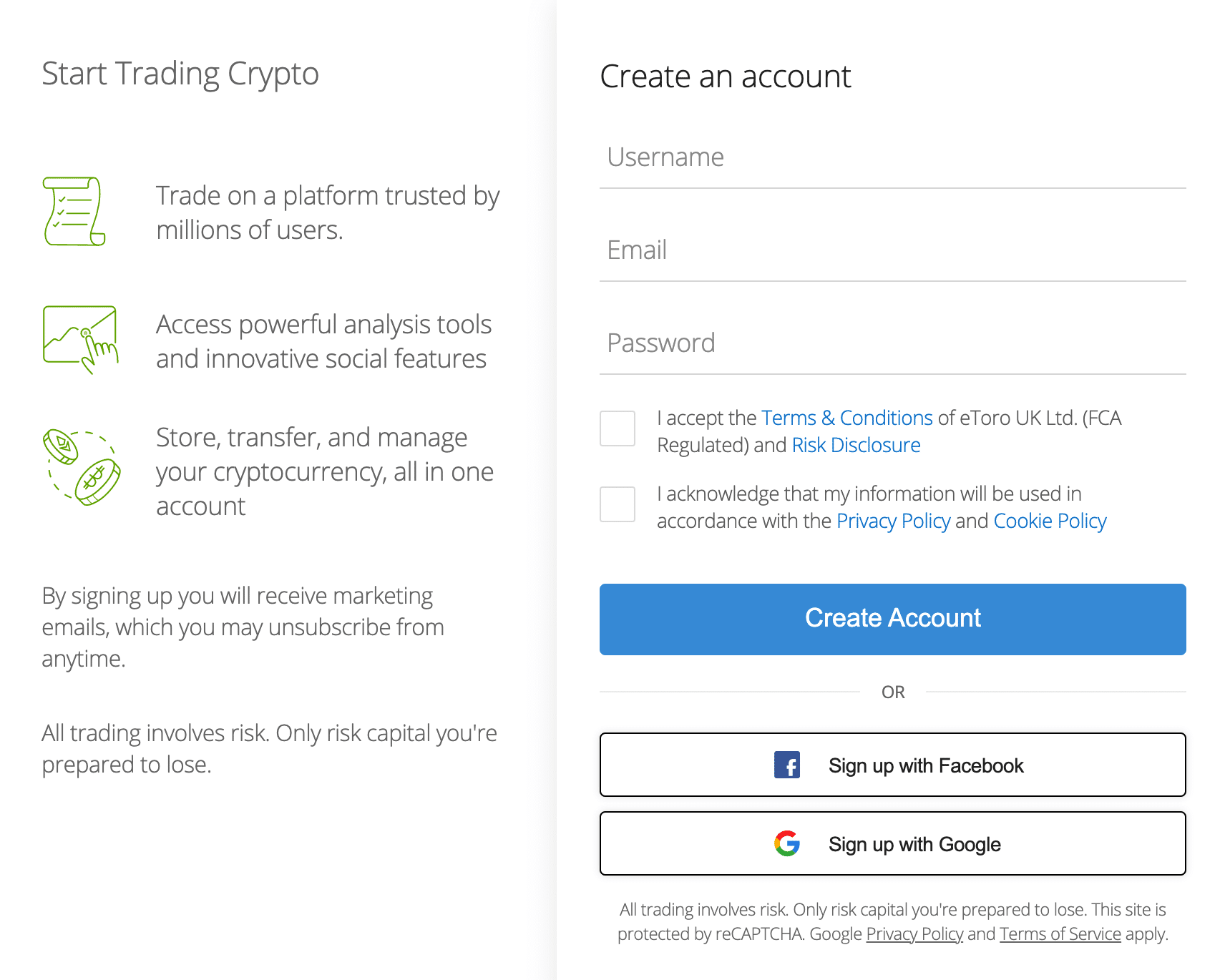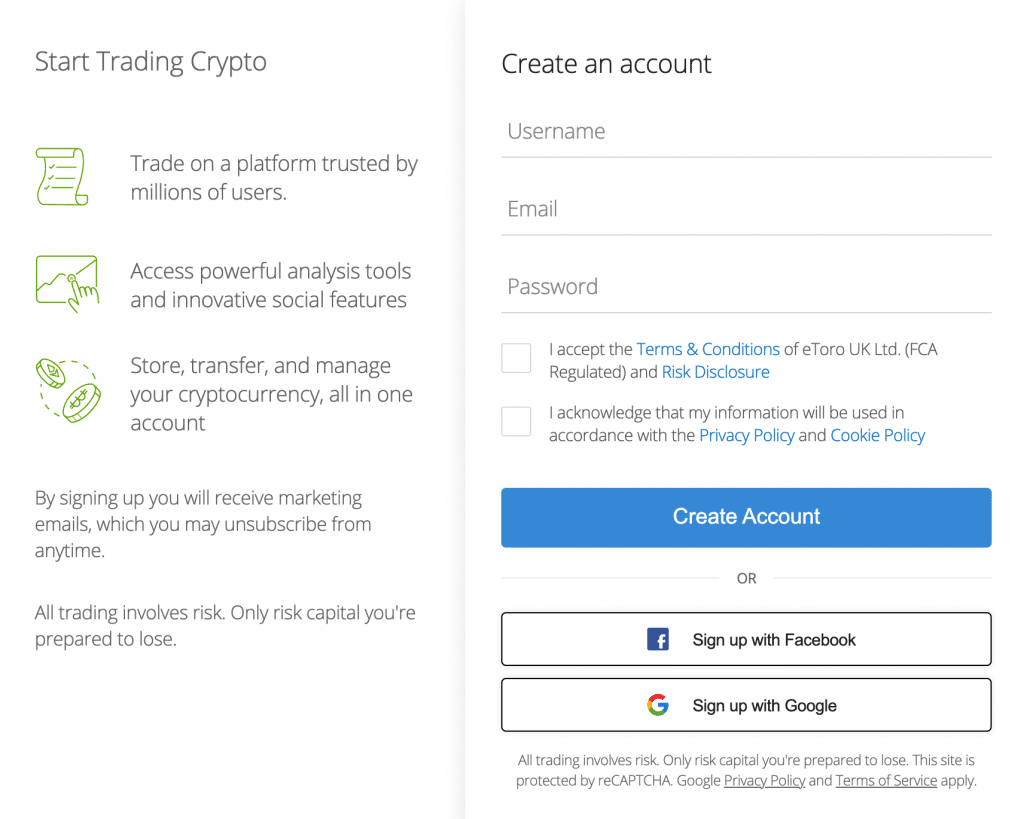 67% of retail investor accounts lose money when trading CFDs with this provider.
Step 2: Verify your account
You need to verify your account before you can start trading on eToro. But no worries, it's pretty simple to do the account verification. Simply, provide a photo ID (passport, driving licence) and proof of address (bank statement, utility bill) and you will be good to go.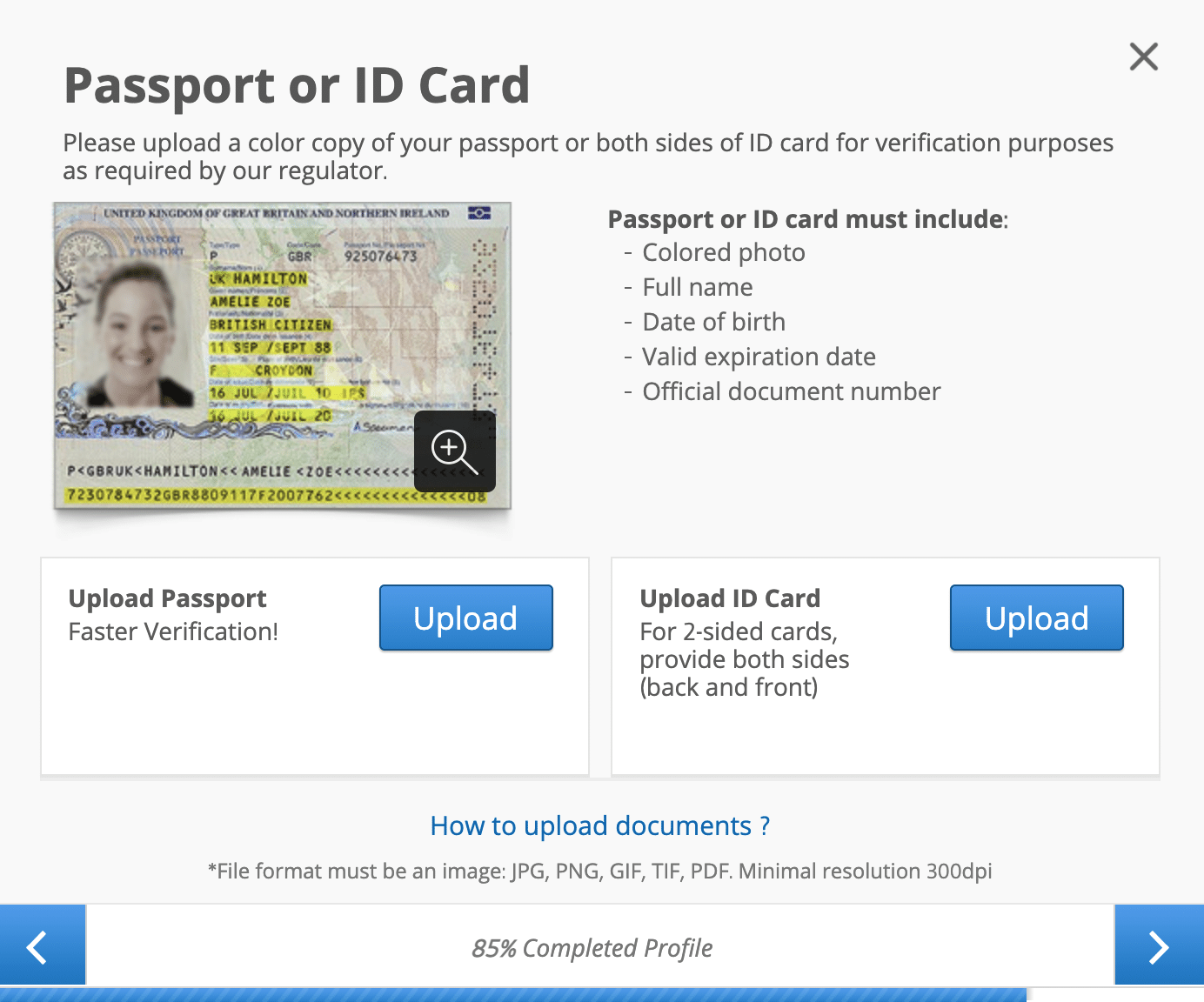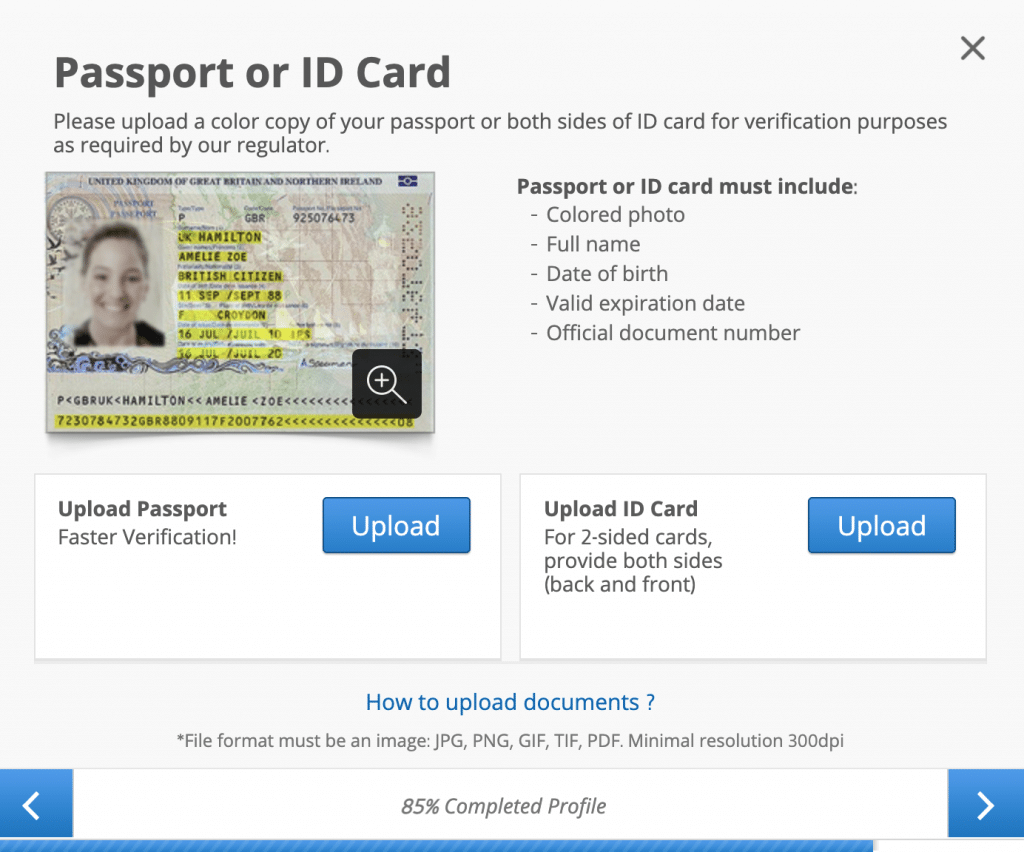 Step 3: Fund your account
Once your account is verified, you will need to deposit money to your account to be able to make investments. eToro makes this quite simple. You can click "Deposit Funds" and enter the amount you'd like to deposit. eToro offers different payment methods including credit/debit cards, PayPal, Skrill and direct bank transfers which is convenient.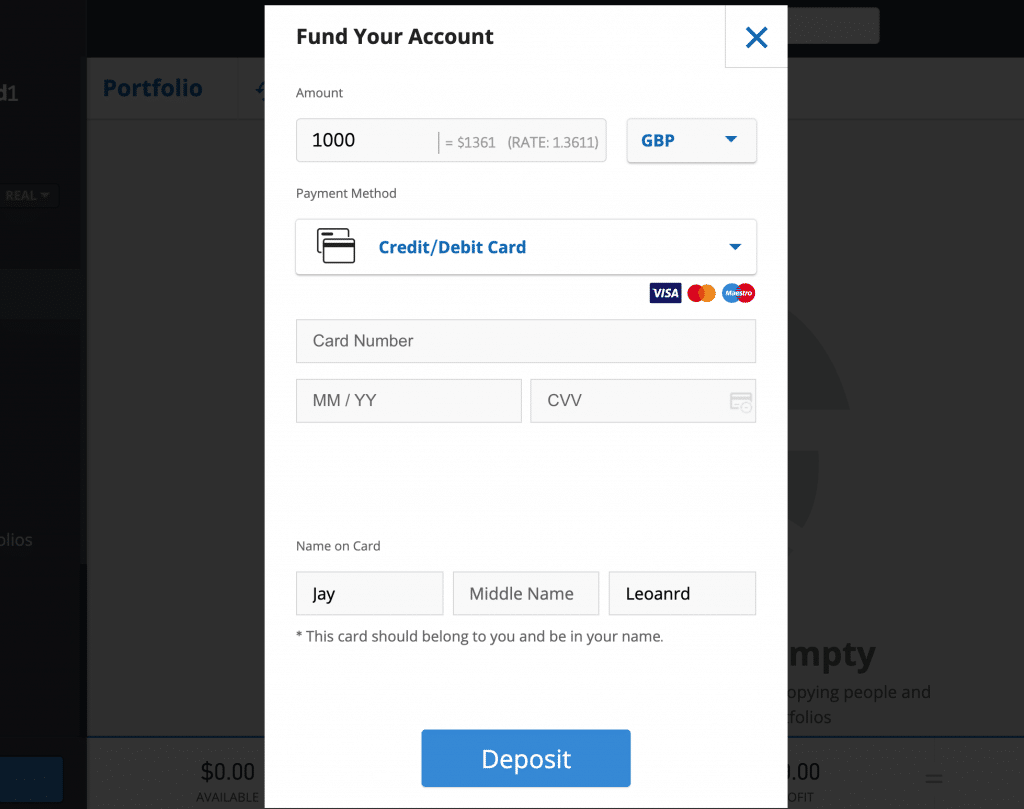 Step 4: Invest in S&P 500!
Once your account is funded you will be ready to invest in S&P 500! Just type "S&P 500" into the eToro search bar, press "Trade", adjust the amount you'd like to invest, and press "buy". Congratulations! You are now an S&P 500 investor!
Conclusion
In this article, we discussed different fundamental aspects of investing in the S&P 500. We saw different methods and assets that can enable investors to have exposure to the index as a whole and these methods we discussed included stock purchases, ETFs and CFDs. We also covered a few brokerage platforms where investors can consider making their S&P 500 investments as well as the pros and cons of those platforms.
If you are still unsure about which platform might be right for you, you can take a look at our FAQs or revisit some of the fee related tables we have created for you on top of this page.
#1 Broker to Invest in S&P 500 – eToro
FAQs
Where can I Invest in S&P 500?
What is an S&P 500 Stock?
What's an S&P 500 Future?
Should I Invest in Individual Stocks or a CFD