Buy Gold Stocks – 3 Best Gold Stocks To Buy, How & Where To Buy in 2021
Looking to buy the best gold stocks? Gold stocks have always been prized by investors. They act as a safe haven in times of economic uncertainty as well as a hedge against inflation. Gold stocks are prized for their lack of correlation to general market activity: in other words, when there is a stock market crash, the value of gold stocks tends to rise. Further, a diversified portfolio can use exposure to gold to balance higher-risk stocks like tech and crypto.
Below we review the ins and outs of investing in the best gold stocks. We outline what types of gold stocks are available and review some key gold stocks that deserve the title 'best gold stocks'. We look at what gold ETFs (Exchange Traded Funds) are available for the low-risk approach to obtaining the best gold stocks. What's more, we introduce three regulated online brokers with excellent reputations who all offer commission-free purchase of the best gold stocks.
Buy Best Gold Stocks at eToro – #1 Broker
How to Buy Best Gold Stocks – Quick Four-Step Strategy
With the eToro trading platform, you need to take just four simple steps to purchase the best gold stocks:
Step 1: Open an account with eToro: go

to the

eToro

website. Press 'Join Now' to get started. Give your name, email and password. Press 'Create Account'.

Step 2: Upload ID: You will need to supply one scanned document proving your identity and one proving your address. Use a valid passport for quickest verification.
Step 3: Deposit funds in your account: eToro accepts 15 different currencies and a wide range of deposit methods, depending on where you live.
Step 4: Buy Gold Stocks:

You can search for the best gold stocks by name in eToro's search bar. Or you can search the 17 stock markets eToro draws from by sector. You can also browse through eToro's 250+ ETFs. Buying stocks and ETFs takes seconds, and eToro's system makes it impossible to buy stocks for which you do not have funds. You can set a stop loss as well as a take profits point – and even go short on stocks using a CFD (Contract-For-Difference). 
Why Buy Best Gold Stocks?
Many professional investment portfolios feature some exposure to gold because its price tends not to correlate with other markets at times of crisis: when stock markets were just recovering from the Covid crash of March 2020, for example, the price of gold hit an all-time-high of $2,067 per ounce. 
Where to Buy Best Gold Stocks?
You can buy gold stocks and gold ETFs with an online broker.
You will need to find a broker that allows you to deposit funds in your native currency. It can be quite a blow to find a broker that you like the look of, only to discover that the broker is not permitted by regulation to work with investors from your country.
All three brokers under review – eToro, AvaTrade and Capital.com – are truly global brokers. Each accepts a variety of fiat currencies and payment methods. Each is properly regulated. Best of all, each broker under inspection offers commission-free stock purchase.
1. eToro – Overall Best Way to Buy Gold Stocks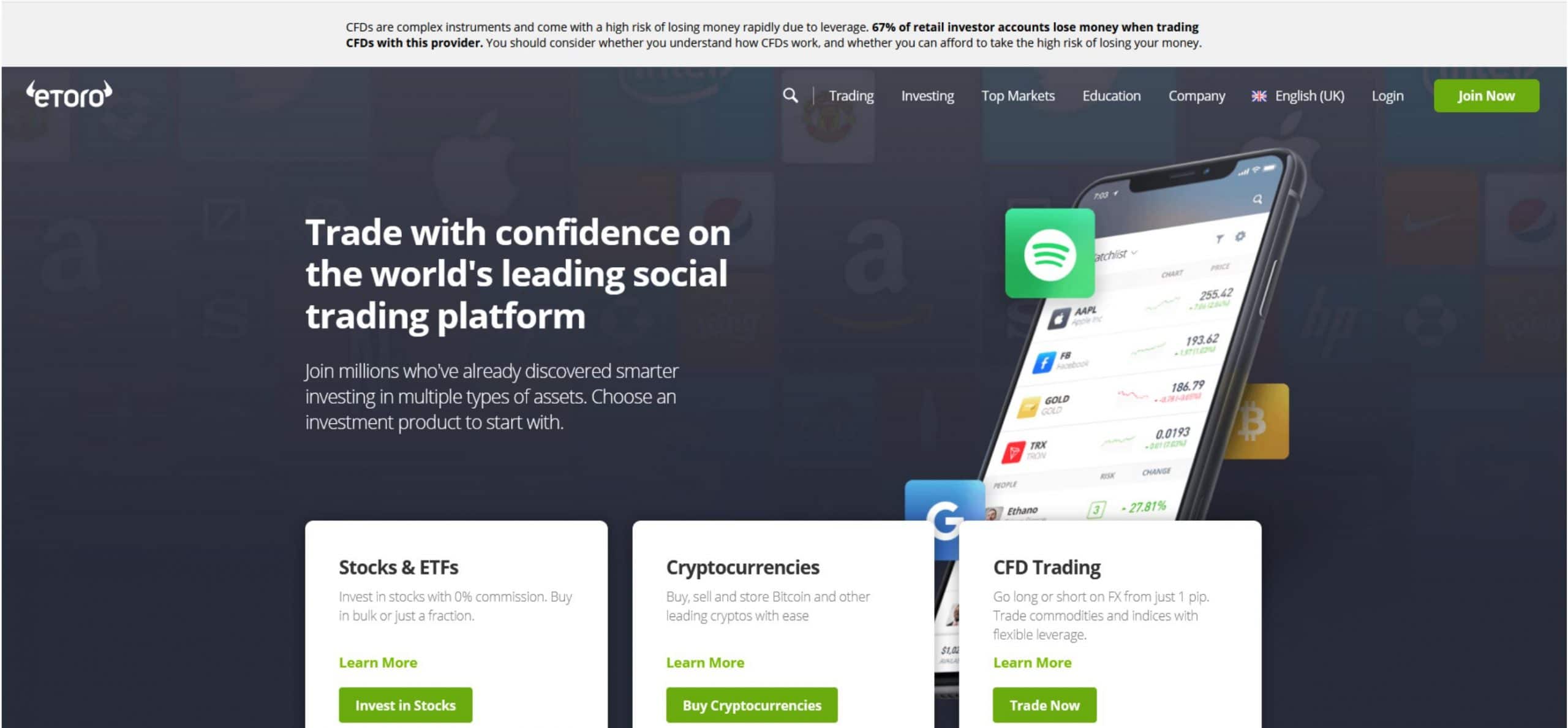 eToro is hands-down the overall best way to buy best gold stocks because it offers commission-free purchase of stocks as well as a safe, regulated trading environment.
Founded in 2006, eToro has built up a loyal user-base of over 20 million investors from 120+ countries. Regulation is provided by ASIC of Australia, the FCA of the UK and CySEC of Cyprus. eToro users are drawn to the friendly atmosphere, transparent fee structure and crystal-clear interface.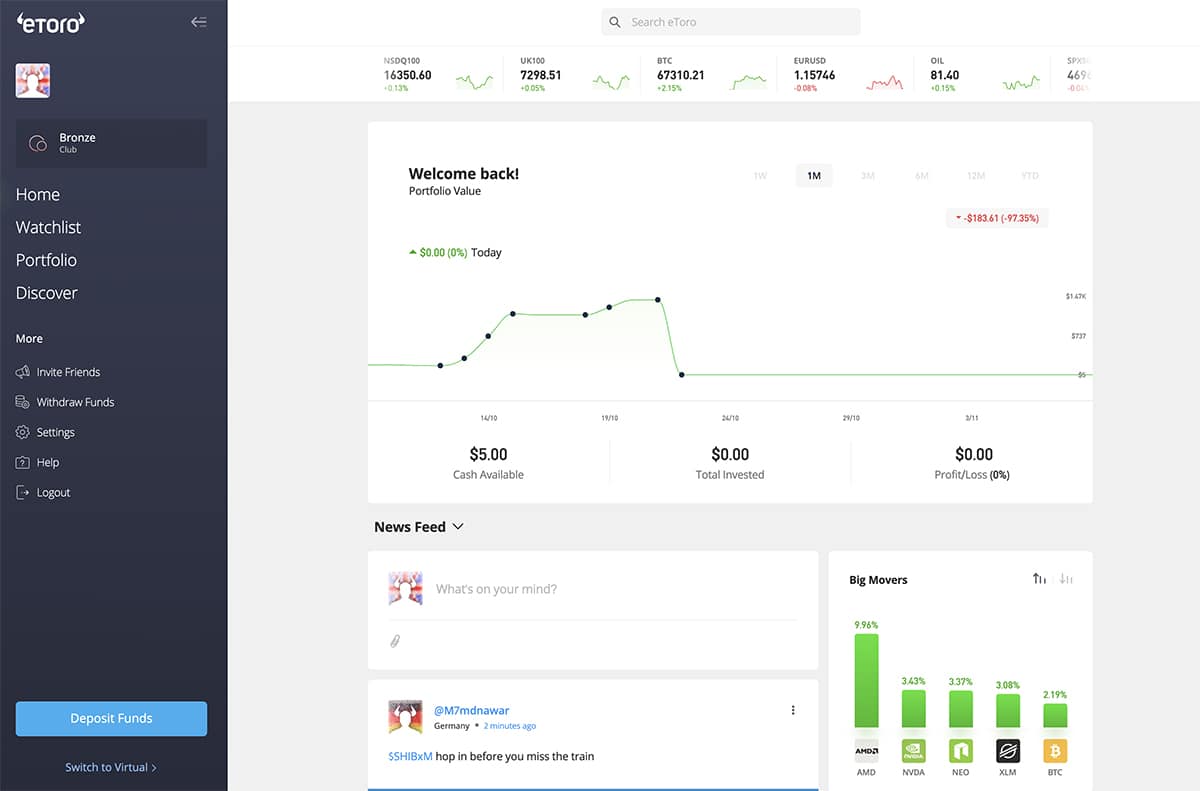 Using eToro, it is very difficult to get lost. Everything is clearly marked without there ever being too much information to absorb at once. That is not to say that powerful options are not available: charting functions are particularly good.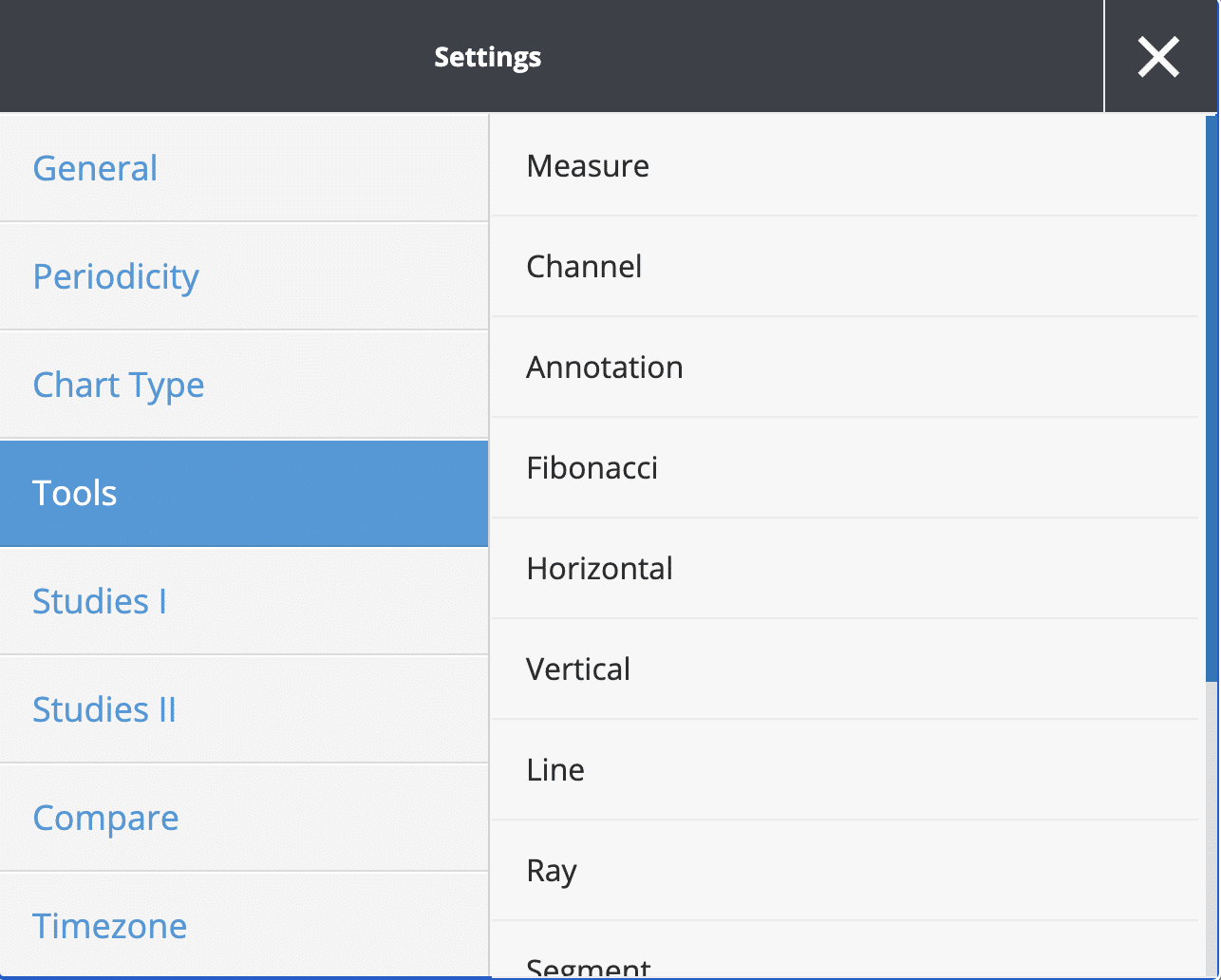 eToro offers a wide selection of stocks from 17 international stock exchanges, as well as 250+ ETFs.
eToro Best Gold Stocks
With eToro, you can pick up major gold stocks like Barrick Gold (GOLD), Newmont Mining Corp (NEM) Franco-Nevada (FNV), Agnico-Eagle Mines (AEM), Alamos Gold (AGI), Kinross Gold Corp (KGI), Gold Fields Ltd (GFI) and more.
eToro Best Gold ETFs
eToro offers the biggest and most popular gold ETFs:

Launched in 2006, the VanEck Vectors Gold Miners ETF (GDX) was the first gold ETF in the US. It tracks the NYSE Arca Gold Miners Index with an expense ratio of 0.53%. The ETF is worth almost $800 million USD and features 55 large-cap gold and silver companies. The top 3 holdings are Newmont Mining Corp (NEM) with 13.5% of the portfolio, Barrick Gold Corp (GOLD) with 10.6%, and Franco-Nevada Corp (FNV) with 8.1%.
With its investment in 55 large-cap gold companies, the VanEck Vectors Gold Miners ETF offers an excellent, low-cost way to expose your portfolio to the best gold stocks. With a gold ETF with a good spread of companies like this, you can spread the risk that a single company will go bust or perform badly, but maintain plenty of upside potential.
eToro's other gold ETFs include the more adventurous version of GDX, the VanEck Vectors Junior Gold Miners ETF (GDXJ) which tracks mid-to-small cap gold mining firms. SPDR Gold (GLD) and the SPDR Gold Minishares Trust (GLDM) track the price of bullion, rather than best gold stocks.
Pros
Great selection of best gold stocks and ETFs.
Commission-free stock and ETF purchase.
120+ countries served.
20 million investors.
Regulation by ASIC, CySEC and the FCA.
Industry-leading user interface.
eToro's CopyPortfolio and CopyTrader allow you to copy other traders.
Cons
Withdrawal fee of $5.
All trading denominated in USD.
68% of retail investor accounts lose money when trading CFDs with this provider.
2. AvaTrade — Best Platform Support for Buying Gold Stocks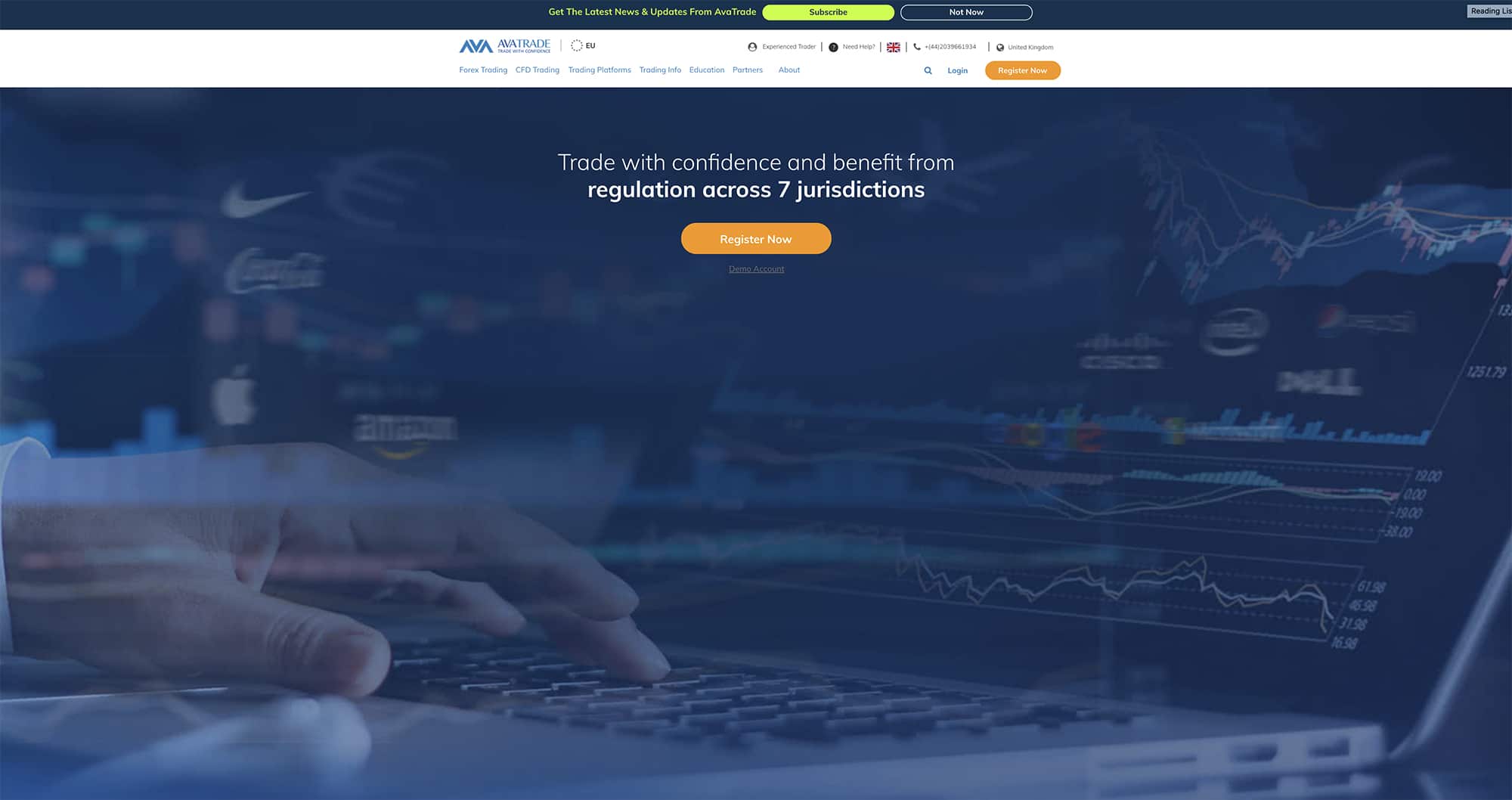 Established in 2006, AvaTrade is a dedicated CFD broker. That means that all trades are offered as CFDs (Contracts-For-Difference). With leverage on trades coming as standard, CFDs are suitable for swing or day trading, whereby investors profit from small movements in stock share prices. Powerful options are available here, but stick to eToro if you are a beginner.

AvaTrade is regulated in 7 global jurisdictions. The broker has a client-base of 200,000 investors and has a good reputation for two things: alert, phone-based customer service and a wide choice of trading platforms that you can access.
Third-party platforms available include trading platforms MT4 and MT5. Copy trading platforms DupliTrade and ZuluTrade are available too. AvaTrade offers, in addition, its own AvaOptions platform for trading financial options as well as AvaSocial, which is the broker's fledgeling social trading app for mobiles.
As well as browsing 600+ stocks, you can trade in a gold ETF with AvaTrade. One example is the ubiquitous Market Vectors TR Gold Miners ETF (GDX) – also offered by eToro, and Capital.com below.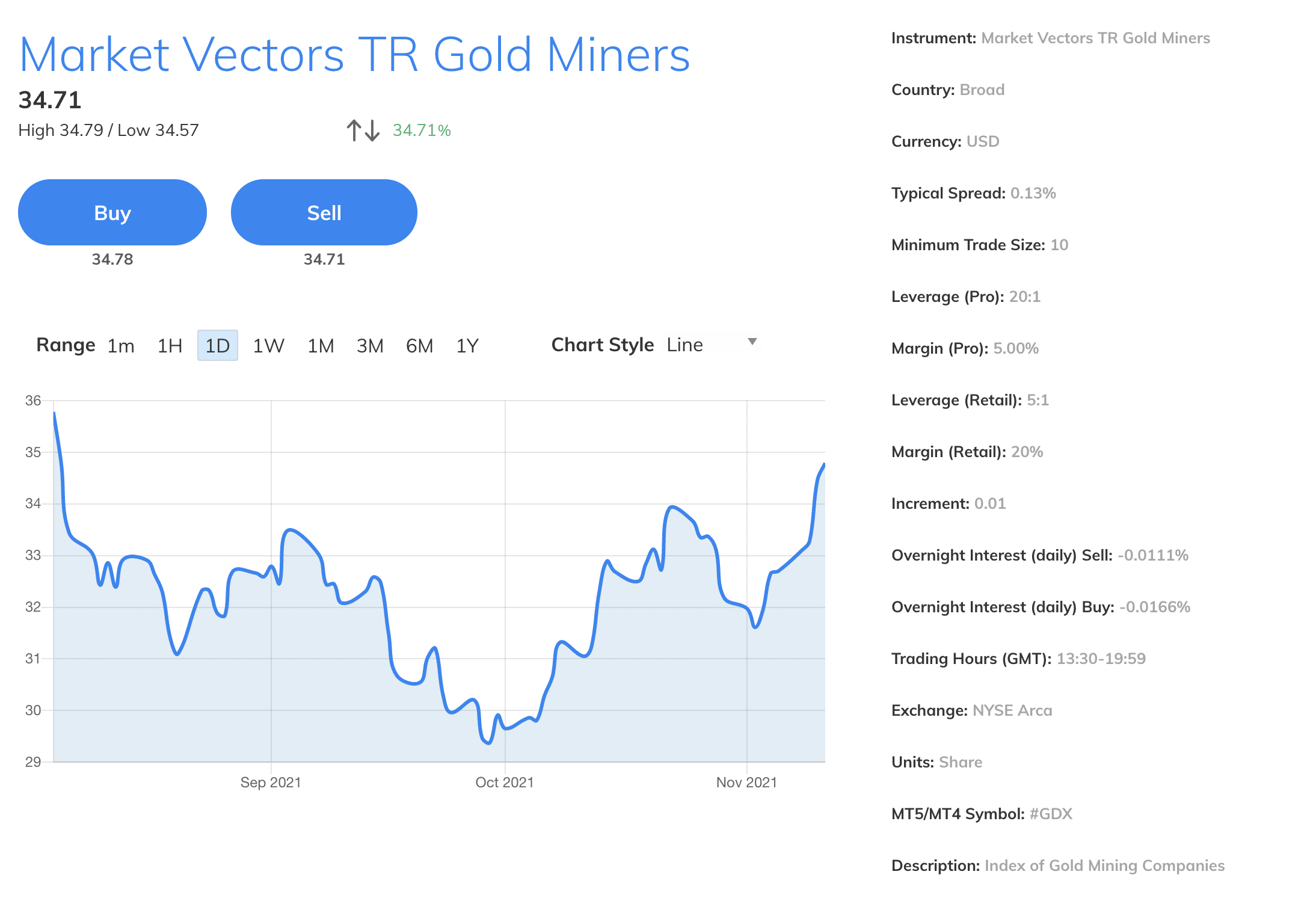 A typical spread fee of 0.13% applies on transactions relating to this ETF, as do overnight fees – so aim to get in and out quickly, or take into account the overnight fees.
Further, as with eToro, you can trade gold direct with AvaTrade as a commodity:

Pros
Regulated by 7 authorities.
Wide choice of stocks and 60+ ETFs.
Leveraged and short trading.
Wide choice of platforms available.
Clear user interface.
Snappy and pro-active customer service.
Cons
Margin account only.
CFD trading only.
Inactivity fees kick in after 3 months.
71% of retail investor accounts lose money when trading CFDs with this provider.
3. Capital.com — Reputable CFD Broker To Buy Best Gold Stocks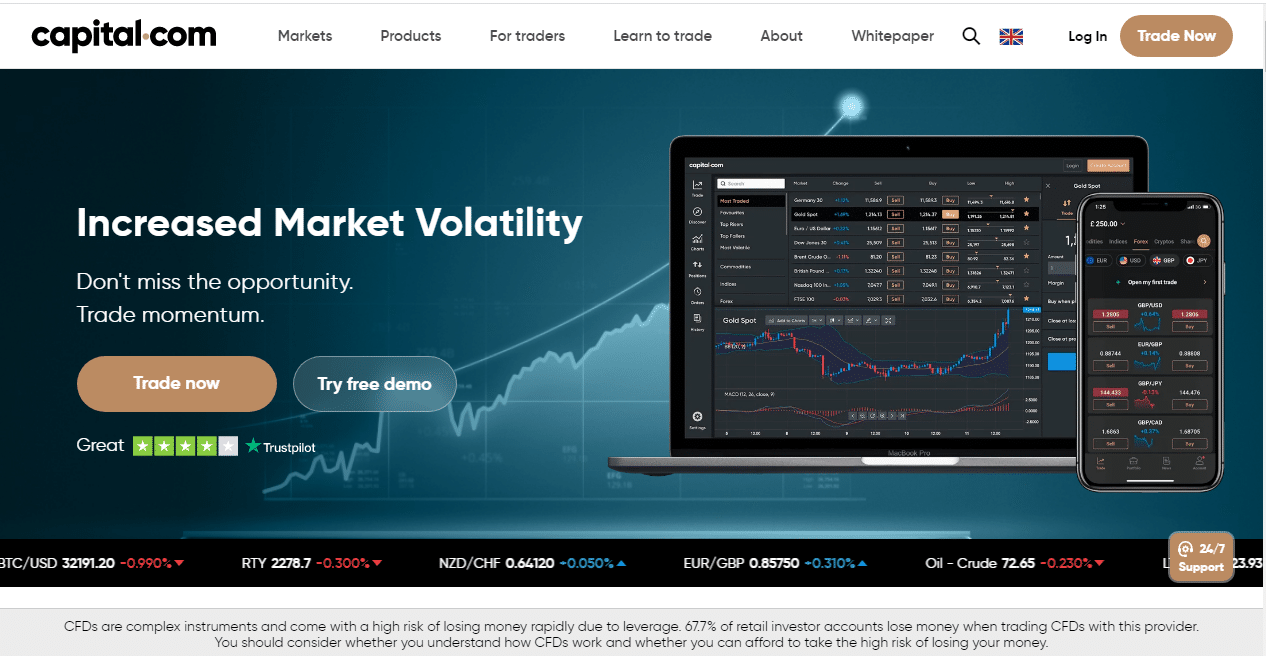 Like AvaTrade, Capital.com is a dedicated CFD broker that is properly regulated with a good international reputation. The broker offers a good selection of shares and 100+ ETFs.

Capital.com offers access to the index-tracking Van Eck Gold Miners ETF (GDX), just like eToro and AvaTrade: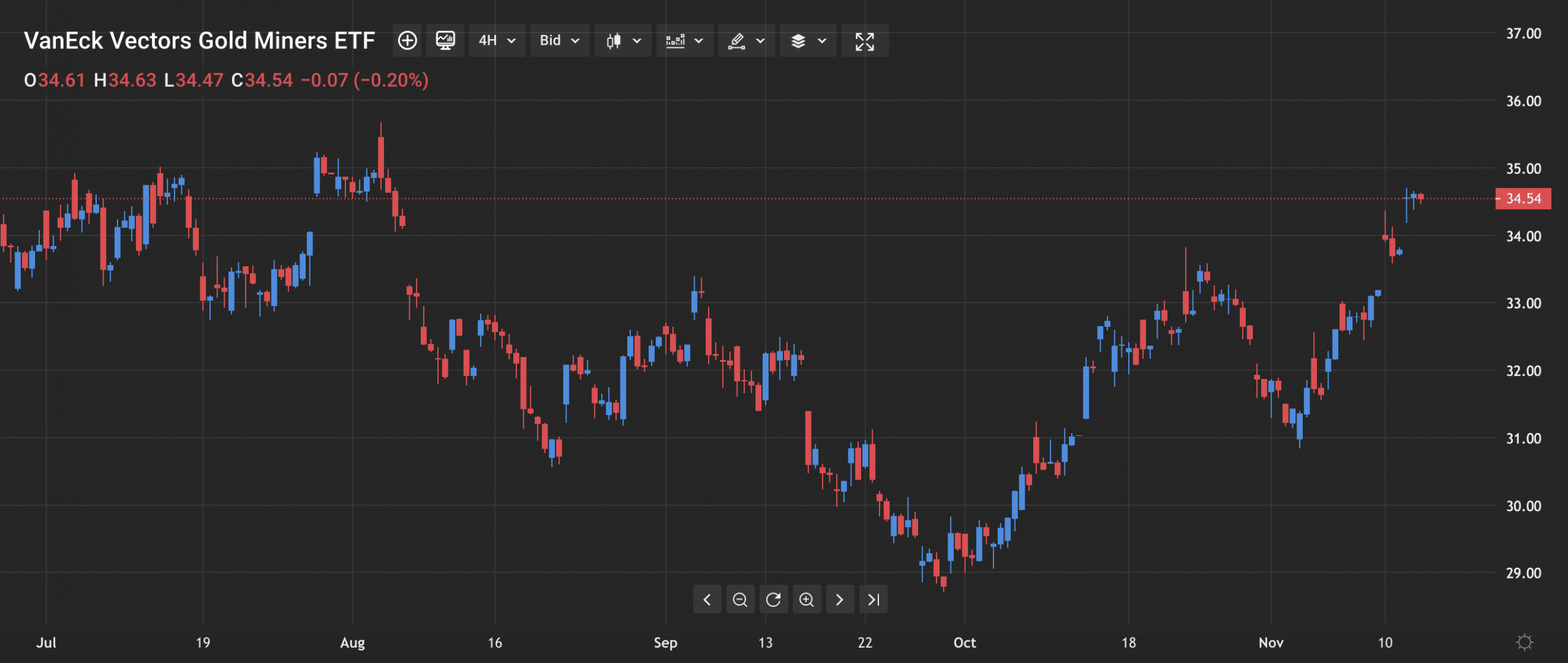 You can also get exposure to the price of bullion with the world's biggest gold fund, the SPDR Gold Shares ETF (GLD).
Pros
Commission-free stock purchase.
Regulated in Cyprus, UK, Belarus and Australia.
Slick interface.
Good learning app: Investmate.
Excellent news content via website and emails.
Cons
Margin account only.
CFD trades only.
77% of retail investor accounts lose money when trading CFDs with this provider.
Should I Buy Best Gold Stocks?
It depends what you mean by 'best'! With gold, you are spoilt for choice as an investor. You can invest in established large-cap gold mining stocks that are run decently. Or you can invest in value gold mining stocks, that are currently priced cheaply.
Established best gold mining stock: example
Founded in 1983, Barrick Gold (GOLD) has 15 operating sites in 13 countries. It holds 6 Tier One Gold Assets: these are gold mines which produce over 500,000 ounces of gold per year, have at least 10 years of capacity left and offer low-cost operation. Barrick has forecast that its costs will decline by 2025 to $800 per ounce from its 2020 figure of $1,000 per ounce.
The firm pulled in $12.6 billion USD in revenues in 2021 and has a market capitalisation of $43 billion USD. It has over 22,000 employees.
You can trade Barrick Gold with eToro: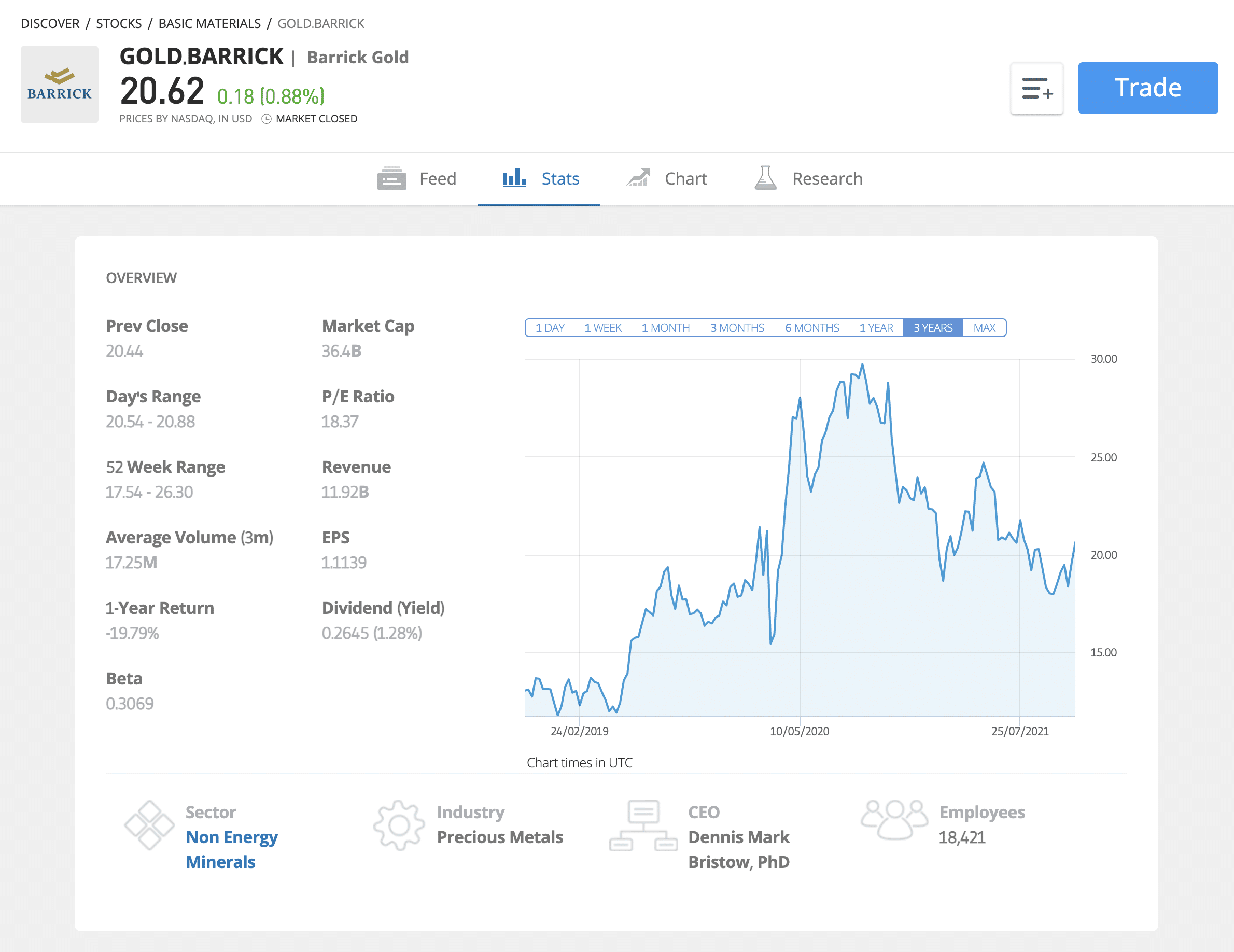 Other major gold mining firms include Agnico Eagle Mines (AEM),  Alamos Gold Inc. (AGI), Kinross Gold Corporation (KGC), Newmont Corporation (NEM), and the Franco-Nevada Corporation (FNV). All are available with Etoro.
The Franco-Nevada Corporation is one of three major royalty and streaming companies that operate in the gold industry. The other two notable examples are Wheaton Precious Metals (WPM) and Royal Gold Inc (0KXS). Others exist.
Rather than owning gold mines themselves, these companies enter into two main types of agreements with existing mines. With royalty agreements they agree to provide investment capital to a mine in return for a percentage of operating profit going forward. With streaming agreements, they agree to invest in a mine for a discount on the mine's produced gold.
Royalty and streaming companies offer the investor exposure to gold without exposure to high operating costs or the many potential pitfalls involved with running a gold mine business.
Best value gold stocks
One way of deciding what is the best sort of gold stock is to analyse value. Good value stocks – as favoured by investment guru Warren Buffet – are those with a low share price compared to their earnings per share.
As with all stocks, the gold stocks with the best potential value are those with low P/E (price-to-earnings) ratio. The lower the P/E ratio, the cheaper a stock is relative to how much revenue the company has coming in. That is because the ratio divides the price of a share by the firm's earnings per share.
The following three gold stocks have very low P/E ratios. This does not mean that they will necessarily rocket in value. But it does mean that they are true best value gold stocks:
| | | | |
| --- | --- | --- | --- |
| Gold Stock | Country | Market Capitalisation | 12-month trailing P/E ratio |
| Sibanye-Stillwater (SBSW) | South Africa | $9.93 billion | 3.5 |
| Calibre Mining Corp (CXB.TO) | Canadian | CA $0.5 billion | 5.1 |
| Equinox Gold Corp (EQX.TO) | Canadian | CA $3.0 billion | 5.5 |
Of the three, Sibanye-Stillwater (SBSW) is amongst the world's top gold producers, as well as the world's largest producer of platinum and the second-biggest producer of palladium. The firm mines its gold from South Africa and North and South America. SBSW paid a 2021 dividend yield of around 9%, which is exceptional. You can trade SBSW on eToro:
With some analysts pointing to a target price of $23-$28 per share for the next 12 months, SBSW is looking cheap at its current price of just under $15 per share.
Risks Of Buying Gold Stocks
Gold stocks, are to some extent, held to ransom by the price of gold as a commodity. This is a sector-wide risk.
Specific risks relating to individual gold stocks centre on firms discovering that goldfields do not yield as much as predicted and, with mines sometimes located in unstable countries, political crises can obstruct production and be catastrophic for share prices.
Gold Stocks Price Prediction & Analysis
The best gold stocks – or an ETF that comprises them – are great to have in your portfolio because the price of gold tends to rise during bear markets and/or times of inflation.
Price predictions for individual gold stocks vary, depending on the state of their balance sheet, as well as operational factors like the political situation in countries they mine in as, well as the capacity of those mines. Operating efficiency is a key consideration too.
Taking Barrick Gold Corp (GOLD) as an example, its share price is currently just over $20. Analysis from Marketbeat.com gives it an analyst target price consensus of $33 over the next 12 months – an increase of over 50%.
Barrick Gold Corp is set to benefit from the surge in global inflation resulting from markets' emergence from the coronavirus crisis. When inflation rises, investors seek gold as a commodity as well as the best gold stocks because gold has historically provided a stable, superior return to keeping funds in cash. As a gold giant ($43 billion USD market cap) with an established business, Barrick Gold Corp features more than 50% ownership by institutions keen to benefit from this effect.
Why Are Gold Stocks Popular?
The 1970s saw the price of gold climb by over 2300%. Repeatedly throughout history, times of inflation have seen the price of gold, and the best gold stocks, rise even faster.
You can expect the inflation effect that has followed the covid crisis to underpin a strong period for the best gold stocks in general. But always be aware that nothing beats doing your research into the fundamentals of any company, regardless of good or bad conditions in its operating sector.
Is it Always Safe To Invest in Gold Stocks?
The simple answer is: no. If it were 100% safe to invest in stocks, there would be no risk. If there were no risk, there would no capacity for reward. So some risk is generally deemed acceptable in financial markets.
Gold is considered to be a low-risk commodity. That is because, when there is a stock market crash, investors tend to flock to it as a safe haven, which pushes the price up.
Gold stocks, however – as opposed to gold as a commodity – do present medium risk. That is because most gold stocks constitute mining companies. Mining gold is expensive and is not an exact science. Mining firms can over-reach themselves with investment and then find that a gold field or seam is not as rewarding as they had hoped. In this case, the value of shares in that mining firm will drop. Like any business, gold miners can get in over their head with debt as well as simply have bad luck.
Selling Gold Stocks: A Quick Overview
You can sell your gold stocks in seconds with eToro. Simply select the stock in your portfolio. To the right of its listing, you will see a cross symbol: press it. This will bring up your selling options. There is no individual fee for selling a stock with eToro. Concluding the trade will conclude your exposure to the spread fee. In other words, as with all brokers, the price you are offered to sell at will be slightly lower than the market listed price.
Buy Gold Stocks – eToro Guide
You only need to take four steps to buy the best gold stocks with eToro.
Step 1: Sign Up
Navigate to the eToro website and fill out some simple details. You will need to supply your name, a username, your email and create a password. Or sign-up via Facebook or Google.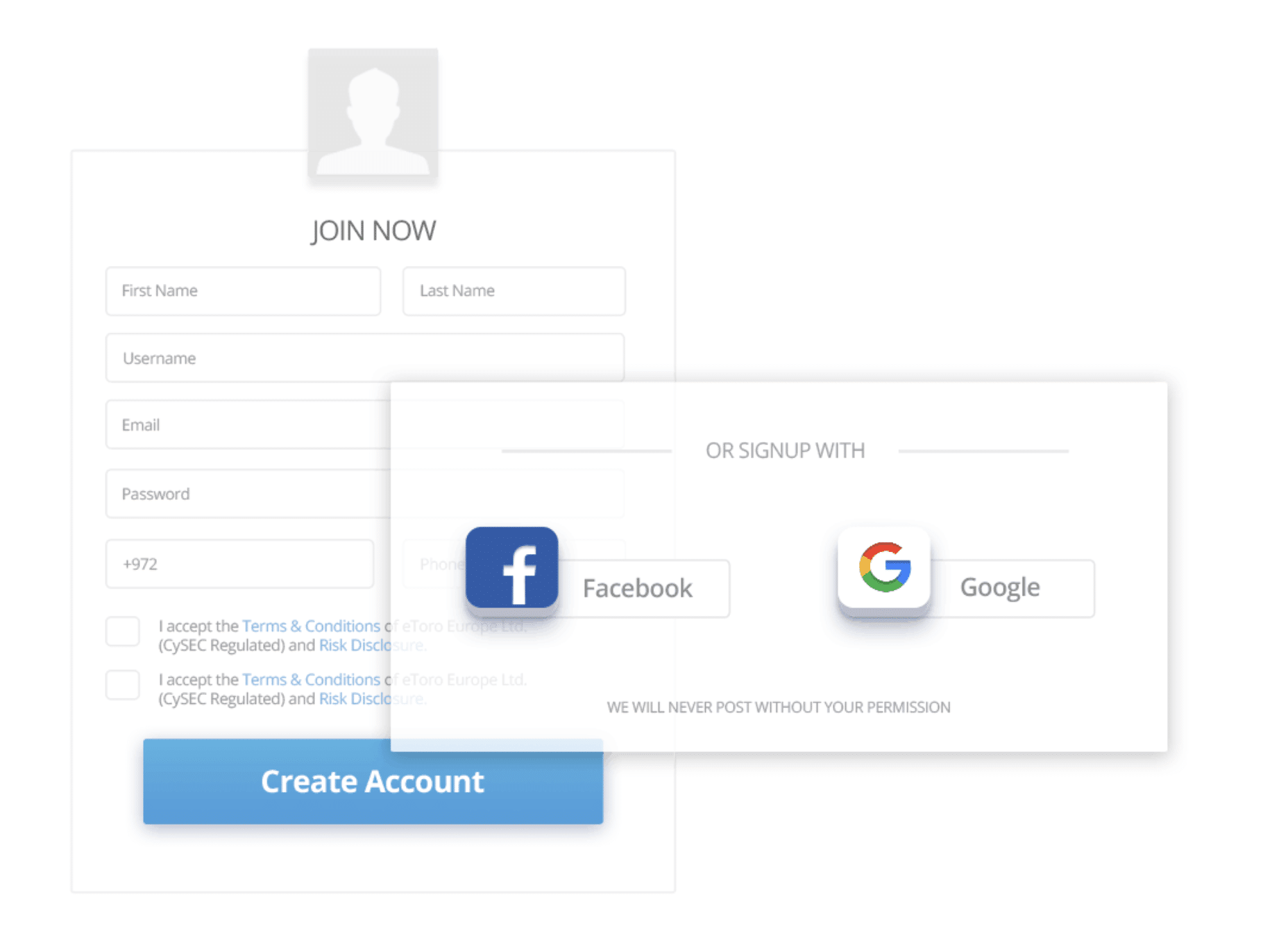 Press 'Create Account' to move on to verifying your account.
Step 2: Verify Your Account & Upload Your ID
As is standard with KYC (Know Your Customer) regulations, you will be asked some simple questions about investing. Then you will be asked to upload scans proving who you are and where you live. This does not take long.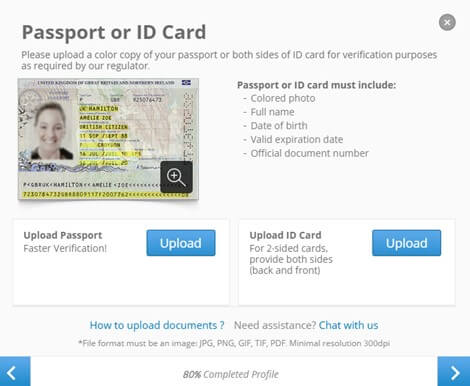 For proof of identity, use a valid passport for the swiftest verification. Alternatively, you can use an ID card of driving license. Your scanned document must show your full name, date of birth, a valid expiry date, a photo of you and the identity of the issuing authority.
For proof of address, your scanned document must show your address, name, issue date and issuing authority. There are many options here: bank/credit card statement, social insurance statement, letter from your municipality/council, driving license, national ID or utility bill (internet, phone, gas, electricity etc.).
When your particulars have been verified, you will receive a notification email from eToro. You are now good to go with depositing funds.
Step 3: Deposit Funds
All eToro accounts are run using USD to make trades. As for deposits, eToro accepts 15 fiat currencies: USD, GBP, EUR, NOK, DKK, VND, PLN, SEK, PHP, CZK, RMB, AUD, MYR, IDR and THB.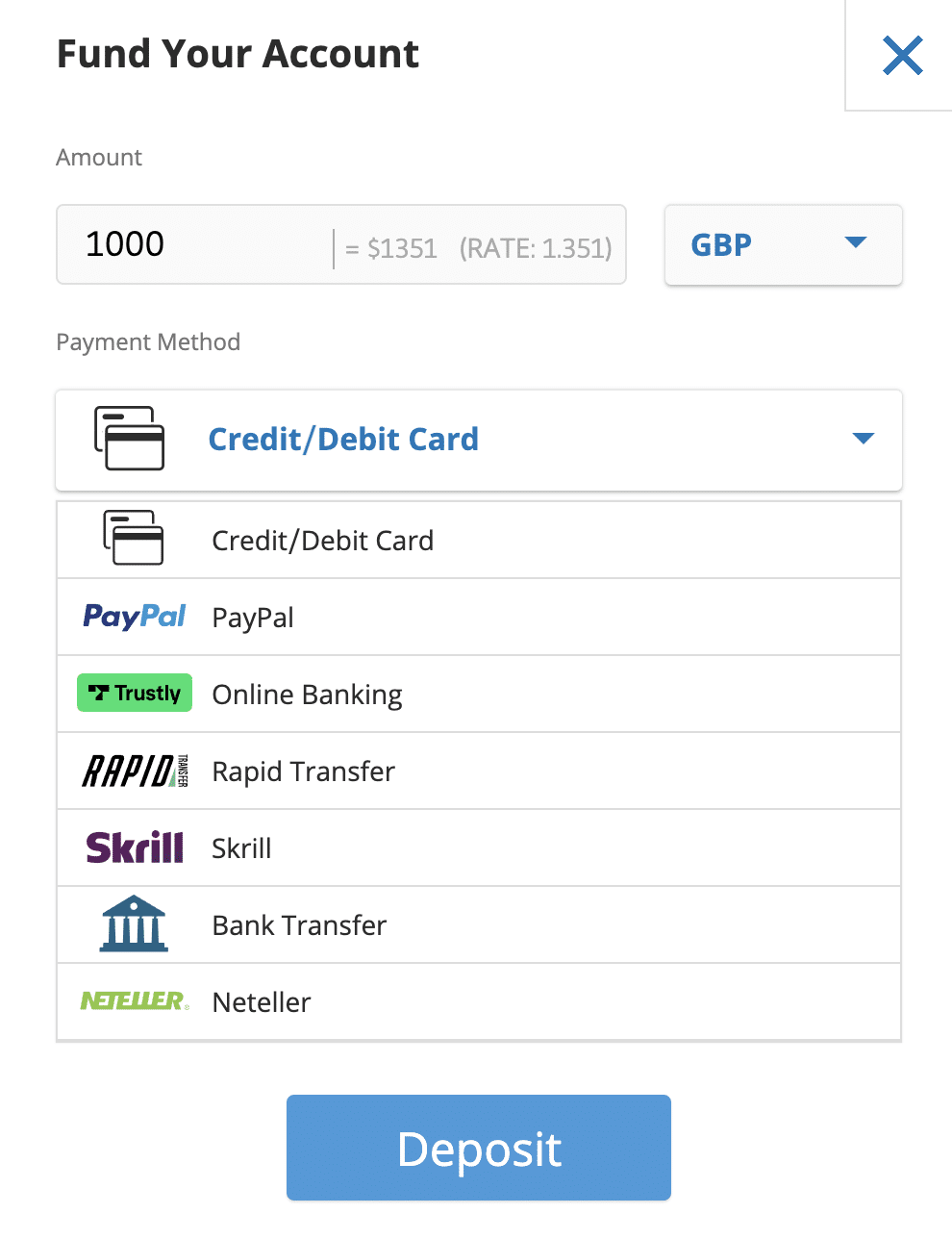 Depending on your country of origin, eToro accepts bank transfer, credit/debit cards, PayPal, Trustly, Rapid Transfer, Skrill and Neteller.
Step 4: Search for Best Gold Stocks & Buy
You can search for gold stocks direct by using eToro's top toolbar:
Or you can press the 'Discover' button on your left toolbar …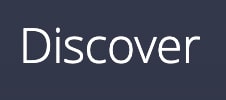 You can then choose 'Stocks' from the menu that comes up …

You can then browse stocks by stock exchange or sector. There are 207 international stocks in basic materials to explore. Here you will find the best gold stocks.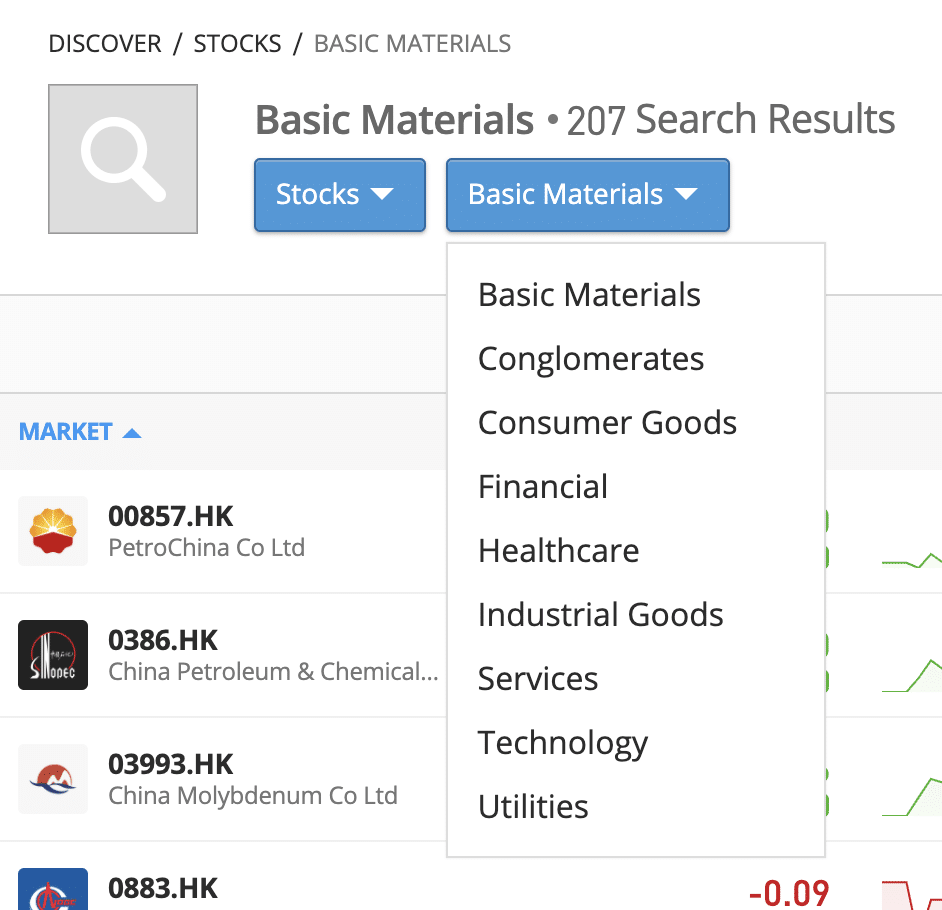 You can also browse through eToro's selection of 250+ ETFs. Whether it is the best gold stock or best gold ETF, press the blue 'Trade' button that is always present at the top right of your screen: this will give you your trading options.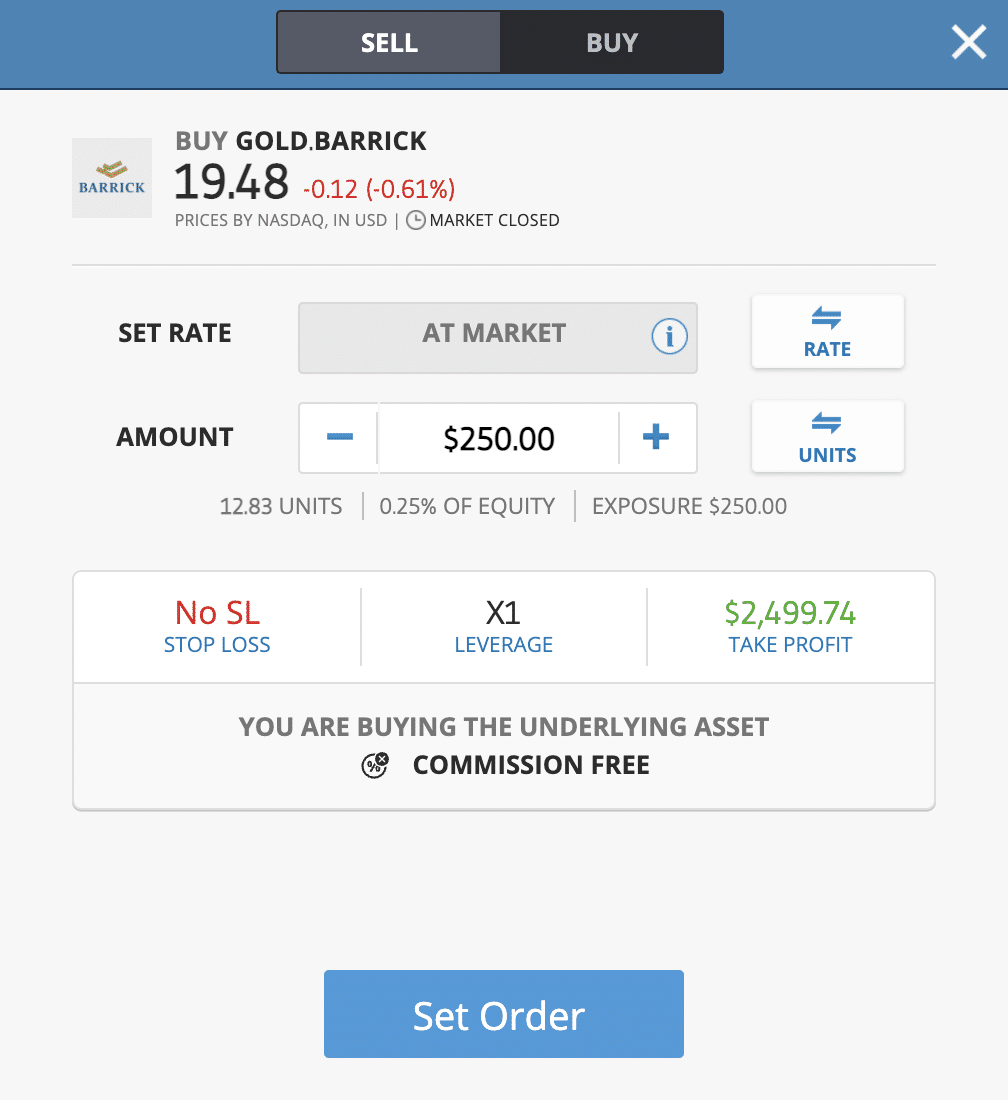 With many stocks, you can leverage your purchase. You can also go short on many stocks – ie. enter into a deal whereby you will benefit if the price goes down, rather than up. Going short on a stock involves using a CFD (Contract-For-Difference). CFDs sometimes come with overnight fees. If so, these fees will be shown on the dialogue box above when you make your trade.
Conclusion
For investors looking for exposure to the best gold stocks, eToro offers the advantages of a fully-regulated investing environment designed specifically for ease of use. 20 million investors have already given the thumbs-up to eToro's thoughtful approach to consumer investing, and it is easy to see why. eToro is continually innovating, with new ways to invest and new assets to explore. When it comes to the best gold stocks, eToro offers a really good selection as well as the option to invest in the biggest gold ETFs.
Best of all, eToro offers commission-free purchase of the best gold stocks.
eToro.com – the #1 Broker Platform to Buy Best Gold Stocks
FAQs
Where to Buy Gold Stocks?
Are Gold Stocks A Good Investment?
Are Gold Stocks Safe To Invest In?