WallStreetBets Stocks To Buy November Week 3 Roundup
Please note that we are not authorised to provide any investment advice. The content on this page is for information purposes only.
Every week we bring to you some of the fundamentally strong and reasonably valued stocks that are popular on Reddit group WallStreetBets. Here are the five best WallStreetBets stocks that you can buy in the third week of November.
Apple (NYSE: AAPL)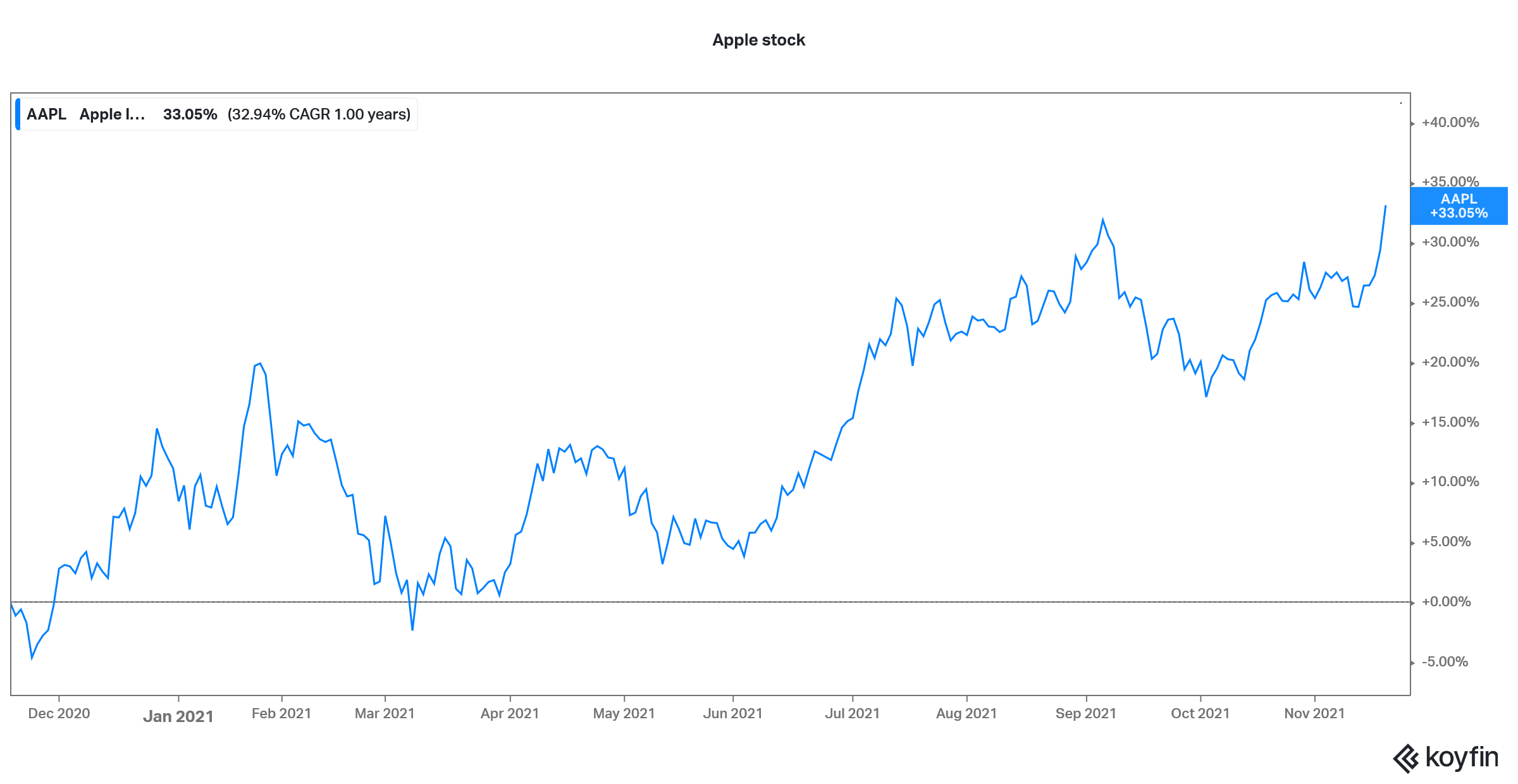 Apple is currently the most discussed stock on WallStreetBets. The stock is underperforming FAANG peers in 2021 after being the best performing FAANG for two consecutive years. It also briefly lost the title of the world's largest company to Microsoft. However, it has again risen to become the largest company even as Microsoft is a close second now.
Earlier this month, JPMorgan reiterated its buy rating on Apple stock as the brokerage sees supply chain pressures easing and expects the iPhone 13 demand to be much better than the consensus estimates.
JPMorgan likes this WallStreetBets stock
"Despite the moderation in lead times as supply improves, it remains stable in the US ‒ indicating solid demand trends, and it remains the most elevated on a geographic basis in China ‒ indicating much higher than anticipated demand, which bodes well for interest/demand for the iPhone 13 series in aggregate globally relative to investor expectations for a softer volume cycle than the iPhone 12 series," it said in its note.
While Apple is a favorite WallStreetBets stock, it is not the typical meme stock. The company is the largest holding for Berkshire Hathaway which speaks volumes about the immense value the business has. If you are looking for a WallStreetBets stock that you can hold for decades, Apple looks a good fit.
68% of all retail investor accounts lose money when trading CFDs with this provider.
Alibaba (NYSE: BABA)
Chinese e-commerce giant Alibaba is another popular WallStreetBets stock. However, the stock has had a rough ride over the last year. Firstly, China's crackdown on Alibaba took a toll on BABA stock last year. Then came the broader tech crackdown in 2021 where all the Chinese stocks plummeted. The Evergrande crisis did not help BABA stock either. Just when things were getting on track in China, Alibaba's fiscal second-quarter 2022 earnings release has again made markets apprehensive. However, the crash this time is not linked to China's crackdown, but a slowdown in Alibaba's sales.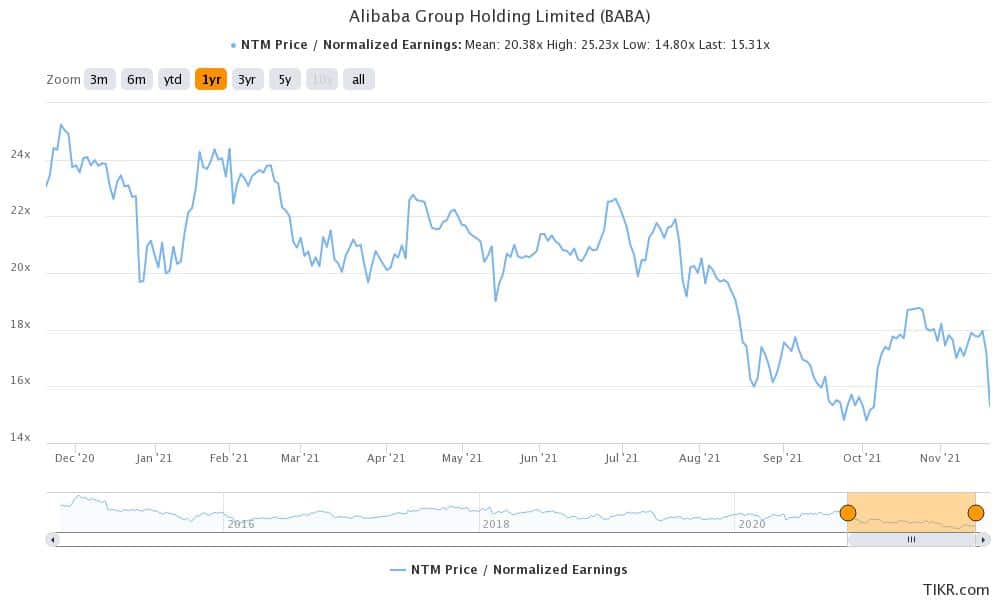 Alibaba has been a long-time favorite WallStreetBets stock
Alibaba reported revenues of $31.4 billion in the quarter which were slightly below estimates. The company's profitability also fell in the quarter. Meanwhile, the biggest shocker came from the guidance cut. The company expects its sales to rise between 20-23% this year, which was sharply lower than the previous guidance of 29.5% growth.
Meanwhile, BABA attributed lower profits in the quarter to the increase in investments. "This quarter, Alibaba continued to firmly invest into our three strategic pillars of domestic consumption, globalization, and cloud computing to establish solid foundations for our long-term goal of sustainable growth in the future," said CEO Daniel Zhang. Notably, even Amazon expects its operating profits to fall in the current quarter.
That said, the growth slowdown was largely expected as the slowdown in the Chinese economy is not exactly a surprise. However, BABA's valuations look quite attractive at these price levels and it looks among the best WallStreetBets stocks to buy in November.
68% of all retail investor accounts lose money when trading CFDs with this provider.
Clover Health (NYSE: CLOV)
Clover Health, which is a Medicare Advantage plan provider, went public through a reverse merger with one of Chamath Palihapitiya's SPAC (special purpose acquisition company). The stock has been a favorite for WallStreetBets and went as high as $28.85 as Reddit traders triggered an epic short squeeze in the stock. Now, the stock trades below $6 which is a steep discount to the SPAC IPO price of $10.
CLOV is a fast-growing stock that WallStreetBets loves.
The company's revenues are growing at a brisk pace and increased 153% YoY in the third quarter. Its GAAP Medicare Advantage Medical Care Ratio also improved by 850 basis points. The company's current annual revenue run rate is around $1.7 billion, which is less than twice of its current market cap.
CLOV also has an eye on its losses which are making some analysts apprehensive. While it is currently making losses, like many other startup companies, it expects to be EBITDA positive by 2023 and is forecasting tangible progress by 2022.
CLOV stock recently fell to a new record low after the company announced a $300 million stock sale. However, we could see some traction as Chamath Palihapitiya has said that he intends to increase the stake in the company.
CLOV is among the best healthcare plays for the long term. If you are looking for a healthcare stock that WallStreetBets also loves, CLOV should be on your radar.
68% of all retail investor accounts lose money when trading CFDs with this provider.
Aurora Innovation (NYSE: AUR)
Aurora Innovation, which went public earlier this month only, is among the newest stocks on WallStreetBets. AUR is a self-driving vehicle technology company. Last year, it acquired the self-driving business from Uber after which the ride-hailing company took a stake in the company.

Aurora stock is a new entrant on WallStreetBets
The long-term outlook for autonomous driving looks positive which makes Aurora Innovation a WallStreetBets stock worth watching. After the merger, Aurora Innovation would have $1.8 billion on its balance sheet through which it can fund the current cash burn. Notably, Tesla, which has its own autonomous software called the FSD (full-self driving) currently charges $10,000 for the subscription. However, its CEO Elon Musk expects that the service would eventually cost $100,000. Most of Tesla's valuation comes from the software part of the business. If you are looking at a pure-play autonomous driving stock that WallStreetBets also loves, Aurora Innovation would be a good fit.
68% of all retail investor accounts lose money when trading CFDs with this provider.
Amazon (NYSE: AMZN)
Amazon has also been popular on WallStreetBets for quite some time now. The stock has been under pressure amid concerns over rising costs and slowing growth. However, after its YTD underperformance vis-à-vis other FAANG stocks, Wall Street analysts expect things to turn around for the e-commerce giant.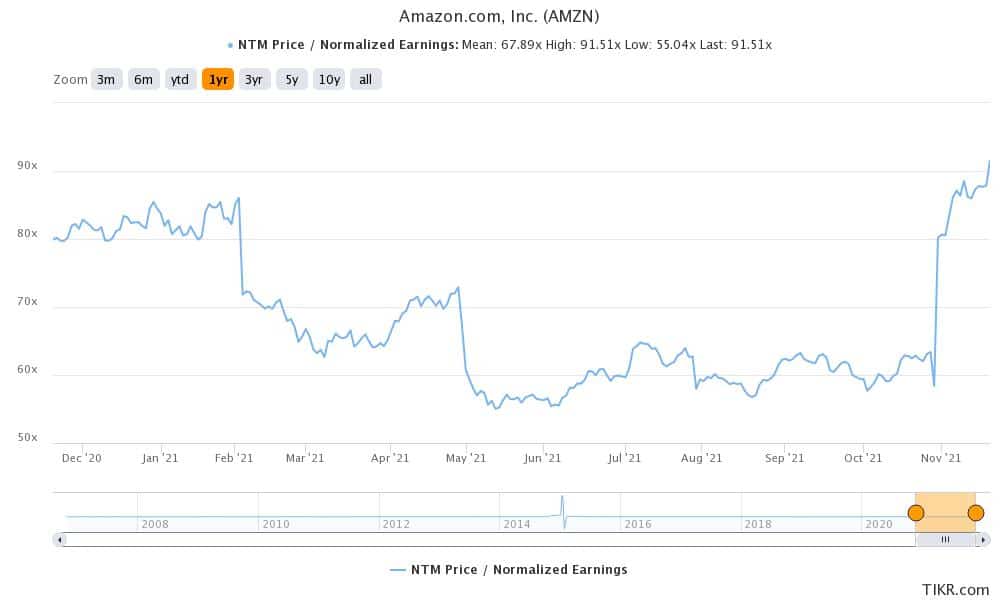 WallStreetBets likes Amazon stock after the underperformance
Today, Morgan Stanley reiterated Amazon stock as overweight. "We remain OW AMZN ($4,000 PT with ~13%upside) as we continue to think current valuation is under-appreciating the multi-year durability of top-line retail revenue growth and company-wide profitability (from retail and high margin revenue streams) as the company grows into its outsized '20/'21 build," it said in its note.
Goldman tech analysts led by Eric Sheridan are also bullish on Amazon stock and added the stock to their top picks for 2022. The shift towards e-commerce and cloud will only accelerate in the coming years as the digital transformation continues. Amazon has a market-leading position in both these industries. The stock also forms part of Berkshire Hathaway's portfolio and chairman Warren Buffett regrets missing the stock in its early days.
Amazon stock looks reasonably valued at these price levels and looks like among the best WallStreetBets stocks that you can buy in November.
Buy AMZN Stock at eToro from just $50 Now!