5 Best Healthcare Stocks to Buy in November 2021
Please note that we are not authorised to provide any investment advice. The content on this page is for information purposes only.
The healthcare industry is quite heterogeneous in nature. Established pharmaceutical companies, clinical-stage biotech companies, hospital companies, healthcare equipment companies, diagnostics companies, medical insurance companies, and health tech companies form part of the healthcare ecosystem.
The sector is an attractive asset class, especially for defensive investors. Healthcare stocks are generally defensive in nature. Here are the five best healthcare stocks that you can buy in November 2021.
Royalty Pharma (NYSE: RPRX)
Berkshire Hathaway chairman Warren Buffett is among the most followed fund managers. The company's third-quarter 13F revealed that the conglomerate has exited Merk while trimmed stakes in two others pharma companies, AbbVie and Bristol Myers Squibb. However, the company added a new healthcare stock, Royalty Pharma to the portfolio and held over 13.1 million shares at the end of September. Here it is worth noting that we can't say with certainty whether it was Buffett or a different investment manager at Berkshire Hathaway who took the position.
Royalty Pharma is a niche healthcare stock
Royalty Pharma is a niche healthcare stock. While it is not directly into the healthcare business, it funds and invests in other healthcare companies. It funds late-stage biopharma companies and new product launches in exchange for royalties. It also buys royalties from companies.
Consensus estimates call for an upside of over 17% in the next 12 months in Royalty Pharma stock. Wall Street analysts are generally bullish on the company and it has five buy and two hold ratings which give it a consensus buy rating.
68% of all retail investor accounts lose money when trading CFDs with this provider.
Teladoc Health (NYSE: TDOC)
Teladoc Health is another niche healthcare stock that you can consider in November 2021. The stock has fallen sharply this year amid the general sell-off in stay-at-home stocks. Teladoc Health reported its third-quarter earnings last month. The company's revenues increased 81% year-over-year to $522 million in the quarter. Looking at the revenue breakup, the company's Access Fee revenues increased 113% in the US markets and 19% in international markets.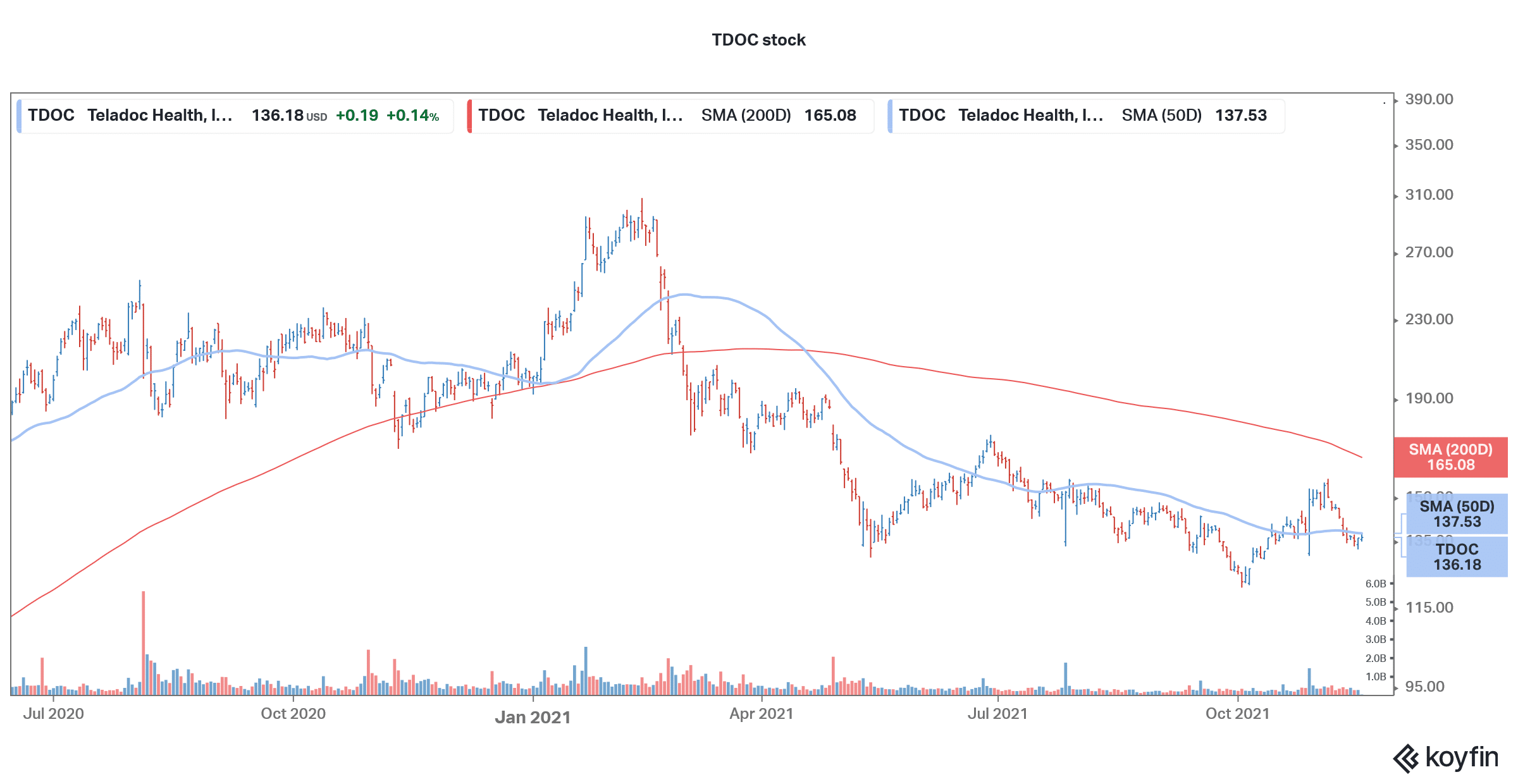 TDOC is a good growth healthcare stock
The healthcare industry is known for its low growth rates. However, if you want a growth healthcare stock, TDOC could be a good bet. The company's growth has arguably come down—just down other pandemic winners. However, it's a long-term play on the digitization of the healthcare industry.
Cathie Wood, who has a flair for disruptors, is among those who are bullish on Teladoc Health stock. Wells Fargo estimates the company's total addressable market at $120 billion and forecasts an organic annualized revenue growth in excess of 20% for the next five years.
That said Teladoc Health is among the best healthcare stocks to buy and hold for the long term. While the company's growth rate of 2020 might not be sustained, it should deliver strong double-digit revenue growth in the near foreseeable future led by penetration in the US markets as well as continued global expansion.
68% of all retail investor accounts lose money when trading CFDs with this provider.
Pfizer (NYSE: PFE)
If you are looking at buying a pure-play healthcare stock in November, Pfizer could be a good bet. The stock has gained 37% so far in 2021 and is trading near its all-time highs. The company's COVID-19 vaccine is the only one to have received full FDA approval. Now, the FDA is said to be contemplating extending the eligibility of Pfizer booster stot to all adults. While the stock has already run-up in anticipation of the move, it still remains among the best healthcare stocks to own in November.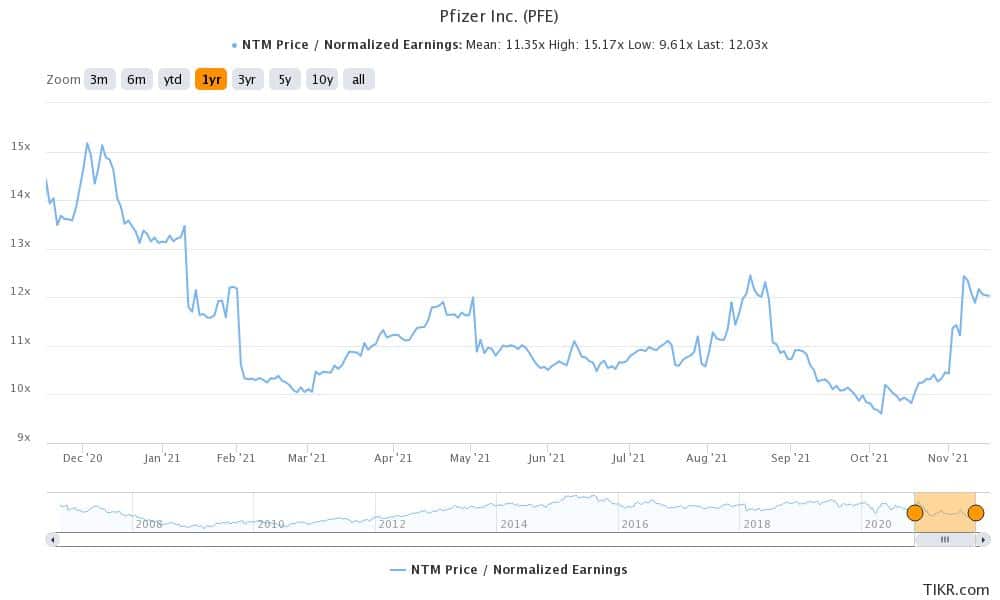 Buffett might not be too bullish on this healthcare stock
Last year, Berkshire Hathaway took a stake in Pfizer but soon exited it, which is a rarity for the company. However, Buffett has made several such surprise moves including the entry and exit in Oracle stock. Coming back to Pfizer, while Buffett might not like this healthcare stock, it nonetheless has several triggers that can take it higher.
Pfizer's dividend yield of 3.1% is over twice that of the S&P 500's dividend yield. With an NTM (next-12 months) PE of only around 12x, Pfizer looks like an attractively priced healthcare stock.
68% of all retail investor accounts lose money when trading CFDs with this provider.
Clover Health (NYSE: CLOV)
Clover Health, which is a Medicare Advantage plan provider, went public through a reverse merger with one of Chamath Palihapitiya's SPAC (special purpose acquisition company) and has been very volatile since then. The company joined the ranks of meme stocks after the pumping from Reddit group WallStreetBets.
Meanwhile, the stock has looked weak and trades near its 52-week highs. However, if you are looking at a healthcare stock to play the Medicare industry, CLOV looks among the best bets.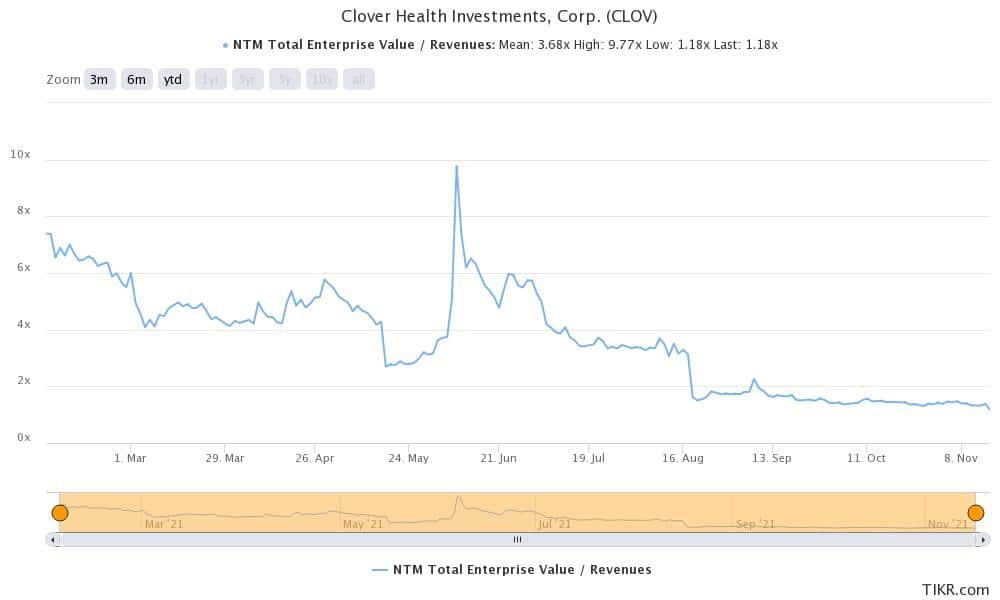 CLOV is a good healthcare stock but currently posting losses
While it is currently making losses, like many other startup companies, it expects to be EBITDA positive by 2023. The company expects US Medicare Advantage spending to more than double between 2019 to 2025, and reach $590 billion. The expected increase in Medicare Advantage is positive for companies like CLOV.
The company's revenues are growing at a brisk pace and increased 153% YoY in the third quarter. Its GAAP Medicare Advantage Medical Care Ratio also improved by 850 basis points. The company's current annual run rate is around $1.7 billion, which is less than half of its current market cap.
CLOV also has an eye on its losses which are making some analysts apprehensive. In the third-quarter earnings release, Clover Health's interim CEO Mark Herbers said "Clover is making significant strides in its planning towards achieving profitability, and we expect to see tangible progress towards that goal in 2022 by focusing on leveraging the synergies of our physician-centric approach across multiple business lines, driving operational efficiencies with partners and vendors, and by automating more of our processes."
Overall, CLOV looks like a reasonably valued healthcare stock with a strong growth outlook. It could be a multibagger if it can execute on the business projections that it provided during the SPAC merger.
68% of all retail investor accounts lose money when trading CFDs with this provider.
The Invesco S&P 500 Equal Weight Health Care ETF (NYSE: RYH)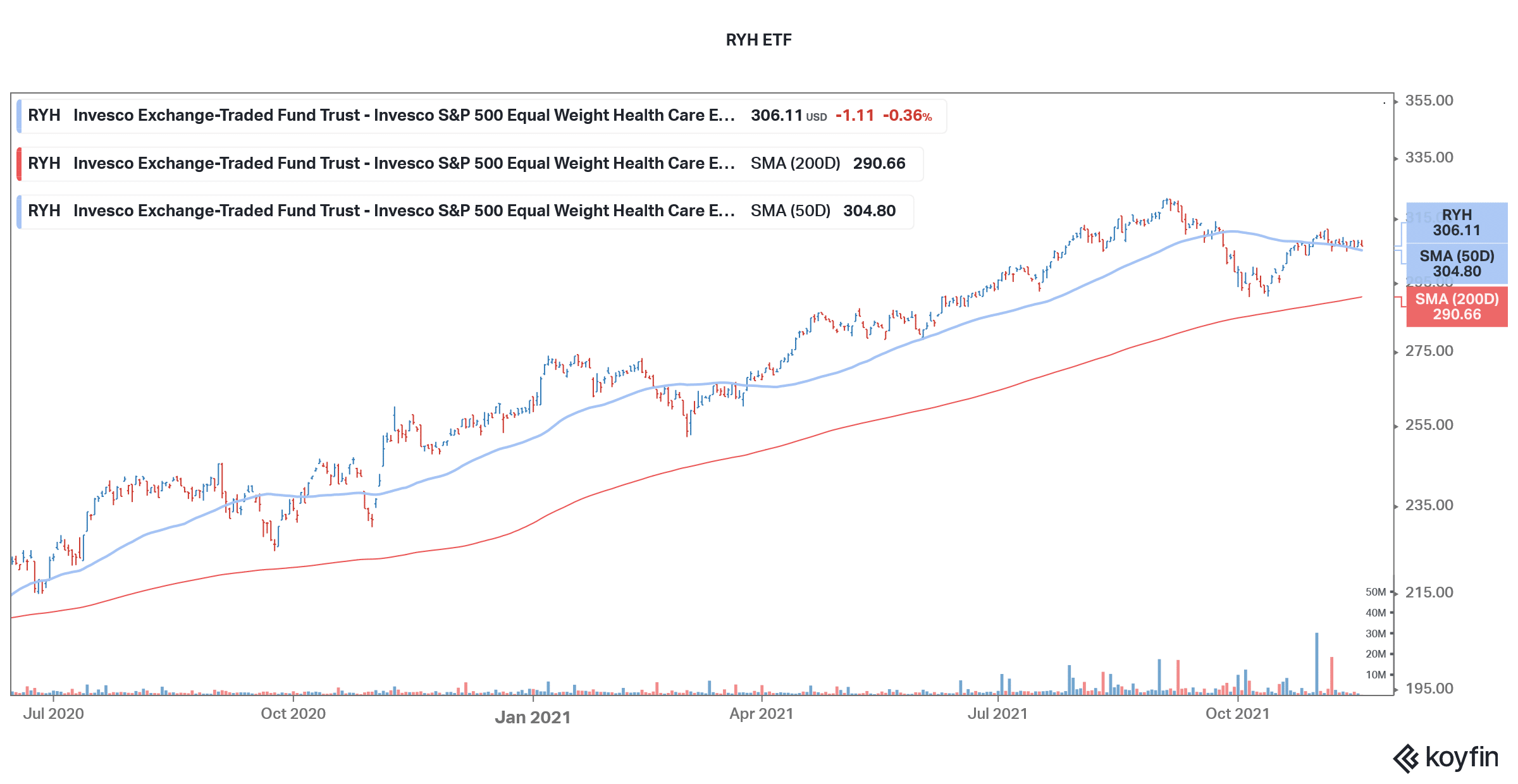 If you want to build a portfolio of healthcare stocks without having to worry about selecting and buying individual stocks, you can consider one of the many healthcare ETFs that invest in healthcare stocks.
The Invesco S&P 500 Equal Weight Health Care is a good way to build a portfolio of healthcare stocks. The ETF invests a minimum of 90% of its assets in the S&P 500 Equal Weight Health Care Index. The ETF has an expense ratio of 40 basis points annually and has ample liquidity. ETFs can be a good investing strategy especially for investors who lack the time or analytical skills to pick individual stocks.
Buy RYH ETF at eToro from just $50 Now!