Buy Amazon Stock – How To Buy Amazon Stock For Beginners
Buying Amazon Stock (NASDAQ: AMZN) could be one of the most thoughtful investment decisions a beginner in the stock market could make today. The allure of investing in amazon stocks strengthens as the company breaks new profit records and ventures into new business lines. With revenues of $321 billion in 2020, Amazon is the world's third-largest company after China Petroleum & Chemical Corps closed the year with $342 billion.
Walmart recorded total revenue of twelve months trailing $355 billion by the end of the financial year ending 2020, making it the world's largest company by revenue. Due to these results, any investors could wonder whether they can still invest in Amazon or it's too late. Despite being the third-largest company by revenues, Amazon is the largest online retailer by Market Cap.
The firm is making aggressive moves by getting into new business lines to expand its revenues. We have seen it develop interests in the pharmaceutical industry and even grocery markets in the recent past. Historically we have seen stable companies start to have liquidity issues that led them to perform poorly after such rapid expansion as we are witnessing with Amazon. Should you buy Amazon stocks now or wait? Stick with us as we analyze Amazon and teach how to buy amazon stock and when to buy in the US in 2021.
How To Buy Stock in Amazon – #1 Platform eToro.com

Amazon opened as an online bookseller in 1995, with an initial investment of $250,000 from Bezos' parents. It made its primary listing at an initial price of $18 in 1997 on the NASDAQ stock exchange, and since then, they have been listed on seven more exchanges across the world, and their share price has grown more than 150 times. Amazon shares are listed under different symbols in these seven stock exchanges, as shown below.
| | | |
| --- | --- | --- |
| Country | Exchange | Symbol |
| USA | NASDAQ Global Select Consolidated | AMZN.O |
| Brazil | BM&F Bovespa Exchange | AMZO34.SA |
| Argentina | Bolsa de Comercio de Buenos Aires | AMZN.BA |
| USA | NASDAQ Global Select Market | AMZN.OQ |
| USA | Cboe BZX Exchange | AMZN.Z |
| USA | Cboe EDGX Exchange | AMZN.DG |
| UK | London Stock Exchange | 0R1O |
| Germany | Frankfurt Stock Exchange | AMZN.F |
It's all about Fractional Investing
It may not be feasible to buy Amazon stock if you're on a tight budget because the stock is valued at over $3,400 as of writing this. Not only is that a ton of money to find, but also too much to invest in a single company share if you're starting out. If you are still eager to buy Amazon stock in 2021, there is an easier way to do it even if your funds are limited; you need to learn about fractional investing.
These days online brokers allow traders to put money into fractional shares. That means you don't have to buy an entire company share at a whopping $3400 when you can own just a piece of the share that you want. This way, beginners can start small and increase their stakes over time, making good revenues from the share market.
Not every online broker allows fractional investing, and there are some stocks that cannot be purchased infractions. The good news is you can buy Amazon stocks infractions and build them up over time as you gain more confidence. Brokers such eToro allow you to purchase amazon stocks infractions in the US today.
How To Buy Amazon Stock?
Buying Amazon shares is incredibly easy, and you do not need to be an expert to get started. You simply need to follow four significant steps to get yourself ready before making your first purchase of Amazon stocks:
Step 1. Research on Amazon Stock Price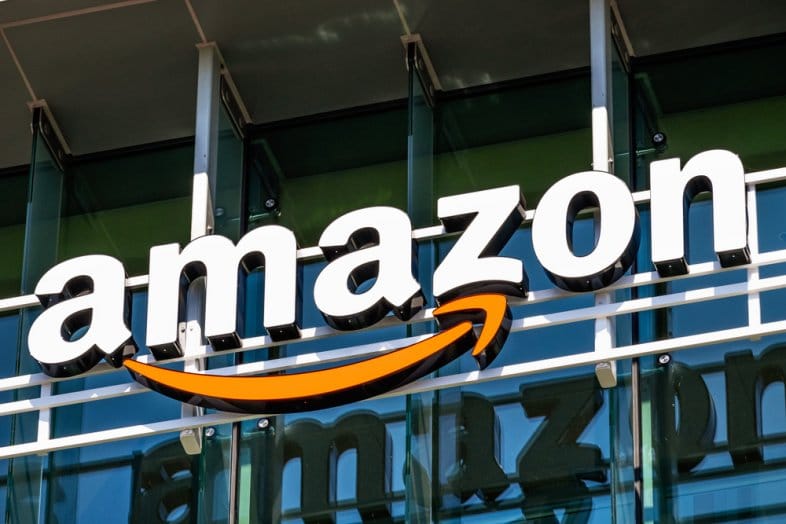 The share market only favors those who prepare adequately before getting into buying stocks. Amazon has exhibited success in numerous ways, and you may simply want to jump in and get started. There is no such thing as a "sure thing" when we are talking about the stock market. Keep in mind this is a volatile market, and prices can shift in your favor or against at any time. You want to be sure that Amazon stock is still strong and that it is the right time to buy. As a beginner, you don't want to buy your first stock only to see it lose value and get stuck at a lower price when you get in with all the excitement of how much money you will make. While this is normal in the stock market, you want to buy Amazon stocks at the right price to maximize your profits. It pays to do due diligence and make an informed decision.
Step 2. Find a Broker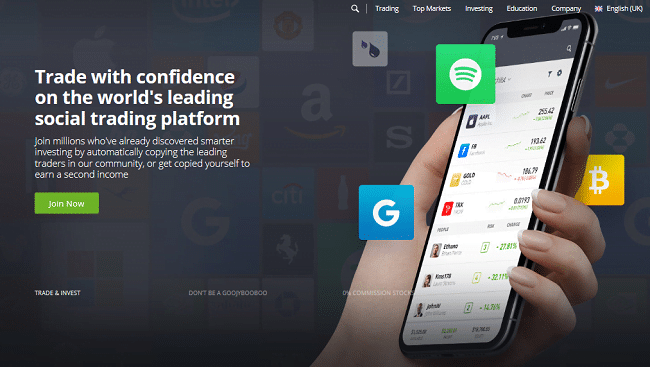 The broker you settle for will have a lot to do with how successful you will be in the share trading business. You can buy Amazon stocks today with any broker, but we need to bring to your attention that not all brokers are equal. You want to make sure that your money is in safe hands and that you will get the best trading conditions from your broker of choice. Remember, we are in this to make money, so factors such as the cost of buying Amazon stocks and the efficiency of the broker platform will be vital when selecting a broker. Lastly, verify that CFTC and NFA regulate the broker. We recommend eToro because you get to buy Amazon stocks at zero commissions, lowering your trading costs and maximizing your earnings.
Step 3. Open and Fund your Trading Account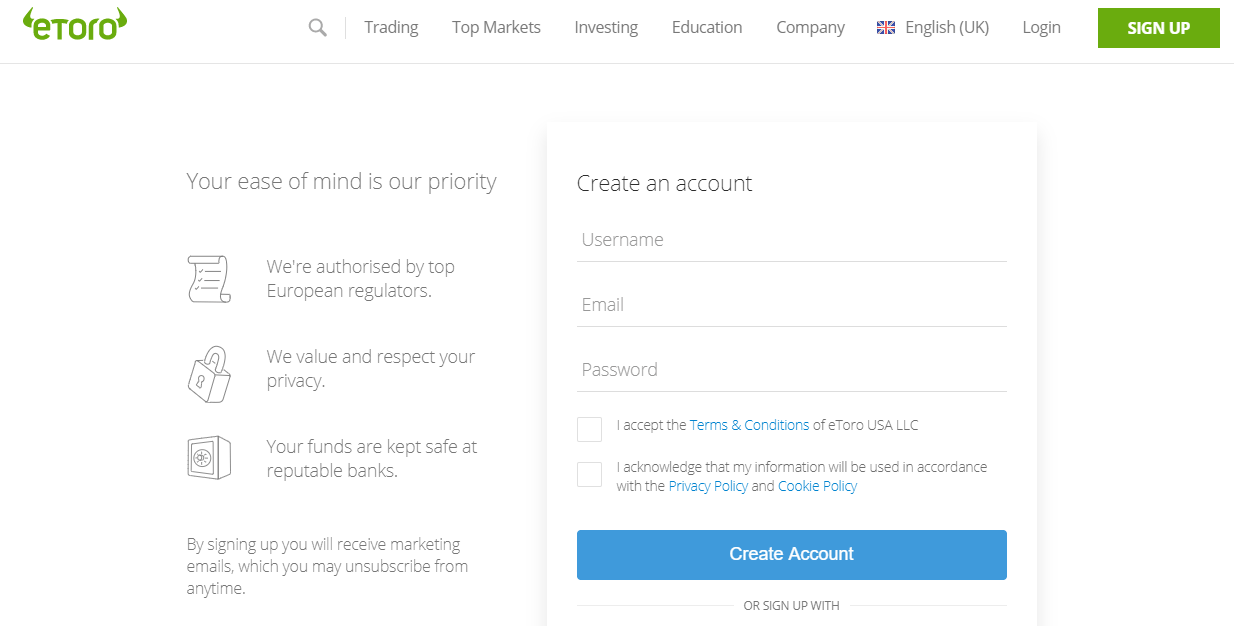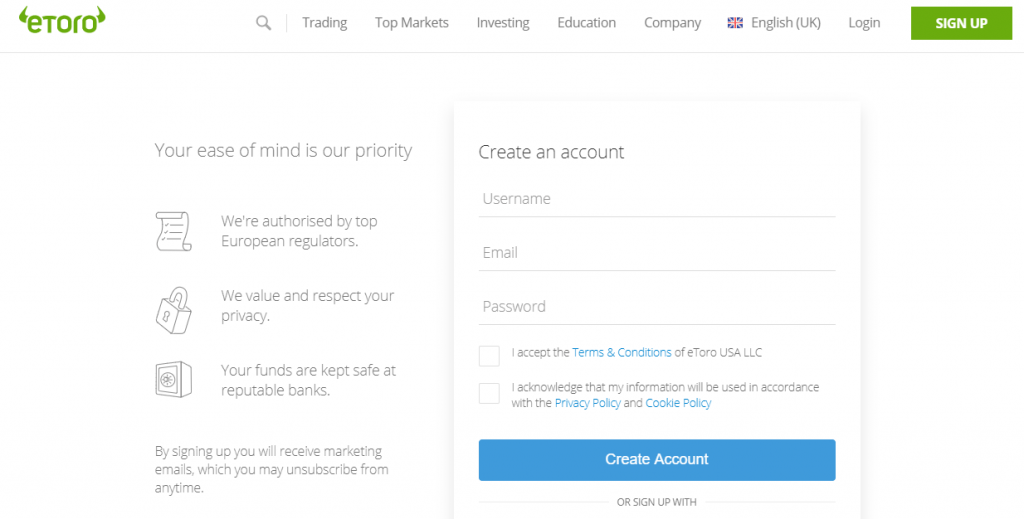 Now that you have picked your broker of choice, it's time to set up your trading account. First, go to the broker's website and signup for an account. You will find a "join now/get started/ signup" button on the broker's home. Submit your details to get started; these will be the basic KYC (Know Your Client) details such as your name, date of birth, address, residence, and source of funds.
Signup at eToro to Buy Amazon Stock with 0% commission >
The broker will send you a link in your email that you will have to click to complete the first registration stage. You can now log in to your newly opened account to verify your identity before your account can be fully set up. Verification procedures for most brokers will require you to share a picture of your identification documents, such as your passport or driving license, and a utility bill that can be used to verify your residential address. Your account will be ready for funding as soon as you're done with this procedure.
You can now fund your account using your preferred method as long as it is supported by your broker. Some brokers will require a high minimum deposit to activate your trading account, while others, such as eToro, need you to make a low minimum deposit of only $200.
Step 4. Buy Amazon Shares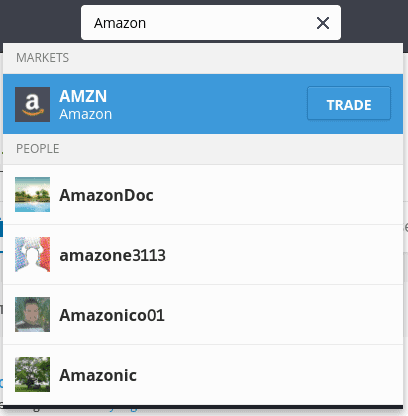 You can buy Amazon shares anytime as soon as your funds hit your account. If you used eWallets such as PayPal and Neteller, your funds should reflect immediately. Card payments are also instant, apart from in rare situations where you may be required to verify that you're the rightful owner of that card. To buy your stocks, simply navigate to the shares section and search for Amazon or AMZN, insert the amount of money you want to spend then proceed to buy, easy-peasy.
Best Brokers To Buy Stock in Amazon 2021
1. eToro- Best Social Trading and No.1 Platform for Beginners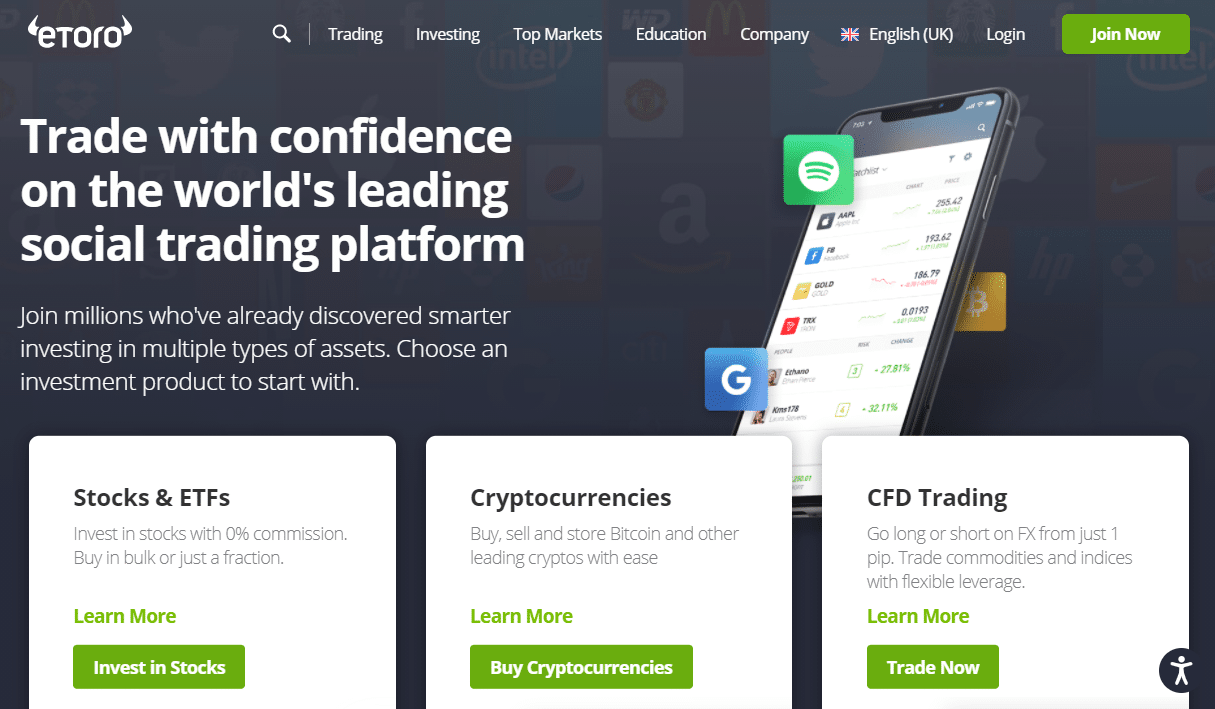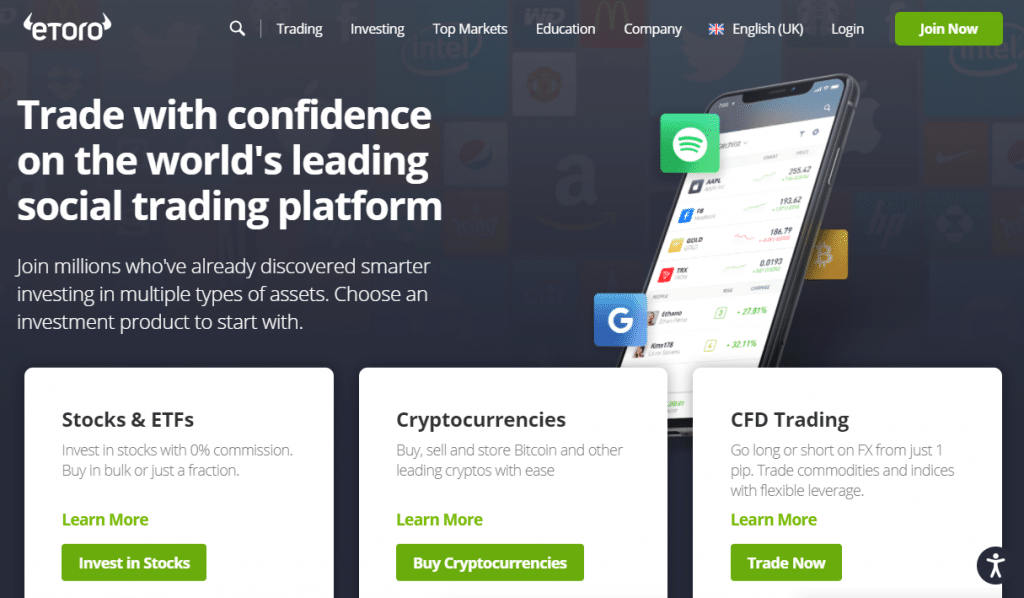 eToro is a leading broker regulated by CFTC and NFA that offers state-of-the-art trading technology for investors who want to buy stock in Amazon in the US today. Traders using eToro choose to use their desktop trading platform, mobile phone platform, or web trader.
eToro is not only our number one choice of a broker but is also preferred by numerous traders worldwide because they charge zero commission for buying Amazon stocks. They are also famous for their social trading platform that allows inexperienced traders to copy trades of already successful traders. This can be a good way to start your stock trading career if you're scared of losing your money by making the wrong investment decision. You don't have to worry about whether your preferred method of payment is supported by eToro or not because you will have a wide variety of options to choose from. You can deposit via debit/credit card, e-wallets like PayPal, or bank wire transfer.
eToro fees
| | |
| --- | --- |
| Commission | 0% |
| Deposit Fee | Free |
| Withdrawal Fee | $5 |
| Inactivity Fees | $10 a month after 12 months of inactivity |
| | |
| --- | --- |
| Pros | Cons |
| CTFC and NFA compliant | Not a good choice for advanced traders looking for sophisticated trading tools |
| Best social trading platform | |
| Deposit via debit/credit card, e-wallets like PayPal, or bank wire transfer. | |
| Zero commissions on buying stocks | |
| Access over 800 stocks listed in the US markets and other international exchanges | |
| Super friendly trading platform | |
| All trading tools are free | |
67% of all retail investor accounts lose money when trading CFDs with this provider.
2. IG Trading- A Trusted Broker with a Long-Standing reputation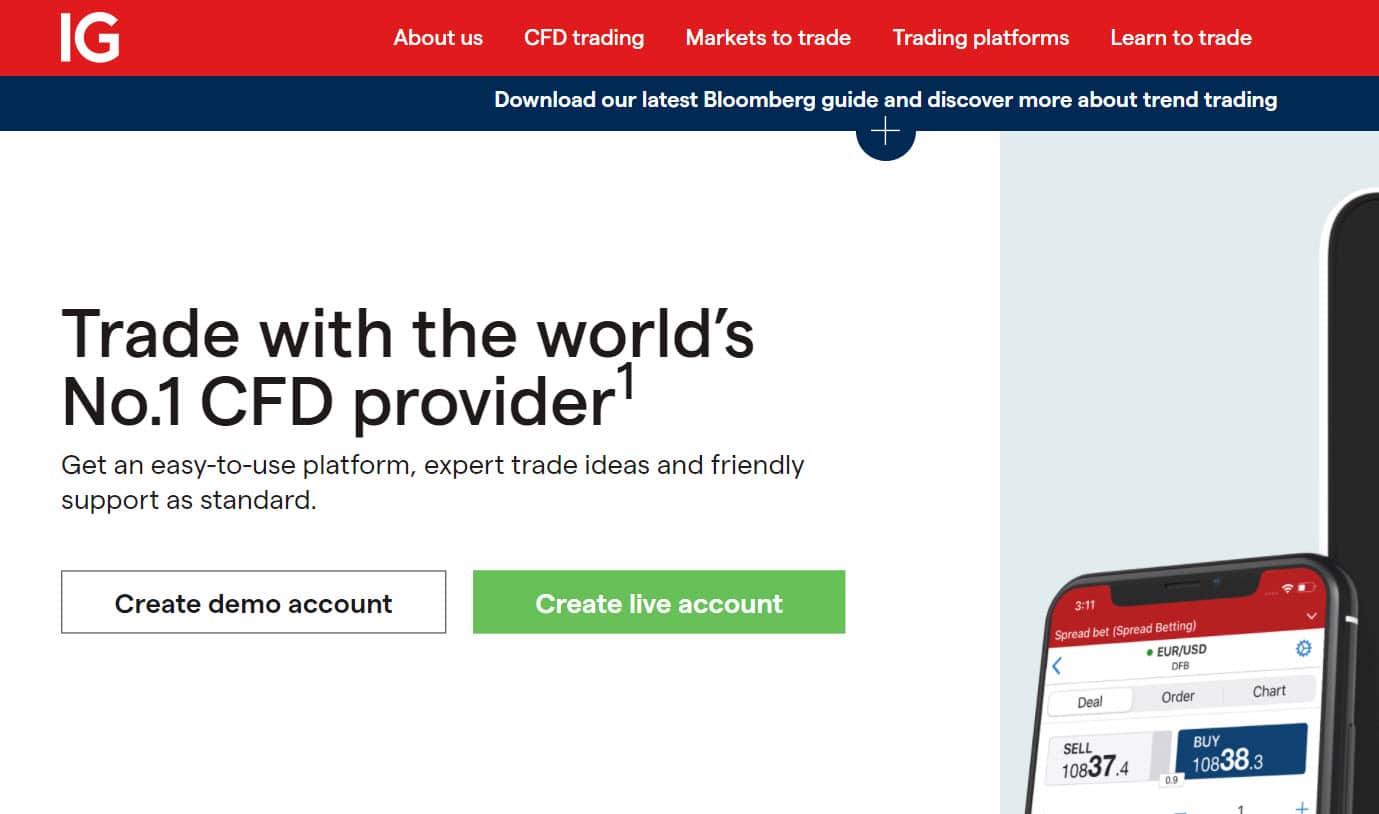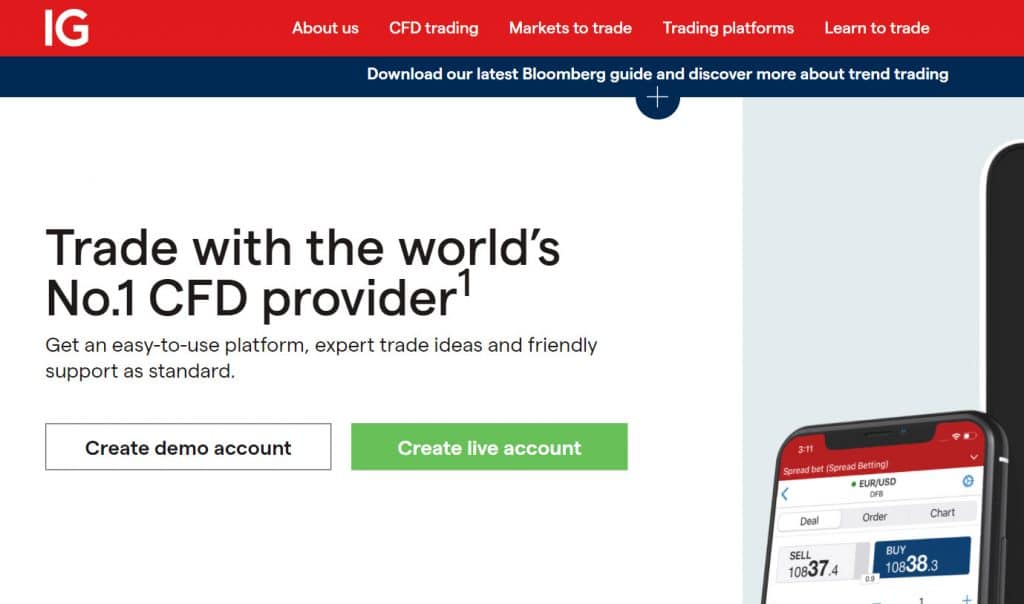 IG trading is one of the oldest brokers in the US, with a long-standing reputation since 1974 when it was first launched. IG gives you access to more than 15,000 financial instruments across the world, including stocks, forex, commodities, bonds, energies, and even metals. IG prices US shares at a minimum of 0.02 per share with a minimum commission of $15 and above. IG has an excellent research department that shares weekly tips to help traders make informed decisions before they can invest in the stock market.
IG Fees
| | |
| --- | --- |
| Commission | 0% of CFDs, and a minimum fee of $15 on US shares |
| Deposit fee | Free for other methods, but charges 0.5% to 1% for credit cards |
| Withdrawal fee | Free |
| Inactivity Fees | $12 per month after two years of inactivity |
| | |
| --- | --- |
| Pros | Cons |
| Great Research department | A high minimum deposit requirement of $250 |
| Access to US and international markets | US stocks have a minimum commission of $15 |
| Includes spread betting and CFD products | |
| Trusted US broker with a long-standing reputation | |
67% of all retail investor accounts lose money when trading CFDs with this provider.
3. Plus500- Best CFD Specialists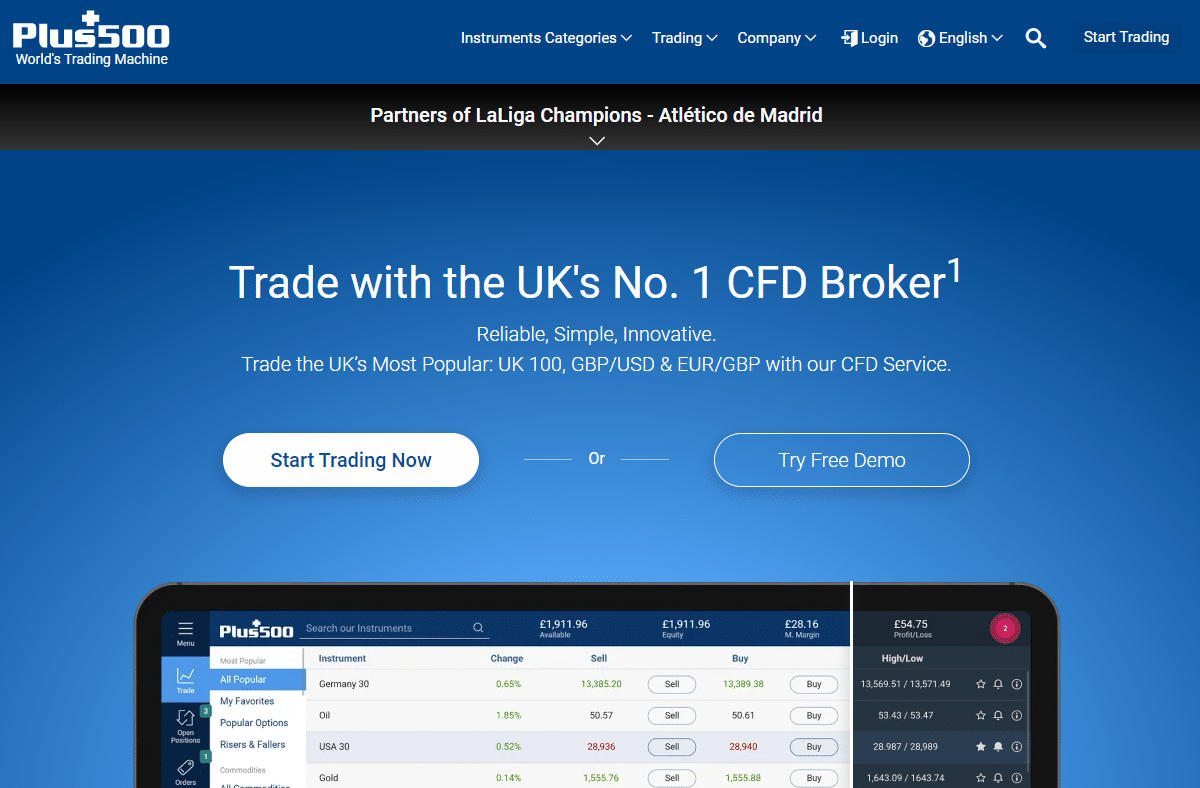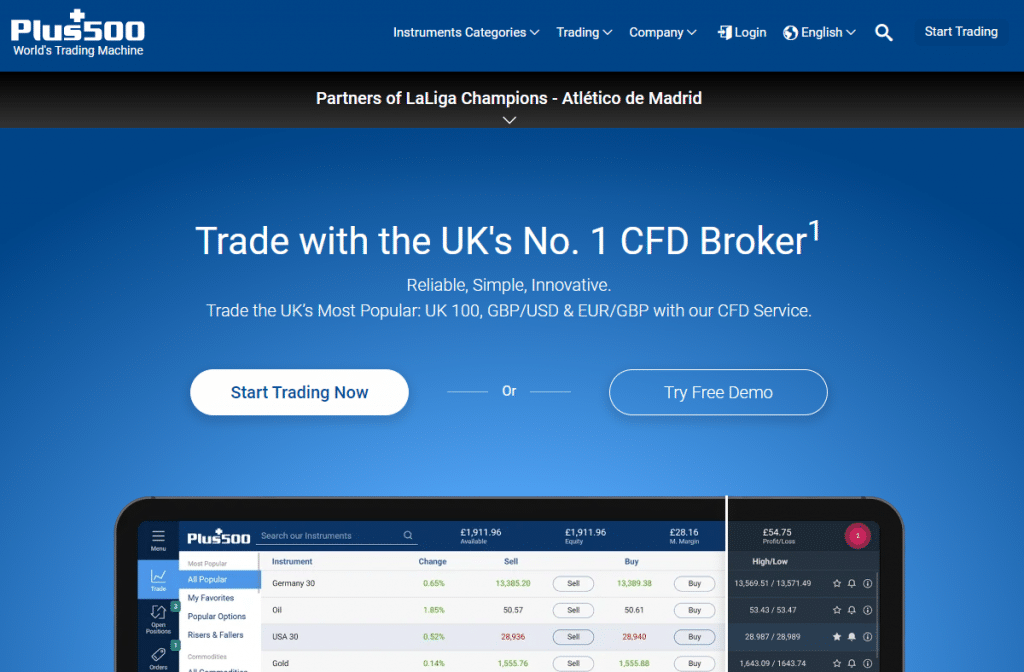 Plus 500 is a CFD specialist but also offers other asset classes such as US stocks, bonds, metals, and commodities. Pluss 500 offers all markets at 0.5% commission and with a competitive spread. They do not charge any fee on withdrawals and deposits for investors using Plus 500 to buy US shares. Whether you want to trade from your PC platform, web platform, or from your android and iOS mobile phone, Plus 500 got you covered. Lastly, you can be sure about the safety of your money since CFTC and NFA regulate this broker.
Plus 500 Fees
| | |
| --- | --- |
| Commission | 0% |
| Deposit Fee | Free |
| Withdrawal Fee | Free |
| Inactivity Fee | $10 per quarter after 3 months of inactivity |
| | |
| --- | --- |
| Commission | 0% of CFDs, and a minimum fee of $15 on US shares |
| Deposit fee | Free for other methods, but charges 0.5% to 1% for credit cards |
| Withdrawal fee | Free |
| Inactivity Fees | $12 per month after two years of inactivity |
| | |
| --- | --- |
| Pros | Cons |
| Free deposits and withdrawals | Not suitable for advanced traders |
| Easy account opening procedures | Charges a commission on all trades |
| Thousands of instruments across all asset classes | |
| CFTC and NFA compliant | |
67% of all retail investor accounts lose money when trading CFDs with this provider.
The Amazon Edge
Amazon is a unique stock because it has had a stable trend, and the company is successful in so many areas. It was first launched as a book-selling platform and later transitioned into the full e-commerce space. Most people know Amazon as a platform where you can find anything you want to buy. However, the company is quickly expanding into new grounds, with the latest move being in the pharmaceutical industry. This move has not left Amazon competitors in peace since they know that Amazon has the financial muscles and proper resources to give competitors sleepless nights.
The Amazon Web Services (AWS) gives it an edge as it generates extra income for the business without high overhead costs. Amazon pioneered this cloud service infrastructure and has continued to dominate the space ahead of other market players like Microsoft. Moreover, this has become their most profitable segment of the company, with operating margins of over 30% in a year.
The AWS is a cash cow for Amazon and enables the company to try out new fields without fearing choking their cash flow. In case you didn't know, AWS has been a significant force behind the rise of Amazon's market cap to about $1.6v trillion within just a few years, making Amazon the third-largest company globally.
The Amazon Story is Far from Over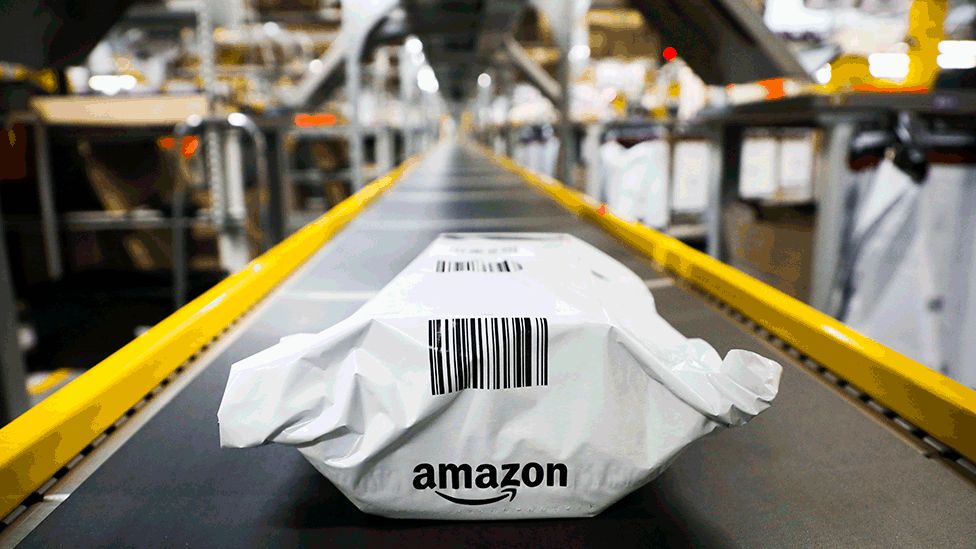 Amazon is a force to reckon with, and it might stick around longer than anyone can expect. Likely, Amazon will soon overtake Apple, Inc., and Walmart to be the world's biggest company by the measure of market cap and annual revenues. The company reported a net sales surge of 44% in the first quarter of 2021, from the 2020s $108 billion. The company's expenses fell by 41% within this period contributing to a 69% increase in operating cash flow. Amazon posted an income was more than $8.1 billion, which was more than triple their projections.
However, the company is yet to provide proper guidance for 2021 as the US economy starts recovering from the pandemic. The company, however, predicts an increase in sales by over 30% in the next quarter. See Amazon's weekly chart below since 2018.
As an investor looking to pump your money into Amazon stock, you need to start buying the stock because of the following key reasons:
Plenty of growth opportunities
Amazon is one company that has shown resilience and is promising to take up all the growth opportunities that it comes across. Apart from expanding Amazon virtual healthcare across the US, the company's move to tap into prescription drugs should be enough to make you buy stock in Amazon today. If Amazon is able to offer efficient healthcare, investors will go home smiling as stocks rise rapidly.
Amazon As A Service Platform
Amazon intends to invest more resources in building its service industry segment. Amazon could be undervalued based on the current strong fundamentals in the service industry. Being a market leader, it's not questionable that Amazon will be among the primary beneficiaries of the business boom that is expected in the highly profitable service industry in the following years.
Tapping the Market for Prescription Drugs
The prescription drugs industry is a $350 billion market. The launch of Amazon pharmacy has threatened many traditional pharmacies considering that Amazon aims to offer 80% discount on all generic drugs and up to 40% discount brand medications. This means that a lot of their competitors in this sector will not be able to keep up with Amazon's prices and be forced to run out of business. Amazon has the financial muscles to operate in losses until the playing ground is clear enough for them to dominate and recoup their investments.
Amazon Advertising
Many Americans start their search for any product from Amazon. The company seeks to expand this area and invest in making it one of its main income streams. There is an enormous opportunity for growth in this area of business as more and more Americans now prefer shopping online ever since Covid hit the country. Ad revenue will be a powerful driver for Amazon's revenue in 2021.
How Has the Price of Amazon Stock Changed Over Time?
Amazon is currently a strong sell for day traders looking to make short-term returns. However, if you are a serious investor with a long-term outlook, you should start buying Amazon stocks today. The company operates at gross margins of 41%, which is almost double the 25% industry gross margins for businesses in the e-commerce space.
Amazon has had incredible growth, but you may want to know how the share prices have performed over the years. Amazon's average price was about $15 in 1998 after it had just been listed in the NASDAQ stock exchange in 1997. It opened the year 1998 at a low of $4.9 and closed the year at a high of $53, representing an over 900% increase within just one year.
The company stocks struggled to stay afloat between 1998 and 2008, where they were bearish primarily, ranging between $5.9 and $87. 2009 was a good year for Amazon as the share price rose to an all-time high of $134 and has never looked back ever since. The value of Amazon has grown every year to become one of the best-paying stocks in history. Take a look at the statistics below:
Amazon Historical Annual Stock Price Data for the Past 10 Years
Year
Average Stock Price
Year Open
Year High
Year Low
Year Close
Annual % Change
2020
2662.5998
1898.0100
3531.4500
1676.6100
3201.6500
73.26%
2019
1789.1929
1539.1300
2020.9900
1500.2800
1847.8400
23.03%
2018
1641.7262
1189.01000
2039.5100
1189.01000
1501.9700
28.43%
2017
968.1670
753.6700
1195.8300
753.6700
1169.4700
55.96%
2016
699.5231
636.9900
844.3600
482.0700
749.8700
10.95%
2015
478.1373
308.5200
693.9700
286.9500
675.8900
117.78%
2014
332.5510
397.9700
407.0500
287.0600
310.3500
-22.18%
2013
298.0322
257.3100
404.3900
248.2300
398.7900
58.96%
2012
220.3037
179.0300
261.6800
175.9300
250.8700
44.93%
2011
196.6720
184.2200
246.7100
160.9700
173.1000
-3.83%
2010
139.1404
133.900
184.7600
108.6100
180.000
33.81%
Factors that Affect Amazon Stock Price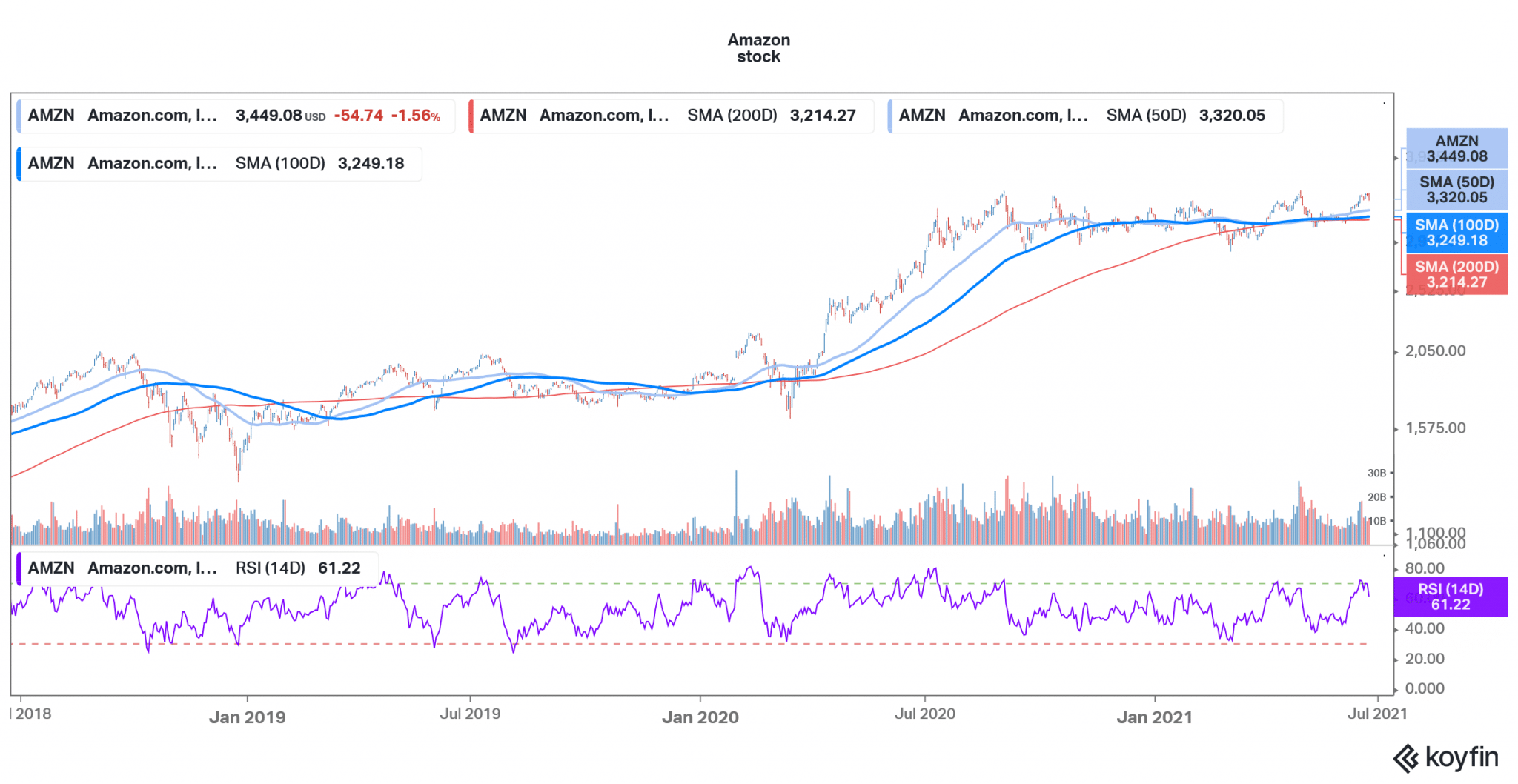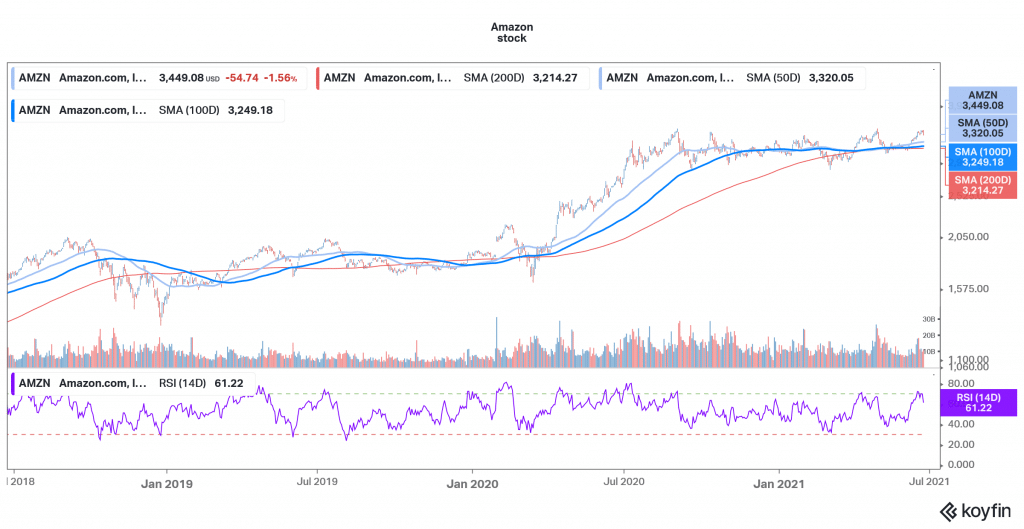 Understanding the critical drivers for Amazon stock prices will help you decide the best time to buy and exit from this market. You can keep yourself updated on every little detail about these factors as a way of making sure that your investment in Amazon stocks is secure.
State of E-commerce Business
Amazon's key business is e-commerce. A booming e-commerce business environment means growth for Amazon. The fundamental of e-commerce is currently looking up, with many analysts predicting that sales in the e-commerce sector will hit $6.5 trillion before the end of 2022. The strong bullishness in the e-commerce business is fueled by an increase in online sales due to the coronavirus pandemic. Monitor e-commerce trends to find the best time to buy and sell Amazon shares.
Demand for New Amazon Services
Apart from selling products online, Amazon has kept taking up new business lines such as Amazon Prime, Amazon Virtual health, and Amazon pharmacy. The demand for these services will play a significant role in the price of Amazon stocks. For example, the 2002 launch of Amazon Web Services saw the share prices shoot up from about $16 to $52 within no time. While a slow demand for their new services may not have a significant negative impact on their share prices, watch out for increased demand in these services as a good sign to buy Amazon shares.
Investing in New Verticals
Amazon has hinted that it may get into the marijuana sector in the coming years once the products get full approval from the state and are pronounced legal. The company has also expressed interest in joining Tesla in the production of self-driving cars. These are industries that are already being valued at billions of dollars, yet they are still untapped. Successful investments in these new fields could have a powerful bullish impact on Amazon's stocks.
How to Buy Amazon Stocks using eToro
Let's take you through the process of buying Amazon stocks using eToro before it's too late. Once you have opened your eToro account, verified and funded it, the next step is to buy Amazon stocks.
Step 1: Search for Amazon Stock
Search for Amazon stock by typing "Amazon" or AMZN in the search box provided by eToro, then click enter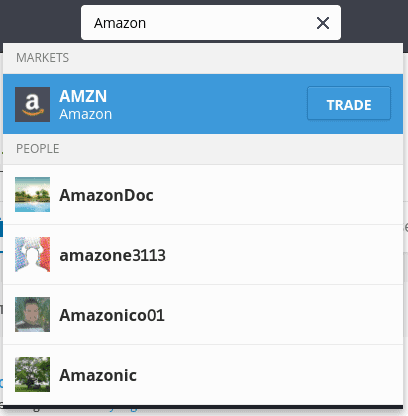 Step 2: Click on Trade
A pop-up will shoot out a shown below when you click on Trade. Here you can set the amount of money that you want to invest. Verify that the set rate is "AT MARKET" if you're going to buy Amazon stock now. Otherwise, set your preferred entry price then click on "SET ORDER."
You can view your trade by clicking on "Portfolio" on the left control panel.
Major Competitors of Amazon
Alibaba
Alibaba is a competitor on Amazon in the e-commerce space, payment escrow, and a search engine for cloud computing services. It's a Chinese company, and it is listed on the stock exchange. Alibaba dominates the Chinese market just as Amazon dominates the American e-commerce space. Amazon has a market cap of over $1.5 trillion dwarfing that of Alibaba, which is only about $640 billion.
eBay
eBay is a US online store like Amazon and boasts over 180 million active users worldwide. eBay is popular for competitive pricing and fewer restrictions for doing business.
Walmart
Walmart is another online store specializing in mass retail services. It has grown over the years to become the leader in this sector and is closely followed by Carrefour. Walmart takes the trophy for affordability and customer services mainly due to its vast network of physical stores. Walmart is currently the world's largest company, with annual revenues of $548 as of the end of 2020.
Carrefour
Carrefour and Walmart are the leaders of the online mass retail space. Carrefour is a French company that has led the hypermarket segment since the 1960s. It was ranked first in the retail market space across Europe in 2013 while taking the 3rd position globally.
Netflix
Netflix is the odd one out in this group, but since Amazon is spreading wings in all businesses, it cannot miss competitors from these industries. Netflix is a leader in the online content industry, specializing in the distribution of television works. Amazon's major competitor now that the company is investing in film distribution through Amazon Prime.
Key Take Away Points
Amazon is the 3rd most prominent company in the world with a market cap of $1.6 trillion and annual revenues of $351 billion as of the end of 2020
Investors and analysts predict that Amazon will be the world's largest company by the year 2025 if it succeeds in its new ventures.
Amazon predicts that its sales will increase by over 30% in the next quarter.
If Amazon's sales increase by 30% as predicted, the share price could rise to over $4,000 by the end of 2021.
By the end of 2025, Amazon's share prices might be more than $5,000 for a single share.
New investments such as Amazon Virtual health and Amazon Pharmacy promise to skyrocket the company's revenues in the next few years.
The stock price of Amazon is affected by several factors, including the state of the e-commerce market as well as the demand for new Amazon products and services.
Conclusion
It's impossible to ignore Amazon shares if you are looking to invest in a stable company with a high probability of earning you good returns. Unlike many other highly volatile stocks, Amazon's share price is as stable as the company, and hence you can bank on it. The size of Amazon, business model, historical trends, current industry fundamentals, and regulatory business environment all favor a more prominent and more successful Amazon than what we have today.
Carry out your own due diligence to find out the best time to buy and sell Amazon, keeping in mind that the company's past performance is not indicative of what to expect in the future. We, too, cannot guarantee that Amazon shares will continue to over-perform in the future. Trading decisions should always be based on reliable and careful analysis. To buy Amazon shares in the US today, we recommend eToro as the best broker to buy Amazon stocks in the US 2021. eToro does not charge commissions to trade stocks.
eToro: Buy Amazon Stock Without Paying a Commission
FAQs
Is Amazon Stock Overvalued?
How much dividends should I expect from Amazon?
Should I buy Amazon Stock in the US today?
How stable is Amazon Stock Price?