Shopify Stock Price Forecast October 2021 – Time to Buy SHOP Stock?
Please note that we are not authorised to provide any investment advice. The content on this page is for information purposes only.
Even as e-commerce plays like Amazon, ContextLogic, and Coupang have sagged in 2021, Shopify (SHOP) stock is outperforming the markets and is up over 26% for the year.
However, SHOP stock has lost over 16% from its 52-week highs and is in a correction zone. What's the forecast for Shopify stock and should you buy the dip?
Shopify stock technical analysis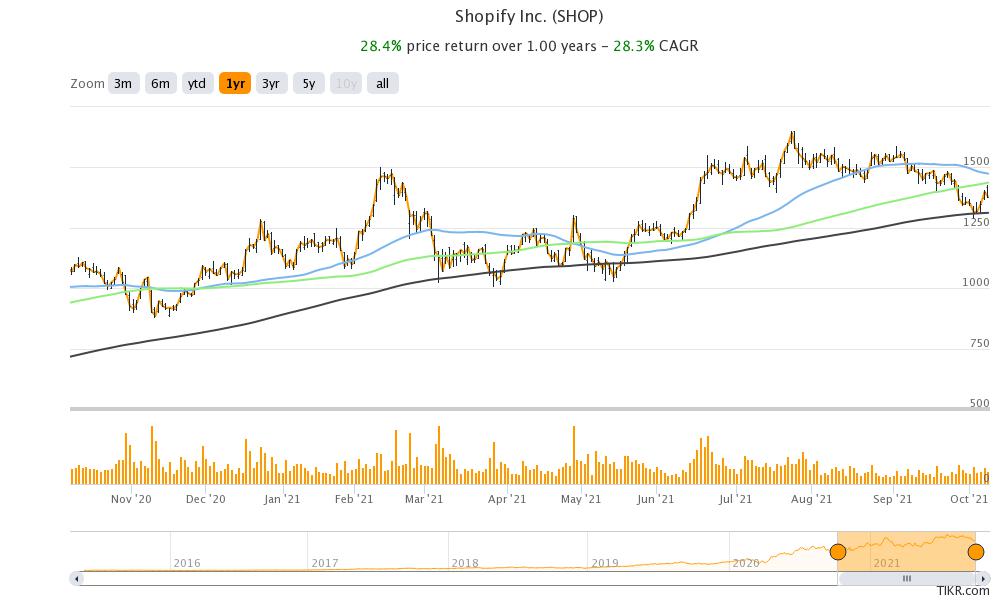 Shopify stock is looking mixed on the charts. The stock trades above the 200-day SMA (simple moving average) which has been a strong support channel. However, it trades below the 50-day and 100-day SMA. The stock has particularly struggled near the 50-day SMA which is currently at $1,474.14.
The 14-day RSI for SHOP stock is 43.10 which is a neutral indicator and indicates neither oversold nor overbought positions. The 12,26 MACD (moving average convergence divergence) meanwhile gives a sell signal. Notably, Shopify stock has delivered strong returns since its listing. The gains have been supported by the solid topline growth that the Canadian company has been posting.
67% of all retail investor accounts lose money when trading CFDs with this provider.
SHOP earnings
Shopify's revenues increased 85.6% in 2020 which was preceded by a rise of 47% and 59.4% in 2019 and 2018 respectively. While the company's growth rates had slowed down somewhat in 2018 and 2019 from the preceding years, the growth bounced back last year. Most of the e-commerce companies reported stellar numbers last year as the lockdowns fuelled growth. SHOP's gross margins have been holding above 52 percent over the last five years.
Shopify third-quarter earnings
Shopify would release its third-quarter earnings later this month. Analysts polled by TIKR expect the company's revenues to rise 49% to $1.14 billion in the quarter. The company's EPS is expected to rise 5.7% to $1.19 in the quarter. To be sure, Shopify warned during the second-quarter earnings call that while its revenues would continue to grow, the growth rates would come down from the 2020 levels.
That's hardly surprising and most of the so-called "stay-at-home" companies are witnessing a slowdown in growth rates. Even Amazon had warned of a growth slowdown in the second half of 2021. In its case, a revenue miss in the second quarter, its first in three years, triggered a sell-off in the stock.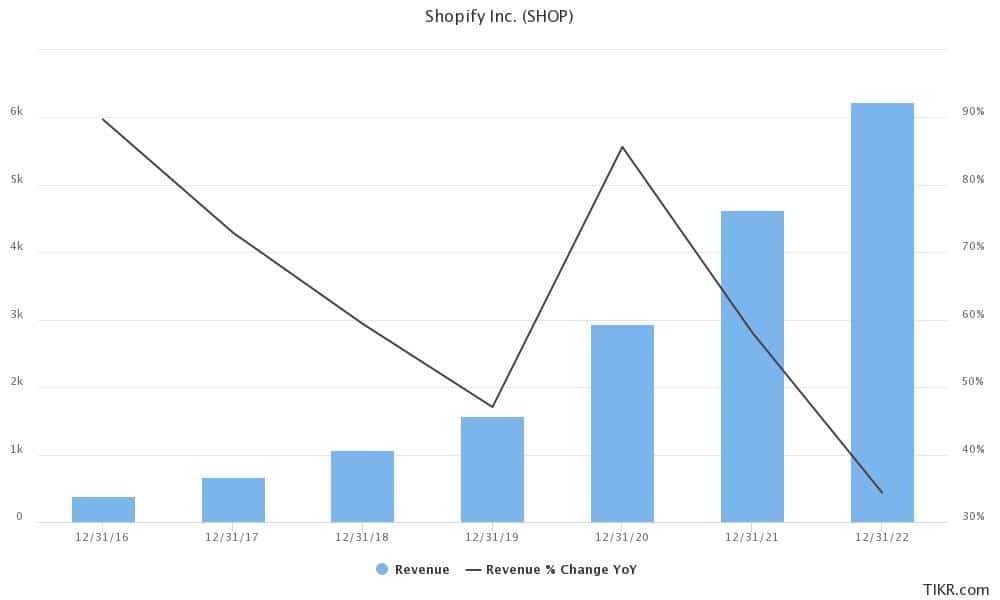 SHOP stock forecast
The forecast for SHOP stock looks positive looking at its focus on omnichannel retail. The company's platform enables merchants globally to manage their retail business, both online and physical, efficiently. The company's growth is visible in the soaring merchant count on the platform, which was 1.7 million according to the most recent update. The count would have gone up further but we'll have to wait for the earnings release to get the full picture.
Wall Street analysts have a split rating on Shopify stock. Of the 38 analysts polled by CNN Business, 22 rate the stock as a buy or some equivalent while 14 rate it as a hold. The remaining two analysts have a sell rating. Its median target price of $1,700 is a premium of 23.5% over current prices. The stock's street high target price of $3,300 implies an upside of 140% while the street low target price of $862 is a discount of 37.4% over current prices.
Shopify stock target price
There hasn't been any recent analyst action in Shopify stock. In August, Guggenheim had reiterated the stock as a hold. In July, several brokerages including Wedbush, DA Davidson, Wolfe Research, Rosenblatt Securities, and Argus had raised the target price after SHOP's second-quarter earnings release. Analysts might revise their target prices after the company's upcoming third-quarter earnings release also.
SHOP stock long term forecast
Over the long term, Shopify would benefit from the digitization of the retail market. The platform is popular among merchants and during the second-quarter earnings call it said that during the last year 46,000 partners referred at least one merchant to Shopify, which was 53% higher than the previous year. The company had $7.76 billion as cash and cash equivalents on its balance sheet at the end of June which is a good enough war chest and would help Shopify fuel its growth.
The company is investing in three key areas which are the fulfillment network, shop, and international expansion. The company is expanding the Shop Pay offering which will add long-term value. Analysts expect the company's revenues to rise 58.1% this year but growth is expected to fall to 34.4% next year. Meanwhile, the forecasts might appear a bit conservative and a bounce back in point of sales revenues, and the continued momentum in e-commerce should help SHOP stock.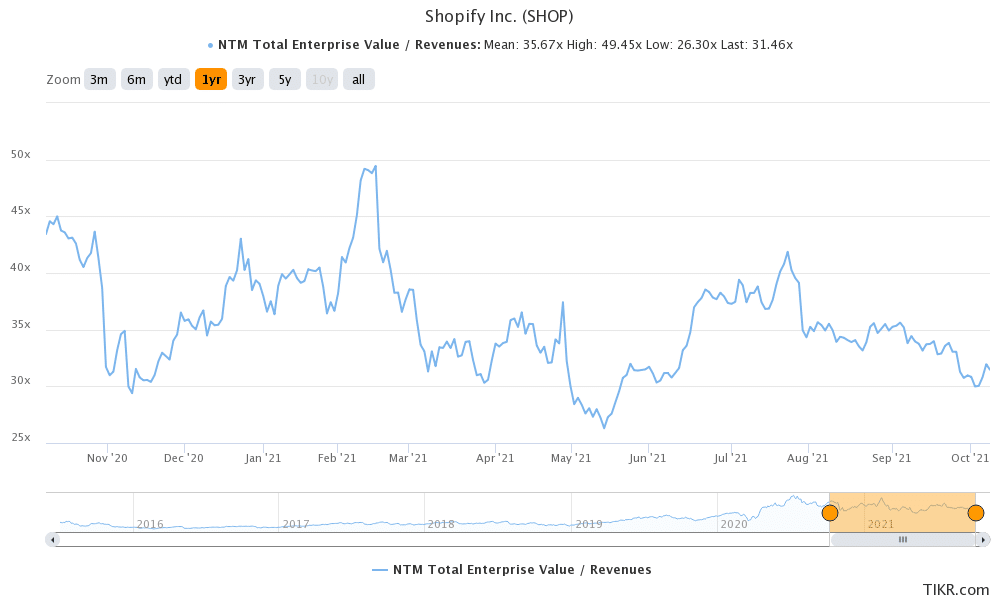 Shopify stock valuation
While Shopify looks like a good business to own, many have been concerned about its valuation. For instance, the company trades at an NTM (next-12 months) EV (enterprise value)-to-sales multiple of 31.4x while the NTM EV-to-EBITDA is 236x. The multiples don't look cheap when looked at in isolation. Barclays's analyst Trevor Young increased the stock's target price from $1,340 to $1,700 while maintaining the firm's equal weight rating. While Young sounded bullish on Shopify's business, he is apprehensive of the valuations which he termed "challenging on any metric."
To be sure, Shopify has always appeared overvalued to a section of the market. The same holds true for names like Tesla. However, companies like these bring strong growth and quality management to the table, something that investors are willing to pay a premium for.
Shopify is among those names which you can hold for decades considering the strong secular headwinds. While it may be volatile in the short term amid the noise over rising interest rates, it is a good long-term investment.
Buy SHOP Stock at eToro from just $50 Now!