Peloton Stock Falls to All-Time Lows as Broader Markets Weaken
Please note that we are not authorised to provide any investment advice. The content on this page is for information purposes only.
Peloton stock (NYSE: PTON) fell to an all-time low in US price action today amid the broader market sell-off. The stock has been sliding after peaking in January 2021 and while other growth stocks have also fallen amid high inflation and the resultant rate hikes from the Fed, PTON is among the worst performers.
The stock had risen 440% in 2020 as stay-at-home stocks rallied and it was among the beneficiaries of the change in consumer behavior. Many health enthusiasts bought Peloton's equipment during the lockdowns as gyms were closed.
Peloton stock falls to new lows
However, the tide started to turn for the home fitness company once the lockdowns were lifted. Let alone reporting the triple-digit revenue growth that it witnessed during the pandemic, its revenues have fallen YoY for the last two fiscal years.
In 2021, PTON stock fell 76% and was the worst-performing Nasdaq stock. While the entire stay-at-home pack saw selling pressure, PTON was especially under pressure. It fell sharply in 2022 as well amid the wider market crash and while fellow growth stocks have recovered PTON continues to new lows.
Notably, while the growth rates of many former stay-at-home companies are stabilizing albeit in single digits, Peloton continues to report a fall in sales.
PTON's revenues continue to fall
It generated revenues of $642.1 million in the fiscal fourth quarter of 2023 which was 5% lower YoY but slightly ahead of the $639.9 million that analysts expected.
During the quarter, it generated revenues of $220.4 million from sales of equipment while the remaining $421.7 million came from subscriptions. Over the last few quarters, Peloton's subscription revenues have been strong and they have not only raced ahead of the product sales but in the fiscal fourth quarter they were almost twice of product sales.
Meanwhile, even as Peloton's revenues were slightly ahead of estimates, its per-share loss of 68 cents was well ahead of the 38 cents that analysts expected.
To be sure, the fiscal fourth quarter is seasonally weak for not only Peloton but the overall fitness industry and the company's CEO Barry McCarthy had forewarned during the previous earnings call that the quarter would be quite challenging, the performance was even worse than what markets expected.
Peloton lost subscribers in fiscal fourth quarter
Peloton ended the quarter with 3.08 million subscribers and while it was 4% higher YoY – the number fell 29,000 from the previous quarter which McCarthy blamed on "seasonal slowdown in hardware sales and higher than anticipated CF (connected fitness) subscription churn."
He added, "The slowdown exceeded our expectations through May and through the first three weeks of June as consumer spending shifted toward travel and experiences. Then eight weeks ago the trend reversed itself, and we began to see a reacceleration in hardware sales."
McCarthy also blamed the seat recall that it announced in May for the growth slowdown and added that so far, the company has received 750,000 seat replacement requests which is higher than what it had expected.
He added, "The cost of this recall substantially exceeded our initial expectations, leading to an additional accrual of $40 million this quarter for actual costs incurred as well as anticipated future recall-related expenses."
The company estimates that between 15,000-20,000 subscribers paused their subscriptions pending the seat replacement.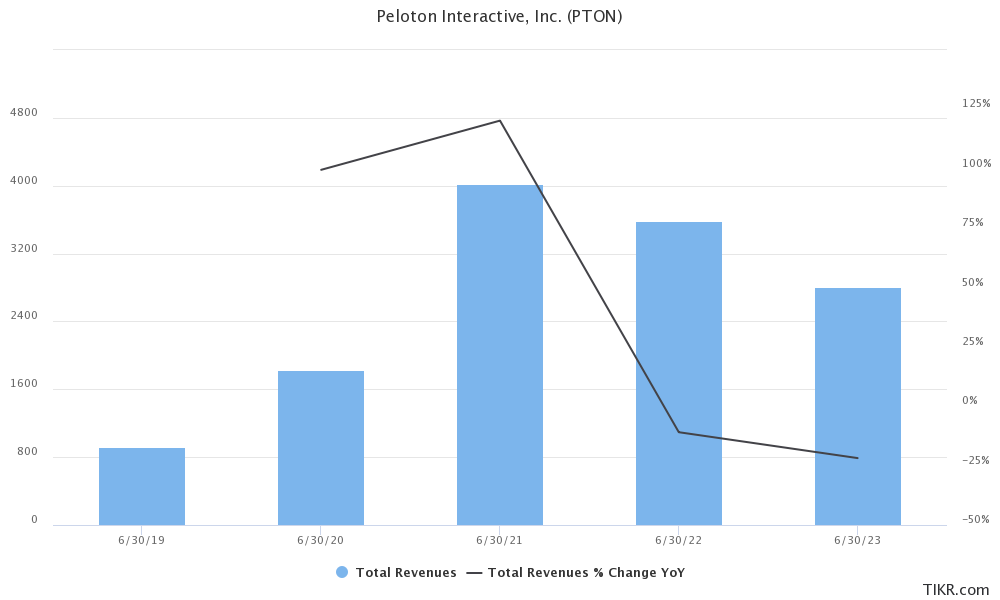 PTON risks becoming a penny stock
Notably, Peloton now gets more revenues from subscriptions as compared to product sales so the loss of subscribers spooked investors and PTON stock fell to record lows after the earnings release.
The stock has continued to fall since and fell below $5 in today's price action – which is the borderline for penny stocks.
Peloton expects to post free cash flows
During the earnings call, McCarthy said "there's this enormous disconnect between the stock price and the energy in the building around all of the partnerships and co-development things that are cooking."
Notably, Peloton has partnered with several companies that would help it increase its sales. Among others, it has now started selling its equipment through third parties like Amazon and Dick's Sporting Goods after previously selling only through its own channels. In July, it also partnered with Liverpool FC and earlier this week it announced yet another partnership with the University of Michigan.
Peloton is partnering with more companies to sell its equipment
During the earnings call he said that the company would announce more such global partnerships in the coming days while adding that over the last decade, Peloton has been the "Henry Ford of stationary bikes."
McCarthy stressed, "I don't mean to sound like one of those CEOs who's completely disconnected from the stock price, because it's not lost on me." He added, "But I have never been more optimistic, more excited about the future of the business."
He also said that there could be significant upside to the company's second-half financial performance due to the various initiatives that it is taking.
Peloton is also optimistic about posting positive free cash flows in the back half of the current fiscal year.
Analysts are bearish on PTON stock
Wall Street analysts meanwhile don't share McCarthy's optimism towards Peloton stock and after the earnings Bank of America analyst Justin Post downgraded the stock from a buy to hold while cutting his target price by half to $6.50 and said that it sees "limited visibility on growth initiatives."
Post added, "We downgrade to Neutral from Buy and lower our PO to $6.50, based on 3x 2024E (4.5x prior) subscriber gross profit, a discount to Internet subscription comps reflecting hardware costs and a lower operating margin outlook, less net cash."
Needham analyst Bernie McTernan also downgraded the stock from a buy to hold as Wall Street continues to get disenchanted with the company's financial performance though.