Could Layoffs Alone Save the Day for Amazon amid the Slowdown?
Please note that we are not authorised to provide any investment advice. The content on this page is for information purposes only.
Earlier this week, Amazon announced 9,000 layoffs amid the "uncertain economy." It is the second round of mass layoffs from the e-commerce giant. But, would meme layoffs save the day for the company amid the economic slowdown?
In his blog post, Amazon CEO Andy Jassy said that the company concluded its "second phase of our operating plan" and intends to lay off around 9,000 corporate employees mainly in advertising, AWS (Amazon Web Services) PXT (People Experience and Technology Solutions), and Twitch.
Amazon lays off more employees
The layoffs at the advertising and AWS segments came as a surprise to markets. In the fourth quarter of 2022, the company's advertising revenues surged to $11.56 billion which was ahead of the $11.38 billion that analysts were expecting.
Incidentally, the company's advertising revenues rose YoY in the quarter even as both Meta Platforms and Google search posted a YoY decline in revenues. Things have been particularly bleak for Meta Platforms and the Facebook parent reported its first annual decline in revenues last year.
Also, last year the combined market share of Google and Facebook in the US digital ad market fell below 50% amid tough competition from companies like Amazon, TikTok, and Apple.
AMZN is facing a growth slowdown
As for AWS, it has been a cash cow for Amazon for the last many quarters. While the segment's revenue growth fell to an all-time low of 20% in Q4 2022, it still is generating handsome profits.
In Q4 2022, AWS generated an operating profit of $5.2 billion. However, since both the North America and international e-commerce operations posted an operating loss in the quarter, the company reported a consolidated operating profit of only $2.7 billion in the quarter.
Also, in the full year, Amazon's sales growth fell to an all-time low of 9%. If not for inflation, the sales growth would have looked even terrible.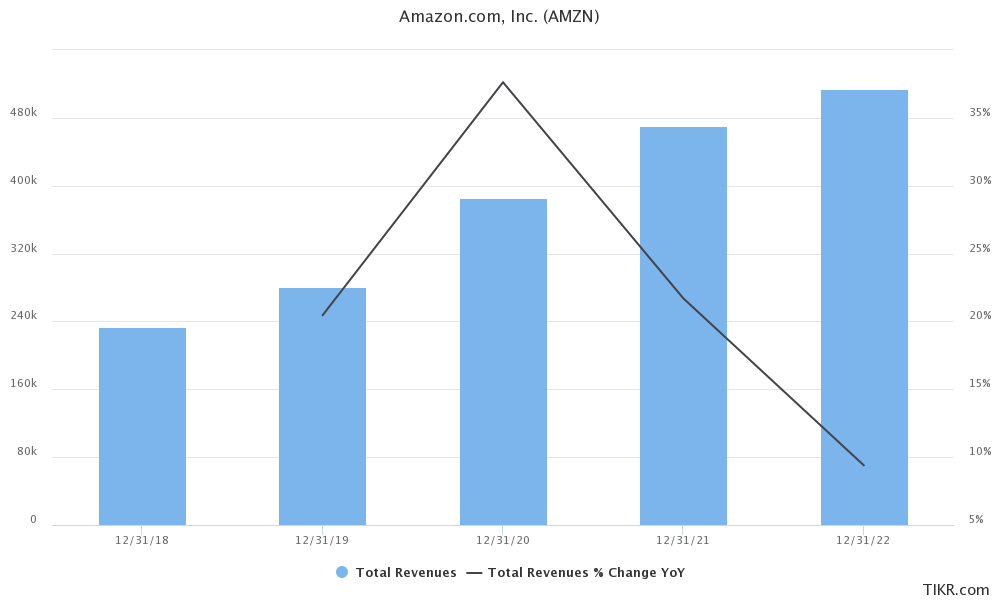 Andy Jassy on the layoffs
Earlier this year, Amazon almost doubled its layoffs to 18,000 which Jassy blamed on an "uncertain economy." The company yet again blamed the economic uncertainty while announcing the second round of layoffs.
In his blog, Jassy said, "given the uncertain economy in which we reside, and the uncertainty that exists in the near future, we have chosen to be more streamlined in our costs and headcount."
He added, "The overriding tenet of our annual planning this year was to be leaner while doing so in a way that enables us to still invest robustly in the key long-term customer experiences that we believe can meaningfully improve customers' lives and Amazon as a whole."
Meta Platforms also announced a second round of layoffs
Notably, Amazon joined FAANG peer Meta Platforms which also announced its second round of layoffs earlier this month, eliminating 10,000 positions. The company eliminated 11,000 positions in 2022 also.
In the FAANG space, only Apple hasn't yet resorted to mass layoffs and all other constituents have laid off employees. Many other tech giants including Microsoft and Salesforce have laid off workers amid the slowing growth.
Tech companies went on a hiring spree in 2020 and 2021 anticipating strong growth to continue. Now many of these companies find themselves overstaffed and are resorting to layoffs.
Tech stocks underperformed in 2022
Tech stocks underperformed in 2022 and the tech-heavy Nasdaq Composite lost around 33% while the S&P 500 shed under 20%.
Amazon stock fell by around 50% in 2022 and underperformed the markets by a wide margin. AMZN earned the dubious distinction of losing $1 trillion in its market cap from the peak. Its market cap is still below $1 trillion. The company joined Meta Platforms and Tesla who have also lost their status as $1 trillion dollar companies.
Amazon's current market cap is just above $1 trillion.
Jassy became Amazon CEO in 2021
In 2021, Amazon's founder Jeff Bezos handed over the baton to Andy Jassy. The stock has been underperforming since then. That said, the underperformance is related to the general pessimism toward the so-called stay-at-home names that rallied handsomely in 2020. Like fellow names in the stay-at-home universe, Amazon is also battling a slowdown in growth.
To make things worse, we have a general slowdown in the US and global economy which is taking a toll on Amazon's earnings. While slowing retail sales is hurting the sales of its e-commerce business, corporates too have been cutting down on their spending which has hurt the AWS segment.
Wall Street finds Amazon stock attractive
Earlier this week, Morgan Stanley listed Amazon along with Walmart, Farfetch, and Nike as top e-commerce picks. In its note, it said, "E-commerce penetration is growing again off a higher post- COVID base. Scale players with leading platforms/ infrastructure are best positioned to take share."
JPMorgan named Amazon as a top idea for 2023. It cited favorable comps, multiple growth drivers, and a secular shift towards cloud and e-commerce as the reasons for its bullishness. It also highlighted the recent discipline shown by Amazon management.
Argus Research analyst Jim Kelleher also advises dollar cost averaging in Amazon stock and termed it an "undisputed category leader."
Citi and Goldman Sachs are also among the brokerages that have listed AMZN as a top 2023 pick. There is a caveat emptor warning here though and many of these brokerages had Amazon as a top 2022 pick as well. However, the stock continued to slide and underperformed the markets as well as FAANG peers last year.
The stock is meanwhile outperforming the S&P 500 this year, thanks to the January rally. However, since then it has looked weak and is now struggling to hold onto its $1 trillion market cap.
While Amazon is looking to aggressively cut costs including through layoffs, the macroeconomic slowdown might continue to take a toll on its financial performance in the short term.