Amazon to Report Q4 2022 Earnings This Week: Here's What the Markets Expect
Please note that we are not authorised to provide any investment advice. The content on this page is for information purposes only.
We are now in the busiest week of this earnings season and almost a fifth of S&P 500 constituents including heavyweights like Apple, Amazon, and Alphabet would release their earnings this week. Here's what markets expect from Amazon's (NYSE: AMZN) Q4 2022 earnings report.
Amazon would release its earnings on February 2 after the close of markets. The company's earnings would come a day after the Fed concludes its first meeting of 2023. Analysts widely believe that the Fed would raise rates by 25 basis points at the meeting. In December, the US central bank raised rates by 50 basis points, which was a step down from the 75-basis point rate hikes that we saw in the previous four meetings.
Last year, the Fed raised rates to 4.25-4.50%, the highest in years. High interest rates coupled with multi-decade high inflation took a toll on non-discretionary spending and companies like Amazon bore the brunt.
Amazon Q4 2022 Earnings Estimates
Analysts expect Amazon to report revenues of $145.6 billion in the fourth quarter, a YoY rise of 6%. Analysts' estimates are in line with the company's guidance.
For the fourth quarter, Amazon guided for sales growth between 2-8%. The guidance fell short of estimates.
Commenting on the guidance, Amazon's CFO Brian Olsavsky said, "As the third quarter progressed, we saw moderating sales growth across many of our businesses, as well as increased foreign-currency headwinds … and we expect these impacts to persist throughout the fourth quarter."
US retail sales fell in December
He was also circumspect on the holiday spending in the US and said "we're realistic that there's various factors weighing on people's wallets, and we're not quite sure how strong holiday spending will be versus last year. And we're ready for a variety of outcomes."
Incidentally, US retail sales fell in December which reflects the ongoing pain in the world's largest economy.
Coming back to Amazon's Q4 2022 earnings estimates, analysts expect the e-commerce giant's adjusted EPS to fall almost 88% to $0.17. During the Q3 2022 earnings call, Amazon guided for operating income between $0-$4 billion.
Amazon announced mass layoffs earlier in January
Earlier this month, Amazon increased its planned layoffs and said that it would eliminate 18,000 positions. While announcing the layoffs, Amazon's CEO Andy Jassy said that Amazon does an annual planning process for the investment and workforce levels. He added, "This year's review has been more difficult given the uncertain economy and that we've hired rapidly over the last several years."
Jassy said that while the layoffs would be across multiple teams, PXT (People, Experience, and Technology) organization and Amazon stores would be the worst affected.
During Amazon's Q4 2022 earnings call, markets would look for commentary on its workforce plans. In the past also the company has admitted that it is overstaffed.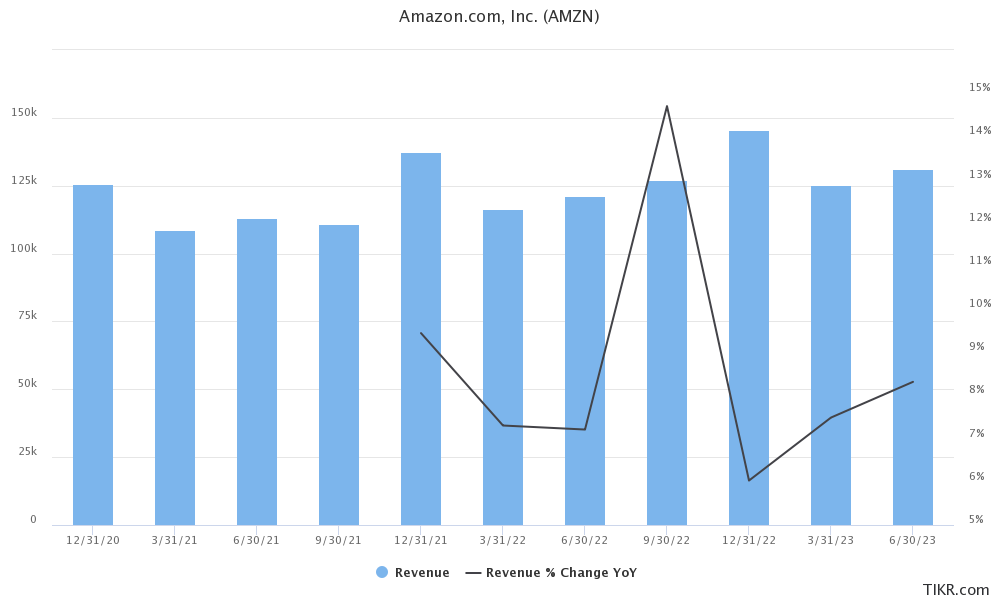 Amazon launched RxPass
During the Q4 2022 earnings release, Amazon might also offer more insights into its RxPass, the unlimited generic drug service. The company has been expanding its healthcare business and last year also announced the acquisition of One Medical.
The company might also provide some updates on the inventory position. Like fellow retailers, Amazon's inventory especially in the consumer discretionary category spiked in 2022. In Q4 2022, the company held its second Prime Day of the year in an apparent bid to spur sales and clear inventory.
Cloud slowdown
During Amazon's Q4 2022 earnings release, markets would especially watch the commentary on the cloud business especially as Microsoft gave tepid guidance for its cloud vertical.
In Q3 2022, AWS's revenues rose 27% YoY to $20.5 billion. The segment posted an operating profit of $5.4 billion. Both the revenues and operating profits fell short of estimates. Also, the revenue growth was the slowest since Amazon started to report the earnings for that business separately.
AMZN Stock Has Fallen Over the Last Two Years
In 2021, Amazon looked set to join the league of $2 trillion dollar companies. However, last year its market cap slumped even below $1 trillion as the stock lost almost 50% in the year. It underperformed the markets in 2021 as well and rose just about 2% while the S&P 500 added 27% in the year.
Wall Street is bullish on Amazon ahead of earnings
Wall Street analysts are meanwhile bullish on Amazon heading into the earnings season. Last week, Wells Fargo reiterated its overweight rating on the stock. In a client note, it said, "We remain confident on AMZN's ability to drive penetration of additional retail product categories and key emerging geographies, maintain its lead in cloud computing and execute against additional opportunities such as online advertising which we believe offer the company compelling growth and profit characteristics."
Bank of America also maintained its buy rating on AMZN but sounded cautious on AWS outlook after Microsoft's guidance.
Last year, Amazon held the AWS conference in Las Vegas. After attending the event, Piper Sandler reiterated the stock as overweight even as it pointed to a moderation in cloud spending.
Over 50,000 people attended the event. AWS CEO Adam Selipsky said in his keynote address that "If you're looking to tighten your belt, the cloud is the place to do it."
While AWS remains the market leader, a poor macro environment and rising cloud competition are strong headwinds heading into 2023.