Delta Airlines Stock Price Forecast October 2021 – Time to Buy DAL Stock?
Delta Airlines (DAL) stock fell almost 6% in yesterday's trade and is now down 21.5% from its 52-week highs. The stock is now in a bear market territory after having fallen over 20% from the peaks.
DAL stock is now up only about 5% for the year and is underperforming the markets as well as other airline companies. American Airlines stock is up almost 30% while Southwest Airlines stock is up 14% so far in 2021. What's the forecast for Delta Airlines stock and is it a good buy after its 2021 underperformance?
Delta Airlines third-quarter earnings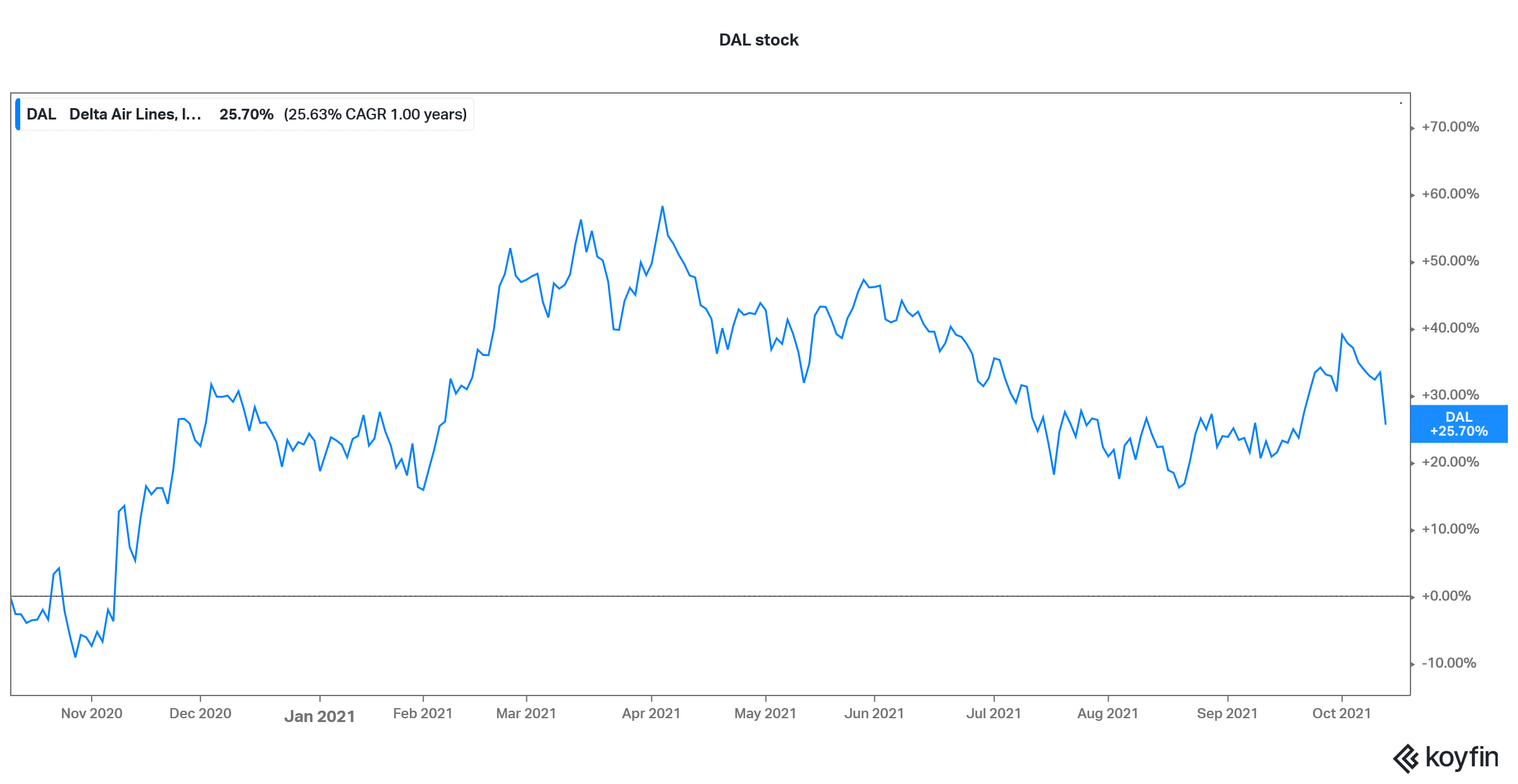 Delta Airlines reported its third-quarter earnings yesterday which led to a fall in not only DAL but other airline stocks as well. Delta Airlines posted revenues of $9.15 billion in the quarter which was ahead of analysts' estimates. The company's adjusted EPS of 30 cents also topped analysts' estimates of 17 cents. Notably, this is the first quarter since the COVID-19 pandemic began, that DAL has posted a profit without federal aid. The airline industry had plunged into a deep crisis as fleets were grounded due to the pandemic. However, thanks to the generous federal aid, DAL and other US airlines managed to tide over the crisis.
67% of all retail investor accounts lose money when trading CFDs with this provider.
DAL expects a loss in the fourth quarter
While one would have expected Delta Airlines stock to rise after the earnings beat, it fell sharply and the fall was the worst that we've seen in the last year. The anomaly is due to the soft guidance for the fourth quarter. While the company expects continued recovery in traffic especially as the holiday season approaches, it warned of higher costs especially the rising fuel prices.
"While demand continues to improve, the recent rise in fuel prices will pressure our ability to remain profitable for the December quarter," said DAL in its release. Meanwhile, while airline traffic has picked up from the pandemic lows, it is still below the 2019 levels. Delta Airlines expects that it could reach 2019 flight capacity by the second half of 2022. Meanwhile, it warned of the negative impact of rising fuel and other costs. "At present time, we're expecting a modest loss in the fourth quarter," said Delta Airlines' CEO Ed Bastian.
Warren Buffett had sold Delta Airlines stock
Berkshire Hathaway held a significant stake in all four leading US airlines, including DAL. However, in April 2020, Warren Buffett sold all the airline stocks at a massive loss. The move had surprised markets as Buffett is known to be greedy when others are fearful. However, while Buffett sold airline stocks, retail traders grabbed them and made a quick buck. Currently, airline stocks are way above the levels at which Buffett had sold them.
Buffett sounded pessimistic about the industry's long-term outlook. Meanwhile, while leisure travel has picked up, business travel has been a soft area. A lot of businesses are yet to reopen offices and the pace of reopening has been stalled by the spread of the Delta variant in the US.
DAL stock forecast
Wall Street analysts have a mixed forecast for Delta Airlines. Of the 22 analysts polled by CNN Business, 12 rate DAL as a buy while the remaining 11 rate it as a hold or some equivalent. None of the analysts has a sell rating on the stock. Its median target price is $56 which is a premium of 36.5% over current levels. The street high target price of $67 is 63% above current levels and even the street low target price of $45 implies an upside of 9.6%.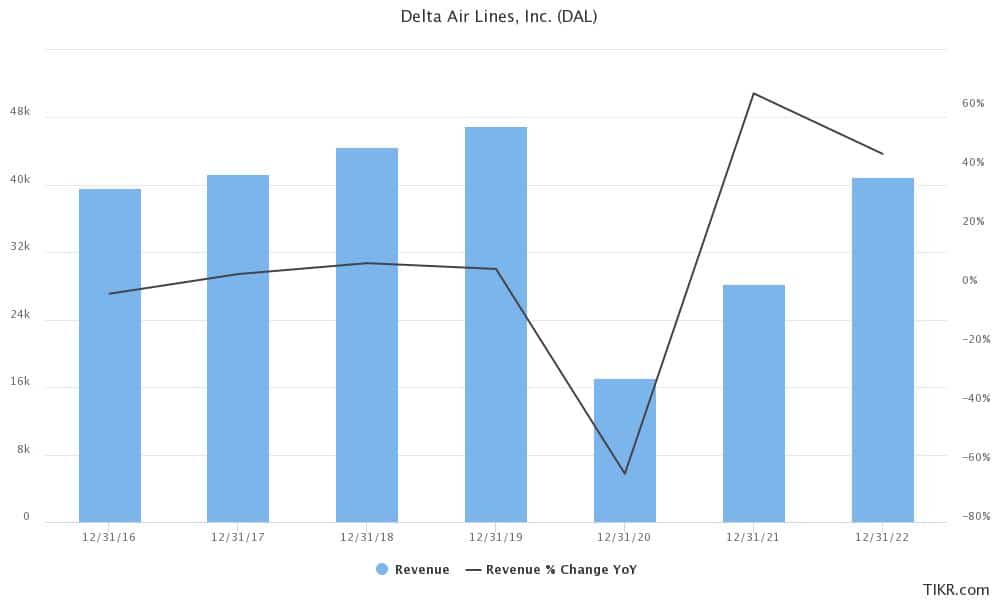 Delta Airlines stock long-term forecast
Many fear that the growing popularity of video calling platforms like Zoom would lead to a long-term demand deterioration for the airline industry. Indeed, some of the business travel might get substituted with a Zoom call. However, there shouldn't be major demand destruction. The airline traffic should bounce back to near pre-pandemic levels over the next year which bodes well for companies like Delta Airlines.
Analysts are projecting that DAL's revenues would rise 45% year-over-year to $40.9 billion in 2022. To put that in perspective, the company posted revenues of $47 billion in 2019. Meanwhile, Delta Airlines' net income is expected to almost triple to $2.5 billion next year.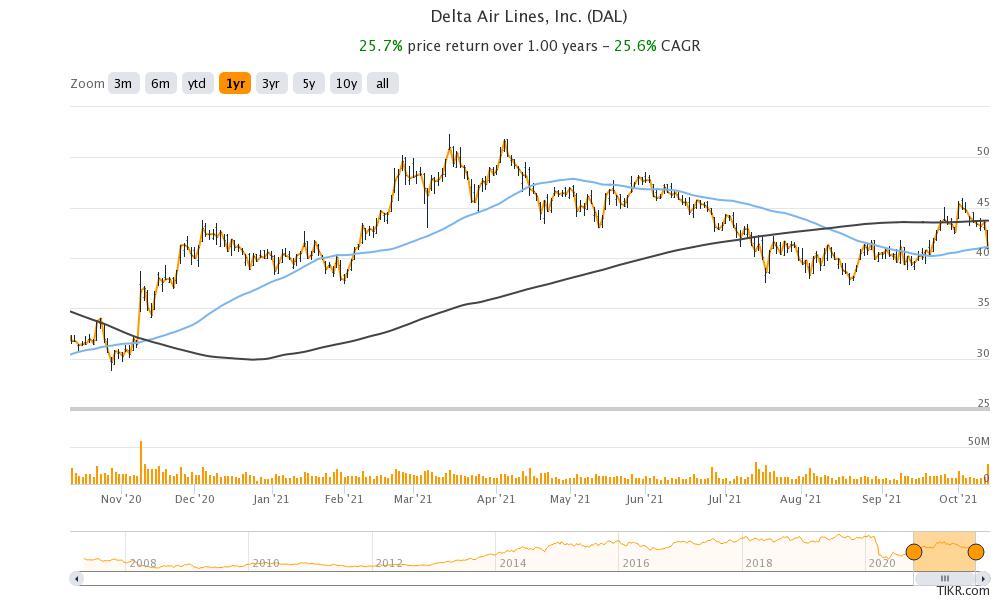 DAL stock technical analysis
Meanwhile, DAL stock is looking very bearish on the charts. It was trading below the 200-day SMA (simple moving average) and the price channel has been a strong resistance. After the plunge yesterday, the stock has also fallen below the 50-day SMA. The 12,26 MACD (moving average convergence divergence) also gives a sell signal while the 14-day RSI (relative strength index) is a neutral indicator. In August, there was a death cross formation in Delta Airlines' stock after its 50-day SMA fell below the 200-day SMA.
For traders, the next couple of trading days would be crucial. If DAL can rise above the 50-day SMA, it would indicate bullishness. However, if it is not able to cross above the 50-day SMA, it might lead to further bearishness in the stock.
Should you buy Delta Airlines stock?
From a valuation perspective, DAL trades an NTM (next-12 months) PE multiple of 31.8x. While the valuations are higher than historical averages it is because of the near-term suppression in earnings.
Air travel has been one section of the economy that is yet to revert to pre-pandemic levels. There are short-term headwinds for the industry including fuel price hikes and a crippling shortage of workers. However, from a two to three years perspective, Delta Airlines stock could be a good bet and a way to play the reopening story.
Buy DAL Stock at eToro from just $50 Now!