Best Investments UK – Best Investments for Beginners 2021
The majority of people like to make money, it makes you feel good and lets you buy nice things. The most common way of making money is trading your time for a set amount of cash, otherwise known as working. While there's absolutely nothing negative about working, it's hard to get ahead in a regular job. This is where investing comes in handy, instead of working yourself, you put your money to work. The ability to invest is huge, it shields you from inflation devaluing your money and when done correctly can act as a stepping stone to financial freedom. In this guide, we'll cover some of the best investments for beginners, review the top investment brokers, and provide you with a comprehensive guide on how to start investing with eToro.
#1 Investment Broker – eToro
How to Invest With eToro – Step by Step Guide 2021
If you're struggling to get to grips with our top investment platform, eToro, this section is for you. After reading, you'll know how to create and verify your eToro account, deposit funds, and make your first investment.
Step 1: Open an eToro account:

Before you can start investing, you'll need to create an account with a broker. We recommend eToro. To get started just type "eToro.com" into your browser, press "Join Now" and fill in the required details.

Step 2: Verify your Identity:

Because eToro is a regulated brokerage you'll need to verify your identity. All you'll need is a photo ID (Passport, driving licence) and proof of address (bank statement, utility bill).

Step 3: Fund your account:

Once you've verified your account all that's left is to deposit some funds. Just click on "Deposit Funds", enter the amount you want to invest, and press "Deposit". You can deposit using either a credit/debit card, bank transfer, or e-wallet.

Step 4: Make Your First Investment:

You're ready to invest! Just browse through the various markets or if you already have something in mind type it into the search bar. After you've chosen an investment, press "Trade" enter how much you'd like to invest, and press "Buy".
Where to Make Your First Investment – Top 3 Investment Brokers
After reading our list of the best investments, you'll need to select a broker. To help make this a bit easier we've compiled a list of our top investment brokers in the UK.
1. eToro – All Round Best Investment Platform UK

If you've spent much time researching different investment brokers, it's hard to miss eToro. They're one of the most spoken-about brokers and for good reason, they've been operating since 2007 and since then have gained over 20 million active users. You don't get to reach numbers like this without doing something right, that's for sure.
Security & Privacy
Not a single investor in the world wants to lose money due to poor security on their chosen investment platform. Evidently, eToro knows this because they provide users with an extremely secure trading experience. They're regulated by the FCA and CySEC, meaning they have to comply with strict data protection rules and are subject to regular audits. There will be a point where you need to provide your brokerage sensitive data, but to elevate the stress associated with this, eToro SSL encrypts all customer data, ensuring no criminals can intercept it. Users can also benefit from 2FA which acts as the final layer of defence should someone gain unlawful access to your account.
Features
eToro delivers an excellent investment experience catering equally to beginners and more advanced users. They do this by making the onboarding process extremely simple, giving you more time to focus on investing. Another feature perfect for those new to the world of investing is eToro's proprietary CopyPortfolios. You should always aim to have a diverse set of holdings in order to minimise risk, investing in an eToro copy portfolio makes this simple by allowing you to invest in a group of companies at once; the perfect beginner investment. Technical traders can benefit from advanced charting tools, capable of plotting everything you could ever need, a range of markets, and a heap of technical indicators.
eToro Fees
| | |
| --- | --- |
| Fee Type | Fee Amount |
| Commission Fee | 0% |
| Deposit Fee | £0 |
| Withdrawal Fee | £5 |
| Inactivity Fee | £10 (Monthly) |
Pros
Regulated 

20 million users

SSL encryption

CopyPortfolios

Simple interface
Cons
TradingView integration would be nice
67% of retail investor accounts lose money when trading CFDs with this provider.
2. Capital.com –  The Best CFD Investment Platform UK 
If you liked the sounds of investing in CFDs then you'll love Capital.com, they're CFD specialists and offer users a fantastic way to invest. Despite being the youngest platform on our list, only being launched in 2016, Capital.com has done well to ensure customers are well looked after, they've achieved this through their focus on educating new traders and providing a refined user experience.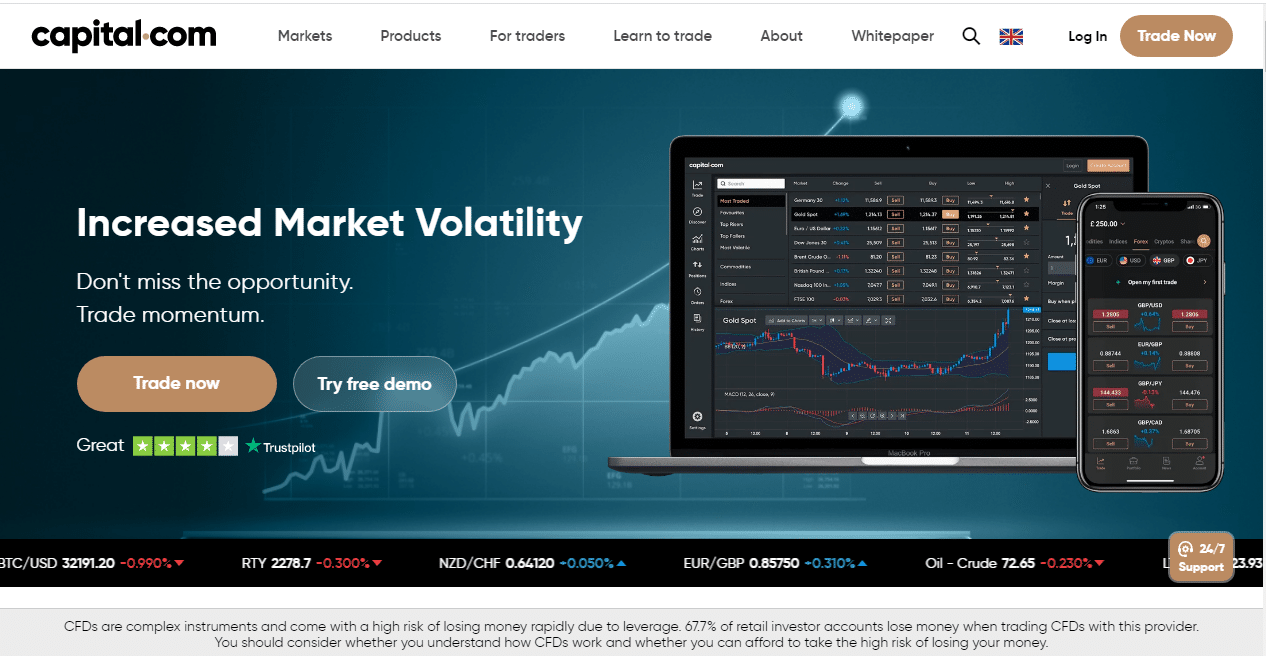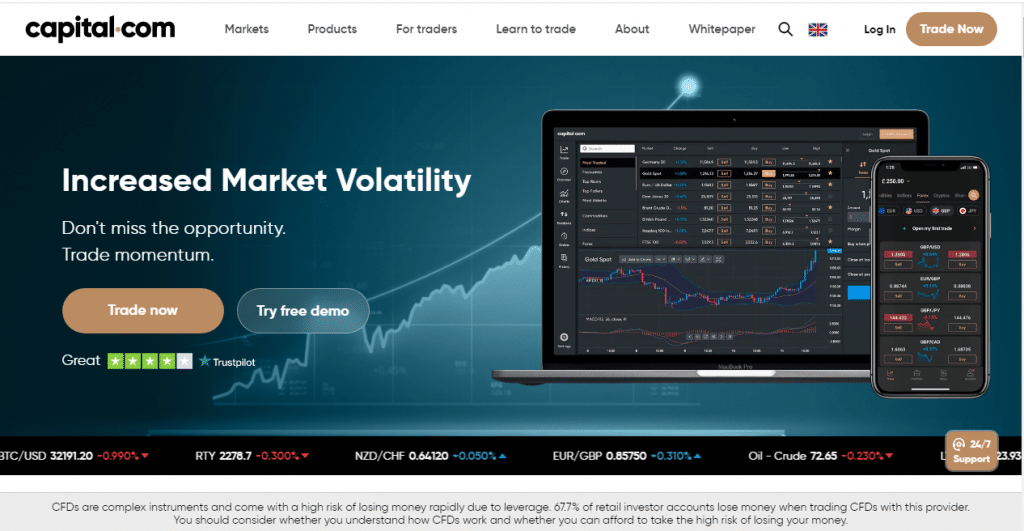 Security & Privacy
Privacy has long been important to investors, if you're anything like me you'd be uncomfortable knowing someone was watching every move you make. Capital.com is regulated and also PCI data security compliant, this means that your data is in extremely good hands. Additionally, any sensitive information you provide Capital.com is protected by Transport Layer Security, preventing anyone from getting their hands on your data while it makes its way to the Capital.com servers. And to round off, any UK-based Capital.com users benefit from FDIC insurance in the event Capital.com gets compromised, meaning regardless of what happens your money is secure. 
Features
Although Capital.com is the newest platform on our list, it's far from lacking when it comes to useful features. They have a clear focus on ensuring that beginners investing have as easy of a time as possible, this is achieved in two ways. The first being the wide range of guides they offer, covering everything from the basics of trading to more advanced analysis techniques. Additionally, Capital.com users can download the Investmate app, which is designed to teach investing to beginners. Those with a bit more trading experience can benefit from TradingView integration, allowing you to use a wide range of technical indicators and charting tools to help influence your investments.
Capital.com
 Fees
| | |
| --- | --- |
| Fee Type | Amount |
| Commission | 0% |
| Withdrawal Fee | £0 |
| Deposit Fee | £0 |
| Inactivity Fee | £0 |
Pros
TradingView integration

Investmate educational app

Trading guides

Simple interface
Cons
Limited to trading CFDs and real stocks

Missing a long track record
 76.72% of retail investor accounts lose money when trading spread bets and/or CFDs with this provider.
3. AvaTrade – Best Investment Platform for Accessibility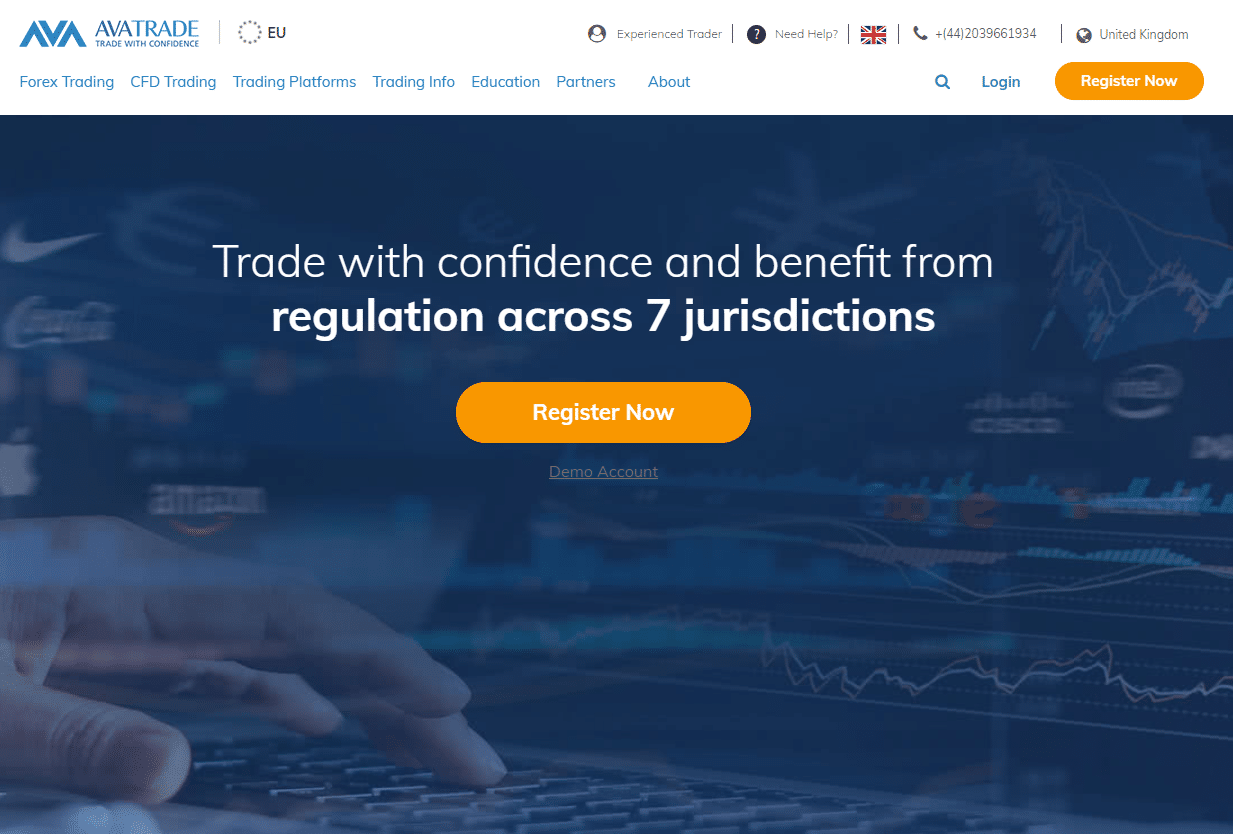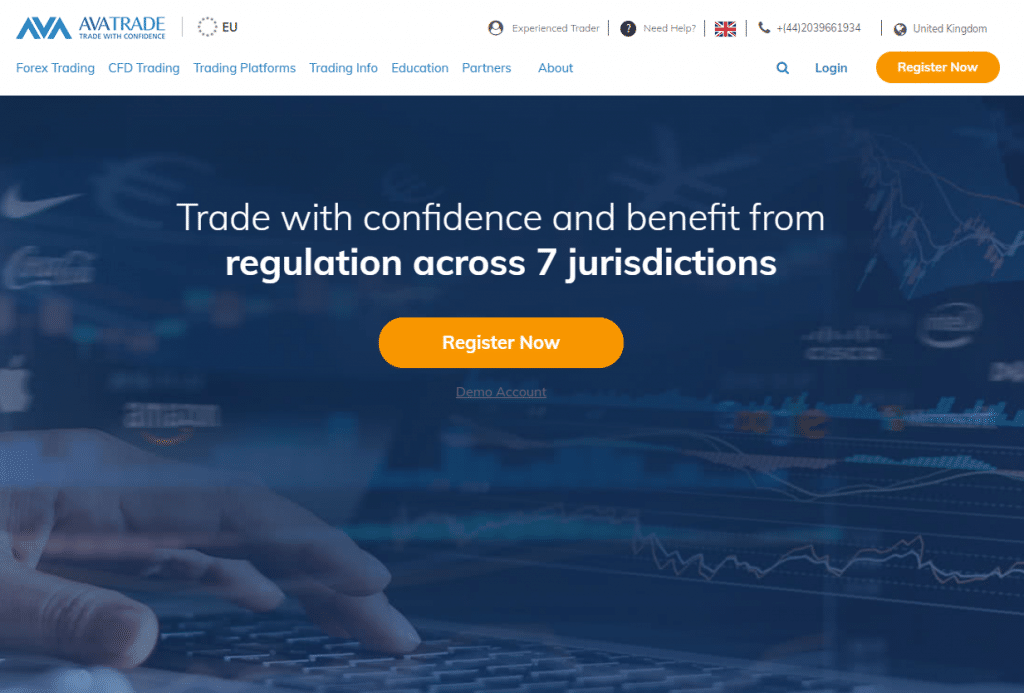 The longest-serving platform on our list, AvaTrade, has been helping investors to turn a  profit since 2006. They've done this by providing a refined, secure platform that lets users invest easily. Recently, they've stepped up their game in terms of promotion, in an attempt to reach more customers (so don't be surprised if you've seen them mentioned elsewhere). 
Security & Privacy
With a 15-year track record, it's no surprise that AvaTrade is packed full of industry-leading security features. As with both of the platforms we mentioned previously, AvaTrade is fully regulated, giving customers peace of mind. Additionally, sensitive data is obscured using 256-bit SSL encryption, preventing anyone from stealing your details. And finally, AvaTrade makes sure to take additional protection when dealing with customers' identity documents and card information, by implementing McAfee Secure. 
Features
Don't be fooled by appearances, under AvaTrades simple interface lies a feature-rich investment platform. Technical traders will be happy to hear AvaTrade supports both MetaTrader4 and 5, giving you all the indicators and charting tools you could ever need. A phenomenal feature for those new to trading is the huge variety of video guides offered on the platform, although some prefer to read, video tutorials can often give you a better understanding. One area where AvaTrade is leaps and bounds ahead of the competition is accessibility, they offer an Islamic account as well an account for experienced traders that provides access to greater leverage and more advanced trading options.
AvaTrade Fees
Fee Type
Fee Amount

 

Commission Fee

0%

Deposit Fee

£0

Withdrawal Fee

£0

Inactivity Fee

£50 after 3 months & £100 after 12 months
Pros
Accessibility

Video tutorials

Simple interface

Low trading fees
Cons
High inactivity fees

Not available in certain countries
Beginner Investments – Broker Price Comparison
After reading our in-depth reviews on some of the best investment brokers the industry has to offer, you might be wondering how they stack up against each other. To help answer this question, we've created this easy-to-reference table.
| | | | | |
| --- | --- | --- | --- | --- |
| Broker | Commission | Deposit Fee | Withdrawal Fee | Inactivity Fee |
| eToro | 0% | £0 | £0 | £10 monthly (after 12 months inactivity) |
| Hargreaves Lansdown | £11.95 | £0 | £0 | £0 |
| AvaTrade | 0% | £0 | £0 | £50 after 3 months, £100 after 12 months |
Top 4 Best Investments UK
There are hundreds if not thousands of different investment opportunities out there, but it's important to keep in mind they're not all created equally. To ensure you get started on the right foot we've broken down the pros and cons of some of the best investments a beginner can make.
Cryptocurrency
A relatively new form of investment, cryptocurrency is poised to revolutionize the world of finance, along with a myriad of other sectors. As of 2021 cryptocurrency is still very much in its infancy, meaning that the upside potential is huge. All it would take to earn thousands is picking one crypto that's likely to explode in the next few years. 
Advantages:
Emerging Market:

It's well known by investors that emerging markets, although risky, have by far the greatest potential return. Once everyone is talking about a certain investment, it's already far too late. If you want to see maximum return on your investment, you need to get in early.

Huge Growth Potential:

In line with our previous point, because it's still early days for crypto the potential is huge. Take Bitcoin or Ethereum for example, just a couple of years ago they were worth 10x less than their current valuation. Look at ETH competitor Solana, since the beginning of the year it's risen by almost 100x. 

Innovative Technology:

Cryptocurrency and Blockchain technology are worming their way into just about every industry out there, from gaming to banking. This is because crypto technology has the potential to massively improve many sectors. Considering how close to the beginning we are, it'll be very interesting to see how crypto technology is implemented in traditional sectors over the next few years.
Disadvantages:
Volatility:

As with any market that hasn't had the time to prove itself and show a profitable track record there's a lot of volatility in the crypto market. This comes partly from new government regulations and rules surrounding crypto exchanges; even the government doesn't know what to do with crypto at the moment. 

Scams:

Unfortunately, due to the irreversible nature of crypto transactions a large number of people have been subject to scams. Typically these scams will force users to send crypto to a certain address by locking files or blackmail. Currently, there isn't much recourse for victims, all that can really be done to prevent crypto scams is making sure you remain vigilant.
Stocks
If you've spent any length of time researching investments it's almost guaranteed you will have heard about stocks. Stocks otherwise known as shares give the investor fractional ownership of a company. Although not technically tangible, stocks are an asset and remain an excellent option for long-term growth. 
Advantages:
Solid Long-Term Potential:

If you're looking for a set it and forget it type investment, it doesn't get much better than stocks. Of course, you need to make sure you're up-to-date with the goings-on of whichever company you choose to invest in but other than that there's little need to actively manage your investment. This makes it perfect for anyone looking for an easy way to put their money to work, rather than letting it depreciate in a bank. 

Low Risk:

As long as you make sure to invest in large-cap stocks with a track record of profitability, you're not taking on too much risk, especially when compared with investments like crypto and CFDs. While there's nothing wrong with a little risk, it's better to keep a smaller portion of your capital separate to experiment with riskier options.

Dividends & Voting Rights:

As we briefly touched on, when you buy a stock, you're buying a fraction of the company, this comes with several benefits. The first is dividend payments, when you buy enough shares a company might start paying you a portion of their profits, called a dividend payment. Additionally, with enough shares, you can be invited to attached shareholder meetings and vote on the future of the company.
Disadvantages:
Low Yearly Returns:

Because many companies focus on stable, year-to-year growth, they typically don't generate the highest returns. While a few percent each year can certainly add up in the long-term, the average return for an investment in the stock market is eclipsed by riskier alternatives like crypto. 

Tied to Company Performance:

The value of a stock is directly linked to the company's performance, while this can be a good thing if the company continues to grow at a steady rate, should they have a bad year, investors will be hit hard. Take the Coronavirus pandemic for an example, if you were invested in airlines (which were considered a relatively safe investment) you would've had a huge portion of your portfolio wiped away.
CFDs
If you like the idea of investing in stocks but aren't a fan of long-term commitment, CFDs might be the perfect investment for you. In contrast to stocks, when you invest in a CFD you're not buying any assets, simply speculating on a change in price. Because of this your trades have a quick turnaround and won't face any liquidity issues. 
Advantages:
Great for Short Investments:

Because no traditional buying and selling is involved, CFDs have an incredibly quick turnaround. This short life cycle has several benefits, you likely won't have any issues with the company making a bad decision, you can close out losing trades quicker, and can have a larger number of open positions. 

Potential to See Huge Returns:

When you're trading CFDs you'll typically be relying on small swings in price to make your money, because of this oftentimes you'll need to use leverage. When you trade leveraged CFDs you have the potential to amplify your profits, usually up to a factor of 5. As you might've guessed, this gives you the potential to make life-changing profits with minimal capital. However, it's important to note leverage is a double-edged sword, amplifies your profit, but also your losses.
Disadvantages:
High Risk:

Unlike traditional stocks investing in CFDs is viewed as quite a risky endeavour. This is primarily due to leverage, if you're not careful and fail to set well-planned stop losses, you can easily lose more than you invested, even sometimes causing people to go into debt. Trading CFDs is a high-risk, high reward strategy.

No Assets:

When you're trading CFDs you don't own any underlying assets, meaning until you sell a position you technically don't own anything, not even the money you invested. This is the complete opposite of the way investing in regular stocks works. 
Gold
Gold, a precious metal used as a status symbol and in electronics due to its conductivity. Gold has been linked to money for thousands of years, currency was either made from or backed by gold, ensuring it had intrinsic value. Today, not much has changed, the demand for gold is steadily increasing and it's still regarded as a fairly safe investment to this day.
Advantages:
Seen as an Investment for Hundreds of Years:

Gold is often regarded as one of the oldest forms of investment in the world. Prior to its use in electronics, gold was seen as a status symbol for the wealthy. Hundreds of years later, not much has changed. Any investment that lasts the test of time can be considered fairly safe. 

Store of Value:

Inflation is a silent killer, it can seriously devalue your money and destroy your buying power. That's where an investment like gold comes in, it's commonly traded, has a high demand, and typically manages to outpace inflation. This ensures you don't lose out and end up out of pocket for simply holding money in a bank.
Disadvantages:
Storage:

Not everyone likes the idea of investing in untangle assets, as such it's common for people to buy precious metals like gold as a store of value. While this is a perfectly reasonable strategy, you need to consider storage costs. It won't be hard to find a hiding place for a single troy ounce of gold, however, if you have a large amount stored in your house, the risk of burglary is greatly increased. To counteract this, many use safety deposit boxes, however, this attracts high fees that could seriously eat into profits.

Alternatives:

Gold has always been seen as a safe investment and over the past 20 years its growth has seriously sped up. This increased growth can be attributed to two things, a finite supply and a larger demand due to gold's use in electronics. While neither of these seems inherently negative, high gold prices drive electronics manufactures to look toward alternatives that have similar conductive properties, should one be found, there will be a drastic decrease in demand followed by a sharp drop in value.
How to Invest with eToro
Now that we've discussed some of the best investments for beginners, you're likely looking for a powerful investment platform, if so, we highly recommend eToro. They allow you to trade in every market we've discussed, manage multiple investments on one platform, and have excellent security. To help you start investing with eToro in as little time as possible, we've created this handy guide.
Step 1: Open an account with eToro
Regardless of the type of investment you want to make you'll first need to register with a trusted broker. To do this, just type "eToro.com" into your browser's search bar, press "Join Now", and fill in the required information.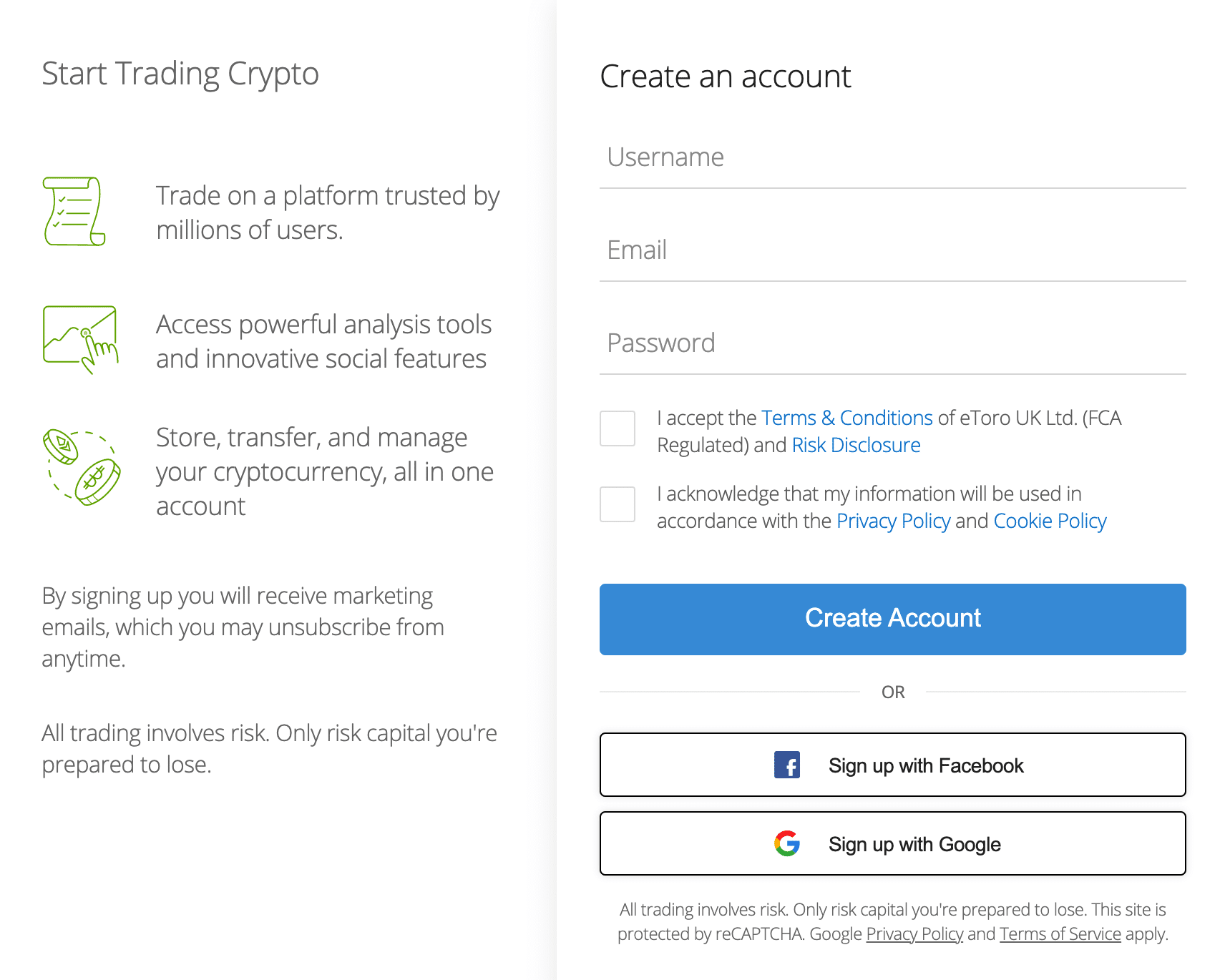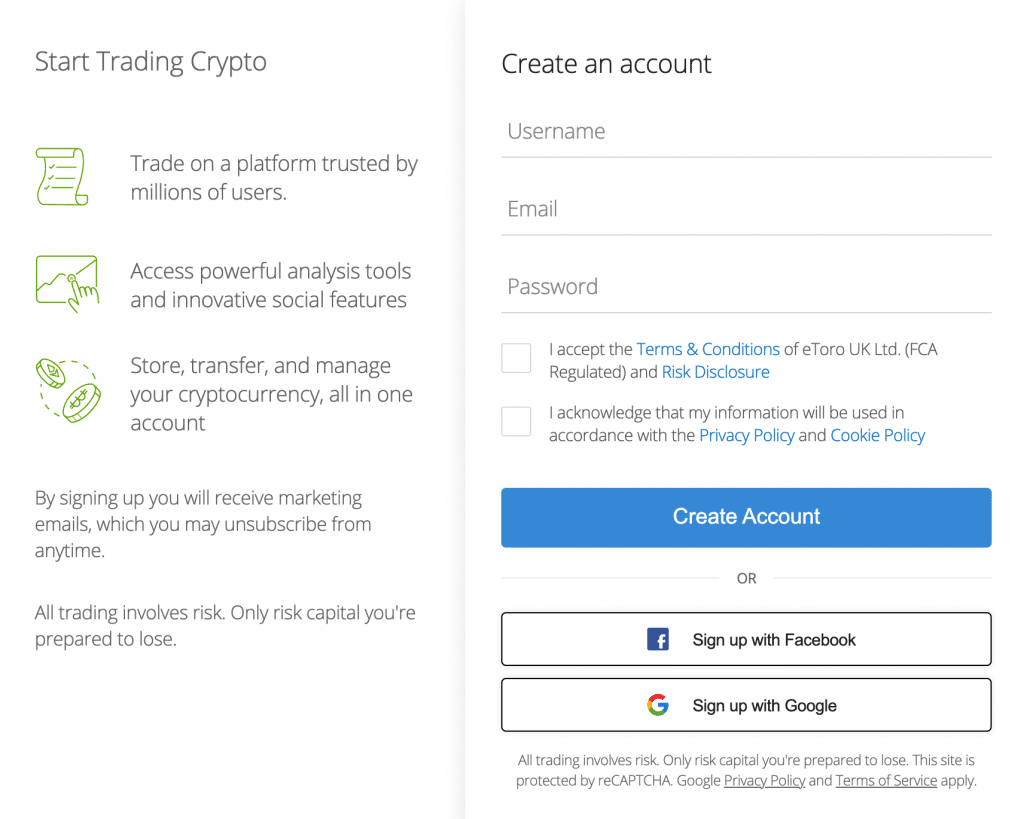 67% of retail investor accounts lose money when trading CFDs with this provider.
Step 2: Verify your account
Because eToro is a regulated trading platform you'll need to verify your identity. This is standard practice in the world of finance and pretty much every reputable broker will ask you to verify your documents. Luckily doing so is easy, all you'll need is a photo ID (passport, driving licence) and proof of address (bank statement, utility bill).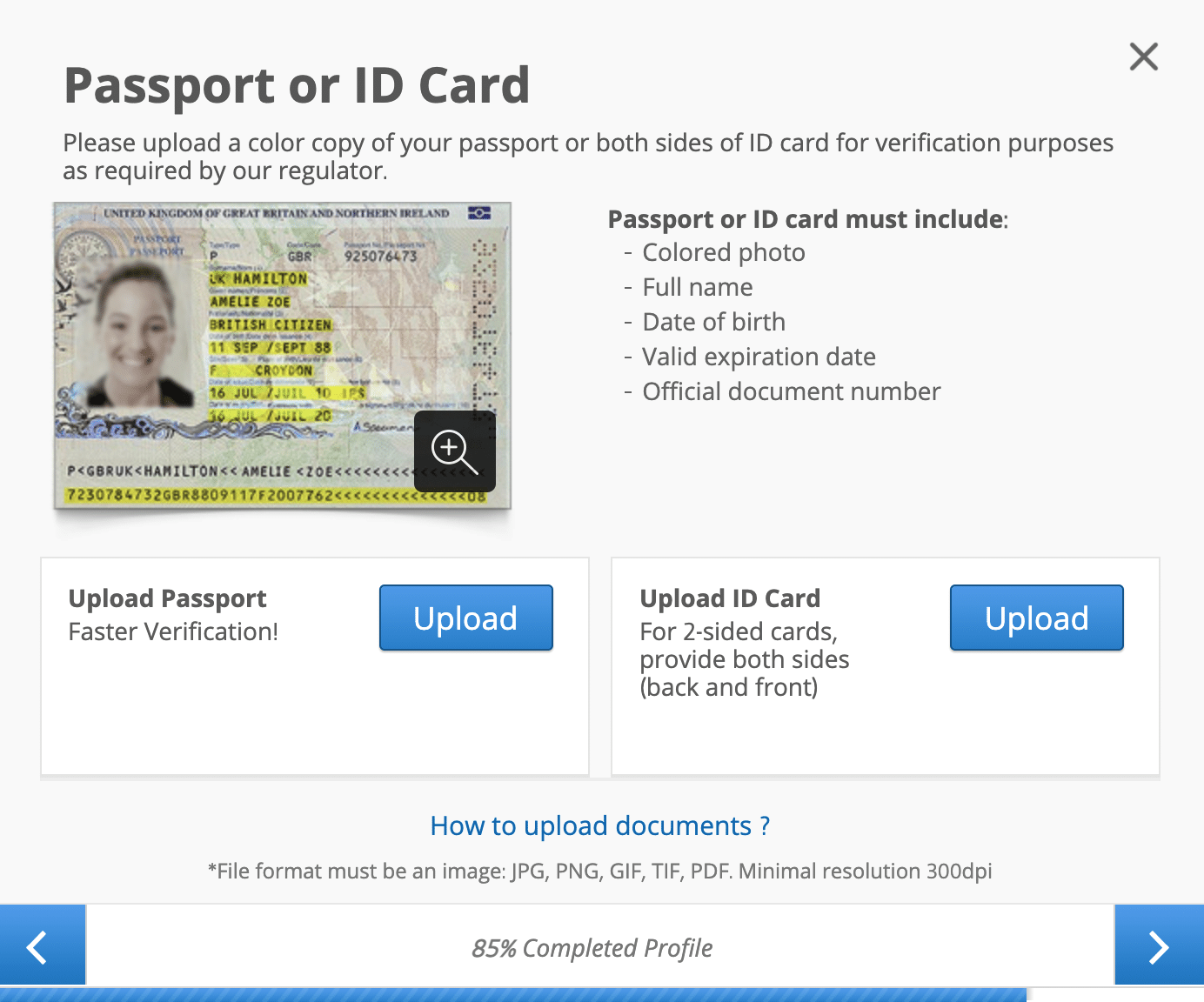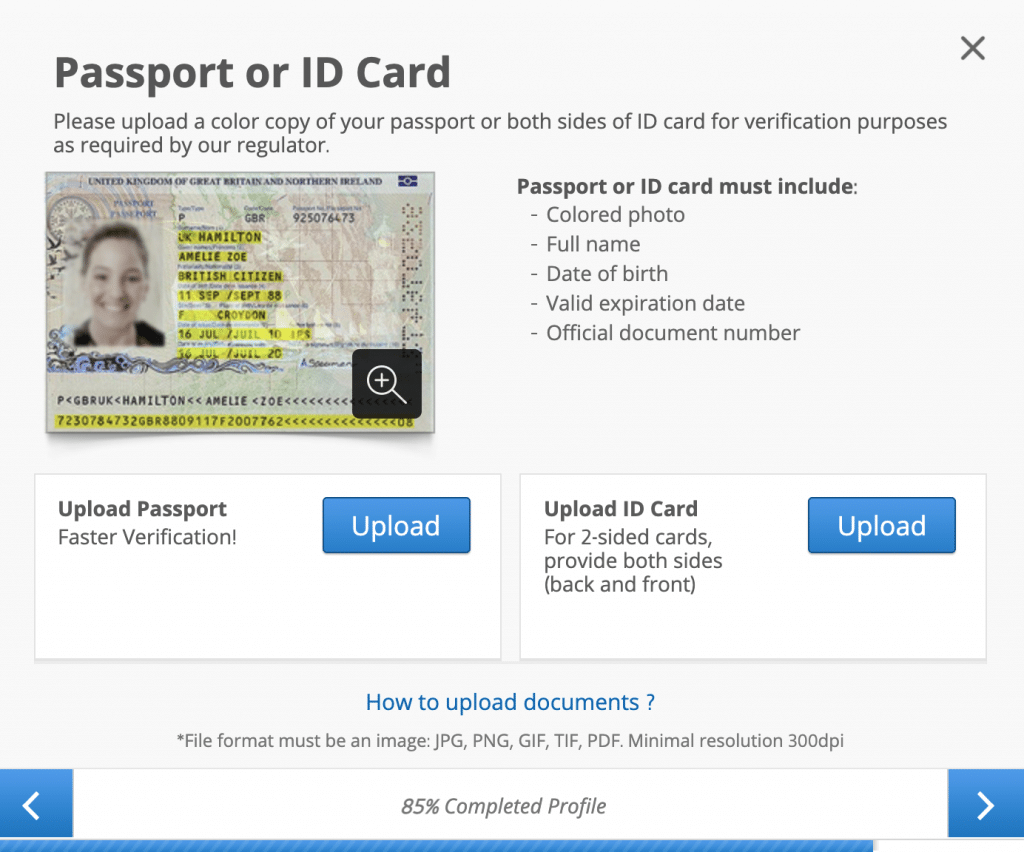 Step 3: Fund your account
Once your account has been verified you're only one step away from investing. The last thing you'll need to do is fund your eToro account. To do this you can use a credit/debit card, bank transfer, or e-wallet(PayPal, Skrill, etc). Just click on "Deposit Funds", enter however much you'd like to invest, and press "Buy".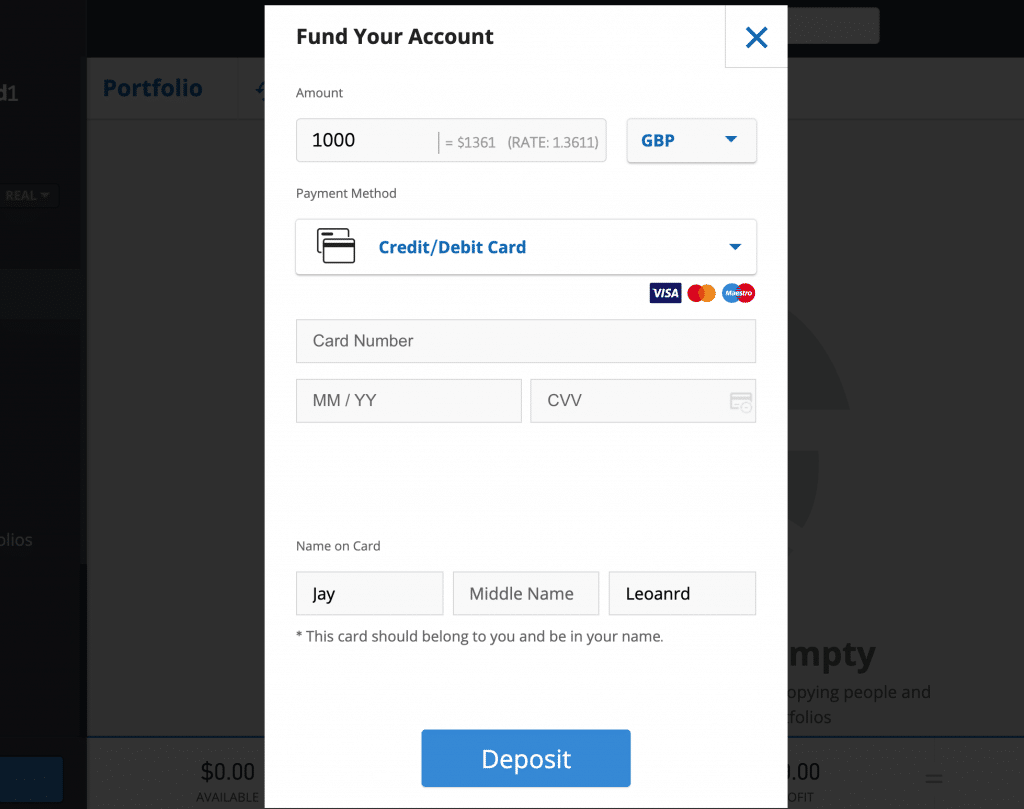 Step 4: Make Your First Investment!
Now that you've deposited some money on your eToro account you're ready to start investing. All you need to do now is choose an investment and purchase it. For the purpose of this guide, we'll use Tesla stock as an example. Just type "Tesla" into the eToro search bar, press "Trade", enter however much you'd like to invest, and press "Buy". You'll be able to find all of your investments in the portfolio section.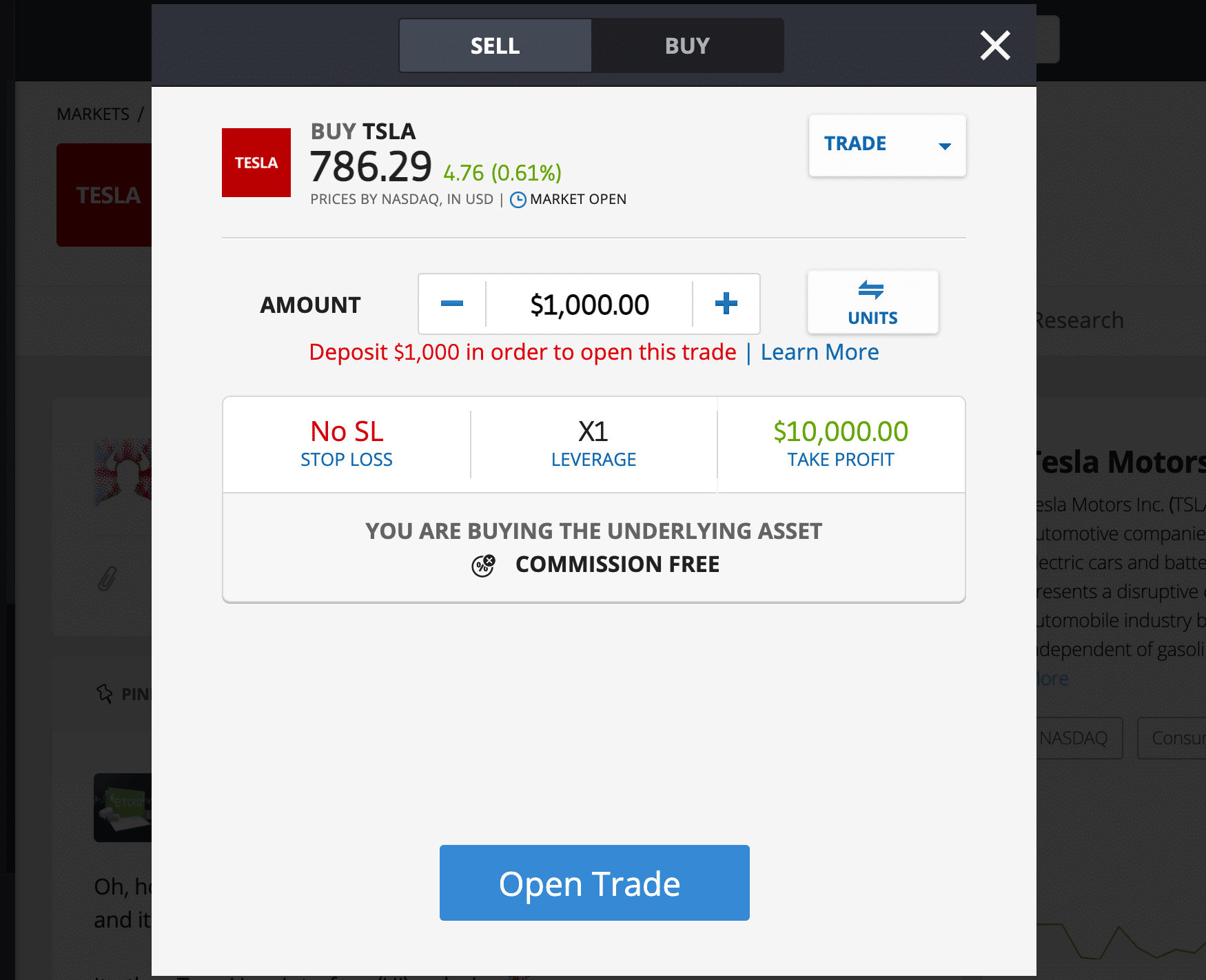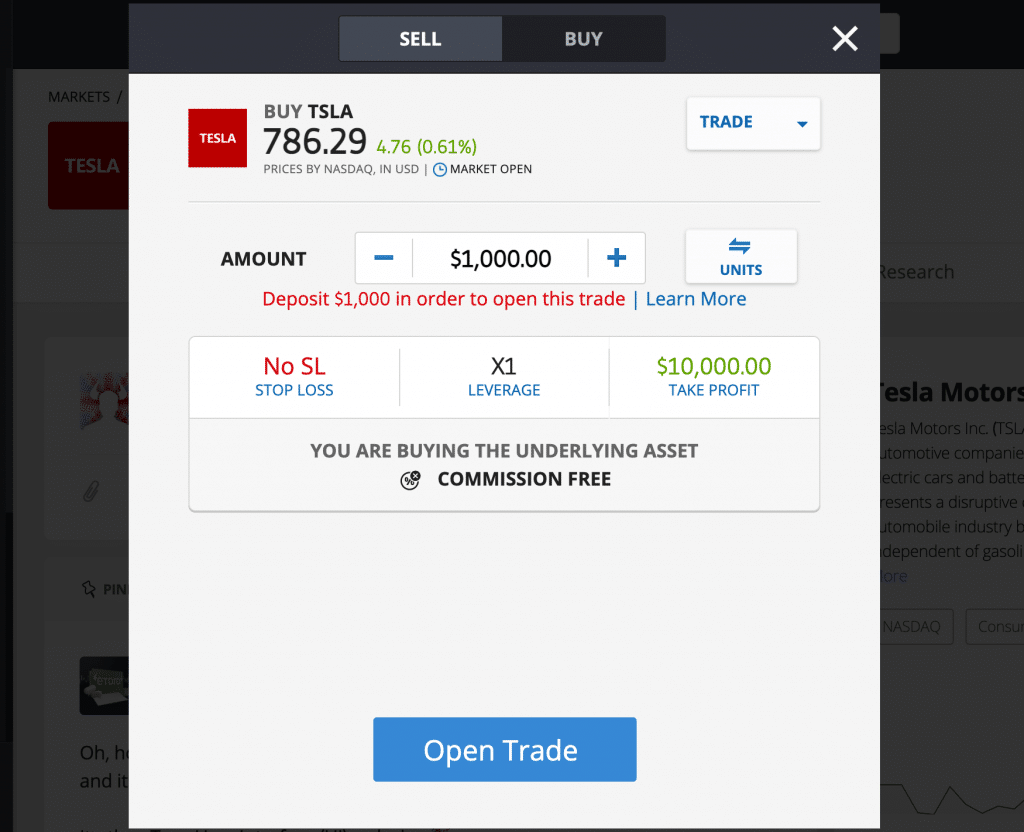 Conclusion
That's it! After reading this guide you'll have all the necessary information required to select an excellent broker and make your first investment. We've spoken about some easy investments, the pros and cons of different investments, and explored the differences between 3 of the top investment brokers. If you're still undecided on which broker is right for you, we have a recommendation to help you get started. eToro supports every type of investment we've discussed as well as many more! Additionally, their platform is easy to get started with, has great security, and has a plethora of advanced trading features, making it the perfect platform for experienced and beginner investors alike. 
Best Investment Broker UK – eToro
FAQs
Where can I Invest in Stocks?
Physical Gold vs Gold Stock?
What is the Future of Cryptocurrency?
Are Investments Safe in the Long-Term?
Is Investing in a CFD Right For Me?