Delta Airlines Stock Up 7% in October – Time to Buy DAL Stock?
The performance of Delta Airlines stock is starting the month on an upbeat tone as shares jumped 6.5% last Friday following some positive comments from the firm's CEO during a summit of the International Air Transport Association (IATA).
According to a report from Reuters, Ed Bastian, the head of the US-based airline, reinstated the firm's revenue forecasts for its upcoming third-quarter earnings report during the Annual General Meeting of the industry association.
Based on this original forecast, sales of Delta Airlines should remain 30% to 35% below pre-pandemic levels for the three months ended on 30 September. Meanwhile, the company is expected to be among the first to report Q3 earnings with its most up-to-date report scheduled to be released on 13 October.
Can this early October uptick mark the beginning of a full-blown trend reversal for Delta Airlines stock? In the following article, I'll take a look at the price action and fundamentals to possibly answer that question.
67% of all retail investor accounts lose money when trading CFDs with this provider.
Delta Stock – Technical Analysis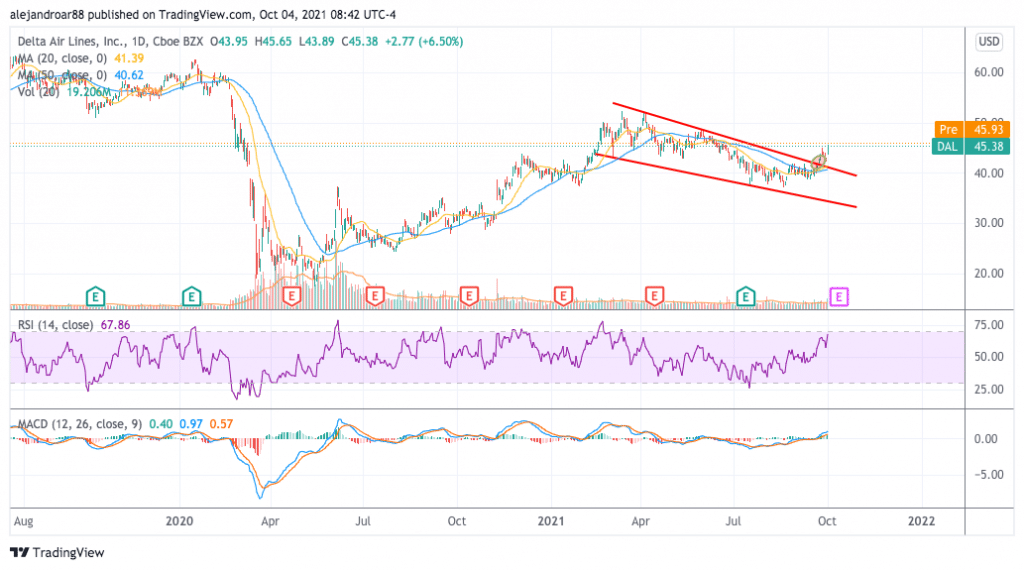 The price action on DAL stock on Friday ended up reversing a long-dated downtrend that started in March-April back when the Delta variant of the coronavirus started to spread at a fast pace across the world.
This break was accompanied by above-average trading volumes and resulted in a jump above the stock's short-term moving averages as well.
Meanwhile, momentum oscillators have been climbing steadily since mid-August with the Relative Strength Index (RSI) approaching overbought levels at the moment while the MACD has just entered positive territory shortly after crossing above the signal line. This move has occurred on the back of steadily rising histogram readings, which favors a bullish short-term outlook for Delta as well.
So far this morning, the stock is climbing 1.3% in pre-market action at $46 per share. Moving forward, a sustained climb above the $45 – $50 level would confirm the trend reversal as such a move would result in a jump above the 0.5 Fibonacci retracement – typically a signal that the former downtrend has been reversed.
Delta Stock – Fundamental Analysis
According to Delta's estimates for this upcoming third quarter, revenues should land at around $8.2 billion resulting in a 15% advance compared to the figure reported during the last quarter. Analysts' estimations for the period are ranging from $8.14 billion to $8.9 billion.
Meanwhile, the company may break even during this quarter amid these higher sales volumes although higher fuel prices could weigh on Delta's bottom-line performance. In this regard, analysts' estimates are expecting positive net earnings per share ranging from $0.05 to $0.43 per share while the consensus estimate is standing at $0.16 per share for the period.
Including a $1 billion repurchase of some of its outstanding notes, Delta's borrowings should be standing at around $25.7 billion along with $5.6 billion in operating leases. These two combined items account for around 41.5% of the firm's total assets ($75.3 billion) by the end of the second quarter including $15.2 billion in cash and short-term investments and around $15.4 billion in goodwill and intangibles.
Once the virus crisis is fully over, Delta could use a portion of this cash to reduce its leverage and that would alleviate, to some extent, its interest expenditures.
By 2022, the company is expected to fully recover to pre-pandemic levels. By then, it would be fair to expect that net margins will likely be lower than pre-pandemic levels. Using 2019 margins as a reference, if we estimate net margins of around 5% to 8% for Delta (25% to 60% lower) we could see its bottom-line results landing somewhere around $3.25 billion using the upper bound of that estimate.
At its current market capitalization of $29 billion, that results in a forward price-to-earnings multiple of 9 that seems fairly conservative for a company with such a strong brand and operating structure.
Even though Delta's long-term borrowings are high, the firm has used its cash reserves widely and has trimmed its cash burn significantly to the extent that it could repay a portion of those commitments in the future to ramp up its profitability once again.
With that in mind, the short-term and long-term outlook for the company could be deemed as bullish based on the combination of the technical and fundamental assessment outlined above.
Buy DAL Stock at eToro with 0% Commission Now!