Mycelium Review – Is Mycelium Safe? Features and Security Explained
If you're an Android user and looking for a suitable cryptocurrency wallet that you can utilize via a mobile app – you might be considering Mycelium. The wallet offers a simple user interface, so even beginners can send, receive, and store digital tokens with ease.
In this Mycelium review, we cover everything you need to know about the wallet – such as user-friendliness, supported coins, fees, security, and more.
What is Mycelium?
Founded in 2012 – Mycelium is one of the first cryptocurrency wallets to offer digital storage solutions. The wallet comes in the form of a mobile app – which is ideal if you are looking for a convenient way to send, receive, and store crypto assets while on the move. We should, however, make it clear that Mycelium is only available on Android devices.
As such, if you're an iPhone user, you might want to consider the eToro wallet instead. Nevertheless, during its first few years of operation, Mycelium initially only offered support for Bitcoin. Our Mycelium review found that the wallet has since added support for other popular cryptocurrencies, including Ethereum, Binance USD, Tether, USD Coin, and a selection of ERC-20 tokens.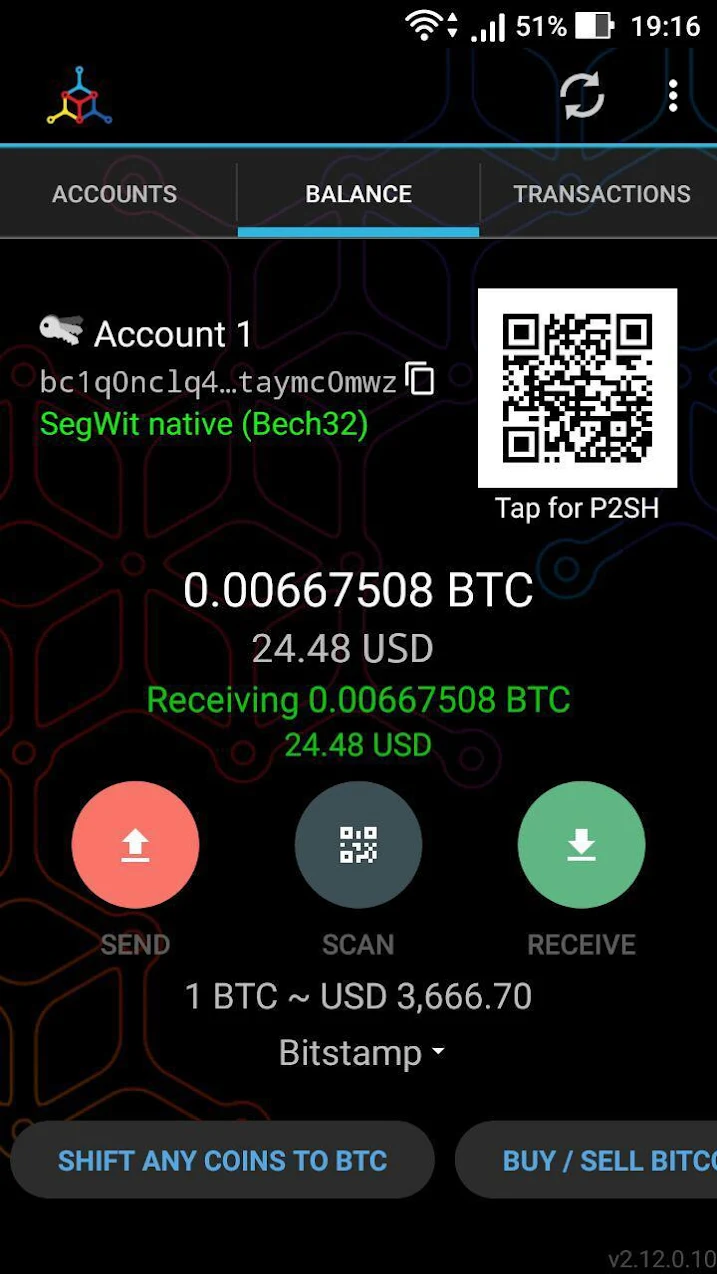 Although we found that Mycelium offers a bare-bones service, the wallet does offer an in-app decentralized exchange. This allows you to swap one cryptocurrency for another without needing to leave the app. For added security, Mycelium is also compatible with a number of hardware wallet providers – including Ledger and Trezor.
Mycelium Pros and Cons
Below you find an overview of our Mycelium review – in terms of the wallet's pros and cons.
Pros
One of the oldest wallets in the crypto space
Good reputation
Simple user interface
In-built exchange
Cons
Very limited range of support coins
No option to buy or sell crypto with fiat money
Website is filled with broken links
Exchange has limited volume and liquidity
Not available on iOS – Android only
Cryptoassets are highly volatile unregulated investment products. No EU investor protection. 67% of retail investor accounts lose money when trading CFDs with this provider.
Mycelium Supported Coins
Our Mycelium review found that the Android-based wallet comes with very little in the way of supported coins. In fact, the wallet was originally created as a Bitcoin-only storage facility – as it remained for many years.
Recently, Mycelium decided to add support for additional coins.
This includes Ethereum, BUSD, Tether, and a selection of "meaningful" ERC-20 tokens.
All in all, such a limited number of supported coins may become problematic for you if you're planning to build a highly diversified portfolio of digital currencies.
For instance, if you later decided to invest in XRP and EOS, you would need to obtain a separate wallet.
If you're seeking a top-rated wallet that supports a wide range of digital tokens and blockchain networks – eToro is a great option. The wallet provider offers support for over 120+ tokens across multiple blockchains.
Mycelium Device Types
As previously noted – the Mycelium wallet comes in the form of a mobile app that is only compatible with Android. This means that those seeking a wallet on iOS will need to look elsewhere. Additionally, Mycelium cannot be accessed online.
On the other hand, it is notable that Mycelium allows you to connect your wallet to third-party hardware devices. This includes the likes of Ledger and Trezor. As such, you can benefit from the enhanced security controls of a hardware wallet, while using Mycelium for everyday transfers.
Mycelium Core Features
In this section of our Mycelium review, we are going to explore what features the wallet offers.
Send and Receive Funds
In addition to keeping your crypto assets safe, the other primary function of Mycelium is to facilitate internal and external transactions. In terms of the former, you can easily transfer funds to another wallet user. It's just a case of pasting the recipient's wallet address into Mycelium, selecting the number of tokens, and confirming the transaction.
For added convenience, Mycelium also offers a QR code tool. This allows you to use your mobile phone camera via the Mycelium app. By taking a photo of the recipient's wallet QR code, the address will automatically populate. This ensures that you are sending the tokens to the correct address.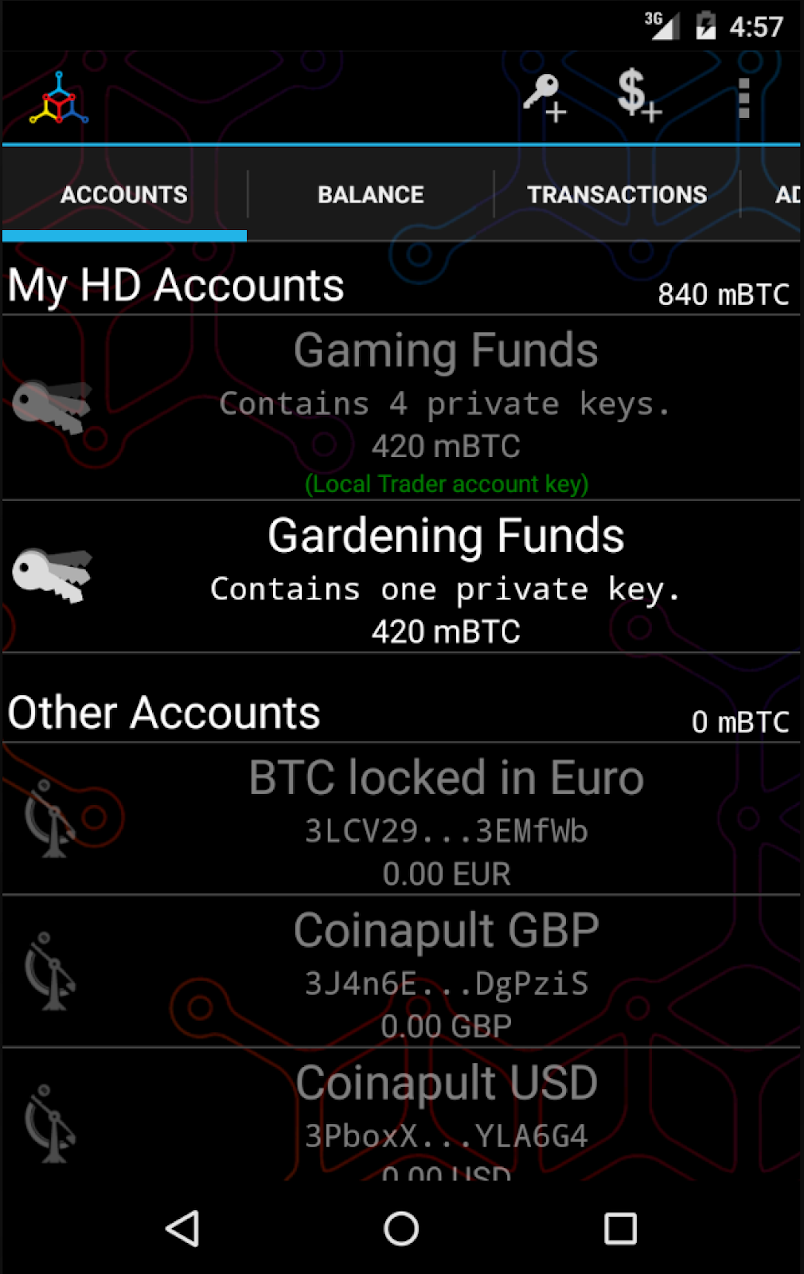 In terms of receiving funds, you simply need to copy your Mycelium wallet address for the respective coin. Then, you need to paste the address into the location that you are sending the funds from. We should note that as Mycelium is only available via a mobile app, this does present an issue when it comes to receiving funds.
For example, let's suppose that you have funds stored in an online exchange that doesn't offer a mobile app. If you wanted to transfer the funds to your Mycelium wallet, you would somehow need to paste the address somewhere so that you can access it from your desktop device. This is why we much prefer wallets that are compatible with various devices – such as a mobile app, desktop software, and web browsers.
Watch-Only Account
A useful feature that our Mycelium review team came across is the wallet's watch-only accounts. In a nutshell, this allows you to view your cryptocurrency balances in read-only mode. That is to say, while you can view the value of your crypto asset holdings in real-time, you won't be able to send or receive funds.
This particular tool is useful if you are planning to store your cryptocurrencies in a hardware wallet like Ledger, but have the convenience of seeing how your investments are performing via the Mycelium app.
DEX Services
For such a basic and simplistic wallet, we were surprised to see that Mycelium offers a native decentralized exchange (DEX). This means that you can trade digital currencies with other people, without needing to leave the wallet interface.
For those looking to sell a specific digital asset, the user will post an offer.
This will explain the coin that the user wishes to sell, the quantity, and at what exchange rate.
If you like the look of an offer, you can complete the exchange without needing to go through a third party.
This also works, in the same way, should you wish to sell a coin that you are holding in your Mycelium wallet.
However, upon closer scrutiny, our Mycelium review found that the wallet DEX has a major flaw – a severe lack of liquidity. This means that trying to find a buyer or seller can be extremely challenging. Even if you can find someone that wishes to sell that token that you want to buy – you might find that the exchange rate and terms on offer are highly unfavorable.
If you're seeking a wallet app that allows you to buy, sell, and trade digital currencies with low fees alongside high levels of liquidity – consider eToro. This wallet provider is not only regulated and home to over 20 million users, but you can trade more than 500+ crypto-asset pairs at super-low fees.
Mycelium Fees
Mycelium can be downloaded from the Google Play store for free. You won't need to pay anything to register a new wallet, nor will you be charged ongoing storage fees. Receiving funds into your Mycelium wallet is also free of charge. However, like all wallets in this space, you will need to pay fees when you transfer funds from Mycelium to another wallet address.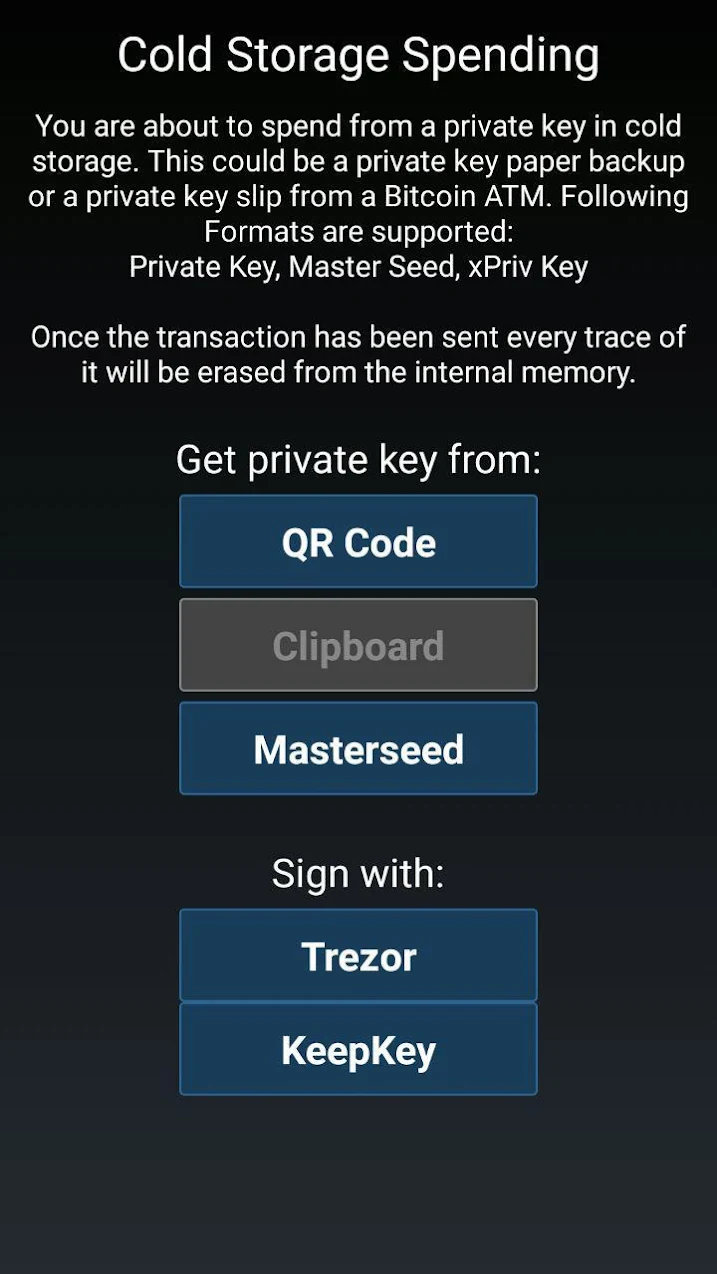 This fee is determined by the blockchain network of the coin you are looking to send. As such, Mycelium has no control over this and the wallet provider does not charge any sort of mark up. You will actually be presented with three options when it comes to making a transfer. That is to say, there is a fee for three-speed levels – low, medium, and fast.
Naturally, if you want to ensure that your transaction is processed in the fastest way possible, Mycelium will suggest the amount you need to pay in mining fees.
Is Mycelium Safe?
In this section of our Mycelium review, we are going to explore what security features the provider offers so that you can determine whether or not the wallet is safe.
Pin and Backup
Once you download the Mycelium app to your mobile device and open it up for the first time – you will be asked to create a new wallet. This will subsequently require you to choose a memorable PIN.
This PIN is to be used when you:
Open the wallet app
Attempt to transfer funds
Wish to view your private keys
In addition to a wallet PIN, Mycelium will also provide you with a 12-word backup phrase. This is generated in a random manner and Mycelium has no way of knowing what the phrase looks like. This is essentially your private key but in a user-friendly format.
You will need to write the 12-word phrase on a piece of paper and keep it somewhere safe. In the event you forget your PIN, you can regain access to your Mycelium wallet with the backup phrase. Similarly, if you lose your mobile phone, you can regain access by downloading the Mycelium app onto another device and using your backup phrase to restore your wallet.
Single Address Accounts
Like most wallet apps, Mycelium downloads your private keys to the mobile device in question. This in itself can be a security risk – especially if your phone becomes compromised by malware.
This is why we like the single address accounts that the provider offers.
Put simply, this will create a new wallet address and then allow you to write down your 12-word backup passphrase.
Once you confirm, Mycelium wallet will then delete your private keys from your device.
In turn, this adds a huge level of security to your crypto-asset funds.
This option is, however, best suited for those of you that are planning to store digital tokens over a long period of time. This is because, in order to be able to send funds from your Mycelium wallet, you will need to renter the aforementioned 12-word passphrase. While this isn't an issue per-say, it is somewhat inconvenient.
Regulation
Although the vast majority of wallets – much like Mycelium, operate in an unregulated manner, this isn't always the case. For instance, Coinbase is a regulated entity that offers wallet services.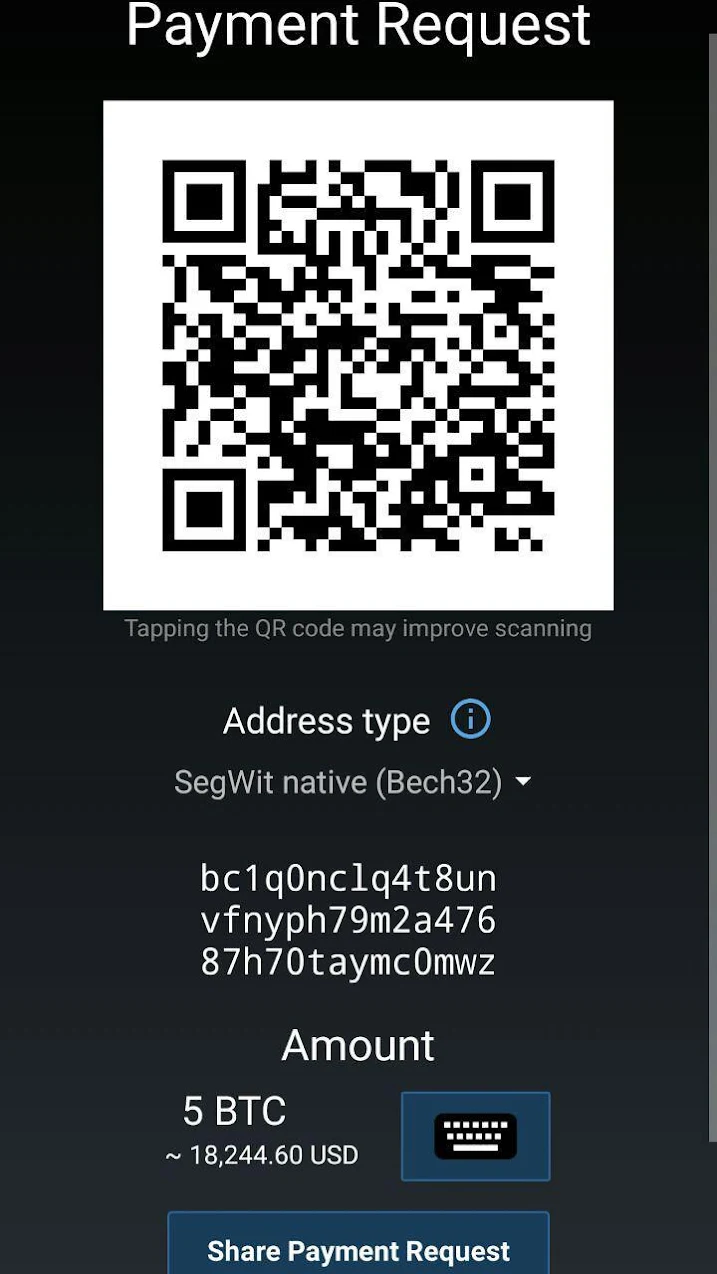 You then have the eToro wallet – which is backed by a trusted brokerage that is regulated by the SEC, FCA, ASIC, and others. But, as Mycelium is not licensed or regulated in any form, this does present an additional risk.
Mycelium Customer Support
If you require assistance from the team behind Mycelium wallet, the only option you have is to send an email to [email protected] However, we found that response times are virtually non-existent – with some users reporting delays of several weeks.  This is yet another risk that you need to consider when contemplating whether or not Mycelium is right for you.
After all, if you have any issues with your wallet, you won't be able to receive support in real-time. The eToro wallet offers support via live chat 24/7 – which is a great safety net to have.
eToro vs Mycelium – Comparison
If you've read our Mycelium review up to this point, then you will know that this wallet provider offers a skin and bones service. While this might be sufficient for some of you, others will require a more comprehensive wallet that offers more than just storage facilities. To ensure you make the right decision, we compiled a comparison between Mycelium and eToro.
Supported Coins
The first metric we looked at was the list of coins supported by both eToro and Mycelium. As noted in this review, Mycelium offers support for a very limited number of crypto assets – which includes Bitcoin, Ethereum, Tether, BUSD, and a selection of ERC-20 tokens.
At the other end of the spectrum is the eToro wallet, which offers support for 120+ cryptocurrencies and over 500+ tradable pairs. As such, if you're looking to build a diversified basket of crypto assets and wish to store your tokens in a single space – eToro is a much better option.
Wallet Safety
Mycelium is a non-custodial wallet, which means that you are responsible for safekeeping your private keys. If you misplace your private keys then you can say goodbye to your digital assets. On the other hand, eToro offers a custodial wallet, which means that the provider will look after your private keys so that you don't have to.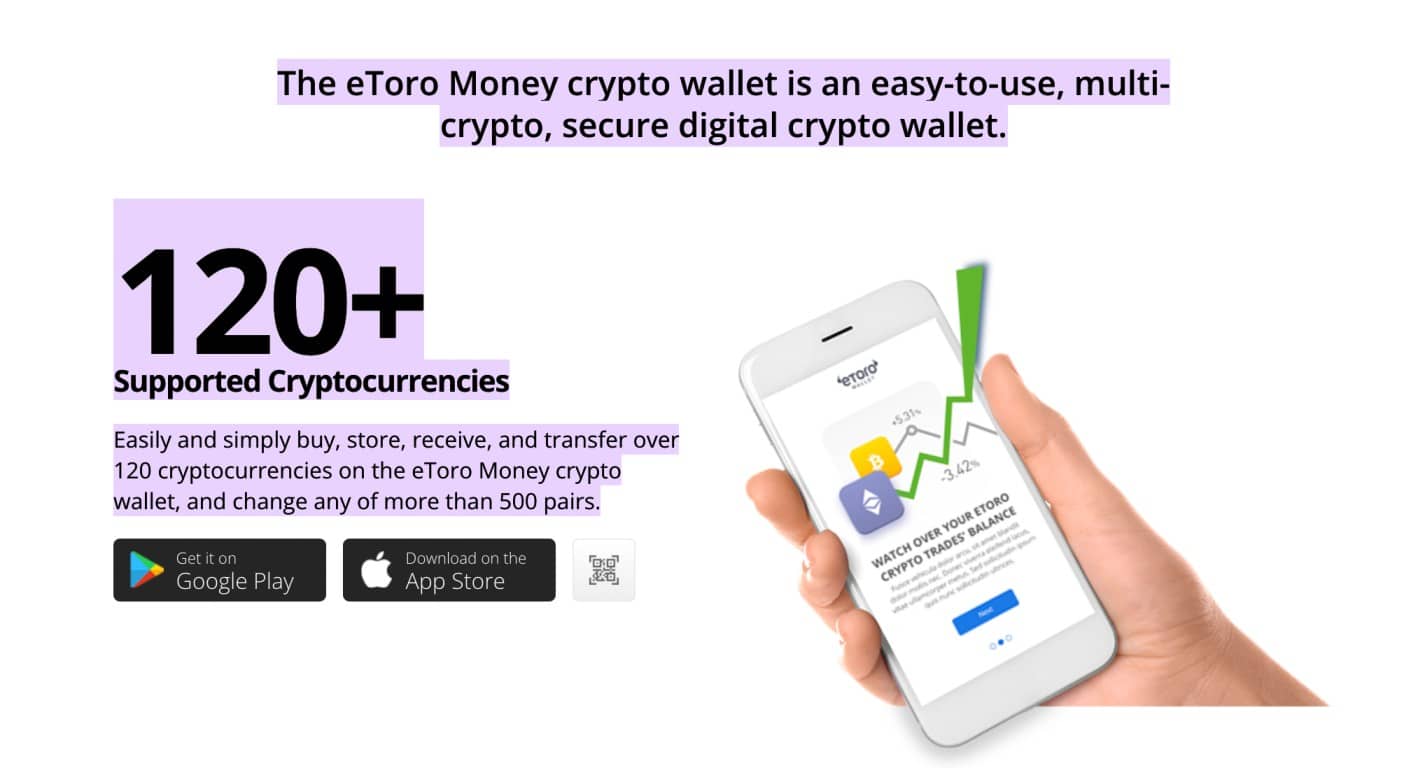 While some cryptocurrency investors are not huge proponents of custodial wallets, it is important to remember that eToro is authorized and regulated by the FCA, ASIC, CySEC, SEC.
Exchange and Buy/Sell
We mentioned earlier in our Mycelium review that the wallet comes with an in-built DEX that allows you to buy and sell crypto. However, the DEX comes with virtually nothing in the way of volume and liquidity.
At eToro, you can buy and sell crypto directly from the broker – so there are never any issues with finding another person to purchase your desired tokens. Not only that – but eToro allows you to buy crypto on a spread-only basis – and the minimum stake is just $25.
Device Compatibility
Mycelium is only compatible with Android mobile devices. At eToro, the wallet app can be used on both Android and iOS phones. Furthermore, and perhaps most importantly, you can also access your eToro account via your standard web browser.
Passive Crypto Trading
Another stand-out feature that is offered by eToro but completely missing from Mycelium is that of the Copy Trading tool. In a nutshell, the eToro website allows you to choose from thousands of successful crypto traders, specify a stake, and then copy all of their future buy and sell positions.

This allows you to invest and trade digital assets without needing to do any research or place any orders.
Mycelium Review – Conclusion
In conclusion, there isn't really much that stands out with Mycelium – other than the fact that the wallet has been active in this space since 2012. Sure, the wallet offers standard security features and you can easily send and receive funds – but that's about it. In comparison, we found that the wallet offered by eToro supersedes Mycelium in virtually every department.
Not only can you store over 120+ different cryptocurrencies safely, but you can also buy, sell, and trade digital assets without leaving the app. eToro is heavily regulated too – so you can even deposit fiat money into your wallet account with a debit/credit card, Paypal, or bank wire.
eToro – Best Crypto Wallet for Safety and Features
FAQ
Has Mycelium wallet ever been hacked?
What fees does Mycelium charge?
What coins does Mycelium support?