BitLox Review – Is BitLox Safe? Features and Security Explained
If you are looking for a cryptocurrency wallet that focuses mainly on privacy and safety, BitLox has the right features to fit your requirements. This hardware device comes with a unique design and multiple layers of security, catering primarily to Bitcoin investors.
In this BitLox review, we offer an overview of what makes this wallet a strong contender in the market for those who seek to store their digital assets securely.
Recommended Crypto Wallet – eToro
What is BitLox?
BitLox is a standalone cryptocurrency wallet developed by Hong Kong-based BitLox Limited and has been operating since 2015. This hardware storage device comes with top-notch security features and is equipped to hold up to 100 wallet addresses. Of this, 50 can be hidden and require unique PIN codes to open.
BitLox is compatible with multiple operating systems such as Windows, Chrome OS, and macOS. You can also connect it to both Android and iOS mobile devices via Bluetooth. The wallet comes with an alphanumeric keyboard that does not block the screen and makes it incredibly convenient to use.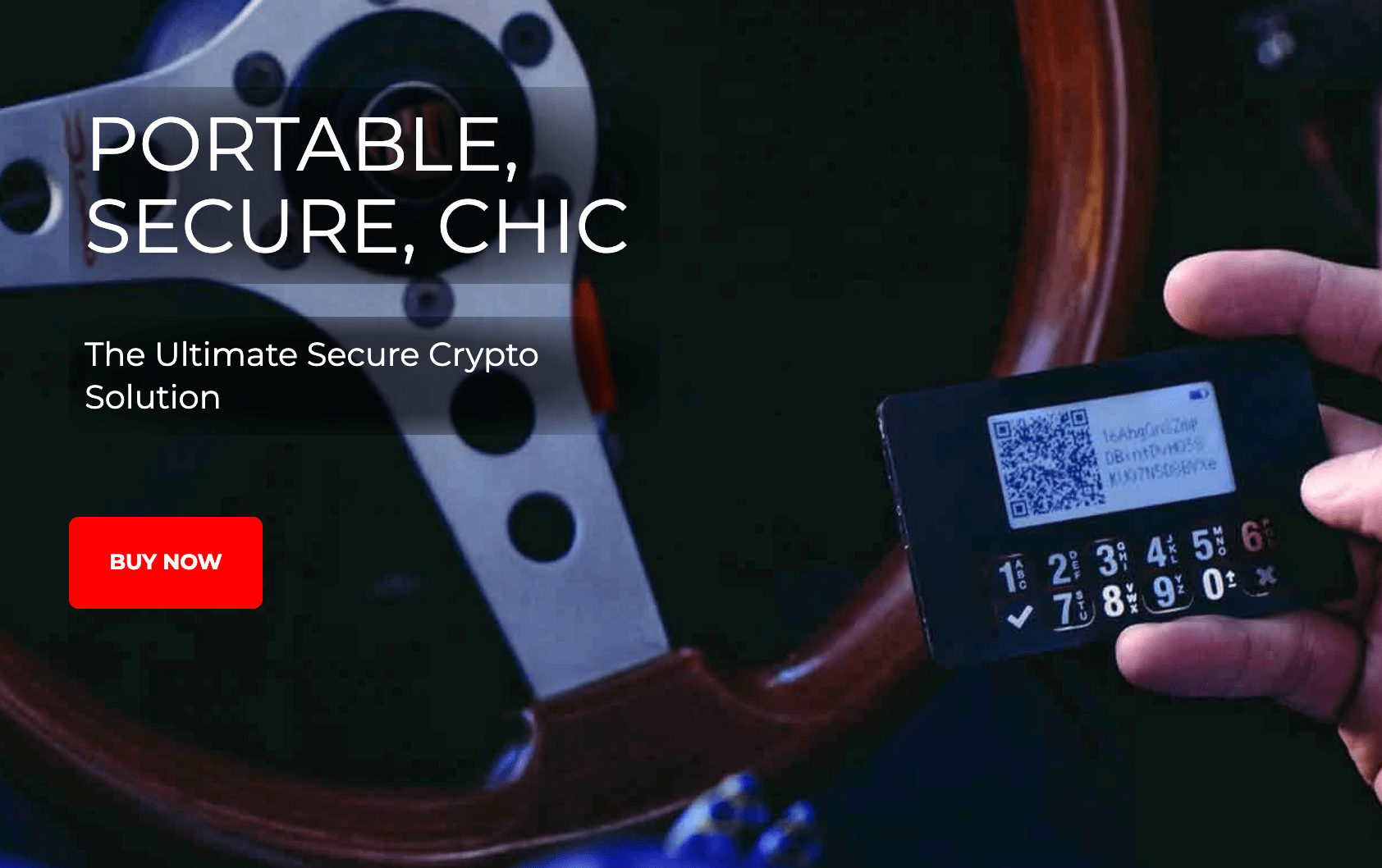 For most users, what makes BitLox attractive is that it grants complete anonymity. In fact, this is the only wallet to make its services accessible on the l2P and the Tor network. The downside here is that you will need to go out of your way to download open-source software. On the other hand, it is completely free and quite easy to set up.
That being said, BitLox is severely limited when it comes to its functionalities and features. Apart from sending and receiving cryptocurrencies, you cannot do anything else directly from this wallet. If you are in search of a full-fledged and safe storage option that also allows you to buy and sell digital assets, it will be better to shop elsewhere – such as the one offered by regulated broker eToro.
BitLox Pros and Cons
If you're looking for an overview of our BitLox review, here we sum up the advantages and drawbacks of using the wallet.
Pros
Sleek design with alphanumeric keyboard
Multiple PIN codes that provide security
Bluetooth compatibility for mobile
Cons
Not beginner-friendly
Limited features
Not regulated
No tools to buy, sell, or exchange cryptocurrencies
Cryptoassets are highly volatile unregulated investment products. No EU investor protection. 67% of retail investor accounts lose money when trading CFDs with this provider.
How BitLox Works?
As a hardware wallet, BitLox keeps your private keys within the device at all times – even when you are using it. When you have connected it to a computer or mobile device, any authorization that takes place happens on the screen of this gadget. Although this provider once catered exclusively to Bitcoin, now you also have the option to store your DASH and Litecoin tokens.
To help you get a better idea of how this wallet works, our BitLox review has put together an explanation of how you can set up the device:
To start, you connect this wallet to your computer using a USB or to your mobile using Bluetooth.
After loading up the device, you will be redirected to the standard setup, where you can choose the type of mnemonic backup and PIN for your wallet.
Here, the device lets you choose between a PIN code of between 4 to 20 digits which will be automatically generated. It is crucial that you note this down. In the latest models of BitLox, you can also set your own PIN.
BitLox also enables you to set a phrase to be displayed once you enter your PIN. This way, you can verify that the device is yours.
To proceed, you can set up individual wallets via your BitLox device, app, or web version. You can further set a separate PIN for each of these options.
Next, the device generates your backup mnemonic, which you will be used to restore your assets if needed.
Once the setup is complete, you can start sending and receiving cryptocurrencies via your BitLox wallet.
One notable aspect of BitLox is that the wallet combines the security of a hardware device, along with the option to be accessed via privacy-centric networks. You can use the BitLox platform via TOR-based protocols such as l2P, and TailOS, providing you with the maximum level of anonymity.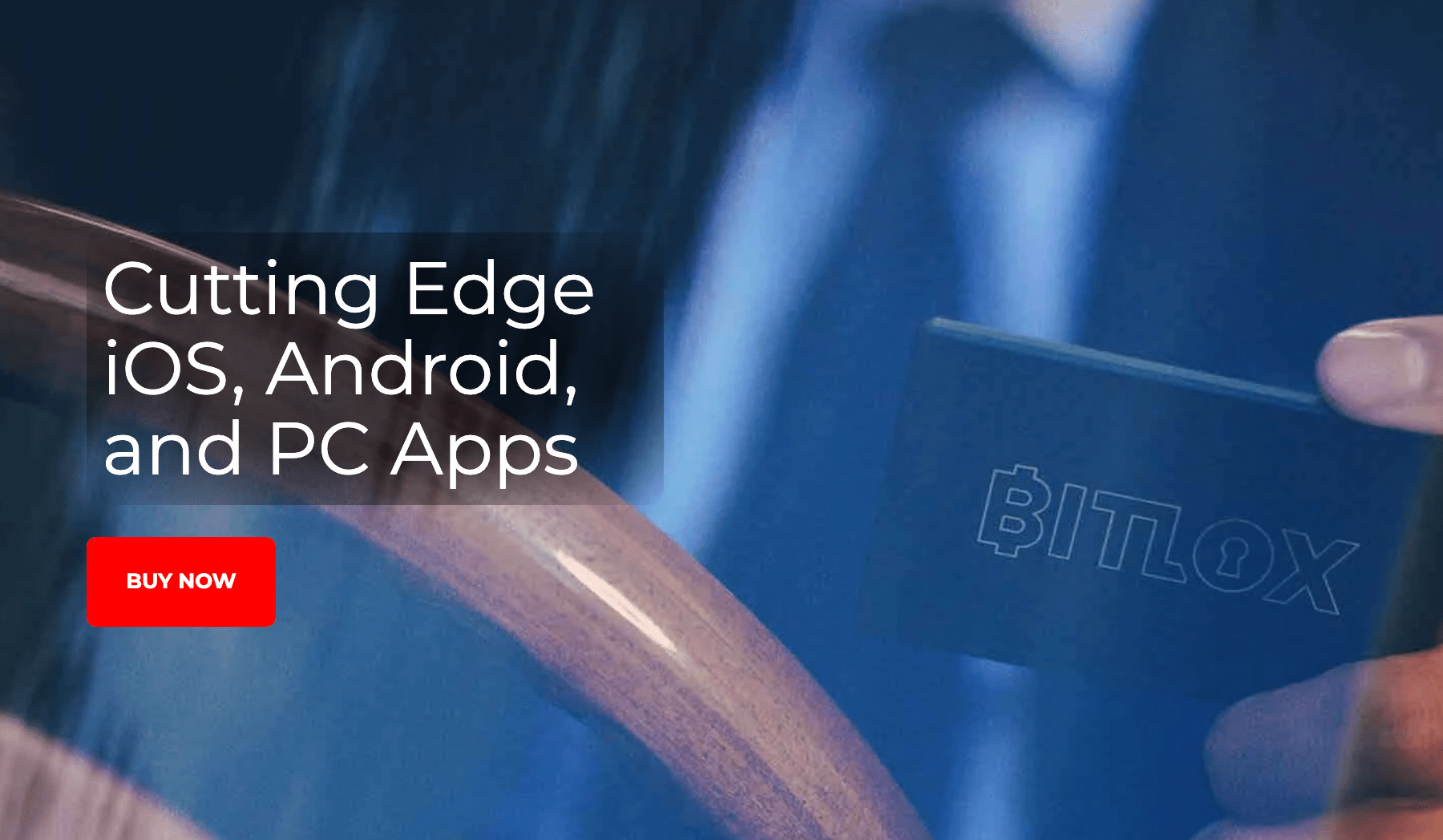 However, BitLox is in no way user-friendly when it comes to the companion web or mobile platforms. If you are a beginner, it can be a confusing task to learn how to safely set up wallets or transfer your digital assets easily.
As such, for those who are new to the cryptocurrency space, we suggest that you consider a custodial storage option such as that of eToro – which allows you to buy, sell and trade tokens at the tap of a few buttons.
BitLox Ultimate
Perhaps the most distinctive aspect of BitLox is how it differs in design when compared to the other wallets in the market. To begin with, this one comes with an alphanumeric keyboard. This means that you can create more complex and personalized PINs, instead of relying on numerals.
Our BitLox review also found that unlike the majority of hardware wallets out there, you can set PIN codes with up to 20 digits on this device. This means that your passwords can be a combination of numbers and letters, lowercase and uppercase. Furthermore, if you enter the wrong pin, a security delay kicks in.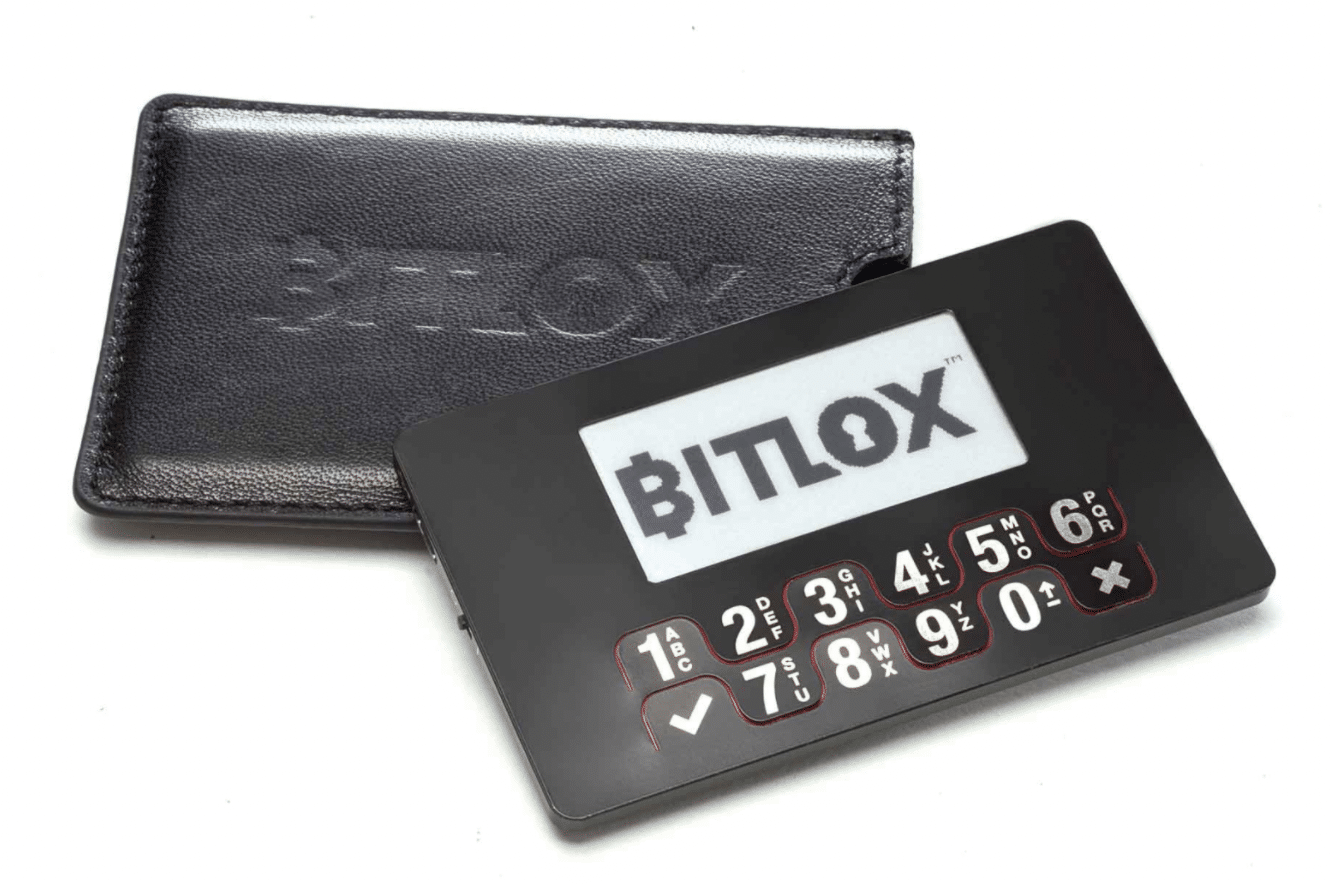 In addition to this, BitLox is made up of a single block of Titanium – which makes the device virtually indestructible, according to the company. Moreover, this device has the capability to store as many as 100 different wallets. Each of these can further hold practically unlimited Bitcoin addresses. In addition to this, 50 of them can be completely hidden. In other words, only you will know that these even exist.
To add a personal touch, BitLox also allows you to add an engraving of up to 3 lines of text or artwork above the logo. This along with the personal message display, you can be absolutely sure that the gadget is yours and has not been tampered with. The wallet is also light to carry, weighing only 25 grams. Furthermore, the company also offers worldwide shipping – which is certainly an advantage for users from across the globe.
BitLox Features
One area where BitLox truly falls short is in terms of features offered. In essence, this wallet can be used only to store your digital assets. This is a significant drawback when considering the other options available in the market – such as Ledger.
Alternative providers in the market not only allow you to send and receive cryptocurrencies but also give you the option to buy, sell and even exchange them from within the wallet interface. Online broker eToro goes one step further by providing you with a regulated environment for trading and storing cryptocurrencies.
Sending and Receiving Cryptocurrencies 
In this section of our BitLox review – we will discuss how you can send and receive cryptocurrencies using this wallet. Once you have turned on the device, you can enter your PIN to unlock it.
If you want to connect it to your computer, you can use a micro USB. Alternatively, you also have the option to use the mobile app – in which case, you can use the Bluetooth connection on your wallet to link to your phone.
When connected, you can do the following:
The BitLox software on your computer or phone will list the available wallets on your device. You can also choose to create a new one at this stage.
After selecting the wallet you want to use, enter the corresponding PIN on your BitLox device. The BitLox app then loads the digital assets stored in the respective wallet, which you can see on your computer/phone.
To send your digital assets, you can enter the destination wallet address or scan it. Next, enter the number of digital coins you want to send.
Once you confirm, you can check the BitLox device to see that the wallet is preparing the transaction. The screen on your BitLox wallet then shows the destination address and the amount of digital asset you want to transfer for final verification.
You can then see the transaction fee for this transfer – which is calculated within your BitLox wallet. When ready, you can verify the details and confirm the transaction.
You can also refresh your wallet on the computer or phone to ensure that the transfer has been completed.
Receiving digital assets to your BitLox wallet works the same way, but in this case, the destination address will be that of your device.
Is BitLox Wallet Safe?
When choosing any cryptocurrency wallet, the ultimate decision often comes down to security. After all, that is the main reason why investors choose a hardware device for storing their digital assets in the first place. Our BitLox review found that this product offers high security when compared to its peers in the market.
As we mentioned earlier, the BitLox wallet uses multiple layers of PIN codes to prevent unauthorized access.
Moreover, all transactions are verified on the device, including the addresses and how much you are paying in fees.
It also allows you to store your digital assets anonymously.
However, if you are seeking a wallet that offers you regulatory protection, then BitLox is far from the best choice.
In fact, when compared to the likes of eToro – this provider lacks the security that comes with licenses from respectable financial authorities.
Put otherwise, if the safety features integrated into BitLox are somehow compromised, there is no way for you to access your cryptocurrencies again.
BitLox Security Features
To ensure the safety of your digital assets, BitLox wallets come with the following security features:
BitLox allows you to create 12-, 18-, or 24-word phrases as backup seed keys to recover funds in the event of loss or damage to the device
Multiple levels of security with PIN codes for the device, your wallets, and even for individual transactions
Option to create up to 50 hidden wallets with enhanced protection provided by separated PIN codes
Security delay after entering the wrong PIN
Emergency PIN that irreversibly wipes all user data
BIP32 & BIP39 compliant
With a Titanium case,  hidden wallet, and access via the TOR network, BitLox positions itself as a good security option for those who prefer hardware storage for their digital assets. That being said, if you are looking for a gadget that can combine both safety as well as trading functionalities, then our BitLox review finds that this is far from the best option available in the market.
BitLox Mobile App
As we mentioned earlier, BitLox also comes via a mobile app – available on both Android and iOS devices. However, our research team found that the app has not been updated for a while, and there are hardly any reviews that offer any information on the user-friendliness of the platform.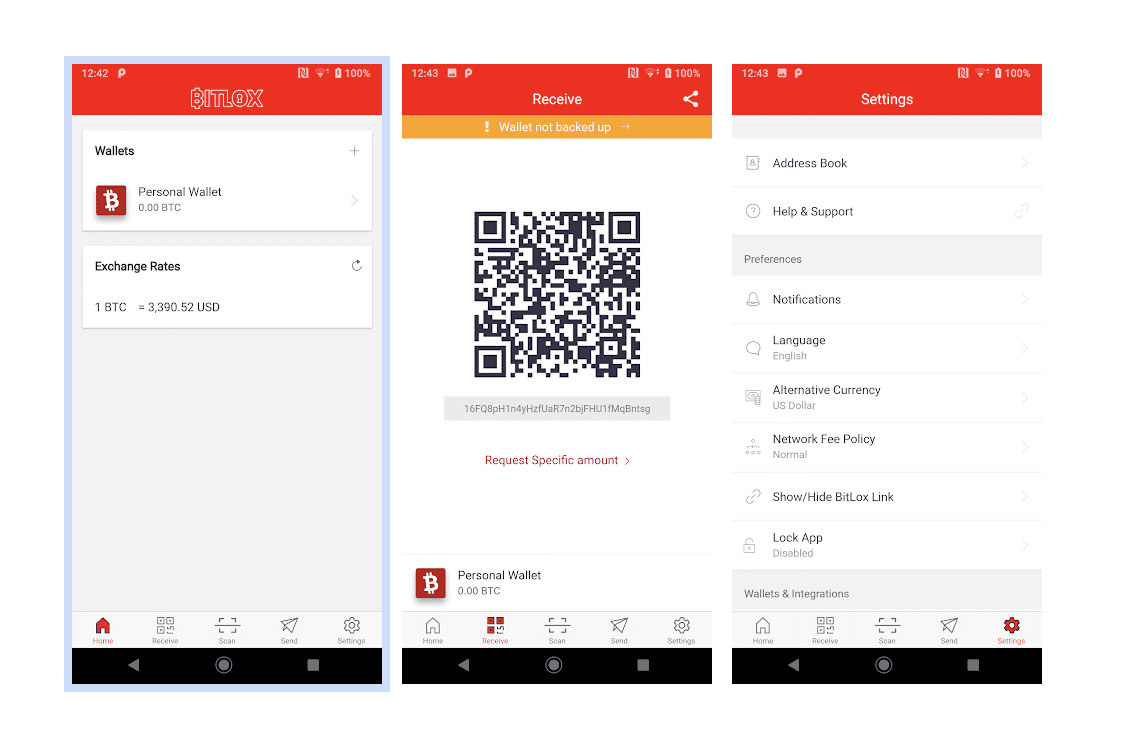 Additionally, it is worth pointing out that BitLox does not have any features that make it a user-friendly option for beginners. Other providers such as Trezor have full-fledged mobile applications that integrate many more options. If you want a software wallet, then those like Atomic or eToro also come with in-built exchanges – which gives you a lot of flexibility while ensuring the safety of your coins.
BitLox Fees
Our BitLox review found that buying this device will cut you back $299. However, the provider often has discounts, and at the time of writing in November 2021 – you can buy BitLox Ultimate for a reduced price of $148.
Apart from this, sending and buying cryptocurrencies via BitLox also incur blockchain transaction fees. These are calculated while processing the transfers and displayed directly on the device screen.
As such, there is no way of knowing how much you will end up paying beforehand.
If you rather choose a free option that does not compromise on security, it will be well worth considering storage options offered by regulated brokers like eToro. This way, you can access a safe environment not only to keep your assets for the long-term but can also invest in or cash them out directly from your wallet.
BitLox Customer Support
Our BitLox review found that the provider is accessible both via email and telephone. However, the phone number given is based in Hong Kong. The device also comes with a detailed user guide on how you can set up the wallet and start using it. There are also a few videos; however, these were uploaded a few years back.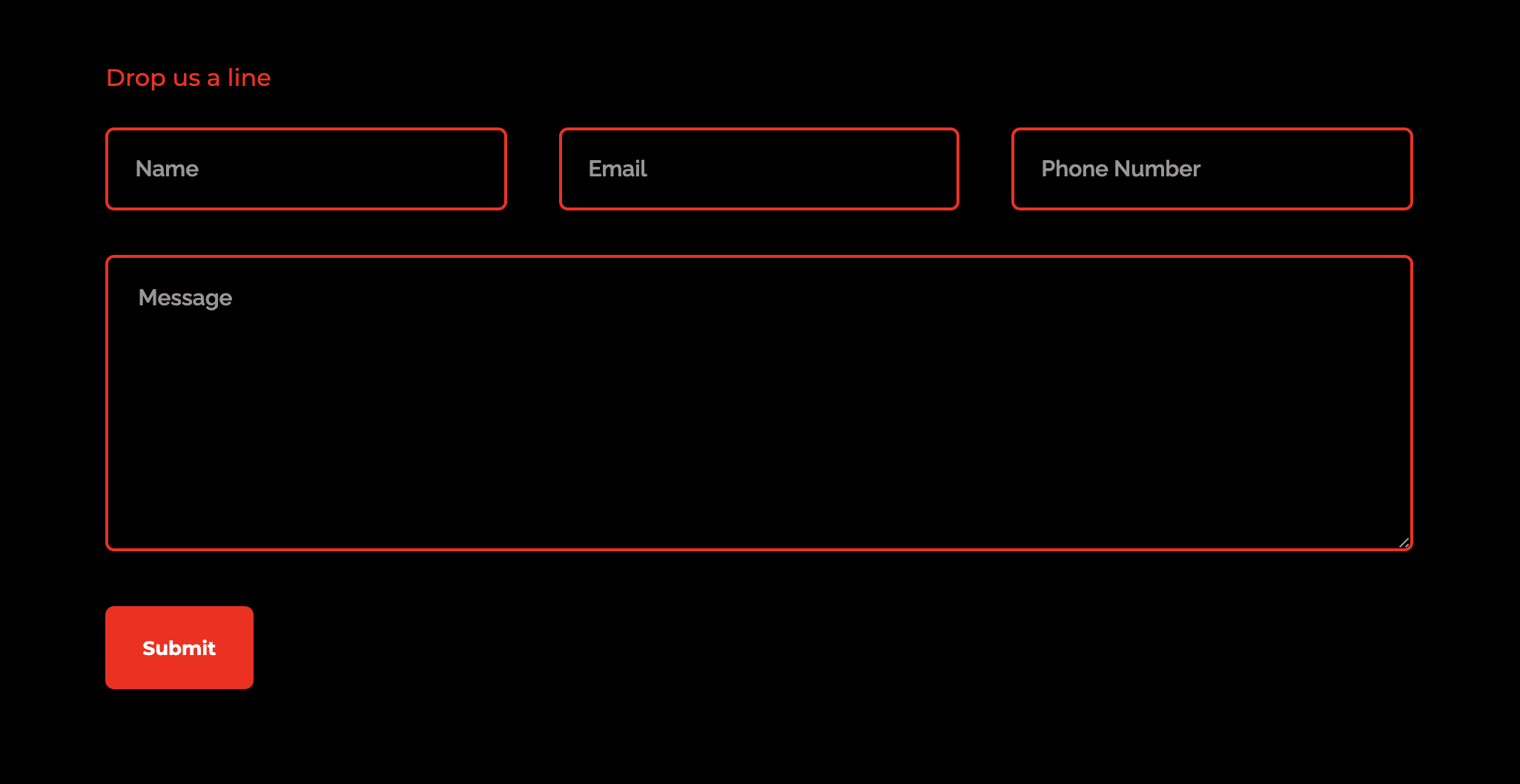 Although the BitLox website may seem a bit outdated, the platform is quite active on all social media channels. In fact, you can reach out on Twitter or Facebook if needed. In addition to this, the website is also available in multiple languages to make it more accessible for worldwide users.
eToro vs BitLox – Comparison
While doing this BitLox review, we took it upon ourselves to study the market and compare the different options available. And we found that although this wallet offers you high security, you can find better alternatives that provide you with more features.
One such wallet is eToro, which comes integrated with the regulated brokerage platform of the same name. So, in this section, we compare the features of both these storage options to help you make an informed decision.
Safety and Regulation
eToro is one of the safest cryptocurrency brokers out that there combines an in-built storage option for your digital assets. Of course, BitLox comes with top-notch security with multiple PIN codes and hidden wallets. However, this provider isn't regulated in any way. This means that there is no financial authority overlooking how this wallet functions.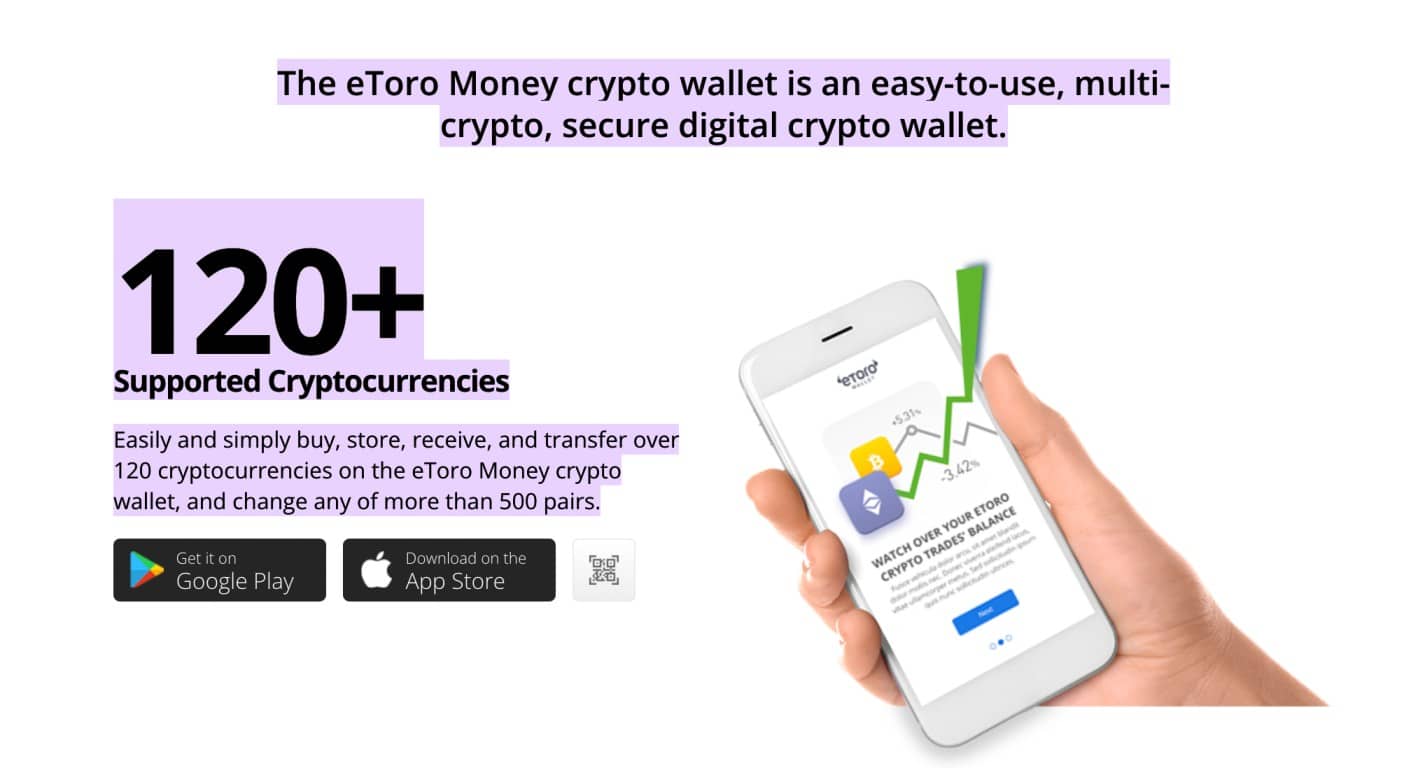 In comparison, eToro is a regulated DLT provider that holds a valid license from the Gibraltar Financial Services Commission. Moreover, as a broker, this platform is regulated by the SEC, FCA, ASIC, and CySEC.
In addition to all this, you do not have to worry about misplacing your wallet or losing access to your digital assets. eToro offers an Unlosable Private Key tool, allowing you to recover your cryptocurrencies with just a few clicks.
Exchange and Investment Services
The main drawback of BitLox is that this wallet is exclusively for storing your digital assets. If you want to buy or sell cryptocurrencies, you need to find a third-party exchange and pay additional fees. It also involves the hassle of moving your coins back and forth, which can be time-consuming and easily avoidable.

On the other hand, eToro's wallet integrates seamlessly with its brokerage platform. This allows you to buy, sell or even trade your digital assets on a spread-only basis. Moreover, you can store over 120 different cryptocurrencies and access hundreds of trading markets.
Apart from its exchange services, eToro also allows you to buy and sell cryptocurrencies directly from the wallet. This can be done by simply purchasing digital assets by paying for them in fiat currencies. On the other hand, with BitLox, you are practically limited to sending and receiving tokens.
Payments
Being a brokerage firm, eToro supports multiple payment methods for you to invest in cryptocurrency and store the tokens directly in your wallet. For this purpose, the platform integrates multiple payment methods – such as debit/credit cards, bank transfers, and e-wallets.
BitLox does not offer you any such option and falls short significantly in this aspect. In simple terms, while this wallet provides security – that is also the only advantage of using this device. If you want to access more functionalities, a broker with in-built storage tools like eToro might be more suitable for your requirements.
BitLox Review – Conclusion
To conclude, BitLox is a secure hardware cryptocurrency wallet. However, this device supports only three digital assets and provides very limited functionalities. For what it offers, it is also an expensive option to consider.
In light of these factors, we prefer a regulated alternative like eToro. This cryptocurrency wallet comes integrated with a brokerage platform, which you can use to directly buy, sell and trade digital assets on a spread-only basis.
eToro – Best Crypto Wallet for Safety and Features
FAQ
Has BitLox wallet ever been hacked?
What fees does BitLox charge?
What coins does BitLox support?