Atomic Wallet Review – Is Atomic Wallet Safe? Features and Security Explained
Whether you are brand new to the crypto space or are an early adopter, you might be on the hunt for the best wallet for storing your digital assets. And if you are looking for something that offers integrated exchange services, then Atomic Wallet might be worth considering.
In this Atomic Wallet review, we discuss how this provider compares against other cryptocurrency storage options, supported assets, core features, and most importantly, security.
Recommended Crypto Wallet – eToro
What is Atomic Wallet?
Atomic Wallet is a secure cryptocurrency wallet that allows you to store digital assets such as Bitcoin, Ethereum, and over 500 other tokens. Launched in 2017, this wallet also integrates third-party services and features. These enable you to buy, sell, and stake your coins directly through the application, giving you the opportunity to earn rewards in return.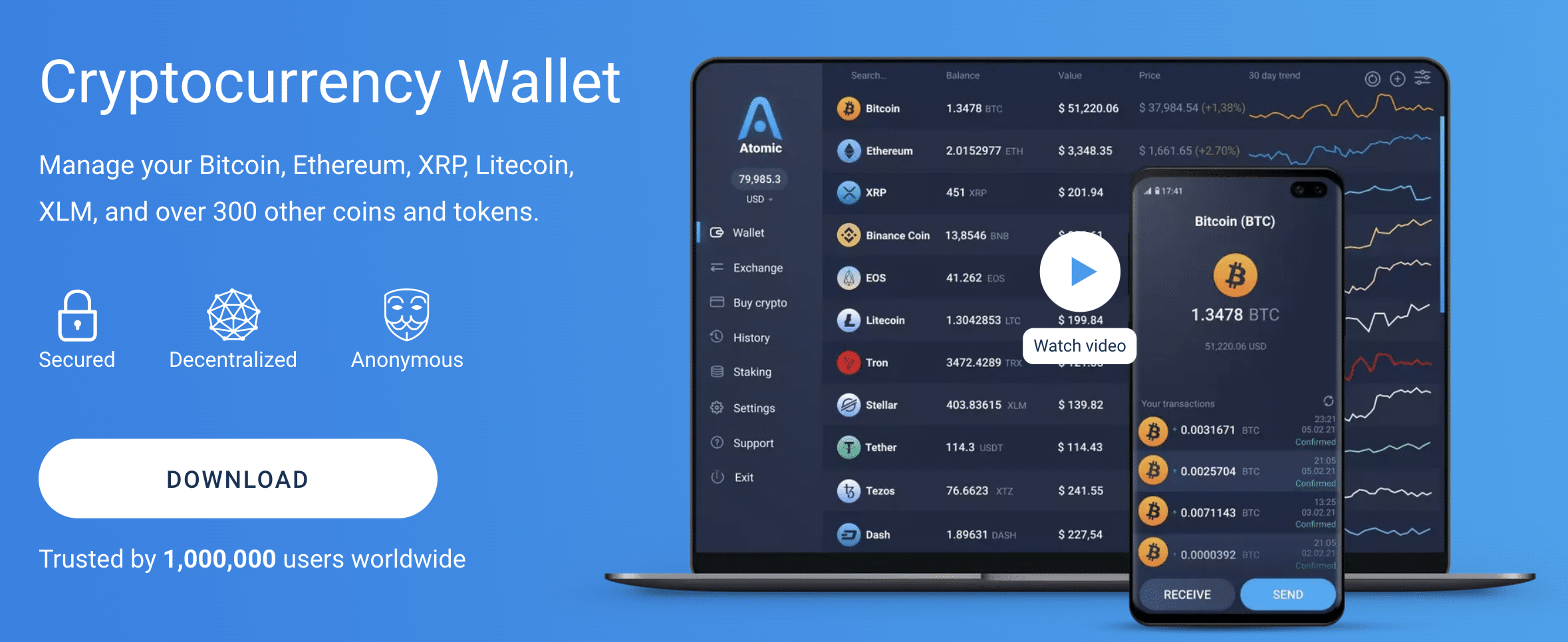 Atomic is available as a desktop program or mobile app and is compatible with a number of operating systems. And crucially, you can download it entirely for free. This non-custodial, wallet keeps your passwords stored on your device, and not on its server. Meaning, there is very little chance of losing your assets through this service.
Being a decentralized application, Atomic allows you to store, buy and sell cryptocurrencies via its wallet anonymously. In other words, there is no need for you to share any personal information or verify your identity to get started. These advantages aside, an important factor to remember is that its software – or the associated exchanges, are not regulated by any means.
Atomic Wallet Pros and Cons
For those who do not have sufficient time to go through our entire Atomic wallet review, we have prepared an overview of our research below.
Pros
Decentralized wallet
Integrated exchange and staking
Supports over 500 digital tokens
Free to download
Cons
Password stored on your device
No regulatory protection
Cryptoassets are highly volatile unregulated investment products. No EU investor protection. 67% of retail investor accounts lose money when trading CFDs with this provider.
Atomic Wallet Supported Coins
Our Atomic Wallet review found that this is the first non-custodial wallet that facilitates atomic swaps of cryptocurrencies. This mechanism allows you to exchange digital coins without having to rely on centralized third-party entities, making it possible to trade completely anonymously. This multi-asset storage solution supports all the prominent blockchain networks of today, listing over 500 tokens.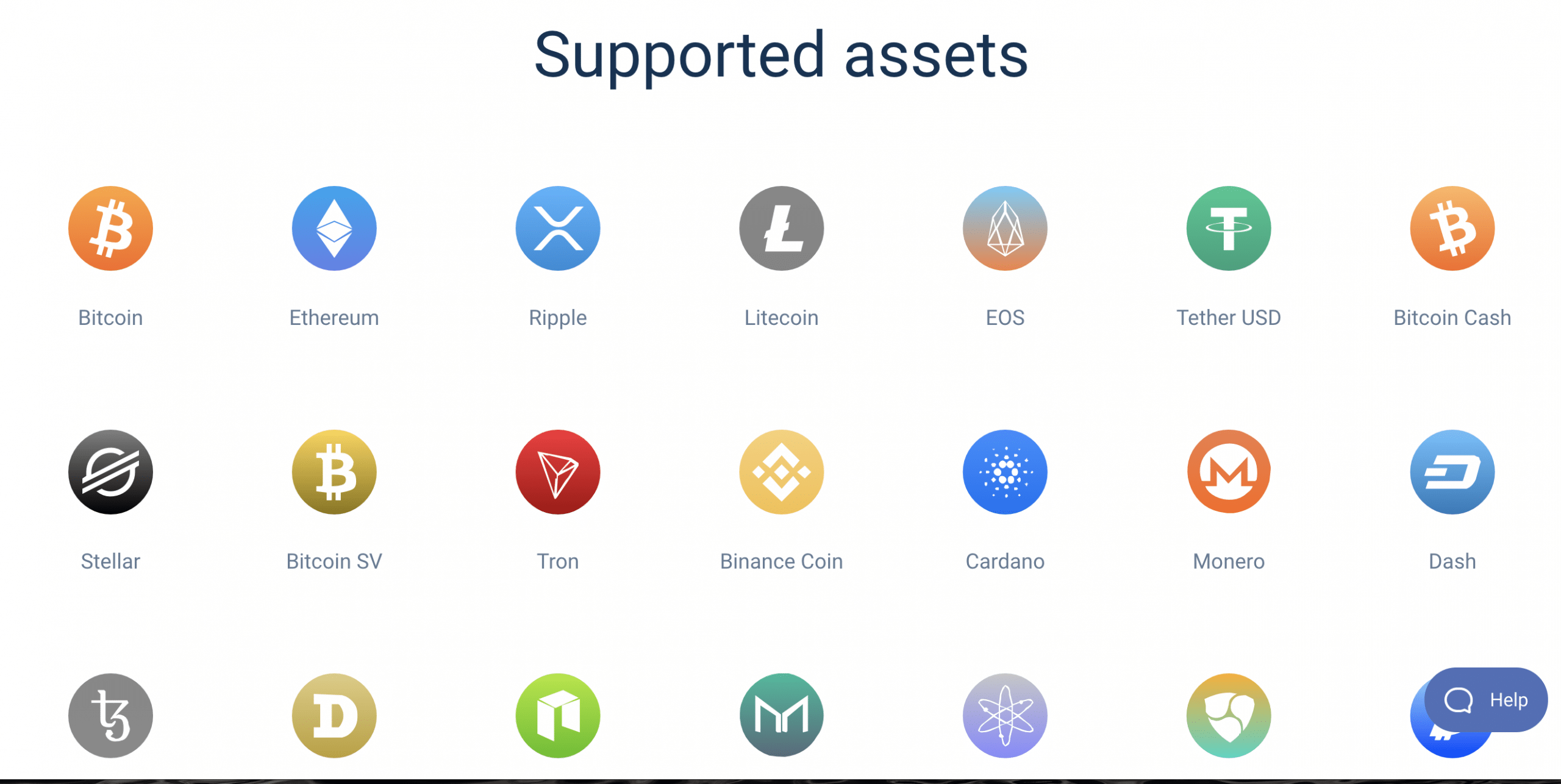 You can buy cryptocurrencies via this platform and then exchange over 60 digital assets anonymously. The wallet also allows you to receive cashback rewards for every swap. Atomic also has its own token, which enables you to unlock more rewards, and gain utility value as a holder.
How Does Atomic Wallet Work?
Atomic Wallet is a decentralized, non-custodial, cold storage option for your cryptocurrencies. This means that all passwords or data are not saved on any server, but on your device. To get started, you can download the program from the official website – it is currently compatible with Windows, macOS, Ubuntu, Debian, and Fedora operating systems. Plus, you can also sync it with an app for your mobile device.
The process of setting up your Atomic Wallet is as follows:
You start by downloading the software and installing it on your device.
Once the software is ready to run, you will be presented with a 12-word backup phrase which you should note down for safekeeping.
Alongside, you set a password that you will use to access the wallet.
It is paramount that you keep these passwords somewhere safe offline. If anyone gets hold of this, they can restore your wallet and obtain access to your funds.
You will then be directed to your Dashboard, where you can see an overview of your assets, and access the different features of the wallet.
To sum up, opening your Atomic Wallet is quite simple, and you can start by entering your password. If you lose this, you can restore using your backup phrase. However, if you are unable to use both these options, then it is virtually impossible for you to gain access to your digital assets.
Moreover, it is crucial to remember that your password and backup phrase will be stored on your device. So in case that the security of your computer or mobile phone is compromised, it is indeed possible for a hacker to steal your assets. If this happens, Atomic Wallet will not be able to help you recover your funds.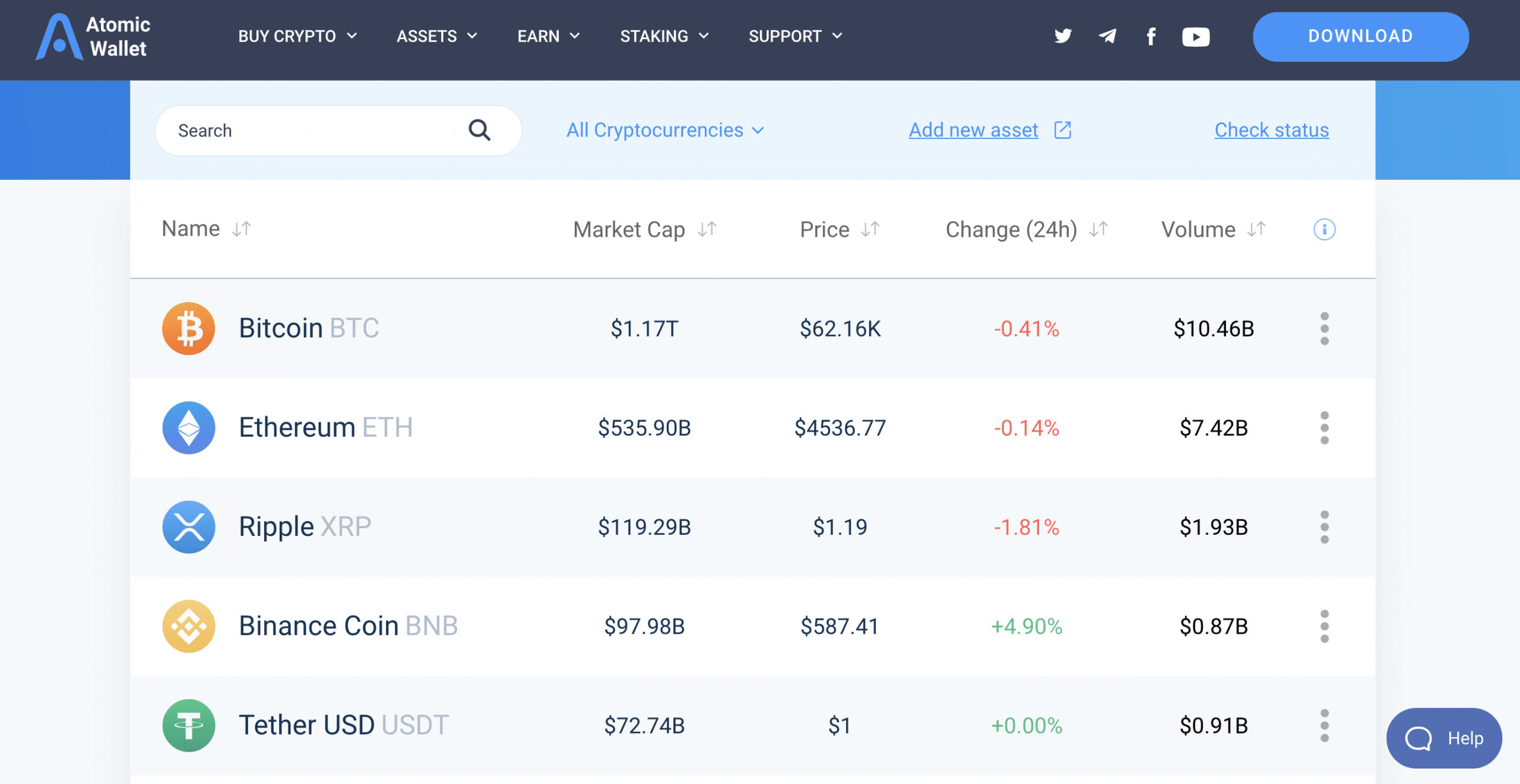 This is why we suggest that you consider a wallet offered by a regulated broker like eToro. It is not only licensed by the Gibraltar Financial Services Commission but the trading platform itself is governed by financial authorities such as the FCA, SEC, CySEC, and ASIC. Moreover, you can buy, sell and trade cryptocurrencies directly via the same interface, and in real-time.
How Much Does Atomic Wallet Cost?
Our Atomic Wallet review found that you can download the application and start using it for free. There are no costs involved in storing digital assets on this wallet. However, if you are to use other services such as the exchange, or buy tokens with fiat currencies, these services will incur additional fees – which we will discuss in more detail further down.
Is Atomic Wallet Safe?
The main purpose of doing this Atomic Wallet review was to find out how safe this wallet is when it comes to both long-term and short-term storage of your digital assets.
Here is how this platform protects your cryptocurrencies.
Cold Storage
Before you choose your crypto storage method, you first need to know the different options available. To provide you with some context; hot wallets keep your assets online, making it easier for you to spend them at any time. These have a permanent supporting connection with the blockchain to facilitate quick transactions.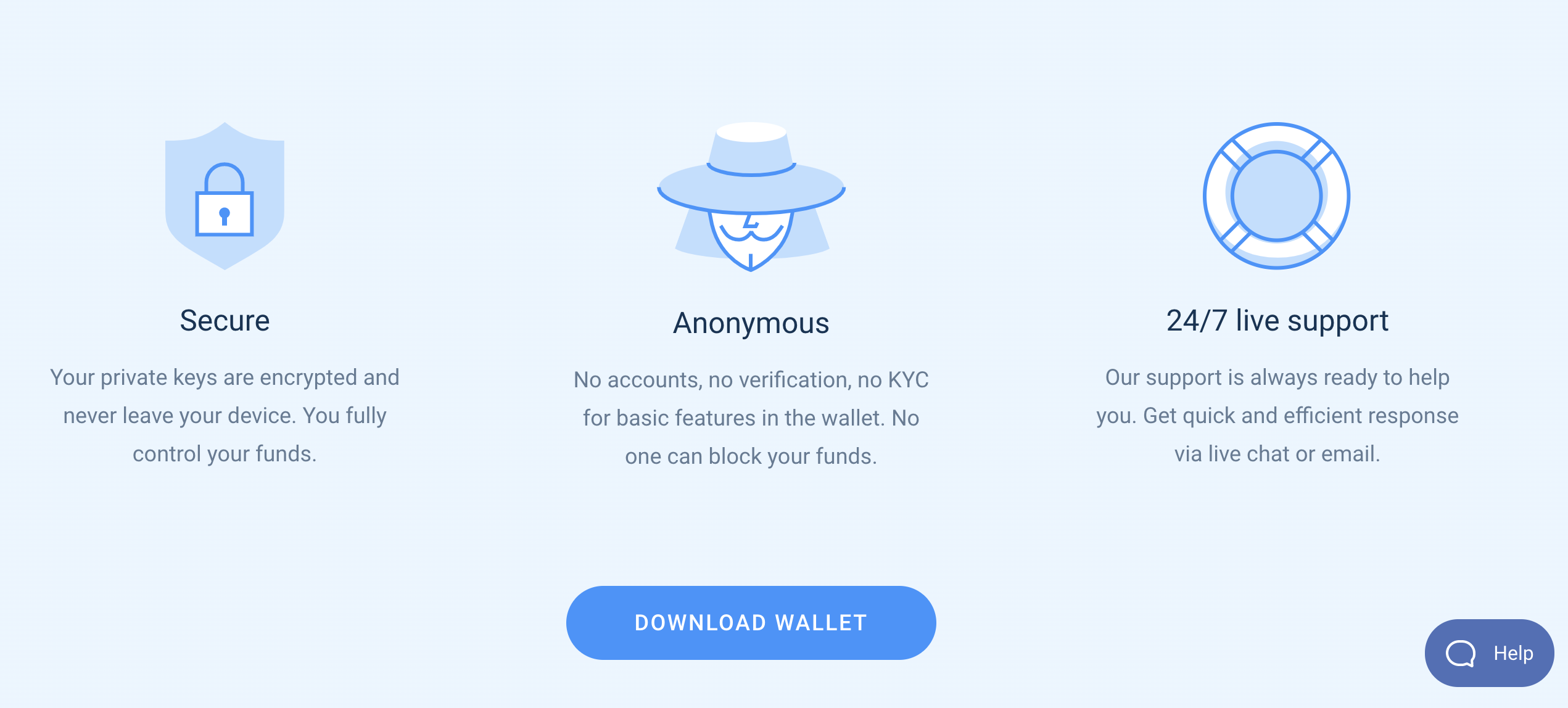 At the other end of the scale are the cold wallets like Atomic. In this case, all passwords and data are stored on the user's device rather than on any server. Put otherwise, you will not face the risk of losing funds via centralized services. Instead, the main risk is that you might end up misplacing your password, and backup phrases, or that these fall into the wrong hands.
Private Password and Backup Passphrase
While setting up your Atomic Wallet on your device, you will be invariably asked to create a password.
This is required for all purposes, such as to open the app, view the list of private keys, or confirm any transaction – essentially, serving as the primary protection.
Secondly, as this Atomic Wallet review pointed out earlier, you will also be given a 12-word passphrase when creating your account. This is necessary to gain access to your account in case you lose your password.
In such an event, you will be able to restore your wallet via the desktop version or mobile app using this seed key.
Non-Custodial
Being a cold wallet, our Atomic review found that this app also functions as a non-custodial storage solution for your crypto assets.
Meaning, you are the only one who has access to your private keys.
While this might appear to be a benefit, you should also understand that in the event you lose your password or backup passphrase, you have nowhere else to turn.
This is why we much prefer a custodial wallet that is offered by a regulated provider – as you get the best of both worlds. One such option in this respect is eToro – a wallet and an online brokerage that is regulated by the SEC, FCA, ASIC, and CySEC.
Encryption
When using Atomic Wallet, any data that is stored in your device that needs to be sent to the blockchains is fully encrypted. The software uses the AES symmetric algorithm and BitTorrent protocol to ensure utmost protection. The wallet also deploys the Transport Layer Security protocol to provide privacy integrity to any communication that takes place.
All that being said, the safety of your Atomic Wallet and funds ultimately lands in your hands. It is your responsibility to keep your password and private keys secure and make sure that the devices you use are free of any malware. If you do not want to go through this hassle, the easier alternative would be to use a wallet offered by a regulated broker like eToro.
Atomic Wallet Review – Fees
As we covered earlier, there are no fees when using Atomic Wallet to store your cryptocurrencies. But if you are taking advantage of its additional features, this will come at an extra charge:
Buying Digital Assets – Atomic Wallet charges a flat 2% commission for processing cryptocurrency purchases, with a minimum of $10 per transaction.
Debit/Credit Card Payments – If you are making a fiat currency payment to buy cryptocurrency, the fee depends on your credit/debit card company. This can go as high as 5%, or even more depending on your bank.
Sending and Receiving Cryptocurrencies – All transactions come with a fee that you pay to the specific blockchain network. Atomic Wallet, however, does not charge anything additional for facilitating this.
Staking Fees – Atomic Wallet charges staking fees for a selection of supported cryptocurrencies, such as ATOM, BAND, KMD, and TRX.
As is evident, our Atomic Wallet review reveals that the fees when using this software can easily add up if you are using the other supported features. Alternatively, you can also choose a low-cost, spread-only broker like eToro that comes integrated with a fully secure custodial wallet for your digital currencies.
Atomic Wallet Features and Tools
As we already mentioned several times in this Atomic Wallet review, this platform includes a few more features than being a mere storage option for your cryptocurrencies.
Send and Receive Cryptocurrencies
Sending and receiving cryptocurrencies via Atomic works like every other wallet out there. The only difference is that instead of accessing a web platform, you will be making transfers via the desktop software or mobile app.
As mentioned earlier in this review, Atomic offers support for over 500 digital tokens.
While some are listed by default, for others you might have to create a wallet manually by selecting the desired token.
Against each asset, you will be able to see the market value in fiat currency, portfolio percentage, market cap, and 7-day price movement.
Once you click on a specific cryptocurrency, you can choose to send or receive the coin, by scanning a QR code or by copying the address.
Buy Crypto
It is also possible to make direct purchases of cryptocurrencies via your Atomic Wallet. However, this service is provided by the third-party entity Simplex and comes with additional costs. Moreover, you cannot buy all the supported digital tokens. Instead, this feature is limited to prominent assets such as Bitcoin, Bitcoin Cash, Ethereum, Ripple, and a few others.

That said, you can use a wide range of fiat currencies to make purchases via credit/debit cards. All you need to do is go to your Atomic Wallet, find the desired digital asset you want to buy, and enter your payment details. However, the catch here is that this option requires you to provide some personal information and go through a phone/email verification.
In other words, the process of buying digital assets via Atomic Wallet is not entirely anonymous. As such, you might as well choose a regulated broker like eToro for this purpose, as the platform offers you a safe and regulated environment for making cryptocurrency purchases.
Exchange
While doing this Atomic Wallet review, we found that this wallet allows you to exchange one cryptocurrency for another. As with its other integrated services, you will need to do this via a third-party entity – Changelly or ChangeNow.
Cryptocurrency Staking
Our Atomic Wallet review found that this wallet is one of the few that offers integrated staking services to its users. That is, you can earn passive income on your digital assets simply by opting in for this functionality from within the application.
Currently, this feature is supported for the following cryptocurrencies:
Solana (SOL)
Zilliqa (ZIL)
Cardano (ADA)
Atomic Wallet Token (AWC)
Icon (ICX)
BAND Protocol (BAND)
Cosmos (ATOM)
Tezos (XTZ)
Tron (TRX)
NEO (NEO)
Komodo (KMD)
Algorand (ALGO)
Vechain (VET) & VTHO
It is important to note that the specifics of staking your cryptocurrencies – such as the annual yield, minimum requirements, and such varies widely based on your chosen digital asset. For instance, if you want to earn passive income after you buy Cardano, the rewards are calculated every five days, and you will receive an annual interest rate of 5%.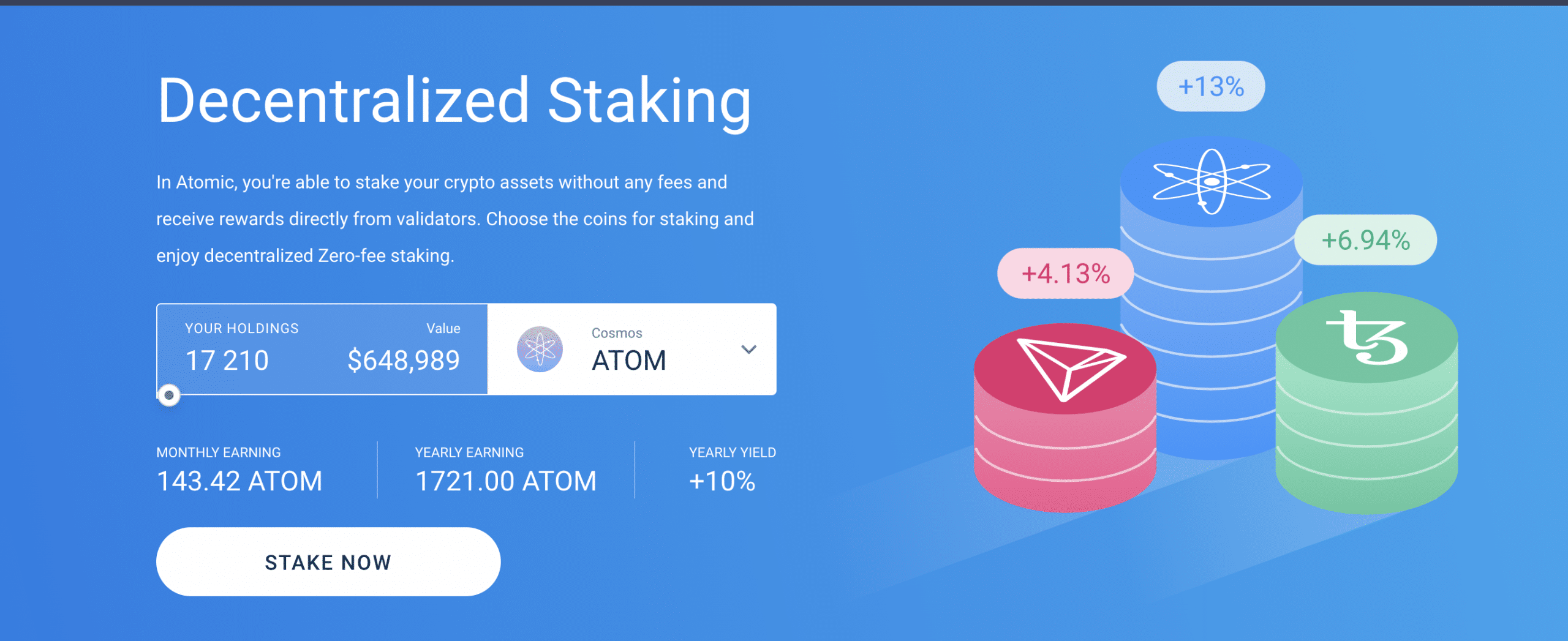 On the other hand, if you buy Tezos for staking purposes, the rewards will be deposited every 3 days, and the annual yield increases to 7%. This also depends on the chosen cryptocurrency whether or not you can withdraw the assets as needed.
Atomic Wallet Token
Our Atomic Wallet review found that this provider also has a native coin that serves as an international currency on the network. AWC is an ERC-20 token that can be purchased via the Binance DEX and IDEX exchanges. Alternatively, you can also receive AWC by participating in Airdrop, Affiliate or, Bounty campaigns.
Holding AWC in your wallet comes with several advantages, such as:
Discount on exchange fees
Discount on bank card transaction costs
Dedicated customer support
Affiliate, bounty, and stacking rewards
In addition to this, Atomic Wallet has also created a membership program based on the number of AWC tokens held by users. This allows you to earn cashback on all cryptocurrencies that you exchange through this platform.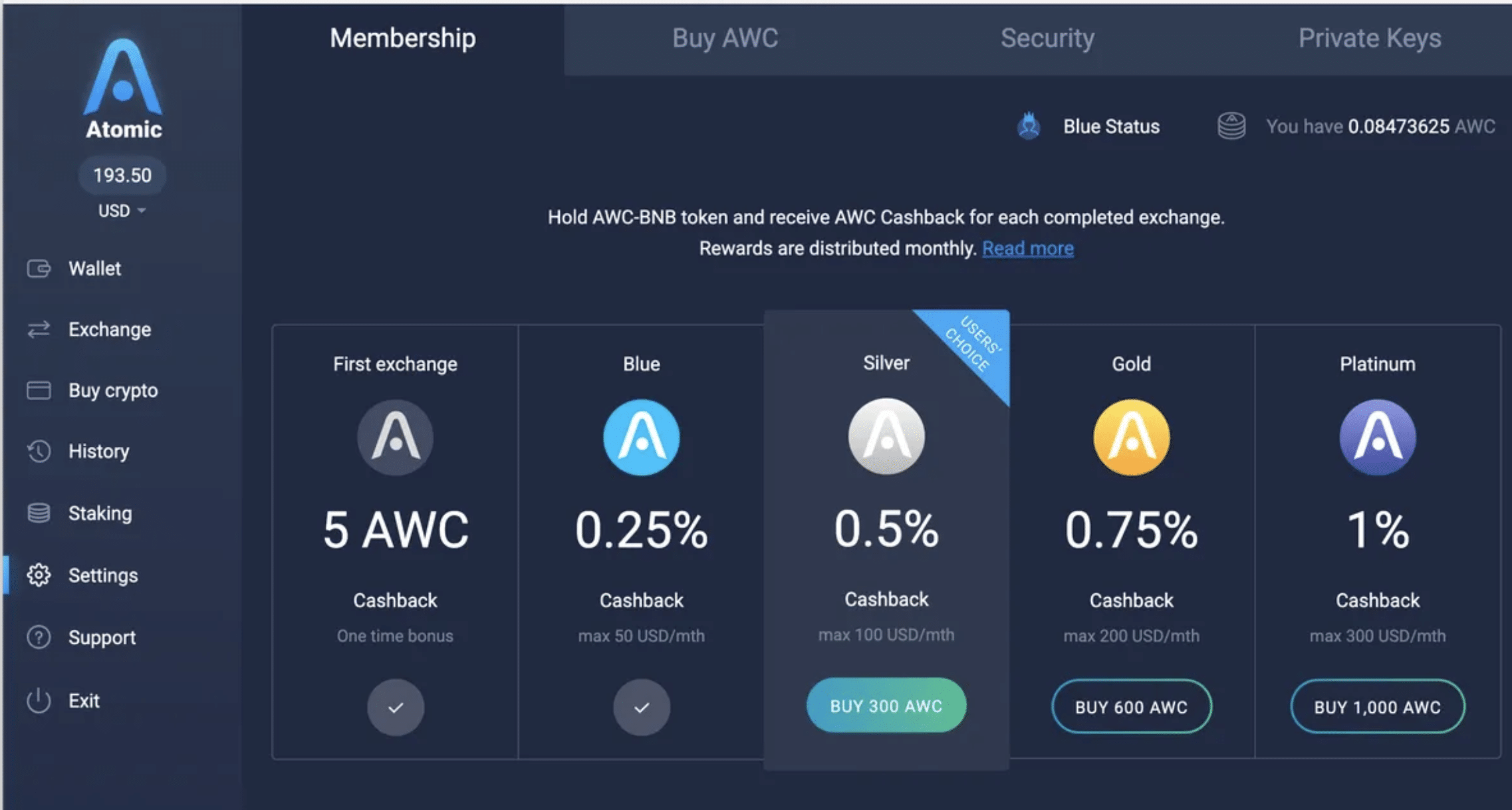 There are four different membership levels based:
Blue: Requires 100 AWC and gets you 0.25% cashback
Silver: Requires 300 AWC and rewards you with 0.5% cashback
Gold: Requires 600 AWC and gets you 0.75% cashback
Platinum: Over 1,000 AWC and 1% cashback
These rewards are calculated once a month and added to your balances within your wallet.
Atomic Wallet Mobile
Atomic Wallet also comes in the form of a mobile app that you can sync with the desktop software. It integrates all the same features and security controls while allowing you to gain access to your digital assets on the go. You can also set up additional layers of protection such as fingerprint/or facial recognition to log in to the app.
An additional option here is that you can connect your Atomic Wallet mobile app to third-party exchanges via a feature called WalletConnect. This allows you to trade your cryptocurrencies on Binance or Uniswap and store them directly in your Atomic Wallet.
Atomic Wallet Customer Support
Our Atomic Wallet review found that the provider offers several channels to gain support. This includes detailed guides on how you use the wallet, and information about the different features offered. You can also use the 'Academy', which comes with extensive guides and updates about the cryptocurrency markets.
If you want to reach out to customer support, you can do so via the live chat option featured on the Atomic Wallet website, or by sending a message directly from your mobile app. However, no matter which method you use, we urge you not to share the private keys of your wallet with any representative.
eToro vs Atomic Wallet – Comparison
Atomic Wallet indeed comes with several attractive features. However, this is not the only cryptocurrency storage solution available for you. In fact, if you are not sure whether this wallet fits your needs, it is well worth exploring what other options there are.
To help you with this, in this section of our Atomic Wallet review – we provide you with a comparison against that of eToro – while covering the aspects of security, and convenience.
Security and Regulation
Atomic is a software wallet that offers a decent level of protection to your digital assets. However, it is not as secure as a hardware device, nor does it give you the convenience of a hot storage option. Moreover, if you are to lose your password or private keys, you have no other way of accessing them again.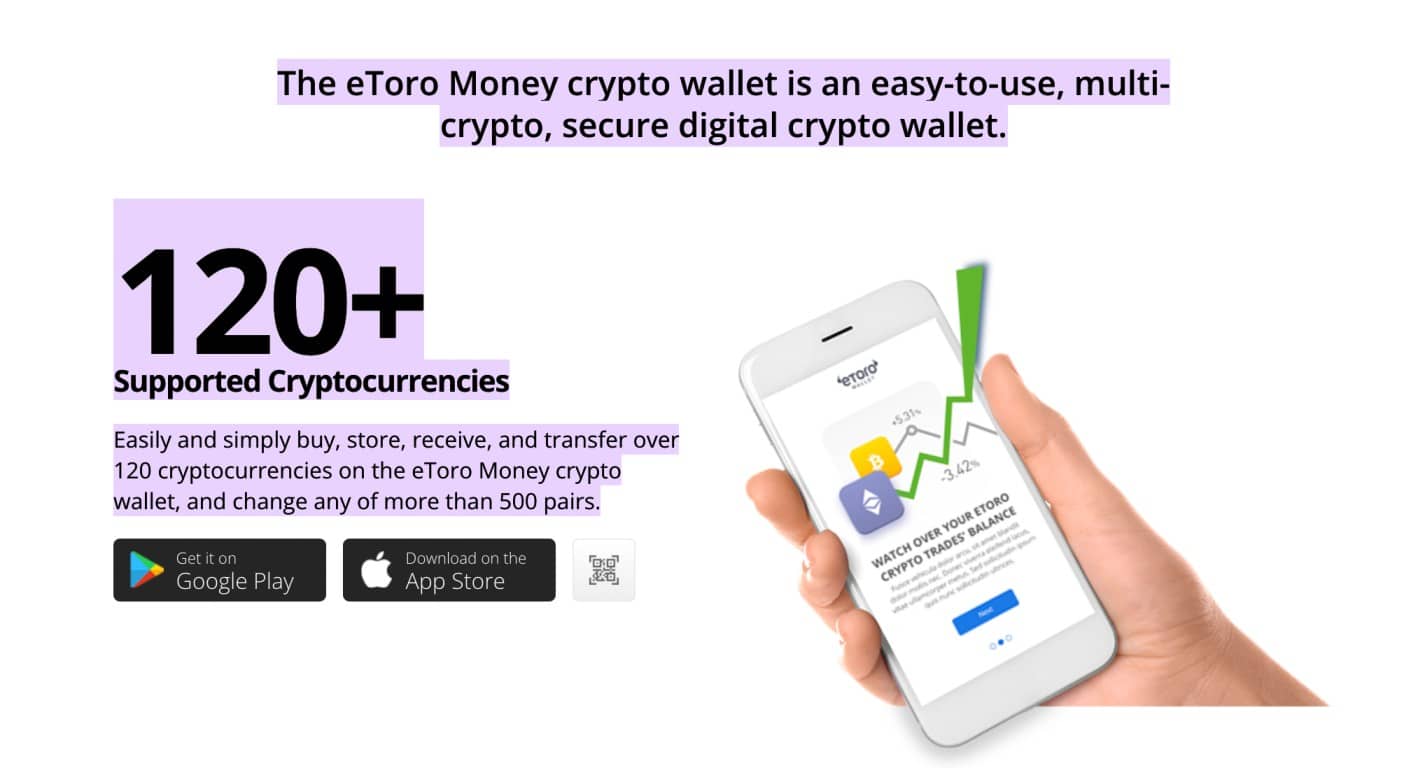 On the other hand, eToro is a regulated broker that is governed by multiple financial authorities in different jurisdictions. Along with this, the wallet app is also licensed by the GFSC. This offers numerous layers of protection, which you cannot find via an unregulated provider like Atomic.
Features and Tools
It is certainly advantageous that Atomic Wallet allows you to buy and exchange cryptocurrencies via its interface. However, this also comes with high transactional costs. In fact, if you are to purchase digital assets this way, you can expect to pay around 5% for using a debit or credit card.
In comparison, eToro allows you to buy, sell, and trade cryptocurrencies on a spread-only structure.
Moreover, if you are to use debit/credit cards on the platform, US clients do not have to pay any transaction fees at all.
Others who make deposits via non-USD currencies are charged an exchange rate, but this only costs 0.5%. Additionally, this broker also offers passive tools such as Copy Trading, which are well suited for beginners.
Convenience
Although Atomic wallet might offer better convenience than hardware storage options like Ledger, it still lacks the ease provided by eToro. For instance, if you are using this broker, you do not have to rely on any third-party platforms for cryptocurrency investment requirements. You can engage in trading digital assets, invest in them, and securely hold the tokens for the long term – all via a single app.

Moreover, as our Atomic review discussed earlier, the wallet does not allow you to cash out your cryptocurrency investments directly via the application. On eToro, however, you can do so by finding your chosen digital token in your portfolio and by clicking 'Sell.' You will then be able to withdraw the proceeds to your original payment method.
Atomic Wallet Review – Conclusion
Atomic Wallet is designed with security, amenity, and decentralization in mind. The app comes with a few advantageous features, such as the option to buy, sell, exchange, and stake cryptocurrencies directly. However, it is a software wallet – and the safety of your assets is dependent entirely upon you. If your password and backup phrase are to fall into the wrong hands, your funds will also be at threat.
Given these aspects, we would argue that there are better options in the market – such as the eToro mobile wallet. Not only is this wallet licensed by the GFSC, but the brokerage platform itself is regulated by the SEC, FCA, ASIC, and CySEC. In turn, this means that your cryptocurrencies are secure at all times, and you have direct access to the markets where you can invest in or trade digital assets on a spread-only basis.
eToro – Best Crypto Wallet for Safety and Features
FAQ
Has Atomic wallet ever been hacked?
What fees does Atomic Wallet charge?
What happens if you forget your Atomic Wallet password?
What coins does Atomic Wallet support?