Ledger Wallet Review – Is Ledger Nano Safe? Features and Security Explained
If you're currently holding a large amount of cryptocurrency and wish to store your digital wealth in the safest way possible – you might be considering a hardware wallet. At the forefront of this niche marketplace is the Ledger Nano, which has since sold over 3 million hardware wallet devices.
In this Ledger wallet review, we cover the nuts and bolts surrounding security features, fees, supported coins, user-friendliness, and more.
Recommended Crypto Wallet – eToro
What is Ledger Wallet?
Launched in 2014, Ledger is behind a popular cryptocurrency wallet that comes in the form of a hardware device. This is in stark contrast to the vast majority of wallets in this industry – which are either accessed via a mobile app or desktop software. But, in the case of Ledger, your digital tokens are stored on a physical device, and thus – this is by far the safest way to protect your funds from getting in the wrong hands.
Over the past seven years, the team at Ledger claims to have sold in excess of 3 million hardware devices across over 200 countries. This is a testament to the provider's reputation as the go-to wallet for first-grade security practices. In terms of the specifics, you will first need to purchase the Ledger wallet – which costs in the region of $150 per device.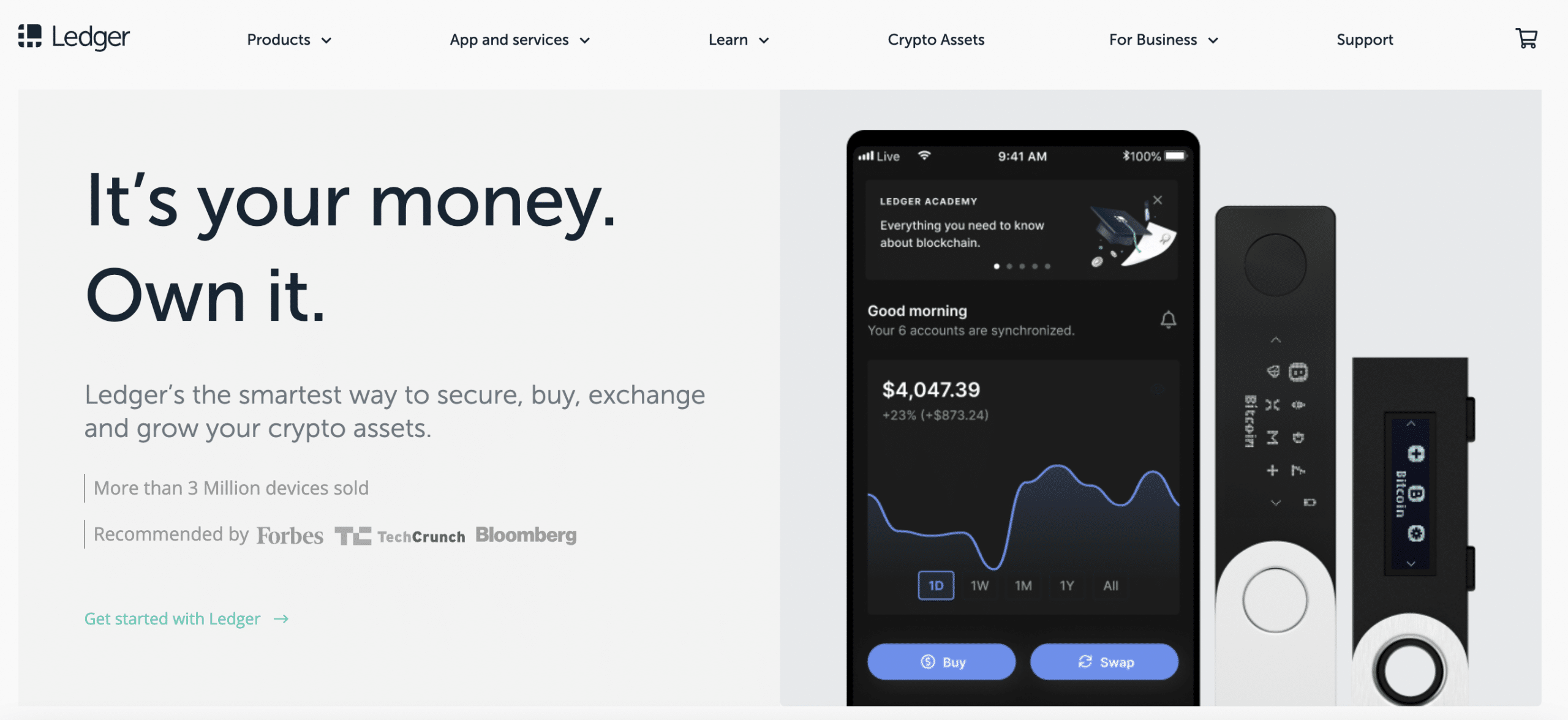 Once you receive the device, you will then need to set it up. This requires you to choose a PIN, which you will be required to enter every time you wish to transfer funds from the wallet. This acts as a major safeguard, as your Ledger device cannot be accessed remotely. which is how the vast majority of wallet hacks occur.
Furthermore, when you first set the wallet up, you will be shown a 12-word passphrase. This is to be used in the event that you forget your PIN or the wallet device is stolen. On the other hand, it must be noted that Ledger doesn't come without its flaws. At the forefront of this is a lack of convenience in terms of sending and receiving funds. After all, you need to have direct access to the device in order to engage in a transfer.
Ledger Wallet Pros and Cons
If you don't have time to read our Ledger wallet review in full – you will find an overview of our findings below.
Pros
Perhaps the most secure cryptocurrency wallet in the market
Backup passphrase ensures you can regain access to your wallet if the device is stolen
Good number of supported coins
Cons
Wallet costs in the region of $150
Inconvenient to send and receive funds
You are responsible for keeping your backup passphrase private
Exchange service is offered by third parties
Not as user-friendly as other wallets
No regulatory protection
Cryptoassets are highly volatile unregulated investment products. No EU investor protection. 67% of retail investor accounts lose money when trading CFDs with this provider.
Ledger Nano Supported Coins
When searching for the best waller for your personal needs, the first thing that you should check is the provider's list of supported coins. This is especially the case if you have a diversified portfolio of cryptocurrencies and you wish to store all of your digital tokens in a single location. Put simply, our Ledger review found that the wallet offers support for over 1,000 crypto assets.
Most importantly, not only does this cover the Bitcoin network, but dozens of other blockchains. For instance, with support for the Ethereum network, this means that you can use the Ledger wallet to store any ERC-20 and ERC-721 tokens.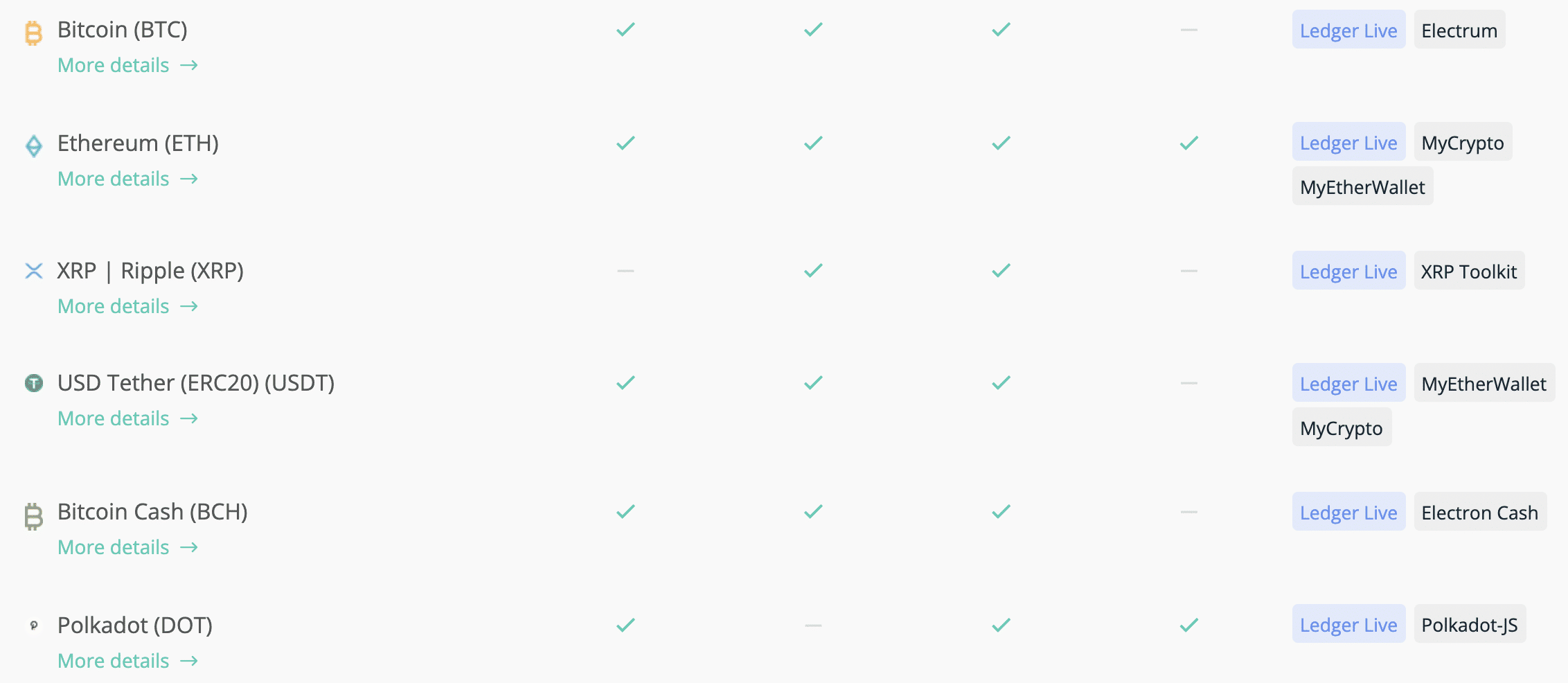 You can also use the Ledger wallet to store tokens that are built on the Binance smart chain. Other popular networks are supported too, so be sure to check this out for yourself to ensure your chosen token is compatible with Ledger before making a purchase.
How Does Ledger Nano Work?
Although we briefly explained how the device works earlier, this section of our Ledger wallet review will explain the basics in a bit more detail. After all, the Ledger Nano won't be suitable for everyone.
So, the first thing to remember is that the private keys associated with the Ledger wallet are stored on the device itself.
This means that nobody has access to your private keys other than you.
On the one hand, this is a major benefit, as you have 100% control over your crypto assets.
On the other hand, if something goes wrong and you need assistance to regain access to your wallet – Ledger as a company cannot help.
Nevertheless, due to the institutional-grade security features offered by the Ledger wallet, you should never be in a position where you need help accessing your funds. Once you receive the wallet device, you will be asked to enter a PIN. This needs to be at least four digits, albeit, you might consider making your PIN longer for added security.
If at any point you wish to transfer digital tokens from your Ledger to another wallet address, you will need to physically enter this PIN onto the device.
Now, you might be wondering what happens if you forget your PIN? Well, this is where the 12-word passphrase comes into play.
This is presented to you when you first set up your Ledger wallet and you will need to write this down.
It is absolutely crucial that you write the correct words and store the sheet of paper somewhere safe. This is because the 12-word passphrase is to be used in the event you forget your PIN or the device itself is stolen. If this does happen, you can recover your cryptocurrency funds remotely by entering the passphrase via the Ledger website or mobile app.
How Much Does Ledger Wallet Cost?
When you use a conventional mobile, desktop, or online wallet – there is very rarely a fee that needs to be paid. But, as you are ordering a physical device, the Ledger wallet does, of course, come at a cost. Although this can vary depending on your location, our Ledger wallet review found this to average $150.
Now, it goes without saying that spending $150 on a cryptocurrency wallet is only a wise move if you have, or plan to have, a portfolio of digital tokens that is worth a lot of money. But, if you're simply looking to dabble in cryptocurrency with a few dollars here and there – other options are likely to be more suitable.
Buy Direct From Ledger Nano
If you know where to look, there is every chance that you will come across an online provider offering the Ledger wallet at a lower price. However, we strongly urge you to avoid buying the Ledger from a third-party provider. This is because there is every chance that the provider is illegitimate and thus – has tampered with the device.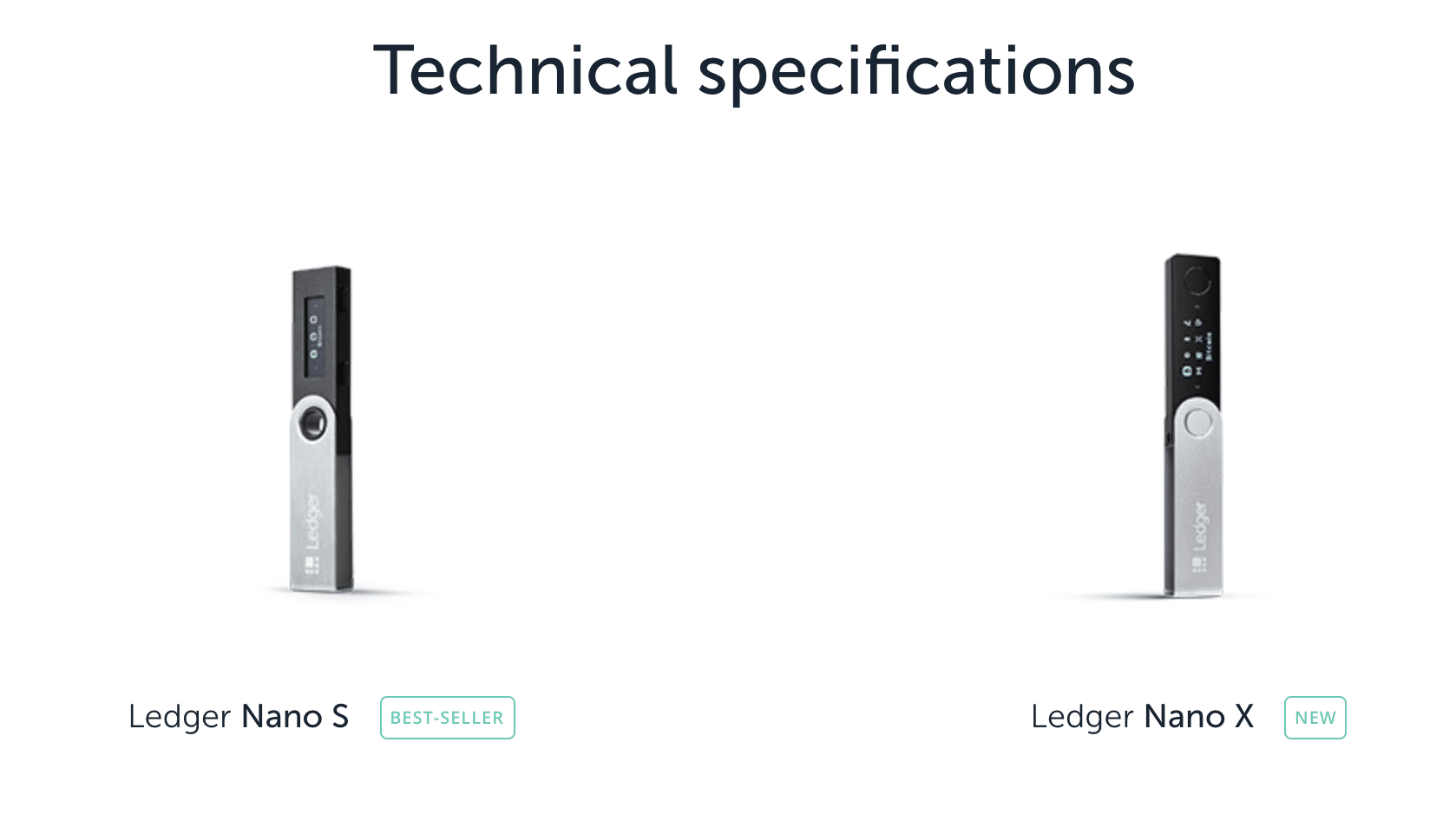 If this is the case, they will essentially have access to your Ledger private keys. Then, it's just a case of the provider waiting for you to fund the wallet, before stealing your crypto assets. As a result, if you do want to buy the Ledger wallet, make sure you only order it through the official website.
Is Ledger Nano Safe?
If you're thinking about buying the Ledger wallet, then it's likely that you're primary reason for doing so is with regards to safety. With this in mind, this section of our Ledger wallet review will outline each and every security tool that will ensure your crypto assets are kept safe.
Cold Storage
In the cryptocurrency arena, there are essentially two types of wallets that you can use – hot and cold. The vast majority of people use hot wallets, as this offers the highest levels of convenience. This simply means that the digital tokens are always connected to live servers and thus – you can send and receive crypto at the click of a button.
On the other hand, the Ledger device that you buy will come in the form of a cold wallet. This operates in stark contrast to a hot wallet, as the device is never connected to live servers. As a result, this makes it virtually impossible for a hacker to access your wallet's private keys remotely. This is one of the many reasons why Ledger is considered the gold standard in wallet security.
Non-Custodial
Leading on from the above section, our Ledger wallet review also found that the device offers a non-custodial service. In a nutshell, this means that you are the only person that has access to the wallet's private keys. This is both a blessing and a curse.
On the one hand, you are not required to trust a third-party entity to keep your private keys safe like you would with a custodial wallet.
However, taking full responsibility of your private keys, means that you will have nowhere to turn if your wallet is hacked.
This is why we much prefer a custodial wallet that is offered by a regulated provider – as you get the best of both worlds. One such option in this respect is eToro – a wallet provider and online brokerage that is regulated by the SEC, FCA, ASIC, and CySEC.
Physical PIN
As we have noted several times in this Ledger wallet review, when you first receive the device you will be required to enter your chosen PIN. Much like an ATM card, the only way that you can authorize a transaction from your Ledger wallet is to physically enter the PIN onto the device.
Once again, this makes it virtually impossible for a remote hacker to access your funds. Not only would they need to know what your PIN is, but they would need to actually have the Ledger device to enter it. Plus, as the Ledger device is a cold wallet, remote attacks wouldn't be possible anyway.
Backup Passphrase
Like most wallets in the cryptocurrency industry, you will be provided with a backup passphrase as soon as you set the Ledger up. This will consist of 12 words from the English language and are completely randomized – ensuring that the company behind Ledger has no way of knowing what combination will be generated.
The purpose of this 12-word passphrase is that it will allow you to regain access to your Ledger wallet in the event that you:
Forget your PIN
Damage the device
Have the device stolen
Lose the device
If any of the above circumstances come into play, you can easily recover your Ledger wallet funds remotely. This means that you do not need to purchase another device to do this, as you can regain access via a software wallet. All you would need to do is import your 12-word passphrase into the new wallet when setting it up – which can be done via a mobile app, online, or desktop software.
Time Delay Feature
Our Ledger wallet review found that the device's time delay feature is arguably the most notable security tool offered by the provider. In its most basic form, if you enter your PIN incorrectly, you will need to wait a few seconds before you try again. Then, if the PIN is again entered incorrectly, the time delay will double. This will happen on each occasion until the correct PIN is used.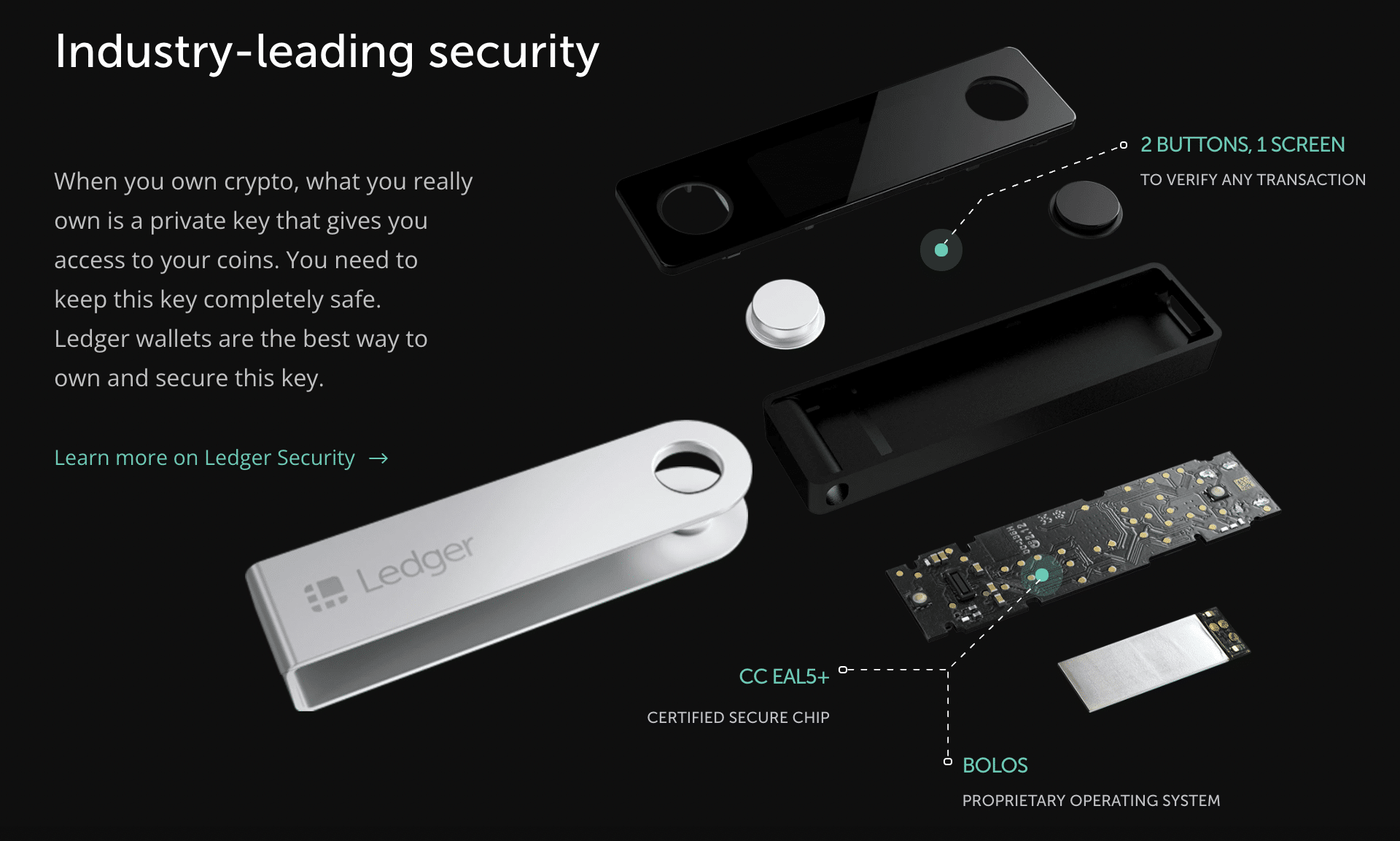 The reason that this is such a solid safeguard is that if your Ledger device is stolen, the thief would only get a certain number of attempts before the time delay is significant. After all, as the time delay doubles on each attempt, this will quickly move into hours and even days between each incorrect guess. And, as this is happening, you would have ample time to recover your Ledger wallet funds remotely.
Ledger Wallet Fees
The main Ledger fee that you need to consider is the cost of the device. As noted earlier, this averages $150 but can vary depending on your location. In terms of transferring funds from your Ledger wallet, you simply need to cover the respective blockchain network fee. If utilizing the 'buy crypto' or 'exchange' services, fees will also apply – which we discuss further down.
Ledger Nano Features and Tools
Although the primary purpose of the wallet is to keep your crypto assets safe, our Ledger review found that the provider offers a number of alternative features and tools that may be of interest.
Send and Receive Funds
It goes without saying that the Ledger allows you to send and receive funds. However, the process is a bit more cumbersome in comparison to a mobile or desktop wallet.
Here's what you need to do when sending funds via your Ledger device:
First, connect your Ledger device to a desktop computer or laptop by inserting it into the USB socket
To confirm that you are the rightful owner of the wallet, you will be asked to enter your PIN
Open Ledger Live via the desktop software or mobile app
Select the crypto asset you wish to send along with the number of tokens
Enter the wallet address that you wish to send the funds to
Confirm the transaction
As you can see from the above, unless you have access to the Ledger device, you won't be able to send any funds. Now, while this might not be an issue for some of you, think about an occasion where you might cash out a specific cryptocurrency because its price is tanking. If this were to be the case and you were away from the device, you would need to wait until you got home.
By the time this happens, the respective coin might have dropped by a significant amount. Our Ledger review found that this is one of the biggest drawbacks of a hardware wallet. On the other hand, if you were to use the eToro wallet – which is regulated by the Gibraltar Financial Services Commission, all you would need to do is open the app and elect to sell the token. In doing so, eToro would instantly sell the token in real-time.
In terms of how to receive funds, the process is fairly similar to the sending procedure.
You will need to log into your Ledger Live account via the app or desktop software
Search for the coin that you wish to receive
Copy the wallet address to your clipboard or take a photo of the QR code with your phone
Head over to the location that the funds are located and transfer the tokens to the respective wallet address
All in all, the process of performing transition via the Ledger wallet is tedious. With this in mind, the wallet is only going to be suitable for those that wish to safely store crypto for a long period of time. If you think that you are going to be more active in terms of buying, selling, and trading crypto, you will be much more suited for a secure mobile wallet.
Buy Crypto
When conducting our Ledger review, we were somewhat surprised to see that the wallet provider allows you to buy crypto. However, upon further exploration, we found that Ledger uses a number of third-party providers for this purpose. As such, you won't be purchasing your chosen crypto directly from Ledger.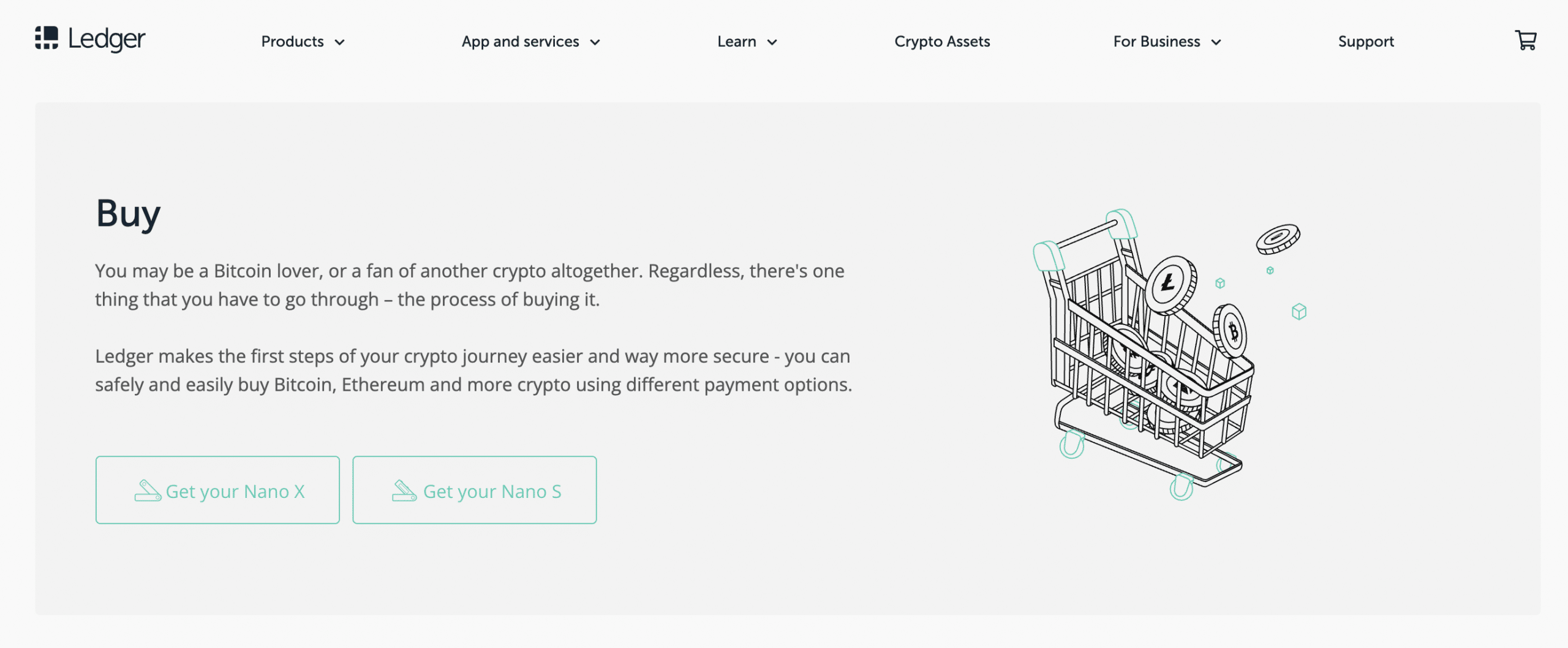 Nevertheless, at the time of writing, Ledger allows you to buy 25 different cryptocurrencies. This mainly focuses on large-cap projects like Bitcoin, Ethereum, Tether, Litecoin, and Bitcoin Cash. With that said, Ledger also supports purchases for a number of DeFi tokens like Compound, Chainlink, Celsius, and Wrapped Bitcoin.
By buying crypto via Ledger Live, you will be able to use fiat currency payment methods, such as a debit/credit card.
You will, however, need to go through a KYC (Know Your Customer) process with the respective third-party provider.
Once the transaction is processed, the digital tokens that you have purchased will be added straight to your Ledger wallet for added convenience.
However, the main drawback with this feature is that the fees are extortionate. For example, Ledger explains that when choosing Coinify as your selected third-party payment provider, you will pay a whopping 4.5% to use a credit/debit card and 1.7% on bank transfers.
In comparison, you can buy crypto at regulated broker eToro on a spread-only basis and if funding your account in US dollars, no transaction fees apply. There is a very competitive FX fee on deposits at eToro for all other currencies.
If you're looking for a way to make some extra money, look no further than crypto staking! Our list of the best crypto staking platforms will help you get started.
Exchange
Our Ledger review found that the provider also allows you to exchange cryptocurrencies with ease. However, once again, you will need to go through a third party to complete the transaction. In terms of fees, this appears to vary depending on the provider you select and the coins being exchanged.
Looking to get into the cryptocurrency game? Check out our list of the best crypto exchanges. With options for every budget and skill level, you can be sure to find the right exchange for you. So what are you waiting for? Start trading today!
Ledger Wallet Customer Support
If you need assistance with your Ledger wallet, you can send a support request via your online account. The team notes that it works Monday to Friday between the hours of 09 AM – 17 PM (CET). It is important to note that there are a number of scams in the online space that claim to offer customer support for Ledger.
In particular, you might find that a telephone number or live chat feature is offered. This is all-but-certain to be a scam, whereby the so-called support service will look to collect information about your wallet's private key.
eToro vs Ledger – Comparison
If you're still not 100% sure that the Ledger device is right for your cryptocurrency storage needs, it is well worth doing a bit more research to see if a better option exists.
For instance, you might find that a regulated provider like eToro is a better fit for your goals – which offers both an online and mobile wallet service. We have explained the core differences between Ledger and eToro in the sections below so that you can make an informed decision.
Security and Regulation
It goes without saying that hardware wallets like Ledger offer the most secure way of storing cryptocurrency funds. However, you need to remember that the wallet provider is not authorized or regulated by any notable body. This means that essentially – you need to trust that the Ledger wallet is bulletproof enough to keep your crypto funds away from hackers.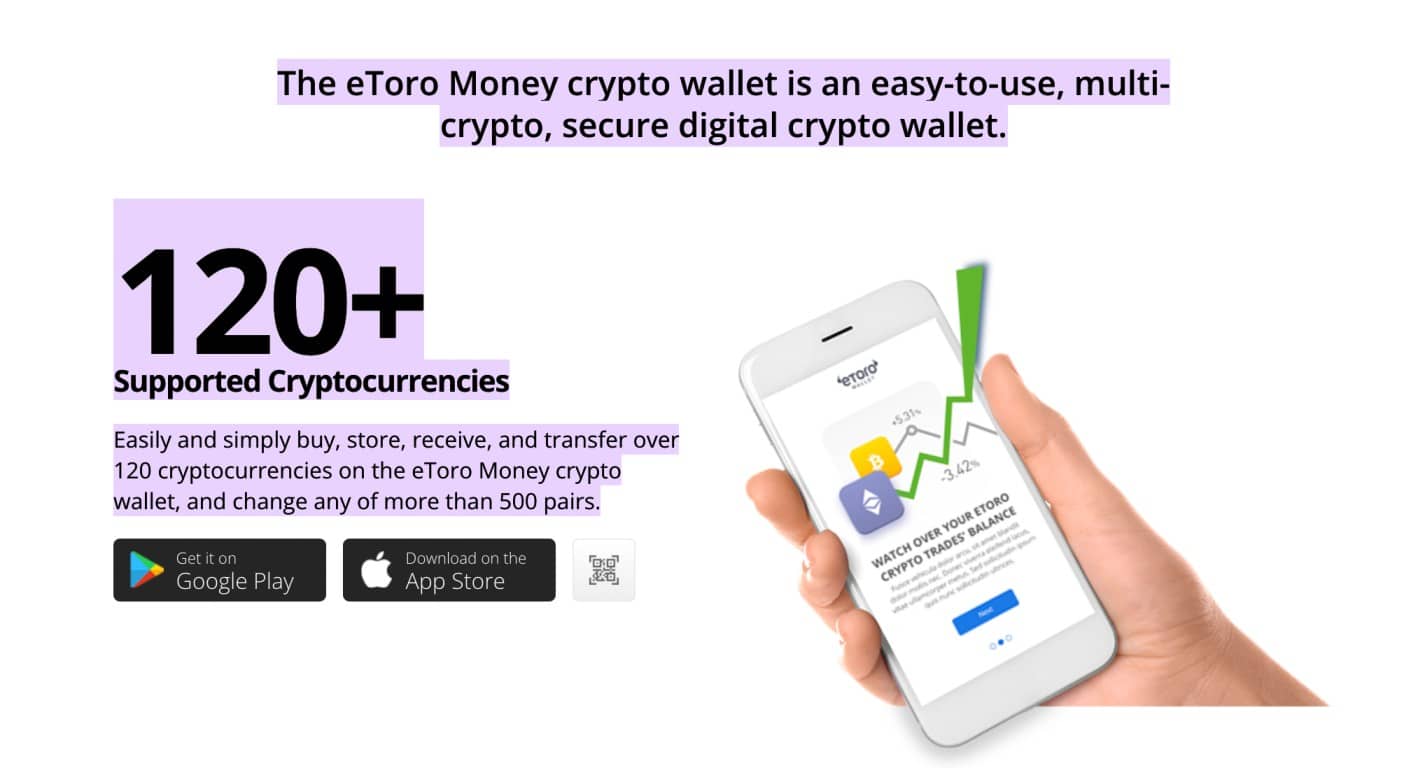 In contrast, eToro is a regulated brokerage that holds licenses with the FCA, SEC, ASIC, and CySEC. The eToro wallet app itself is also regulated by the GFSC. This adds a major layer of security not only on your cryptocurrency tokens, but any fiat money that you decide to deposit into the broker.
Features and Tools
On the one hand, it is notable that Ledger allows you to buy crypto with fiat money and even exchange tokens. But, these services are not provided by Ledger itself. On the contrary, you need to go through a third-party entity.
This will result in huge transaction fees, with debit/credit card and bank transfer deposits costing 4.5% and 1.7% respectively.
At eToro – the online broker is regulated, so you can purchase crypto directly from the provider.
Best of all, you will only pay 0.5% to deposit funds with a debit/credit card, bank wire, or e-wallet – and nothing if you are a US client.
An additional feature offered by eToro is the Copy Trading tool. This allows you to copy an eToro trader like-for-like – subsequently paving the way for a passive investment experience.
Convenience
The most present drawback that our Ledger wallet review discovered is in terms of convenience. For example – let's say that you are currently holding some Dogecoin tokens that you wish to sell. You would first need to physically plug the Ledger wallet into your laptop or computer, enter your PIN, and transfer the tokens to an exchange that supports fiat money. This is both time-consuming and cumbersome.

The same process of cashing out on the eToro wallet app would take a matter of seconds. You would simply need to open the app and click on the 'Sell' button next to the token you wish to offload. Then, the proceeds from the sale would instantly be added to your eToro cash balance – which you can then withdraw.
Ledger Wallet Review – Conclusion
In conclusion, it is clear to see why the Ledger wallet is viewed as the gold standard for secure cryptocurrency storage. However, although the wallet offers a number of solid safety features, we would argue that there are better options in the market. At the forefront of this is the eToro mobile wallet – which is both convenient and secure.
Not only is the eToro wallet licensed by the GFSC – but the brokerage site itself is regulated by the SEC, FCA, ASIC, and CySEC. Your crypto assets will remain safe at all times, and you can buy, sell, and trade digital tokens at the click of a button. Plus, fees are super low, with the eToro wallet allowing you to buy crypto on a spread-only basis.
eToro – Best Crypto Wallet for Safety and Features
FAQ
Has Ledger wallet ever been hacked?
What fees does Ledger wallet charge?
What happens if you forget your Ledger wallet PIN?
What coins does Ledger support?