Best Crypto Staking Platforms – Top 5 Crypto Staking Sites Compared
Proof-of-stake (PoS) blockchains have been generating much buzz in the last few years for several reasons. This includes Some of these border on the algorithm's more temperate energy demands and the cost differential between it and ancient consensus algorithms like proof-of-work (PoW) favored by Bitcoin.
However, one of the lesser talked about benefits of using PoS-based blockchains is crypto staking. The sub-sector boasts of over $82 billion in total value locked (TVL), with several more investors coming into the space. Crypto staking has played a role in the wholesome embrace of DeFi, and as of January 2022, over $23 billion worth of digital assets were invested in several crypto staking sites.
With the huge market demand, it is only justifiable that we present the best crypto staking sites where you can turn a reasonable profit from just putting your crypto holdings to work.
#1 Crypto Staking Site – AQRU
Best Crypto Staking Sites – Quick Pick
Here's our list of the top five best crypto staking sites to sign up on.
AQRU – Overall Best Crypto Staking Platform in 2022
eToro – Excellent Crypto Staking Platform to Generate Passive Income

Binance – Top Staking Platform With Large Staking Crypto Repository
Coinbase – Best US Platform For Staking Crypto
Kucoin – Great Platform For Staking Crypto
Poloniex – Good Platform For Crypto Staking

What is Staking Crypto?
In simple terms, staking crypto is a great way to generate passive income by locking up or holding your crypto asset in a cryptocurrency wallet for a specified time. This sees you support transactions as a designated validator and strengthen the underlying blockchain network.
The blockchain platform incentivizes stakers by rewarding them with more digital tokens based on how many "coins" they locked up. Some of these returns are in thousands which can be a cool way of making money without bothering yourself on trading or mining cryptocurrencies.
Staking crypto can be very difficult if you decide to go rodeo as you will need to have the technical know-how and run validator nodes. However, several crypto staking sites now offer an easy route to make passive income on your crypto holdings, and we review the best crypto staking platforms below, starting with our top pick, eToro.
5 Best Crypto Staking Platforms
1. AQRU – Overall Best Crypto Staking Platform in 2022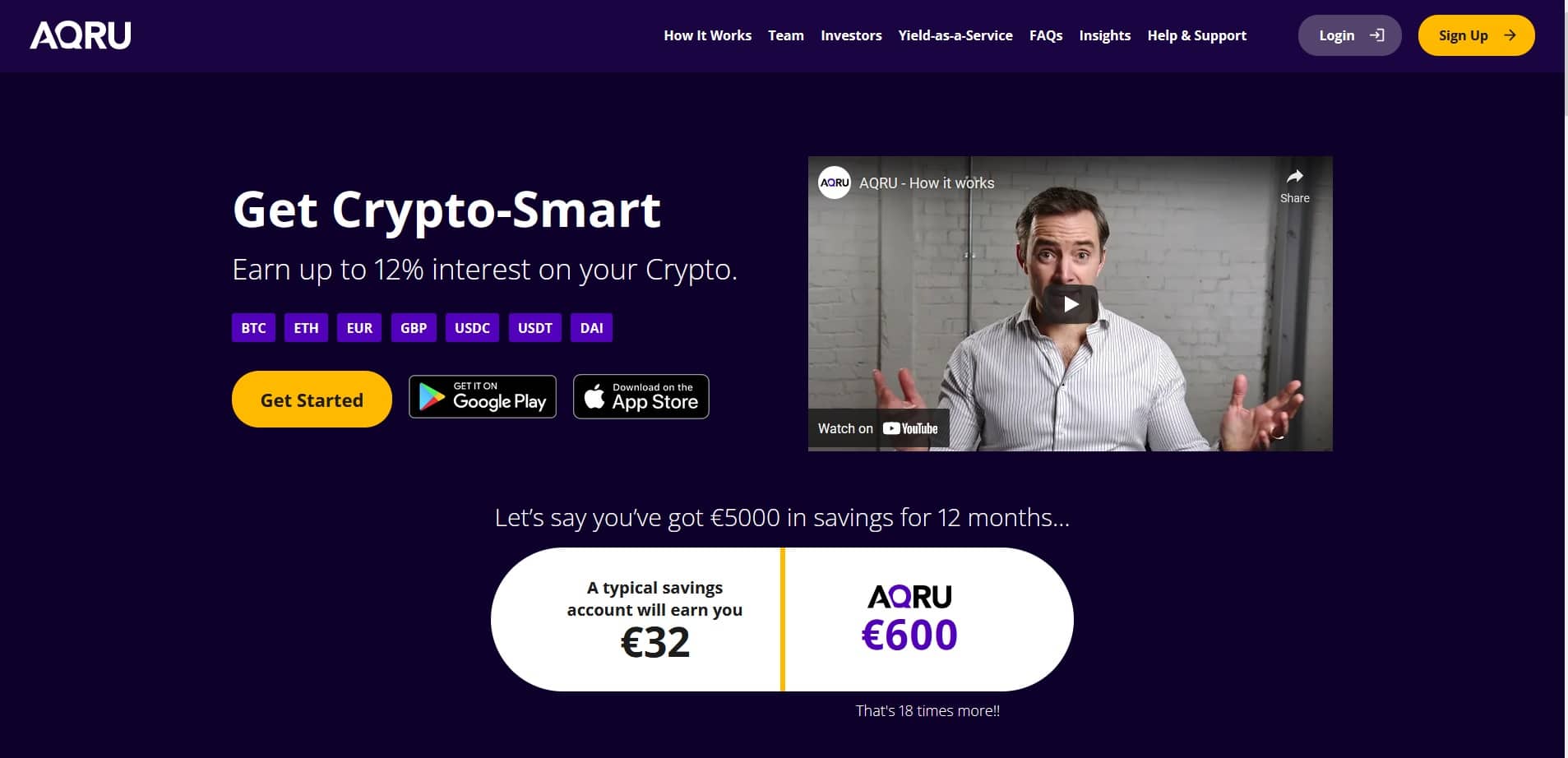 Introducing AQRU: the ultimate platform for cryptocurrency staking and investing. With access to Bitcoin, Ether, and three stablecoins — USDT, USDC, and DAI — you can easily convert your money into a valuable cryptocurrency asset. Plus, AQRU's curated product selection offers interest in your investment.
AQRU is the best crypto staking platform for anyone looking to safely and profitably store their cryptocurrency holdings. The platform offers interest rates of up to 12% simply for keeping your assets safe and makes it easy for investors of all levels to track their earnings in real-time.
With interest rates of 12% on stablecoins and 7% on Ethereum and Bitcoin, AQRU is the perfect place to park your money and let it work for you.
AQRU was created to provide the ultimate security for your virtual assets. Using Fireblocks, the leading wallet infrastructure provider, and a $30 million insurance policy, AQRU ensures that your assets are always safe.
The world of finance can be a confusing place. But with AQRU, you can trust that your money is safe and secure. This regulated cryptoasset provider is registered in Lithuania, so you know your investment is in good hands.
There is no fee for fiat withdrawals when withdrawing funds from AQRU, but there is a $20 fee for crypto withdrawals. Just choose the asset you want to withdraw, and AQRU will take care of the rest.
Furthermore, AQRU is the best crypto exchange for anyone looking to make fast and easy exchanges. With a 0.5% fee, AQRU is one of the most affordable platforms around. Whether you're swapping fiat for crypto, or vice versa, AQRU makes it simple and affordable to get the best rates possible. And with free fiat withdrawals, it's the perfect choice for investors of all levels.
Plus, AQRU's expert team makes managing your digital assets easy and jargon-free. So sign up today and start profiting from your cryptos and stablecoins!
Pros
Earn up to 12% interest on your holdings
Monitor your earnings in real-time
Your virtual assets are insured up to $30 million
Make money while you sleep!
Never worry about the safety of your investments again
Cons
Currently only supports two cryptocurrencies and three stablecoins
Not available in the US
67% of all retail investor accounts lose money when trading CFDs with this provider.
2. eToro – Excellent Crypto Staking Platform to Generate Passive Income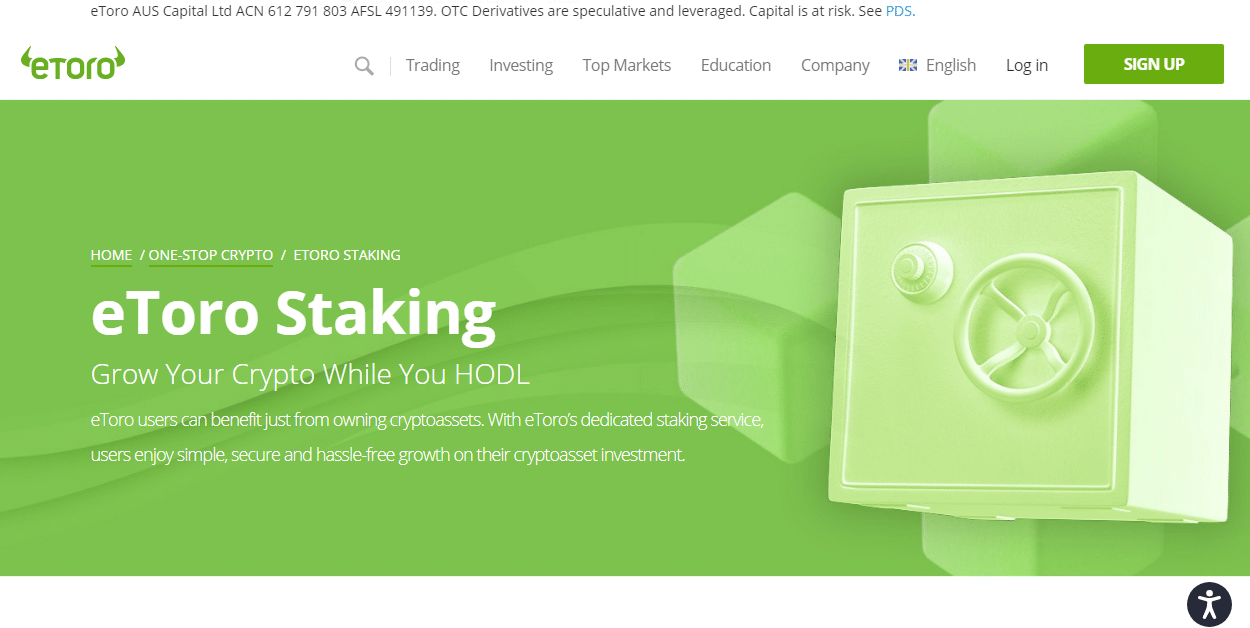 eToro is our No 2 pick for the best crypto staking platforms to sign up on. The platform is quite popular in the financial space where it serves over 20 million users worldwide. The social trading platform has evolved with the times adding support for cryptocurrencies following popular demand from investors. Aside from enabling users to invest in cryptocurrencies, eToro also offers users a way to generate passive income by just holding and staking their digital assets.
The platform offers world-class staking crypto services, addressing popular pain points such as security concerns, enabling users to generate high interests and do so in a hassle-free manner. eToro pays users rewards every month without completing any other task aside from locking up their crypto for a particular period.
As regards security, eToro is one of the safest places to keep your cryptocurrencies. Aside from being regulated by the UK's FCA, CySEC, ASIC, and FinCEN, eToro is also supervised by the Guernsey Financial Services Commission (GFSC). This ensures that your crypto holdings and personal details are safe.
Per supported cryptocurrencies, you can stake crypto of two different digital assets, including Cardano (ADA) and Tron (TRX). eToro offers a dynamic reward system based on an investors' staking ability.
Users are rewarded based on their eToro club membership as they receive earnings commensurate to their percentage yield. Presently, there is bronze, silver, gold, platinum, and platinum+ memberships.
Platinum+ members keep more of their monthly staking yield, retaining 90% of their yields from their staked crypto holdings. eToro is one of the most reliable crypto staking platforms, and we strongly recommend using the platform to increase your earnings.
Pros
Heavily regulated by top bodies
User-friendly and easy-to-use
High paying rewards for staking crypto
Offers support for multiple asset class
Home to over 20 million users globally
Top-performer in the social trading niche
Cons
Supports only two digital assets for now
67% of all retail investor accounts lose money when trading CFDs with this provider.
3. Binance – Top Staking Crypto Platform With Large Repository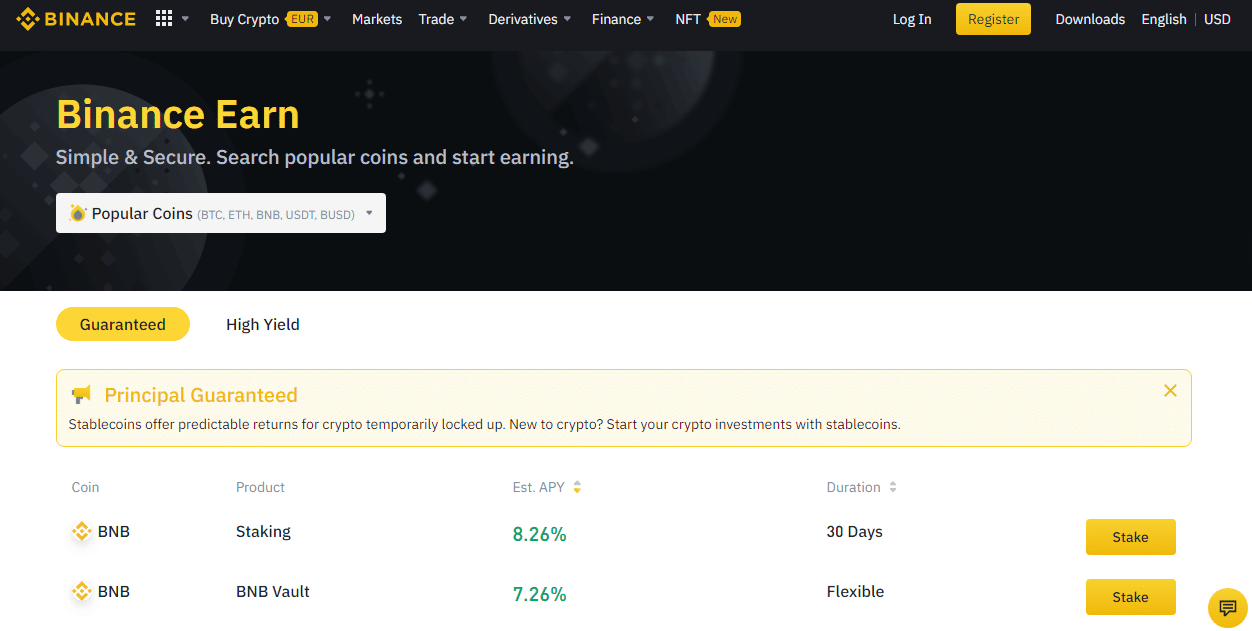 Binance is the world's largest crypto exchange by trading volume and one of the best crypto staking sites to generate passive income. Although the Bitcoin exchange only started in 2017, it has built a reputation as a top destination for everything crypto and is a well-proven and time-tested financial services provider in the blockchain space.
Binance has fleshed out an entire ecosystem, temporarily offering tokenized securities of popular stocks like Tesla and Coinbase before discontinuing the program.
To help users make more money, Binance introduced the Binance Earn program, where a flurry of income-generating services is on offer.
Users can choose between a flexible savings plan and a fixed or locked savings plan. Broken down further, there are guaranteed savings and high-yield yet high risks savings. Users can also participate directly in DeFi staking like Eth 2.0 staking.
As per percentages, this varies greatly depending on the digital asset you choose to stake on. However, we have noticed that newer crypto assets generate higher returns than established crypto brands like Bitcoin, BNB, and ETH.
For instance, Binance pays 45.79% for popular gaming token CHR while it rewards users 8.29% for Binance Coin in DeFi staking. Binance has the largest pool of digital assets for staking crypto, with hundreds of large and small-cap cryptocurrencies with hundreds spread across the platform's several staking pools.
Most popular cryptocurrencies and altcoins are supported on the Binance exchange You can stake as much as 100 different digital assets on the Binance platform.
In terms of security, Binance is one of the safest crypto staking platforms you can come across. User funds are protected by the Secure Asset Fund for Users (SAFU), and 10% of all trading fees on the crypto exchange are used as insurance coverage in the event of a major hack.
Pros
Large pool for staking crypto
Multiple earnings on offer with varying interests rate
Secure crypto staking sites
Insurance coverage for user funds
Cons
Not regulated
Varying interests for digital assets
67% of all retail investor accounts lose money when trading CFDs with this provider.
4. Coinbase – Best Staking Crypto Platform USA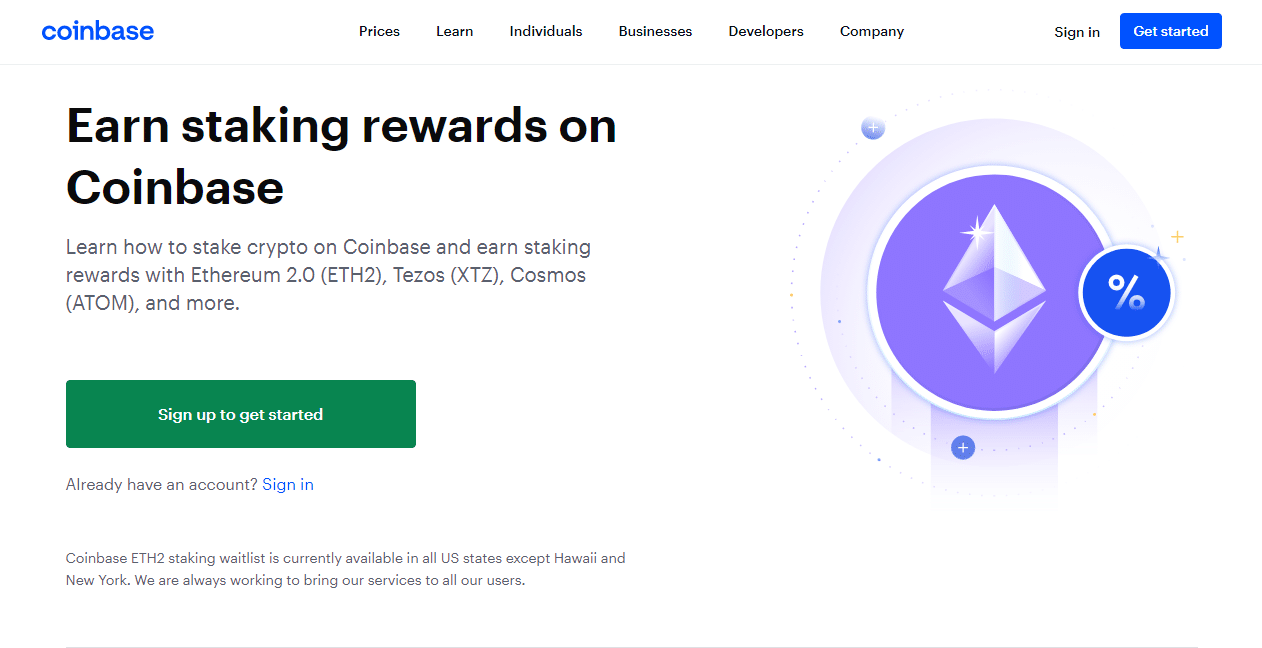 Coinbase is a top US crypto exchange that went public this year. The Bitcoin exchange founded in 2012 by Brian Armstrong has played a pivotal role in the growing mass adoption of cryptocurrencies. Its public listing was seen as a triumph for the emerging industry.
Coinbase allows US crypto investors to trade cryptocurrencies through its highly intuitive and user-friendly platform.
Like several best crypto staking sites we have reviewed previously, Coinbase offers a means for users to generate extra income by just holding their cryptocurrencies via staking.
The exchange helps users run nodes, sync them to the blockchain and meet the volume margin for staking. It enables users to sit back and earn rewards proportional to the number of coins they have staked.
However, only a few cryptocurrencies are eligible for staking on the platform for now. These include Algorand, Cosmos, Ethereum, Dai, USDC, and Tezos.
The annual percentage yield (APY) is split, with Ethereum and Cosmos' 5% APY being the largest. Tezos is next with 4.63%, Algorand with 4%, Dai with 2%, and you will earn 0.15% for staking your USDC stablecoins. Coinbase charges a whopping 25% commission for its staking crypto services, which can erode your gains.
Pros
User-friendly and intuitive platform
Offers custodial services for large institutions
Public company reflecting that it is regulated
A good library of eligible crypto up for staking
Cons
Expensive staking fees
Few crypto assets for staking
67% of all retail investor accounts lose money when trading CFDs with this provider.
5. Kucoin – Great Platform For Staking Crypto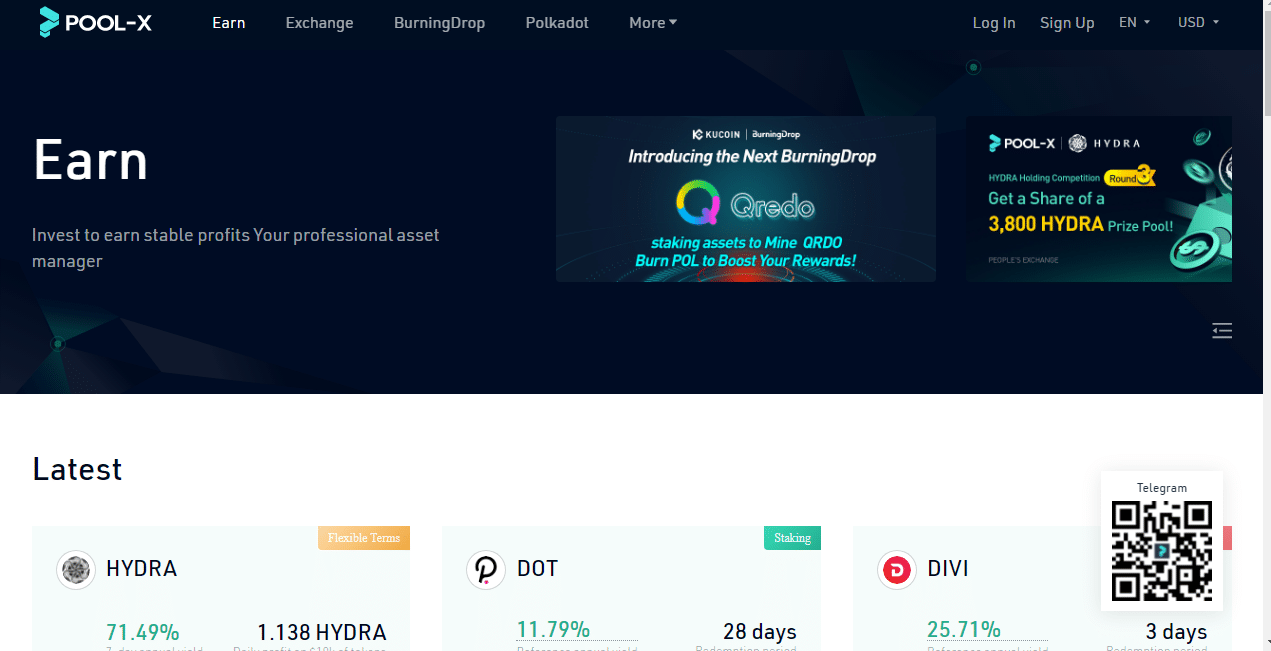 Kucoin was founded in 2017 and has become one of the best crypto staking sites in the world. Kucoin is the sixth largest crypto exchange by trading volume, per crypto data aggregator website Coinmarketcap
Kucoin runs two separate staking programs: the Soft Staking and Pool X. Soft staking allows users to earn daily rewards in suitable cryptocurrencies. Users get to enjoy daily bonuses on the following crypto assets, including ATOM, EOS, TRX, IOST, KSM, and several others.
Pool-X supports over eight cryptocurrencies, including EOS, ATOM, TRX, and TOMO. Also, users get to earn from both staking and proof of liquidity (POL). Interests range from 5% to 19.65%, or approximately 20%. Kucoin charges a minimum of 5% and a maximum of 8% for staking costs.
Pros
Multiple staking offerings
Earn double daily rewards
Large staking pool
Cons
Staking fees are too high
Interest rates can be improved given the high staking fees.
67% of all retail investor accounts lose money when trading CFDs with this provider.
6. Poloniex – Great Platform For Crypto Staking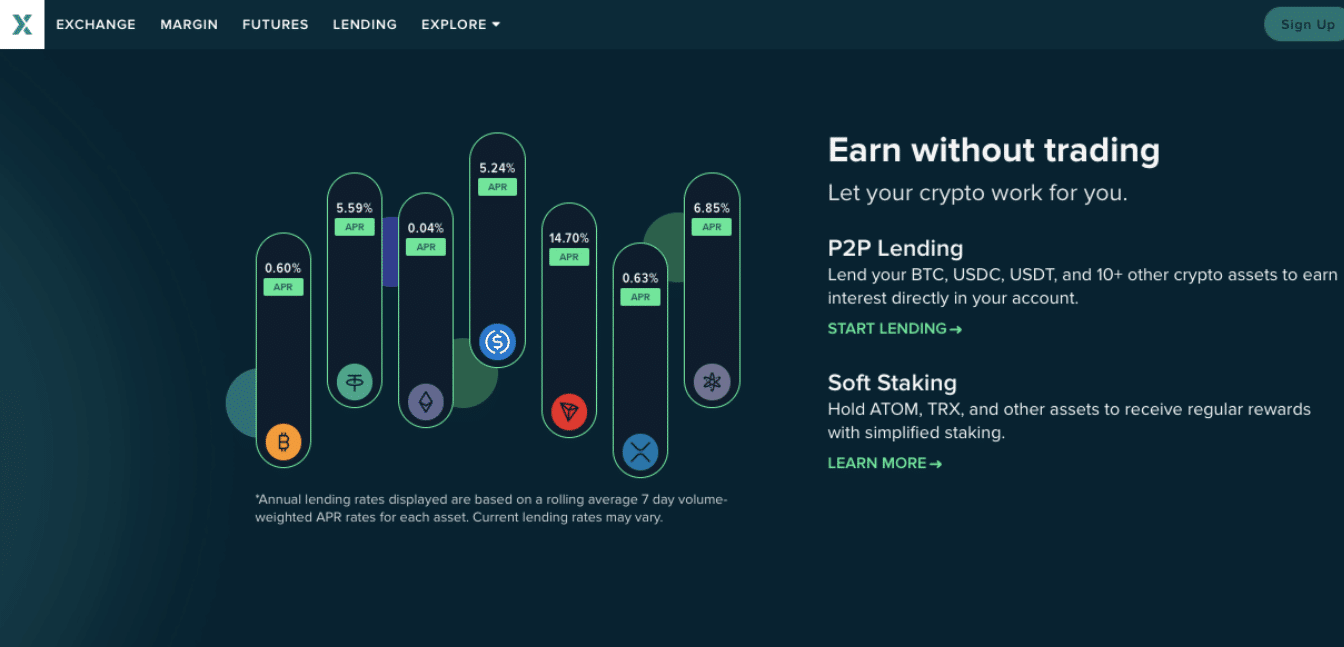 Rounding up our top five best crypto staking sites countdown is San Francisco-based cryptocurrency exchange Poloniex. Founded in 2014, Poloniex has established itself as one of the largest Bitcoin exchanges in the world, occupying the sixteenth position. It has a 24-hour trading volume worth over $150 million with a 7.3 trust score.
Poloniex, alongside several others, offers crypto investors an easy means to stake cryptocurrencies while earning rewards. According to its website, Poloniex supports a limited number of digital assets for staking rewards, including TRX, BTT, and WIN.
TRX staking is feeless, and you get 100% of the staking reward without paying anything in fees. However, you need to stake up 100 TRX. BTT and WIN will generate you 8-10%. The added bonus is that there are no lock-up periods, meaning you get to trade these crypto-assets while they are generating returns for you.
Pros
Feeless staking
High staking rewards
Cons
Supports only three cryptos for staking
67% of all retail investor accounts lose money when trading CFDs with this provider.
Best Crypto Staking Platform Compared
We have highlighted a few key areas for comparing the best crypto staking platforms below.
| | | | |
| --- | --- | --- | --- |
| Platform | Number of eligible assets | Fees | Interest rates (max) |
| AQRU | 5 | Low | 12% |
| eToro | 2 | Low | 90% |
| Binance | 100+ | Nil | Varies |
| Coinbase | 6 | 25% | 5% |
| Kucoin | 25 | 8% | 19.65% |
| Poloniex | 4 | 25% | Varies |
How to Use the Best Crypto Staking Platform
In our review, we have recommended that you begin your staking journey with eToro. In this section, we will show you step-by-step how to get started.
1. Open an Account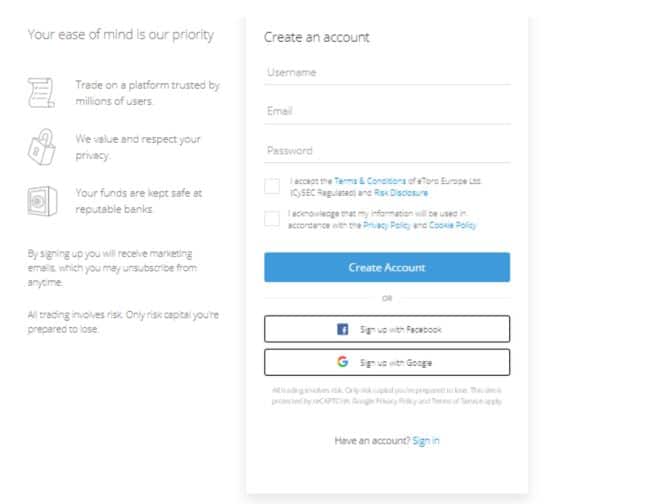 Navigate to the eToro website and click on the 'Join Now' button to sign up. You will need to provide a valid email address, username, and password. You can also fast-track the process by connecting your Google or Facebook account.
2. Verify ID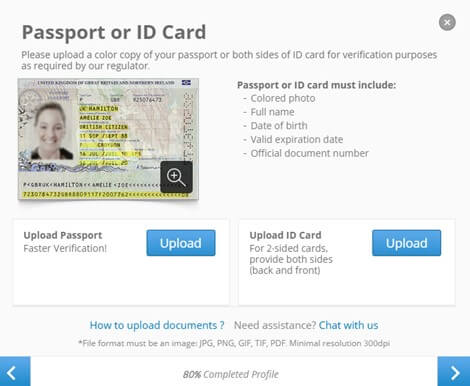 The next step is to verify your identity by completing eToro's know-your-customer (KYC) process. You will need to upload a copy of your driver's license or official passport and proof of residence. A recent bank statement or utility bill should do. Once this is complete, your documents will be verified, and you can proceed to the next step.
3. Deposit Funds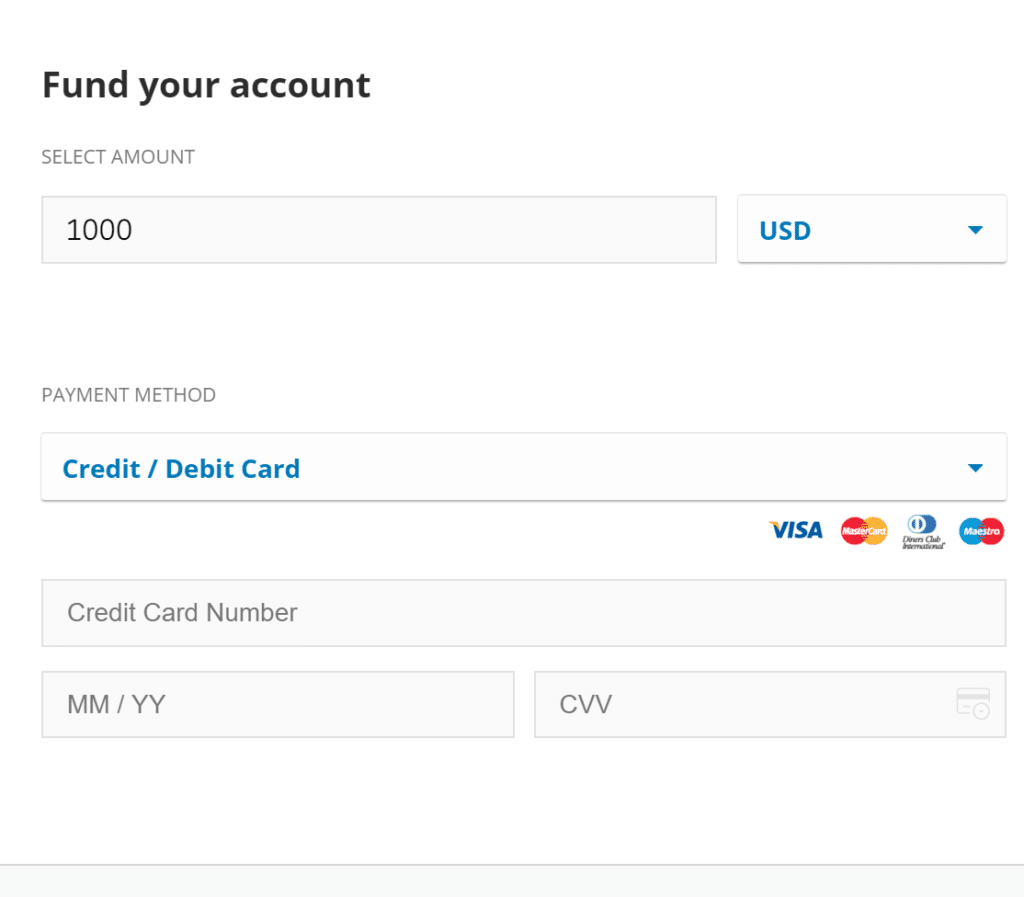 You can get started by depositing $50 for US residents and $200 for other countries. You will also pay a 0.5% conversion fee to denominate your fiat currency to dollars.
You can pay using any of the following payment methods:
· Bank transfer
· Debit card
· Credit card
· PayPal
4. Start Staking
Once your deposit is confirmed, you can begin your staking journey. To do this, click on the search bar and type in the crypto asset you want to stake. Click on the first results that pop up and follow the listed instructions.
Which Platform is Best For You?
It can be very difficult to choose which platform to use when you want to stake crypto if you are just starting. However, we have highlighted a few factors you should consider before settling with any staking platform.
1. Is it Regulated?
A regulated entity is a huge sign that the staking platform is genuine and recognized by government agencies. Some of the top regulated bodies you should look out for in a staking platform's regulatory page are the FCA, SEC, FinCEN, FINRA, CySEC, and ASIC. This shows that they are not going to pack up one day and run away with your funds.
2. Fees
A low-cost staking platform means you get to earn more from your investment. A high taxing staking platform ultimately erodes your capital and gains. In this aspect, eToro is one of the best crypto staking sites, given its low fees compared to others that charge as high as 25%.
3. User-friendliness
If you choose any random crypto staking platform, you may run into some challenges. Staking crypto, in itself, is a highly complex process. So, you should lookout for a platform that takes out the complexity and enables just about anyone to begin staking crypto with just a few clicks.
4. Great Customer Support
No matter how intuitive a staking platform may be, there will still be some grey areas. This is where great customer support comes into play. If you have challenges using a platform, you will need the development team's expertise to help you navigate through the issue. A platform that does not invest in its customer support is a red flag. Stay away from such.
5. Multiple Payment Methods
Multiple payment methods mean you are covered in all angles. If you are on the lookout for a staking platform, payment options should feature in your list of criteria. A staking platform with a limited payment channel may see you pay more in deposit and withdrawal fees if you want to stake with them. Debit cards should be one of the payment methods to instantly lookout for, given the relative ease and how inexpensive transactions are.
Conclusion on the Best Crypto Staking Site

We have highlighted five top crypto staking sites that you can use as the world embraces cryptocurrencies. We have shown each platform's pros and cons and the number of digital assets that currently generate extra income for users.
However, we recommend using the AQRU platform because it is the world's safest and most secure way to stake and store your virtual assets. AQRU's team takes pride in using Fireblocks, one of the leading wallet infrastructure providers, to make sure that your assets are always safe. Plus, AQRU has a $30 million insurance policy to cover any potential losses.
To get started, click the link below.