BitBox Review – Is BitBox Safe? Features and Security Explained
If you are a cryptocurrency investor, it is paramount that you take all the right measures to secure your digital assets. One way to do that is to use a hardware wallet like BitBox – which can serve as an offline storage solution for your tokens.
In this BitBox review, we provide you with more information on this wallet, focusing on its security, cost, features, supported cryptocurrencies, and more. 
Recommended Crypto Wallet – eToro
What is BitBox Wallet?
BitBox is a Swiss-designed open-source hardware wallet that stores your cryptocurrencies. This means that instead of accessing your digital assets online via a mobile app or desktop software, your tokens are securely kept in a physical device. Since your funds are offline, this is the safest method for investors to hold onto their assets for the long term.
The BitBox hardware wallet first launched in 2015 and is offered by its parent company Shift Crypto. The product is sold in over 100 countries across the world and supports over 1,500 digital assets. The device secures your cryptocurrencies with a combination of PIN codes, private keys, and state-of-the-art firmware.

The latest wallet model of this provider is named BitBox02, which is available in two versions – one exclusively for Bitcoin, and the other with support for other digital assets. Both these devices are compatible with the BitBoxApp, Electrum, and MyEtherWallet – depending on which asset you want to access, send, or receive. 
All that being said, buying BitBox02 will set you back 119 EUR (around 135 USD). While this might not be strike as too expensive for many, using a hardware wallet like BitBox might not be the most convenient option for you to send and receive cryptocurrencies. This is because, in order to perform any transactions, you should always have access to the device itself.
BitBox Wallet Pros and Cons
If you are reading this BitBox review for a simple overview of the product, we have prepared a list of the pros and cons that you will come across when using this device.
Pros
Highly secure cryptocurrency wallet in the market
Backup for recovery phrases via microSD card and Steelwallet
Support for over 1,500 cryptocurrencies
Bitcoin-exclusive edition
Cons
Wallet costs around 135 USD
Inconvenient to send and receive digital assets
You are fully responsible for the safety of your backup passphrase
No regulatory protection
Cryptoassets are highly volatile unregulated investment products. No EU investor protection. 67% of retail investor accounts lose money when trading CFDs with this provider.
BitBox Wallet Supported Coins
If you are in search of the ideal cryptocurrency wallet for your needs, one of the most crucial things to consider is the list of supported tokens. This is particularly important for those with a diversified portfolio, who want to store all their digital assets in one place. In that regard, BitBox is easily one of the best providers in the market.
This is because BitBox supports over 1,500 cryptocurrencies – which is much more than what its main competitor – Ledger offers. This not only includes prominent digital coins such as Litecoin, Ethereum, and Cardano, but also hundreds of ERC-20 tokens, from Airbloc to Xank. Additionally, if you want to keep a wallet exclusively for Bitcoin, you also have that option.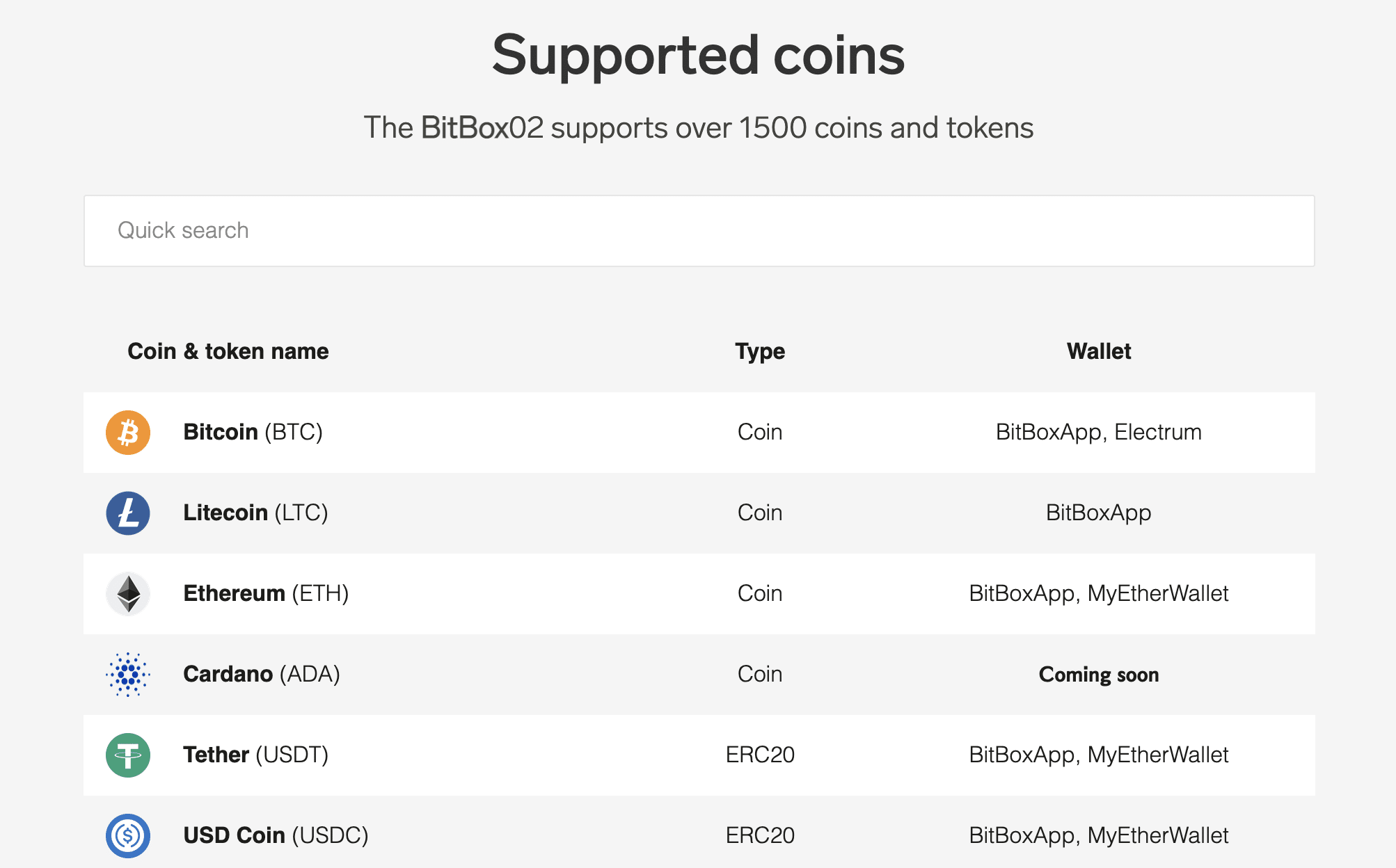 However, note that not all these coins are compatible with the original BitBoxApp. Instead, our BitBox review found that you might need to use MyEtherWallet to access some of the wallet's supported digital assets. So be sure to check which of your assets are supported, and how you can transfer them via BitBox before making a purchase.
BitBox02
As we mentioned earlier, BitBox02 is the latest wallet model offered by the company. The previous version was called BitBox01 and is still supported by the BitBoxApp. However, since November 2019, the provider has stopped issuing updates and security patches for this model, and the device is no longer available for purchase.
BitBox02 sets itself apart by design and comes with a USB-C port to connect to your computer or phone directly. You can also use adapters to link the device to USB-A ports. The wallet has an OLED screen and touch sensors that you can use to access your passwords and verify cryptocurrency transactions.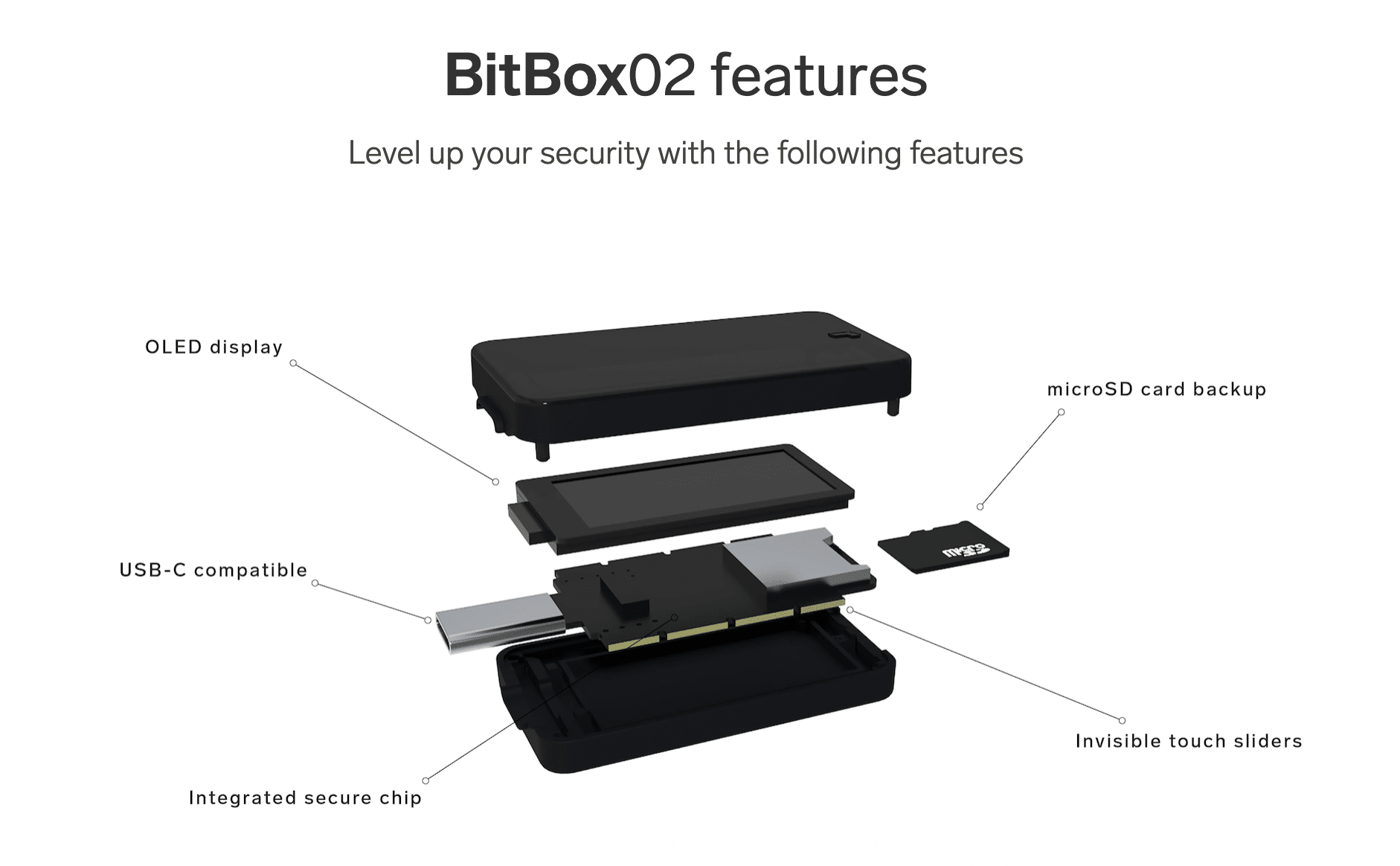 However, before investing in this wallet, you should know that in case you lose your PIN and recovery phrases, you will end up losing access to your assets. That said, BitBox has devised an alternative option to keep your private keys safe.
Instead of having to write down your passwords, the device backs them up to a microSD card. You can also buy a BitBox Steelwallet, which essentially serves as apocalypse-proof storage for your seed words.
How Does BitBox Wallet Work?
If this is your first time considering a hardware wallet for your cryptocurrencies, you could benefit from a detailed rundown of how BitBox works. After all, these devices are not exactly known for their convenience, but rather for their security. And as such, many might find it challenging to use hardware wallets.
Once you have purchased your BitBox wallet, you can download the BitBoxApp directly from the website to set up the device.
You start by connecting your BitBox wallet to your computer or mobile phone.
After the device is paired, you can create a wallet, and assign a name to it.
Next, you can set your 4-digit PIN by using the touch sensors on the BitBox02 device.
Note that you will have to enter the PIN every time you want to use the wallet, such as to perform a transaction.
After this stage, BitBox operates in a slightly different manner when compared to the other hardware wallets in the market. That is, this device requires you to create a backup of your master seed.
This can be done in three ways:
You can use the microSD card that comes with the package to store your master seeds. Once you have created the backup, you should remove the microSD, and keep it safe.
Alternatively, you can choose to write down the recovery keywords via the BitBoxApp by going to "Manage Device", then "Show Recovery Words".
The third option requires you to buy BitBox Steelwallet, on which you can enter the recovery seeds for safekeeping.
These options serve as your only means to access your digital assets, in case you lose your PIN. As you can see, using this wallet gives you complete control over your cryptocurrencies. However, on the other hand, if you are to misplace your private keys, BitBox can not help you to recover your digital assets.
BitBox Steelwallet
Our BitBox review found that this company has also launched a variety of other products geared towards protecting your hardware device and passwords. Among these, the most notable product is the Steelwallet, which serves as an offline backup tool where you can safely store your private keys. These are available to purchase for 65 EUR (around 75 USD).
As you might have gathered from the name, Steelwallet comes in the form of two stainless steel plates. These are resistant to fire, radiation, corrosion, and even mechanical force. You can store up to 24 recovery words, with one device holding up to 12. It is also easy to set via the clear instructions that are provided on the BitBox website.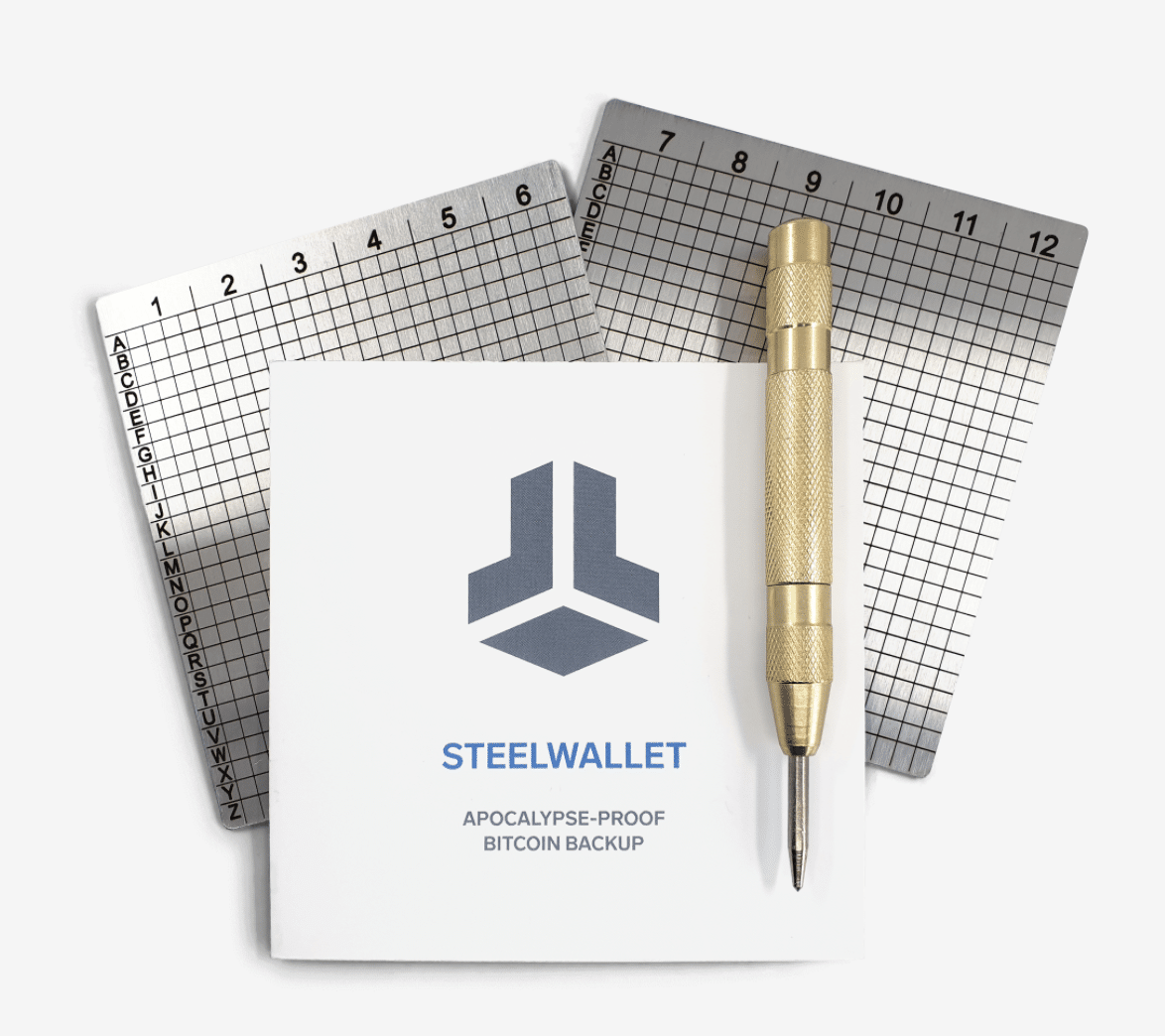 The main reason that we have included Steelwallet in this BitBox review is that such a product is quite uncommon – at least among other prominent providers. As you might already know, even if you have secure hardware storage for your digital assets, misplacing your recovery password can lead to you losing your cryptocurrencies. With this alternative, such a disaster can be avoided.
And perhaps, most importantly, Steelwallet is not only specific to BitBox devices. In fact, you can use these steel plates to save the recovery keys of any other cryptocurrency wallet. As such, it wouldn't hurt to invest in this option if you are using hardware storage for your digital assets.
BitBox Wallet Features
As mentioned earlier in our BitBox review, the contents of this hardware wallet are accessible via the BitBoxApp. Apart from keeping your cryptocurrencies safe, this provider also integrates a few other features to offer you a more convenient storage solution.
Send and Receive Funds
Needless to say, in order to store your cryptocurrencies, you need to be able to send and receive digital assets with ease. And for this wallet, you can perform these actions through the BitBoxApp – which is compatible with Windows, macOS, Linus, and Android.
In order to send a cryptocurrency from your BitBox wallet, here is what you need to do:
Connect your BitBox02 device to your computer or phone.
Enter the PIN to verify that it is you accessing the wallet.
Open the BitBoxApp, and select the cryptocurrency you want to send.
Enter the number of coins you wish to transfer.
Specify the destination wallet address and confirm the transaction on the BitBoxApp.
At this point, your BitBox02 device verifies the transaction details.
When done, the device asks you to approve the transfer, which you can do by hitting the checkmark on the screen.
Notably, when specifying the details, you can also set the priority to 'high' or 'economy'. This determines how much you will end up paying in network fees. It also changes the speed at which the transfers are completed.
Similarly, when you want to receive funds, you can simply create a wallet on the BitBoxApp for the specific cryptocurrency. You can then use the respective address or scan the QR code to transfer tokens from other platforms. Again, the action has to be confirmed via your BitBox02 device.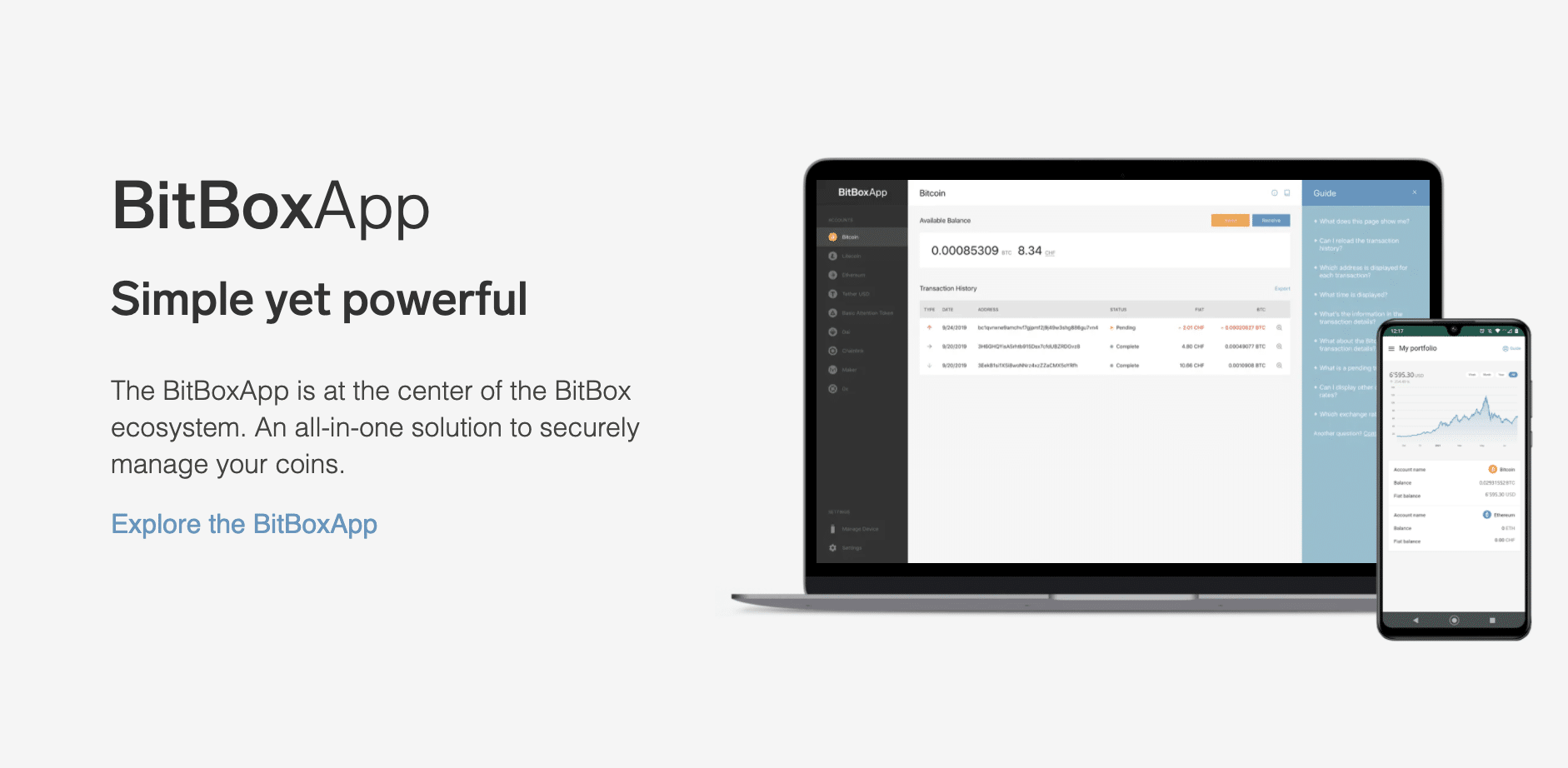 As evident, every time you want to buy or sell digital assets, you require access to your BitBox hardware wallet. Although this might not appear as an obvious drawback, you might find it inconvenient on certain occasions. For instance, suppose that the value of a particular token is dropping and you want to take advantage of this by buying the dip. If so, you cannot do this unless you have the device with you.
Since cryptocurrency markets are highly volatile, waiting for a few minutes or hours until you have your BitBox wallet in hand might result in you missing a market opportunity. On the other hand, if you were to use a wallet provider like eToro – not only can you access your digital assets with ease but can also buy or sell them instantly via the mobile app.
Buy and Sell Crypto
Our BitBox review found that this provider also allows you to buy and sell cryptocurrencies directly from the wallet. To do this, the company has partnered with several third-party services such as Kraken, Bitstamp, Moonpay, and more. All you need to do is select your country, and choose how you want to pay for the purchase.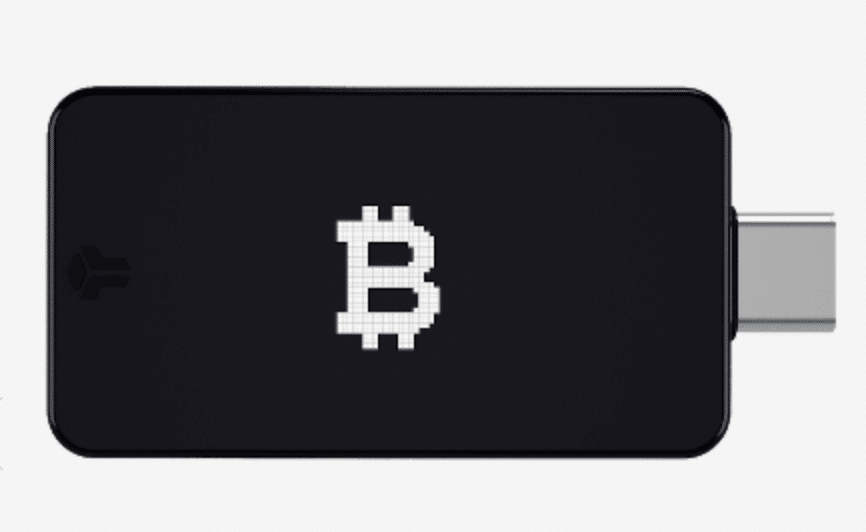 BitBox supports payments for different fiat currencies via bank transfer, credit cards, peer-to-peer transactions, and crypto swaps. The providers available to you depend on your location as well as your chosen mode of payment. Note that you will not make any purchases or cash out your digital coins directly via BitBox.
As such, you will have to abide by the conditions set by the third-party provider, such as minimum investment amount, or identity verification requirements. In other words, using your BitBoxApp to buy and sell cryptocurrencies can be a hassle. If you want to avoid this, you might want to look for a regulated broker that offers in-built wallet services such as eToro.
BitBox Wallet Cost
As we mentioned in the introduction of our BitBox review, this hardware wallet costs 119 EUR, which is around 135 USD. Moreover, investing in other products such as the Steelwallet for backup comes at an additional price. While on this topic, we want to stress that it is always best to buy BitBox02 directly from the official website.
Needless to say, this ensures that your device is secure and has not been tampered with in any manner. If you are to purchase BitBox wallets from other sources, you will want to make sure that it is from one of the authorized resellers. You can find a list of online platforms in various countries that have partnered with the company from the official BitBox website.
Apart from these authorized providers, you are also likely to find other resellers on the internet. However, we urge you to avoid such dealers – as there is a high chance that your device is not 100% secure. In other words, there is a possibility that someone else has access to your private keys, which gives them the opportunity to steal your assets after you fund the wallet.
BitBoxApp Mobile
BitBoxApp is compatible with Android and comes with the same features as the desktop software. Unfortunately for iPhone users, there is no app for iOS. Nevertheless, you can connect your BitBox02 directly to your Android phone, and use the app to access your cryptocurrencies.
You can also use it to buy and sell digital assets via third-party exchanges. Additionally, all the settings such as password backups and device management options are also found in this tool.
Is BitBox Wallet Safe?
When choosing a hardware wallet for your crypto coins, the security offered by the provider should unquestionably be the prime concern. After all, this is likely the main reason you are choosing such a storage option. With this in mind, this section of our BitBox review focuses on the features in place to keep your digital assets safe.
Cold Storage
As many of you might know already, you can choose to store your cryptocurrency in hot or cold wallets. The first option leaves your tokens connected to live servers. Although this might increase the risk of security, it also allows you to send and receive digital assets instantly.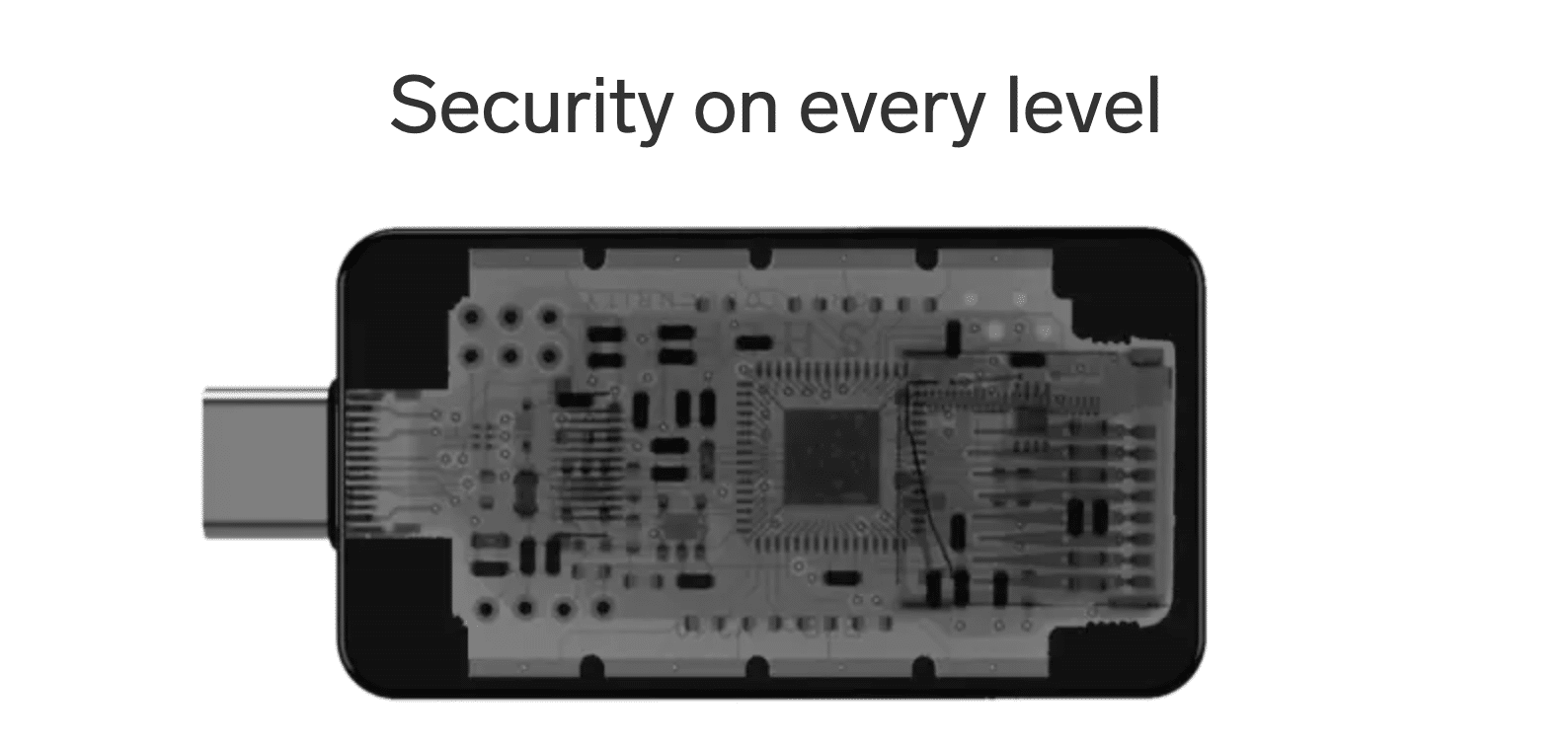 The second method is to use a cold wallet, such as BitBox. In contrast to hot storage, these devices are never connected to any live server, making it nearly impossible for anyone to access your private keys via the internet. This makes BitBox02 one of the best options available when it comes to the safety of your cryptocurrencies.
Non-Custodial
Being a cold wallet, our BitBox review found that these devices give you a non-custodial service. Meaning, the provider has no access to your digital assets. While this can be better in terms of security, it reduces convenience to a large extent.
For one thing, when using BitBox02, you are taking full responsibility for your private keys.
So, if your passwords end up in the wrong hands, you will have nowhere to turn to, and Shift Crypto will not be able to help you in any way.
As such, it is crucial that you keep both the device PIN and the recovery seed phrases safe.
On the other h
and, choosing a custodial wallet offered by a regulated provider like eToro will grant you the right balance of safety and user-friendliness. Not only can you access secure storage for your crypto assets, but you will also be able to buy and sell digital tokens directly via the mobile app.
Firmware & Software Security
The BitBox02 wallet uses a dual chip architecture and runs on open-source firmware by design. The integrated bootloader prevents any downgrades or installing a different version of the software onto the device.
In addition to this, the randomly generated seed words and authenticity checks ensure that none of your data leaks via the interface or the device. The BitBox02 device is also the first hardware wallet that provides protection against the nonce covert channel attack, by supporting a protocol called anti-klepto.
Wallet Backup
We found that no other hardware provider offers quite as many options to back up your wallet as BitBox To begin with, you have the PIN that you need to enter every time you use the device. Additionally, you are also given a 24-word mnemonic phrase that serves as a backup to restore your assets if needed.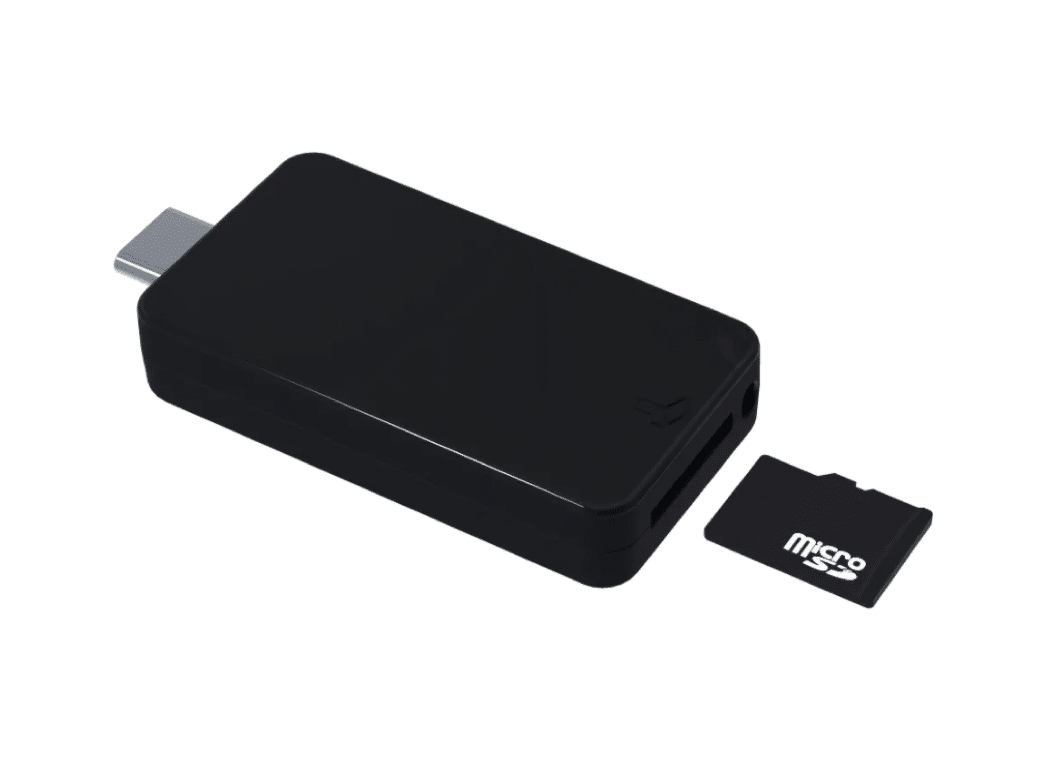 Typically, these recovery words are displayed only once when you set up the hardware wallet. However, with BitBox, you can view them anytime you want via the BitBoxApp since you have the device connected. Furthermore, you can also use a microSD card to copy them or purchase the BitBox Steelwallet to have your recovery phrases safely stored.
In the event that you enter an incorrect PIN, BitBox imposes a 10-attempt limit. Additionally, the time between each attempt increases, making it quite difficult for a thief or a third party to access your funds. Lastly, if you have some technical expertise, you can also generate the recovery phrases outside of BitBox02, and import them to the device.
Device Protection
Shift Crypto has designed its BitBox02 wallet in a way that once opened, it cannot be put together the same way. Meaning, if someone else tried to tamper with the hardware device, it will be obvious to the user.
Moreover, the in-built screen ensures that you can verify transactions via the device itself and not through the BitBoxApp.
Privacy Features
All communication between the BitBox02 and your host device is encrypted, making it indecipherable. This way, none of your data is stored on the servers.
If needed, you can also connect the hardware to your own Bitcoin full node for added privacy. Furthermore, BitBoxApp is compatible with Tor, which is one of the most secure networks in the market.
BitBox Wallet Fees
Our BitBox review found that the provider does not impose any service charges for using the wallet. Once you pay for the device itself, you can store your assets completely free.
However, when transferring funds, you need to cover the blockchain fee priced by the respective network. In addition to this, you might also face extra costs if using third-party platforms to buy and sell cryptocurrencies.
BitBox Wallet Customer Support
To finalize our BitBox review, our research team looked into the different ways to contact the customer support team. We found that the company has set up a help desk that provides answers to the most frequently asked questions regarding each product.

You can also reach out to the team directly via email to obtain more information regarding the respective product or the orders you have placed. The parent company, Shift Crypto, is also somewhat active on social media platforms, and you might find it easier to contact the support team via Telegram.
While at it, we want to stress that you should never reveal your PIN or private keys with any customer representative, even if you are 100% sure that they are with BitBox. It is also best to stay clear of any third-party providers claiming to give support for your cryptocurrency wallet.
eToro vs BitBox Wallet – Comparison
As discussed in our BitBox review, this wallet offers you high security. However, whether or not a hardware device is required for storing your assets depends on your personal needs. If you are not entirely sure, it is well worth finding out what other options are available in the market.
For instance, you might find that a custodial wallet like eToro is more suitable for your investment and trading style, as it can give you access to both regulated storage solutions and low-cost exchange services.
To helo you make a decision, here we have put together a comparison of the core differences between eToro and BitBox.
Security and Regulation
When it comes to choosing a cryptocurrency wallet, safety should be at the forefront of your research criteria. Needless to say, devices such as BitBox02 do make a compelling case as the most secure storage solution for digital assets. However, this company nor the wallet itself is regulated in any way.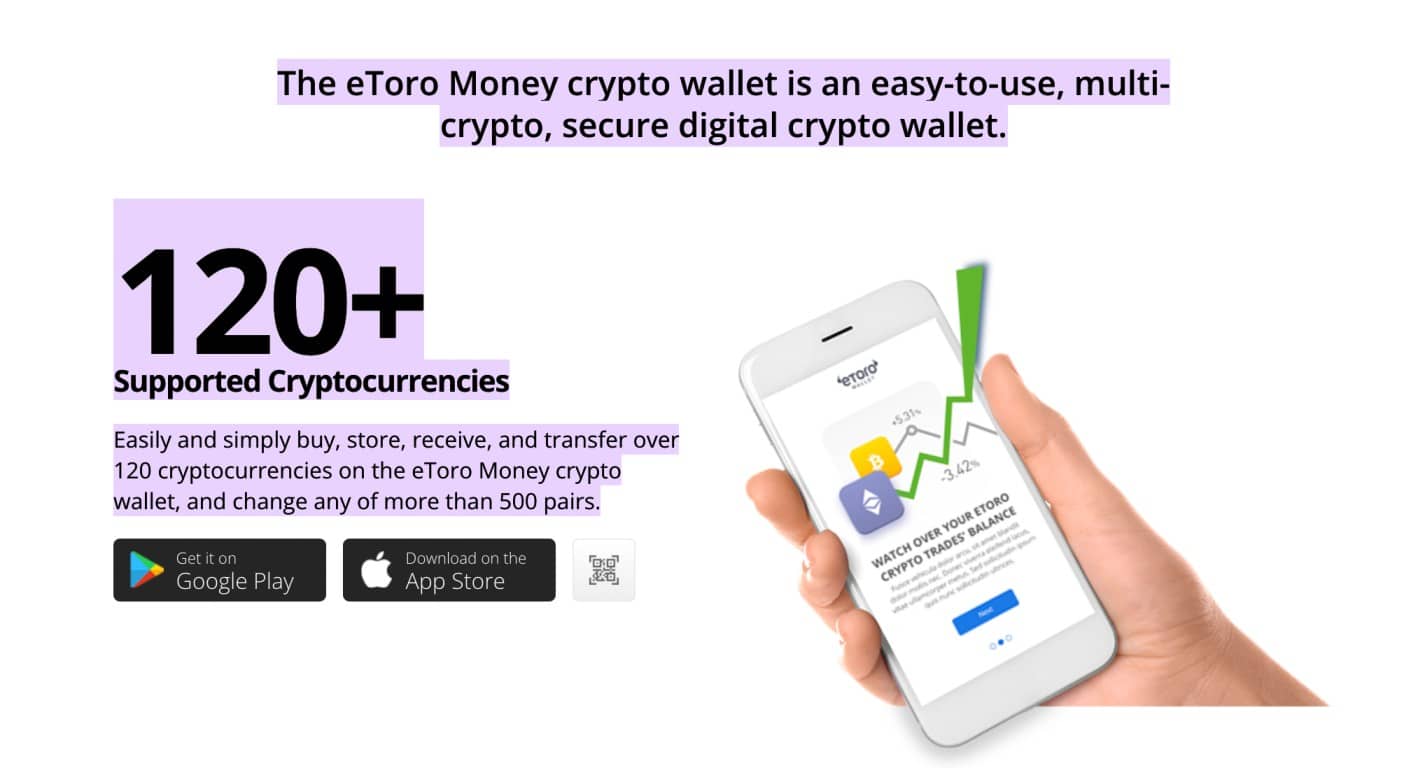 On the other hand, the eToro brokerage platform is licensed by multiple reputable financial authorities – including the SEC and FCA. It offers you a safe environment to not only store your digital assets but also any fiat money that you hold in the account. The broker is also governed in several jurisdictions across the world and caters to over 20 million users – which clearly attests to its popularity.
Features and Tools
BitBox02 does allow you to buy and sell cryptocurrencies. However, these services are not offered by Shift Crypto itself. Instead, you are to use third-party providers that require you to pay additional fees and charges.
On the contrary, eToro is a full-fledged online brokerage platform that supports not only digital tokens but also other asset classes. With its in-built wallet, you can engage in crypto trading and investing, without having to leave the interface.
Convenience
As we have mentioned through our BitBox review, this wallet might not be the best option if you seek convenience. Although you can use BitBoxApp to buy and sell digital assets, you will have to do so via third parties, which can be a hassle. Moreover, you also need to have access to the device every time you want to perform a crypto transaction.

If you are using eToro, all you need to do is log in to the app, locate the cryptocurrency, and cash out directly from the platform. The proceeds will instantly be added to your eToro balance, and you can withdraw the funds at your convenience. You can also buy digital assets this way, directly via the brokerage site.
BitBox Wallet Review – Conclusion
The BitBox wallet incorporates a minimalistic design, without compromising on any in-built security features. It also offers backup for your private keys, so that you have an alternative in case you lose access to your password. With support for over 1,500 cryptocurrencies, this device makes a compelling case for a safe storage solution for your digital assets. However, the fact that this provider isn't regulated shouldn't be overlooked.
If you are looking for a more reliable option, you have other choices – such as eToro. This is a regulated broker that integrates custodial crypto wallet services, licensed by the GFSC. Moreover, the provider itself is licensed by the SEC, FCA, ASIC, and CySEC. As such, you can be sure that your digital assets will be safe at all times while giving you the convenience of being able to buy, sell and trade tokens on a spread-only basis.
eToro – Best Crypto Wallet for Safety and Features
FAQ
Has BitBox wallet ever been hacked?
What fees does BitBox wallet charge?
What happens if you forget your BitBox wallet PIN?
What coins does BitBox support?