Lesotho has experienced both trade deficit as well as Balance Of Payment deficit over the years.
Major Exports of the country are food, manufactures and live animals. Its exports partners are North America and South African Custom Union.
Important Importable commodities in the country are food, vehicle, machines and petroleum products. Its important imports partner is mainly Asian country.
The following diagram shows the levels of exports and imports of the country: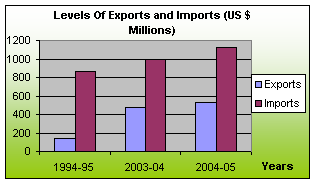 Overall Exports and Imports in the country is as follows:
Foreign Trade 2000 2003 2004 Merchandise trade (% of GDP) 119.7 148.0 162.0 Net barter terms of trade (2000 = 100) 100.0 96.6 90.8 Foreign direct investment, net inflows (BoP, current US$) 118.0 million 116.0 million 123.5 million Exports of goods and services (% of GDP) 29.8 48.3 47.8 Imports of goods and services (% of GDP) 92.4 104.8 104.6
CONCLUSION
Lesotho Joined the World Bank in the year 1968. Since then the bank has stepped forward for reducing poverty and maintaining higher economic growth.