During the 1990s, Cameroon was considered one of the strongest economies in Africa, particularly due to trade surplus. Overvalued currency, rise in international oil prices and extensive coffee production were the prime factors for favorable Cameroon trade figures. However, following the WTO accession, the government had to deflate the economy to make it more stable and in tune with the international trade scenario. As of 2008-09 data, the EU is the largest trade partner of Cameroon. It receives almost 80% of the total export volumes and contributes a major share to the Cameroon import volume.
Cameroon Trade: Exports
Agricultural productivity is central to Cameroon's export industry. Owing to the fertile land, almost 70% of Cameroon's population is engaged in agriculture. The petroleum sector also owns a major share in the total export volume. Cameroon does not have considerable oil reserves like other sub-Saharan countries. However, it exports a major share of the petroleum production. Based on 2009 estimates, the country has a total export volume in excess of US $4.8 billions. Spain is the major export partner with 19.4% share, followed by Italy, US, France and Netherlands. Apart from petroleum, major export items are lumber, cocoa, aluminum, coffee and cotton. The country ranks 110 in the export of merchandising and 126 in the export of commercial services.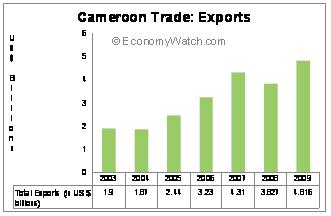 Cameroon Trade: Imports
Cameroon imports include machinery, transport equipment, fuel, food and electrical equipment. France is the largest import partner of Cameroon, accounting for more than 21% of the total import volumes, based on 2008 statistics. Nigeria, China and Belgium also have significant share in Cameroon imports. In 2009, Cameroon's import volume grossed at US $4.3 billion, as against US $3.7 billion in 2008.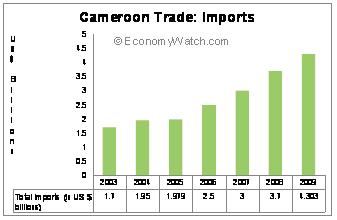 With considerable efforts in fostering macroeconomic development, Cameroon has experienced favorable trade volumes since 2005. The government is liberalizing trade policies to strengthen international relations.