Debt Management Plan – 4 Top Rated Debt Management Plan Companies Reviewed
If you struggle to keep up with debt payments, it's time you consider debt management help through a debt management plan (DMP). A DMP enables you to pay off your debts at a rate you can afford.
A debt management program involves agreements between you and the people or businesses you owe money. A DMP is managed by companies called debt management providers or operators who help you manage the DMP debt by negotiating with your creditors and managing the payments for you.
Some companies offer free debt management plans, while others will charge you a fee for the service. In this guide, you'll learn about the best DMP providers in 2021 for the best debt management plans and how to get started writing off your debts. You'll get to know what a debt management plan is and how it works, whether it's right for you, what it covers, the costs, pros and cons, and whether you qualify for a debt management plan.
Best Debt Management Plan Providers in 2021
What is a Debt Management Plan?

A debt management plan involves a non-formal agreement you make with your creditors to repay your debts in one set monthly payment. Instead of dealing with multiple creditors, all your unsecured debts are rolled into a single monthly payment which simplifies the repayment process and makes it more affordable.
Instead of taking on additional lines of credit, your existing debt remains intact, but you work out a payment plan that helps you pay off your debt without struggling each month. With a debt management plan, you incorporate the help of a debt counsellor to assist you.
The debt management provider will manage your DMP and deal with your creditors for you. They'll help you work out an affordable monthly payment that is divided among your creditors. Additionally, your debt management provider will talk to your creditors and negotiate lower monthly fees, reduced interest rates, and other reductions to help you reduce your costs.
How Does a Debt Management Plan Work?

When you get into a debt management plan, you make a new promise to repay your debts in full. Once you're connected to a debt management consultant, they'll assess all your debts and consider your personal information, debt-to-income ratio, current earnings, and assets.
If you're eligible for a debt management plan, they'll start to draw up a plan for you, including negotiating with your creditors to waive fees or reduce interest rates. Once they decide on a debt management program and the creditors agree, they'll forward it to you for consideration and approval. Ensure you check the details carefully to confirm that it puts you in a better financial position. Debt management plans usually last between three and five years.

A DMP doesn't reduce the debts you owe. It only restructures it. The amount you pay every month will depend on how fast or slow you want to get out of debt and the willingness of creditors to negotiate. Remember that the debt is only written off after you've repaid all your debts in full.
A debt management plan isn't legally binding, but it's not something you can easily change your mind about. You'll be in for the long term or until your debts are repaid in full. Also, creditors don't have to agree to the program or reduce any charges or fees. If they don't, they can continue to contact you, ask you to pay your total debt, or take action to recover their money.
Is a Debt Management Plan Right for You?

Making multiple repayments for different debts can be overwhelming, and this is where a DMP comes in. A debt management plan is a suitable option for you if any of the following apply:
You're struggling to keep up with your non-priority debts but can afford living costs and monthly repayments of priority debts. Priority debts feature more severe consequences if you don't pay and include mortgage, rent, electricity, gas, or court fines. Non-priority debts don't have immediate effects or urgency and include credit cards, bank loans, or student loans.
You can have better budgeting of your bills and monthly expenses with one set monthly payment.
You'd prefer someone to deal with creditors on your behalf.
To make an informed decision, you have to understand the consequences of a DMP. These include:
Paying back your debt may take longer because you'll be making lesser payments each month.
The amount you owe may only go down by less than you think since the creditors may not necessarily freeze or reduce the interest and charges on your debts.
Creditors may not be willing to corporate and can continue contacting you.
Although the initial advice is free, fees may apply if you decide to proceed with a debt management plan.
Debt Management Plan Example

Let's consider an example of a borrower who earns £20,000 annually and has raked up £30,000 in debt through overdrafts, credit cards, and personal loans. With bills increasing every month, finances become tight, they fall back or repayments, and they're now in arrears. Because of the lack of payments, he now has to make instalment payments of up to £900 monthly to make up for missed repayments, and this is just unaffordable.
With rising interest rates and debts, the borrower seeks advice from a debt advisor through Reform Debt Solutions. He learns that a debt management plan can help him regain control over his debts. After considering his monthly income and expenses, it's agreed that he can afford to pay £500 each month towards his debts.
The professional debt advisor contacts the creditors and negotiates the DMP terms. The creditors agree to the DMP and even freeze the interest charged to help the borrower slowly pay off what he owes. He pays £500 to the debt advisor every month, who ensures the debt repayments are made on time each month. He can now be entirely free of debt in just five years!
| | | | |
| --- | --- | --- | --- |
| Income | Total Debt | Affordable Amount | New Monthly Payment |
| £20,000 | £30,000 | £500 | £500 for five years |

Best Debt Management Plan Introducers Reviewed
Let's take a closer look at the best debt management plan introducers in the United Kingdom. Explore each provider in the review below.
1. Debt Nurse – Overall Best Debt Management Plan Introducer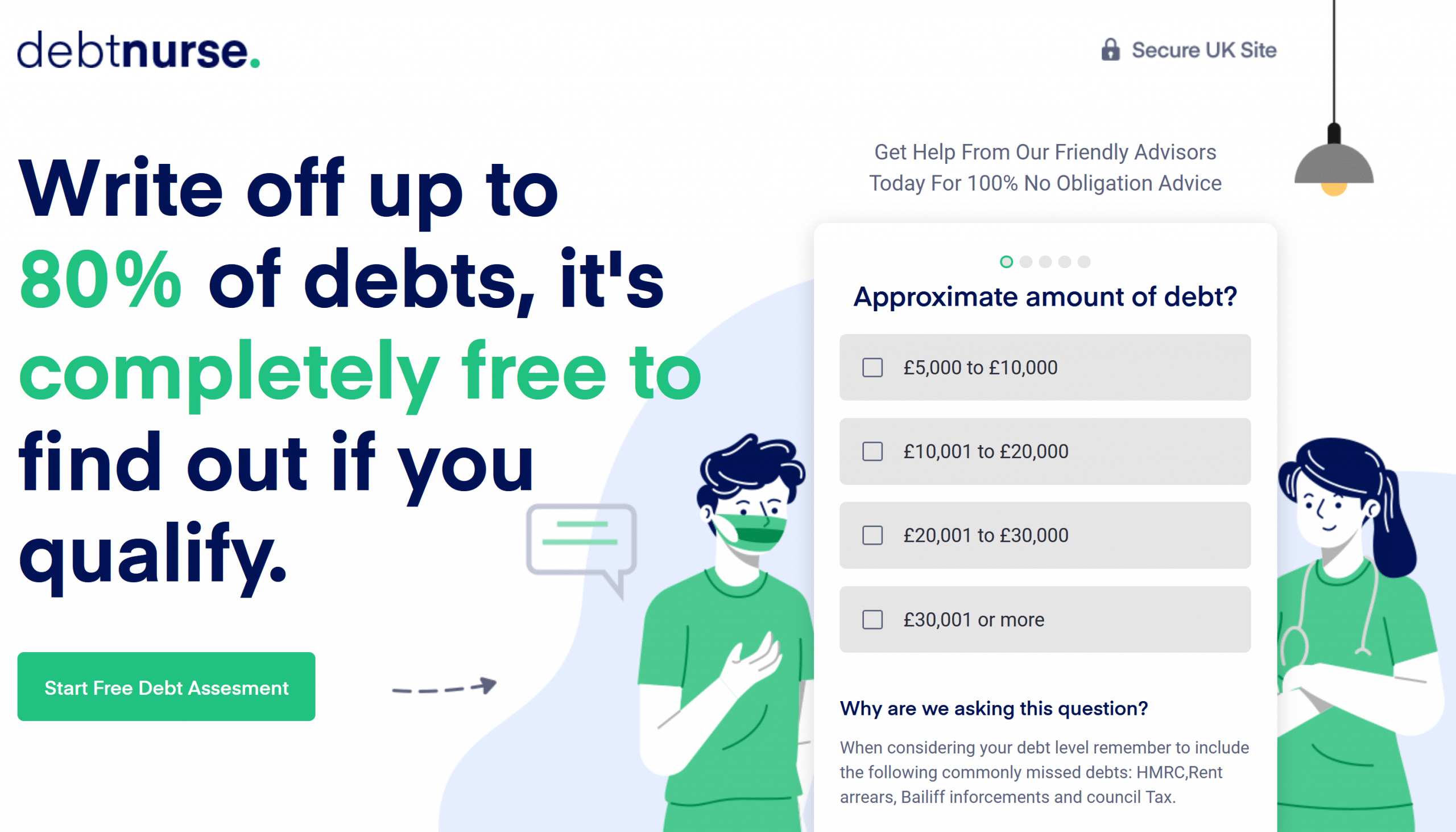 Debt Nurse is registered in England and Wales and authorized and regulated by the Financial Conduct Authority (FCA).
Debt Nurse collaborates with a variety of reputable partners offering debt relief services. That said, it's good to note that debt advice is not provided at Debt Nurse. Once you complete the online form and consent to referral, your details are passed onto a regulated debt advice solution provider.
Using Debt Nurse services is free, and your privacy and personal data remain secure. They adhere to the law and ensure they meet all security procedures when processing and storing your personal information.
Pros
Highly professional
Reliable
Bias-free
Cons
Only helps with unsecured debt.
2. National Debt Advisors – Best for debts from £3,000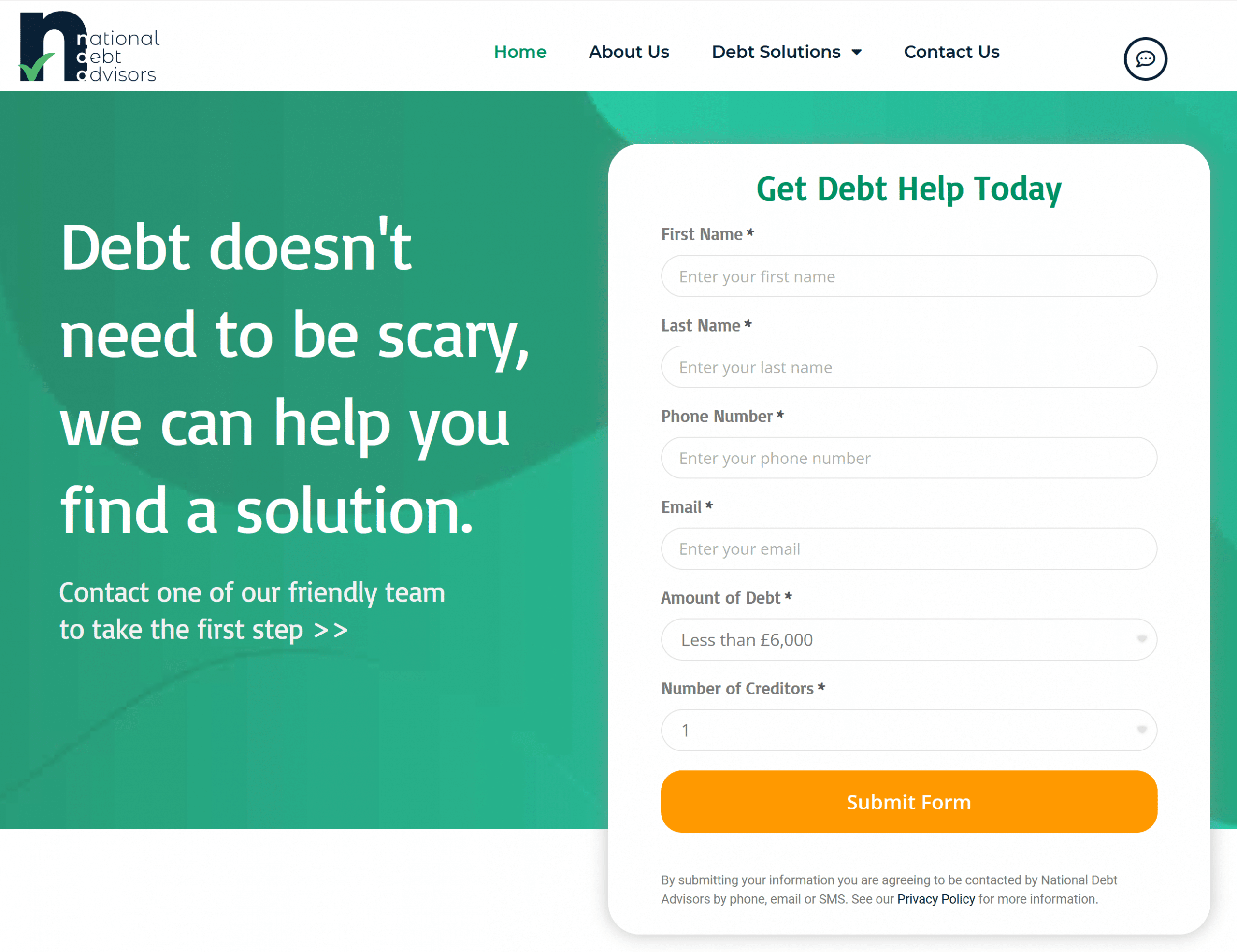 National Debt Advisors is based in London, UK, and provides an impartial and comprehensive caring service that assists people in financial difficulties. Using their services is free, and their mission is to be the most helpful and friendliest DMP provider you'll ever deal with.
The main benefit of working with National Debt Advisors is that you get a comprehensive understanding of all your options. It doesn't administer or offer advice related to debt management products. They simply guide you through the process and connect you to regulated debt advice solution providers free of charge.
When you submit the inquiry form, your inquiry details are sent to a suitable and trusted debt advice partner who's authorised and regulated by the Financial Conduct Authority. Your data is not sent, leased, loaned, or sold to any other third party except those needed to provide the requested service.
Pros
Free advice
Helpful resources
Highly professional
Cons
Most solutions are for unsecured debts.
3. Reform Debt Solutions – Best for credit card debts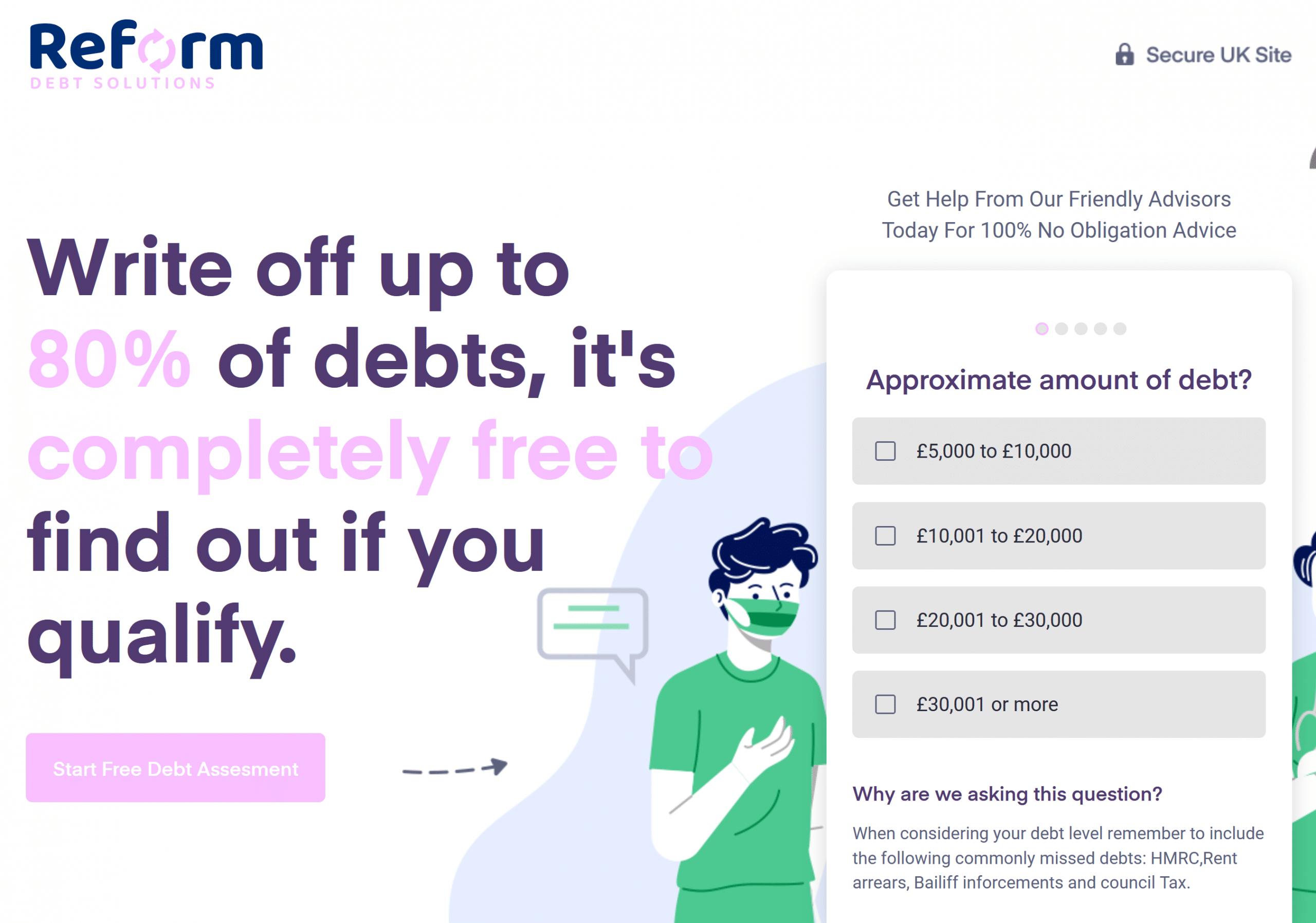 Reform Debt Solutions is used and trusted by thousands of UK residents every month and is an excellent option if you need help with your debts. They work with a variety of partners who offer debt relief services in England and Wales.
Reform Debt Solutions doesn't provide debt advice. However, they connect you to reputable debt advice solutions providers registered and regulated by the Financial Conduct Authority to provide debt counselling.
Through Reform Debt Solutions, you get access to 100% no-obligation advice on debts like credit cards, council tax, personal loans, and store cards. Simply take a free, confidential debt assessment, discuss your options based on your situation and start reducing your debt!
Pros
High customer satisfaction scores
Prompt feedback
100% transparency
Total peace of mind
Cons
No secured debt solutions options
4. The Debt Experts – Best for wide range of debt plans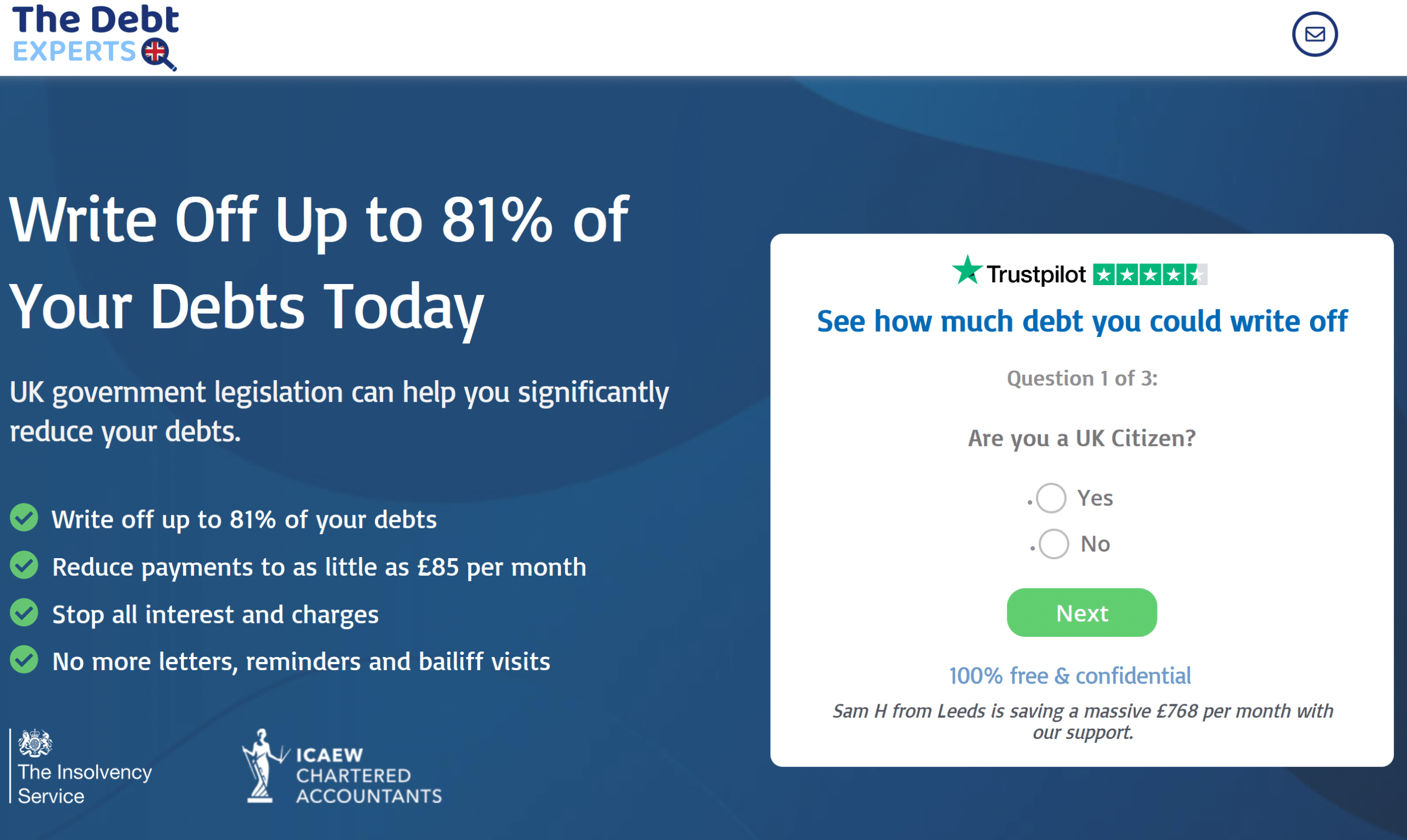 Another excellent option for help with your debts in the UK is The Debt Experts. They assist people in all kinds of financial difficulties, and they'll help you get a fresh new start if you're feeling weighed down by debt.
With a mission to be the most helpful and friendly, The Debt Experts will work with you to find a solution tailored to your needs. They don't offer debt advice. Instead, they consider your situation, help you understand the available options and guide you through the process.
You'll not pay a single cent to use The Debt Experts, and they only partner with debt solutions providers who are registered and authorised by the Financial Conduct Authority (FCA).
Pros
Easy debt assessment
Quick feedback
High professionalism
Cons
They mostly deal with unsecured debts.
What is Covered with a Debt Management Plan?

While a DMP fully covers some debts, others are not. Only unsecured debts are covered in a DMP, and any debt you've secured with collateral will not be covered. Some unsecured debts like student loans are also not included. You have to ensure you have a way to deal with them independently as you pay off the debts included in the debt management plan. Here's what to expect:
| | |
| --- | --- |
| Debts Covered by DMP | Debts Not Covered by DMP |
| Unsecured loans like payday and personal loans | Legal fees and fines |
| Debts to friends and family | General bills like utilities and phone bills |
| Store card and credit card debt | Child support debt |
| Overdrafts | Vehicle loans |
| | Student loans |
| | Secured loans like mortgages |
| | Government costs and taxes |
Costs of a Debt Management Plan
A debt management plan comes with some costs associated with the professional services provided. These can include a pay plan debt management fee, set up prices, and a monthly fee you have to pay for the plan's lifetime. You'll soon realize that these are not an issue because the interest savings and waivers made possible with a DMP will offset these costs.
The costs are necessary to cover the various services associated with the plan. These include setting up meetings with creditors to negotiate terms, payment agreements and work out suitable deals. You can set a DMP by yourself, but this can be less advantageous if you don't have the necessary expertise. You'll also likely have less bargaining power with creditors you owe money to.
The costs of DMP are more than worth it when you consider the value provided by a debt management provider. It's all about regaining control of your debts and becoming debt-free as soon as possible, and you'll have more peace of mind with a debt management plan that's drawn up and managed by professionals.
Debt Management Plan Pros and Cons

There are different pros and cons you need to consider before choosing a debt management plan.
Pros
The debt management plan provider does all the liaising and negotiating with creditors. It gives you peace of mind and ensures you're not hassled.
Combining the debts can help you secure a lower interest rate overall compared to paying each on their own.
It's only a tool to help you manage debts and not a legally binding contract. Therefore, it's flexible, and you can cancel or make changes at any time.
With one fixed monthly payment, it's easy to stick to the plan because you know what you owe, and repayments are manageable.
There are higher chances of getting the best deal possible with a professional DMP provider.
Cons
The interest or charges may not be frozen depending on the willingness of creditors and the loan.
Creditors may still hassle you if not managed because it's an informal agreement.
Your credit history may be negatively affected by an incorrect execution of the plan.
Creditors can take legal action against you at any time, especially if you fail to make repayments.
Some creditors may not be willing to corporate or allow their debts to be part of a DMP.
You may be required to close your credit card accounts.
Do You Qualify for a Debt Management Plan?

You're eligible for a debt management plan if you meet the following criteria:
A steady and reliable income stream is necessary because you'll be expected to make monthly repayments over a couple of years. Your monthly income has to exceed a particular minimum, and you have to convince the debt management provider that you can comfortably cover the required monthly instalments.
You Can Live Without Credit Dependency

You're not supposed to get into more debt as you pay off the existing debts with a debt management plan. Therefore, you have to be capable of surviving comfortably without borrowing more unsecured loans. Proper budgeting can ensure you're not caught up in the cycle of credit dependency.
If your debt ranges from 15% to 40% of your annual income, you can qualify for a debt management plan.  Such ranges ensure you can comfortably afford the repayments, and you won't have to get deeper into debt to survive.
As mentioned before, a debt management plan only covers unsecured debts. You'll not be eligible if your debts are secured.
How do I get started with a Debt Management Plan?

Follow these four simple steps to get started to write off your debts:
Step 1 – Visit DebtNurse.co.uk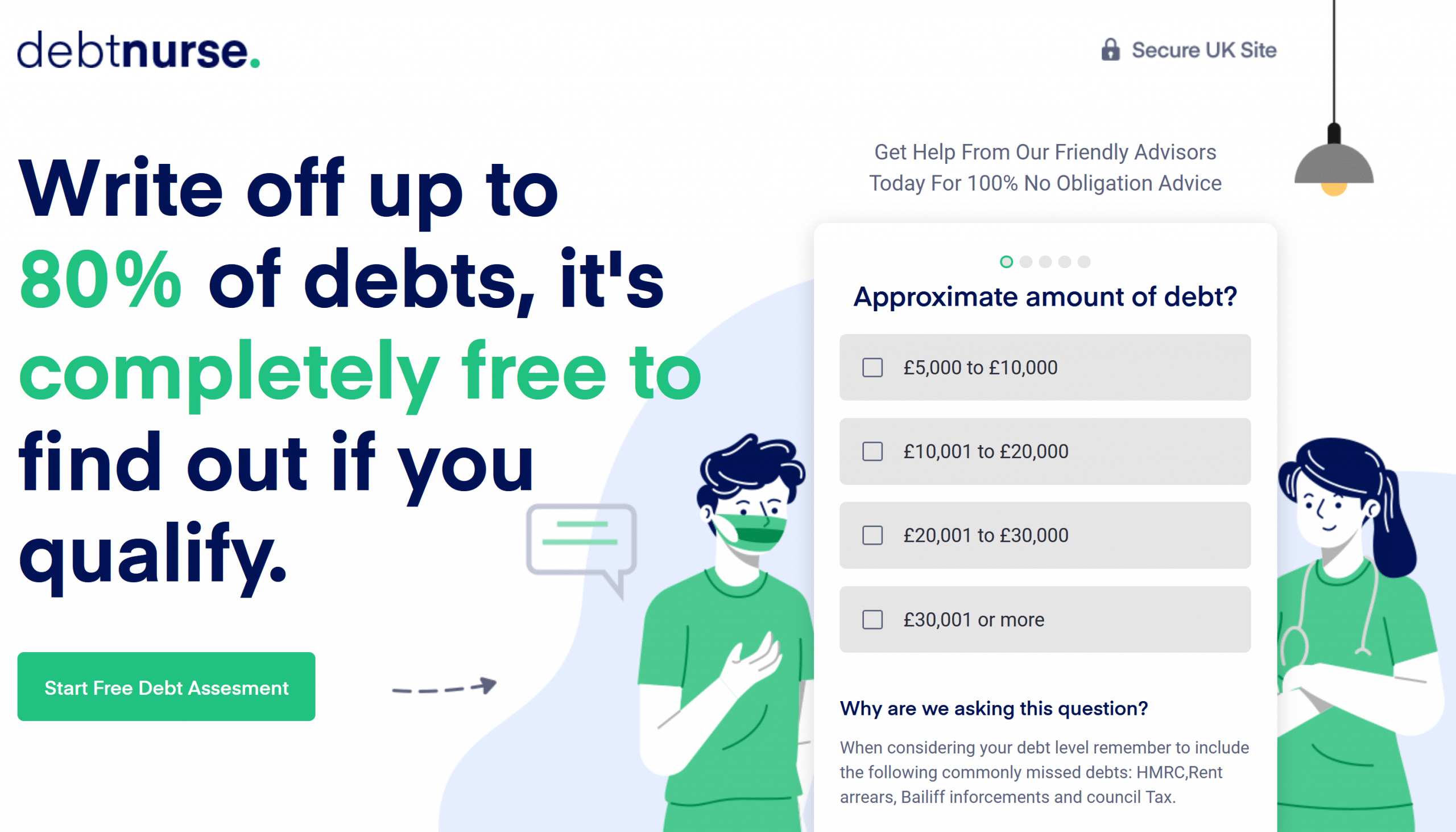 The first step involves choosing a reputable debt management provider like Debt Nurse, who will manage your debts on your behalf.
Step 2 – Complete the Short Application Form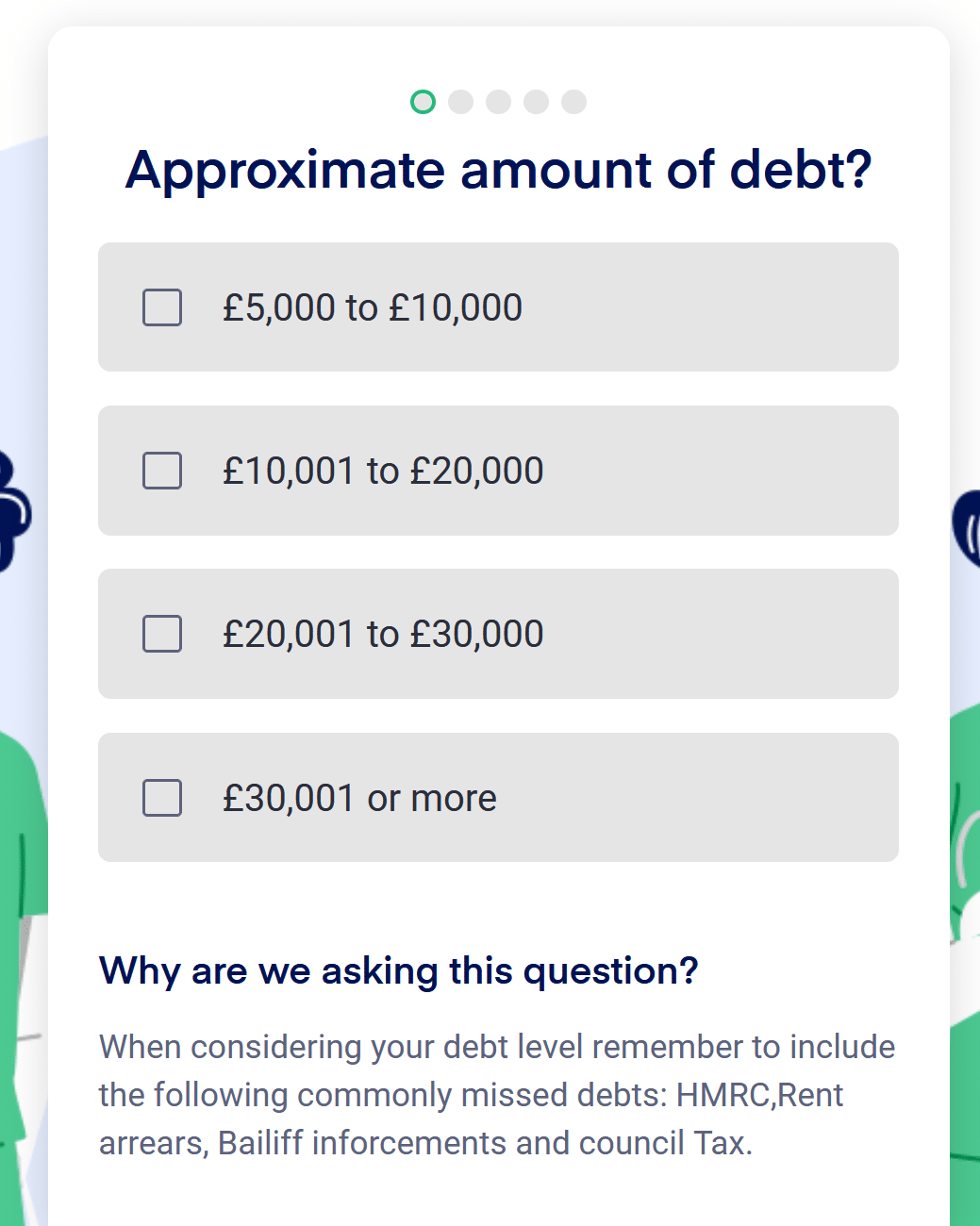 Completing the short online application form allows us to assess your debt amount and the number of debts you owe to determine if you qualify for a debt management plan. It's completely free and confidential, and it gives us an idea of your current financial position with no commitments or obligations.
Step 3 – Receive a Call from a Friendly Advisor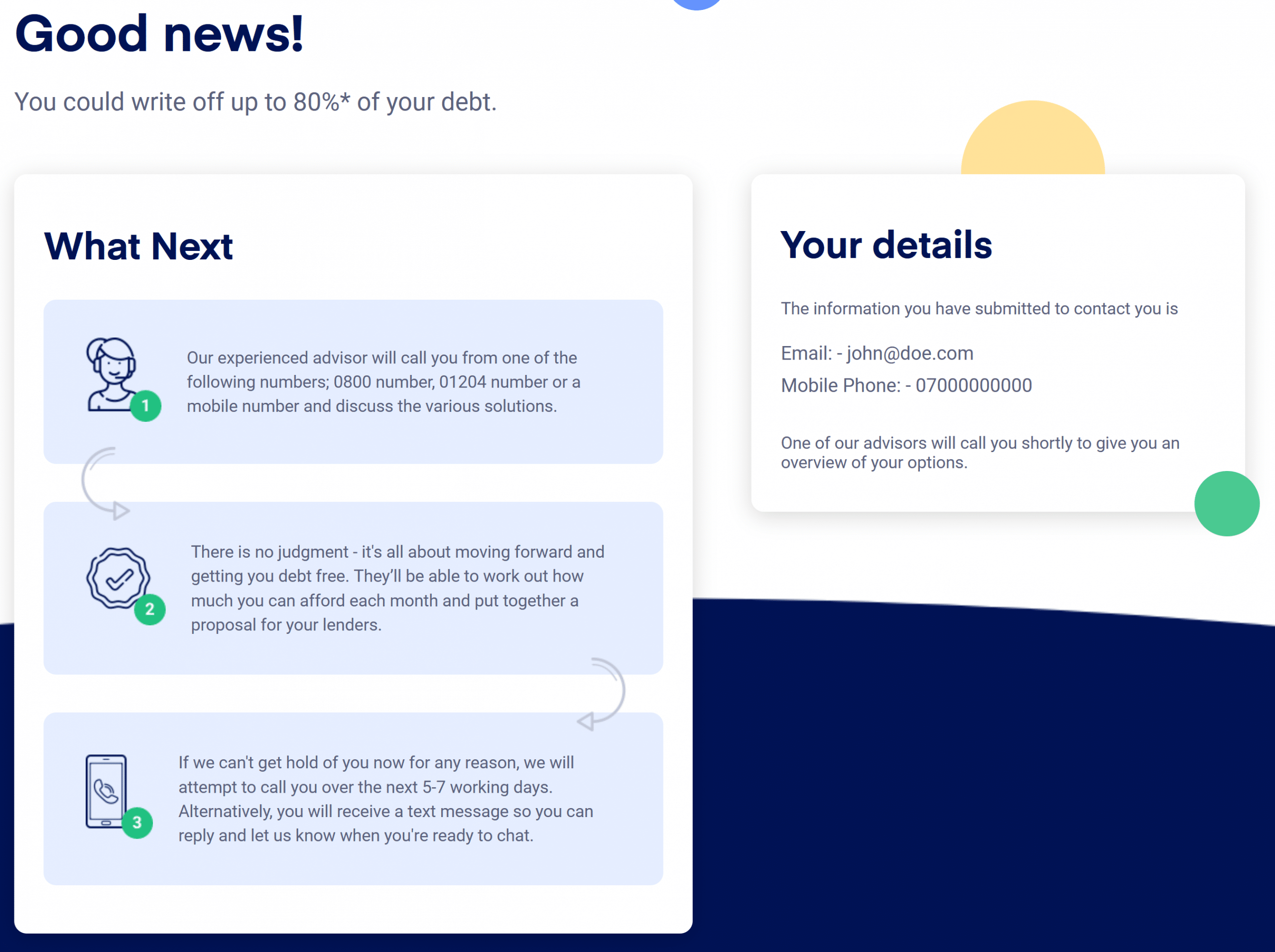 After you've captured your details, you'll receive a call from one of the friendly advisors at Reform Debt Solutions. They'll conduct an assessment and talk you through the process.
Step 4 – Discuss Your Debts and Start Your Debt Free Journey
The friendly advisor will then discuss your debts and options based on your circumstances. Your list of debts will be assessed to determine how much you can afford to pay towards your debts based on your situation, current earnings, debt to income ratio, and assets. You'll also get free, confidential debt management advice to start your debt-free journey.
FAQs
Can Joint Debts be Included in a Debt Management Plan?
Can I Borrow More Credit During the Plan?
How Many Debts can be Included in a Debt Management Plan?
Will My Credit Score be Affected by a Debt Management Plan?
What are the Costs of a Debt Management Plan?
Can I Omit Some of My Unsecured Debts?
Will Creditors Still Contact Me?
Will My interest and Fees be Frozen Under a Debt Management Plan?
Will I Be Charged for Advice on Debt Management Plans?
What Happens if I Fail to Make Repayments on a Debt Management Plan?