Ford Stock Forecast 2021 – Ford Stock Price Prediction 2021, 2022, 2025 & 2030
Everyone will have heard of Ford, the American automobile manufacturer responsible for creating some of the world's best-known cars. With Q3 earnings on the horizon, now may be an exciting time to consider adding Ford to your watchlist.
In this guide, we'll cover our Ford Stock Forecast for the months and years ahead. We'll look at what Ford does and where the price may go in the future before highlighting where you can buy Ford shares today – with 0% commission!
67% of all retail investor accounts lose money when trading CFDs with this provider.
Key Drivers – Ford Stock Price Forecast 2021 and 2022
Before you go ahead and buy stocks, it's essential to understand the company's business model and fundamentals. In the case of Ford, most people will know that the company produces vehicles – yet there's a lot more to them than that. So, without further ado, let's dive into what Ford do and the drivers of their stock price.
As you'll be aware, Ford Motor Company create and sell automobiles, with the company's headquarters being located in Dearborn, Michigan. Jim Farley is the current President and CEO of Ford and has steered the company to solidify its position as one of the world's premier automakers since he took the role in August 2020. According to Statista, Ford is the 3rd largest automaker in the US as measured by market share, behind the likes of General Motors and Toyota. In terms of its stock market position, Ford trades on the NYSE and is one of the largest automotive stocks on Wall Street.

Over the years, Ford has produced and sold vehicles for a range of target markets. The company sells commercial vehicles, including vans and trucks, and even luxury vehicles under the Lincoln brand, including the prestigious Lincoln Continental. However, much of the company's focus is now on electric vehicles (EVs), aiming to rival Tesla and NIO in this area.
This year, Ford has been hampered by the computer chip shortage, which has seen automobiles being constructed but unable to be sold until supplies of computer chips arrive. Although this has hurt all automobile manufacturers, it hurt Ford particularly severely during the first half of 2021. However, these issues seem to be easing, which is excellent news for shareholders.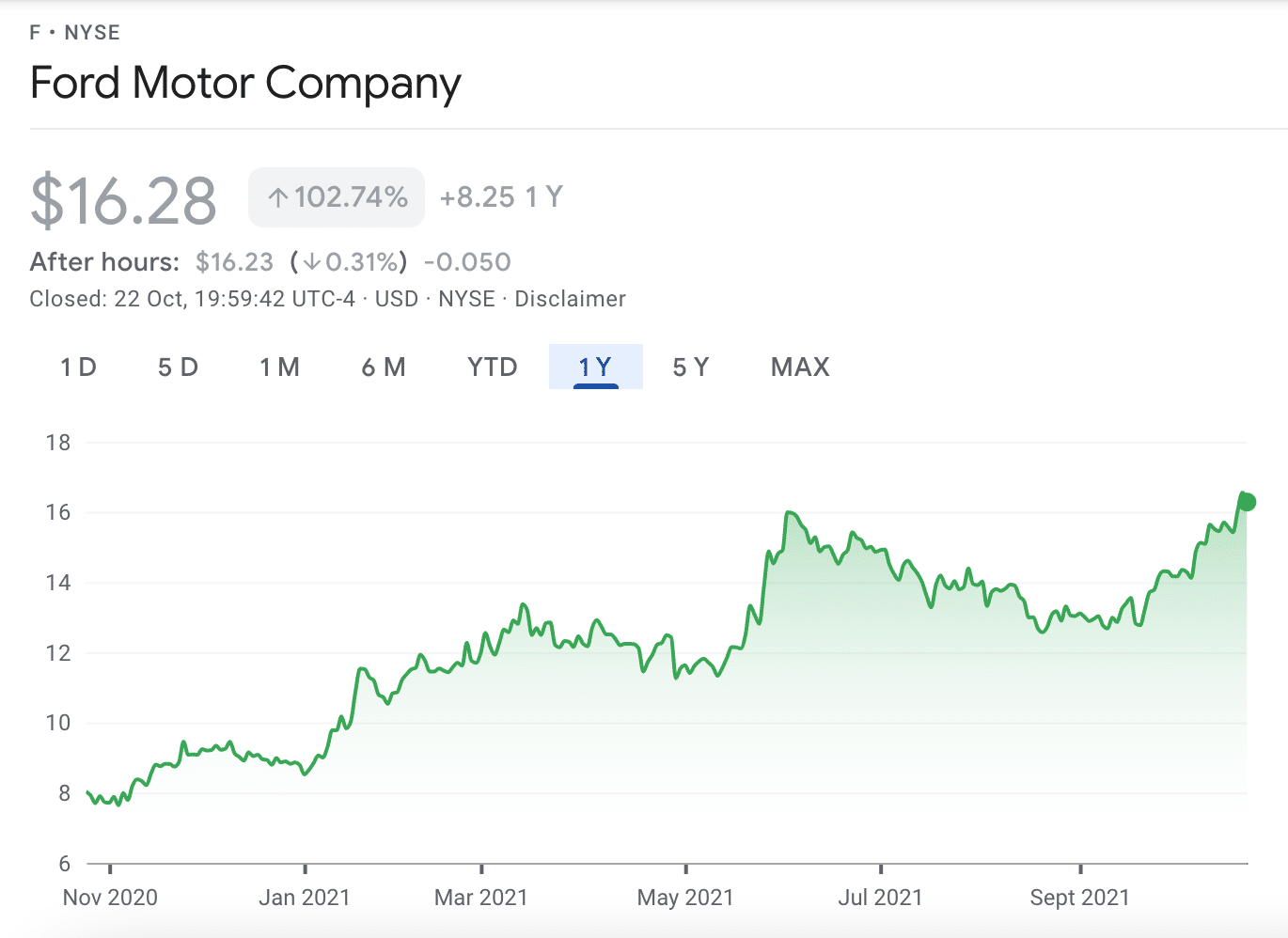 So, now that you have a brief overview of the company, let's discuss the main drivers of the stock price:
EV Manufacturing: Ford announced earlier in the year that it intends to have electric vehicles make up 40% of its total capacity by 2030. To do so, Ford aims to spend a whopping $30 billion on this area by 2025. Ultimately, as consumers begin steering towards electric vehicles, this will ensure Ford's catalogue is still attractive to a broad target audience.
Stuttering Financials: Data from Investing.com notes that Ford's revenues shrunk by 26% between Q1 2021 and Q2 2021. Although much of this can be attributed to the computer chip shortage, it is still a trend that needs to be bucked when Q3 results come out.
Q3 Earnings: Ford is set to release its Q3 earnings on October 27th, with the company expecting volume to increase substantially. Ford has outperformed analyst estimates in 9 of the past 12 quarters – and if the same happens again, it may boost the stock price even higher.
67% of all retail investor accounts lose money when trading CFDs with this provider.
Ford Stock Price History – What's Going On in 2021
One of the critical components of the best shares to buy now is that they all have strong technicals. Relating this to Ford, we can see that the current price is hovering around $16.28, which is up an impressive 84.40% since the turn of the year. The recent highs in price have given Ford a market cap of $64.98bn at the time of writing.

Right now, Ford is testing the resistance level created by the previous highs in June 2021. Although the run-up to this point has been very bullish, this is a critical moment for F stock. If we see a close past this area, it'll likely signal further upwards momentum. However, if we see a strong bearish rejection, a downtrend could happen similar to the one earlier in the year.
Another bullish sign is that Ford is trading comfortably above the 50-day and 200-day moving averages and has been since last year (apart from a short period during July and August). When the price is above these indicators, it tends to signify that the trend is bullish. Ultimately, this is an encouraging sign for investors and leads to more upwards momentum over the medium to long term.
Ford Stock Price Forecast – Short Term Outlook
If you've read any of our other stock price forecasts, you'll know that we like to look at the short and long term prospects of a company's stock. In regards to Ford, the technical analysis that we've conducted seems to be very encouraging. The company is trading at highs we haven't seen since March 2015 – and may even push higher if the price closes past this resistance level.
Another good sign is that price is creating higher-highs and higher-lows on the daily and weekly timeframes. This is a sign of a strong uptrend and adds more confidence to the idea that price could break through the resistance level set in June 2021. However, as is always the case around these levels, it's wise to be patient and wait for confirmation.
Moving on to the financial side of things, all eyes are on Ford's Q3 earnings announcement on October 27th. Ford tends to outperform analyst expectations, although this may not be the case this time due to the supply chain issues caused by the semiconductor shortage. Thus, although we may see volumes increase from Q2, this may not necessarily translate to larger revenues.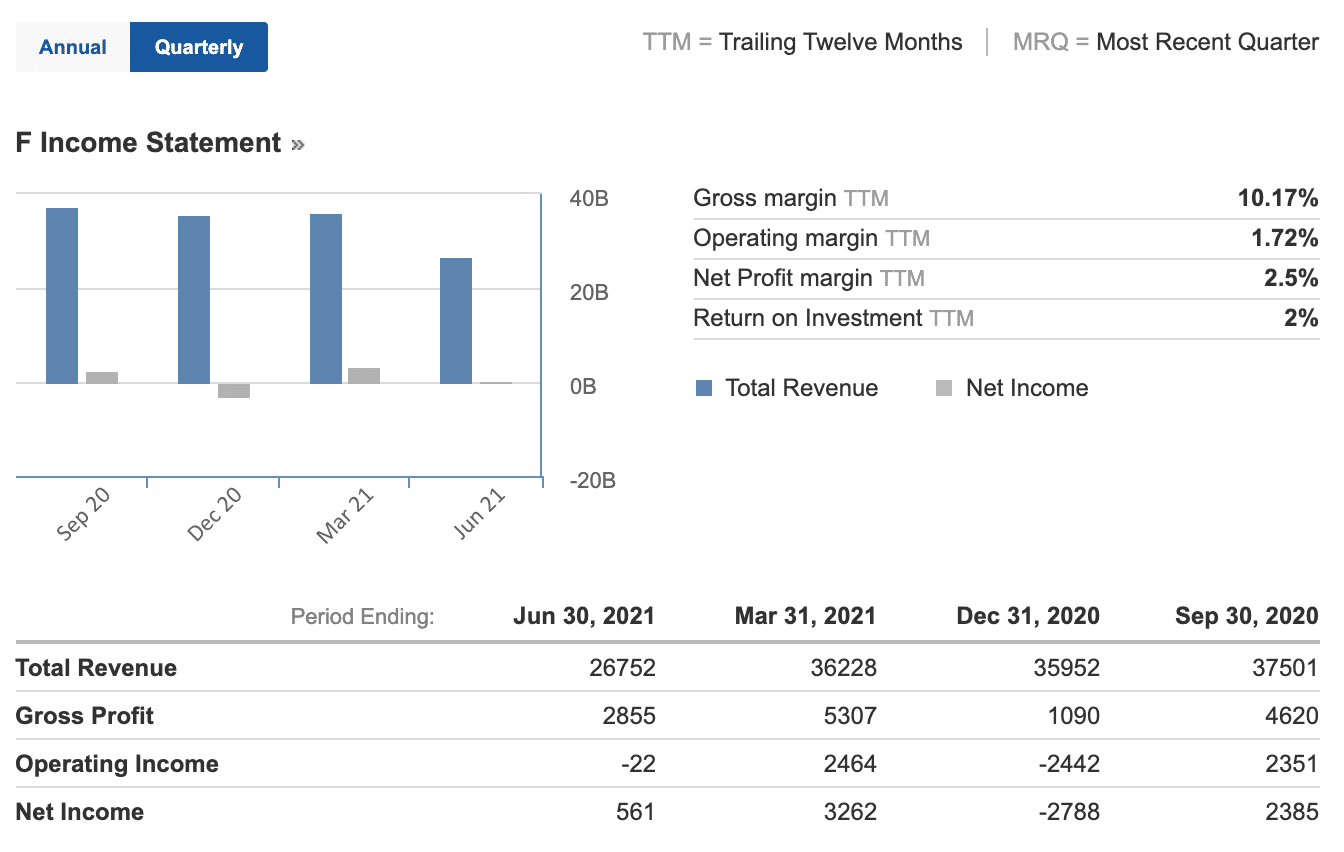 Data from CNBC notes that sales were down 27.4% from Q3 2020, which is worrying reading in relation to the earnings announcement. However, September seemed to mark a turning point for Ford, as the poor performance in July and August was nearly halved. In total, Ford sold an impressive 400,843 vehicles in Q3 2021, boosted by an excellent performance in September.
Finally, sales in China were also down, again due to supply chain issues. Ultimately, there's no doubt that the lower volume of automobiles sold will impact revenues and net profits. Yet, there is a chance that this aspect has already been priced in – meaning that any results that are better than expected could translate into short term gains. Time will tell whether this happens, but all eyes are on Ford.com for the announcement on October 27th.
67% of all retail investor accounts lose money when trading CFDs with this provider.
Ford Stock Price Forecast – Long-Term Outlook
The best companies to invest in tend to be those that can display upwards momentum over the long term. With Ford, this has undoubtedly been the case since March 2020, when the stock price hit a low of $3.92 – a level last seen in 2009. Overall, this bull run that Ford is on right now is something that hasn't been seen since 2021.
One of the key drivers over the long term will be Ford's shift towards electric vehicles. Ford now offers a vast range of EVs, with at home and public charging options both available. Notably, Ford is releasing an all-electric transit van in 2022. This vehicle has been one of Ford's most popular releases and will surely net the company a large stream of revenue once released.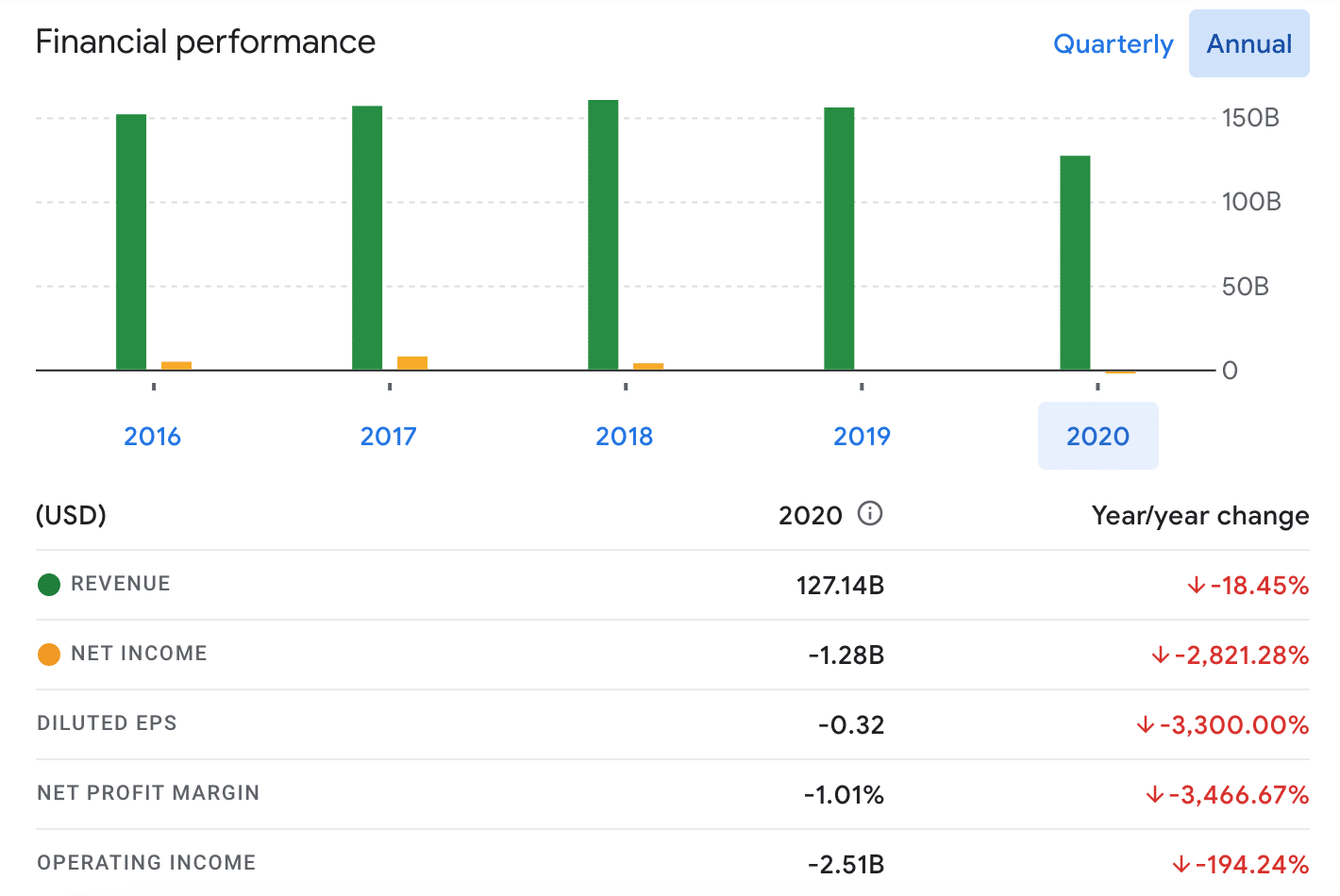 Sales of electric vehicles were up 92% from Q3 2020, according to Ford's latest report. The Mustang Mach-E was one of the primary reasons EV sales were so impressive, with 1578 vehicles sold in September. Furthermore, reservations for Ford's upcoming F-150 Lightning pickup truck are over 150,000, highlighting how popular these electric vehicles are.
According to YCharts, Ford's P/E ratio is currently 19.01. Comparatively, General Motors' P/E ratio is presently 6.68. Thus, Ford is trading at a premium compared to one of its biggest rivals, which may be seen as a negative. However, the good news is that Ford's P/E ratio has dropped significantly since January 2020, so the company is undoubtedly moving in the right direction.

Ford's EPS (earnings per share) is currently sitting at 0.85, as derived from Q2 data. This is slightly down from Q1's EPS figures – although it is much higher than what we have seen throughout all of 2020. Ultimately this highlights that, although Ford is on the comeback, the effects of the computer chip shortage have hampered the company's progress somewhat.
Overall, these figures highlight that Ford is certainly on the right track – although the company has had a minor setback in recent months. The upcoming earnings report will detail whether this setback has continued into Q3; if it has, we may see the tide turn in the stock price. However, if results are better than expected, then the months ahead for Ford will likely also be bullish due to growing sales of electric vehicles and increased volume in China and Europe.
How to Buy Ford Stock?
The final section of this Ford stock forecast will focus on the process of buying Ford shares. Due to Ford's size and popularity, many stock brokers will offer the company's shares as a tradeable asset. This means that, as an investor, you'll have an abundance of options at your disposal when it comes to trading platforms.
However, through our research and testing, we've found that eToro offers the best platform for buying Ford shares. This is because eToro is a commission-free broker that allows investments from only $50 (£37). So, with that in mind, let's look at the four steps you need to follow to buy Ford shares now.
Step 1 – Open an eToro Account
Head over to eToro's homepage and click 'Join Now'. Enter a valid email address and choose a username and a password to create your account.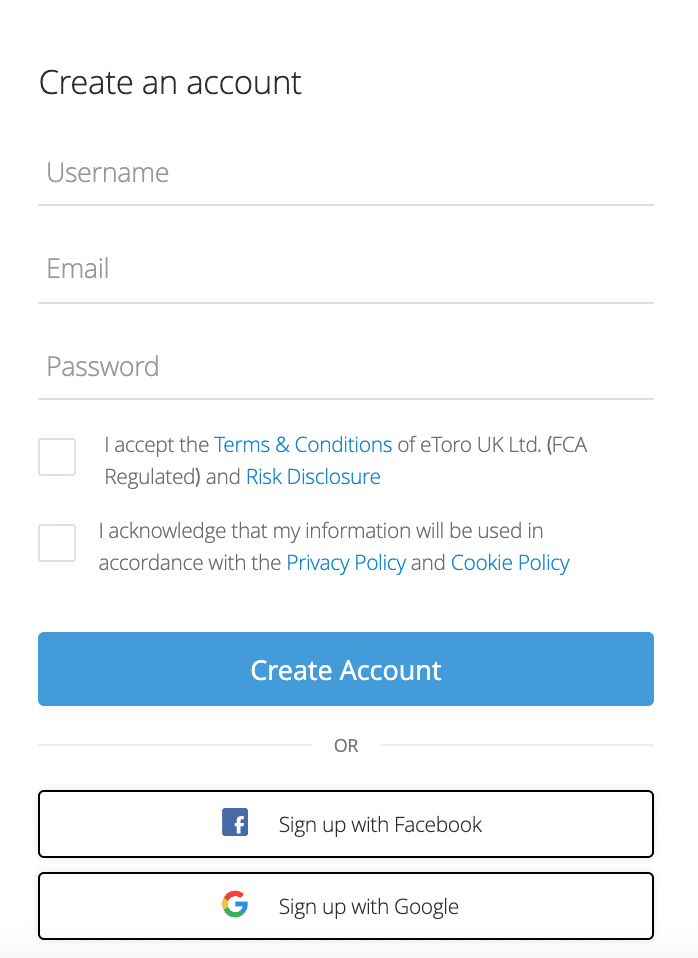 Step 2 – Verify your eToro Account
As eToro are one of the best FCA brokers UK, you'll have to verify yourself before trading. To do so, head to your account dashboard and enter the required information for the KYC checks. You'll also be asked to upload proof of ID (a copy of your passport or driver's license) and proof of address.
Step 3 – Deposit Funds
eToro requires a minimum deposit of $50 (£37) before you can begin trading, which is entirely free to make if you fund your account in USD. In terms of your options, eToro accepts the following:
Credit Card
Debit Card
Bank Transfer
PayPal
Skrill
Neteller
Klarna
Trustly
Step 4 – Buy Ford Shares
Once you have funded your account, type 'Ford' into the search bar and click 'Trade' next to the first option that appears. Then, in the order box, simply enter your desired trade size (minimum of $50), check everything is correct, and then click 'Open Trade'.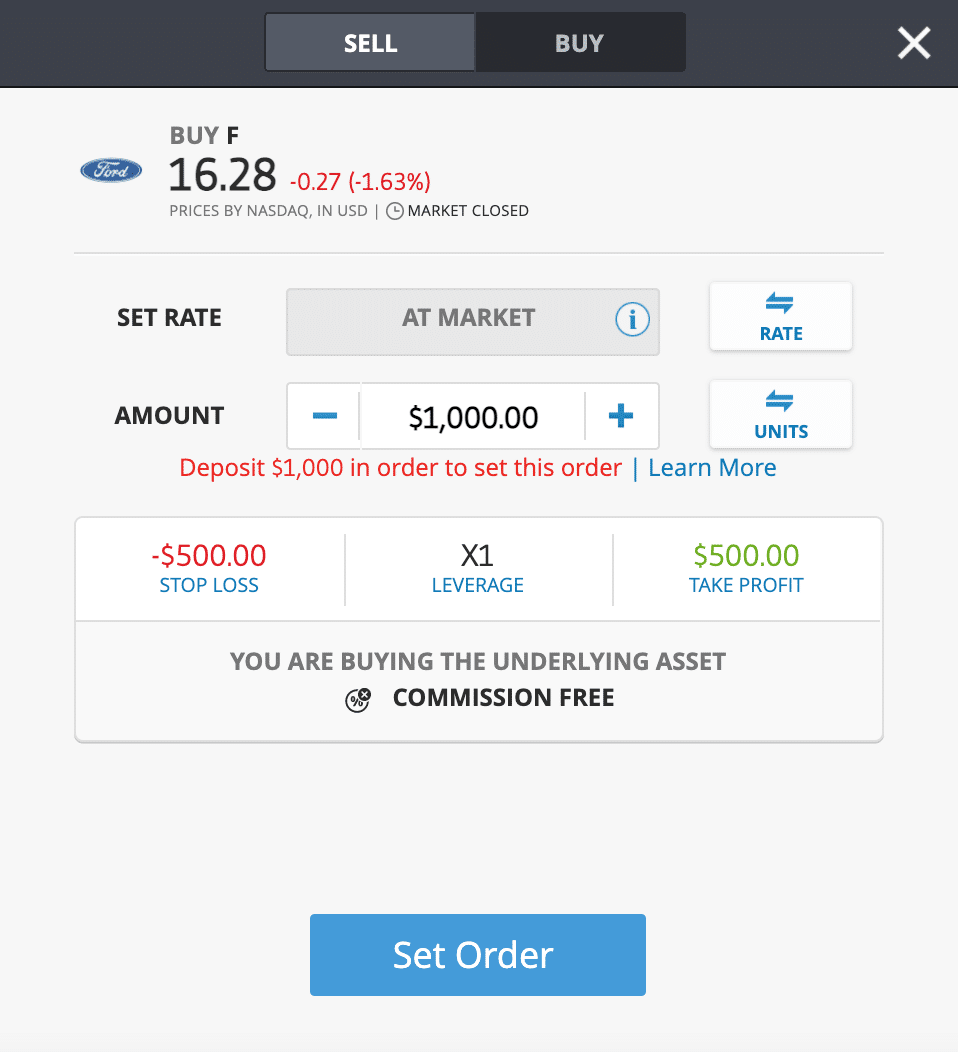 And that's it! You've officially invested in Ford with eToro – all without paying a penny in commissions!
Ford Stock Price Forecast – Final Word
To summarise, this Ford stock forecast has explored what Ford does and the factors that drive the company's stock price. We've also looked at Ford's prospects over the short and long term and highlighted where you can buy Ford today with no commissions.
Overall, we tend to have a positive outlook on Ford, as the future is beginning to look considerably brighter now that chip shortage issues seem to be clearing up. The company is expanding its electric vehicle capacity rapidly, which will be an attractive aspect for investors. If Q3 earnings can beat analyst expectations, we may see more bullish momentum in Ford's share price to round out the year.
So, if you'd like to buy Ford stock today, we'd recommend using eToro. eToro is an FCA-regulated broker and has an incredible reputation within the sector. What's more, users can trade from as little as $50 (£37) with eToro due to their fractional investing structure.


67% of retail investor accounts lose money when trading CFDs with this provider.
FAQs
Is Ford a good investment opportunity?
Where can I buy Ford stock?
Will the price of Ford go up in the future?